This post may contain affiliate links, meaning if you book or buy something through one of these links, we may earn an affiliate commission at no additional cost to you. Learn more
Traveling with formal attire? Need to choose the best garment bag to keep your finest suit or dress wrinkle-free for the journey ahead? Don't worry, we've got you covered!
Top Pick
Check Price on Amazon
Travel Select's Amsterdam luggage range is hugely popular with business travelers far and wide, and their rolling garment bag is no exception. Stylish and spacious, our top pick expertly combines the core features of a carry-on with the interior and protection of a quality garment bag. Read more here.
Quick Picks
Don't have time to read through the article? Then take a look at the quick picks, which will get you to the best garment bags for travel in a flash, depending on your specific needs.
Best Garment Bags for Travel
Whether you're traveling with a dress or suit, or like your carry-ons wheeled or over the shoulder, our seven picks cover a range of needs and bases. So, let's put those wrinkled-garment anxieties behind us, and take an in-depth look at the best garment bags on the market.
1 – Travel Select Amsterdam Business Rolling Garment Bag
Check Price on Amazon
Our Pick for Best Overall Garment Bag
Materials and Features
If you want your garments to be well protected while you travel, this bag will more than provide. Why? The answer is fairly simple. It uses industrial quality materials to ensure both protection and longevity.
The main material of the bag is polyester, which is known for its many qualities. Water-resistance and durability are some of the main ones, and both are on full display here.
Forty percent of the material composition is the 1200D polyester, a heavier variant of polyester recommended for usage in suitcases and backpacks due to its high maximum load and excellent tear resistance.
This heavier fabric is found primarily on the outside of the bag, where it acts as the first line of defense for the bag itself and anything inside.
For additional protection, the front panel of the bag is lined with EVA cushioning. This is handy for any accidental collisions, but most of its job is to soften the pressure when the bag is squeezed in the luggage compartment of an airplane.
The inside of the bag consists mainly of regular polyester and some mesh that lines the small inner pockets.
The bag is mobile and easy to move around thanks to the two wheels on the bottom and a telescopic handle which extends enough for anyone to be able to use it comfortably.
When wheels are not an option, a regular handle on the top or a detachable shoulder strap with a non-slip pad will both provide serviceable options for carrying the bag.
Since we all want to avoid getting our garments wrinkled as much as we can, especially if we're talking about formal dresses or suits, you'll be happy to hear that the main compartment of this bag has a fold-out design specially oriented towards reducing wrinkles.
Once you've packed everything, an adjustable strap and a center hook for coat hangers will help secure your garments in place.
Dimensions and compartments
Only two small zipper-closed compartments are accessible without opening the main compartment of the bag. It might not be a good idea to store items you're likely to need during the flight in these compartments because you may have to check the bag in due to its size.
The dimensions of this bag are 23'' L x 22'' W (44'' when opened) x 7'' H or 56 x 58.5 (112) x 18 centimeters respectively. As carry-on size allowances vary from airline to airline, you will have to check whether the airline allows this carry-on size.
Once you open the main compartment, you'll be treated to lots of room to safely pack your garments, along with some extra polyester or mesh-lined pockets for smaller items, all closed with zippers.
2 – Misslo 43" Gusseted Travel Garment Bag
Check Price on Amazon
Our Pick for Best Garment Bag for Suits
Materials and features
This very affordable and functional garment bag is made out of non-woven fabric. This type of fabric is not completely water-resistant, so don't expect it to be the end-all, be-all protection against water. However, it somewhat compensates for that by being very easy to clean with just a wet rag.
The bag is designed to fit an adult suit and two shirts. It has a 3.5'' (8.5 cm) gusset so that you can get the most use possible out of the available space.
Any garment you put inside can be packed with a coat hanger. There is a near airtight opening for coat hanger hooks on the top of the bag. These hooks can be used to hook the bag itself somewhere or to aid in carrying the bag. The bag folds in half (top to bottom), and there is an opening with a metal grommet that the hook goes through to make the bag easier to carry with the handle.
The main compartment of the bag is closed with a top-to-bottom zipper, but one welcome feature of this bag is that you don't need to open the bag to see what's inside. Instead, you can make use of a 10.8'' x 5.4'' (27.5 x 13.5 cm) clear window to take a look inside and save yourself the trouble of having to dig around just to confirm that you haven't forgotten something.
Dimensions and compartments
The width of the bag is constant at 22.6'' (57.5 cm), but you can choose between three different options when it comes to length.
Depending on the length of your garments, you can choose between the 43'', 50'', and 60'' length bags (110, 127, and 152.5 cm, respectively).
Aside from the main compartment, there is also a small zipper-closed pocket on the outside that is perfect for storing toiletries or other small items.
3 – Kimbora 54" Trifold Dress Garment Bag
Check Price on Amazon
Our Pick for Best Garment Bag for Dresses
Materials and Features
When it comes to materials, this bag is nearly identical to the previous one – rip-resistant, non-woven fabric. To continue the similarities, they're both gusseted to make the most of the space inside, and both feature a full-length zipper for the main compartment.
Unlike the previous bag, however, this one is trifold. When folded, it is reminiscent of a handbag due to the size and the two handles used to hold the bag.
Depending on the size of your garments, you can expect to store 4-6 of them in the main compartment and plenty more in the extra pockets.
The top of the bag has an opening for coat hanger hooks, and it is positioned so you can also hold onto the hooks while you carry the folded bag by the handles.
Dimensions and Compartments
Currently, there are no different sizes to choose from, so the default 54'' x 23.5'' (137 x 60 cm) will have to do.
If you're someone who likes to accessorize, then you'll like the extra pockets on this bag. You can find two zipper-closed mesh pockets on the outside of the bag near the bottom. They're large enough to comfortably fit a handbag or a pair of shoes each, with room to spare.
Another zipper closed pocket can be found in the upper half of the bag. This one is a bit smaller than the bottom ones but large enough for makeup or toiletries none the less. Beside it is a clear viewing window, which lets you see the inside of the bag without having to open it.
It is surprising just how much space this bag offers at a very affordable price.
4 – Travelpro Luggage Maxlite 5 22" Rolling Garment Bag
Check Price on Amazon
Our Pick for Best Wheeled Garment Bag
Materials and Features
Like most non-plastic high-quality bags, this one is made out of high-quality polyester, and, in this case, it comes with a stain-resistant and water-repellent DuraGuard coating.
High tensile strength zippers are closing the major compartments, which will prolong the lifespan of the bag by ensuring that the zippers stay functional for a long time.
The bag features a lay-flat design with padded straps, which serve to reduce or even eliminate wrinkling of anything you pack inside.
Moving the bag around is a breeze as it comes with two fixed wheels. The bottom edges of the bag are reinforced with crash protection. There are also two small "legs" on the bottom that help the bag stay upright without tipping over when it is not moving.
The aluminum telescopic handle has a rubberized grip for maximum comfort, and it has two stops, one at 38'' and the other at 45.5'' (96.5 and 115.5 cm).
Personally, I've had a lot of trouble finding bags with appropriate handle lengths, so I have a higher level of appreciation for telescopic handles with multiple reasonable stops.
Also worth mentioning is the fact that this bag is a part of Maxlite's lightest collection ever, and it comes in at 8.3 lbs (3.7 kg).
Dimensions and Compartments
There is one decently-sized, zipper-closed compartment on the outside of the bag, and the main compartment takes up most of the space inside the bag.
If you want to separate some smaller items inside the bag, you can make use of one of several smaller mesh pockets found within. The bag as a whole comes in at 14'' x 21.75'' x 8.5'' (35.5 x 55 x 21.5 cm), dimensions that should qualify as a carry-on for most airlines.
This is a pricey product at around $160, but Maxlite is very certain that this bag will serve you for a very long time, so they're offering a limited lifetime coverage and a trusted companion promise, which covers the cost of repair for damage from an airline or another common carrier for one year (check their warranty for details).
5 – Modoker Convertible Garment Bag
Check Price on Amazon
Our Pick for Best Garment Duffel Bag
Materials and Features
This is certainly one of the more unique bags on this list. A real 2-in-1, this product can be used as a duffel bag or as a garment bag depending on what you need in a given situation.
It is made out of high-quality polyester fiber and jacquard, which gives the bag high resistance to scratching, tearing, and water.
When it comes to carrying this bag around, you can pick from one of three options. The most obvious one is to carry it in your hand by the handle on the top. If you want a free hand, you can use a detachable and adjustable shoulder strap that comes with the bag.
Finally, if you have a suitcase, you can attach this bag to the telescopic handle of your suitcase.
We'll go over the exact dimensions a bit later. For now, you should know that the bag has a layout design, and the main compartment can fit up to three suits, depending on their thickness.
Dimensions and Compartments
Given that this bag has a dual purpose, we need to go over two different sets of dimensions. The dimensions for the garment bag are 37.5" L x 20.8" W (95 x 53 cm), and its dimensions as a duffel bag are 22.8" L x 11" W x 11.8" H (58 x 28 x 30 cm).
Once you lay it out, it has a special zipper-closed compartment for garments and several other internal pockets for smaller items, all of which are zipper closed as well.
Even with suits or dresses packed inside, there is still room in the main compartment for a couple of other smaller items. When you convert it back to a duffel bag, you'll find a special compartment for your shoes on one side and a smaller passport pocket on the other.
All of these compartments are closed with zippers as well, and the zippers that hold the bag in its duffel form also have buckles for additional security. It's incredible to see how the designers of this bag maximized the number of items that can be packed inside and managed to keep it very light at just 2.5 lbs (1.1 kg).
6 – Zegur Suit Carry-On Garment Bag
Check Price on Amazon
Our Pick for Best Garment Bag for Business Travel
Materials and Features
When you first see this bag, you might think you're looking at an oversized laptop bag.
Made completely out of fray-resistant and waterproof 1800d polyester with full interior lining, this is a bag you can rely upon to serve you well for a long time. For added protection, you can rely upon the already mentioned EVA padding.
As you may have assumed, it's a fold-out design. The main inner compartment will fit up to three suits or dresses, depending on their thickness, and a series of straps and buckles found inside will ensure that wrinkling is reduced as much as possible.
In terms of carrying the bag, you have a handle on the top, a detachable adjustable shoulder strap, and a strap for attaching the bag to a telescopic suitcase handle. Given how there are no wheels, it is good that the bag weighs only 2.8 lbs (1.26 kg).
At around $50 (check the latest price), it is neither the cheapest nor the most expensive item on this list, and it comes in two different colors, black, and luxury grey.
Dimensions and Compartments
There are two pockets on the outside, one on the front and a smaller one on the back. Both are closed with zippers, as is the main compartment. Inside, you can find four smaller pockets for shoes, ties, and similar items; some closed with Velcro and others with zippers.
The two bottom pockets are 8.5'' x 14'' (21.5 x 35.5 cm), and the top two are 8'' x 10.9'' (20 x 27.5 cm).
The garment compartment comes in at about 42'' x 22'' (109 x 56 cm), and the dimensions of the folded bag are 22'' x 23'' x 4'' (58.5 x 56 x 10 cm).
7 – WallyBags Extra Capacity Garment Bag
Check Price on Amazon
Our Pick for Best Travel Hanging Garment Bag
Materials and Features
This garment bag is made out of 600d polyester, which is lighter than the 1200d/1800d variants that we've already mentioned, but it is still up to the task at hand. One piece of evidence for that is the material's water-repelling properties.
In terms of design and the main features, this bag shares quite a few similarities with the Misslo 43'' gusseted bag already featured on this list. The main compartment of the bag is closed with a zipper that runs down the side of the bag, and this bag features its very own patented coat hanger clamping system.
You should be able to pack up to eight garments inside, depending on their thickness. Once everything is neatly packed inside and the compartments are closed, the bag folds in two and you can use its two handles to carry it in your hand.
We've already mentioned that this bag uses a lighter material than some others on this list, so it should be no surprise that the whole thing comes in at around 2 lbs (0.9 kg).
Dimensions and Compartments
There are two main choices when it comes to purchasing this bag: the color and the size.
Your color options are fairly standard – black and navy blue.
The two different size options are the 42'' and the 55'' versions (106.5 and 140 cm, respectively).
The width and the depth of the bag are constant across sizes at 22'' (56 cm) and 4'' (10 cm), respectively.
Besides the already mentioned main compartment, two additional large compartments can be found on the outside of the bag. Both are large enough easily fit a pair of shoes and a few other items.
There are some more appealing bags on this list in terms of design, but this one makes up for it by being very spacious. On top of the space, the manufacturer offers a 3-year warranty (check warranty terms), so it's ultimately up to you to decide what you want out of a bag.
Best Garment Bag for Travel Summary
Don't rely on dodgy hotel irons or miraculous folding techniques to keep your best suits and dresses wrinkle-free and in pristine condition. When it comes to business, we have to look the part, no matter when and where we're traveling.
If you frequently travel for business, a garment bag is a sound investment. Some of our picks can potentially even double up as a carry-on if you travel very light for your business trips. Business trips are time-sensitive enough, and the last thing you want to be dealing with before a big meeting or presentation is steaming the creases out of your finest attire.
One final time, here's our list of the seven best garment bags to take on your next business trip with you.
You Might Also Like to Read
Save and Pin for Later
Keen on one of the garment bags in our selection? Save this article to one of your Pinterest boards. That way, you'll always have a quick way to get back to this article.
---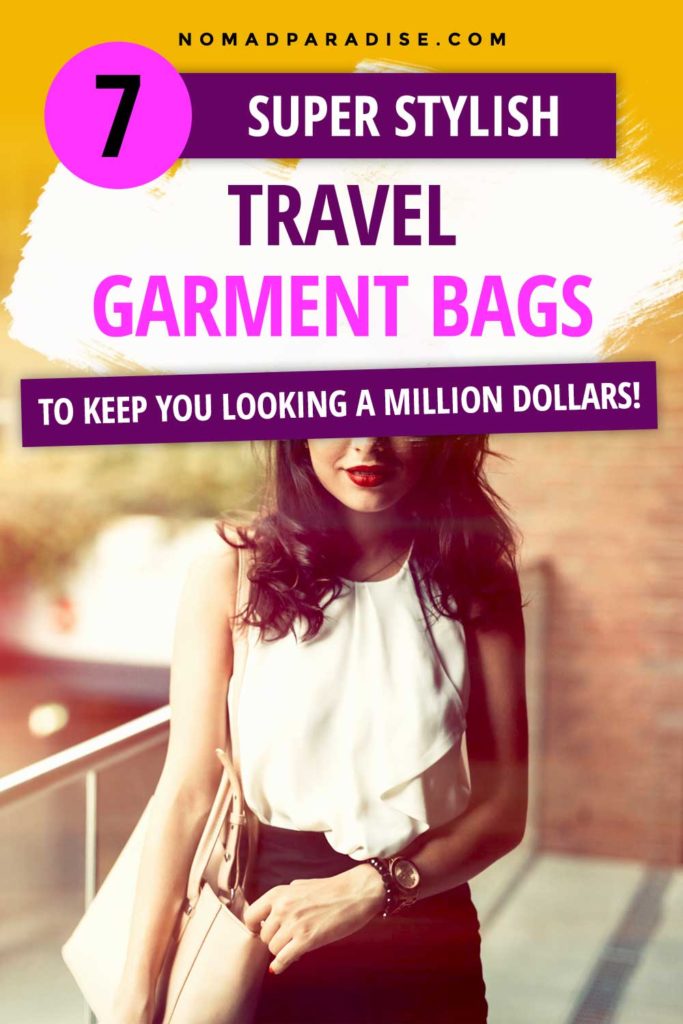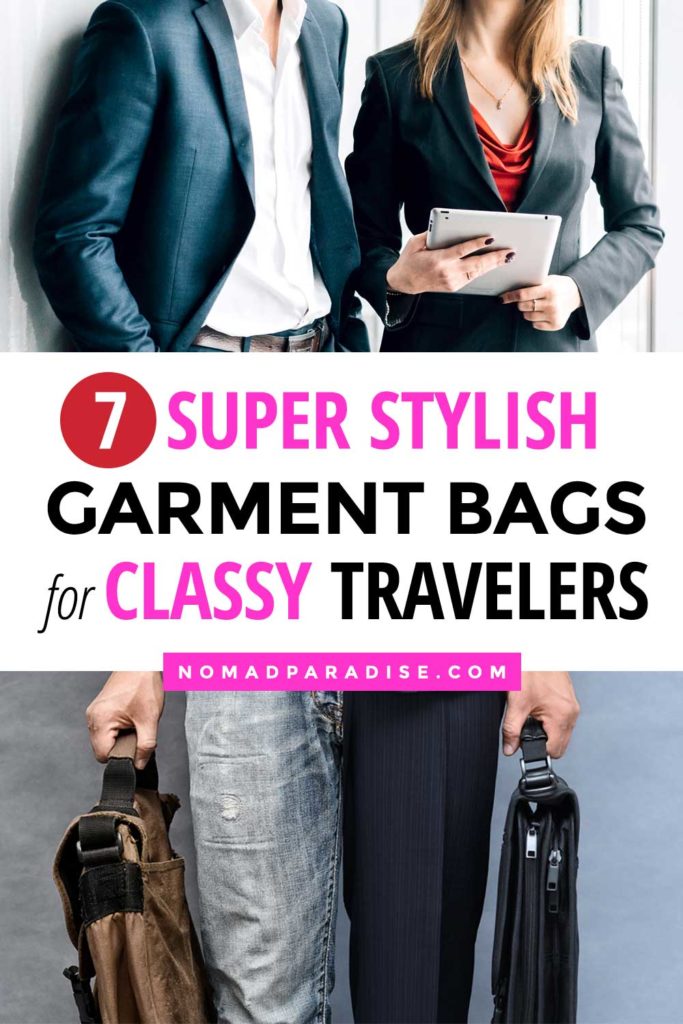 ---
Non-product images licensed via Shutterstock