This post may contain affiliate links, meaning if you book or buy something through one of these links, we may earn an affiliate commission at no additional cost to you. Learn more
From fascinating trips back in time to some truly Earth-shattering feats of nature, these best places to visit in Georgia, United States are proof of the magic and adventure that can be had in one of the Southeast's most vast and beautiful states.
No matter what you're into or what time of year you visit, there really is something for everything to enjoy in Georgia. Load up your weekend trip or vacation with as many of these amazing experiences as possible, and prepare for a visit full of fun, adventure, and everlasting memories.
Places to Visit in Georgia, USA
Top Tourist Spots
1 – Georgia Aquarium
Located in Georgia's capital city Atlanta, the Georgia Aquarium is one of the first places you should visit. With over 11 million gallons, it is the largest aquarium in the United States and the third largest in the world.
You'll get to see hundreds of animals, from dolphins to sea lions to beluga whales. You can even play with penguins or swim with whale sharks!
2 – Atlanta Botanical Garden
While you're in Atlanta, check out this beautiful 30-acre garden. With tons of unique plants, fountains, and artwork, the Atlanta Botanical Garden is an enjoyable trip for all ages.
You can stroll through a forest forty feet in the air on the Canopy Walk or watch a cooking demo with fresh food from the Edible Garden. Head there during the holiday season to see a stunning lights display.
3 – Helen
This charming Alpine village in North Georgia is truly a one-of-a-kind experience. The streets are lined with Bavarian-style shops and restaurants serving up pretzels, bratwursts, and more.
If you're seeking some thrills, you take a ride on the Alpine Coaster, zipline through a state park, or tube down the Chattahoochee River. To get the full German experience, take a trip there during Helen's month-long Oktoberfest celebration.
4 – Savannah Waterfront
Savannah is one of Georgia's most historic and beautiful cities, and its waterfront is definitely worth a visit. Take a walk down River Street, the lovely cobblestone road along the Savannah River, to enjoy shops selling candy and gifts and restaurants serving up delicious meals, including fresh seafood.
The new Plant Riverside District is a great place to shop, bar-hop, and hang out with friends while enjoying Savannah's magical views.
Related: 22 Best Foods to Try in Georgia, USA
5 – Savannah Historic District
Make sure to explore the Historic District while you're in Savannah. Its charming buildings, quaint streets, and 22 beautiful squares date back to the 1700s.
The pedestrian-friendly area is a great place to explore, shop, and eat. You can snag a ride on a horse-drawn carriage, check out museums, or take a ghost tour to hear the scary tales of souls that supposedly haunt the city.
6 – Tybee Island
Less than a 30-minute drive from Savannah, Tybee Island is a laid-back beach town great for a relaxing trip. They offer beachfront hotels and vacation home rentals, restaurants known for their delicious fresh seafood, and lively downtown nightlife.
During the day, you can relax on the beach, go paddle boarding or jet skiing, spot some dolphins, or take a tour of Tybee's historic lighthouse.
7 – Driftwood Beach
This stunning beach is located on Jekyll Island. It's known for (and named for) the large pieces of driftwood that have washed ashore and now cover the beach. This beautiful landscape is popular with photographers as well as tourists.
The weathered trees make a unique backdrop for hiking, picnicking, and relaxing, and it's a serene, peaceful destination you can enjoy at any time of the day or year.
8 – Blue Ridge Mountains
If you want to explore the natural beauty of this state, the Blue Ridge Mountains are the place to go. This picturesque mountain range stretches across the Eastern U.S. and into the northeastern corner of Georgia.
With such diverse terrain, you can enjoy refreshing trails, sparkling waterfalls, and scenic overlooks, as well as charming towns. Check out the Blue Ridge Scenic Railway for an unforgettable train ride.
9 – World of Coca-Cola
Fans of this world-famous soda have to check out World of Coca-Cola. Located in Atlanta, this attraction offers a behind-the-scenes look at the history and production of Coca-Cola (including the iconic glass bottles) and showcases the largest collection of Coke-themed memorabilia.
You can also check out interactive exhibits like beverage tasting and smell tests, shop at the Coca-Cola store, or take a photo with the Coca-Cola Polar Bear!
Outdoor Adventures
10 – Chattahoochee-Oconee National Forest
With 867,000 acres of woods, water, and scenery, this area comprises of Georgia's two beautiful National Forests. Combined, they have about 850 miles of hiking trails and thousands of miles of rivers and streams.
You can enjoy campgrounds and picnic areas, hike to waterfalls, and go fishing and boating on Lake Sinclair. It's a great place to connect with nature and appreciate the breathtaking views of Georgia.
11 – Yonah Mountain
One of the scenic ridges you can check out in Chattahoochee-Oconee is Yonah Mountain. This 3,166-foot peak is a renowned hiking destination with trails for beginners and experts.
The Yonah Mountain Trail is just over four miles and will bring you to the summit for incredible views of the landscape. If hiking isn't your thing, you can spend your day at the Yonah Mountain Vineyard.
12 – Brasstown Bald
Another peak you have to visit is the 4,784-foot-tall Brasstown Bald, the highest point in Georgia. A short half-mile paved walk will bring you to the cloud-level Observation Deck on top of the mountain.
From here, you can see four different states at once: Georgia, North Carolina, South Carolina, and Tennessee. They also offer longer trails for more hiking, as well as picnic areas.
13 – Tallulah Gorge
At two miles long and 1,000 feet deep, Tallulah Gorge is a huge natural canyon with breathtaking views. You can follow multiple trails to scenic overlooks, including a strenuous 10-mile mountain trail for those professional hikers out there.
You can also venture out onto the 80-foot tall suspension bridge, and if you plan ahead, you can get a pass to go down the bottom of the gorge!
14 – Lake Lanier
This reservoir is an enjoyable outdoor destination that lies in the foothills of the Blue Ridge Mountains. With almost 700 miles of shoreline, it's a great place to get adventurous with boating, kayaking, waterskiing, and more.
The area is filled with beautiful parks and campgrounds, and you can enjoy lovely restaurants and shops in the surrounding cities and towns, including Buford, Gainesville, and Dahlonega.
15 – Amicalola Falls State Park
This gorgeous state park is home to the 729-foot Amicalola Falls, the highest waterfall in Georgia. You can hike multiple serene trails through the mossy, boulder-filled forest to reach stunning views of the waterfall as well as scenic lookouts.
The Amicalola Falls Lodge offers thrilling outdoor adventures like archery and ziplining and provides a lovely place to relax after a long day.
16 – Lookout Mountain
If you can't get enough expansive views, Lookout Mountain should be your next stop. This town is known for its scenic natural beauty and tons of outdoor recreation.
You can explore the Rock City Gardens on top of Lookout Mountain or enjoy the dazzling Ruby Falls, a 145-foot underground waterfall. And if you climb to Lover's Leap on top of the mountain, you'll get a breathtaking view of 7 states!
17 – Cumberland Island National Seashore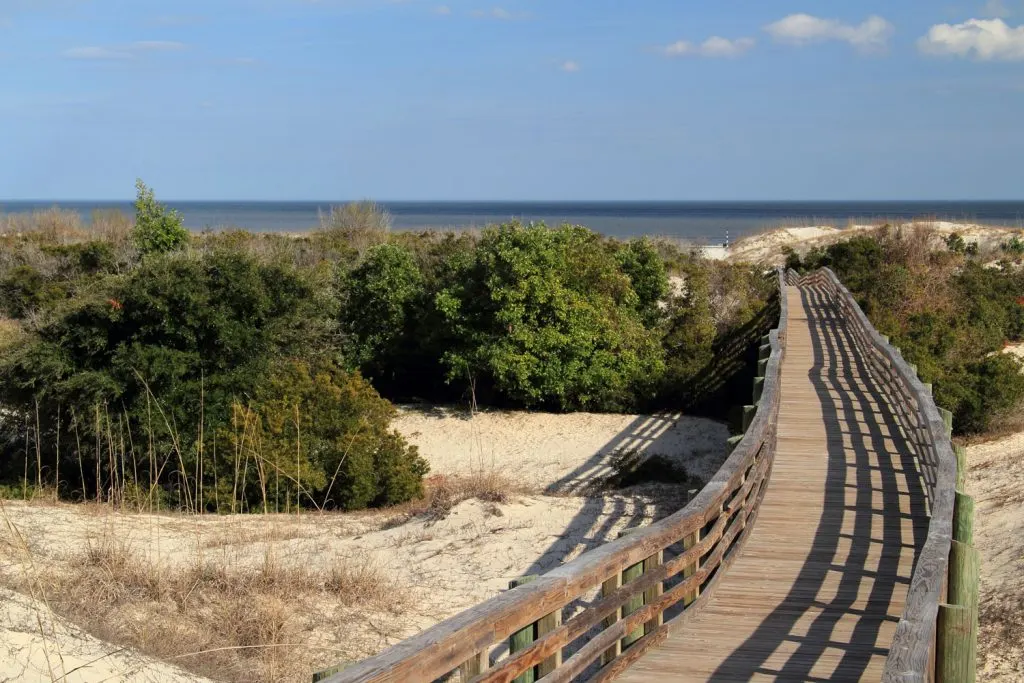 Located off the coast of Georgia, Cumberland Island National Seashore is a protected natural area filled with diverse plant and animal life, including sea turtles, dolphins, and wild horses.
With a 9,800-acre designated Wilderness area and serene beaches, marshes, and maritime forests, it is a beautiful place to camp and hike. You can also learn about crucial habitats, nesting areas, and historic sites through ranger-led programs.
18 – Callaway Resort and Gardens
This lovely, 2,500-acre area is nestled in the Appalachian foothills of Pine Mountain. In the gardens, you can enjoy the stunning colors of the Azalea Bowl, see thousands of butterflies at the Butterfly Center, and learn more about Georgia's natural landscape at the Discovery Center.
While you're there, check out the resort for food, spas, golf, and more ways to relax and connect with nature.
Interesting Places
19 – High Art Museum
This world-renowned institution located in the heart of Atlanta is a must-see for art lovers. The High Art Museum has over 18,000 items in its permanent collection and impressive rotating exhibitions of contemporary and historic art.
You can enjoy collections of photography as well as American, African, European, and Folk art. They also offer events and classes for all ages to learn about the artwork.
20 – The Varsity
You'll get pretty hungry after all of this vacationing — but The Varsity's got you covered. This world-famous hot dog shop has been operating in downtown Atlanta since 1928, and it's only becoming more popular.
You can get hot dogs, chili dogs, hamburgers, fries, onion rings, and more at The Varsity, but make sure you learn their lingo before ordering or you may not get what you're expecting!
21 – Martin Luther King, Jr. National Historical Park
At this 35-acre site in Atlanta, you can learn about the life and work of civil rights leader Martin Luther King, Jr.
Explore educational exhibits in the Visitor Center and the D.R.E.A.M. Gallery, or enjoy colors and fragrances in the World Peace Rose Garden. You can even visit the final resting place of Dr. King as well as the house he was born in.
22 – Etowah Indian Mounds State Historic Site
This unique historic landscape showcases the art, history, and culture of the Native Americans who lived there from 1,000 A.D. to 1,550 A.D.
Once a thriving city, you can now explore and learn about the town's plaza, defensive ditch, village site, and six earthen mounds where temples stood. In the museum, you can see prehistoric artifacts such as beads, paint, ear ornaments, and sculptures.
23 – Museum of Aviation
Located in central Georgia, the Museum of Aviation is a world-class aerospace museum that showcases over 85 historic aircraft, missiles, and cockpits.
The museum opened in 1980 when a WWI aviator donated his aviation collection to the Robins Air Force Base. Today, it welcomes over half a million visitors a year to enjoy its award-winning exhibits and virtual reality simulator.
24 – BabyLand General Hospital
If you have kids who love Cabbage Patch Kids, this toy land is the place to go. The attraction is set in a huge Southern-style home and designed to look like a hospital for kids to "adopt" their own doll.
You'll start in the hospital's waiting room, then explore the nurseries looking for the perfect baby to adopt. Once you've chosen, you'll sign adoption papers and leave with your new doll!
25 – BAPS Shri Swaminarayan Mandir
This gorgeous building is the largest Hindu temple in the United States. Intricate carvings and mosaics cover the white temple, creating a beautiful piece of art that tells stories of Hindu culture and history.
The temple is free to visit and doesn't require a reservation. If you want, you can take an audio tour or participate in a Hindu ritual to learn more about the culture.
Places to Visit in Georgia Summary
I absolutely love the fact that, wherever I go in Georgia, there is always something new to see or something exciting to experience.
Whether you enjoy the energy and bustle of city life or love spending some quality time amid the breathtaking beauty of nature, Georgia (USA) offers it all, in spades.
You could spend your whole life in the state and come nowhere close to seeing all it has to offer, but these 25 iconic and memorable things to do and feats of nature should definitely be on your top priority list when you next come.
You Might Also Like to Read
Save and Pin for Later
Planning a trip to Georgia soon? Keep these amazing places to visit for safekeeping by saving this article to one of your Pinterest boards.
Contributor: Madeline Marks is a writer who resides in Savannah, GA. She enjoys blogging, journalism, poetry, and fiction, and when she's not writing, she likes to read and spend time in nature.