This post may contain affiliate links, meaning if you book or buy something through one of these links, we may earn an affiliate commission at no additional cost to you. Learn more
Discover enlightening history, immerse in jaw-dropping beauty, and make ever-lasting memories by adding these best places to visit in Pennsylvania to your itinerary, showcasing this vast state at its rawest and most beautiful.
Places to Visit in Pennsylvania
Historical Sites
1 – Valley Forge National Historical Park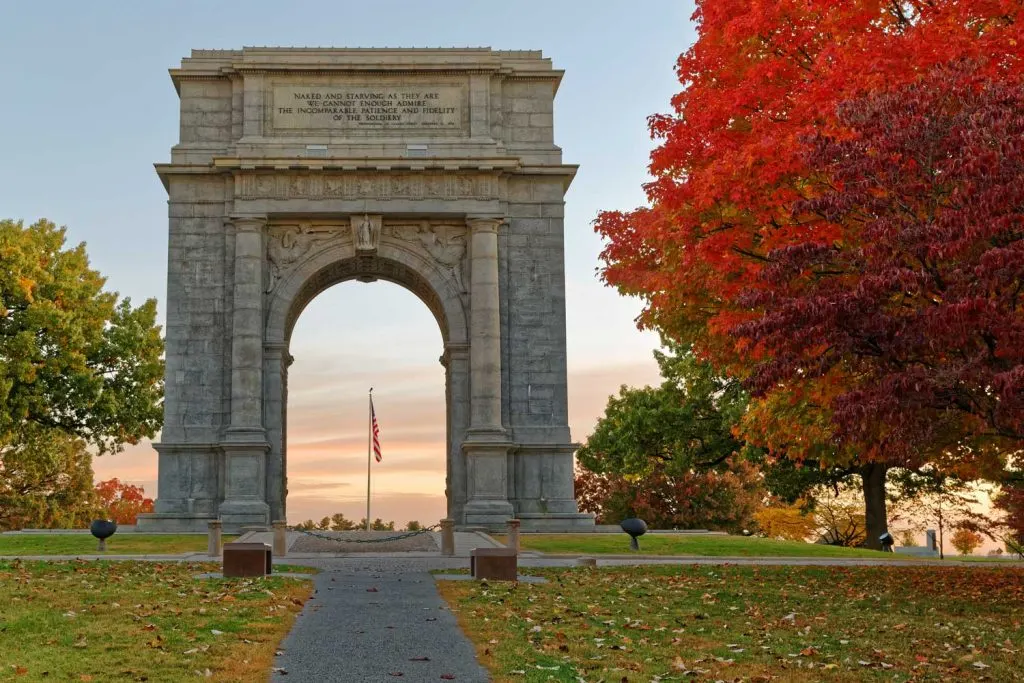 This 3,500-acre park was the encampment site of the continental army during the Revolutionary War. Here, you can explore beautiful nature trails through woods and fields to see historic monuments and structures.
While you're visiting, check out Washington's Headquarters, a stone house that George Washington lived in from 1777-1778.
2 – Washington Crossing State Park
Another important location in Pennsylvania history is the Delaware River, where Washington Crossing State Park now stands. Washington led his army across this river in 1776 to claim victory over the Hessians.
Today, you can participate in a reenactment of the crossing, explore historic buildings and gardens, and visit soldiers' graves.
3 – Independence National Historical Park
Known as the birthplace of American democracy, Philadelphia's Independence Park is a fascinating historic site with many important buildings and monuments.
Take a tour through Independence Hall, where the Declaration of Independence and U.S. Constitution were signed, walk through the Benjamin Franklin Museum, or visit the Liberty Bell Center, all while learning about U.S. history and culture.
4 – Gettysburg National Military Park
If you're looking for Civil War history, Gettysburg is the place to go. Here, you can tour the battlefield of the Battle of Gettysburg, a Union victory that turned the tides of the war and inspired Abraham Lincoln's Gettysburg Address.
Check out the Museum and Visitor Center for Civil War relics and history, or take a horseback ride around the area.
5 – Allentown
A city rich with history, Allentown is the location where the Liberty Bell was hidden to prevent its capture by the British Army during the Revolutionary War.
Today, visitors can enjoy many unique and historic sites in Allentown, such as the Allentown Art Museum, the Liberty Bell Museum, and the Allentown Rose Gardens.
6 – Pennsylvania State Capitol Complex
This area in downtown Harrisburg is a National Historic Landmark comprised of state government buildings and historic sites.
Take a tour of its crown jewel, the State Capitol — a gorgeous building filled with Pennsylvania-themed sculptures, murals, and stained-glass windows. It's topped with a 272-foot tall, 52-million-pound dome inspired by St. Peter's Basilica.
Interesting Buildings
7 – Mattress Factory
No, this isn't a mattress store. The Mattress Factory is a contemporary art museum outside of Pittsburgh filled with eccentric installations, videos, and performance art.
Founded in 1977, this museum is one of the first of its kind, prioritizing the voices of artists and housing alternative art including the works of Yayoi Kusama and James Turrell.
8 – Reading Terminal Market
With vendors and restaurants serving everything from fresh baked goods to Philadelphia's signature hoagies, Reading Terminal Market is one of the largest indoor farmers' markets in the U.S.
Established in 1892, it is now a popular place for locals and tourists alike. Exploring the bustling market is an experience in itself — and good luck trying to settle on one place to eat!
Related: 19 Best Foods to Try in Philadelphia
9 – Fallingwater
Sitting a bit outside Pittsburgh, Fallingwater is a uniquely beautiful building designed by American architect Frank Lloyd Wright.
The home is known for its dramatic design that combines architecture with nature. You can explore the building and grounds on a guided tour, enjoy the art in the Speyer Gallery, and eat at the Fallingwater Café.
10 – Phipps Conservatory and Botanical Gardens
Another Pittsburgh favorite, this botanical garden makes for a gorgeous natural excursion. In addition to their 23 outdoor gardens boasting native and exotic plants, you can visit the Phipps Conservatory, a 14-room glasshouse built in 1893.
The elegant building is a sustainable home to unique plants and wildlife with continuously-rotating exhibits and seasonal experiences.
11 – Mütter Museum
For those with weak stomachs: beware. The Mütter Museum in Philadelphia is a medical museum that showcases real human specimens. Its goal is to educate visitors on diseases, the human body, and medical history.
With fascinating stories, unique specimens, anatomical models, and medical instruments, you're guaranteed to see something you've never seen before.
12 – Eastern State Penitentiary
If the Mütter Museum isn't freaky enough for you, check out the Eastern State Penitentiary. This abandoned prison outside Philadelphia is a popular Halloween spot, giving daytime and nighttime tours of the dusty, ruinous cell blocks and guard towers.
Once the most expensive prison in the world, the dilapidated building is now supposedly haunted by its history of suicide, disease, and torture.
13 – Andy Warhol Museum
On a lighter note, the Andy Warhol Museum outside of Pittsburgh is an interesting and informative museum showcasing the life and legacy of Pittsburgh-born artist Andy Warhol.
Warhol is most known for his prints of Campell's Soup and Marilyn Monroe, which are among the over 1,000 prints and 4,000 photographs in the museum.
Outdoor Recreation
14 – Allegheny National Forest
With over 460,000 acres of woods and 600 miles of trails, Pennsylvania's only National Forest is a great place to start your outdoor exploration.
It is free to enter year-round and showcases stunning foliage and views during every season. From camping, hiking, and cycling to boating and fishing, there are adventures at Allegheny for everyone.
15 – Pocono Mountains
This mountain range covers the Northeastern part of Pennsylvania and is a portion of the Appalachian Mountains. Filled with resorts and camping sites, you can enjoy terrain from peaks to lakes to waterfalls all year long.
The expansive area is a gorgeous natural backdrop for outdoor recreation, including skiing, swimming, hiking, canoeing, ziplining, boating, and more.
16 – Hickory Run State Park
While you're in the Poconos, check out Hickory Run: a state park with miles of hiking trails and trout streams.
The park offers camping, disc golf, swimming, and even ice skating, but it is most known for its 16-acre boulder field, a unique National Natural Landmark you can reach by driving or hiking.
17 – Presque Isle State Park
Take a walk along the shoreline of Lake Erie at Presque Isle. This peninsula is a National Natural Landmark with a sandy beach, a lovely coastline, and a bunch of outdoor activities.
In addition to biking, fishing, and even surfing, the park offers events to educate visitors about the isle's wildlife, lead night hikes, and more.
18 – Tyler Arboretum
With 650 acres of woods, gardens, and meadows and 17 miles of hiking trails, Tyler Arboretum is a beautiful and educational excursion.
This public garden is one of the oldest in the United States and is home to thousands of trees and plants. It also offers events and exhibitions, which are a great opportunity to teach little ones about nature.
19 – Ricketts Glen State Park
You can fish, camp, or ride horses at Ricketts Glen, but if there's one thing you want to check out, it's the Falls Trail.
The full Falls Trail loop is 7.2 miles and will take you past 21 beautiful waterfalls, the tallest sitting at 94 feet. Surrounded by wildlife, trees, and ancient rocks, the views are worth the long hike.
20 – Delaware Water Gap National Recreation Area
We're heading back to the Delaware River, where 40 miles of free-flowing water provides loads of outdoor activities.
You can tube, kayak, or canoe down the river, then stop on its beaches for a picnic. If hiking is more your thing, check out some of the 150 miles of trails with scenic views of mountains and waterfalls.
21 – Kinzua Bridge State Park
Kinzua Bridge is a stunning lookout with an interesting history. After the Viaduct, a 301-foot tall railroad structure, was partially destroyed in 2003, it became a walkway for visitors to venture out over the Kinzua Gorge and enjoy the expansive view.
If you have the stomach, try looking down through the glass platform at the end of the lookout!
22 – Pine Creek Gorge
Also known as Pennsylvania's Grand Canyon, this is another gorge with lovely views. Sitting at over 47 miles with depths reaching up to 1,450 feet, the unique landmark is a wonderful place to hike and camp.
For the best views of the canyon, check out Leonard Harrison and Colton Point State Parks.
Unique Places
23 – LOVE Park
If you're headed to the City of Brotherly Love, stop and snap a picture with Philadelphia's LOVE sculpture. Located near City Hall, the park is home to the iconic statue by Robert Indiana.
While you're there, you can enjoy the open green spaces, food trucks, walking paths, and the new LOVE Park Visitor Center.
24 – Hershey
Dubbed "The Sweetest Place on Earth," Hershey is a community outside Harrisburg with loads of candy-themed attractions.
You can ride thrilling roller coasters at Hersheypark, take a tour of the factory at Hershey's Chocolate World, or get the Dark Chocolate Treatment by Hershey's MeltSpa — some even say the whole town smells like chocolate!
25 – Lancaster County
Lancaster County is the largest and oldest Amish settlement, dating back to the 1720s. As a conservative spiritual group, the Amish do not use modern technologies like electricity — making a visit to Lancaster like a trip back in time.
You can ride in a horse and buggy, eat traditional Pennsylvania Dutch foods, and explore history museums while experiencing the Amish country.
26 – Jim Thorpe
Another charming town to visit is Jim Thorpe, a historic city in the Pocono Mountains founded in 1818. It offers both indoor and outdoor recreation, from unique shops and quaint bed-and-breakfasts to archery and whitewater rafting.
Known for its Victorian-style architecture reminiscent of European villages, Jim Thorpe is a fully immersive experience.
27 – Magic Gardens
On Philadelphia's eccentric South Street sits the Magic Gardens, a non-profit folk art environment that covers half a city block.
A tour of the Gardens will take you through a mosaicked outdoor labyrinth and unique indoor galleries. Artist Isaiah Zagar built the space using tiles, bottles, mirrors, and more to create an installation that celebrates self-expression.
28 – Rocky Statue
Another Philadelphia favorite is the Rocky Statue, an iconic landmark celebrating the fictional character Rocky Balboa. The statue was originally created for a scene in Rocky III, but it is now Philadelphia's claim to movie fame.
It sits at the base of the Philadelphia Art Museum steps — the same steps that Sylvester Stallone's character climbed in Rocky.
29 – Longwood Gardens
This lovely botanical garden takes visitors on a scenic walk through acres of gardens, trees, meadows, and fountains.
In addition to their outdoor exhibits, which include a garden light show, they have a beautiful conservatory filled with native and exotic plants. Check out the garden during Christmas time for a stunning holiday lights display!
30 – Crayola Experience
The Crayola Experience is a family-friendly amusement park where you can explore the creativity and magic of Crayola Crayons. It's a fun, colorful space for kids to participate in crayon-themed activities.
Visitors can create their own coloring book pages, do crafts, watch theater shows, and learn about the science of making crayons.
Best Places to Visit in Pennsylvania
The beauty of Pennsylvania is that there really is something for everyone to enjoy. If you're the outdoorsy type, the parks, woodlands, and areas of jaw-dropping beauty are perfect for physical adventures or just immersing yourself in a little time with Mother Nature.
If you want to discover more about the state and try new activities, the urban areas of the state, from larger cities like Philadelphia and Pittsburgh to lesser-known places like Lancaster, have so many museums, landmarks, and attractions to quench your need for learning and discovery.
Growing up in Pennsylvania, it always amazed me how much the place has to offer. You could spend a lifetime exploring and not see it all, but these 30 places to visit you should definitely add to your bucket list!
You Might Also Like to Read
Save and Pin for Later
Keep this article for safekeeping before your trip to Pennsylvania by saving it to one of your travel planning Pinterest boards.
Contributor: Madeline Marks is a writer from Philadelphia, PA. She enjoys blogging, journalism, poetry, and fiction, and when she's not writing, she likes to read and spend time in nature.