This post may contain affiliate links, meaning if you book or buy something through one of these links, we may earn an affiliate commission at no additional cost to you. Learn more
Planning to visit the awe, color, and splendor of Vietnam? If so, adding stops to these beautiful Vietnamese cities to your itinerary is simply a must, no matter how long your stay.
Vietnam is a country of mouthwatering food, fascinating history, and breathtaking landscape, epitomized in so many ways by its cities that dot its mainland and line its coast.
So let us grace one of Southeast Asia's most majestic countries under the guidance of a local writer, and explore this beautiful country through 15 of its must-visit cities.
Beautiful Vietnamese Cities
1 – Hồ Chí Minh (Sài Gòn)
While some may have heard of this city in "the fall of Saigon", a historical event in 1975 that ended the Vietnam War, Sai Gon has transformed in less than a century into Vietnam's largest commercial city: Ho Chi Minh City.
Ho Chi Minh City has several tourist attractions, including museums, the Independence Palace, and shopping centers. It is also a hub for Vietnamese cuisine, and you can find delicious, authentic food across the city.
While Ho Chi Minh isn't a large city, it is a city worth visiting as there are activities for everyone: museums for history enthusiasts, bars and restaurants for those who want to socialize with locals, a 3D museum and a Koi fish park for those who love hi-tech, a world of street food for foodies, and so, so much more.
2 – Huế
In contrast to the energy and eccentricity of Ho Chi Minh City, Hue is a more peaceful, quiet city, that is rich in history and culture. So much so, Nhã nhạc cung đình Huế, or the dance of Hue's palace, has been recognized as a cultural heritage by UNESCO.
Hue has a rich cuisine and, due to it being home to many Vietnamese kings, Hue's cuisine is named the royal cuisine. The Imperial City, where royal families used to live, is even open to visitors.
Hue also has many other must-see attractions, such as the romantic Huong river, several Buddhist temples, and Vong Canh hill, all awaiting your visit.
3 – Đà Nẵng
Da Nang was recently named Vietnam's best city to live in. In Da Nang, you can enjoy the sun while lying on the beach, go swimming in the ocean, or escape the heat by going to Ba Na Hills.
Ba Na Hills is an amusement park that has many activities, such as a mini city modeled after French cities, a wax museum, Le Jardin D'Amour (The Garden of Love), a wine cellar, an arcade, and plenty of other gems to discover.
The best way to get to Ba Na Hills is via cable car. While inside the cable car, you'll be treated to the beautiful view of the city and surrounding landscape from up above. There is also a hotel in the area for those who want to stay overnight.
While in Da Nang, don't forget to visit Hoi An. At night, Hoi An comes alive with boats taking tourists along the river, little shops along the streets, and bars and restaurants that serve both locals and foreigners.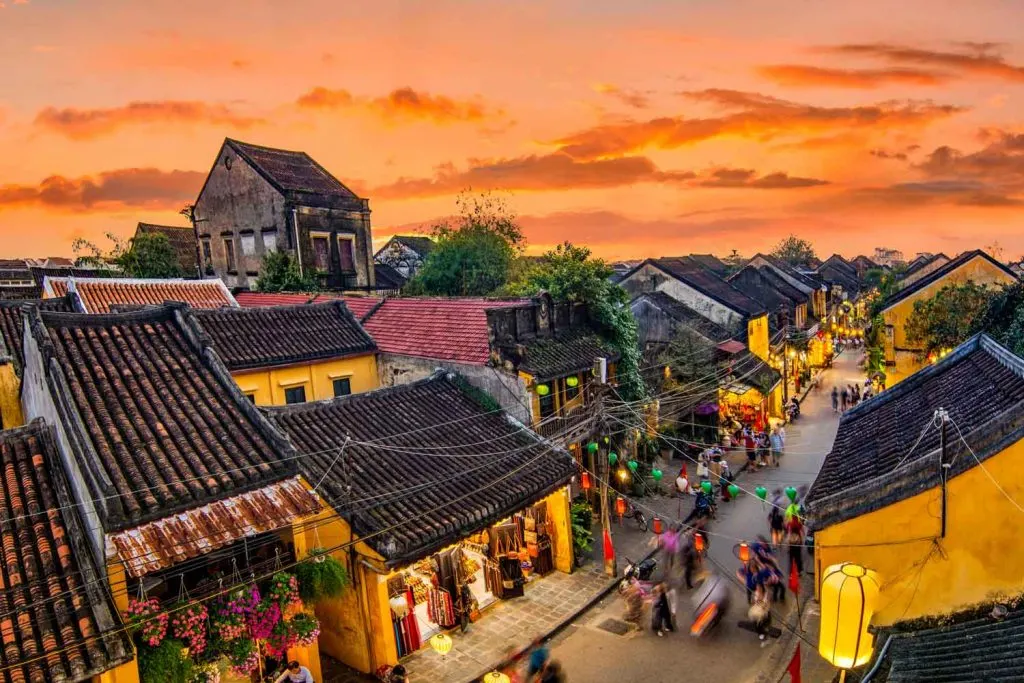 Hoi An still has the architectural design of the past, making you feel as though you are visiting the Vietnam that existed decades ago.
4 – Phú Quốc, Kiên Giang
Phu Quoc is an island in the city of Kien Giang. While Phu Quoc used to be quite desolate, recently, it has become a major tourist attraction for both foreigners and locals.
You can go swimming in the ocean and visit the fish sauce factory while on the island. Most notably, however, are the attractions built by the Vinpearl Corporation.
Vinpearl Phu Quoc Ocean Resort & Villas has only been constructed a few years ago but is attracting a large number of tourists. The Vinpearl Corporation have even built a safari, outdoor water park, VinWonders, an amusement park with rollercoasters, an aquarium, and several games for both adults and children.
5 – Phan Thiết
Phan Thiet is perhaps a better place to relax than to seek exciting activities. As a city right by the ocean, Phan Thiet's cuisine is made up mostly of the fresh seafood caught daily by local fishermen.
If you visit "Lang Chai Mui Ne", or Mui Ne's fishing village, you can watch hundreds of fishing boats sail in and out of the harbour. You can also buy newly caught seafood here from fishermen.
Want to sit back and enjoy the ocean view? Phan Thiet has several hotels and resorts, especially in Mui Ne, that provide a luxurious and relaxing atmosphere for tourists that want to temporarily get away from the hustle and bustle of everyday life.
6 – Cần Giờ, Ho Chi Minh
Can Gio is a wonderful place to enjoy nature in Vietnam. While it is a part of Ho Chi Minh, it is vastly different from the commercialized environment at the heart of the city.
A popular destination is Dao Khi (Monkey Island), where over 1,000 monkeys roam. If you visit, be sure to your belongings close. The monkeys on this island are accustomed to humans and therefore are quite bold; they will take things that spark their curiosity, such as phones, purses, and even hats.
Besides Monkey Island, Thanh An Island is also a place you should definitely visit. Thanh An is a small island surrounded by beautiful beaches. Here, you can interact with locals, and show off your photography skills snapping the glorious sunsets.
7 – Cần Thơ
Can Tho is a city with fruit gardens and many rivers flowing through it. There is also a beach – Can Tho Beach – for those who like plenty of sun, sea, and sand.
While it may not be a big city with many tourist attractions, Can Tho is perfect for those who want to interact more with locals and experience the uniqueness of Vietnam's culture.
Cai Rang floating market is a must-see in Can Tho, as the merchants sell goods from their boats, mostly fruits and vegetables. This is a one-of-a-kind experience, even for some Vietnamese.
To further experience the unique culture of Can Tho, you can visit My Khanh. My Khanh is a tourist attraction where many merchants sell local fruits and food. At My Khanh, you can also participate in activities such as pig races and local dances. For a truly authentic look at Vietnamese culture, there are few places quite like it.
8 – Hạ Long
Ha Long Bay is one of Vietnam's most famous locations, and it is officially a UNESCO World Heritage Site. However, with this popularity comes a downside: it is nearly impossible to independently visit Ha Long Bay unless you have your own boat. There are many organized tours available in the region, but be sure to do your research thoroughly to find a tour that is suitable for you.
Sun World Halong Complex is another attraction, not too far from Ha Long Bay, you should definitely spend the day at. Sun World is an amusement park with rides, rollercoasters, a giant Ferris wheel, and plenty of colorful, organized shows.
9 – Nha Trang
Nha Trang is a beautiful beach city that has been made popular by the presence of an amusement park (Vinpearl Land) built by the Vinpearl Corporation.
Vinpearl Land has many rides, restaurants, arcades, souvenir shops, a human-made beach, and even a water show at night. There is a resort in the amusement park for tourists who want to stay for more than a day.
However, Vinpearl isn't the only thing that makes Nha Trang worth visiting. Hon Mun island, an island with clear water and beautiful coral reefs, and a church made entirely of stone, are two of many incredible sights to behold in Nha Trang.
10 – Đà Lạt
Da Lat is a great place to escape from the heat and humidity Vietnam is notorious for. As the city is built in the highlands, the weather is much more pleasant, with cool air and sprinkling rain.
At night, the marketplace in the city center is lively with many merchants selling souvenirs, food, clothes, and drinks. Unique things you can buy here are rose marmalade, egg soy milk, and roasted banana.
Da Lat is a place where you can be at one with nature. With gorgeous places to visit such as Datanla waterfall, Cam Ly waterfall, Dankia lake, and Dalat's flower garden, it is the ideal place to escape the hustle and bustle of city life.
11 – Hà Nội
Ha Noi, the capital of Vietnam and its largest city, is unique. It is not commercialized like Ho Chi Minh, it is not filled with natural attractions like some other cities, and it does not have many famous Buddhist temples. However, Ha Noi has a special charm: a mix of a modern city and historical structures and landmarks.
Ho Guom (Guom Lake, or Sword Lake), for example, has a famous folktale people still tell until this day: when King Le Loi passed by this lake, a giant golden tortoise gave him a sword to defend the country from invaders.
With the help of the magical sword, King Le Loi successfully defeated invaders, then later returned the sword to the tortoise at the lake. While nowadays, there are no golden tortoises, there are still giant tortoises in the lake that help carry the folktale.
The 36 streets in Ha Noi are another must-see attraction. Each street is named after a various good, food, or human essential (Salt Street, Hat Street, Shoe Street, and so forth) and merchants on the street sell the good the street is named after.
Other attractions include Ho Chi Minh Mausoleum, where Ho Chi Minh was buried, and Maison Central, where war prisoners were kept.
12 – Bến Tre
Ben Tre is surrounded by spellbinding nature and friendly locals. While many do not speak English well, as this is not a major tourist attraction, locals will do their best to make foreign visitors feel welcomed.
Đờn ca tài tử, a type of music made popular in Ben Tre, has been recognized by UNESCO as a cultural heritage. If you visit restaurants or bars frequented by tourists, you can easily see locals performing this type of music.
Vam Ho is a place in Ben Tre where birds of all kinds flock and nest, especially storks. With the thick trees to rest in and the vast river to fish, it is no surprise that birds love this place.
When in Ben Te, a trip to Ba Ngoi is highly recommended. Here, tourists can enjoy tropical fruits grown in the garden and try the local cuisine, including Vietnamese pancakes with clams (banh xeo hen), chicken and rice soup (chao ga ta), and boiled clam with spicy lemongrass sauce (oc luoc cham nuoc man sa ot).
13 – Vũng Tàu
Only an hour or two's drive from Ho Chi Minh City, Vung Tau is a favorite weekend getaway spot for many locals living in Ho Chi Minh. Because of this, the spot is especially crowded on the weekend and holidays, so plan accordingly.
Due to its popularity, there are many hotels and resorts, serving the needs of travelers and visitors from Vietnam and abroad. To easily access the beach, you may want to stay at a hotel or resort that is close to a swimmable beach.
The statue of Jesus Christ is a great spot for those who like taking photos since you can see part of the city and the ocean from there.
Also, don't forget to try the various seafood dishes Vung Tau has. Ganh Hao restaurant is my personal favorite, although it is usually crowded so a reservation is recommended. Some dishes to try here are baby squids fried with fish sauce (muc non xao nuoc mam), oyster baked with cheese (hao dut lo pho mai), and oyster with green onion (hao nuong mo hanh). Truly delicious!
14 – Đăk Lăk
Dak Lak is a highland famous for its domesticated elephants. If you visit Dak Lak, don't forget to visit Buon Don, where there are ample opportunities to see elephants up-close.
Dak Lak is unique because it is not exactly a tourist attraction, but a highland where many tribes live. Vietnam has over 50 ethnicities; most Vietnamese people are Kinh, and the rest usually live in tribes on highlands.
In Dak Lak, you are welcome to visit some tribes. Most tribespeople are friendly toward visitors, and will gladly inform you about their customs and culture.
As Dak Lak is a rural area, you can visit so much of the breathtaking scenery in the region, including Thuy Tien waterfall, Krong K'Mar waterfall, Lak lake, and the wonderful Ea Kap lake, which is shaped like a heart.
15 – Quảng Bình
Our final stop of Vietnamese cities takes us to yet another beach city! Vietnam is blessed with the Pacific Ocean running along its Eastern coast, thus it is no surprise there are so many beach cities on this list.
However, swimming in the shimmering waters and sunbathing on the golden sands are not the only things to do in Quang Binh. The waters of the Bang hot spring, wildly popular with tourists every year, are ideal for bathing in.
Song Chay (Chay River) is another place to visit in Quang Binh. Not only is it surrounded by jaw-dropping beauty, there are plenty of thrilling activities, such as games, ziplines, and climbing in caves, to try your hand at.
Vietnamese Cities Summary
Assure you soak up as much Vietnamese culture, history, and excitement as you can, by planning a travel itinerary that visits at least a handful, if not more, of these glorious Vietnamese cities.
Vietnam has something for everyone. Whether you're looking to dive deeper into the country's incredible history, marvel at the ancient architecture, try some utterly delicious food, or soak up some rays on sweeping golden beaches, you can find it all in Vietnam.
Use these cities to plan a route that gives you everything you are looking for, and enjoy these cities for their history, culture, and majestic beauty. A trip of a lifetime awaits you!
Looking to book a trip to Vietnam?
Here are some resources to help you book your next trip to Vietnam:
You Might Also Like to Read
Save and Pin for Later
Planning a trip to Vietnam in the future? Keep this list of beautiful Vietnam cities to visit for safekeeping, by pinning this article to one of your travel inspiration Pinterest boards.
Author: Jennifer Bui is a US-based content writer from Vietnam. She is deeply passionate about sharing Vietnamese culture, history, and cuisine with the world, and she strives to do so through her writing.