This post may contain affiliate links, meaning if you book or buy something through one of these links, we may earn an affiliate commission at no additional cost to you. Learn more
Travel gives us life-changing experiences, and our selection of the best pet travel accessories allows you to share these experiences with your beloved pets.
Pet Travel Accessories
Types of Pet Travel Accessories
Navigating this market is often tricky. Knowing what you need and choosing a quality brand or product is essential for your gorgeous pets to have a wonderful, stress-free adventure right by your side.
So, pour yourself a hot coffee or crisp vino, let your darling pet rest on your lap, and let's dive into the world of travel accessories for pets together to find the products that best suit you and your pet's needs.
To make this easier, I've categorized accessories into four sections for different stages of the journey, rather than by animal. This is because many products are made for multiple pets. These are as follows:
For each product, I have also listed what type of animal or pet it is suitable for. I have categorized as follows:
Dog Travel Accessories
Small Dog Travel Accessories
Cat Travel Accessories
Small Animal Travel Accessories
Note: I have not included birds, lizards, reptiles, or exotic animals in this list, many of whom would need specialized equipment to travel.
Air Travel Pet Accessories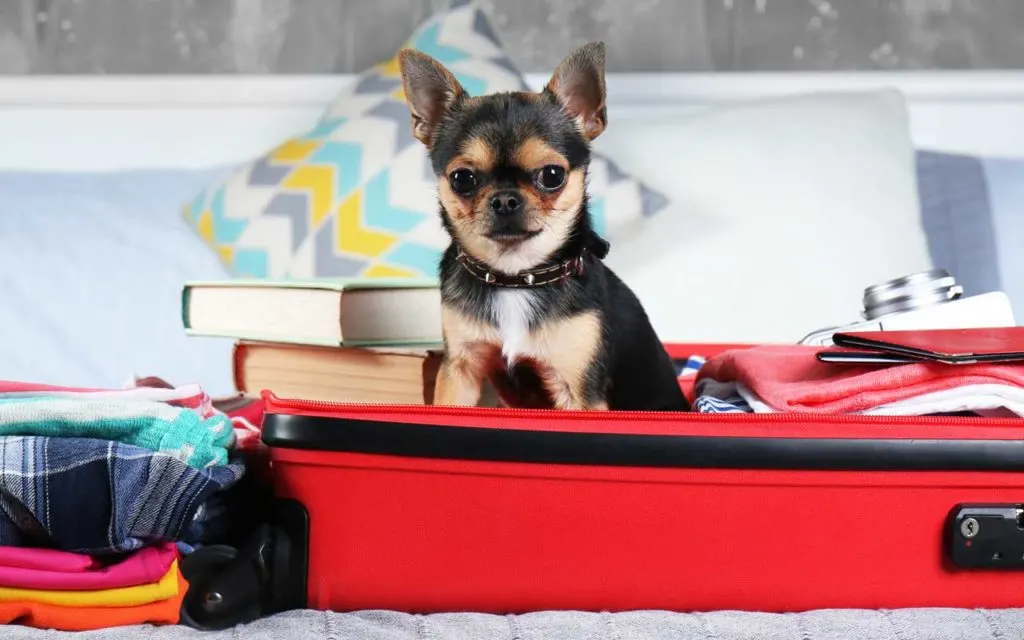 These pet travel accessories are designed solely for air travel, covering pre-flight, in-cabin, and post-flight scenarios to keep your furry companion safe and comfortable.
1 – Airline-Approved Cabin Pet Carrier
Check Price on Amazon
If your pet is approved to travel in the cabin of the plane, you're going to need a well-designed carrier that's compact but also comfortable.
The Sherpa Deluxe is a top choice for pet owners across the globe to carry their beloved pets in. Its spring-wire frame design allows it to be stowed beneath airplane seats while also keeping your pet safe and comfortable.
Mesh windows provide plenty of ventilation, and the faux lambskin liner provides a comfortable base for your pet to rest on. There's also a pocket to keep treats and accessories, along with plenty of comfortable design features.
Sherpa has its design approved to fly on most airlines, but be sure to double-check with the airline before flying.
Suitable for: Small Dog | Cat | Small Animal
2 – Cargo Hold Pet Carrier
Check Price on Amazon
If your pet will need to travel in the cargo hold, it is paramount that they travel in a stress-free, comfortable, and well-ventilated carrier.
From sizes ranging from 21" to 48", the sky kennel comes equipped with a 4-way vault door for extra security, three-side wire vents, and full 360-degree ventilation. This means your darling pet will be safe inside and have plenty of air circulation to breathe.
The kennel also comes with a range of extra accessories, such as clip-on bowls and 'live animal' stickers. All-in-all, it's up there as a top choice to carry your pet in when carry-on travel is not an option.
Suitable for: Dog | Small Dog | Cat | Small Animal
3 – Anxiety Jacket
Check Price on Amazon
Air travel can be very stressful for even the calmest of us humans. For your beloved dog, the alien environment and claustrophobic surroundings can be even more stress-inducing.
Thundershirt has helped millions of dogs stay calm during stressful situations. Their design is patented and works by applying gentle yet consistent pressure around your dog's stomach, back and midriff. No training or medication is required. You simply strap the jacket on and let the Thundershirt design take it from there.
A range of sizes are available, and the Thundershirt is a great way to keep your dog calm and relieve their stress before, during, and after flying. The shirt can also be used for many other scenarios, such as during fireworks or trips to the vet.
Suitable for: Dog | Small Dog
4 – Leash Harness
Check Price on Amazon
Going through security checks is never fun. The TSA Fast Past Leash Harness consists of a comfortable, metal-free design for your pet to waltz through security checks with no problems.
Your pet simply steps into the harness. From there, you attach it around their back. Its snap-buckle closure keeps the vest secure but is easily removed. The harness and leash allow you to travel with your pet through the airport and fly in the cabin with relative ease.
You can acquire the leash harness in several sizes. Be conscious of this and measure your pet before committing to a certain size.
Suitable for: Dog (Check sizes) | Small Dog | Cat
5 – Pet Carrier Insert Pads
Check Price on Amazon
Particularly on those longer flights, keeping your pooch or feline comfortably dry should be high on the agenda.
DryFur has a highly regarded range of insert pads in several sizes. Simply line your pet carrier with the pads, and the highly absorbent, instant-dry material will keep them dry and stress-free throughout the flight.
The pads are also very rigid, so bunching shouldn't be an issue. A great purchase to line your pet carrier with.
Suitable for: Dog | Small Dog | Cat | Small Animal
Road Travel Pet Accessories
In this section, we'll take a look at pet travel accessories designed for road travel. These products aim to keep your pet safe while also allowing for comfort and mobility.
6 – Car Seat Protector Cover
Check Price on Amazon
We all know how our pets love to enjoy the great outdoors and elements. But after a fun day at the beach, lake, or forest, the last thing you want is your tired pet spreading dirt on the front or back seats of your car.
Elegant Comfort has seat protectors for both single front seats and multiple rear seats. Their quilted microfiber cover is comfortable for your pet to rest on and 100% waterproof. This way, you can road trip safely in the knowledge your seats will remain clean. Once you've returned home, you can simply machine wash the cover and wipe it down with ease, ready to use again.
The quilted fabric is also great with hair. If your dog sheds a lot of hair, you can simply wipe it down after use with a damp cloth.
Suitable for: Dog | Small Dog | Cat | Small Animal
7 – Folding Dog Ramp
Check Price on Amazon
Courtesy of PetSafe, if your dog rides in the back of your car, van, or SUV, the Happy Ride folding ramp is an excellent way for them to get in and out of the vehicle during stops.
Able to support a weight of up to 150 lbs, the high traction material gives your dog a robust platform to stride up and down. The ramp folds open and closed in half and can easily be stowed away in the back of your vehicle when on the road.
It's a great way not only for your dog to have a lot of fun on the road but also to take the strain off you. With the ramp, you don't need to worry about constantly lifting your dog in and out of the back of your vehicle.
Suitable for: Dog
8 – Automobile Zip Line
Check Price on Amazon
If you're worried about keeping your dog safe in the back of the car while also allowing them the freedom to move around, Kurgo has a product more than worth taking a closer look at.
Their automobile zip line is attached to the two rear seatbelts and two fixed points on the underside of the car's roof. From there, you simply strap your dog into the harness and then attach the harness to the zip line.
This allows your dog the freedom to roam while being securely strapped in as you drive. Moreover, it frees you up to fully concentrate on the road in front of you, knowing your dog is safe and secure in the back of the car.
Suitable for: Dog | Small Dog
9 – Pet Booster Seat for Dogs or Cats
Check Price on Amazon
If your pet is happy to sit throughout the journey, a booster seat is a great way to keep them secure, comfortable, and unable to distract you from driving.
Kurgo has a selection of booster seats, both for front and rear seats. They are straightforward to install and come with a tetherable dog seatbelt that you can attach to their harness to keep them secure in the booster seat.
Comfortable for both cats and dogs, the booster seat gives you peace of mind when driving while allowing your beloved pet to enjoy the view in comfort, security, and style. Kurgo have a range of designs in their booster seat range, so take time looking through the specifications to find one that best fits both your pet's needs and car seat type.
Suitable for: Dog | Small Dog | Cat | Small Animal
Food & Drink Pet Travel Accessories
Here, we'll take a look at pet travel accessories for when your pet needs to be fed or have a drink.
10 – Portable Dog Water Bottle
Check Price on Amazon
You don't need me to tell you how vitally important it is to keep your beloved pooch hydrated. Particularly if they're doing outdoor activities, you want water on hand for any given moment.
Simple to use, Upsky's portable dog water bottle utilizes a very simple one-hand usage method. You simply unlock, press the button to release water into the container, and then release and lock to stop.
It's simple and lightweight enough to carry with you at all times. The water cup is easily filled and screws onto the trough. Silica sealing and a leak-proof lock stop water leaking into your backpack: simple, effective, and a great way to keep your dog hydrated while traveling together.
Suitable for: Dog | Small Dog
11 – Multipurpose Travel Food Bowl and Leash
Check Price on Amazon
SitStayGo's expert design combines a sturdy dog leash, water bowl, and food bowl, all in one compact and straightforward product.
The leash handle base acts as a water bottle, allowing you to store water inside. When your dog is ready for a drink, simply unscrew the water bowl, then unscrew the water bottle top and pour it in. Once you're ready to go, screw it back together, and you're away.
The all-in-one design allows you to keep your dog on the leash while you pour the water. And, for when they're hungry, you can store treats and food in the third bowl, which detaches from the water bowl.
Simple but incredibly clever, this product saves you plenty of space and is very convenient. The rust-proof steel and BPA-free materials add to the dog-friendly nature of the leash.
Suitable for: Dog | Small Dog
12 – Non-Spill Travel Bowl
Check Price on Amazon
After a fun day out in the wild, the last thing your dog wants is water spilling all over the place as they take in some much-needed liquids to rehydrate.
The Pet Gear Non-Spill Travel Bowl expertly combines a non-spill rim with a non-slip, non-tip base to keep the bowl grounded as your dog takes a drink. Surprisingly lightweight and easy to carry with you, it's a simple but effective product to take on road trips and faraway adventures with you.
Suitable for: Dog | Small Dog | Small Animal (Check sizes)
Pet Travel Accessories for Activities & Outdoors
Lastly, these pet travel accessories will allow your pet to enjoy being outdoors and outdoor activities with you.
13 – Pet Stroller
Check Price on Amazon
If you have the space to transport the stroller, this is an excellent product to show your pet the great outdoors while keeping them comfortable and dry.
A mesh covering allows your pet to see out the front while protecting them from wind and insects and allowing airflow into the main compartment. The exterior is made from durable Oxford cloth that's comfortable against the fur but also both durable and water-resistant.
A full 360-degree rotation on the three wheels allows for excellent mobility, and the frame collapses down nicely to fit in the back of your car or attached to your luggage.
Although advertised as a dog stroller, it's also great for cats and small animals. Look forward to fun, relaxing strolls in the park or at the beach with your gorgeous pet.
Suitable for: Dog | Small Dog | Cat | Small Animal
14 – Portable Space Capsule Pet Carrier
Check Price on Amazon
If your pet is anxious about spending time outside with you, this space capsule carrier is an effective and fun way for them to see the great outdoors while providing them with a safe, dry environment to do so.
Worn like a backpack, the semi-sphere transparent cover gives your pet a grand view of the beautiful place you're walking through.
At the base, a washable soft pad allows them to stay comfortable and dry, and you can attach your pet via their collar or harness to a fixed hook inside the bag.
Suitable for: Small Dog | Cat | Small Animal
15 – Small Dog and Cat Sling Carrier
Check Price on Amazon
If your darling pet is tired, or you're venturing through difficult terrain, a sling carrier is a great way for the both of you to enjoy an intrepid, outdoor adventure together.
Many exist on the market, but the Tomkas has plenty of nifty features up its sleeve to make it one of the most highly regarded out there. Made from a soft, breathable fabric, it's comfortable for both you and your pet.
The security lock can be attached to your pet's harness or collar to keep them secure, and the tote bag is reversible. Plus, you get a zippered pocket to hold small accessories. The single strap can be worn over either shoulder, and all-in-all, it's a fun, relaxed way for you and your pet to travel together.
Suitable for: Small Dog | Cat | Small Animal
16 – Dog Life Jacket
Check Price on Amazon
If you and your dog are planning to go swimming in the ocean or lakes, Outward Hound has an excellent life jacket to strap your dog into.
With an excellent level of buoyancy due to the foam panels on the harness, your dog can hit the water with confidence. The life jacket comes in a range of sizes and bright colors to be spotted easily. The top-sewn rescue handle also allows your dog to be pulled from the water with ease if they do come into a spot of bother in the water.
Great for both novice and strong swimmers, this jacket will give you peace of mind when out in the water.
Suitable for: Dog | Small Dog
17 – Collapsible Portable Litter Box & Water Bottle
Check Price on Amazon
An excellent choice for traveling with your beloved cat. Pet Fit For Life has used durable nylon to construct this litter box. It's very sturdy when unfolded but easily folds back into a compact package that's super simple to travel with.
Easy to clean, it's an excellent space-saver to take with you for your cat on long journeys and epic adventures. The collapsible water and food bowl is also a great extra that comes with the purchase. Perfect if you have a dog on the trip with you, too.
Suitable for: Cat
Things to Consider When Buying Pet Travel Accessories
Air Travel Accessories
Whatever way you look at it, flying with your pet is probably the most significant challenge when it comes to pet travel. Everything about flying is the exact opposite of what your pet is used to and what they find comfortable.
Your goal when it comes to buying pet travel accessories for flying should focus strongly on reducing stress and anxiety. Nothing will be fun for your pet when it comes to air travel. And, whether they fly in the cabin or in the cargo hold, their mobility is going to be limited. That is something you just have to accept.
A combination of products, such as the ThunderShirt with a good pet carrier, can help keep your pet comfortable and stress-free in a number of ways. It is definitely worth getting your pet used to these products before you fly. Give them time at home using and wearing these accessories so that they're not alien to them during the flight.
Road Travel Accessories
Unlike air travel, pet travel accessories for the road can make travel a lot of fun for your beautiful pets. With you at the wheel, you have far more control. You're not thousands of feet up in the air, and you can schedule stops as and when you please.
What you want to look for when it comes to road travel are accessories that focus on mobility and safety. In the car, it's very easy for your pet to get overly excited and become a major distraction to you at the wheel.
The size of your car will also come into play here. A ramp, for example, is going to be far easier to utilize if you have a large trunk.
Unlike air travel, which is simply about keeping your pet calm and stress-free while you get through the journey together, you can make road travel plenty of fun for your pet. Find that perfect balance between keeping them mobile while safe, and you'll have an excellent time.
Food and Drink Accessories
Naturally, you'll have your own food and liquids you know your pet loves and has become accustomed to. These can all be packed away in your luggage or in your car.
Good products in this category will make your pets' feeding and drinking time convenient. When buying products, you'll also want to take a close look at the materials used. Many products will use BPA-free materials, so keep an eye out for this and any other features the manufacturer lists in the description.
Outdoor & Activities Accessories
Personally, I feel these are the most fun products for pets. They allow them to enjoy the great outdoors with you while simultaneously keeping them comfortable and safe.
With accessories such as strollers and carriers, again, it's important to give your pet time in these accessories before you take them on your adventure with you. Keep a close eye on ventilation, as that is a critical factor when keeping your pet inside a carrier, accessory, or harness.
And naturally, safety is a top priority with these accessories. You'll want to measure your pet as accurately as possible and double-check your pet's dimensions against the dimensions of the products. Many of the products chosen have multiple sizes to choose from.
Choosing the correct size can often be the difference between your pet loving the accessory or feeling claustrophobic and panicky when in the product or wearing it.
Also, be mindful of your pet's strength. If you have a particularly strong or animated pet, you'll want to look through some reviews and double-check materials and strength for any outdoor pet accessories.
Pet Travel Accessories Summary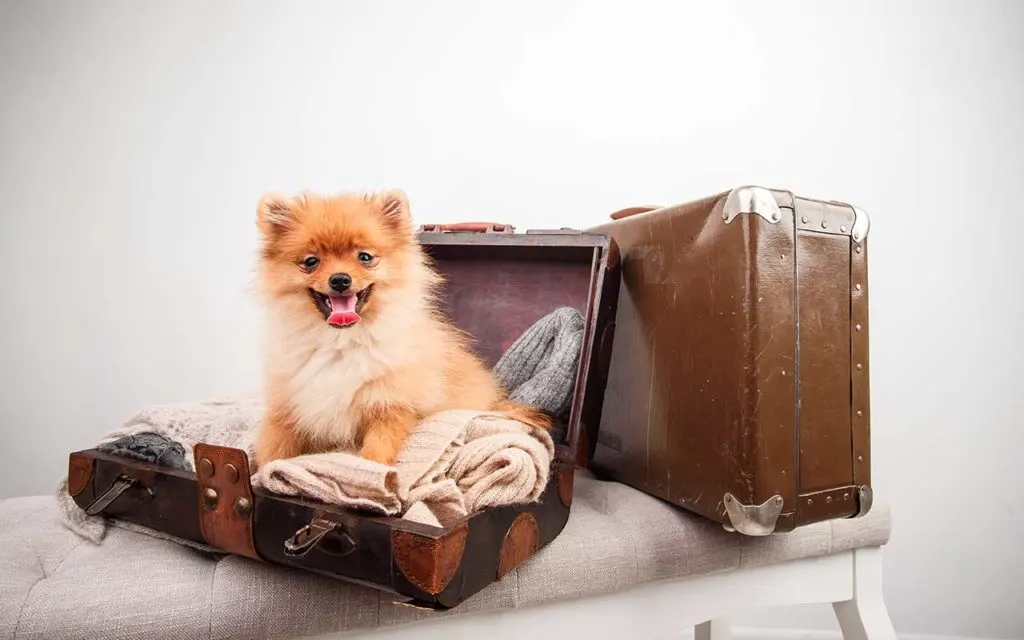 Whether you're traveling by air or road, and whether your pet is high-energy or calm and timid, these seventeen travel accessories should help make your next trip an enjoyable, stress-free one.
Remember, be sure to accurately weigh and measure your pet before making a purchase. Making sure the size of the product fits is vitally important for their well-being and health. No pet wants to be inside a carrier that's too small for them, and so on.
But most of all, I hope these accessories help you and your gorgeous pets have an adventure together like no other!
You Might Also Like to Read
Save and Pin for Later
Keen to get one or more of these pet travel accessories for your next big adventure? Save this article to one of your Pinterest boards. That way, when the time comes, you'll know where the find the article again.
Non-product images licensed via Shutterstock