This post may contain affiliate links, meaning if you book or buy something through one of these links, we may earn an affiliate commission at no additional cost to you. Learn more
Whether you're a professional cyclist or planning your very first cycle trip, there are plenty of bike gadgets and accessories to make your trip a safe and comfortable one.
Maybe you need a bike helmet that's both stylish and protective. Or maybe you want to jazz your bike up with some cool accessories. Whatever your needs, you've come to the right place.
Get inspired to enhance your future rides with our selection of 27 must-have cool bike gadgets and accessories. Happy cycling!
Bike Gadgets and Accessories
1 – Smart Helmet
Check Price on Amazon
"Safety first" is a mantra that should be remembered in many cases. It's even better when you can combine safety with utility, and that is exactly what this helmet provides.
Not only is it safe and comfortable, but it also has a system of lights that can be used to quickly signal your intentions to drivers and pedestrians.
2 – Night Light System
Check Price on Amazon
A headlight is a necessity for anyone who likes to ride their bike in the evening or at night.
You want your headlight to be visible, light, and simple to use. This light more than delivers in every single category. With a variety of great features, high-quality construction, and great reliability, you really can't go wrong with this headlight.
3 – Tail Light
Check Price on Amazon
This is another great tool to make you more visible in low-light conditions and keep you safe.
A tail light is the perfect (and often necessary) complement to a headlight. You would ideally want a tail light that is strong enough to be visible from relatively far away and one that won't require you to charge it very often.
With great power and a high-capacity and rechargeable battery, this one fits the bill.
4 – GPS Bike Computer
Check Price on Amazon
This is a perfect companion tool for anyone who likes to take long rides in nature and explore new routes spontaneously.
A GPS tool will allow you to immerse yourself in exploration without worrying about how you will keep your bearings.
Focus on what truly brings you pleasure and let technology worry about keeping track of your location.
5 – Bike Lock
Check Price on Amazon
You probably love your bike, and you want to keep it safe, so it is only natural that you want to find great protection for it.
Having just one protection measure in place can often prove inadequate against a determined thief.
This U-lock and cable combo act as a great 1-2 safety punch that will keep your bike safe and many thieves will simply move on since they won't want to bother with going through two separate safety measures.
6 – Bike Phone Mount
Check Price on Amazon
A smartphone can be used for basically anything nowadays, and it can be an incredible companion for your rides.
Whether you use it for tracking, navigation, music, or something else, you want your phone to be accessible, and keeping it in your pocket isn't exactly optimal while you are riding.
This convenient phone mount will let you enjoy the use of your phone with great ease and convenience.
7 – Bike Speedometer
Check Price on Amazon
Do you have specific distance or speed goals that you want to achieve during your ride?
Having a convenient tool to keep track of your speed and traveled distance would be a great help in that regard.
A speedometer that mounts on your handlebar will provide you with all the data you need at a moment's notice. If you want to track yourself in real-time, this is the tool to get.
8 – HD camera and Handlebar Mount
Check Price on Amazon
If you want to capture your best moments or just get a couple of great memories from your rides, a GoPro camera that can be mounted on your is one of the best action cameras you can use.
You can use a bicycle handlebar mount to attach it to the bike.
These cameras are tailored for recording the action as it unfolds, and you can rest assured that you will be getting great recording quality and amazing durability.
9 – Cycling Mirror
Check Price on Amazon
Maintaining your spatial awareness is very important when you're riding your bike, especially when you are riding it in an urban environment.
You need to know what is happening behind you, and turning your head will render you temporarily blind to what is happening in front of you.
A mirror gives you the best of both worlds, letting you see what is behind you without taking away the ability to react to anything in front of you.
10 – Hydration Pack
Check Price on Amazon
Hydration backpacks are an amazing tool for anyone who likes to go on longer trips through nature.
They help you carry your necessities, and they practically eliminate the need for carrying a separate water bottle since you can drink straight out of the tank in your backpack.
This also helps keep your hand free to focus on gripping the handlebar.
11 – First-Aid Kit
Check Price on Amazon
Even with the best precautions and proper riding techniques, accidents can still happen. When they happen, you want to be ready.
Having a first aid kit will let you quickly react and adequately treat any smaller wounds. Don't allow yourself to be without a first aid kit when one becomes needed.
12 – Cycling Sunglasses
Check Price on Amazon
Feeling the sun on your skin as you ride your bike is amazing, and many cyclists cherish that feeling.
As great as the sun is, it can also be a dangerous distraction if it prevents you from properly paying attention to what is in front of you.
These sunglasses are tailored to cyclists, and they will offer a great level of protection without impairing your vision
13 – Cycling Backpack
Check Price on Amazon
Whether you are going on a long ride through a forest or just need to get some item from point A to point B, a backpack is one of the cyclist's best friends.
This high-quality backpack is packed with features that you will absolutely love, and it will be a great companion to you on many of your rides.
14 – Face Covering
Check Price on Amazon
Anyone used to riding their bike on windy days knows that having a face-covering in such conditions will greatly improve your overall comfort.
It will help protect your face from dust or other things that strong winds can bring your way.
Even if it isn't windy, it can help keep you warm in the cold weather. And it's especially useful in 2022.
15 – Cycling Jacket
Check Price on Amazon
This waterproof jacket is made with cyclists in mind. It being waterproof means that it will help keep you dry when it is raining outside and is light enough not to become a burden in warmer conditions.
Bright colors will make you more visible as you move about, which will help keep you safe.
16 – Outdoor Bike Storage
Check Price on Amazon
Are you outside in an area without natural or artificial shelter and you want to protect your bike from the elements?
This outdoor bike storage will help with that. It is easy to set up, even without tools, in under 15 minutes.
Just put your bike inside, zip it up, and you can rest assured that it will be kept safe for the time being.
17 – Smart Gauge
Check Price on Amazon
This is the tool for you in you want to make sure that your tires are inflated in accordance with your preferences.
This gauge will let you measure your tire air pressure anywhere, and it even comes with a dedicated button for releasing air so you can quickly deflate your tire and get an accurate new measurement.
18 – Bike Bell
Check Price on Amazon
This is a must-have if you are riding in urban areas. A simple yet amazing tool for letting those around you know what you are coming through, and it will help you avoid collisions.
19 – Tire Levers
Check Price on Amazon
If you like to ride outside of paved paths, you are likely familiar with flat tires, and you probably always carry a spare with you.
Even if you have a spare, it won't do you much good if you don't have the tools needed to replace a flat tire.
These levers are very light and compact, so they won't take up precious space, but they will be ready when you need them.
20 – Cycling Multi-Tool
Check Price on Amazon
Any serious rider will tell you that having a multi-tool with you whenever you go riding is an absolute must.
Most repairs on your bike are something you can do yourself with some basic know-how and the right (multi) tools.
Some simple spare parts and a multi-tool will let you take care of most repairs even if you're in the field and miles away from the nearest bike shop.
21 – Saddle
Check Price on Amazon
Many default bike saddles aren't really optimized for longer rides, and many riders opt to replace their saddle with a more suitable model.
This is a saddle that will provide optimal weight distribution, which will result in a much more comfortable ride over longer periods of time.
If you plan on going on longer rides, a saddle like this is highly recommended if you want to avoid pain.
22 – Waterproof Bike Seat Cover
Check Price on Amazon
Bikes getting wet is something that happens all the time, especially if you like riding in nature, and that is perfectly fine.
However, there is one part of your bike that you don't want to be wet, even if it is only for reasons of comfort, and that is the saddle.
A waterproof saddle cover such as this can help keep your saddle dry regardless of your route of the weather conditions. It is easy to mount and easy to take off.
23 – Surfboard Rack
Check Price on Amazon
Surfing is the perfect seaside activity, but not all of us are fortunate enough to live right next to the beach, so carrying your board might not be so easy.
But why carry it when you can put it on your bike and ride it to the beach?
The rack will keep your board safe, and something like the U-lock and cable combo we've already covered will help keep your bike safe while you surf.
24 – Coffee Cup Holder
Check Price on Amazon
Many people use their bikes to go to work in the morning, and many people like to pick up a cup of coffee on their way to work.
It's not easy to carry around a cup of coffee if you are riding a bike. That is where this cup holder comes in.
It mounts on the handlebar and lets you carry a cup of coffee without taking up your hands and without having to worry about spills.
25 – Bike Wall Rack
Check Price on Amazon
Riding a bike is great, and often, the most annoying part of owning a bike is storing it when you are not using it.
Many people have lots of room on their garage walls, but it is unfortunate that bikes can't be stored on walls. Or can they?
With this wall rack, they most certainly can. It lets you easily mount your bike on a wall when it is not in use, and you can quickly take it off whenever you want to use your bike.
26 – Bike Trailer for Kids
Check Price on Amazon
This trailer lets you take your child along for the ride without the risk of them falling off of the bike.
The trailer is stable thanks to a three-wheel configuration. It allows for plenty of airflow, and there is even an option to roll down the nylon covering on the top in case it starts to rain so that your child can stay dry.
27 – Bike Trailer for Pets
Check Price on Amazon
Do you have a pet that you need to transport, but you can only use your bike? If so, here is the perfect product for you.
This trailer attaches to your bike and provides your pet with a comfortable way to ride with you, and you can rest assured that your pet will be comfortable and that they will get plenty of sunlight and air.
Cool Must-Have Bike Gadgets, Accessories, and Essentials Summary
Gadgets and accessories are a huge part of cycling. You're very limited in what you can do when you only have your bike.
So, it's worth investing in a proper setup. A setup that, first and foremost, keeps you safe and protected.
This should never be overlooked. Keeping safe is such an important part of cycling. From helmets to pads, there is plenty of bike gear to keep you safe.
Once you're safe, then you can start to have fun. So many bike gadgets help your ride run smoother and make you look stylish as you ride.
Cycling is like so many things in life. Without the right equipment and setup, you're always going to be limited.
We hope this list helps inspire you to make your cycles easier, safer, and much more fun. After all, cycling is such a wonderful way to spend your free time.
Have fun with your bike gadgets and accessories, stay safe, and enjoy your next cycle, wherever it may take you.
You Might Also Like to Read
Save and Pin for Later
Planning to cycle soon? Need to get some cool biking gadgets, gear, accessories, and other essentials for your upcoming bike trip? Save this article to one of your Pinterest boards for future reference.
---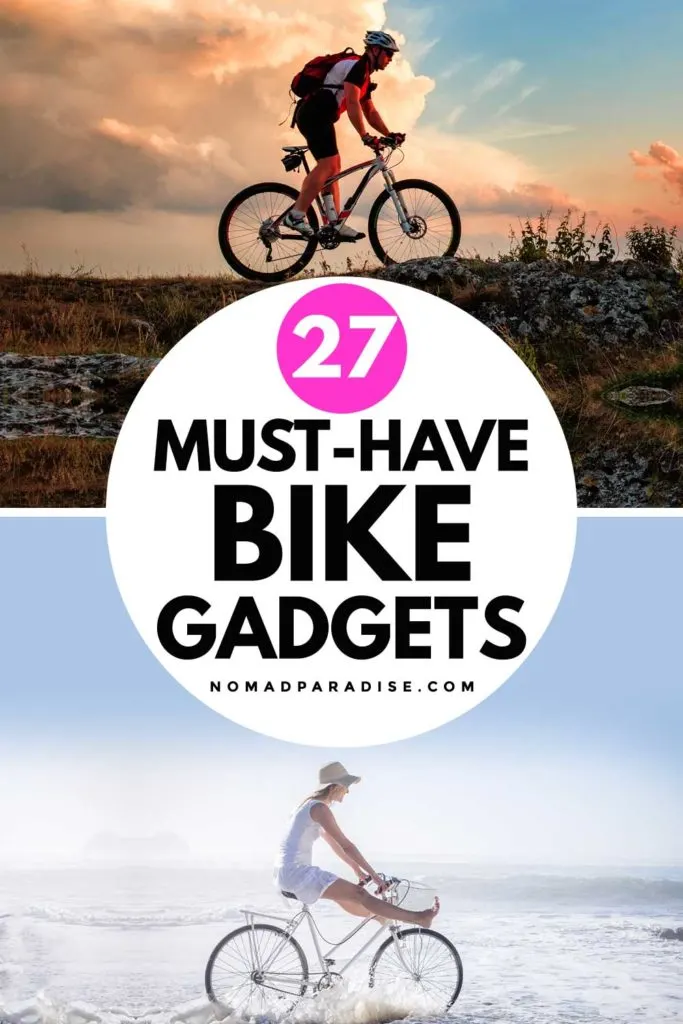 ---
Non-product images licensed via Shutterstock. Featured image by gorillaimages. Pin images by wavebreakmedia and Oleksiy Rezin.