This post may contain affiliate links, meaning if you book or buy something through one of these links, we may earn an affiliate commission at no additional cost to you. Learn more
Vast, eclectic, full of adventure, and everything in between, Arizona is a state like no other! If you're eager to visit but aren't quite sure where to begin, these 30 places to visit in Arizona are an absolute must to experience everything it has to offer.
From sunset rooftop bars to jaw-dropping waterfalls, towering sun-baked rock formations to exotic animals, there really is everything, and so much more, to do in Arizona.
Places to Visit in Arizona
Cities to Visit in Arizona
1 – Phoenix
Phoenix is the capital of the state of Arizona. In the city, you can find a variety of different activities, including watching basketball and baseball, seeing live music at the many concert arenas, and enjoying drinks and good times at so many unique bars.
One of the main calling cards of the metro city is the food options; Phoenix has great restaurants, from hole-in-the-wall authentic Mexican food to high-end steak houses and everything in between. You will never be disappointed or limited on dining options!
2 – Sedona
This little city is known for its red rock features; you can see the city from miles away as you drive in, and the surroundings turn from brown and tan to copper red.
Sedana is known to be very spiritual and a place recognized by the Native Americans to bring self-awareness. For this reason, there are many small shops full of crystals and hand-made artwork that can be found in the main square.
3 – Tucson
Tucson is home to the University of Arizona, and, in recent years, it has transformed into a hot spot for tourists looking for something new. Hop on the tram and travel to the downtown area full of many trendy food spots and clothing shops.
The outskirts of the city are still seemingly untouched by man, with areas for hiking and nature reserves to see some of Arizona's natural wildlife.
4 – Prescott
If golfing, nature walks, and antiques are your speed, Prescott is the city to visit. With surrounding natural beauty, this is an ideal place to come and relax to take in some of the beauty that the northern part of the state has to offer. There are even a few small lakes that are great for bird watching and fishing.
5 – Flagstaff
If you head northeast from Phoenix, the weather in the state of Arizona changes significantly. While the 3-hour ride from flat desert to mountains and forest may take a little time, it is definitely worth it!
Flagstaff may be a smaller city but is well-traveled in the winter due to the amount of snow in the area. Close by is the Arizona Snowbowl, which is a hugely popular resort for skiing and other winter activities. Camping in the area is also great during the spring when it begins to get a bit warmer and the animals come out to play.
Outdoor Activities
6 – Grand Canyon National Park
The Grand Canyon is one of the seven natural wonders of the world. This vast and beautiful canyon was carved out over millions of years as the Colorado River worked its way through the surroundings.
This area is full of activities for tourists, including buses that will drive you to the picturesque shots of the Canyon and hiking tours that will take you to the bottom of the canyon via donkey. The canyon is in the more northern area of the state, so is ever so slightly cooler than the south (but still very hot, especially in the summer, so pack accordingly).
7 – Tombstone
Tombstone is a historic city in Arizona that is well known for its connection to the Wild West. Historically, this town was full of saloons occupied by cowboys and miners.
It is famously known for shoot-outs that occurred within the city, including what many know as the "Gunfight at the O.K. Corral." Many travel to the site in search of paranormal activity and ghost sightings.
8 – Cathedral Rock
Located within the red rocks of Sedona, Cathedral Rock is a popular spot for people to hike to, with the area famous for its views of the natural rock formations and beautiful skyline.
This hike is not easy and is even considered dangerous at some points. But for those who take on the challenge, the view at the end is unmatched.
9 – Havasupai Falls
Famous for its spectacular waterfalls, featured in many music videos and movies, this destination is located in the Havasupai Indian Reservation. After a 10-mile hike (or helicopter ride) in, the surrounding nature looks like something that should be found in Hawaii or Fiji.
Huge waterfalls cascading into clear pools of natural water are the main attraction, and visitors can stay on one of the multiple campgrounds. The place is so sought-after to visit that there is a yearly opening to gain access to the site, with some waiting two to three years before getting tickets to see the natural wonder.
10 – Petrified National Forest
The Petrified National Forest is a lesser-known tourist destination, but those who do stop to see it can't help but marvel at its beauty. This destination offers landscapes that you would believe are from another planet, with large rocks seemingly defying physics and naturally carved arches throughout.
It is found in what is called the Painted Desert due to its unique, bright colors that can be seen on the sands as the sun sets.
11 – Monument Valley
Located on the border between Arizona and Utah in Navajo Tribal Park, Monument Valley is another area of spectacular scenery.
Huge sandstone formations tower throughout the area and are the focus of many photographs bearing the Arizona name. There are plenty of jeep tours with a guide you can book, which is a great way to see the valley in all its beauty.
12 – Horseshoe Bend
Another largely photographed area is Horseshoe Bend, located in Glen Canyon National Park in Page, Arizona. This feature got its name from the way the Colorado River bends around the mountain, part of the east rim of the Grand Canyon, in a horseshoe shape.
The beautiful view of the sun in the background and (usually) cloudless sky is a must-stop on the way up to the entrance of the Grand Canyon.
13 – Antelope Canyon
Navajoland is a Native American reservation that occupies areas of Arizona, New Mexico, and Utah. It is home to over 170,000 Navajo tribe members and a vast range of many awe-inspiring feats of nature, one of which is the Antelope Canyon.
This canyon is truly special, reachable only on one of the daily tours of the canyon. As you travel down into the canyon, you are engulfed by red rock as you twist and turn your way through, with blue sky peeking through the rocks above. Pictures can not do this area justice, and it is definitely something to be witnessed in person.
14 – Lake Havasu
Located on the border of California and Arizona, Lake Havasu is an RV traveler's dream destination. With camps and plenty of beachfront parking, this large lake offers boating and finishing on this small portion of the Colorado River. It is a popular spring break location, with slightly cooler weather than found in the Phoenix area.
Related: 28 Cool Van Life Gadgets, Gear, Accessories, and Essentials
Museums
15 – Arizona Science Center
Downtown Phoenix is home to the Arizona Science center, a fun attraction for old and young alike. The experience is hands-on, with touchable gizmos and "movies" detailing space, nature, and dinosaurs.
It takes around three hours to fully experience all the exhibits, and it is a popular place for families on the weekend.
16 – Children's Museum of Phoenix
The Children's Museum Phoenix is known across the nation, with three levels of fun and learning. As with the Science Museum, this is a very hands-on experience.
Starting at the ground level, there is a three-story high climbable maze, complete with music, soft play, and even a bubble pit during the warmer months. The upper levels hold art classes with a variety of activities, a grocery store and restaurant with soft play, and several fun rides.
17 – Pima Air and Space Museum
If you are driving through Tucson, Arizona, you may pass what seems to be an airplane and helicopter graveyard. The Pima Air and Space Museum sits on 127 acres and is home to hundreds of aircrafts, from some of the world's first airplanes to recently decommissioned fighter jets. Be sure to bring your walking boots for this one!
18 – Desert Botanical Garden
The Desert Botanical Garden is located in Phoenix, close to the Phoenix Zoo. Featuring a wide variety of desert plants, this easily walkable paved area is a fun and peaceful way to experience Arizona nature in its original habitat.
High-End Hotels
19 – Clear Sky Resort
If you are looking for a hotel unlike anything you have experienced before, the Clear Sky Resort near the Grand Canyon is the place to stay. The hotel is made up of clear dome structures, nestled in an almost untouched area of the desert.
At night, the stars are bright, uninterrupted by street and building lights. Within your dome, featuring modern beds and bathrooms, you can look out to see the surrounding nature. Activities and food trucks are offered onsite daily.
Check out Clear Sky Resort on Booking.com.
20 – L'Auberge de Sedona
Sedona is home to part of this 5-start hotel chain, where you can stay at beautiful luxury cabins lining a small river that flows just steps away. A popular destination for weddings due to its catering options and breathtaking scenery, the service and amenities that this hotel provides are quite something.
Check out L'Auberge de Sedona on Booking.com.
21 – Sanctuary Camelback
The Sanctuary Camelback Mountain is a luxury resort located in beautiful Scottsdale, Arizona. Built right into the side of a mountain, the view from this hotel truly is awe-inspiring.
Small casitas, as well as larger luxury homes, are a great place to get away and relax amongst the quiet surrounding, and its world-renowned spa is another great place to unwind.
Check out Sanctuary Camelback on Booking.com.
22 – Enchantment Resort
The Enchantment Resort is another 5-star destination in Sedona, but it provides a much different experience. As you drive in, you are instantly surrounded by tall red rock features and trees.
Nature is the theme of this hotel, with its individual cabins built to leave as much of the surroundings uninterrupted as possible. The pool hotel is heated year-round and is a beautiful spot to look out to the red rock canyons; look out for the deer that often scamper through!
Check out Enchantment Resort on Booking.com.
23 – Canyon Ranch
Frequented by celebrities from all over the world, staying at Canyon Ranch is very much a high-end experience. In fact, you cannot even enter the premises without a reservation at this exclusive hotel.
Tranquil and peaceful, this luxury spot offers many different fitness, nature, and meditation classes. Meanwhile, the spa also offers both outside and inside pools to relax after one of the dozens of offered body treatments and massages.
24 – Fairmont Scottsdale Princess
If you are looking for plenty of family fun, the Fairmont Scottsdale Princess is the way to do this in style. Year-round unique experiences and events are hosted here, from Easter egg hunts in the spring to a lit-up Winter Wonderland during the holidays, all accompanied by plenty of great restaurants, kids' activities, and relaxing amenities.
Check out Fairmont Scottsdale Princess on Booking.com.
Animal-Themed
25 – OdySea Aquarium
OdySea Aquarium is one of the newer zoo experiences in the Scottsdale area. Through towering glass, you can marvel at a huge array of sealife from an underwater perspective, with penguins and sting rays being two of the main attractions.
You can even book a diving tour with a guide, allowing you to get up and personal with some of nature's most beautiful fish, mammals, and sea life.
26 – Heritage Park and Zoological Sanctuary
Located in Prescott, Arizona, Heritage Park is a non-profit sanctuary for animals where education and conservation are at the forefront of their mission.
Visitors can see and interact with animals of all kinds; they house many exotic animals that are kept safe and hoped to breed to carry on the species. While a modest-sized zoo, it still offers the chance to see these beautiful animals play in an open environment.
27 – Out of Africa
On the topic of unique experiences, Out of Africa in Camp Verde, Arizona is absolutely one to be mentioned. At this wildlife park, animals can be interacted with in a whole manner of ways.
From watching tigers to feeding giraffes, Out of Africa is an exhilarating experience for both parents and children alike.
28 – Bearizona
Another up-close animal experience is Bearizona, located in the northern part of Williams, Arizona. A drive-through experience, in your vehicle, you can travel along a well-paved path through natural landscapes filled with animals.
With strict rules to keep you and others safe, you can see bears and other animals in their own environment, playing and resting. Keeping the windows rolled up is a must, however, as these curious creatures have been known to climb onto passing vehicles.
29 – Butterfly Exhibit
The butterfly exhibit is located next to the Odysea Aquarium in Scottsdale. You can walk through an enclosed structure filled with thousands of various species of butterflies, landing on the shoulders and baseball caps of passers-through.
It is amazing to look up and see the brightly colored butterflies fluttering overhead, and it takes around an hour to walk through and take in the full experience.
30 – Ostrich Farm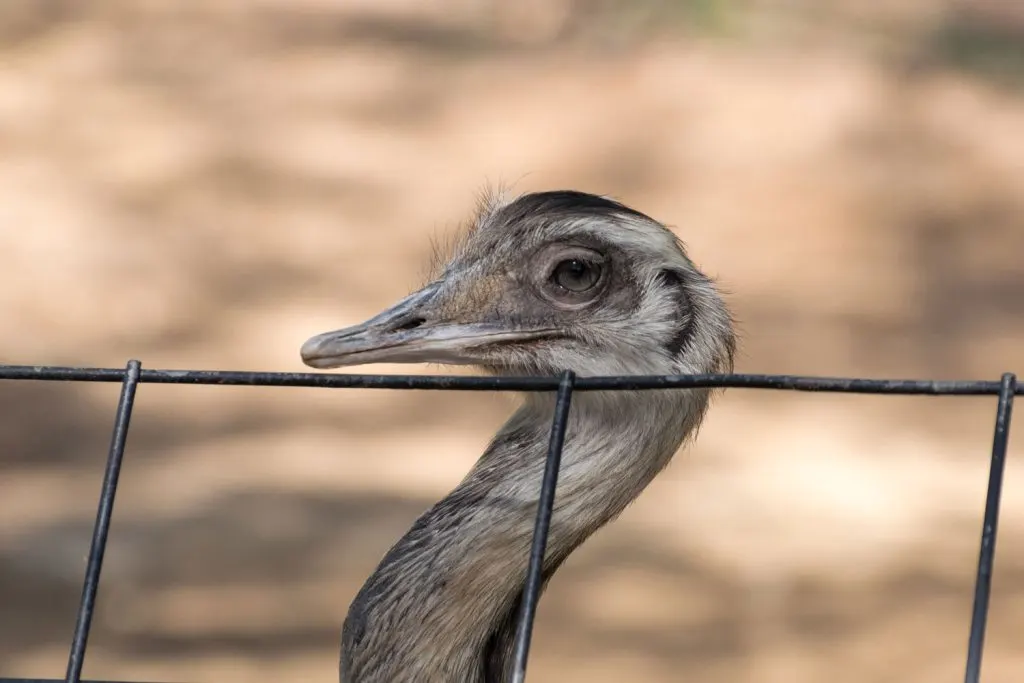 The drive between Phoenix and Tucson can feel long until you happen upon the Ostrich farm that lies between these two cities.
The ostrich farm offers up-close interactions with a large farm of ostriches, including the opportunity to ride one! The farm also offers unique dining options, including the Bison burger and Ostrich egg sandwich.
Places to Visit in Arizona Summary
So much awe, splendor, and adventure await when you explore the bustling cities, breathtaking landscapes, and unique experiences that can be found across the vastness of Arizona.
When you visit, be sure to add as many of these amazing experiences to your travel itinerary. Take it from me, you are in for a truly memorable trip, no matter where your travels through this sprawling, sun-kissed state take you.
You Might Also Like to Read
Travel Tools and Resources
Need a little help and guidance planning your trip? Don't worry. We've got you covered!
Save and Pin for Later
Planning a trip to Arizona? Keep this list of places to visit for safekeeping by pinning it to one of your foodie travel Pinterest boards.
Contributor: Aleasha Bryant is a writer from Arizona with a deep passion for Arizona's cuisine, culture, and travel.