This post may contain affiliate links, meaning if you book or buy something through one of these links, we may earn an affiliate commission at no additional cost to you. Learn more
Looking for wholesome and delicious foods to try in California on your next visit? You've come to the right place!
The beauty, culture, and cuisine of California make it impossible for Californians to leave the state for long. In less than a hundred miles, you can drive from the top of snow-covered mountains to sunny breezy beaches and beautiful thick forests in between.
People from all walks of life have made California their home, and they brought their culture and their cuisine with them. The state has become something of a culinary unicorn, with so many creative and colorful fusions influenced by cuisines from all over the world.
Prepare yourself for an adventure of truly mouthwatering proportions as we discover 19 amazing foods and drinks you can't leave California without trying.
Foods and Drinks to Try in California
Salads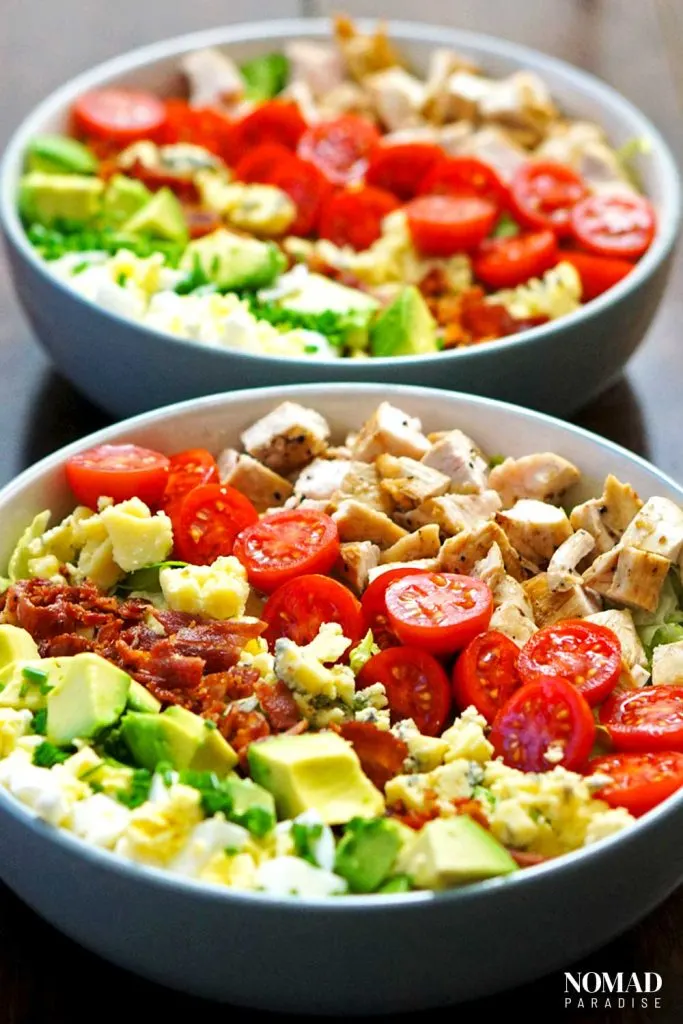 Invented at the Brown Derby Restaurant by Chef Robert Cobb, this salad became a near-instant hit, as the Hollywood elite would order it often.
The perfect Cobb salad contains diced tomato, bacon pieces, sliced avocado, cubed roasted chicken breast, and quartered boiled eggs with a sprinkling of minced chives on a light green bed of delicate iceberg lettuce, crunchy romaine lettuce, and fragrant watercress greens.
A red wine vinaigrette often accompanies this dish, although ranch dressing and blue cheese dressing are common dressing options as well.
Read more: Cobb Salad Recipe
Mains
2 – French Dip Sandwich
The culinary world loves debates, and so naturally, there is a debate on which two restaurants created the French dip sandwich. Was it Phillipe's the Original, located less than two miles from Olvera Street? Or was it Cole's Pacific Electric buffet? I am partial to Philippe's, as I have dined there many times with my family. Their food is always delicious.
A classic French dip sandwich has freshly sliced roast beef, onions, mayonnaise, and Swiss cheese, with sliced onions. You won't find burger buns or wraps on the menu because the preferred bread for this sandwich is a warmed French roll.
If you ever eat at Philippe's, I suggest you ask the person behind the counter to double-dip your sandwich. The sandwich will drip all over your shirt, but the taste will be well worth it.
3 – The Mission Burrito
Many disagreements have started over whether the burrito is Mexican or Mexican-American, as classic dishes and spices originating from Northern Mexico influence Mexican-American-style food more than any other region of Mexico.
The perfect Mission Burrito contains rice, beans, cheese, sour cream, guacamole, your meat of choice, Pico de Gallo, and hot sauce or salsa.
Related: Mexican Foods You Need to Try
4 – Korean Tacos
It makes sense that the Korean taco was invented in a food truck, as food trucks fed millions of Angelenos every year and have done so for the past few decades.
A unique blend of Mexican and Korean ingredients, a Korean Taco has Bulgogi flavored meat, kimchi, hot sauce, lettuce or cabbage, and onion, all wrapped in two corn tortillas.
Related: Korean Foods You Need to Try
5 – Cioppino
Italian immigrants who had once lived and worked in the port of Genoa invented this deluxe seafood dish. Upon immigrating to the United States, they fished in the waters of San Francisco and used their catch to make this delicious Italian-inspired stew from the 1880s onwards.
A signature Cioppino stew has scallops, crab, shrimp, mussels, and clams, all simmered in a wine and tomato sauce. Common herbs for this dish are onions, shallots, salt, red pepper flakes, and fennel.
Related: Italian Dishes You Need to Try
6 – California-Style Burrito
The California-style burrito is a mouth-watering carb bomb, and you will want to take a nap after eating this burrito! Instead of rice and beans in a carne asada or carnitas burrito, you're going to get a mouthful of hot and crispy French fries.
7 – Fish Tacos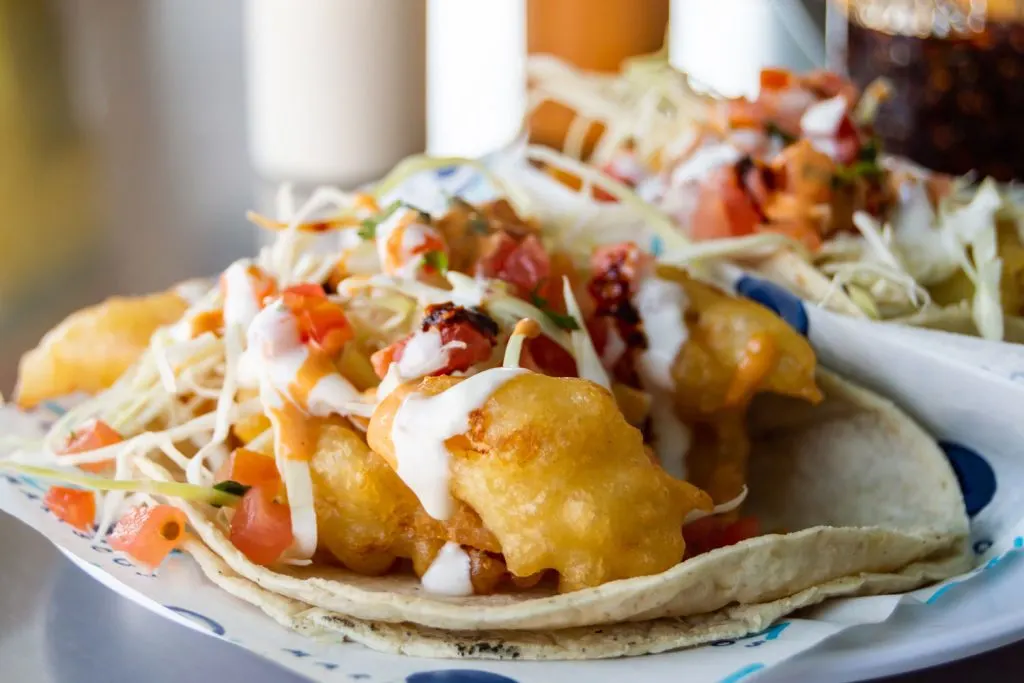 There are many origin stories centered on the creation of fish tacos of San Diego. Since Mexico is so close to San Diego, the likeliest story is that Mexican immigrants brought different styles of fish tacos from the beach towns of Mexico, where they once lived, and recreated them in San Diego.
Another story also exists about a Japanese fisherman who moved to the town of Ensenada, Mexico. He caught, gutted, battered, and fried fish and shark. Then, he served the battered pieces on two corn tortillas with Pico de Gallo and cabbage.
8 – California-Style Pizza
Move over Chicago and New York; California has its own pizza style! A true California-style pizza is a single-serving thin-crust pizza topped with peanut sauce, chicken, goat cheese, or artichoke hearts.
Once you overcome the strangeness of the ingredients, it is absolutely delicious. Chefs Ed Lado and Chez Panisse created this signature pizza in their restaurants in Berkeley, California.
9 – American-Style Sushi
Sushi will forever be Japanese food, but Japanese immigration to the state and California's access to some of the Pacific's freshest seafood in time led to a range of sushi dishes developed in the US.
While to this day, it is still disputed whether it was invented in LA or Vancouver, the California roll, consisting of cucumber, crab (or other seafood), and avocado, is a prime example of this.
In fact, Japanese immigrants and tourists who come from Japan to California even say these rolls are considered a foreign-style sushi roll.
Related: Popular Japanese Foods to Try
10 – American-Chinese Food
From the 1880s onwards, Chinese immigrants came to the United States through San Francisco and Los Angeles, and through New York City.
Using the resources and ingredients available to them in their new home country and the culinary techniques of China, they invented Chinese American food. Many famous Chinese brands and chain restaurants started in California and later in New York.
Some classic American Chinese foods to look out for include egg fried rice, chow mein, and beef and broccoli, along with so many others.
Side Dishes
11 – Mesquite Seasoning (used in Dishes like Mesquite Grilled Vegetables)
Check Price on Amazon
You may have seen the word Mesquite in the spice section or BBQ sauce section of your grocery store. It's a very common flavor, and you can put it on pretty much anything. Mesquite seasoning goes well with meats, seafood, game, and even vegetables.
This popular and dynamic seasoning has been grown in California for hundreds of years. It was cultivated by the Cahuilla tribe, which had land in California and New Mexico.
To make delicious mesquite grilled vegetables, roughly chop your favorite vegetables, like asparagus, zucchini, green beans, cauliflower, garlic cloves, bell peppers, and red onions, coat them with high-quality roasting oil, and generously sprinkle Mesquite seasoning on the oil vegetables.
Use your hand to mix the oil in the seasoning onto the vegetables. Then, put the vegetables on a roasting pan and into a 350°F oven for 35 to 45 minutes.
12 – Avocado, Guacamole, and Any Avocado-Based Dishes
California is so very proud of its avocado industry. Californians love avocados so much that we will put them on anything: burritos, burgers, casseroles, rice bowls, omelets, a crying baby, the printer when it stops working, etc.
The amount of avocado-themed kitchenware, clothing, and bedding available in this state is also alarming!
To make guacamole, scoop out the flesh of four ripe avocados, dice a Roma tomato, dice a quarter of an onion, finely chop a jalapeno or serrano, roughly chop cilantro/coriander, sprinkle some salt and pepper to taste, and mix it all together thoroughly. Add some lime juice to the guacamole for flavor and so that the avocado preserves its green color.
Read more: Creamy and Chunky Guacamole Recipe
Desserts
13 – The Fortune Cookie
After a surprising legal debate, Makoto Harigawa was decided in a court of law as the true creator of the fortune cookie. But most people still claim that the Hong Kong Noodle Company is the true creator of the fortune cookie.
Regardless of the creator's identity, the influence the fortune cookie has had on Chinese cuisine in America is indisputable. It was this little cookie that helped make Chinese-American food popular in California and the United States. Small paper fortunes are inside every fortune cookie, along with lucky numbers and zodiac signs.
14 – The Maple Bar Donut
The Maple Bar Donut is far more popular here on the West Coast than on the East Coast – well, those east coasters don't know what they are missing!
The delicious, warm, soft maple donut is always a joy to eat alongside a hot cup of coffee. But we would advise you not to put any sugar in your coffee, as all the sugar you need is right there on the donut!
Drinks
Named after the famous actress herself, the restaurant that developed this drink may have made it separately and then named it after Shirley Temple to make it more famous.
A traditional Shirley Temple is made with grenadine, ginger ale, lemon or lime juice, and topped with a maraschino cherry. Some bartenders mix the ingredients together for a soda-style drink, but others blend the ingredients together to make a slushie.
Read more: Shirley Temple Recipe
16 – Mai Tai
The famous Mai Tai looks like it belongs on a beach near a palm tree. It is a wonderfully refreshing rum-based drink made with carousel, lime juice, and orange syrup, finished with a cherry on top.
A man named Victor Bergeron claimed he created the Mai Tai in 1944 and his restaurant in Oakland, California. The word Mai Tai comes from a Polynesian language called Tahitian, and the word means good or excellent.
17 – Cabernet Sauvignon
French wine used to be regarded as the gold standard of wine, but that all changed in 1976. Judges in a blind wine competition in France chose several California wines over French wines. The decision shocked the wine industry to their corks. This event is now known as the Judgment of Paris.
Beers from California-based breweries like Russian River Company, Firestone Walker Brewing Company, and Lagunitas are also excellent choices to quench your thirst.
More California Foods
18 – San Francisco-Style Sourdough
Sourdough bread has been around for thousands of years, and there are many varieties of sourdough bread all over the world. The Boudin Bakery created San Francisco's signature sourdough bread.
What makes their sourdough bread different from other sourdough breads is not the ingredients but the famous San Francisco foggy weather. The foggy weather that rolls in and out of the San Francisco Harbor every night provides the sourdough starters with unique bacteria.
That may sound strange, but all sourdough breads contain naturally occurring bacteria and yeast from the surrounding environment.
19 – Ranch Dressing
Check Price on Amazon
While not invented in the state of California, the creator moved to Santa Barbara, California, and purchased a ranch to start his business. He named his new home The Hidden Valley Ranch. Whenever guests came to his ranch, he served this salad dressing with pride.
The perfect ranch dressing contains buttermilk or mayonnaise and sour cream along with dill, chives, garlic powder, onion powder, pepper and salt, and parsley. Sprinkle a bit of lemon for some zesty flavor, and it is the perfect dip or dressing for any food.
Foods to Try in California Summary
From the Native Americans and Mexicans who lived here before anyone else to the Italian and Asian immigrants who helped develop urban areas in both this state and the USA, California cuisine would not be the same without them.
And let's not forget the influence of Hollywood, as everyone in the industry wanted to be seen at fashionable restaurants. Many stars and starlets dined at famous restaurants just so the paparazzi could snap pictures of them dining on the latest culinary creations.
However, the next time you're in California, don't look for any A-list or D-list celebrities. Instead, look for these foods and meals in the list above and enjoy every single bite!
You Might Also Like to Read
Save and Pin for Later
Visiting California in the near future? Keep these must-try foods for safekeeping by saving this article to one of your Pinterest boards.
Contributor: Anna Medrano is a content writer and copywriter, passionate about all things Californian cuisine, places to visit, and culture.