This post may contain affiliate links, meaning if you book or buy something through one of these links, we may earn an affiliate commission at no additional cost to you. Learn more
Make your visit to the City of Big Shoulders one of unapologetic indulgence with these delicious foods to try in Chicago, which capture the raw passion, big energy, and collective spirit of the people of this city so well.
A city built on working-class roots, the iconic deep dish pizza is just one of so many classic, hearty, and flavor-packed foods that are loved and enjoyed throughout the city with family, friends, and coworkers. I'm going to give you twenty to get you excited, but believe me, there's so much more where that came from!
Foods to Try in Chicago
Appetizers and Sides
1 – Flaming Saganaki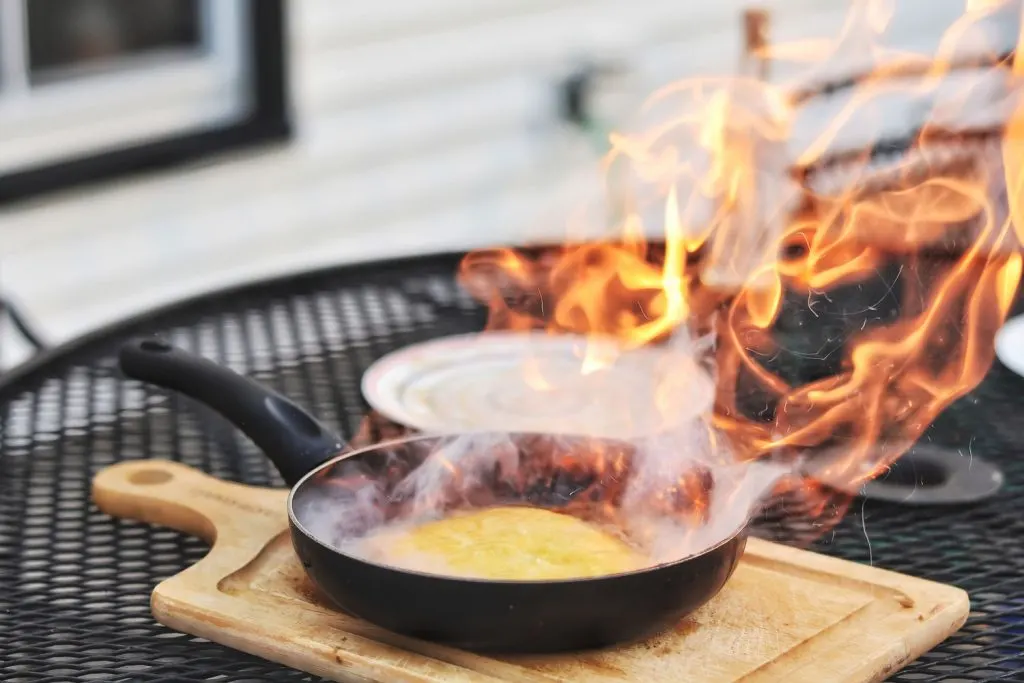 Contrary to common belief, Flaming Saganaki, a classic Greek appetizer, did not actually originate in Greece. Instead, it was invented in Chicago's Greektown in the 1960s.
Flaming Saganaki is primarily made with Kasseri, a cheese made from sheep's milk, and the dish is prepared by coating the cheese in egg wash and flour before frying it.
Traditionally, brandy is poured over the cheese and it is lit on fire tableside, creating a flaming effect. This makes the dish not only a delicious appetizer but also a memorable experience for the diners who order it.
Related: 20 Greek Foods You Need to Try
2 – Chicago Mix Popcorn
Chicago Mix Popcorn provides the best of both worlds: it is simultaneously savory and sweet. The concoction is a mix of both cheddar and caramel-flavored popcorn and is a common treat enjoyed by both locals and tourists in the Chicago area.
Since popcorn is a shelf-stable food, this mixture is often sold in gift tins so that Chicago visitors can bring it home as a souvenir to give to others or even enjoy themselves – it really is that delicious!
3 – Rib Tips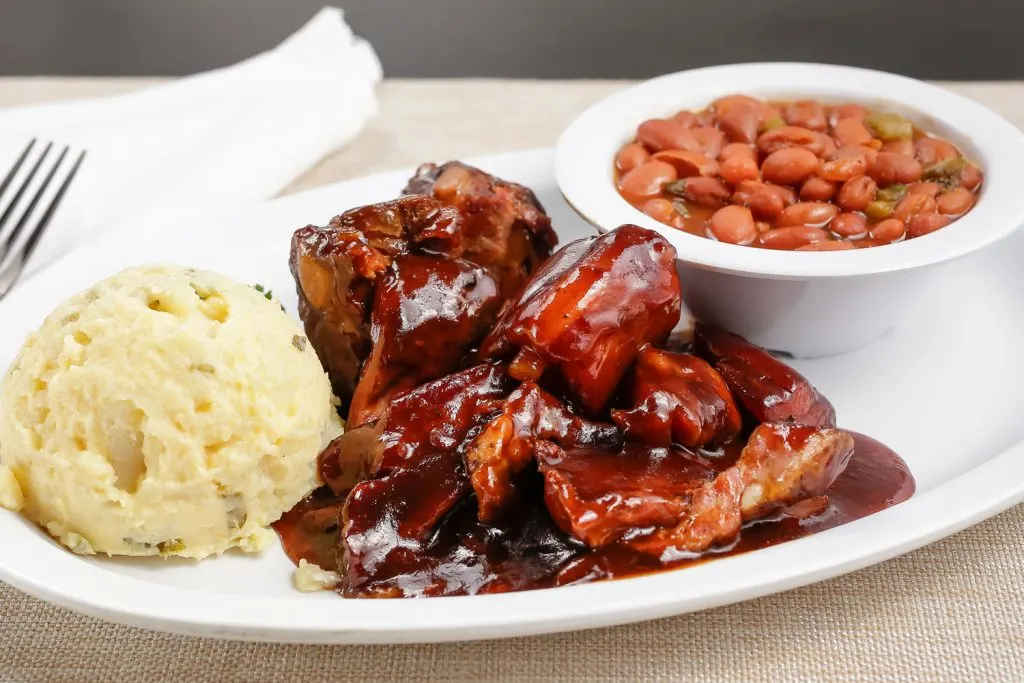 Rib Tips are the excess meat that is trimmed off from ribs to give them their neat, square shape. Many butchers typically throw this leftover meat out, regarding it as garbage since it contains some cartilage.
However, these Rib Tips are actually a popular delicacy in Chicago, and many Chicagoans believe that they are the most flavorful part of the rib.
Like regular ribs, Rib Tips are smoked and served with barbeque sauce. Rib Tips are sold at many BBQ stops in the south side of Chicago, and they are not only quite flavorful but also usually the cheapest meal option at these restaurants as well.
Mains
4 – Deep Dish Pizza
When people think of iconic Chicago foods, Deep Dish Pizza most often comes to mind. However, this iconic Chicago dish is not for the faint of heart: it consists of a thick crust filled with chunky tomato sauce and gooey cheese served in a deep pan.
Prior to cooking, the deep dish pan is coated with oil, which gives the pizza a crisp and lightly fried crust that is strong enough to carry a thick layer of cheese and sauce.
It is unclear exactly when the Deep Dish Pizza was invented, but many Chicagoans believe that the local restaurant Uno Pizzeria invented the dish in 1943. Decades later, the dish remains extremely popular, with many local Chicago pizzerias even selling frozen versions of their pies and shipping them to consumers all around the United States.
5 – Italian Beef Sandwich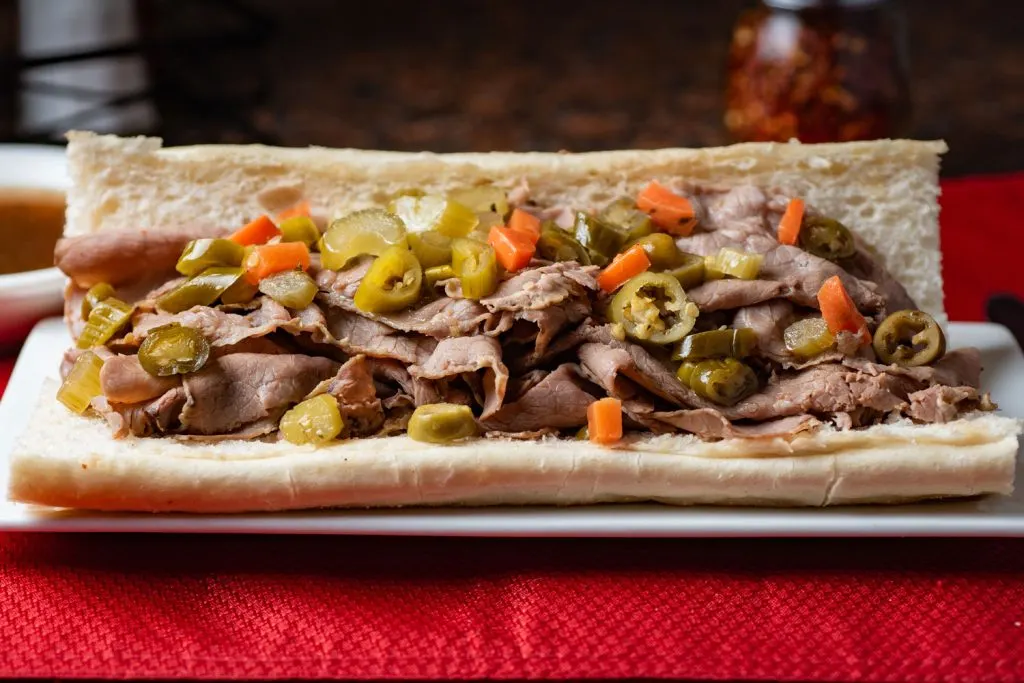 In the early 1900s, Italian immigrants invented the Italian Beef Sandwich, which is still a very popular dish at Chicago restaurants today.
Italian Beef Sandwiches contain thinly sliced beef and sweet peppers piled onto a long french roll. The sandwich is also served "au jus," meaning it comes with a side of juices from the beef for the sandwich to be dipped in.
Prior to being placed on the sandwich, the beef is roasted, seasoned with oregano and garlic, and soaked in beef broth for several hours. This lengthy process results in a juicy and flavorful sandwich loved by both locals and tourists of the Chicago area alike.
6 – Chicago-Style Hotdogs
While ketchup is the most popular hotdog condiment in most parts of the United States, this is not the case in Chicago. In fact, many of the hotdog street vendors around the city do not even offer ketchup as a condiment option.
Instead, these street vendors sell something known as the "Chicago-Style Hotdog." This iconic street food starts with an all-beef hotdog in a warm poppy seed bun. Then, the hotdog is filled to the brim with a plethora of toppings, including yellow mustard, sweet pickle relish, a dill pickle, diced onions, sliced tomatoes, pickled peppers, and celery salt.
Chicago-Style Hot Dogs were originally invented in the 1930s during the Great Depression to provide locals with a cheap and filling meal. However, the dish is still one of the most popular street foods in the city and is sold at hot dog stands that are stationed throughout the city.
7 – Jibarito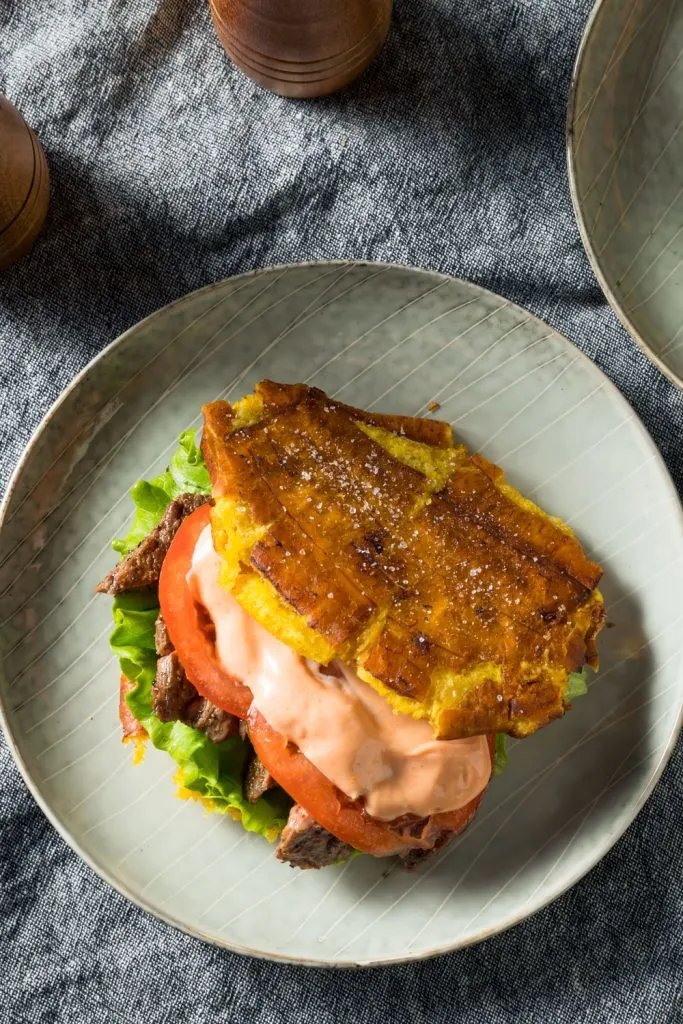 The Jibarito is a unique take on the sandwich invented by a restaurateur at a Puerto Rican restaurant in Chicago in 1996. This restaurateur primarily took inspiration for the sandwich from a book he read, which discussed how Puerto Ricans created a sandwich that used plantains as a substitute for bread.
Thus, the Jibarito sandwich uses two green plantains instead of bread. The plantains are flattened and fried, and garlic aioli, steak, lettuce, and cheese are all sandwiched between them.
Jibaritos are popular at Latin-American restaurants throughout Chicago, and while they are traditionally made with steak, many restaurants now offer Jibaritos with other meat options as well.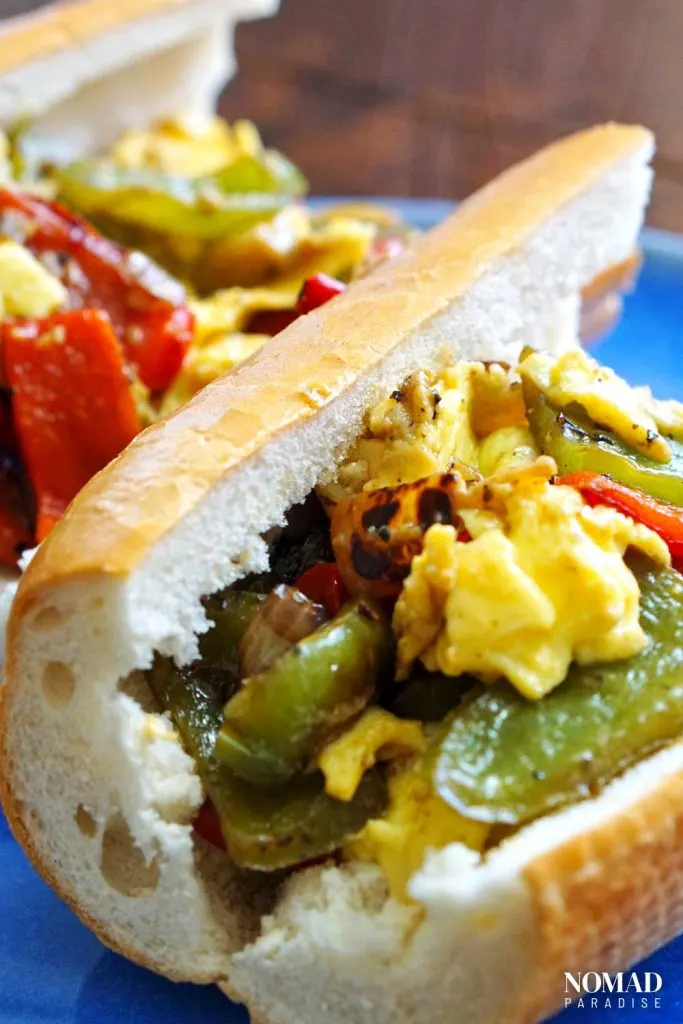 In the late 19th century, Italian immigrants brought the Pepper and Egg Sandwich to the Chicago food scene.
The Pepper and Egg Sandwich is quite simple, consisting of scrambled eggs and grilled bell peppers on french bread. This vegetarian dish is particularly popular with Catholic residents of Chicago during Fridays of Lent, a time when Catholics are forbidden from eating meat.
However, this basic yet delicious comfort food can—and often is—enjoyed by Chicagoans of all backgrounds during all times of the year.
Read more: Pepper and Egg Sandwich Recipe
9 – Tavern-Style Pizza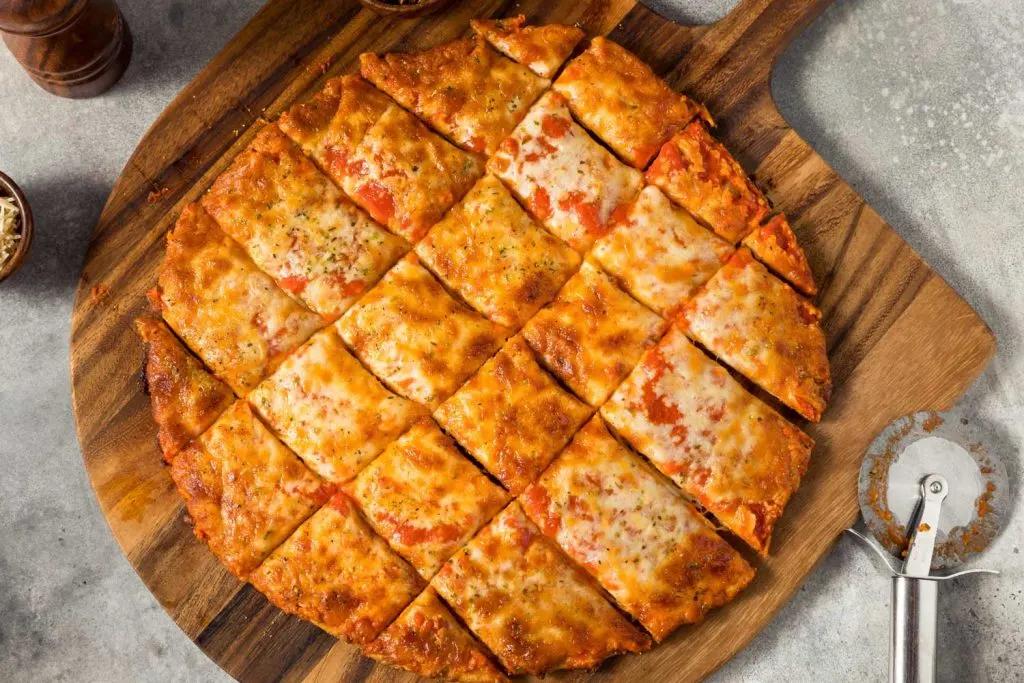 While most people know Chicago for Deep Dish Pizza, there is actually another famous type of pizza that was invented in Chicago: Tavern-Style Pizza.
Unlike the heartier deep dish pizza, Tavern-Style Pizza involves a cracker-thin, crunchy crust with a thin layer of marinara sauce and slightly browned mozzarella cheese. Rather than being cut into the standard pizza triangles, the Tavern-Style Pizza is cut into smaller squares.
The Tavern-Style Pizza has also been around for several decades longer than the Deep Dish Pizza, originating in the 1920s. The pizza got its name because it was originally served in Chicago's taverns to encourage patrons to stay longer and buy more beers.
10 – Aquarium-Smoked Ribs
One of Chicago's most unique culinary inventions is the Aquarium Smoker. This smoker's name is inspired by its appearance; the main part of the contraption is a rectangular box with clear glass sides, similar to a fish aquarium. In a metal box underneath, wood is fired, and there is a chimney attached to the top of the smoker to allow the smoke to exit the building.
The Aquarium Smoker was invented in Chicago in 1954 to allow restaurants to smoke their ribs directly over a wood-burning fire without creating a hazardous open flame. Therefore, the Aquarium Smoker allows restaurants to make ribs with a delicious wood-fired flavor that otherwise would not be possible in an indoor establishment.
Restaurants with Aquarium Style Smokers can easily be identified throughout Chicago by their large chimneys that blow barbeque-scented smoke into the city.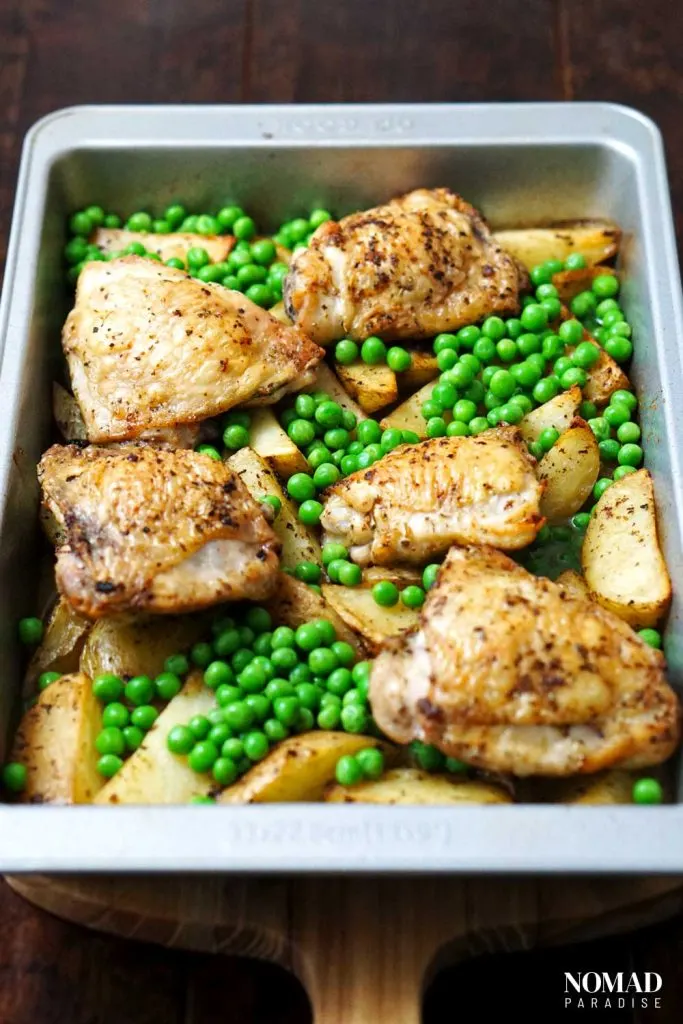 Chicago is a city full of incredible Italian restaurants, so it should come as no surprise that several popular Italian dishes originated in the city, including Chicken Vesuvio.
Chicken Vesuvio is prepared by cooking bone-in chicken in a skillet with potatoes, green peas, oregano, olive oil, and white wine. Other variations of the dish have also been created, such as replacing the chicken in the dish with pork or steak.
Read more: Chicken Vesuvio Recipe
Many believe that the dish gets its name from the volcano Mount Vesuvius in Naples Italy, as the addition of wine to the hot oil resembles the appearance of an erupting volcano. However, others believe the dish got its name from Vesuvio's Italian restaurant, which opened in Chicago in the 1930s and served the dish. Despite controversy regarding the dish's exact origin, Chicken Vesuvio is a must-try when visiting Italian restaurants in Chicago.
Related: 16 Traditional Italian Foods and Where Best to Try Them
12 – Mild Sauce with Fried Chicken
Mild sauce with Fried Chicken is a classic combination hailing from the South side of Chicago. Mild sauce is typically a mixture of ketchup, and barbeque sauce, which is then poured over fried chicken.
Yet, other variations of the sauce have been made, including one that combines ketchup, tomato paste, garlic powder, and vinegar. Despite some variations in recipes, the primary characteristic of the sauce is its tangy and not very spicy flavor that pairs perfectly with crispy fried chicken.
This simple but flavorful dish is most often found at classic BBQ restaurants in the South and West sides of Chicago.
13 – Gym Shoe Sub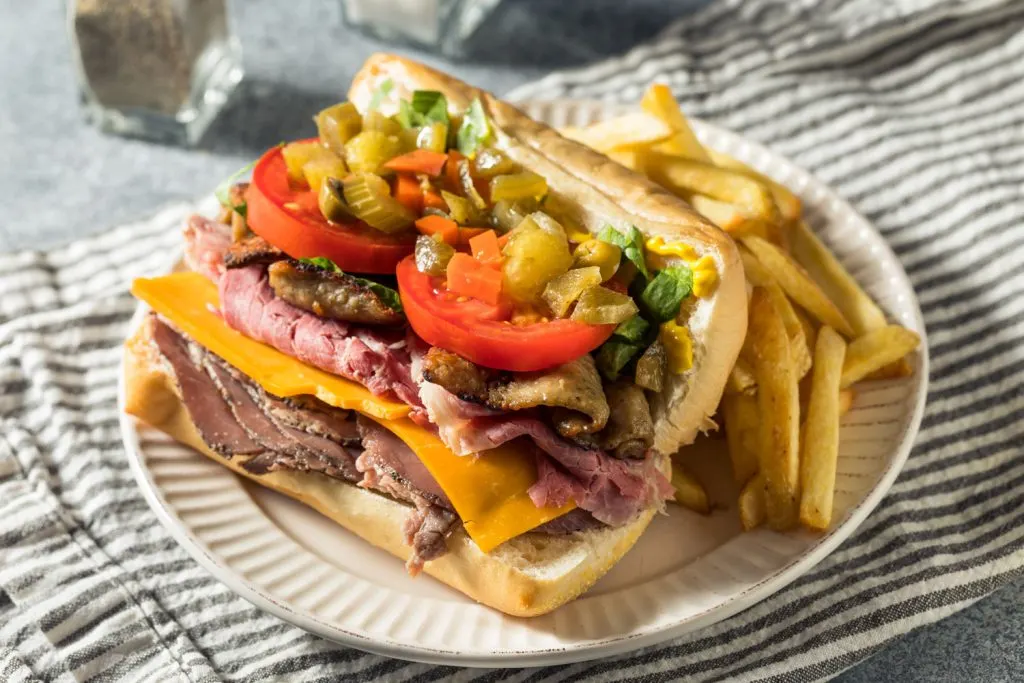 The Gym Shoe Sub combines two casual lunch classics, the sub sandwich and the gyro, into one filling dish. This flavorful sandwich starts with a classic sub sandwich roll that is then filled with beef, gyro meat, iceberg lettuce, cheese, onions, tomatoes, pickled vegetables, tzatziki, mustard, and mayonnaise.
Exactly where and when this interesting concoction originated or how it got its name is unknown. However, this sandwich, which is also sometimes called the "Jim Shoe," is sold at many sub sandwich shops in Chicago, particularly those in the southside of the city.
14 – Steak/Steakhouses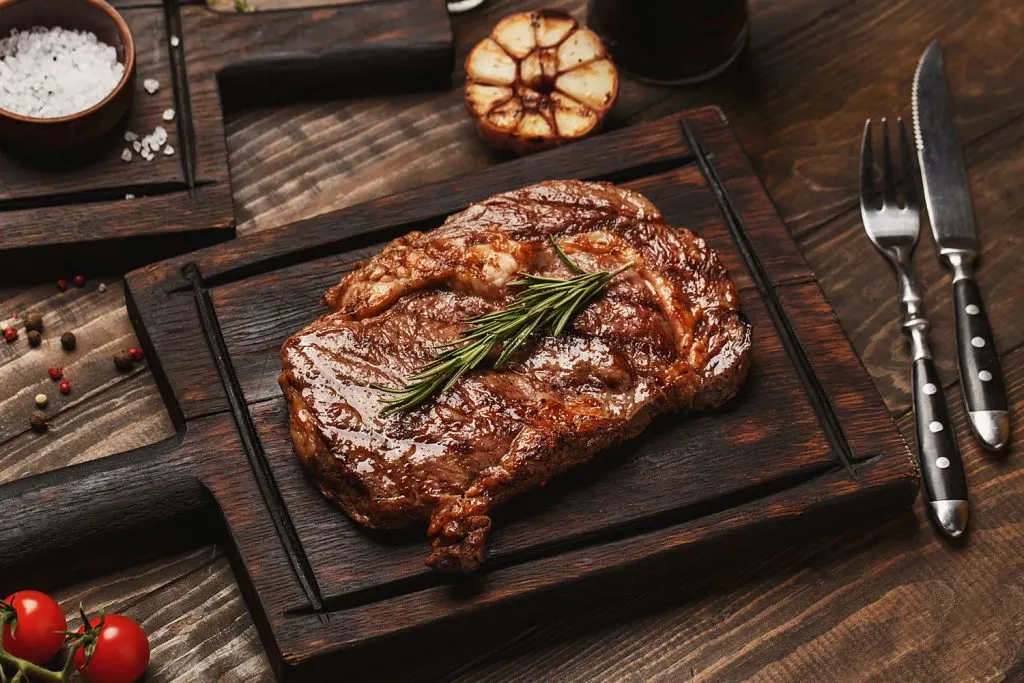 While steak is a popular dish in many parts of the World, it is often a dish associated with Chicago because of the large amounts of excellent steakhouses within the city. Chicago's traditional steakhouse menus often include several different cuts of steaks served with traditional sides, such as baked potatoes and creamed spinach.
In fact, the highest-grossing independent restaurant in the city is Gibson's Steakhouse, a restaurant in Chicago's Gold Coast neighborhood. Gibson's steakhouse has been in the city since 1989 and now even offers shipping so that their steaks can be enjoyed by steak lovers all around the United States.
15 – Cheeseburgers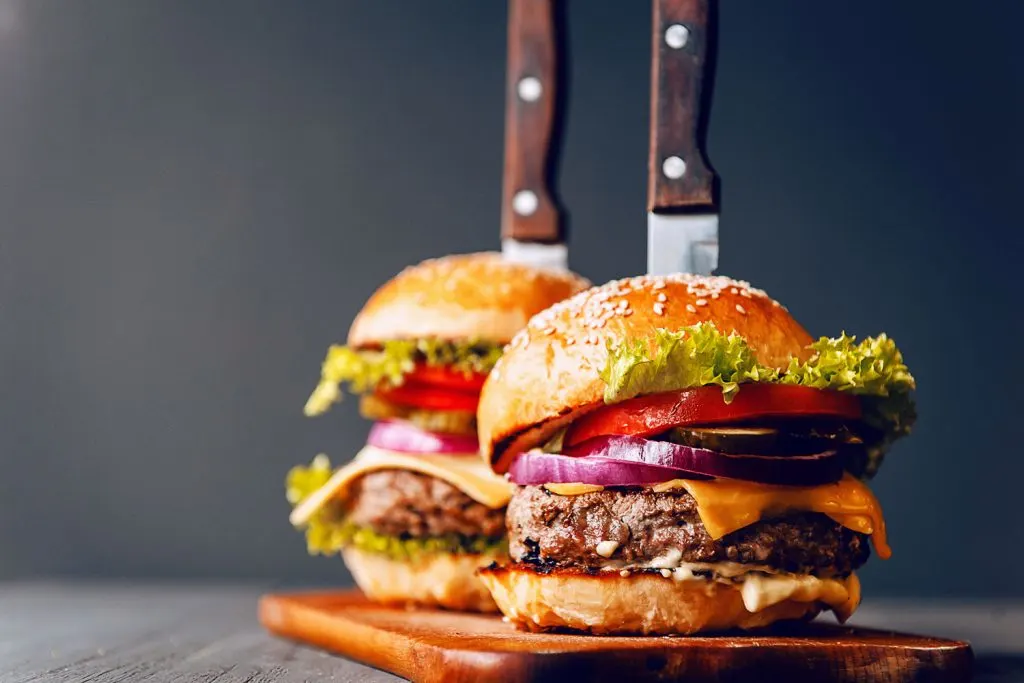 Chicago is home to a restaurant that many believe has the best cheeseburger in America: Au Cheval in West Loop.
Au Cheval's iconic burger is prepared with two 4-ounce prime beef patties topped with Kraft American cheese and placed on a toasted bun with dijonnaise (a sauce made from dijon mustard, mayonnaise, and lemon juice). The burger is served with a butcher's knife sticking out from it.
While very delicious, this burger is not easy to get. Au Cheval does not take reservations and often has a waitlist of several hours in order to get a spot in the restaurant and the opportunity to taste their award-winning burger.
Desserts
16 – Rainbow Cone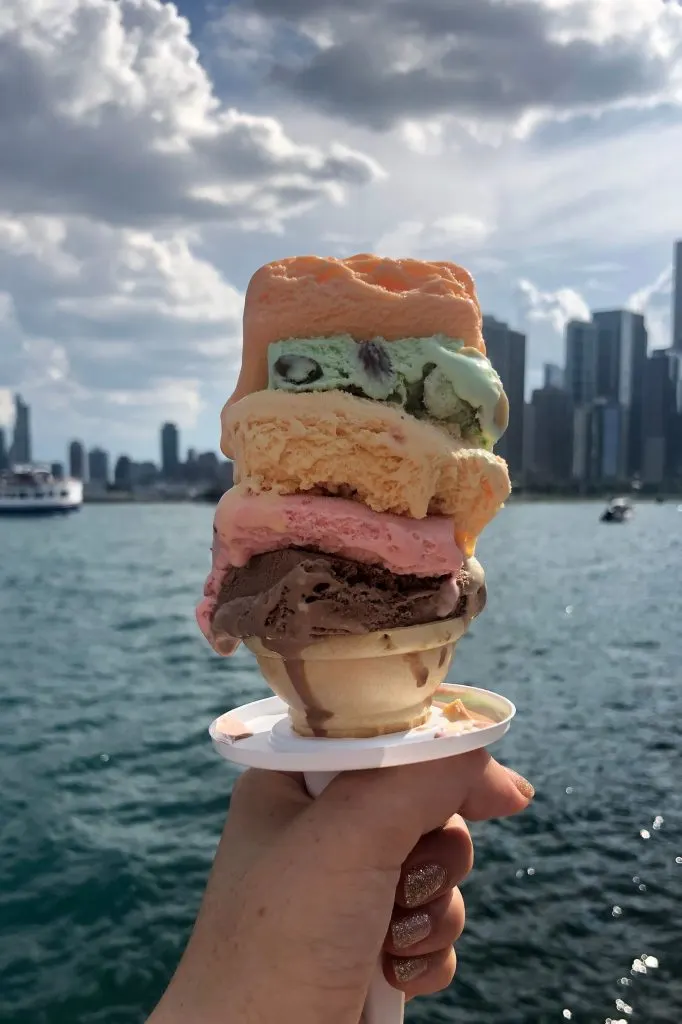 Ninety-six years ago, Chicago's most colorful and delicious dessert was invented. The Rainbow Cone consists of orange sherbet, pistachio, palmer house (vanilla, cherry, and walnut), strawberry, and chocolate ice cream flavors. Rather than scooped, these flavors are sliced and then stacked onto the cone, creating a colorful rainbow appearance.
This iconic cone was invented by a Buick mechanic in 1926 and is still sold at Rainbow Cone locations and in ice cream trucks around Chicago, remaining one of the most popular and photogenic desserts in the city.
17 – Buttermilk Old-Fashioned Donuts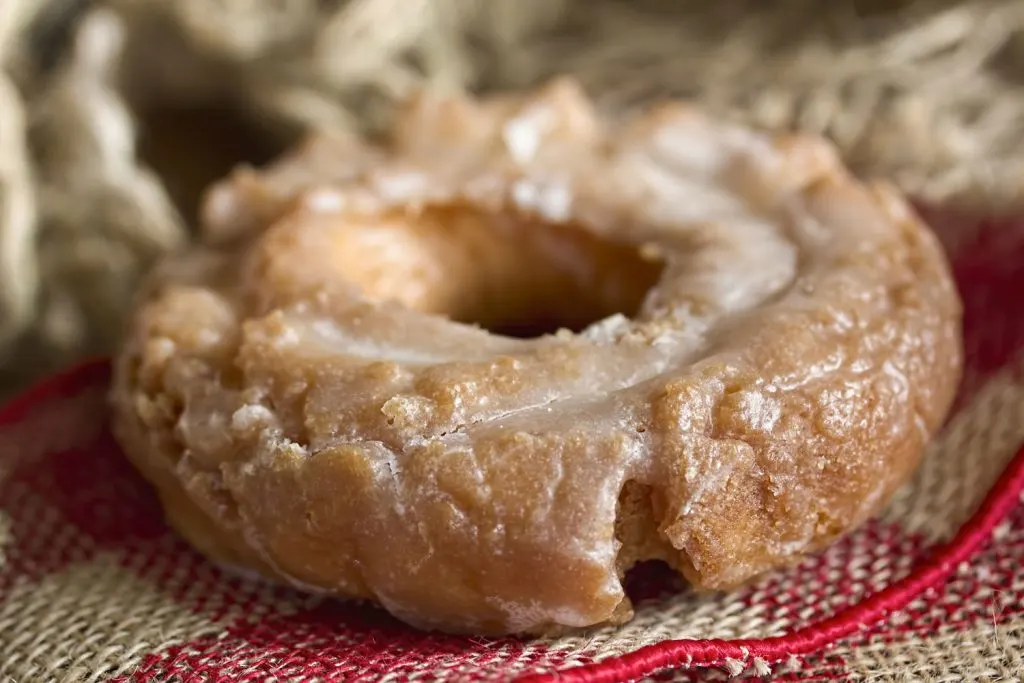 It is no surprise that Buttermilk Old-Fashioned Donuts are one of Chicago's most popular breakfast pastries, being the top seller at many donut shops throughout the city.
These scrumptious and sweet donuts are made from a dough containing flour, buttermilk, eggs, baking soda, and sugar. Then, once formed into the traditional donut shape, the dough is fried and glazed with warm sugar syrup. This process gives the donut a crunchy outer texture and a soft doughy inside, resulting in the perfect morning treat.
18 – Swedish Cinnamon Rolls
In 1945, Chicago's most iconic Cinnamon roll was born. The roll is sold at Ann Sather, a Scandinavian diner in the Lakeville neighborhood of Chicago that was established in 1940.
The Swedish Cinnamon Roll is made with a secret family recipe where the pastry chefs combine a dry mix with lukewarm water and yeast to create the dough. Then, the dough is rolled with margarine, brown sugar, and lots of cinnamon and baked in the oven.
Finally, once removed from the oven, the rolls are topped with a glaze made with evaporated milk. The resulting product is a warm and gooey roll that keeps customers returning the Ann Sathers.
The diner now has three locations throughout Chicago and produces over 6,000 cinnamon rolls a day to keep up with demand.
19 – Chocolate Cake Shake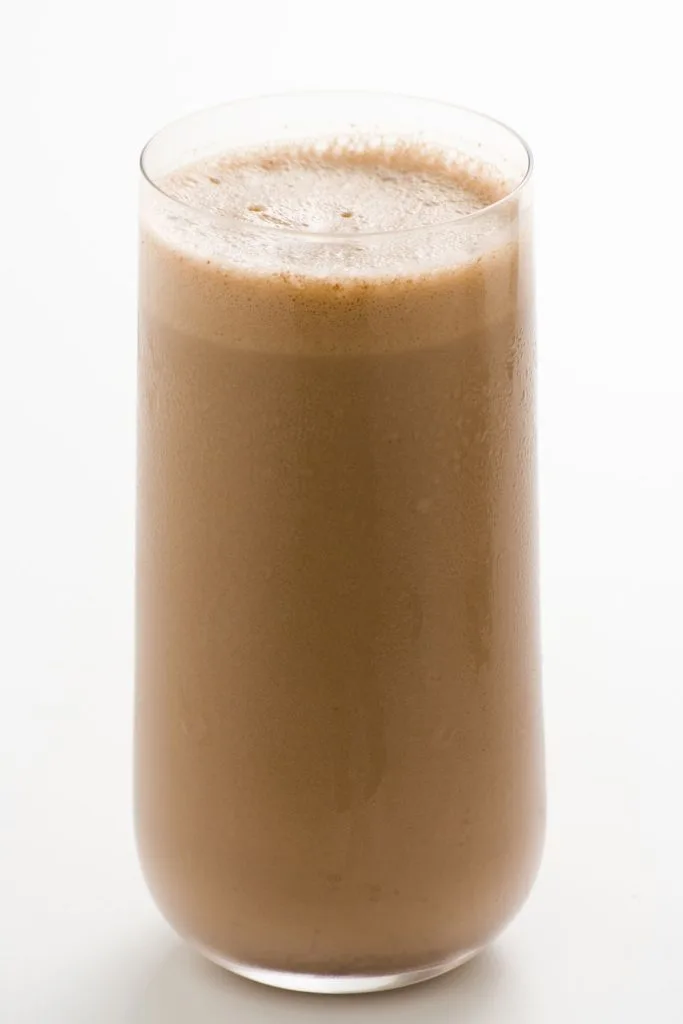 The popular Chicago fast food chain Portillos serves many classics, including Italian beef sandwiches and Chicago-style hotdogs, but their most novel contribution to Chicago cuisine is their Chocolate Cake Shake.
The shake starts with an entire slice of Portillo's Famous Chocolate Cake, a two-layer cake with rich chocolate frosting. The cake slice is then blended with vanilla ice cream to make the shake.
This decadent treat was initially invented as a way for Portillo's to make use of their day-old cake slices rather than throwing them out. However, the shake is now extremely popular, and Portillo's even sells a Chocolate Cake Shake air freshener on their website so that consumers can enjoy the scent of the delicious shake at all times!
20 – Brownie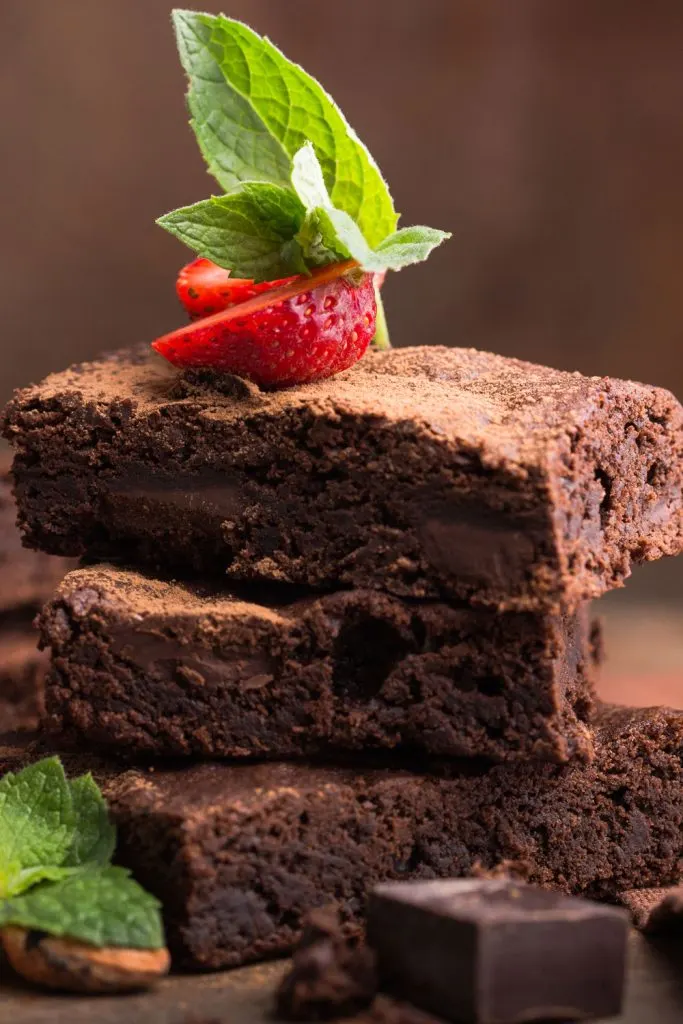 While the brownie is now a staple dessert in kitchens and bakeries all around the United States, what most people do not know is that the dessert actually originated in Chicago.
Brownies are made from a chocolate batter and are typically baked in a rectangular pan. Once removed from the oven, brownies are cut into small squares, and the final product has a fudgy moist interior and a crisp, glossy crust. Some variations of the brownie include nuts or chocolate frosting.
The brownie was invented by Bertha Palmer, a Chicago socialite whose husband owned the Palmer Hotel in downtown Chicago. In 1893, Bertha asked the Palmer Hotel chefs to create a dessert smaller than a piece of cake to serve the women attending Chicago World's Columbian Exhibition.
To satisfy this request, the chefs created and served smaller square chocolate baked goods that are now the very famous dessert known as the brownie.
Chicago Foods Summary
Scrumptious food that sings to the heart and hugs the soul can be found throughout Chicago, from street corners to rooftop restaurants. It's a huge part of the city's identity and brings together both Chicagoans and people from all walks of life.
I hope this glorious feast for the eyes has got you excited about the foods in my hometown, giving you plenty of iconic and lesser-known dishes to try when you visit. Chicago food is full of heart, flavor, and love, and is a great way to meet locals and join in with activities and events, no matter how big or small.
You Might Also Like to Read
Save and Pin for Later
Planning to visit the Windy City soon? Keep these must-try foods for safekeeping by saving this article to one of your Pinterest boards.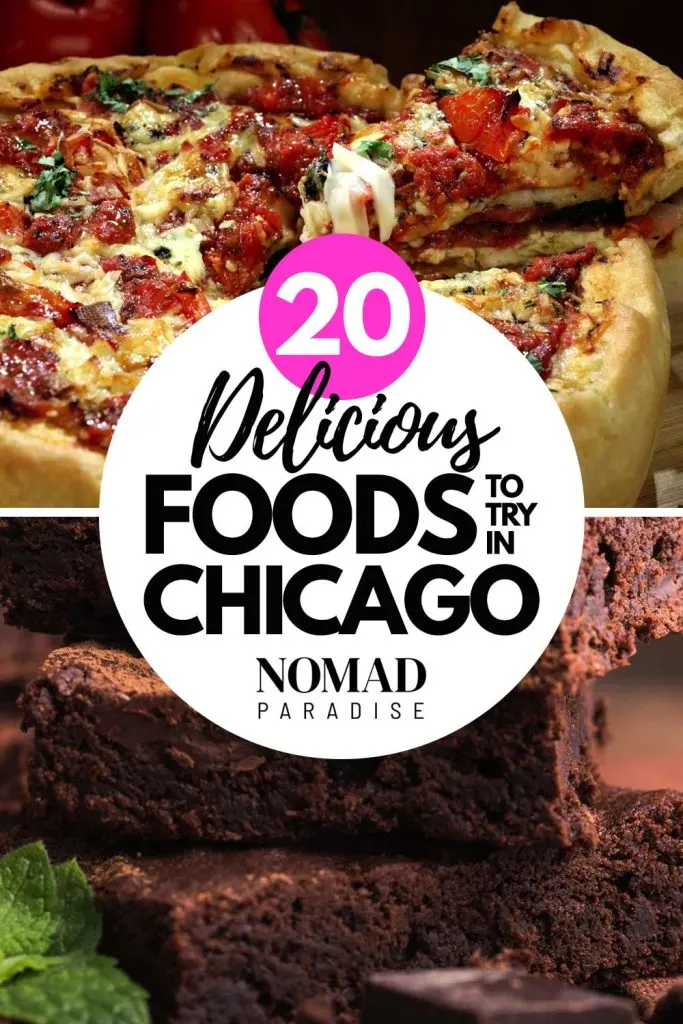 Contributor: Elizabeth McCrea is a copywriter and online marketer and, most importantly, a proud Chicagoan, passionate about both local and US-wide travel, cuisine, and culture.