This post may contain affiliate links, meaning if you book or buy something through one of these links, we may earn an affiliate commission at no additional cost to you. Learn more
My beet recipes complement the rich, earthy flavors of beets in some truly delicious ways. If you want to eat more of this vegetable but struggle for ideas, there's plenty to inspire you below.
Bookmark this page, as I will continue to add recipes to this roundup. For now, enjoy the colors, textures, and flavors of these beetroot-based dishes to feed family and loved ones this fall and winter.
Beet Recipes from Around the World to Make at Home this Fall and Winter
We start in Estonia, with a salad full of heart and flavor. While rosolje, or beet and potato salad, can vary from region to region, it always contains beetroot. That's what gives the salad its gorgeous pink hue.
My recipe mixes chopped beets with diced potato, pickles, onion, apple, and salty herring, and binds them in a mustard, mayo, and sour cream dressing. Top it with herbs and halved hard-boiled eggs, and enjoy it with soft bread, juicy grilled meats, or crunchy lettuce leaves.
Read more: Beet and Potato Salad (Rosolje) Recipe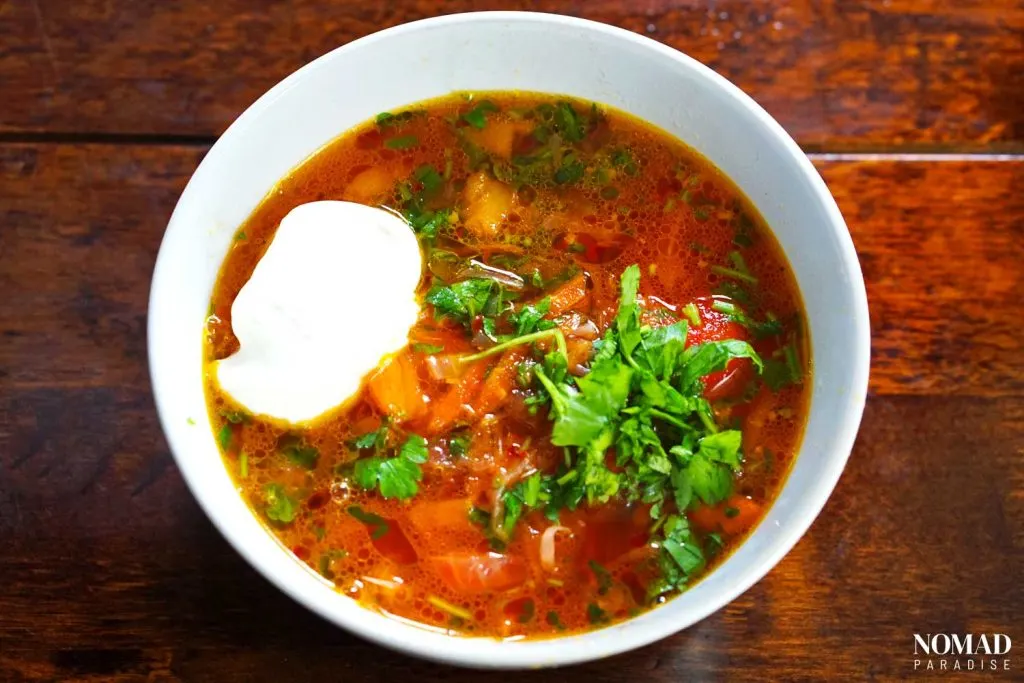 Borscht (or borsch) has helped generations of Eastern Europeans get through the cold winter months. My recipe is inspired by Ukrainian borscht, which uses beets, hence its deep, red color.
The broth is made from a range of ingredients, including vegetables, tomato paste, and apple cider vinegar, hence the 'sour' in sour soup. I have also added pork belly for a meat-based soup, but you can easily make this vegetarian by omitting the meat.
Serve it with sour cream and fresh bread for a soup that soothes the soul with its warmth and nutrients.
Read more: Hearty Borsch Recipe (Ukrainian and Eastern European Sour Soup to Feed the Whole Family)
Sometimes, you need a light, refreshing dish. Why not give my Lithuanian cold beet soup a try?
Šaltibarščiai, its Lithuanian name, is tyically made by blending fresh beets with a fermented milk product, like yogurt or kefir, as I have used in this recipe.
Mixed with fresh vegetables and herbs, serve it with hard-boiled eggs for a deeply satisfying cold dish loaded with creamy, beet-filled flavor.
Read more: Cold Beet Soup Recipe (Lithuanian Šaltibarščiai)
Similar to beet and potato salad, the beautifully named 'herring under fur coat' requires a little more preparation. However, it is so worth it.
A staple of Russian and Baltic cuisine, this is a layered salad. It is typically made by preparing and dicing all ingredients beforehand, then stacking each ingredient in layers, one by one. Herring, boiled potato, beets, and mayo are typical ingredients, along with lots of other fruit, vegetables, and herbs.
This salad looks amazing. Use it to add some sparkle to a celebration of gathering, and serve it with rye bread for a salad packed with texture.
Read more: Herring Under a Fur Coat Recipe (Seledka pod Shuboi)
Vinegret is a simple salad of diced beetroot, carrot, and potato, coated in an vinaigrette dressing.
My recipe adds crunch with pickles and spring onions, and some zest with the addition of lemon juice to the dressing. This dish is ideal if you're looking for quick and easy recipes to go, and can be eaten at any time of day.
Read more: Vinegret (Винегрет)
---
As this roundup shows, there's so much creativity to be had with beetroot. It can be an intimidating vegetable to cook with, but all you need is a little know-how and inspiration.
Beets are used all over the world in tasty and creative ways. These recipes are just an earthy taster into the possibilities.
Let me know what other beet dishes you enjoy and want to see in this round-up!
You Might Also Like to Read
Pin for Later
Want to cook with beets in the near future? Keep these recipes in a safe place by saving them to one of your boards.