This post may contain affiliate links, meaning if you book or buy something through one of these links, we may earn an affiliate commission at no additional cost to you. Learn more
A delightful blend of Central American flair, Spanish influence, and ancient indigenous technique makes Salvadoran food a cuisine packed with vibrancy and flavor.
Utilizing simple ingredients to make rich and filling meals, Salvadoran dishes remain largely unknown internationally, making the surprise of their heat, spice, and heartiness all the more satisfying.
From the mountains to the coasts, Salvadoran cuisine is packed with fresh, colorful ingredients, which when cooked with plenty of love and passion, make for some majestic dishes.
So gear up for a culinary adventure of intrigue, flair, and heat, as a native writer guides us through 15 of El Salvador's most popular and beloved foods.
Salvadoran Foods To Try
1 – Pupusas – Stuffed Tortillas / Flatbread
Pupusas are one of El Salvador's most popular meals. They are ideal for breakfast or as a quick snack on the go.
Pupusas are simple tortillas made from corn or rice flour, stuffed with a wide array of flavorsome ingredients.
Popular pupusas fillings include cheese, fried beans, pork rinds, or loroco, a native flower. Chicken and shrimp are also common fillings.
Pupusas are always enjoyed by vegetarians, with fillings like spinach, garlic, or ayote, a type of rich squash, popular in El Salvador.
Served with Salsa Roja, a salsa of tomatoes and onions with a little kick, this inexpensive dish is one of the go-to foods for commuters and busy Salvadorans.
2 – Yuca Frita – Deep-Fried Cassava / Yuca Fries
Yuca Frita is a wholesome and utterly delicious dish of deep-fried cassava, sliced into piping hot, thick-cut wedges.
A beloved street food, Yuca Frita pairs perfectly with a side of Curtido. This is a side of onion, carrot, and fermented cabbage, with red pepper and garlic added for heat.
You can buy Yuca Frita from thousands of street food vendors across El Salvador. In my opinion, Yucodromo, in Mejicanos, has the best Yuca Frita.
Many vendors will also sell this Salvadoran street food topped with Chicharron or Pepesca, a salty, rich side of fried sardines. It's utterly delicious.
3 – Empanadas de Leche o Frijol – Plantain Pastry
Empanadas de Leche o Frijol is one of El Salvador's sweetest snacks. This wholesome dish of fried plantain can be found in bakeries and bought from food vendors.
Salvadorans love to eat this dish for breakfast. Empanadas de Leche of Frijol are made from a plantain base, that is cooked until soft.
Once soft, the plantain is crushed into a paste. This wholesome paste is molded into a doughnut-like shape, and the center is stuffed with vanilla custard or fried beans.
Finally, the sweet and delicious empanada is coated in sugar. Its smooth texture and sweet taste make it a dessert loved by millions across El Salvador.
4 – Tamales – Salvadoran Tamales / Plantain Leaves Wrap
Tamales is a wholesome wrap of various ingredients. Tamales de Chipilin and Tamales de Pollo are just two of many tamales types.
This Salvadoran food always consists of a heated, hearty mixture of corn, with a main filling such as fried beans or chicken, and seasoning, wrapped in a case of plantain leaves.
The entire tamales are then steamed, cooking the dish and unlocking the flavor.
Once steamed, the tamales are cooled and then served with a side of tomato salsa. It is a Salvadoran food big on both heart and flavor.
5 – Quesadilla – Cheese Cake
Unlike in Mexico, the Salvadorian quesadilla is actually a rich and much-loved cheese-based dessert.
Make from a mixture of Queso Fresco cheese, milk, eggs, butter, and flour, this unique Salvadoran food has a deep and savory flavor, due to the use of cheese.
Topped with sesame seeds, its wholesome, salty taste and cheesy texture make it perfect for enjoying at breakfast with your morning coffee or hot chocolate.
6 – Panes con Pavo/Pollo – Sandwiches with Turkey or Chicken
Traditional Salvadoran panes are sandwiches filled with turkey or chicken, commonly prepared to celebrate Christmas.
Panes are also prepared and enjoyed at many other celebrations and occasions, such as birthdays and weddings.
For intense flavor, in Salvadoran Panes, the meat is marinated with spices, garlic, and various seeds typical of the region, then roasted.
Once the meat has been layered between the bread, it is topped with a range of ingredients, including chopped tomatoes, lettuce leaves, shaved radishes, chunks of beet, and homemade sauce.
Finally, the delicious sandwich filling is topped with egg. It is served submarine-style, cut in half.
7 – Horchata – Sweet Rice and Seed Beverage
Horchata is a nutritious beverage, made from the nutrient-loaded Jicaro seeds, known as Morro in El Salvador.
This Salvadoran drink is thick and refreshing, with a deep, slightly spiced flavor. It consists of a mixture of morro, rice, sesame seeds, vanilla, and nutmeg.
Horchata has been drunk in El Salvador as far back as the thirteenth century. Today, its rich and refreshing taste is enjoyed across the country.
Free of both lactose and gluten, street food vendors sell this nourishing drink by the jug-load.
8 – Elote Loco – "Crazy" Corn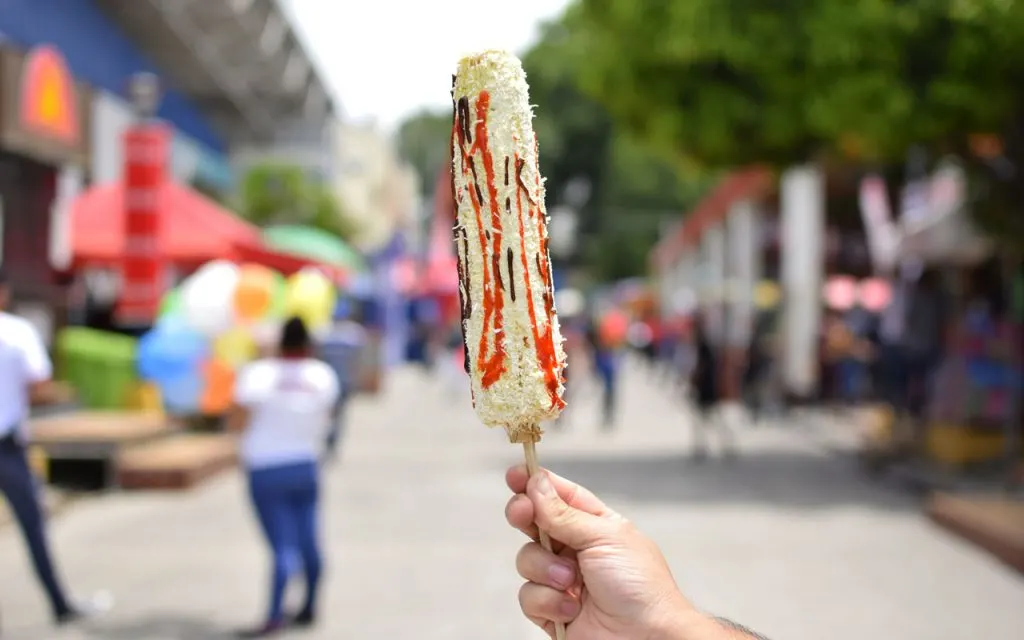 Elote Loco is a very popular Salvadoran snack. Its name translates to 'crazy corn' in English, and when you realize what's in the sauce that coats this dish, you'll understand why.
Elote Loco consists of whole corn on the cob, which is grilled and then skewered. It is then slathered in a unique sauce called Salsa Inglesa, or English sauce, of epic proportions.
Salsa Inglesa is a creamy, fiery mixture of mayonnaise, tomato ketchup, grated cheese, and hot sauce or Worcestershire sauce.
Common at fairs, parades, and food markets, this inexpensive and explosive snack truly does take corn on the cob to a whole new level.
9 – Fried Fish
Miles upon miles of Salvadoran coast kissing the Pacific ocean gives Salvadoran fishermen access to some of the freshest, most tender seafood in the Americas.
While seafood is used in an array of daring and complex recipes, fried fish remains one of the country's most popular snacks.
Practically all Salvadoran restaurants will offer fried fish on their menus. With the day's catch, the fish are cleaned, seasoned well, and grilled in hot oil until crispy.
Fried fish is common with a refreshing salad of lettuce, tomatoes, cucumber, avocado, and lemon, served with fruit juice or a cold beer.
Or, for something with plenty of warmth, fried fish soup is a very popular starter or main dish that Salvadorans enjoy.
10 – Carne Asada – Grilled Meat
Carna Asada, one of El Salvador's most popular meat dishes, refers to the way the meat is cooked, rather than the dish itself.
Grilling meat over an open fire is wildly popular throughout Central and South America and the bedrock on which so many social events and gatherings take place.
In El Salvador, before the meat is grilled, it is marinated in a glaze of thinly sliced onions, orange juice, oil, and seasonings.
Once the meat has marinated for around thirty minutes, it is then grilled over an open flame.
Barbecued meat can be served with a range of sides in El Salvador. Rice, Casamiento, Chirimol, roasted vegetables, or in a tortilla, are all common choices.
In El Salvador, you can find many restaurants whose specialty is grilled meat.
11 – Tres Leches – Three-Milk Cake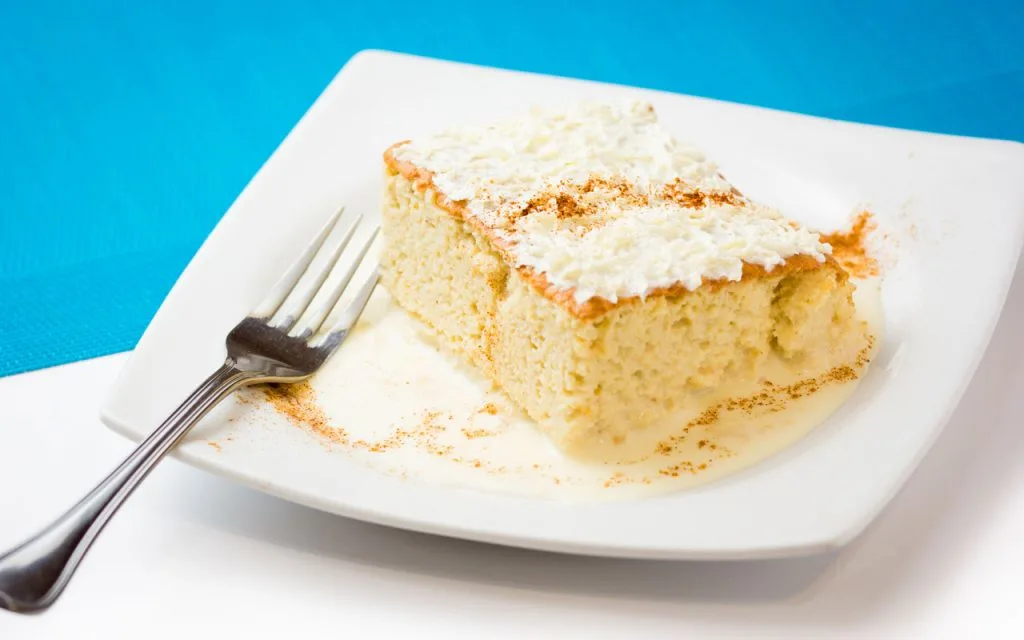 Tres Leches is a soft cake that has become very popular in El Salvador and the Central American region.
Its name is derived from the recipe, which uses three types of milk. This gives the cake a dense quality, similar to a cheesecake, but sweeter.
Tres Leches is baked from a mixture of natural, condensed, and evaporated milk.
These three types of milk are mixed with sugar, baking powder, butter, eggs, flour, vanilla, and cream.
Once the Tres Leches cake is baked, it is left to sit and refrigerate for several hours, before being served cold.
Tres Leches has a dense, sponge-like texture. To finish, it can be decorated with various sweet treats, including grated chocolate, cinnamon, and cream.
12 – Enchiladas – Fried Tortillas with Toppings
Unlike a traditional Mexican enchilada, Salvadoran enchiladas use smaller, fried tortillas.
The tortillas are topped with achiote, a type of seed from Annatto, and can be filled with a wide range of ingredients.
Common Salvadoran enchilada fillings include hard-boiled eggs, cabbage, sliced tomato, fried beans, ground beef, and various sauces.
Topped with parmesan cheese and rich sauces, you often have no choice but to eat enchiladas with your hands!
13 – Torrejas – French Sweet Toast
Torrejas is a traditional Salvadoran dish, prepared throughout Semana Santa (Holy Week).
Naturally similar to French toast, there are a few differences in the way Salvadorans make this rich and sweet dessert.
Firstly, Torrejas is commonly made with Tortas de Yema, a native yolk bread that is dense and perfect for soaking in the syrup.
Secondly, the Torrejas syrup is made with Dulce de Panela, refined brown sugar from Salvadoran sugar cane.
Torrejas is made by cutting the bread into thick slices, then dipping it in a mixture of milk, eggs, sugar, cinnamon, oil, and salt.
Once each slice is soaked, it is fried until golden brown, then drenched in the brown sugar syrup.
Rich, sweet, and truly delicious, this is a Salvadoran food you simply have to try.
14 – Atol de Elote – Corn Beverage
Atol de elote is a popular drink in El Salvador. So much so, this dish even has a song, "Moviendo el atol de elote", named after it.
Atol de Elote originates from Mayan cuisine. It is made from fresh corn, mixed with sugar, water, salt, and sprinkled with a little cinnamon.
The process of preparing this native drink takes several hours, from shelling the corn, to boiling the mixture until the correct consistency is reached.
15 – Arroz Con Leche – Rice Pudding
Arroz con Leche has its roots in Spanish cuisine, and it has developed through the ages to become one of El Salvador's sweetest and simplest desserts.
Made from a simple mixture of rice, milk, and sugar, the Salvadoran rice pudding is boiled until soft. It uses simple ingredients but delivers a wholesome dessert with both sweet and savory notes.
Topped with ground cinnamon, it can be eaten hot or chilled. For the richest tasting Arroz con Leche, street food vendors are the best people to get this classic dessert from.
Salvadoran Foods Summary
Central America has so much to offer when it comes to authentic, flavorsome dishes.
Salvadoran cuisine utilizes the diverse geography of the country, pulling ripe produce from the farms and fresh seafood from the Pacific to create some truly divine food.
But the country's humble, hands-on approach to food, staying true to its indigenous roots, is why Salvadoran food is so exciting.
Great food is so often so simple, and Salvadoran cuisine is proof of this mantra.
Whether you're spending time in El Salvador, or want to bring the flavors into your home kitchen, these dishes can give you a memorable introduction to Salvadoran cooking.
You Might Also Like to Read
Save and Pin for Later
Want to keep these Salvadoran foods in a safe place for later reference? Save this article to one of your foodie Pinterest boards.
---
Contributor: Marjorie Vanessa Madrid Cisneros is a professional creative writer from San Salvador. She is a passionate Salvadoran and loves to share insight into native food, recipes, and culture, through her writing.
Images licensed via Shutterstock