This post may contain affiliate links, meaning if you book or buy something through one of these links, we may earn an affiliate commission at no additional cost to you. Learn more
Delve into a world of searing heat, sumptuous flavor, and fiery passion with these wondrous South American foods, and discover some of the many culinary surprises this colorful continent has to offer.
From the Andes to the Amazon, incredible food can be found throughout South America, no matter which of its twelve countries you find yourself gracing and exploring.
Though this may be the tip of the iceberg, these 24 dishes are a great place to start to acquaint yourself with South American cuisine, before your senses plead with you to venture forth and discover much more!
South American Foods
Argentina
1 – Choripán (Grilled Chorizo Sandwich)
Argentina's most beloved street food seems surprisingly simple at first – and yet, making the perfect choripán often requires years of training.
A choripán is a simple and delicious sandwich of grilled chorizo (a soft sausage made from ground pork and veal) in a small, crusty French bun. It is usually dressed with chimichurri, a rough blend of onions, garlic, parsley, oregano, and mild chili peppers.
Choripanes are usually sold at food markets and on the side of the street. This may be the secret to their irresistible appeal, as they are prepared with love and passion and made from fresh ingredients.
2 – Milanesas (Veal Schnitzel)
Despite their similarities with Austria's most popular fast food, Argentinian milanesas have been imbued with a heavy dose of Italianness.
Milaneses are a dish of flavorsome thin, flattened steaks, breaded and fried until crunchy. While they can be served with French fries, many Argentinians enjoy their milaneses coated in marinara sauce and grated cheese and accompanied by a salad or side of pasta.
If you are particularly famished, you can also enjoy this Argentinian favorite on horseback (a caballo): that is, topped with two fried eggs instead of cheese.
Discover more Argentinian foods.
Bolivia
3 – Silpancho (Flattened Steak Topped with Fried Egg and Plantain)
Silpancho is one of the most common lunches of the Cochabamba region, Bolivia's cattle-raising heartland. This beloved dish consists of a large, flattened cut of beef, traditionally lamb or alpaca steak, fried on the coals.
Once fried, the meat is topped with a fried egg, and served with a fried overripe plantain split halfway, a few thick slices of potatoes, and a spoonful of Cochabamba salad.
The latter resembles Mexican pico de gallo, but is made from green bell peppers, chopped tomatoes, and yellow onions, which coincidentally are the colors of the country's flag.
4 – Majadito (Rice with Shredded Jerky, Cassava, and Vegetables)
In Spanish, majar roughly means to "to mash and chop" something up. Hence majadito, typical of Santa Cruz, Bolivia's colorful tropical side, stays true to its name.
This rice-based dish combines thinly striped alpaca jerky, boiled cassava, and an assortment of chopped vegetables. Rather than stewing the ingredients together pilaf-style, a majadito is only cooked halfway at first, and then coarsely mashed into a rough paste. Then, it returns to the fire for a few minutes.
This allows the flavors to combine and mix under the heat, while still retaining most of their unique textures. It also infuses the vegetables with the jerky's smokey notes, making for a truly wholesome and flavorful dish.
Discover more Bolivian Foods.
Brazil
5 – Feijoada (Black Bean and Pork Stew)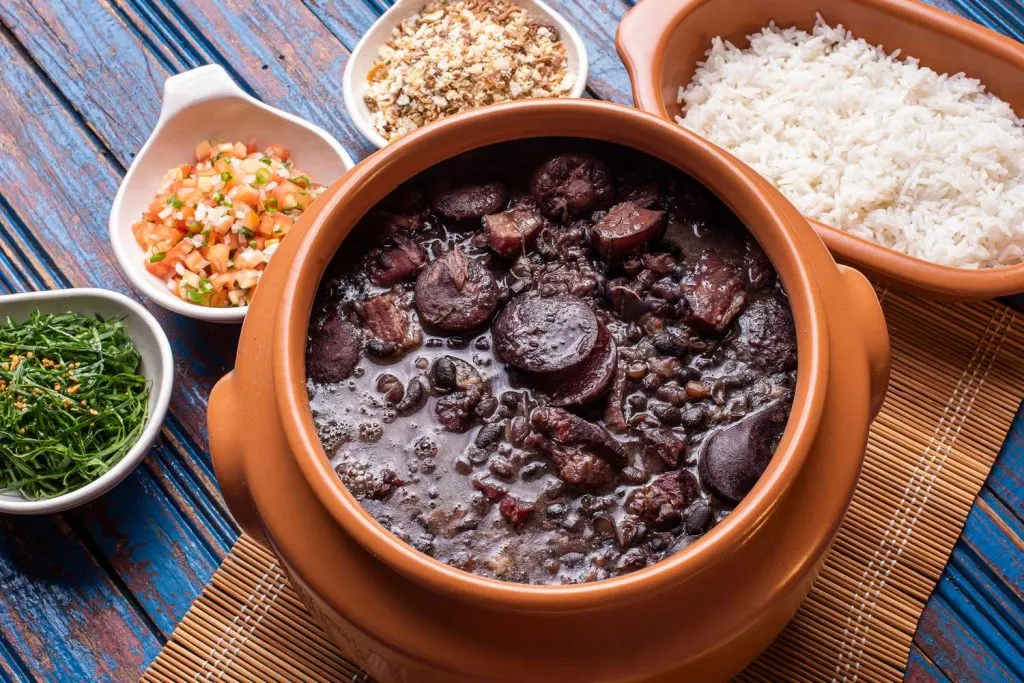 The term feijoada refers to a rich black bean stew, slowly simmered with pork, chorizo, blood sausage, smoked sausage, and the festive meal built around the dish.
When ordered as a main meal, a fully-fledged feijoada comes with a side bowl of garlic-infused rice, peeled orange slices, vinaigrette, and even cassava crisps.
Feijoada is not really suited for weekday lunches and is instead the standard menu for long Sunday lunches in Brazil, when friends and family get together to watch football and graze for hours on end.
6 – Vatapá (Shrimp and Ground Peanut Stew)
Midway between a West African peanut stew and a Portuguese Açorda, vatapá defies the traditional expectation of shrimp as a light, summery food. This energizing dish is typical of the Salvador de Bahia region, located on the north-eastern coast of Brazil.
Vatapá is made by slow cooking ground peanuts, coconut milk, day-old bread, and oil. Freshly-peeled shrimps are usually only added in the last 5 minutes, which helps them remain firm, while still enhancing the food with extra flavor. Due to its lengthy preparation, vatapá is usually reserved for holidays and religious festivities.
Discover more Brazilian foods and Brazilian desserts.
Chile
7 – Charquican (Jerky and Potato Soup)
Typical of Chile's cold Andean frontier, Charquicán makes use of two of the most nourishing ingredients available in such a harsh ecosystem: charqui, a special kind of jerky made from alpaca meat and the ever-present potatoes.
These ingredients are mixed with chopped, overripe pumpkin, corn kernels, and local yellow beans or peas. The mixture is seasoned with sauteéd oregano, cumin, paprika, and chili peppers, and once in the pot, the soup is left to simmer for at least half an hour.
Traditionally, this dish was prepared by rural Chileans, who cooked the soup in clay pots, directly on a bonfire. However, when city dwellers discovered the smokey and sweet notes the pumpkin and jerky provided, they quickly embraced it.
8 – Pastel de Choclo (Stuffed Corn Casserole)
Casseroles have a universal appeal: when it's time to feed a crowd, few things get the job done as quickly! Chile's national version, the pastel de choclo, has a hint of sweetness, that manages to bring life to its deceptively simple ingredients.
Pastel de choclo consists of two thick layers of cornmeal dough, separated by a mixture of ground beef, shredded chicken breast, hard-boiled eggs, basil, and raisins. It's hearty, wholesome, and a real crowd-pleaser.
Discover more Chilean foods.
Colombia
9 – Bandeja Paisa (Regional Sample Platter)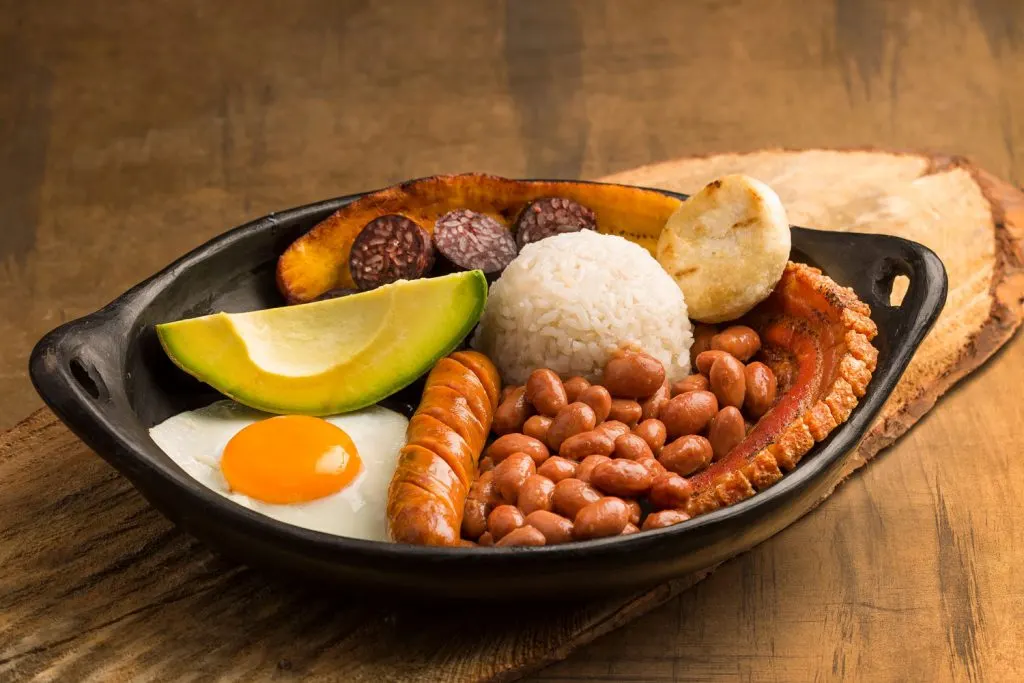 At many of Medellín's best restaurants, this dish is the go-to for showcasing the Antioquia region's best products. However, the origins of this dish are far more humble, traditionally eaten by local cowboys and farmers as a hearty lunch to fuel themselves after hours of grueling work in the fields.
Bandeja paisa is a dish that combines ground beef, fried pork rinds, fried plantains, rice, and red beans, topped with a fried egg and avocado slices. Sometimes it's served with a side of green salad, which can help you assuage the guilt!
10 – Ajiaco Santafereño (Potato, Corn and Chicken Soup)
Also known as Colombian ajiaco, the Ajiaco santafereño hails from the country's capital of Bogota. However, there are many other versions of ajiaco (or potato-based soup) around Colombia and Western Venezuela.
So what makes this version special? It usually combines chicken breast with at least three types of potatoes from different regions around the country. These are cooked with peppers and lime, avocados from its pacific region, and capers and sour cream from Antioquia's rich plains.
Discover more Colombian foods.
Ecuador
11 – Encocado de Camarones (Prawns in an Onion, Tomato, and Coconut Milk Sauce)
Ecuador's Emerald coast is still hidden from tourist masses, but its giant prawns are prized around South America. One of the best dishes to showcase this marine bounty is the encocado de camarones.
Similar to a Thai curry, but without the Asian spices, encocado is made from fresh coconut milk, bell peppers, onions, garlic, and tomato paste.
These ingredients are first blended into a paste, then heated up. Once ready, the prawns are sauteed in this sauce for a few minutes, and the dish is served topped with freshly chopped cilantro.
12 – Fritada (Fried Platter with Pork Bites, Potatoes, Corn, and Fried Plantains)
This filling and heartwarming "farmer's platter" steers away from the coast and drives you into the subtropical highlands around Quito.
The main stars of a fritada are deep-fried pork bites. Once the pork has been fried, the fat drippings are spiced with annatto paste, chili peppers, cumin, and orange juice and used to sauteé potatoes, plantains, and cassava sticks.
Add a side of corn on the cob and some onion and tomato salad, and you should be ready to hike for a few more hours!
Discover more Ecuadorian foods.
Guyana
13 – Pepperpot (Spiced Meat and Cassava Stew)
While many countries in the Caribbean have a version of this hearty dish, the Guyanese pepper pot is the most widely eaten and stays closest to its Amerindian root.
This dish is made by combining different types of meat, marinated in annatto, cinnamon, and hot peppers, then simmering them with cassava and sweet potatoes until the tubers turn into a paste.
The result is a thick, flavorful stew that can be eaten with Indian-style roti or white rice, and is usually synonymous with the Christmas season.
14 – Chicken Curry
Guyana is home to South America's most prominent Indian diaspora community. Their descendants now comprise nearly half of the country's population who, naturally, left their mark on the country's cuisine.
Guyanese chicken curry is unique for firstly blending the spices with molasses and then browning them, and secondly its thicker sauce, heavier on curry leaves and masala, but lighter on turmeric.
Paraguay
15 – Vorí-Vorí (Dumpling, Cheese, and Meat Soup)
Softer than potatoes and as comforting as rice and noodles, it's no wonder that the concept of "dumpling soup" came to be in so many different countries and cuisines.
Paraguay's vorí-vorí uses perfectly round cornflour dumplings, which swim in a rich, yellow broth, made from a combination of meats and cheese.
Depending on what's available in the family pantry, vorí-vorí can also include corn kernels, onions, pumpkin slices, and oregano.
This rich and comforting winter soup was first developed by the Jesuit monks, who first came to live among the indigenous Guaraní. Nowadays, it is a go-to comfort food and even eaten as a hangover remedy.
16 – Sopa Guarani (Cornflour Pie with Eggs, Cheese, and Onions)
Although it has "soup" in the name, sopa guaraní is not technically a soup at all. This "dry soup" is a wholesome, savory mixture of eggs, cheese, onions, and seasonal vegetables, on top of a cornflour or cassava flour pie crust.
Where vorí-vorí represents the highlands in upper Paraguay, sopa guaraní is representative of its humid, almost-tropical lowlands, close to the Brazilian border.
Discover more Paraguayan foods.
Peru
17 – Ceviche
Also spelled cebiche, sebiche, or seviche rarely does a food become so iconic that it forms an integral part of a country's official tourism initiatives. Hence, it should come as no surprise the dish is a source of great pride for Peruvians across the country.
While Mexico and Ecuador also have seafood dishes with the same name, Peruvian ceviche offers a stronger Japanese influence. The dish consists of finely-cut pieces of super-fresh fish, left to marinate for no more than five minutes in lime juice, julienned red onions, and chili pepper.
Served with fried corn, cassava, and sweet potato slices, ceviche is undoubtedly one of the must-try dishes when in Peru.
18 – Rocoto Relleno (Stuffed Scotch Bonnet Peppers)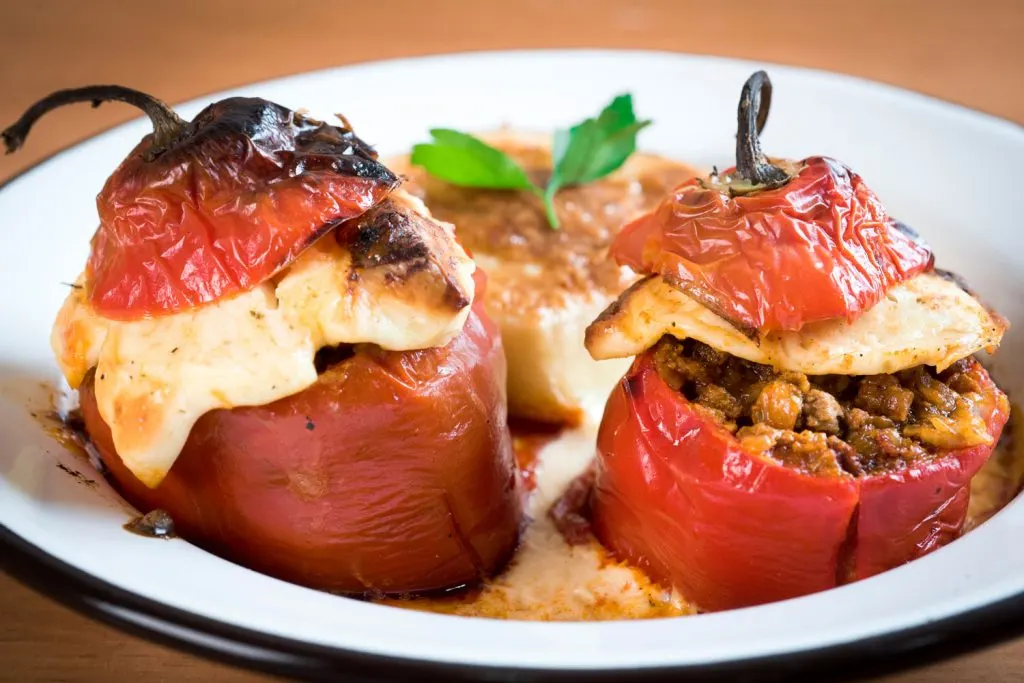 While Lima may be hailed for its fine dining and creative cuisine, Peru's Andean city of Arequipa also offers more than a few of its own culinary marvels.
One of those foods is rocoto relleno, a hearty and filling dish of stuffed Scotch Bonnet peppers. The peppers are first washed with vinegar to take out some of their fire, hollowed, and then stuffed with a filling of minced beef and a blend of various spices.
The peppers are then covered with cheese, their tops placed back on, and finally baked until the peppers are roasted, the skin crisp, and the filling rich.
Suriname
19 – Moksi Alesi (Mixed Rice)
This Creole "mixed rice" starts off similar to many Caribbean blends of rice and beans. However, the flavor profile changes completely after you add saltfish, fried white cabbage, and fried plantains.
Moksi Alesi is often topped with cucumber and tomato slices and eaten as a weekday lunch, or as the star of the table at more elaborate parties.
20 – Javaanse Bami (Javanese Noodles)
Suriname is home to South America's only sizeable Javanese community, hence the presence of Javaanse Bami in the country's cuisine.
Javaanse Bami is a sweet and tangy stir fry dish, that combines egg noodles, soy sauce, brown sugar, and any leftover chopped vegetables you have at hand. It pairs particularly well with fried pork or tofu slices.
Uruguay
21 – Chivito (Steak and Cheese Sandwich)
If Argentinians are committed to finding the best choripán, Uruguayans very much do the same when hunting for a chivito. This steak-and-cheese sandwich was initially invented in the beach town of Punta del Este back in the 1940s, and it had been progressively growing in both popularity and size ever since.
Nowadays, this beloved sandwich, consisting of two slightly-sweet slices of "Catalan bread", is commonly filled with steak, cheese, egg, bacon, and sauteed tomatoes with bell peppers. It is finished with a dressing of mayonnaise, and promises to bring you sheer delight with each and every mouthful!
22 – Tarta Pascualina (Swiss Chard Pie)
Also spelt tarta pasqualina, this Italian-inspired savory pie is now one of the cornerstones of Uruguayan tea time. Ligurian immigrants initially created this dish to counteract the meat ban that precedes Easter Sunday (periodo pasquale).
Tarta pascualina is made from layers of unleavened dough, filled with a mixture of Swiss chard, spinach, and cottage cheese. In many homemade recipes, a hard-boiled egg is also hidden somewhere within the pie.
Discover more Uruguayan foods and Uruguayan desserts.
Venezuela
23 – Arepas (Ground Corn Patties)
Arepas, and their thousands of possible fillings, have in time become synonymous with Venezuelan people. These fluffy cornmeal patties often replace bread at the breakfast table and the snack bar alike.
Arepas can be warmed up and eaten with a small dollop of butter and can be filled with anything from chicken salad and pickled pineapples for a wonderfully filling and flavorsome mid-morning snack.
24 – Pan de Jamón (Ham Bread)
This Venezuelan Christmas classic is far more than its name suggests. It is made from a fortified dough, similar to that of challah, which is rolled into a spiral.
But the true delight of pan de jamón is very much its hidden fillings which are added to the dough before it is rolled. Along with delicious smoked ham, plenty of other ingredients are added, including chopped olives, herbs, and chestnuts, among many others.
Discover more Venezuelan foods and Venezuelan desserts.
South American Foods Summary
South American cuisine is rife with color, texture, and spellbinding flavor as these diverse and intriguing dishes go to show.
There's just so much great food to discover across this vast continent, you could spend a lifetime seeking it out and still not try everything on offer.
But wherever your South American travels take you, these 24 popular South American dishes are an ideal place to start, to really embrace everything that is so wonderful about South American food. A culinary experience like no other awaits you!
You Might Also Like to Read
Save and Pin for Later
Planning a trip to South America soon? Be sure to add plenty of these dishes to your food bucket list, and keep this article for reference by saving it to one of your Pinterest boards.
Author: Ximena Lama Rondon is a bilingual translator and content writer. With a wealth of experience living and traveling in the Caribbean and South America, she is deeply passionate about sharing the cuisines and cultures of these regions with others, through her writing.
Images licensed via Shutterstock