This post may contain affiliate links, meaning if you book or buy something through one of these links, we may earn an affiliate commission at no additional cost to you. Learn more
Delve into a unique culinary fusion of Eastern Europe and Western Asia with these Georgian foods, and see for yourself why food plays such an important part in the history and culture of this beautiful country.
Historically one of the stops on the Silk Road, for centuries, traders and travelers from across Europe and Asia graced Georgia with their presence. This meant food became an important part of the country's culture, which opened its arms to hosting guests and family at all times of the year.
Guided by Tako, a food expert and writer from Georgia, here is our curated list of 15 of Georgia's most popular foods you simply have to try.
Prepare to discover a cuisine of humble origins yet mouthwatering flavor as we travel from the shores of the Black Sea to the ridges of the Caucasus mountains via the eclectic architecture of Tbilisi.
Georgian Food
Georgian Mains & Appetizers
1 – Khinkali (Georgian Dumplings)
Believed to originate from Pshavi in the north of Georgia before spreading across the country, khinkali to this day remains one of the country's most popular dishes.
These beautiful dumplings are made from unleavened, elastic dough, commonly made from wheat flour. Once the cool dough has been rolled, it is shaped into smaller pieces, ready to be wrapped and sealed around a minced meat filling.
Traditionally, in the mountains, the meat was very finely cut before mixing to achieve a smooth, almost thick paste-like texture, but nowadays, Georgians use a meat grinder for speed and convenience. Some home cooks also add ice cubes to the mixture to make the meat softer, moist, and easier to roll.
For the tastiest khinkali, it is recommended you use a mixture of lamb, pork, and beef, rather than just one type of meat, such as beef, which can often come out a little dry.
2 – Khachapuri (Georgian Cheese Bread)
A hugely popular grab-and-go street food, you simply haven't eaten like a local in Georgia without trying the national dish khachapuri from a bakery or street vendor.
This hot and hearty snack consists of a baked boat-shaped bread, with a melted cheese and egg filling and an egg baked into the center. You can also find them with various toppings, including herbs and crumbled cheese.
The leavened dough is first allowed to rise before being molded into various boat, oval, or elongated shapes. It is then filled with cheese, commonly imeruli, a crumbly mountain cheese, and sulguni, a firmer, more elastic tart cheese from the coastal area of Samegrelo, eggs, and other delicious ingredients depending on the baker or vendor.
To really live like a Georgian, tear off the crusts and dip them into the hot and creamy cheese filling – absolutely divine!
3 – Lobiani (Bean-Stuffed Bread)
A similar style of street food to khachapuri, lobiani is a wholesome and hearty bean-stuffed bread, easy to order and try at food markets, street vendors, and restaurants across Georgia.
The stuffed breads are made from a dough that is mixed, rolled, covered with a wholesome bean filling, then folded and baked over medium heat on both sides.
The bean filling consists of boiled, strained, and crushed beans, mixed with finely chopped and sauteed onion, tomato paste, ajika, a spicy Georgian and Abkhazian dip, and other spices, that are stirred and mixed well.
A little melted butter brings the whole thing together, and you can enjoy this quick, easy, and beloved street food in so many ways for breakfast, as a snack, or any time you need a hearty bite.
4 – Elarji (Cornmeal and Sulguni Cheese)
Simple, viscous, and filling, elarji is a traditional Georgian porridge, hailing from the Samegrelo region.
It consists of conflour, cornmeal, water, and sulguni cheese, but can be made with a range of ingredients, often depending on what's available at the time.
The dish is renowned for its elastic texture, which is made properly, can be stretched to eye-opening lengths, sometimes even above head height!
5 – Gebjalia (National Cheese Dish)
Popular particularly throughout the west of Georgia, gebjalia is the beloved national dish, often eaten as an appetizer with elarji (see above) or gomi (coarse cornmeal topped with strips of cheese and butter).
It consists of boiled sulguni cheese rolls, served in a milk, yogurt, and cheese (commonly nudugi) mixture, enhanced with the likes of mint and chili peppers.
Wholesome and creamy, with fresh and spicy notes, gebjalia is a hugely important dish in Georgian cuisine, and historically was even consumed for many rituals.
6 – Satsivi (Chicken in Garlic Walnut Sauce)
A famous Georgian dish, satsivi is traditionally made to celebrate Christmas and New Year. It consists of tender poultry, commonly chicken, served in a delightfully nutty, oily, and herby walnut sauce.
The sauce is made by first grinding walnuts and storing the oil that is released from them. The ground walnuts are then combined with garlic, water, vinegar, onion, and various herbs and spices, depending on preference, commonly including cayenne pepper.
It is cooked until thick and creamy and strained to remove large pieces of onion, walnut, and other ingredients.
Once the sauce is ready, boiled or fried chicken, turkey, or poultry is added to the sauce. It is left to cool, refrigerated for several hours to be served cold, and finished with a generous drizzle of walnut oil for a truly flavorsome Georgian dish.
7 – Shkmeruli (Chicken in Milk and Garlic)
Keeping with the theme of poultry dishes we come to shkmeruli, a truly flavor-filled combination of pan-fried chicken served in a creamy milk and garlic sauce.
The dish is traditionally cooked in a red clay pot, which really helps to seal in those juicy flavors. The chicken is first pan-fried to brown the edges, then cooked over low heat inside the covered pot.
Once cooked, the chicken is removed, and the remaining oil and juices are cooked with garlic, milk, and other ingredients and seasonings, depending on preference, to form the garlic sauce. Finally, the chicken is added back in at the end, and the dish is served directly in the clay pot.
8 – Chvishtari (Cornbread with Cheese)
Both a Samegrelo and Svaneti specialty, where in Svaneti it's known as chishvdari, chvishtari is a comforting, wholesome dish of cornbread with a cheesy filling.
It is made from a corn flour dough, to which melted sulguni cheese is added. The dough is then rolled into oval-like pancakes, and fried in oil in a hot pan until golden brown.
9 – Chakapuli (Georgian Lamb or Beef Stew)
Arguably Georgian cuisine at its juiciest and most delicious, chakapuli is a hugely popular stew, enjoyed across the country.
The stew consists of slow-cooked lamb or veal, boiled in a pan with white wine and then slow-cooked in the oven, to which onion, cherry plums or cherry plum sauce (tkemali), tarragon leaves, garlic, and various herbs and greens are added.
A popular go-to for family gatherings and celebratory feasts, the dish can also be made with beef, although lamb remains the favorite meat to bring the whole stew together. It's juicy, herby, sweet, and nourishing, all in one.
10 – Khashi (Traditional Stew & Hangover Cure)
A dish found in various forms in many different Eastern European, Western Asian, and Middle Eastern cuisines, in Georgia khashi is a traditional stew of various sheep or cow parts, such as head and tripe.
Historically, khashi and its variations are believed to have been eaten by the poorest Muslims during Ramadan, who would make a stew from the remaining parts of the cattle after the rich had taken the most desirable and nutritious cuts of meat.
The various parts of the animal used are thoroughly cleaned, and in Georgia, they are cooked in a broth of onion, milk, water, and various seasonings.
Traditionally eaten as a hangover cure, khashi is often enjoyed with a glass of chacha, a Georgian pomace brandy.
11 – Bozbashi (Meat Stew)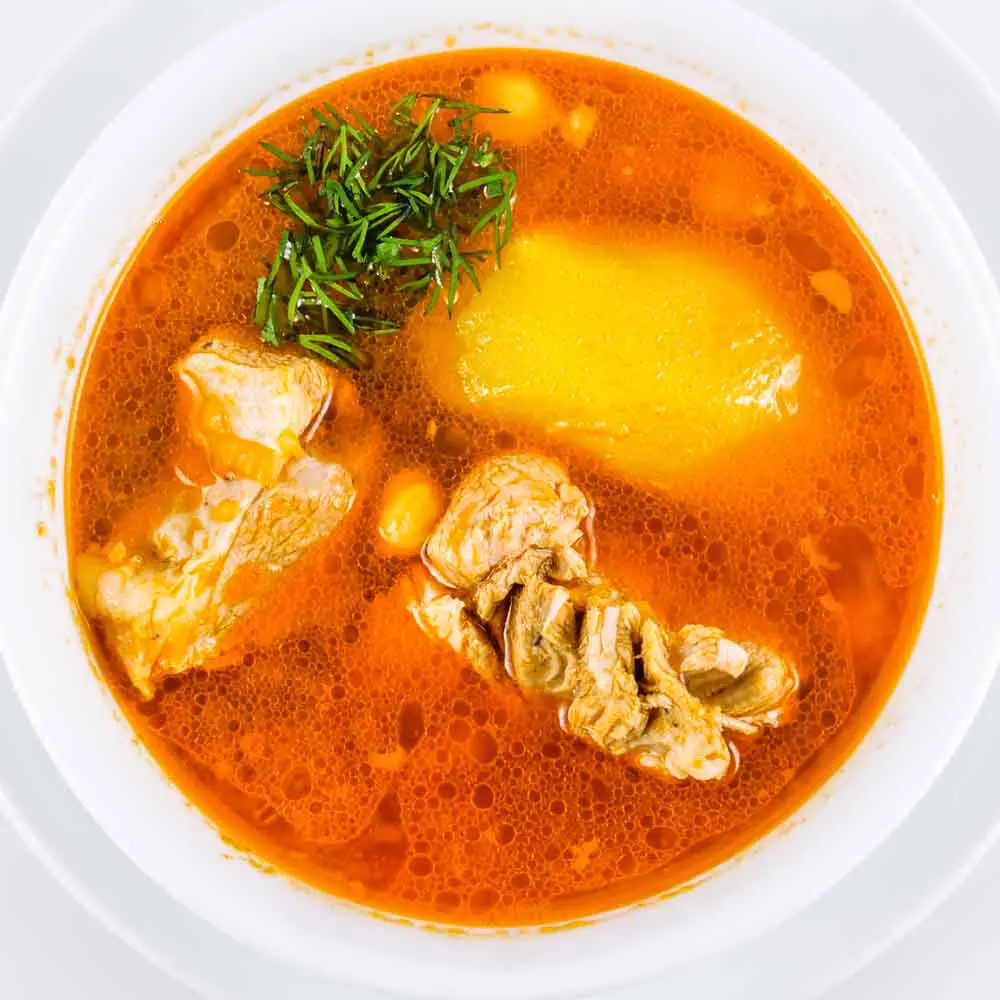 A popular meat stew in Persian, Azerbaijani, and Armenian cuisine, Georgian bozbashi is a little different to its neighboring countries' variations.
In Georgia, the main ingredient of the stew are guptas, or lamb meatballs. In some regions, such as Kakheti in the east, the meatballs are not cooked.
The meatballs are served in a stew of garlic, onion, various herbs, and seasonings, and finished with a thick coating of tomato sauce for a Georgian classic millions across the country love and enjoy.
Georgian Desserts
12 – Churchkhela (Famous Threaded Nut and Juice Candies)
Looking for a souvenir to bring back to friends and family from your trip to Georgia? Look no further than churchkhela, the adored candle-like candy enjoyed by children and adults alike!
Mesmerizing to behold hanging in all their beautiful colors, these traditional candies are made by threading various nuts, such as almonds and walnuts, on pieces of string, and dipping them in a crushed grape must or fruit juice vat, sometimes with flour, then leaving them to hang and dry.
The region of Georgia you travel to will depend on the type of churchkhela you can try. In the east, for example, the nuts are dipped in a juice known as tartara, which is a juice made from crushed grapes and thickened with flour. In the Samtskhe-Javakheti region, however, flour is used with mulberry juice instead.
Wherever you try them, you won't fail to spot these brightly colored candies, hanging from confectionary shops and stalls. You're in for a real treat, as all the grandmothers across Georgia who buy these goodies for their grandchildren can attest to!
13 – Pelamushi (Georgian Sweet Grape Puddings)
Adorning bakeries and food stalls with their gorgeous purple color, pelamushi is a sweet and wholesome dessert pudding, made from combining flour and grape juice to make a thick, jelly-like sweet.
Georgia's national dessert, the dish varies from region to region. In the east, it is common to use wheat flour, while in the west, you're more likely to see the dish made with corn flour.
Traditionally topped with nuts or a little gozinaki (see below), this is a simple yet wonderfully sweet and filling dessert you simply have to try.
14 – Gozinaki (Georgian Nougat)
A staple sweet to enjoy throughout Christmas and New Year's Eve celebrations, gozinaki is a hugely popular Georgian sweet, consisting of caramelized chopped walnuts fried in a pan with honey.
Sticky, chewy, and delightfully sweet, you haven't visited Georgia until you've tried this classic confection!
15 – Tklapi (Fruit Roll-Up Leather)
A dessert that has been made for centuries, tklapi is a fruit roll-up leather, traditionally made by spreading pureed fruit onto a sheet and drying it in the sun.
While tklapi can be either sweet or savory, plum tklapi is without a doubt the most popular flavor of this very creative dish. However, there are plenty of other flavors of roll-up leather across Georgia.
In western Georgia, particularly in the Black Sea region, tklapi is also made from figs, while in Samtskhe-Javakheti, mulberries are often used. You'll also find it made with pears, peaches, apricots, and apples, among other fruits.
It is made by firstly reducing fruit to a jam, preserve, or liquid state over low heat, then spreading the fruit over a sheet and finally drying it in the sun, often on a clothesline, or, more modernly, in an oven. Once dry, you can either enjoy it there and then, or roll and store it for a later date.
Georgian Food Summary
Honest, wholesome, and utterly delicious food can be found in abundance throughout Georgia. The country's diverse geography and trade route history have all contributed to a cuisine that uses fresh and pure ingredients in humble and creative ways, influenced by travelers and traders from all over the world.
Any trip to Georgia simply isn't complete without sampling more than a few of the culinary wonders the country has to offer. From delicacies like khashi to sweet treats such as gozinaki, there is something for everyone to try and experience in Georgia.
You Might Also Like to Read
Save and Pin for Later
Planning a trip to Georgia soon? Keep this food article for safekeeping by saving it to one of your Pinterest boards.
Local Insight Contributor: Tako Zarandia is a native Georgian content writer, passionate about all things Georgian cuisine and culture.
Images licensed via Shutterstock