This post may contain affiliate links, meaning if you book or buy something through one of these links, we may earn an affiliate commission at no additional cost to you. Learn more
Packed with delicious vegetables, dark spices, and juicy, seasoned meats, Azerbaijani food is one of the South Caucasus' lesser-known culinary experiences.
Azerbaijanis love to cook their fresh ingredients in a wide range of wonderful herbs and spices. This makes for some truly unique flavors and aromatic dishes.
Together, guided by the wisdom of a native writer, let's dive in to this fascinating cuisine and discover 17 traditional Azerbaijani dishes you simply have to try.
Azerbaijani Food
1 – Plov – Traditional Rice and Meat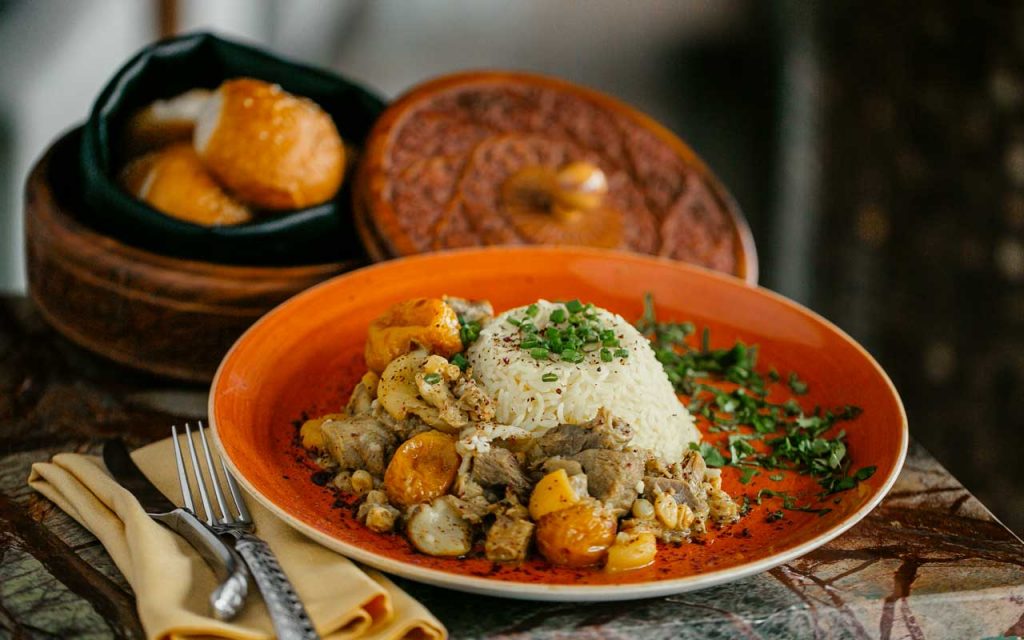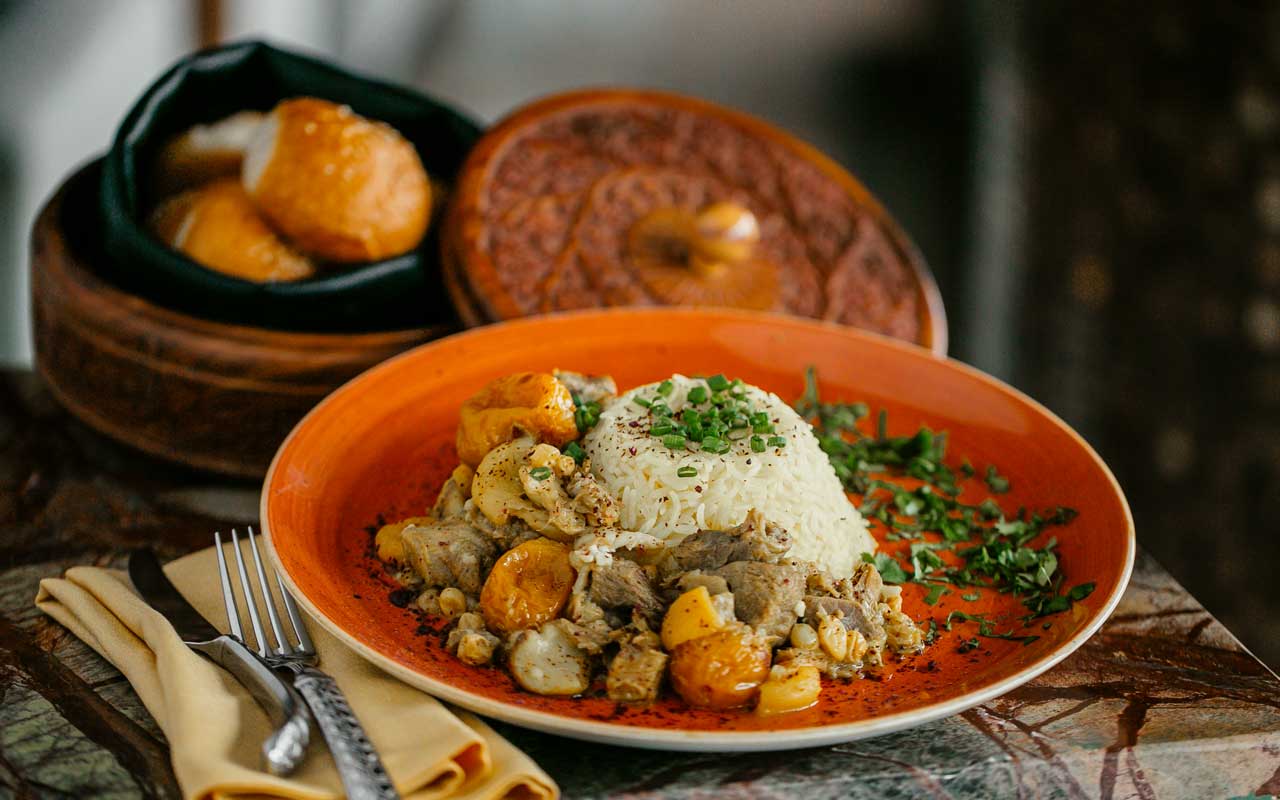 One of the most well-known dishes in Azerbaijan is plov. It can have different names, depending on the main ingredients used.
Essentially, plov is a rice-based dish. It can be accompanied by a wide range of delicious foods and combinations.
Classic plovs include dried fruit plov, mutton plov with onion, chilov plov (bean plov with fish), chicken plov, and shirin plov (sweet plov).
Govourma plov (fried plov) and sebzi govourma plov (sebzi is cooked pieces of meat or meatballs with greens and onions) are just two of many other popular plovs in Azerbaijan.
When it comes to the rice, Azerbaijanis love to steam long grain rice with saffron, giving it a delightful aromatic quality.
The rice is then finished with a layer of golden crust, or gazmag, at the bottom.
Gazmag is made by mixing flour, butter, eggs, and yogurt. If those ingredients are not available, placing the rice on the lavash (flat bread) or peeled sliced potatoes also works well.
Plov is an important Azerbaijani food. It's been cooked in the country for generations.
2 – Shah Plov – Traditional Rice with Fried Dough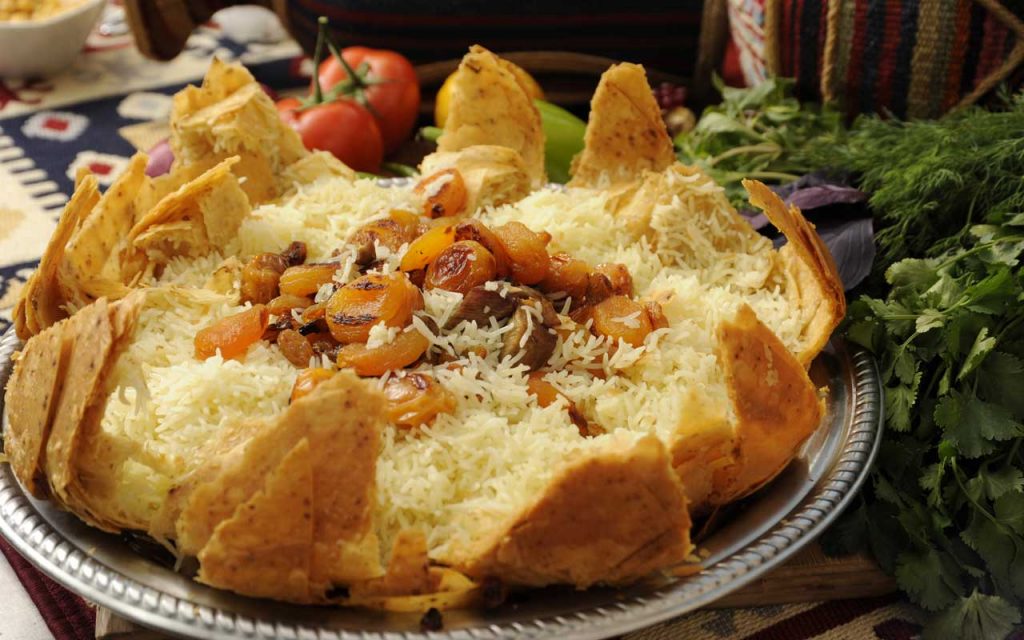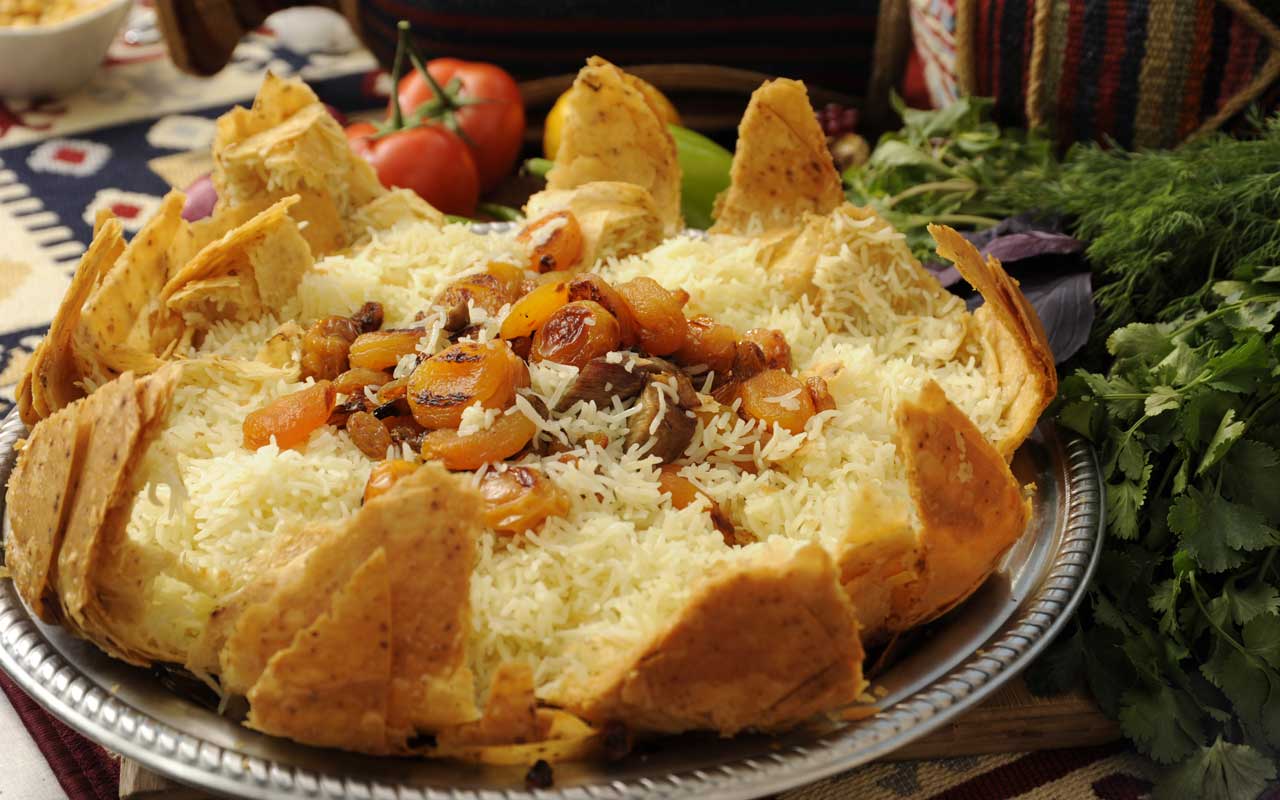 'Khan ashi', or shah plov, consists of a hearty rice base, topped with meat and finished with a crust of fried dough.
The crust is a distinguishing detail of shah plov. It is made of flaky lavash, in which the plov is cooked.
Once you've steamed your saffron-infused rice, you can top khan ashi with a wide range of ingredients.
These include chicken or meat, roasted chestnuts, nuts, dried apricots, prunes, raisins, and other dried fruits and different seasonings.
Since the dish can remain warm for up to several hours after cooking, it is perfect for weddings, parties, and other special occasions.
3 – Dolma – Stuffed Grape Leaves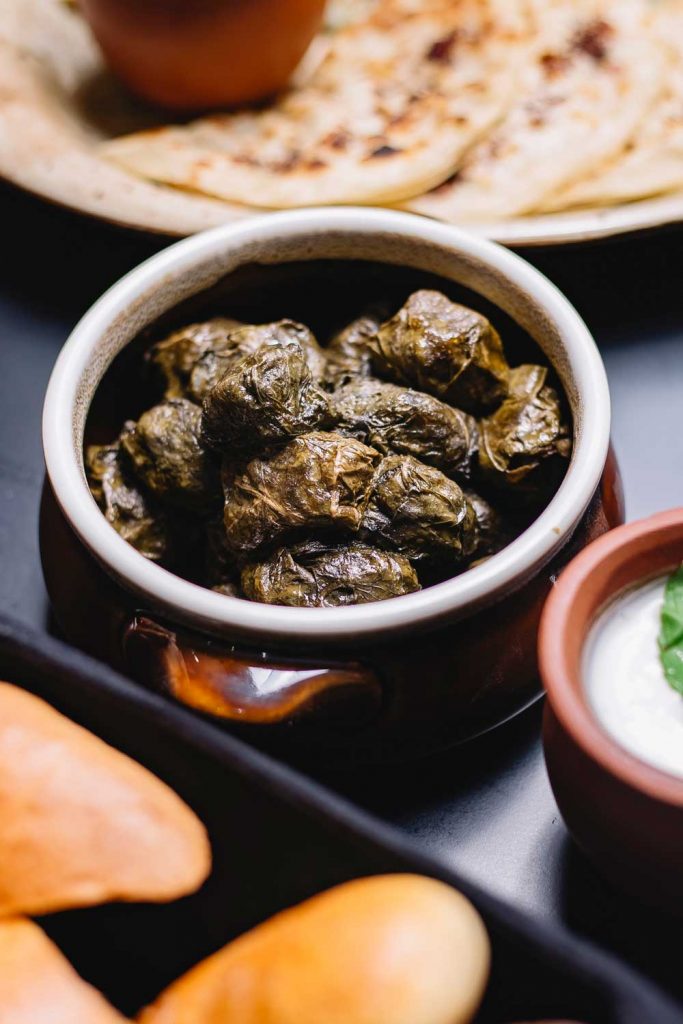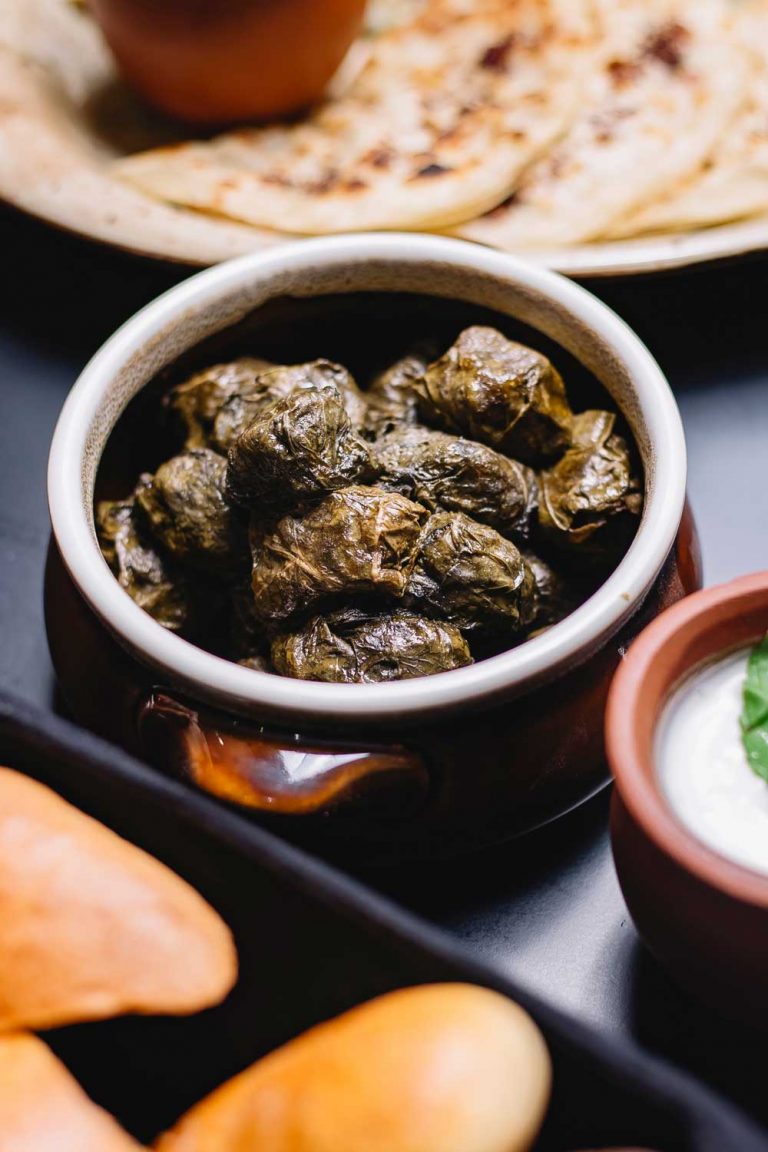 The name of this dish originates from the shortened Azerbaijani word 'dolma', which means 'stuffed'.
Dolma is a traditional Azerbaijani dish, which is also popular in Eastern Europe and in Mediterranean cuisine. Essentially, it's a mixture of meat, onion, rice, peas, and spices, wrapped in grape leaves or stuffed in vegetables such as tomatoes, sweet peppers, or eggplant.
Dolma is usually made bite-sized. It should be filling, but never too big. Served with a large scoop of creamy garlic yogurt sauce, or gatyg, these pockets of goodness are truly divine.
Dolma is eaten with a wide range of fresh ingredients, like bread, tomato, cucumber, and other greens.
Dolma is an important part of Azerbaijani cuisine. As a food, it's simple, filling, and utilizes many of the country's available ingredients.
4 – Saj Ichi – Azerbaijanian Barbecue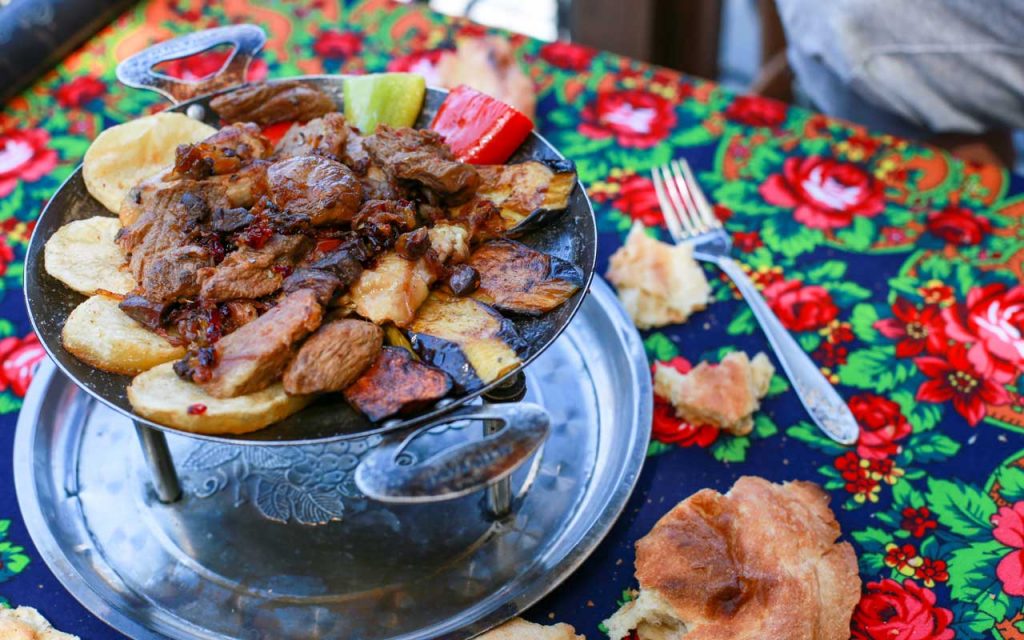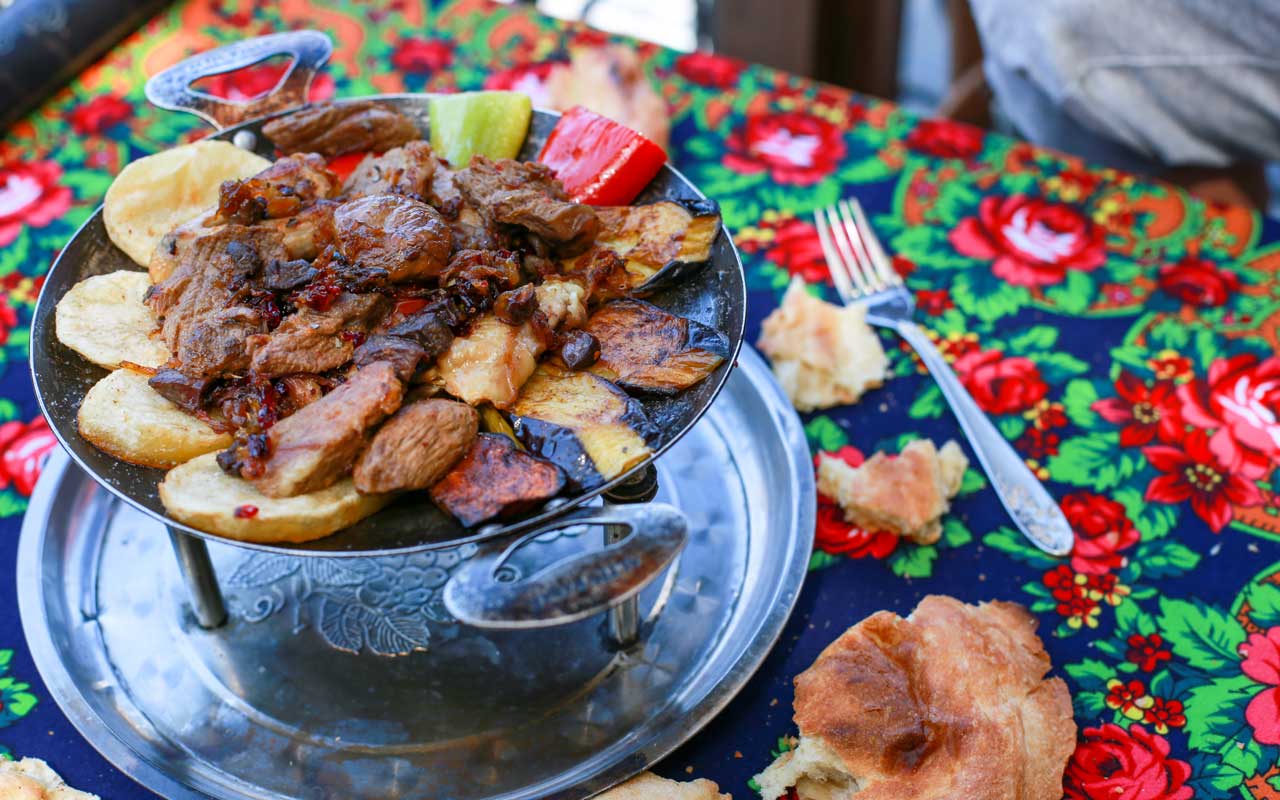 Many Azerbaijani foods, even today, are still prepared with ancient cooking methods.
Traditionally, cooking in copper or clay pots has given Azerbaijani cooking a unique and distinctive flavor.
Saj ichi is Azerbaijan's take on barbecue. Traditionally, lamb is the meat of choice, as it's been eaten in the country for centuries.
Once you've diced your lamb, you cook it over hot coals, in a copper pan, with cubed potatoes, eggplant, bell peppers, onions, and tomatoes.
This delicious dish pairs perfectly with Ayran, which is a super refreshing and healthy Azerbaijanian-Turkish drink, made of water, yogurt, and salt.
5 – Piti – Lamb and Chickpea Soup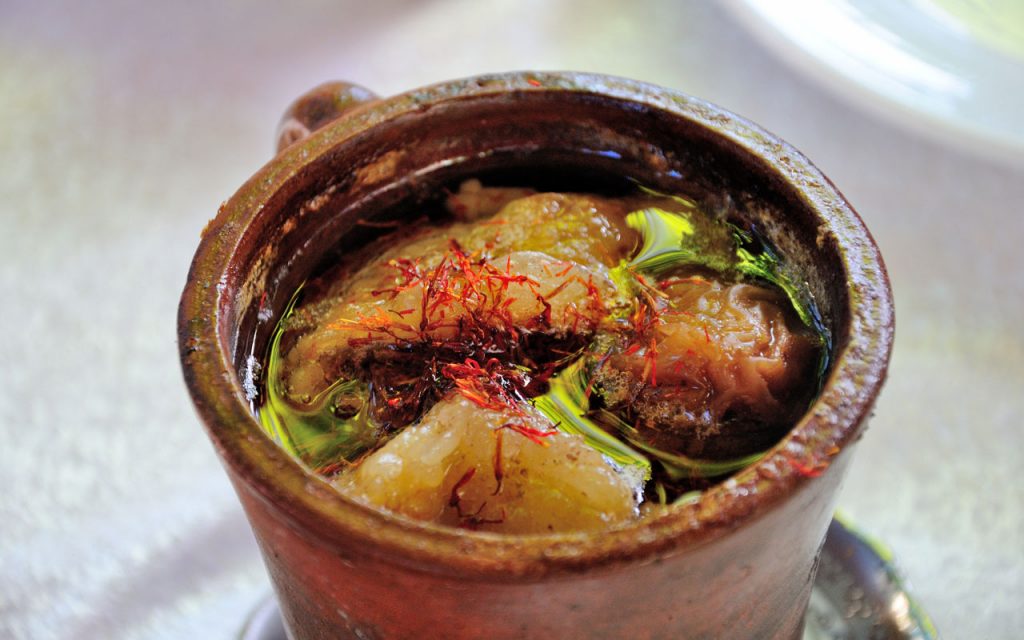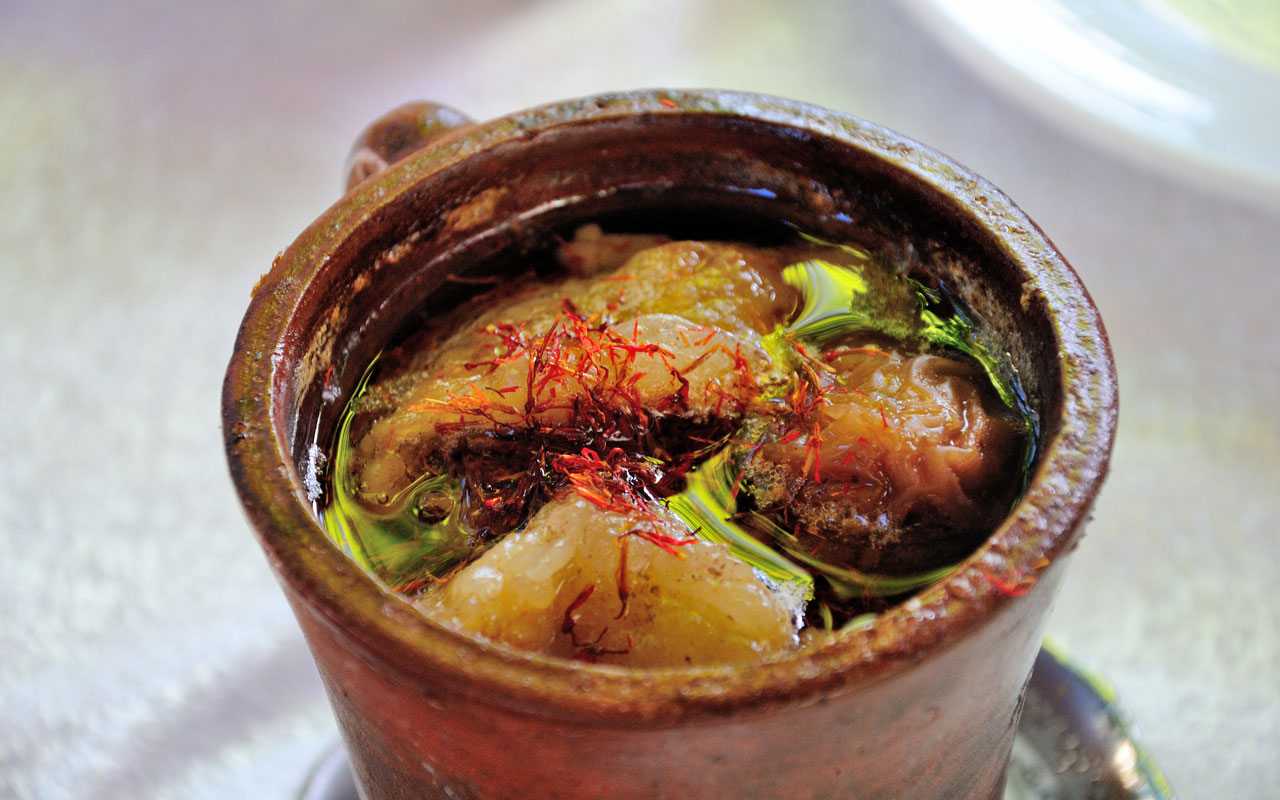 Piti is a liquid sauce made of lamb and chickpeas. It's made with a slow and unique cooking method, and it has been prepared for generations.
The soup has an unusual, distinctive taste. Lamb, chickpeas, and baked chestnuts are the main and irreplaceable ingredients of piti. You can also add vegetables, plum, or quince for taste.
Piti, traditionally, is slow-cooked for 5-6 hours in a ceramic pot, to maximize the intense flavor.
Only piti prepared in such a way produces such a juicy, mouthwatering dish.
Piti can be eaten with many ingredients. As it's a soup, many Azerbaijanis love to eat it with thick slices of bread.
However, there are plenty of additional ingredients you can add to piti. Mashed chickpeas, tender meats, plums, and chestnuts all pair well with this dish.
6 – Buglama – Traditional Lamb Stew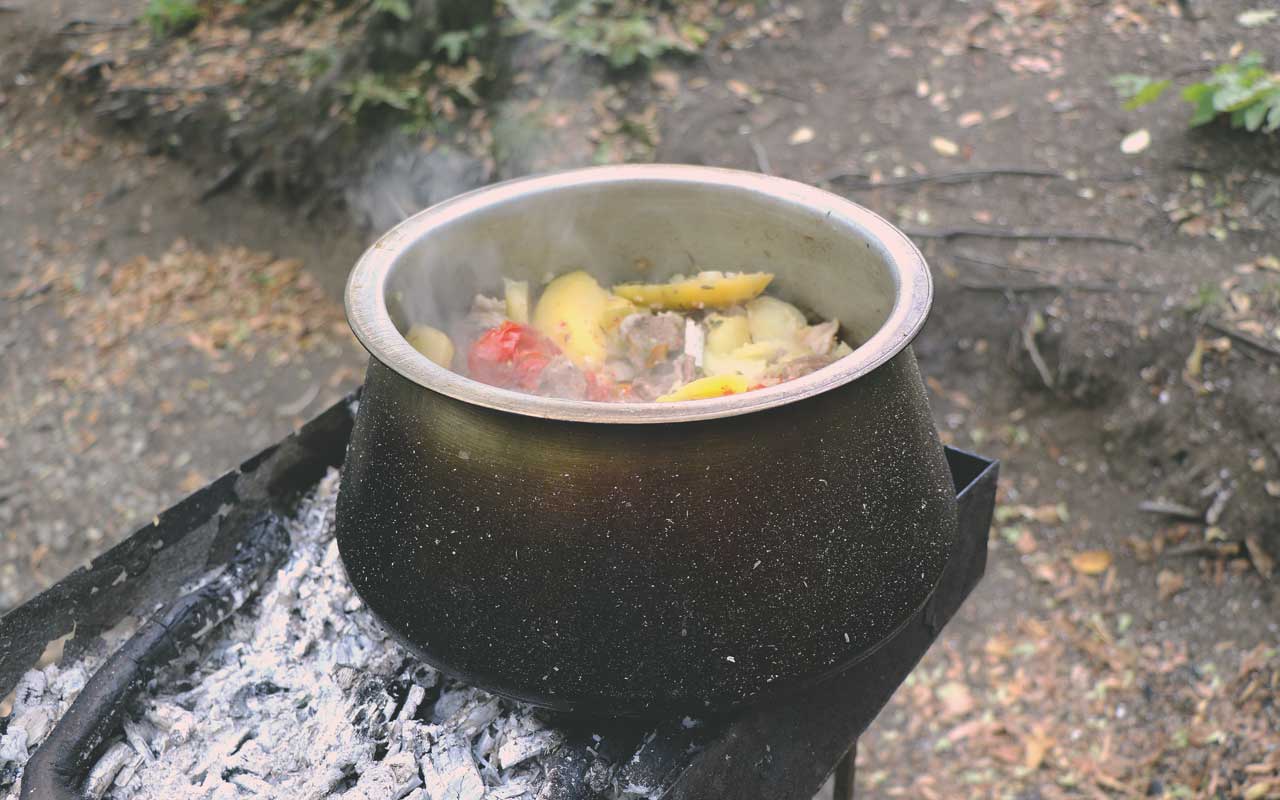 Buglama in Azeri means 'steamed', referring to the lamb cooking in its own juices over a low flame, for approximately two hours.
This hearty dish consists of lamb pieces, stewed with onions, tomatoes, peppers, black pepper, and bay leaves, in a small amount of liquid.
Although lamb is the traditional meat in this stew, buglama can be made with fish, chicken, beef, or even tofu if you are a vegetarian.
This dish is usually cooked on an open fire. Families who have left the city for the weekend to be out in nature commonly prepare it.
Buglama pairs perfectly with choban salaty (a 'shepherd's salad' consisting of fresh summer vegetables like cucumber, tomato, green, bell pepper, and greens like coriander, dill, mint, basil, and white goat cheese).
Buglama is a wholesome, hearty Azerbaijani dish, that families across the country love to prepare and eat.
7 – Gutabs – Stuffed Meat or Vegetable Pies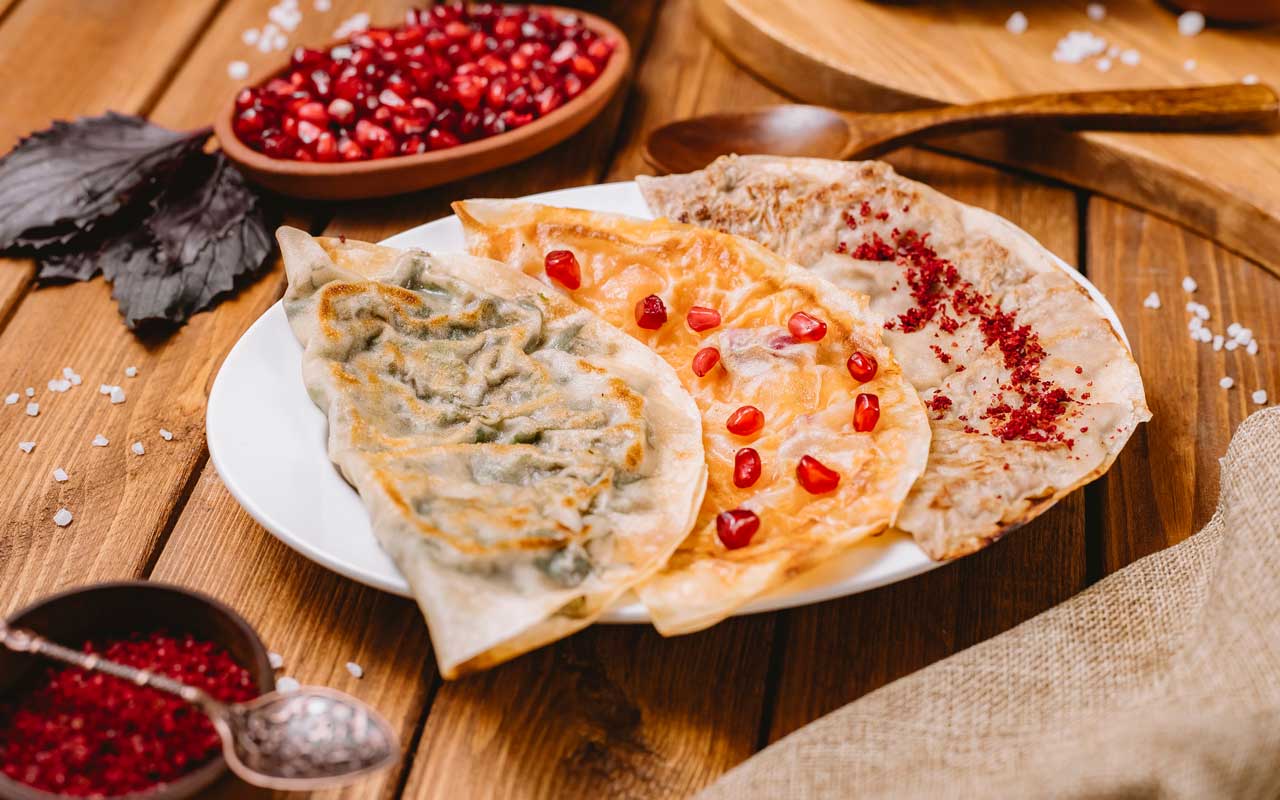 Gutabs are Azerbaijani patty pies. They are stuffed with a variety of greens, vegetables, meat, or cheese.
Gutab is traditionally prepared in the form of a crescent (semi-circle). This delicious meal is generally made on a large circular metal griddle called 'saj'.
Gutabs are served with sumac and yogurt. Azerbaijanians prepare gutabs with a range of meats, including camel.
Locals call gutabs 'Azerbaijanian fast-food' because they are foods you traditionally buy when you're on the go.
You can buy and eat gutabs anywhere in Baku or in the surrounding regions. They can be found in supermarkets, street vendors, cafes, or even in fashionable restaurants where they are served as appetizers.
8 – Lavangi – Baked Stuffed Meat Dish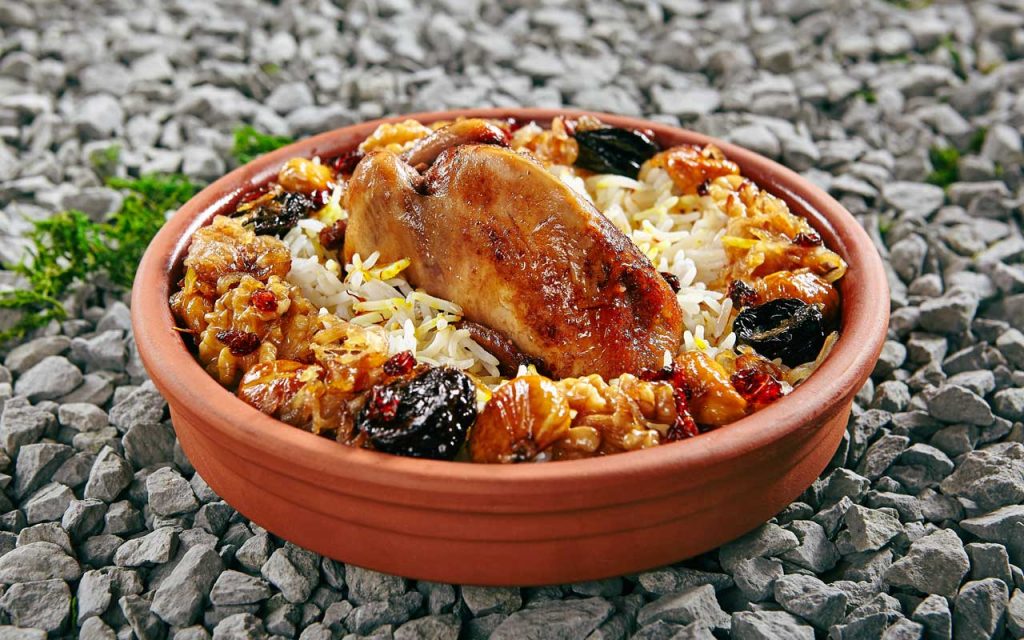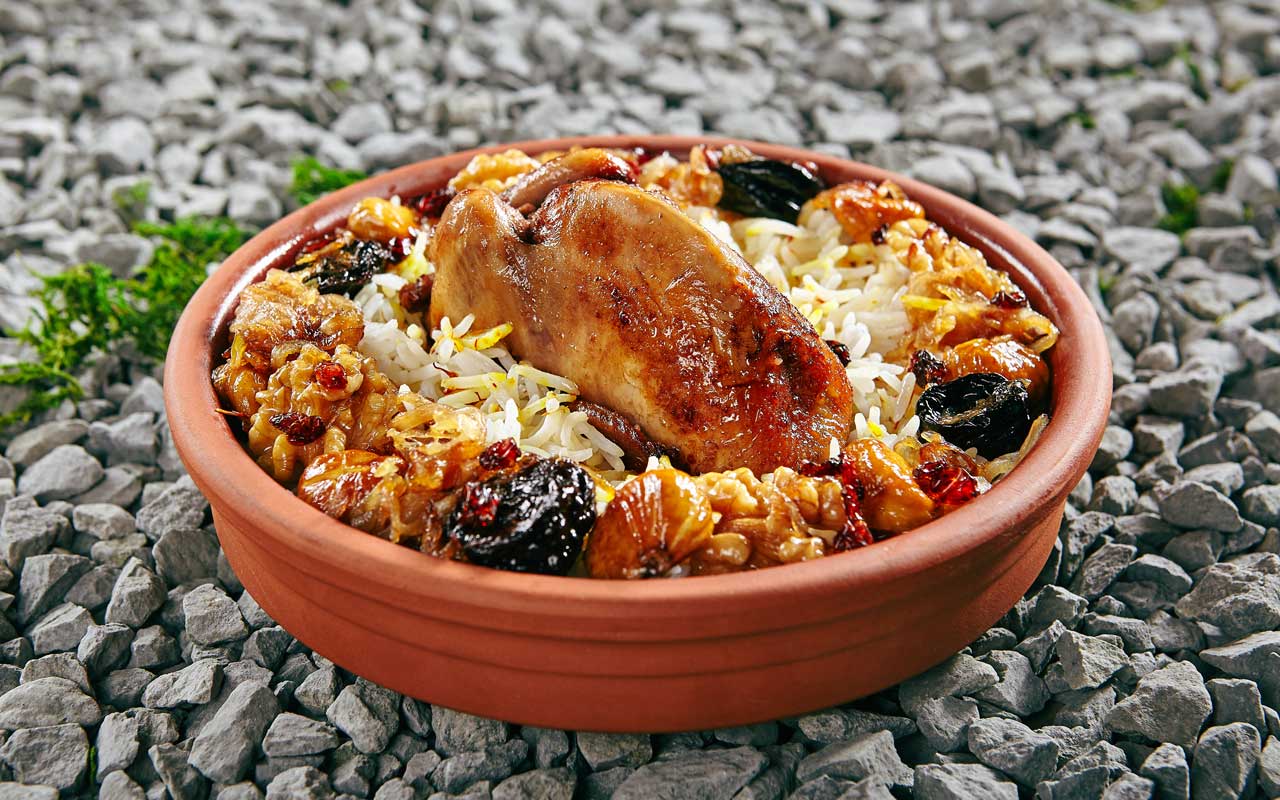 Lavangi is a fish, duck, or chicken dish, stuffed with walnuts, onions, and various seasonings, which is then baked in the oven.
Fish-based lavangi use fresh and delicious kutum, asp, or carp from the Caspian Sea. White fish can also be used, and caviar is a popular filling.
Other stuffings include dried cherry-plums, raisins, sour prunes, or "narsharab" (a pomegranate juice syrup), and vegetable oil.
Lavangi is a succulent Azerbaijani food, full of different flavors from the various fruits and spices. It's a must-try in Baku, for sure.
9 – Kebab/Kebap – Azerbaijani Kebab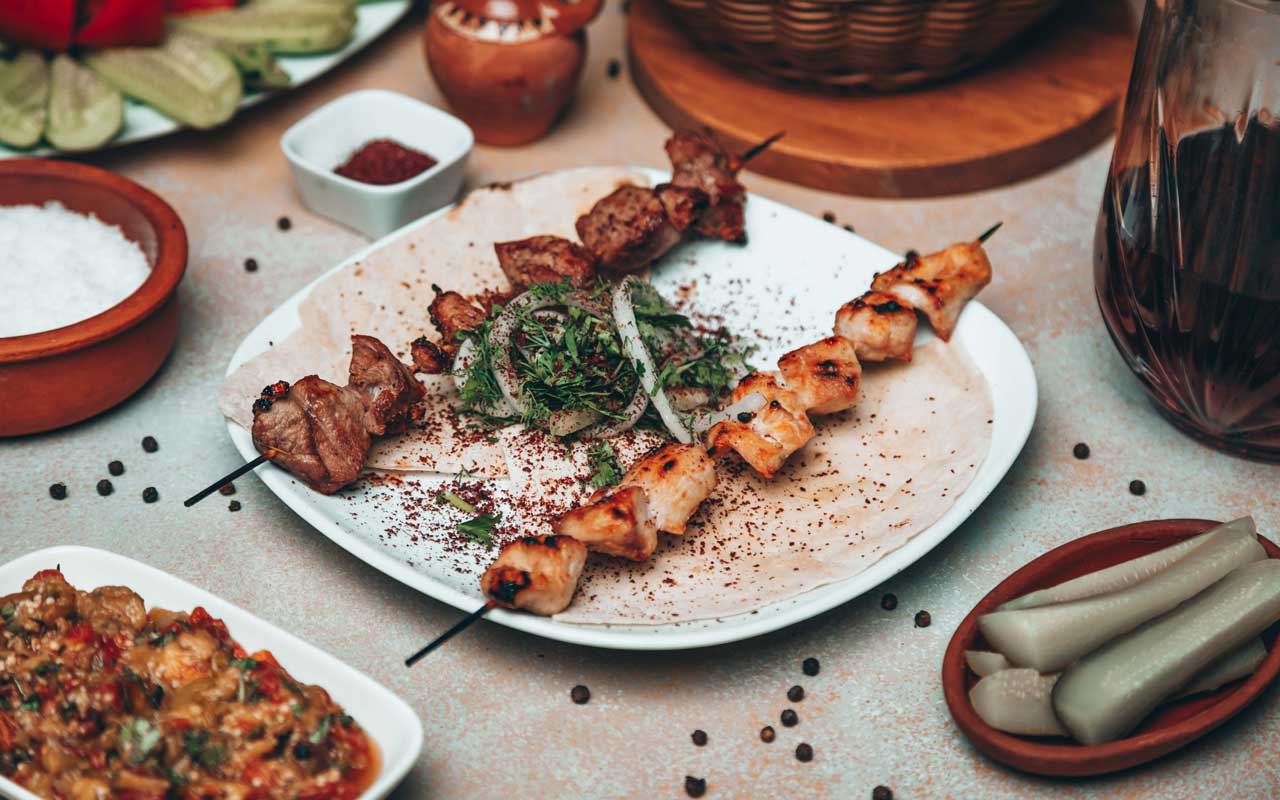 Azerbaijan has many types of kababs and shashliks. Kebabs are made of different kinds of marinated minced or chopped meat, fish, or chicken.
Various vegetables are then paired with the succulent chunks of meat, and then all ingredients are threaded onto the skewer. Finally, the kebabs are roasted over an open fire.
As a result, Azerbaijani kebabs have a deep, roasted flavor. They are enjoyed with lavash and diced onion.
Lule kabab is one of the most popular kebab choices. This minced lamb kebap is mixed with lemon, salt, spices, and herbs.
10 – Mangal Salaty – Vegetable Salad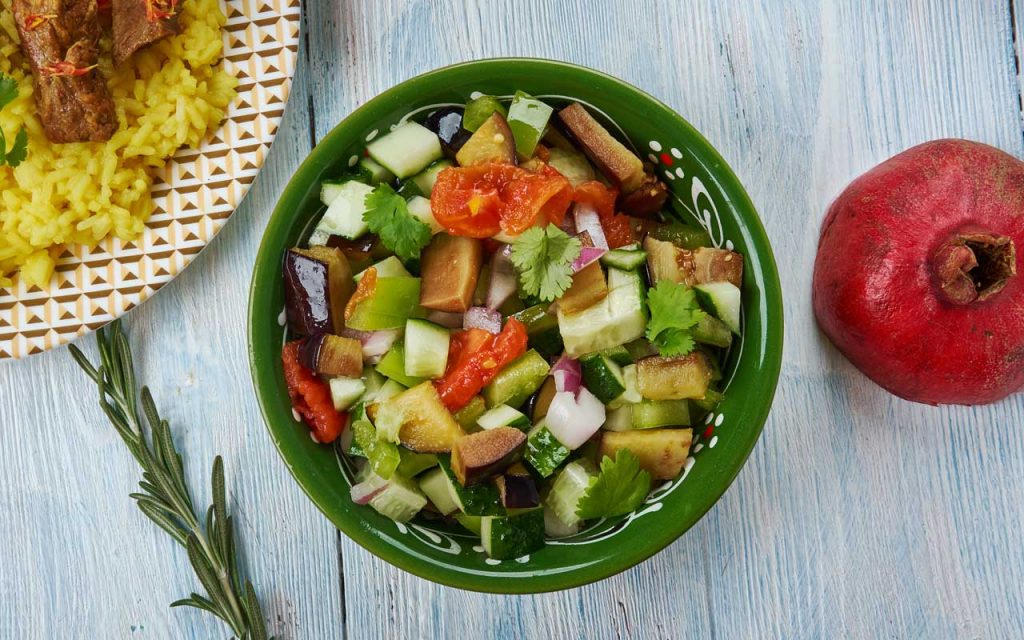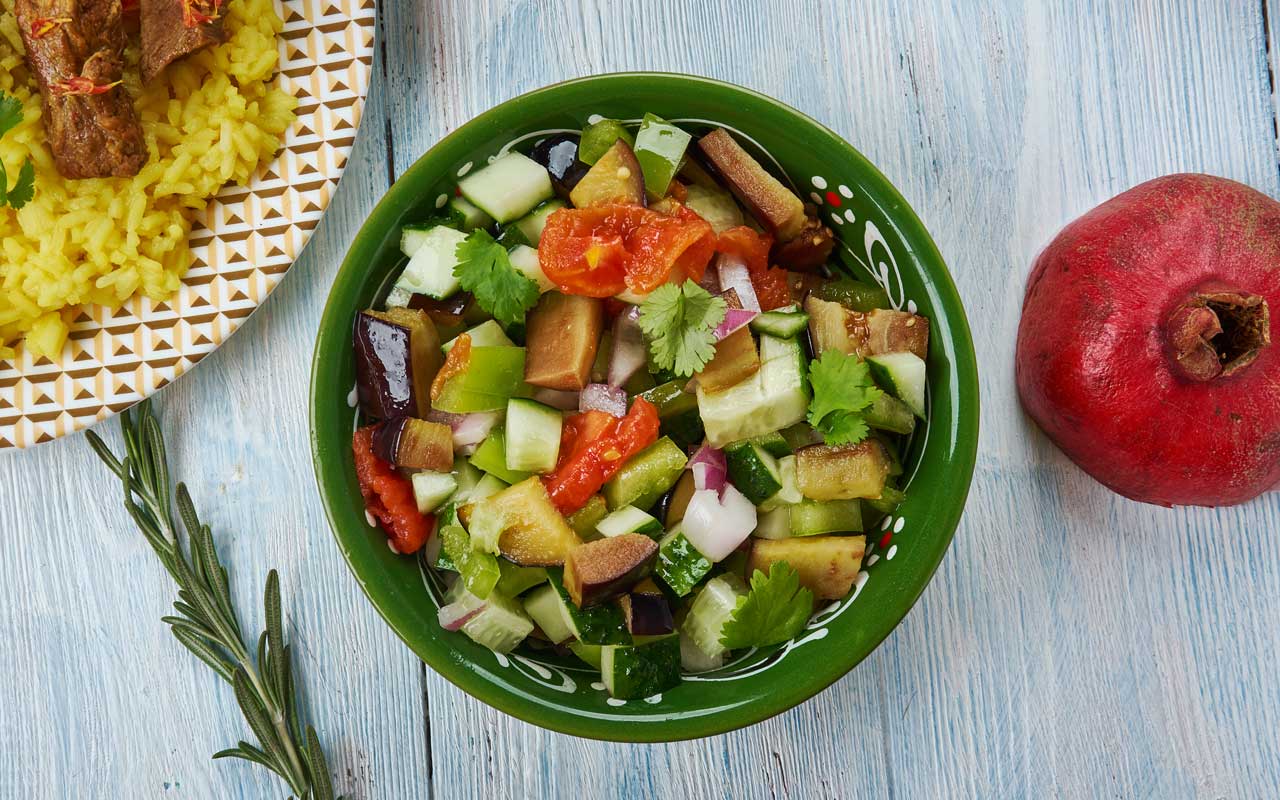 Mangal salaty is a fresh, vegetable salad commonly served with kebabs. A wide range of ingredients go into this refreshing Azerbaijani food.
These include peppers, tomatoes, eggplant, red onions, herbs, sunflower or olive oil, and garlic, among others.
This is a light and flavorful Azerbaijani salad. It's enjoyed with crusty bread, and it can also be served with eggs for a delicious breakfast.
11 – Dushbara – Dumplings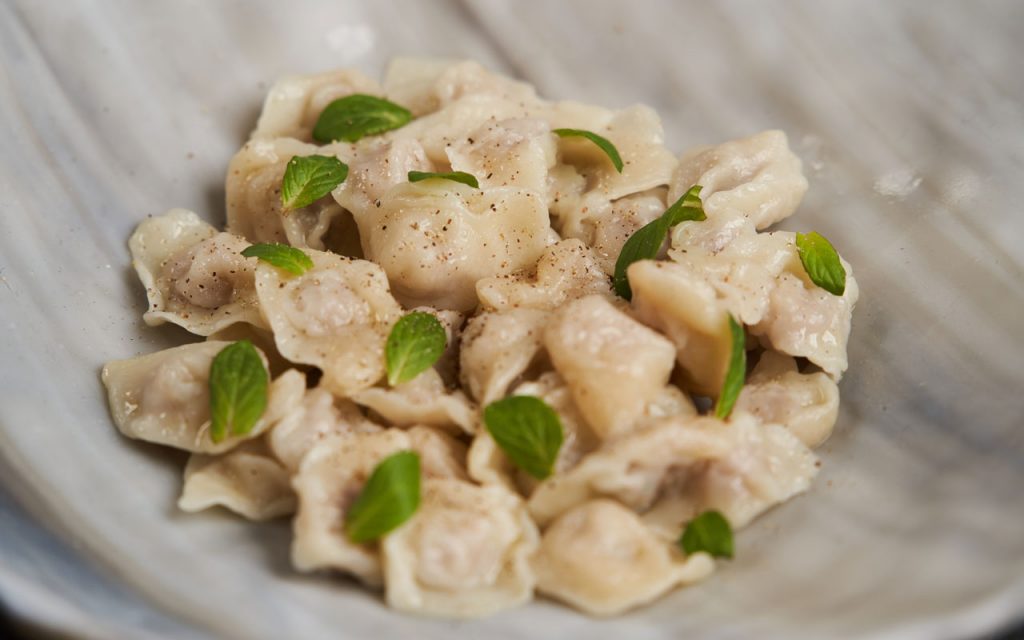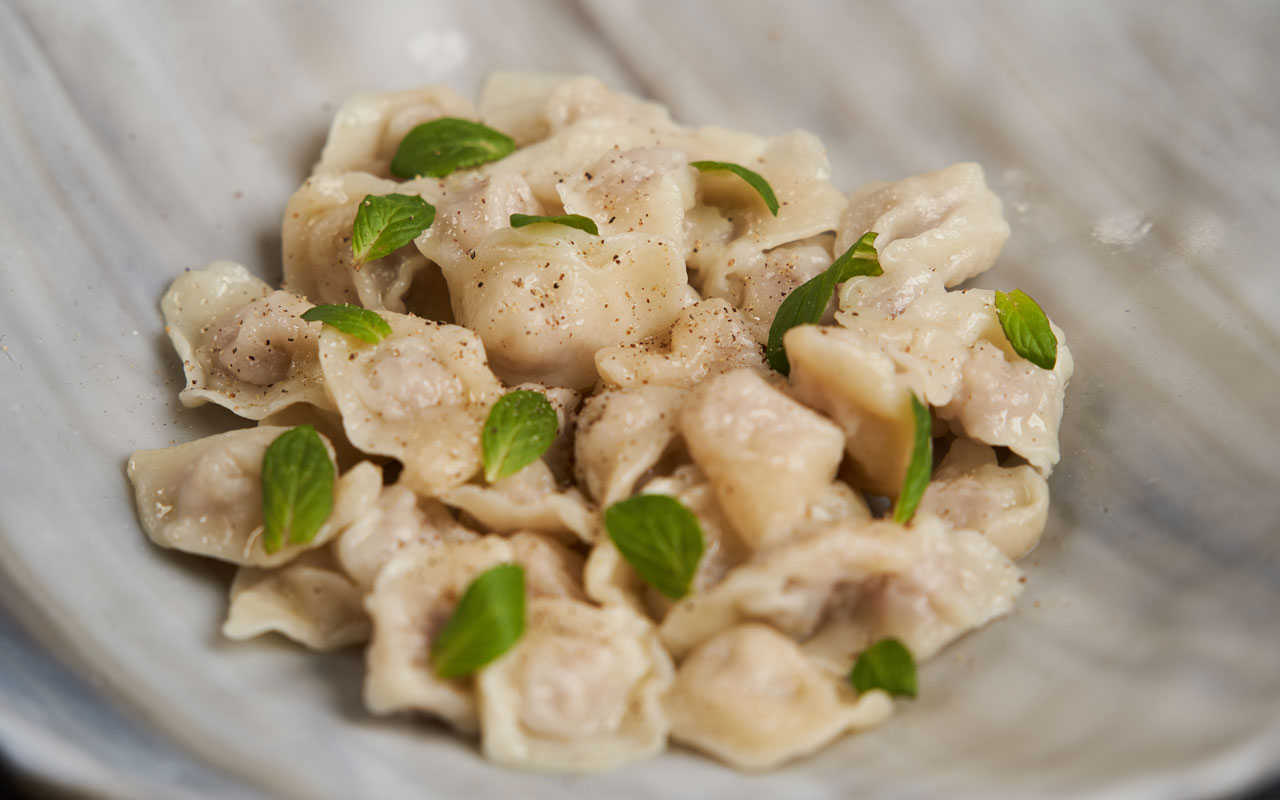 Dushbara are tiny, dough dumplings, filled with minced meat and seasonings, cooked in broth.
There are similar popular dishes in many countries. Azerbaijanian dushbara are defined by their small, delicate form.
Each of the dumplings is carefully molded by hand into small hat-like shapes. Crushed garlic, vinegar, dried mint, or yogurt are usually served with dushbara.
In Baku, people often challenge each other to try and fit as many dushbara onto the spoon as they can!
12 – Bozbash – National Soup of Azerbaijan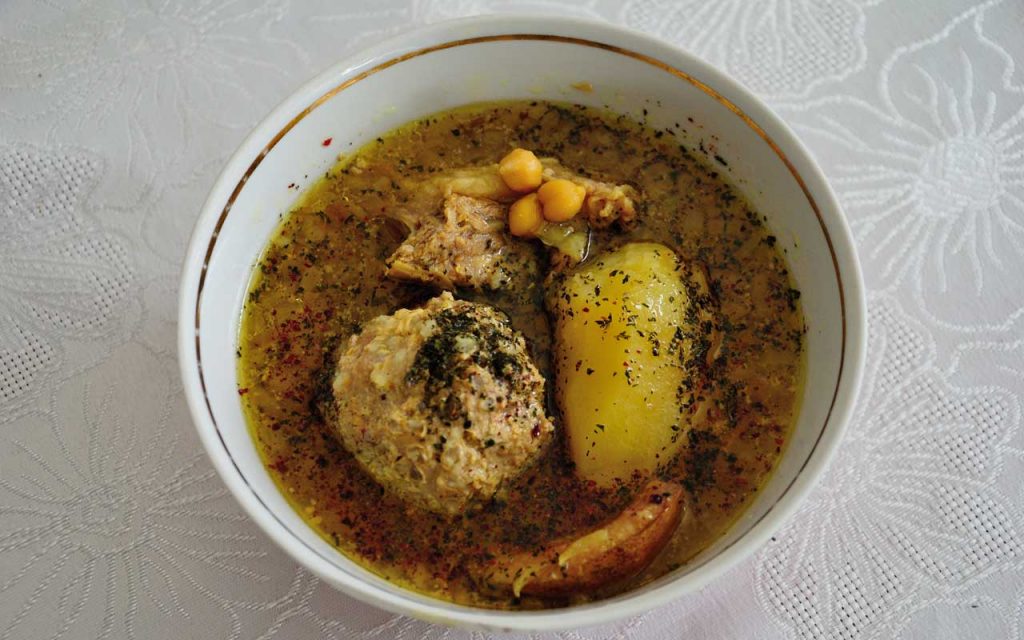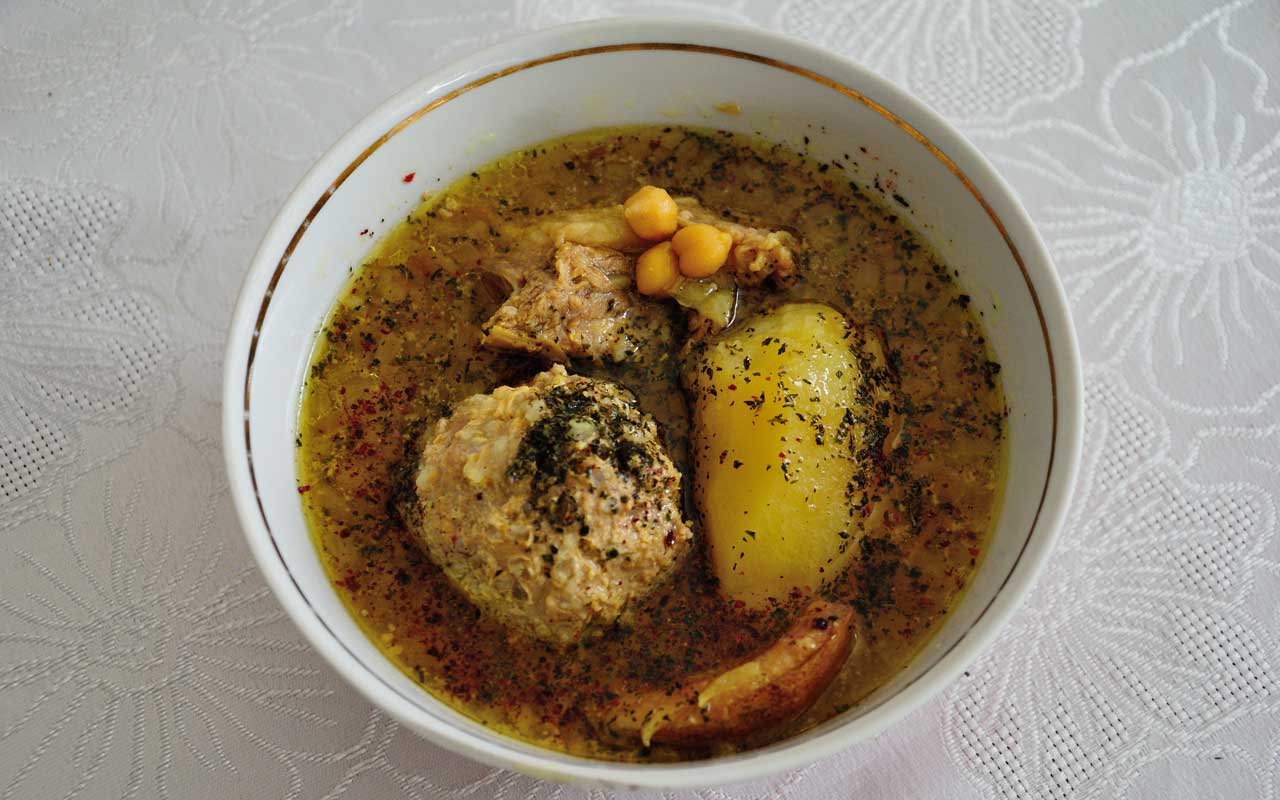 One of the famous national soups of Azerbaijan is kufta bozbash. It's a rich, hearty soup, with plenty of spicy kick.
To make kufta bozbash, you boil large meatballs in a delicious broth of peas, potatoes, and mutton bones, until tender.
Dry or fresh cherries are often added to the meatballs.
Depending on the region, you can find different types of ingredients and spices used in this dish.
Bozbash in the Baku region, for example, is commonly prepared with peas, meatballs, and potatoes boiled in a broth with saffron and turmeric.
13 – Pakhlava – Azerbaijani Baklava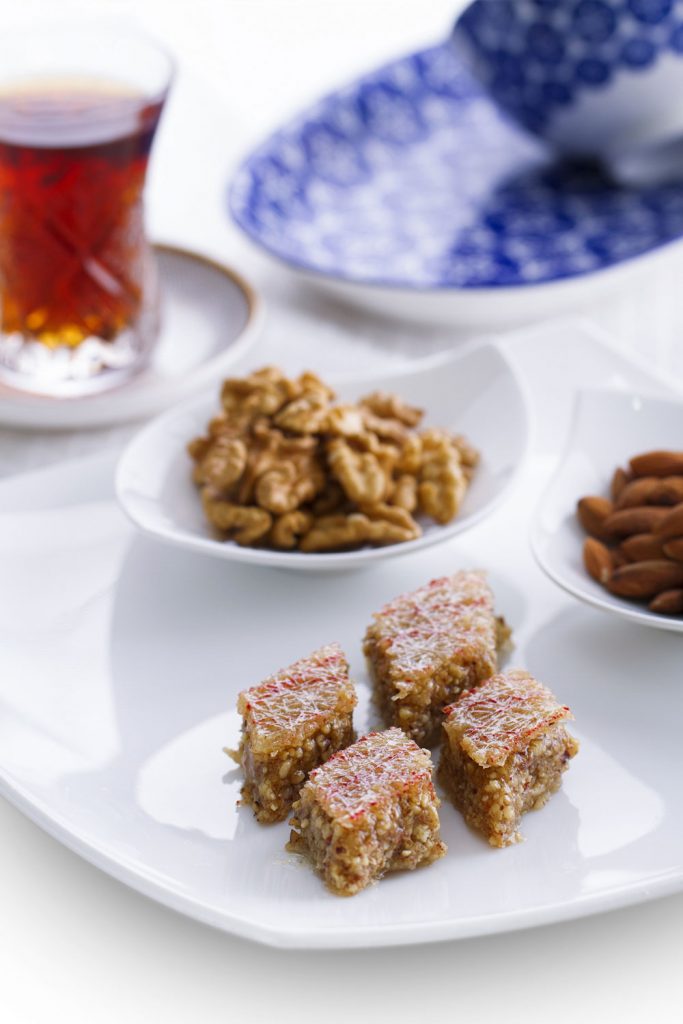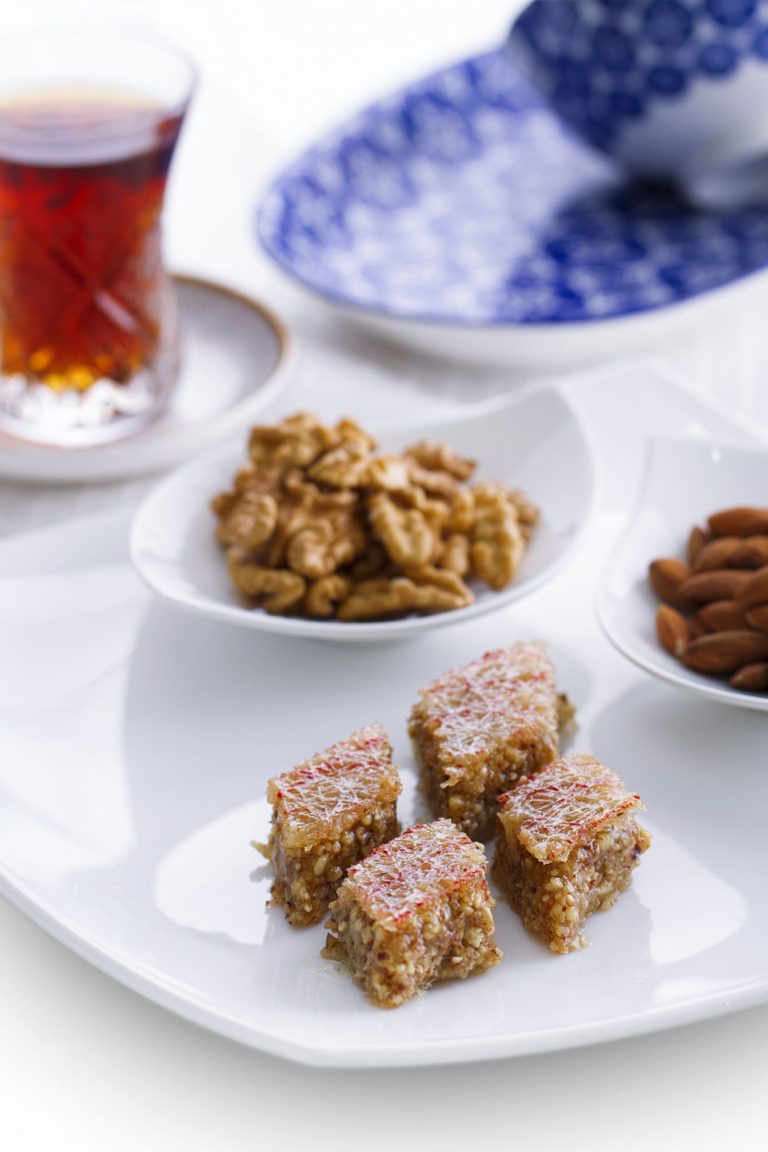 Sheki pakhlavasy is a famous Azerbaijanian sweet. Sheki is a region of Azerbaijan, and its inhabitants use the same methods to make this delicious treat as they have for generations.
This type of pakhlava is made from rice flour and filled with nuts. The dough is prepared in a copper frying pan.
Once the dough is heated, it begins to trickle. This trickling creates a web effect, or 'rishtya' as the locals call it.
Coriander and cardamom are also added to the mixture. Once assembled, the pakhlava is saturated with sugar syrup, leading to a sweet flavor and alluring glaze.
Pakhlavasy is a sweet treat that has been prepared for generations. It's an Azerbaijani dessert with so much history, character, and flavor.
14 – Djiz-biz – Fried Meat
Djiz-biz is a traditional Azerbaijani dish of fried kidneys, liver, intestines, heart, and lung of cow, sheep, or lamb.
Potatoes are an optional addition to the dish. In summer, many people like to add fresh tomatoes to the dish as well.
Each of the components must be cooked in a specific order, and preparing them requires the use of special techniques. It is tasty, nutritional, and a very unusual and interesting Azerbaijani food.
15 – Kefli Becha – Azerbaijanian-Style Chicken
Kefli becha is one of the popular dishes of Azerbaijanian cuisine, especially in Nakhchivan.
It is commonly and comically referred to as 'enjoyable drunk chicken' because the chicken is cooked in wine. It's a simple dish, but the taste is divine.
Once you have diced your chicken, fry it in a pan with butter, until golden brown.
Then, close the lid and cook on low heat for 25 minutes. The wine is added at the end and mixed in the juices for 2-3 minutes.
Kefli becha pairs perfectly with mangal salaty (#10), bread, and a glass of crisp white wine. It's a delicious Azerbaijani dish, and one you can definitely try making at home.
16 – Dovga – Yoghurt Soup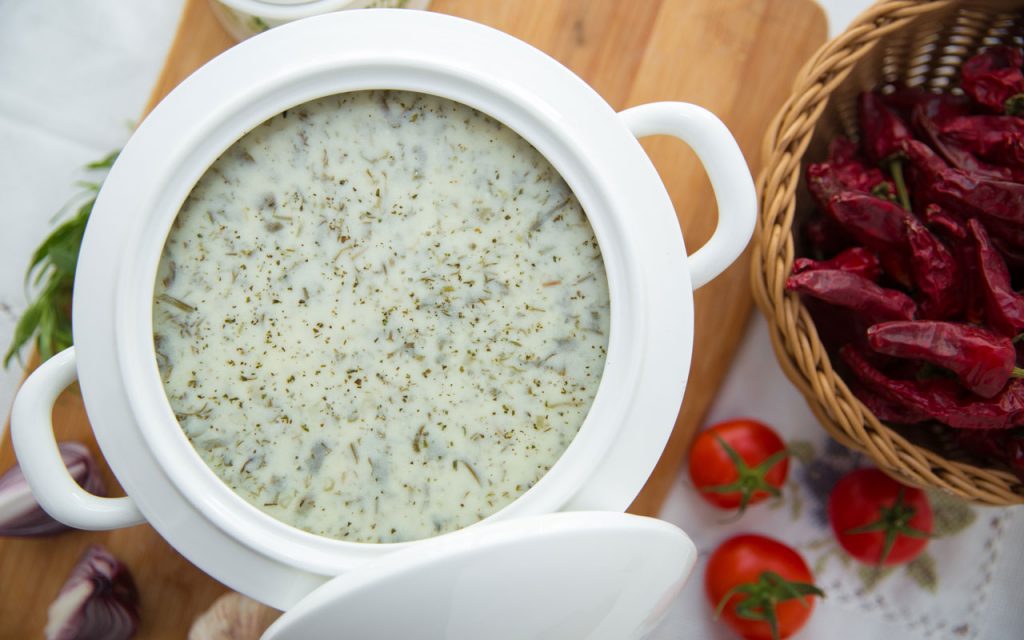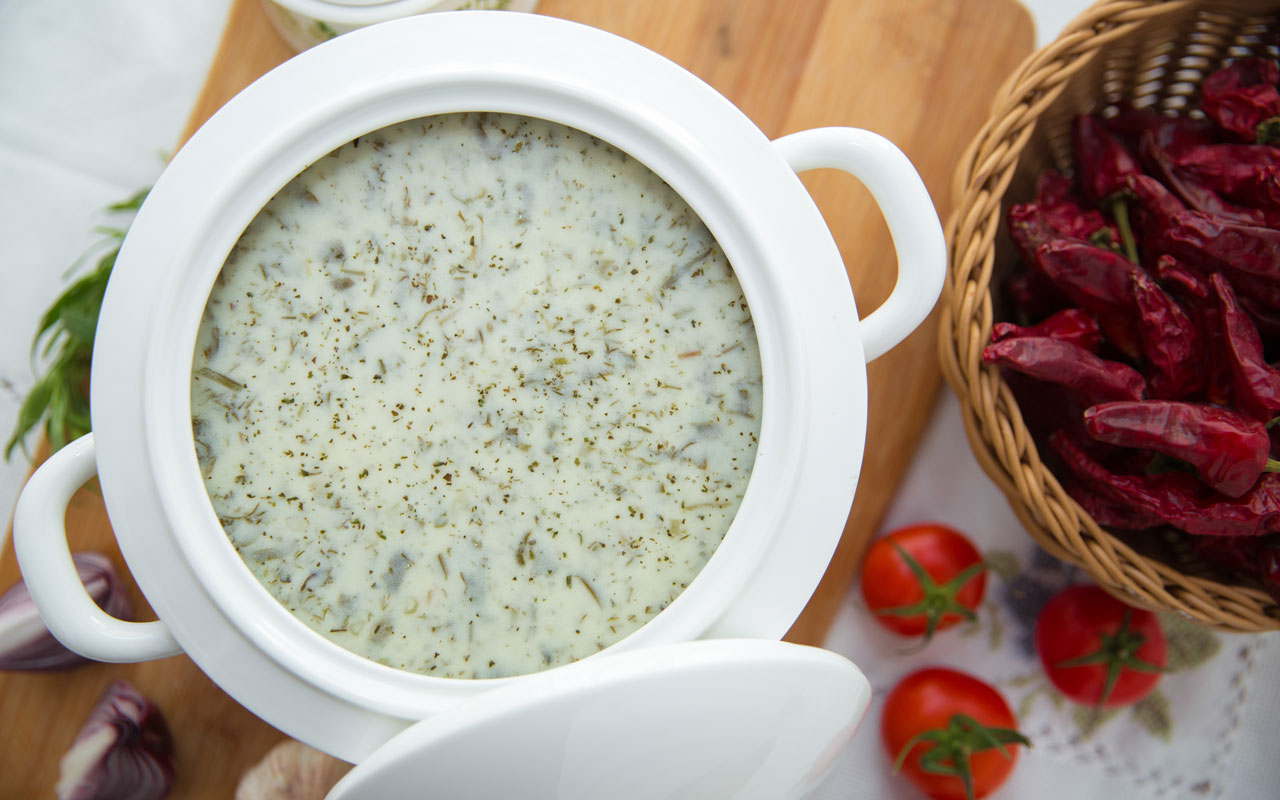 Dovga is a traditional Azerbaijanian yogurt soup. It is cooked with a variety of herbs, such as dill and coriander, rice, and chickpeas.
It is served hot or cold, depending on the season. Dovga is considered both a kind of soup and a drink, and it is commonly eaten or drank with a wide range of mains.
In Baku, chefs add small meatballs and chickpeas to Dovga, if served hot, to enhance the flavor and texture.
17 – Pomidor-Yumurta – Eggs and Tomatoes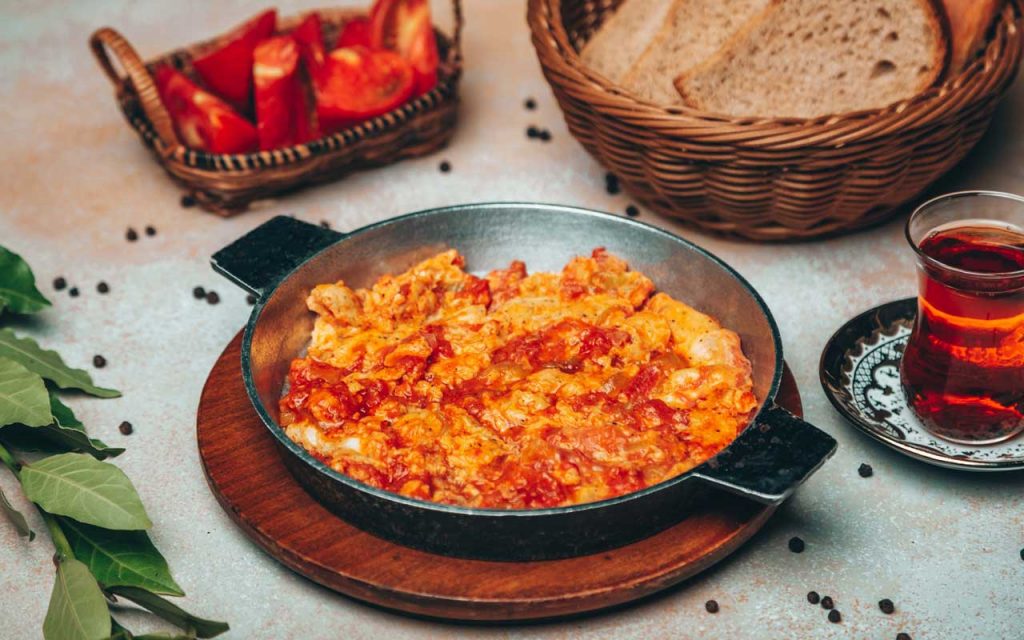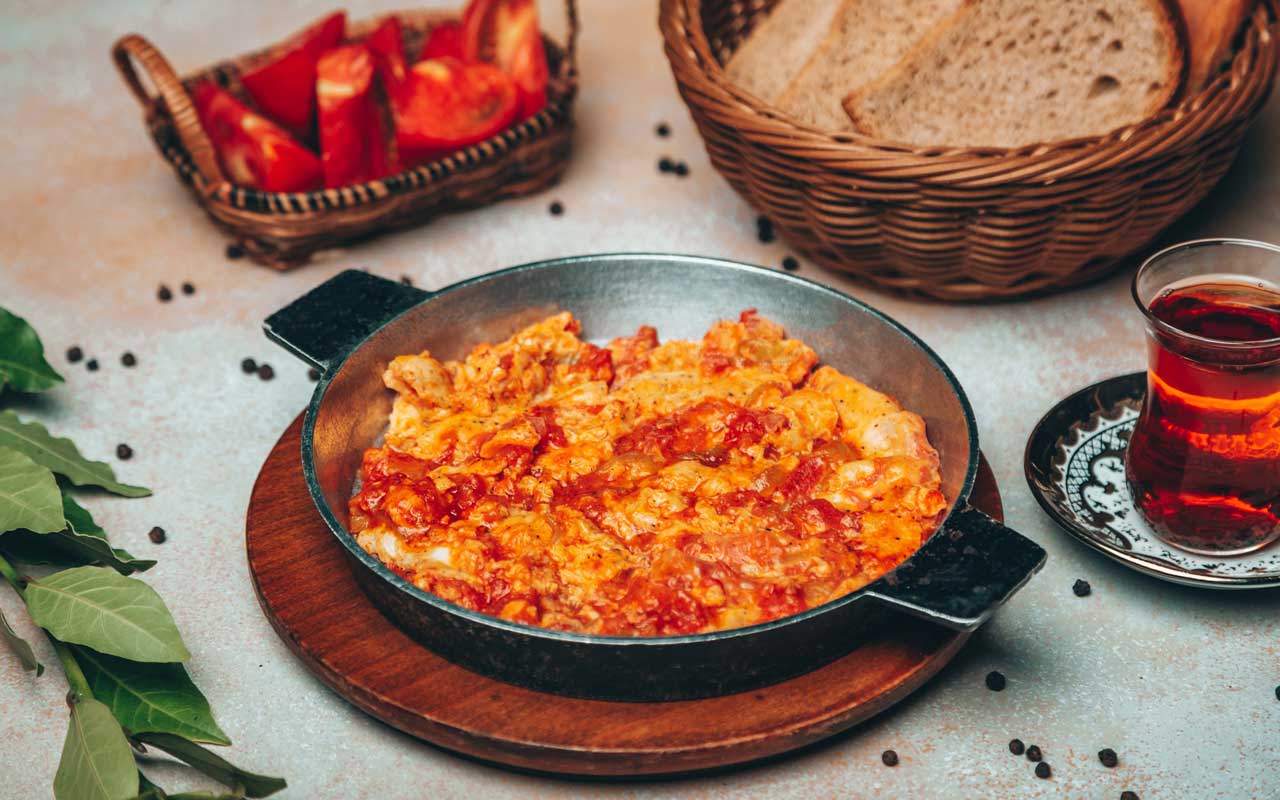 Many countries have similar dishes with some differences. For example, in Turkish cuisine, they have menemen, in the Mediterranean cuisine, it is shakshuka, and in Azerbaijan, it is pomidor chighirtmasy.
Pomidor-yumurta is essentially Azerbaijan's take on shakshouka. Shakshouka is a delicious egg and tomato dish, popular in North Africa, the former Ottoman region, and the Middle East.
Pomidor-yumurta is made by cooking eggs and tomato in a copper pan, with a wide array of aromatic spices.
Normally, this delicious dish is prepared for dinner or a light lunch, but often you can see it on the breakfast menu of many traditional restaurants.
Azerbaijani Food Summary
There's a world of fascinating and exciting food in Azerbaijan. From fresh ingredients grown in the mountains, to the array of spices used, Azerbaijanian cuisine is full of diversity and unique flavors.
Fusing flavors from the Ottoman region and the Middle East, the foods of Azerbaijan explode on the tongue, and comfort in the stomach.
So, one final time, here's the full list of all Azerbaijani foods covered in this article for reference.
Be sure to have this list of Azerbaijani food handy when you visit so that you can try one or more of these popular and traditional foods.
Plov – Traditional Rice and Meat
Shah Plov – Traditional Rice with Fried Dough
Dolma – Stuffed Grape Leaves
Saj Ichi – Azerbaijanian Barbecue
Piti – Lamb and Chickpea Soup
Buglama – Traditional Lamb Stew
Gutabs – Stuffed Meat or Vegetable Pies
Lavangi – Baked Stuffed Meat Dish
Kebab/Kebap – Azerbaijani Kebab
Mangal Salaty – Vegetable Salad
Dushbara – Dumplings
Bozbash – National Soup of Azerbaijan
Pakhlava – Azerbaijani Baklava
Djiz-biz – Fried Meat
Kefli Becha – Azerbaijanian-Style Chicken
Dovga – Yoghurt Soup
Pomidor-Yumurta – Eggs and Tomatoes
You Might Also Like to Read
Save and Pin for Later
Want to keep all these delicious Azerbaijani food picks in a safe place? Save this article and pin it to one of your Pinterest boards for later.
---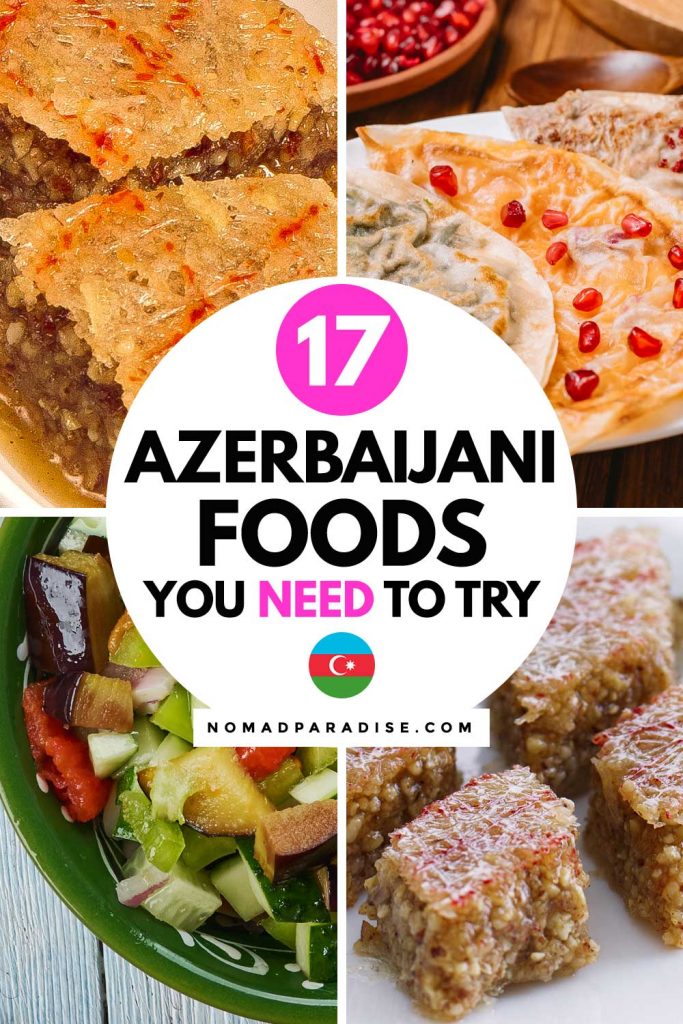 ---
Contributor: Vusala Sarkhanova is a copywriter from Baku, Azerbaijan. Her writing on Azerbaijani cuisine has been featured on several Azerbaijan-based travel and food websites.
Images licensed via Shutterstock