This post may contain affiliate links, meaning if you book or buy something through one of these links, we may earn an affiliate commission at no additional cost to you. Learn more
Colombian food is full of flair and bursting with flavor. Indigenous Colombian cooking influenced by many regions, including Spain and Africa, has created a unique cuisine.
But the true magic of Colombian food lies in the ingredients. Colombia is one of the world's most biodiverse countries. Its array of grown ingredients is staggering.
Prepare yourself for plenty of color, passion, and flavor as we take a closer look at 17 popular, and utterly delicious, Colombian dishes.
Popular and Traditional Colombian Foods to Try
1 – Arepas
Arepas are one of those dishes you can find in every corner of Colombia as they are inherited from the indigenous pre-Columbian ancestors.
They can be part of a meal like breakfast or dinner, a side dish, an appetizer, or even a snack.
You can find them in restaurants and some bakeries, but they are also one of the most popular street foods.
Many Colombians also make them at home as cornflour is available at every supermarket and can be a fun family activity.
Tip: If you don't live in Colombia but want to make arepas at home, use masarepa (a special corn flour specifically for arepas) rather than using regular cornmeal or masa harina.
There are over 30 varieties of arepas, and the thing in common is the round, flat shape and, of course, the corn dough they are made of.
Depending on the region, the type of corn used varies and so varies the color and taste.
Most of the arepas are grilled but some can also be deep-fried, pan-fried, and, less commonly, baked.
From this wide variety, you should definitely try arepa de choclo (prepared as a pancake and sweet), arepa de queso (savory and cheese-filled), arepa'e huevo (deep-fried and comes with an egg inside) and arepa boyacense (baked).
2 – Ajiaco (Potato and Chicken Soup)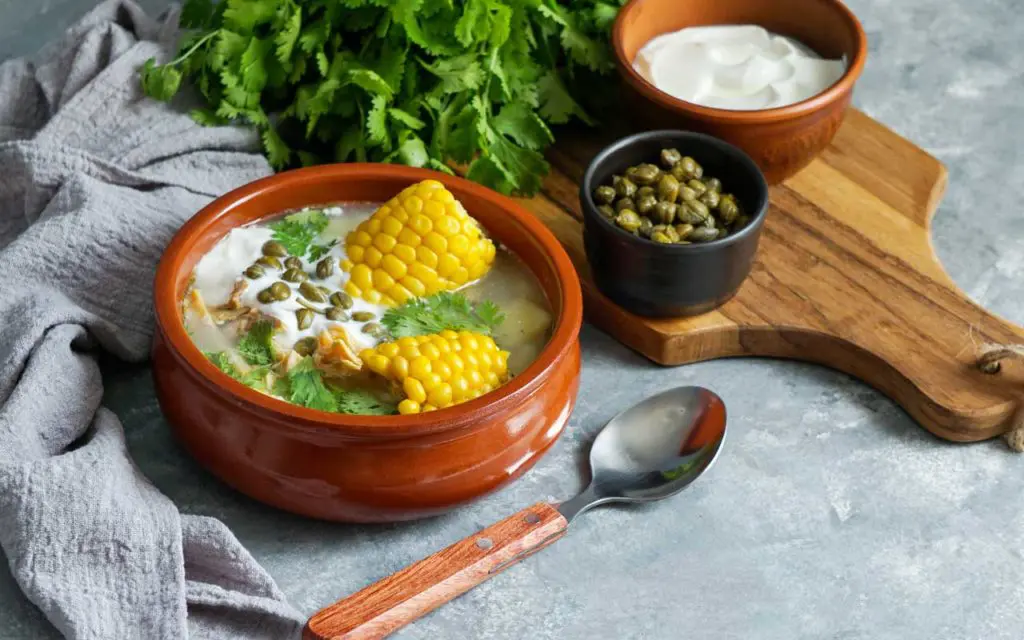 One of Colombia's most popular dishes is a potato soup typical of the highland regions in the center of the country.
It is a whole and big meal that consist of a base made of three kinds of potato: one hard and white potato thinly sliced, one soft potato that basically melts and gives the characteristic thickness and texture, and a yellow and tiny potato which also gives the dish body and adds a lot of taste.
The typical Colombian soup also contains chopped chicken, capers, cream milk, and a corn kernel.
It's served with rice and avocado on the side, and, sometimes, people also add rice and avocado into the soup.
The main seasoning for the soup is a local herb called 'guascas,' which gives the soup its characteristic taste.
3 – Bandeja Paisa
If you thought ajiaco was huge, wait until you visit the Medellin area and try their specialty.
This abundant and popular dish consists of rice, minced meat, red beans, chorizo, arepa, a fried egg, chicharron (fried pork skin), morcilla (black pudding), sweet plantain, and a slice of avocado – all served on one plate.
Along with ajiaco, bandeja paisa is one of the most well-known foods in the whole country and is also considered to be a national dish.
4 – Cholado
Cholado may be a bit hard to describe but think of it as a frappe, a fruit salad, and a dessert – all in one.
Cholado is an explosion of flavor, and it is very refreshing, especially during the hot months in Valle del Cauca, the region where it originated.
It is usually served in layers in a big glass, with the ice at the bottom and multiple layers of fruit such as soursop, passion fruit, papaya, watermelon, pineapple, strawberries, apples, and grapes mixed with blackberry and passion fruit syrup and condensed milk.
It's often topped with shredded coconut, a cherry, and, sometimes, wafer cookies and whipped cream.
It is a must-try if you want a refreshing drink and to satiate your sweet tooth at the same time.
5 – Lulada (Lulo Drink)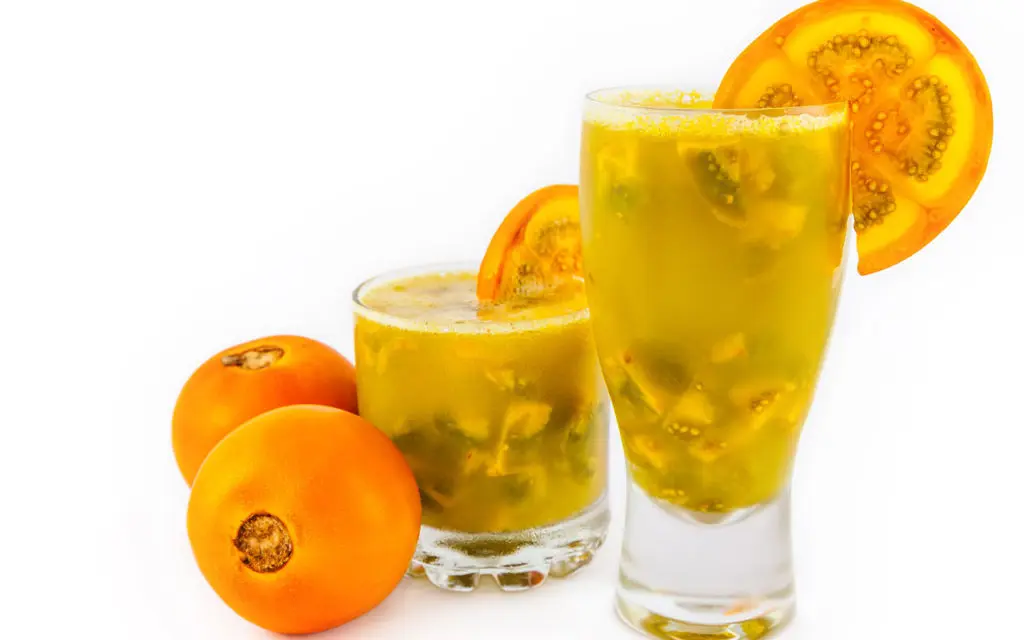 Lulo is one of those fruits that only grow in Colombia and a few surrounding countries like Ecuador.
Its peel is orange while the pulp is green, and it's mostly used for juice and other drinks due to its acidic flavor.
One of those drinks is known as lulada. Lulada is a traditional drink from western Colombia, in which, unlike lulo juice, the fruit is not blended but triturated manually and then mixed with condensed milk, crushed ice cubes, and some lime juice.
This results in a perfect cold and refreshing smoothie-like drink. In some places, it is also served with a shot of aguardiente (anise-based local liquor) or vodka.
6 – Pan de Bono (Cheese and Yuca Bread)
Among all the snack and street food options, pan de bono is probably one of Colombians' favorites.
You can find it in almost every bakery, food market, and in many small shops.
It is a round-shaped, fluffy baked bread made from yuca starch and fresh cheese.
It is best to eat it warm with some traditional drinks like avena (oat-based refreshment).
It originates from the Valle del Cauca region where it is consumed for breakfast as well, but it has spread throughout the country and most Colombians love it as it makes a great grab-and-go snack.
A crunchy and 'U'-shaped variation of it is called 'pan de yuca' and it's almost as popular as pan de bono as they are often sold in the same places.
7 – Obleas (Thin Wafer Sandwich)
Obleas are a perfect sweet snack and dessert that can be found mostly as street food but can be tried at some local restaurants too.
They are a sandwich-like food made with two round, extra-thin wafers and filled with delicious ingredients.
The original oblea came with arequipe (national version of caramel spread) only, but nowadays you can customize and add other toppings.
Tip: You can find obleas with arequipe (caramel) for sale online outside of Colombia if you want to try them but don't want to make them at home.
These include blackberry jam, milk cream, condensed milk, peanuts, coconut, fruit syrups, chocolate sprinkles, and even cheese.
Eating this dessert is quite the experience as it's almost impossible not to leave traces of it on your hands and clothes as the wafer breaks easily with each bite.
However, the risk is worth it. Just don't forget to take a few napkins with you.
8 – Chocolate Santafereño (Hot Chocolate with Cheese and Bread)
Until around the mid-20th century, many Colombians used to have a meal in between lunch and dinner called 'onces,' which would be equivalent to tea time in England.
In Bogota and surrounding areas, this meal usually consisted of a cup of hot chocolate served with bread and almojabana (corn and cheese bread) and a piece of fresh cheese which was later cut into small pieces and thrown inside the hot beverage to melt.
This may sound weird but for Colombians, it's absolutely normal.
Nowadays people don't have 'onces' every day but when they do, this is definitely one of the things they eat.
Hot chocolate is also a common meal for breakfast, especially on the weekends when people have the time to prepare it in their special jar-shaped pot called 'olleta' or chocolatera, a must-have in every Colombian kitchen.
9 – Cocadas (Coconut Sugar Cookies)
Coconut is an important ingredient in Colombia's coastal gastronomy, and cocadas is the most popular dessert featuring this ingredient.
They are typical from the Caribbean coast and usually sold on the street and at the beach by people carrying them in a big pot over their heads.
They come in different flavors, but the base is grated coconut combined with melted sugar to form a paste which is then divided, shaped in circles, and dried, sometimes baked.
Alternative ingredients can be milk, fruit syrups, raisins, peanuts, and even liquor that is added to the sugar and coconut blend, giving a wide variety of options for those who love sweet snacks.
10 – Lechona (Stuffed Roast Pig)
Influenced by Spanish cuisine, this dish consists of a roast pig stuffed with rice and meat, baked for about 10 hours, and then served in individual portions with white arepa and pig's skin.
It is traditional in Tolima region, but you can find other cities' farmers markets as well or in specialized lechona restaurants.
It is possible to buy the whole lechona (roast pig) as well. When Colombians do that, it is usually because they are throwing a big party. A lechona is pricy but can feed many guests and it is one of the locals' favorite dishes.
11 – Sancocho (Chicken/Beef/Fish Soup)
There are different kinds of sancocho, depending on the type of meat they contain and the region they are made in.
It's basically a rich soup that comes with potato, yuca, plantain, and, in some cases, rice.
Everything is cooked along with a few vegetables. The main protein and the seasoning varies but a common ingredient is coriander/cilantro.
Unlike ajiaco, the texture of sancocho is lighter, which doesn't mean it is not equally filling.
The most popular sancochos are chicken, poultry, beef rib, and fish sancocho, and they are usually served with white rice and a slice of avocado on the side.
As it is a big meal, it is mostly consumed on Sundays and special occasions.
12 – Tamales
This dish is a common Sunday breakfast, but it can be served as a snack or a full meal too, depending on its size.
Tamales are a mix of maize dough, chicken, pork, and peas, and depending on the region, they can contain rice, carrot, and other vegetables.
This mixture is wrapped in plantain leaves and then boiled in water for about 5 hours.
The leaves add a nice particular taste and a very soft texture on the inside.
You can get them in the markets but if you want a more homemade feeling you can get them from tamal-makers who usually go around neighborhoods on Sunday mornings selling them door-to-door.
13 – Rondon (Fish and Pork Stew)
This mouth-watering dish for fish and seafood lovers has central American and Jamaican roots.
It's a typical and popular food in the San Andres and Providencia Island archipelago located in the Caribbean Sea.
Traditionally, it is considered to be an aphrodisiac.
It consists of a soup made with coconut milk, fish, green plantain, yuca, and ñame roots, red bell peppers, and pork.
Some variations can also include seafood such as shrimps and clams as well as vegetables such as pumpkin.
14 – Carne a la Llanera / Mamona (Slow-Cooked Barbecue Meat)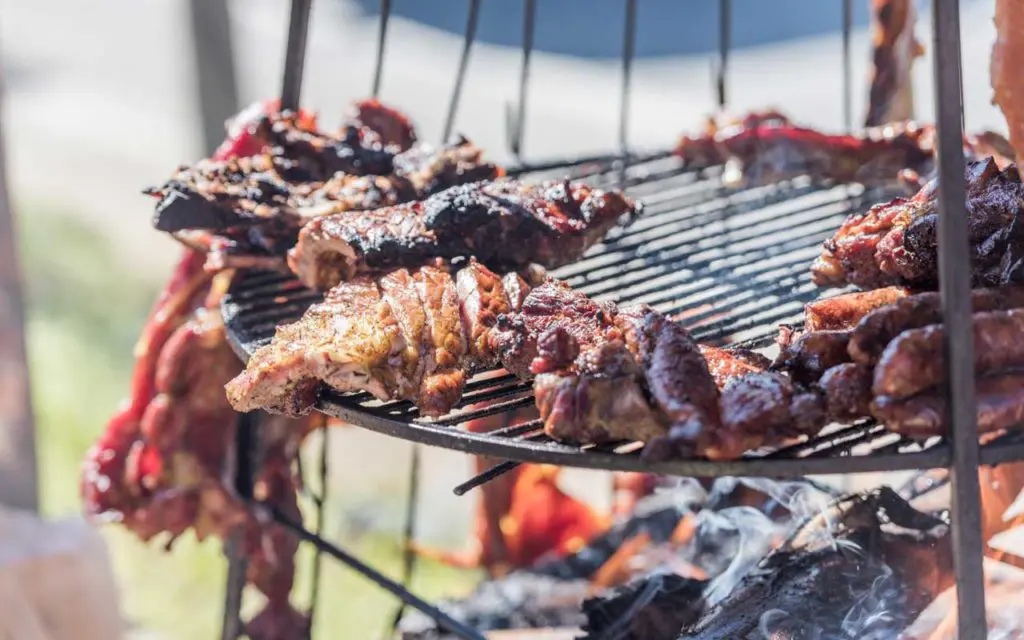 Colombia's cowboy region is located in the east and is known as llanos orientales.
There, the best quality meat is produced and distributed around the country, and the best one is the traditional bonfire slow-cooked version, which is tender, juicy, and smoky.
It is served with steamed potatoes, yuca, and guacamole on the side.
In that region, it is common to meet with friends after work and sit around the bonfire.
There, the meat is hung in a circular iron structure and assembled over the fire to cook.
While waiting, everyone drinks some beers and aguardiente (anise-based local liquor) and listens to live 'llanera music' played on guitars, a harp, and traditional chants.
If you can't visit the region and experience it this way, you can still find many specialized restaurants 'asaderos llaneros' in all the main cities and try this delicacy.
15 – Empanadas (Deep-Fried Maize Pockets)
Like arepas and tamales, Colombian empanadas vary depending on their region of origin.
The filling varies but the most common ones are meat, potatoes, chicken, and rice. In later years, vegetarian-friendly versions have appeared including fillings such as cheese, mushrooms, and other vegetables.
Traditionally, empanadas are served with a few drops of lemon and aji picante sauce, made with mildly spicy chili, fresh coriander, and chopped tomatoes.
Colombian empanadas are a must-try and should not be confused with their counterparts from Argentinian cuisine and Chilean cuisine.
16 – Cazuela de Mariscos (Seafood Soup)
Seafood is considered a delicacy in the coastal regions of Colombia and one of the tastiest recipes is this rich soup.
This Colombian soup combines shrimp, oysters, clams, lobster, calamari, octopus, and fish, all cooked in vegetable broth with tomato and some coconut milk.
It is served with coconut rice, another specialty from the region, salad, and avocado.
17 – Jugo de Frutas (Fruit Juice)
This may surprise you, but fruit juice is a very important item in Colombian gastronomy as, instead of water or alcoholic drinks, Colombians accompany their everyday meals with a glass of fresh fruit juice.
The variety of flavors to choose from is wide and includes many local delicacies.
Mora (local blackberry), guanabana (soursop), guayaba (guava), and lulo are some of the most popular and delicious ones.
But depending on the region, you can also find some more exotic juices like borojó, acai, nispero, corozo, curuba, and zapote.
Colombian Food Summary
When you have one of the most biodiverse landscapes on the planet, the possibilities are endless.
Therefore, it's no surprise so many rich, colorful, and sumptuous foods have come from Colombia.
Then, you get an incredible number of fusions. Caribbean food, with its spice and flair, has greatly influenced the foods of Colombia.
Then there's the Latin American influence. Amazonian and Pacific ingredients and techniques have all found their way into Colombia.
And finally, influences from across the ocean have diversified the food in Colombia even further. Spanish, African, and to a degree Arabic influence, can all be found.
Both the biodiversity and other influences have created a unique cuisine, with succulent meats, sweet fruits, and explosive fusions.
So, one final time, here's the full list of all the popular foods covered in this article.
Oh, and be sure to have this list of traditional Colombian food handy when you visit so that you can try one or more of these popular and traditional foods.
Arepas
Ajiaco (Potato and Chicken Soup)
Bandeja Paisa
Cholado
Lulada (Lulo Drink)
Pan de Bono (Cheese and Yuca Bread)
Obleas (Thin Wafer Sandwich)
Chocolate Santafereño (Hot Chocolate with Cheese and Bread)
Cocadas (Coconut Sugar Cookies)
Lechona (Stuffed Baked Pork)
Sancocho (Chicken/Beef/Fish Soup)
Tamales
Rondon (Fish and Pork Stew)
Carne a la Llanera / Mamona (Slow-Cooked Barbecue Meat)
Empanadas (Deep-Fried Maize Pockets)
Cazuela de Mariscos (Seafood Soup)
Jugo de Frutas (Fruit Juice)
You Might Also Like to Read
---
Save and Pin for Later
Want to keep all these delicious Colombian food picks in a safe place? Save this article and pin it to one of your Pinterest boards for later.