This post may contain affiliate links, meaning if you book or buy something through one of these links, we may earn an affiliate commission at no additional cost to you. Learn more
Savor the color, comfort, and simplicity of Colombian cuisine in its richest, sweet form with these Colombian desserts, and gear up for an epic culinary adventure that takes you from the breathtaking forests of the Andes to the golden shores of Australia.
Colombian Desserts
A hugely popular dish in South American cuisine and many other cuisines worldwide, arroz con leche is a simple and wholesome favorite of rice cooked with milk and other ingredients. Its rich and creamy texture and comforting flavor have made it a beloved dish in the country for generations.
Every Colombian household has its own recipe when it comes to arroz con leche, and popular additional ingredients include cinnamon, raisins, and whole cloves. It can be enjoyed both hot and chilled, depending on preference.
The dish is so significant in both Colombian and Latin American cuisine, that it even features in a widely popular children's song, that goes as follows:
"Arroz con leche me quiero casar, con una señorita de la capital" (Arroz con leche, I want to marry a lady from the capital).
Read more: Arroz con Leche Recipe
2 – Postre de Natas (Milk Pudding)
A typical dessert of the Andean region of Colombia, postre de natas is a wholesome milk pudding consisting of milk, eggs, and sugar. It is made by repeatedly bringing the milk to a boil and removing the layers of cream that form on top, until a thick and wholesome milk-like pudding is formed.
Once cooled, Colombians like to enhance the flavor of this simple yet filling dessert by adding additional ingredients, such as a few drops of rum.
3 – Leche Asada (Meaning 'Roasted Milk')
A sweet and wholesome dish that is originally from Spain and popular in Colombia, Chile, Peru, and throughout all of Latin America, leche asada is made from a simple base of eggs, sugar, and whole milk. It is similar to a flan in terms of its ingredients but is instead baked, creating a more rustic, custard-like dessert with a roasted top layer.
Gooey, liquid caramel is often added to this dish to take the sweet factor to new heights, and with its soft center, topped with a creme bruleé-like crust, this is a dessert served hot to comfort and satisfy throughout those colder fall and winter evenings in Colombia.
4 – Postre de las Tres Leches (Three Milks Cake)
It is believed this popular Latin American dessert was the result of a popular dairy company's advertising drive in the late 1800s to sell more milk and dairy products. As a result, Latin Americans got creative and combined the dairy products to make this wholesome, moist, and delicious cake.
Literally meaning 'three milks cake', postre de las tres leches is a simple sponge cake soaked in evaporated milk, condensed milk, and heavy cream. It can be topped with various delights, from fruit to whipped cream, and is hugely popular across the continent.
5 – Obleas con Arequipe (Wafer Cookie Sandwich with Filling)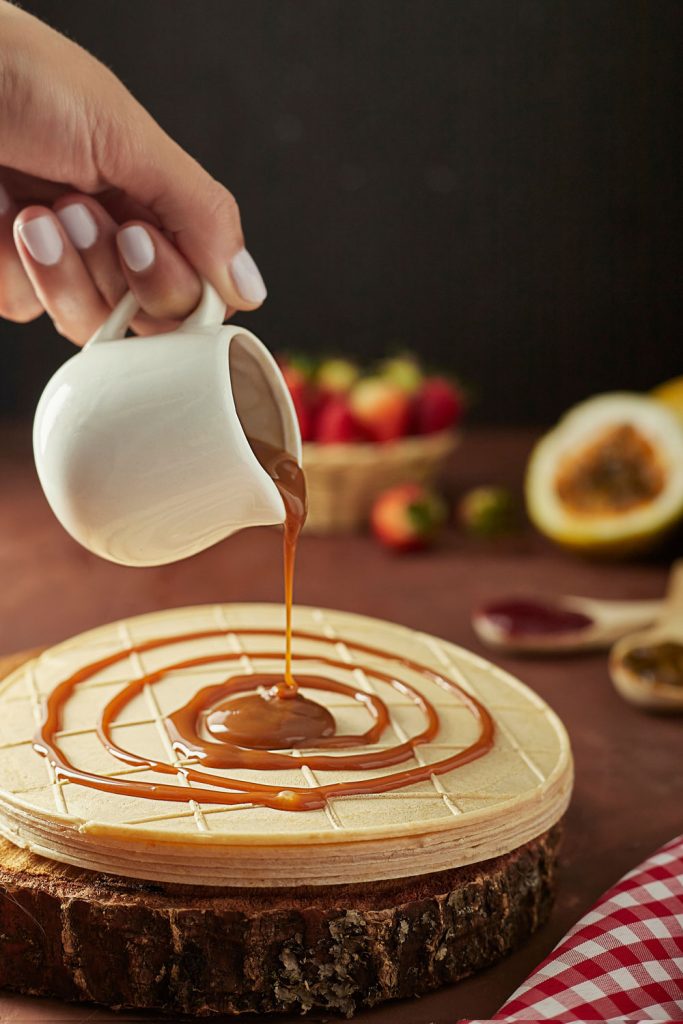 This Latin American favorite combines two beloved sweet treats to make a wonderfully simple and indulgent dessert. The dish consists of a sandwich of obleas, a type of wafer cookie that's thin and crunchy, with a rich filling of arequipe, a rich, sticky, and viscous caramel, also known as manjar blanco in other regions of Colombia, and closely related to dulce de leche, one of Argentina's and Latin America's most beloved sweet caramels.
A hugely popular street food, sold from oblea carts, you can find many other versions of this delicious wafer sandwich, including variations with cream and jam fillings, among many others.
6 – Merengón (Colombian Pavlova)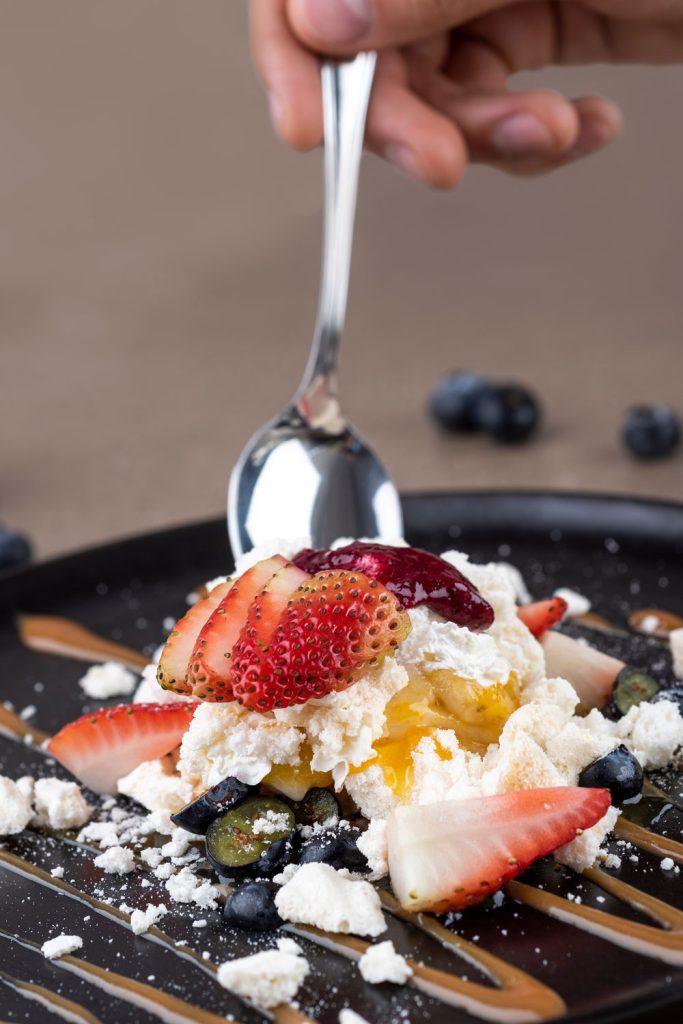 Essentially a Colombian take on the famous Australian and New Zealand dessert pavlova, merengón is a dish of delightfully crispy meringue, sandwiched with sweetened whipped cream and a variety of different fruits.
Strawberries, guanábana (soursop), mango, and blackberries are some of the most commonly used fruits and jams in merengón. Simple to make at home, especially if you buy pre-made meringue, this sweet and light dessert is also a very popular street food and takeaway dish, found in supermarkets, bakeries, and mobile stands (often sold from the trunk of cars roadside) throughout Colombia.
7 – Natilla
A staple of Spanish cuisine and hugely popular throughout Latin America, the biggest difference between traditional Spanish natillas and Colombian natilla is the absence of egg.
The Colombian version is made from milk, flour or cornstarch, cinnamon, and brown sugar, among other ingredients, and is a wholesome, filling dish, resembling a milk pudding or flan.
Topped with cinnamon, natilla is traditionally prepared at Christmas and is seen as a warm, loving gesture when served to family, friends, and loved ones over the holidays.
8 – Jalea de Guayaba (Guava Jam)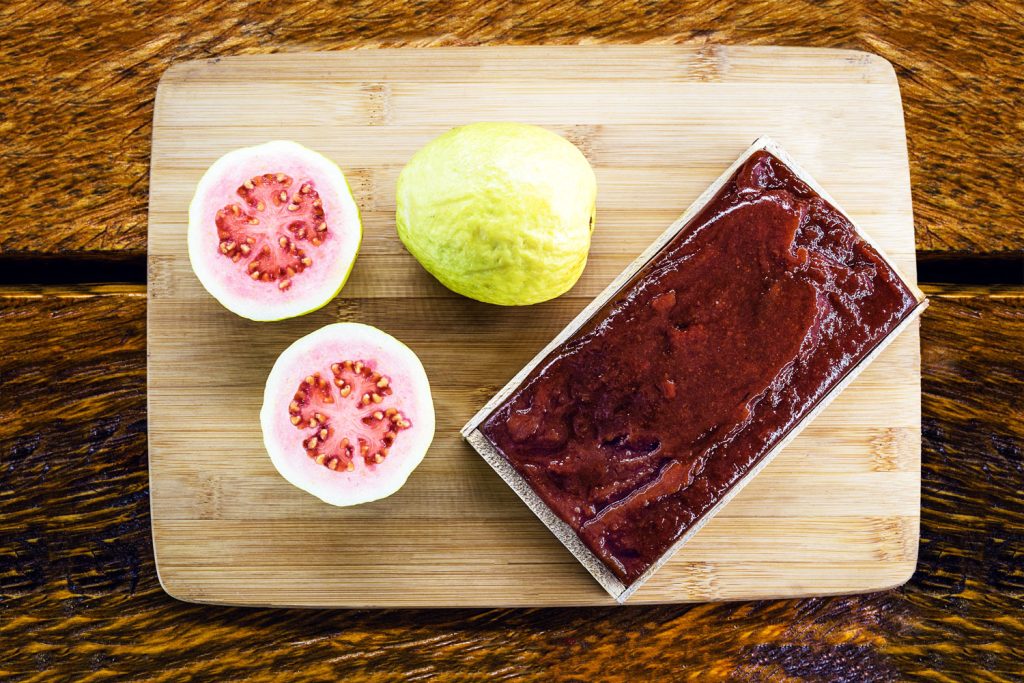 Guava is a fruit that grows in the Andean and subtropical mountains, particularly in Ecuador and Colombia. It has a pink, sweet, and tender pulp, and a yellow peel when ripe, and green when unripe.
Colombians cherish this sweet fruit, not only for its various vitamins and minerals, including vitamin C, but also for its versatility in cooking. While it is used in so many dishes, jalea de guayaba, or guava jam, is one of its simplest, most popular forms. Find it in pastries, or spread on bread or crackers generously.
9 – Brevas con Arequipe (Figs with Arequipe)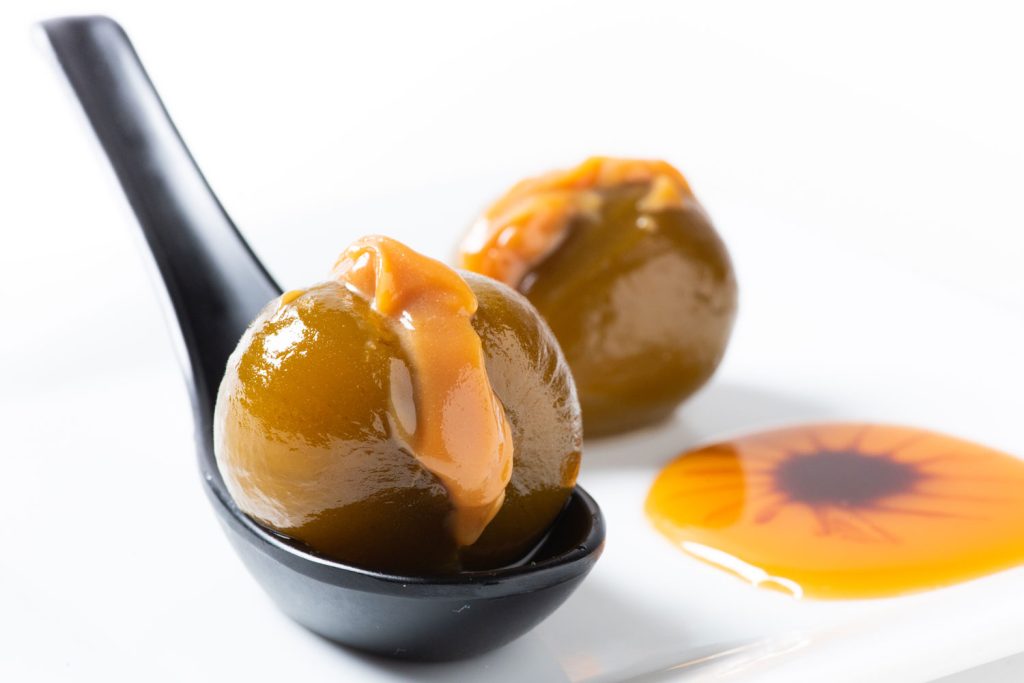 A simple sweet that packs plenty of flavor, brevas con arequipe is a dish of delicious figs cooked in syrup and stuffed with a viscous caramel filling of arequipe.
Hugely popular throughout Colombia, it is very common for family and friends visiting children or relatives who live abroad to bring a sizeable batch of this beloved treat with them to remind the person they are visiting of home.
10 – Cocadas (Coconut Confectionary)
A Caribbean, Central, and Latin American favorite, these baked circular confectionary made of grated coconut, milk, and eggs, among other ingredients, are a true delight to savor.
You can also find cocadas with a variety of different flavorings, including pineapple, arequipe, passion fruit, peanut, and chocolate, among others.
Visit the Colombian coast, and you no doubt find many cocada sellers at the beach. There is no better way to enjoy this sweet treat than with the sand between your toes, the sun kissing your skin, and a gorgeous view of the Pacific Ocean.
11 – Bocadillo de Guayaba con Queso (Guava Paste and Cheese Sandwich)
A huge favorite in many Latin American cuisines, bocadillo de guayaba con queso is a wonderfully simple dish of a slice of white cheese and guava paste, often cut into cubes and skewered together.
A big hit at parties and gatherings, the combination of the salty cheese and the sweet guava may sound simple, but truly is a match made in heaven.
12 – Cuajada con Melao (Honey with Curd)
One of the classic desserts of the capital city Bogotá and its green surroundings is cuajada con melao. This simple yet sweet and wholesome traditional dessert consists of a serving a portion of creamy cheese, made from cow's milk, with a top layer of melao, a sweet liquid of panela melted in water.
The rich and super sweet melao combined with the savory cheese make for a balanced combination, and served hot this is the perfect dish if you're craving something simple to satisfy that ever-present sweet tooth.
13 – Mielmesabe
A simple, sweet, and wholesome dish of Spanish, namely Andalucían, origin, mielmesabe is made from sour milk, panela or raw sugar, and cinnamon sticks.
Cooked over medium heat, in time the sour milk becomes brown and lumpy, while the raw sugar develops a texture similar to that of molasses.
While it may not sound appealing, this hearty, sweet, and comforting dish is a real favorite, especially during the colder months in Colombia.
14 – Candil (Creamy Milk-Based Beverage)
Expect a hot, sweet, and creamy mouthful when you take a sip of candil, one of Colombia's most beloved beverages that is prepared everywhere from restaurants to households.
The beverage is made from boiled whole milk, to which cinnamon sticks, egg yolk, and sugar are added, then stirred in gently until a lusciously creamy texture is achieved.
15 – Dulce de Uchuvas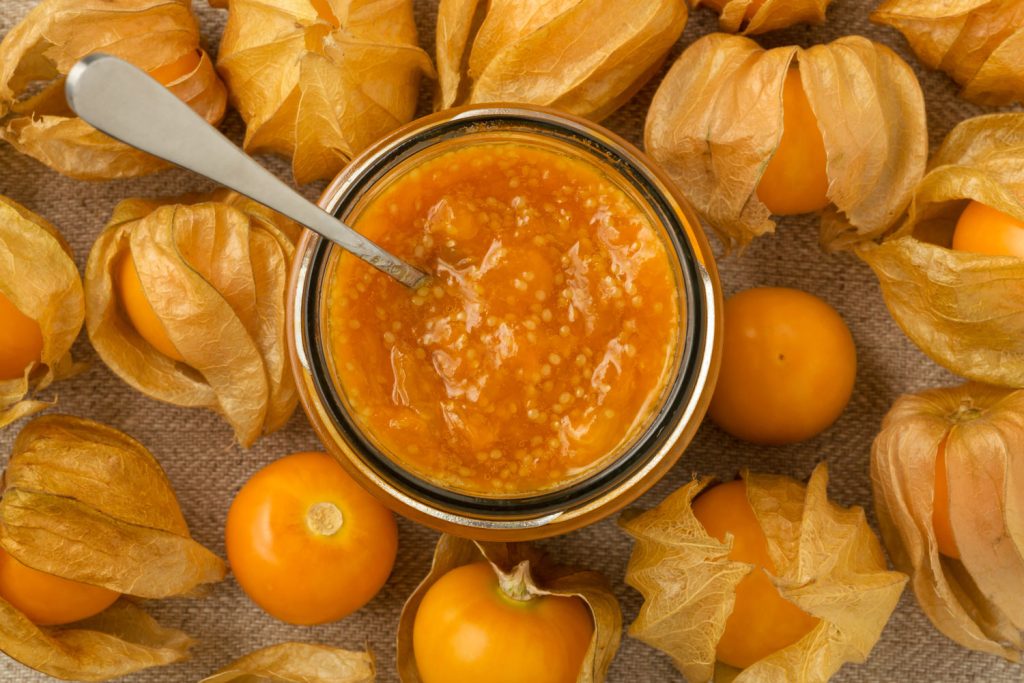 Uchuvas, also known as golden berries or Cape gooseberries, among other names, are the fruit of a rare plant that is native to Colombia, Peru, and Ecuador. These grape-sized orange fruits have a naturally sour taste, and hence are used in a variety of different jams, preserves, and chutneys to balance their taste.
One of those is Colombian dulce de uchuvas, a rich chutney that can be enjoyed with buttery pastries, spread on taste, sandwiched between cakes, and with plenty of cheese.
16 – Manjar Blanco/Arequipe (Caramelized Milk)
Mentioned several times already in this list and a huge favorite throughout Latin America, this hugely popular dish of caramelized milk is undoubtedly a people's favorite in Colombia.
Be it dulce de leche in Argentina, manjar blanco in Peru, or arequipe in Colombia, you will find variations of this luscious, sticky caramelized milk across the continent. Arequipe, with its delightful fudgy texture, pairs wonderfully with cakes, pastries, and cookies, among many other dishes.
17 – Brazo de Reina (Queen's Arm)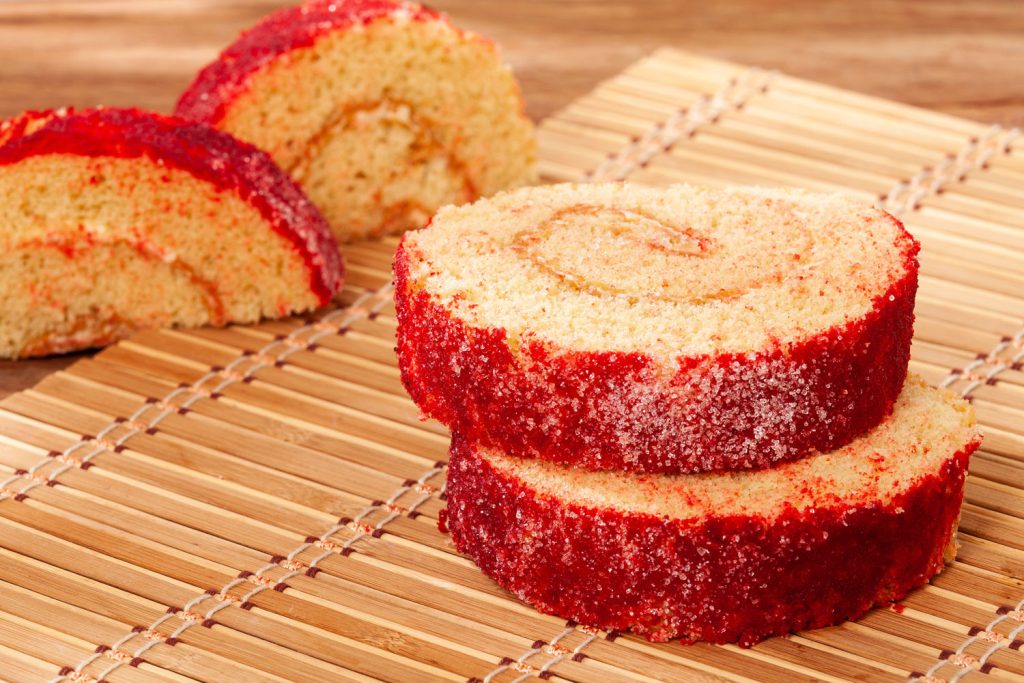 Aptly named, and a beloved Colombian roll cake, essentially brazo de reina is a rolled sponge cake filled with whipped cream and fresh, sweet strawberries.
The sponge is prepared first, baked, and then covered with cream and strawberries, being rolled, ready to cut and serve.
You can find many variations of this classic style of cake throughout Latin America. In Chile, for example, brazo de reina is commonly filled with dulce de leche, while rollo rojo de guayaba is a variation with a guava jam filling. The possibilities are endless, but the taste is always divine!
18 – Postre Borracho (Drunken Dessert)
Known as the 'drunken dessert', the dish is essentially a variation of the Spanish drunken sponge cake. It is popular in various forms in several Latin American countries, including Argentinian cuisine and Venezuelan cuisine among others.
Many variations of this dessert exist, but essentially postre borracho is a dish consisting of two layers, commonly flan or sponge, and some type of creamier, sweeter layer, ranging from vanilla cream all the way through to dulce de leche.
In Colombia, the second layer is commonly chocolate cake, although it can be made in so many different ways with many other ingredients. The 'drunken' part of this dessert refers to the use of some type of alcohol that the top layer is soaked in before the dish is assembled. In Colombia, the chocolate is commonly soaked in Aguardiente, a classic liquor, or brandy, helping create a dessert that is rich, deep, sweet, intense, and aromatic.
Colombian Desserts Summary
South American countries know how to do rich, wholesome, and delicious desserts, and Colombia is no different. The cuisine cleverly combines simple ingredients, such as sugar syrup or fresh fruit, and fuses them to make hearty and indulgent desserts, loaded with flavor that are perfect for feeding the whole family.
You truly are in for a thrillingly sweet treat when you embrace the sweeter side of Colombian food. Seek out as many of these dishes as possible when gracing the gorgeous landscape and colorful cities or Colombia, and prepare for a unique Latin American culinary experience.
You Might Also Like to Read
Save and Pin for Later
Planning a trip to Colombia, or want to try making some of these traditional dishes at home? Keep this article for safekeeping by saving it to one of your Pinterest boards.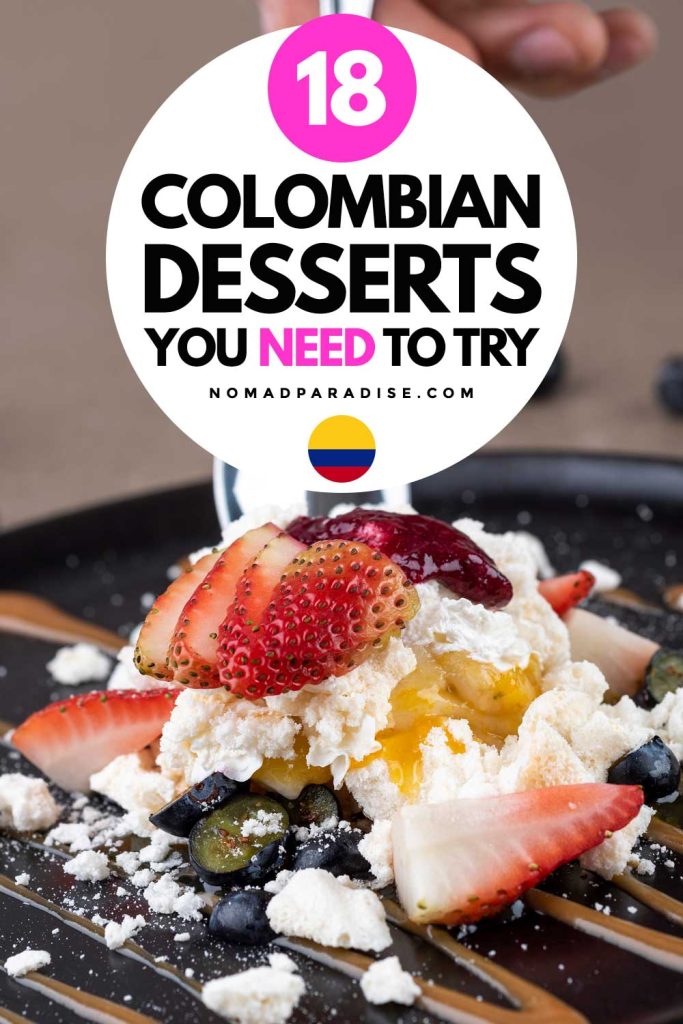 Contributor: Angela Marquez is a Latin American social media strategist and writer, passionate about all things South America, including cuisine, travel, and culture.
Images licensed via Shutterstock