This post may contain affiliate links, meaning if you book or buy something through one of these links, we may earn an affiliate commission at no additional cost to you. Learn more
A cuisine of soul-satisfying richness and heartiness, German food offers indulgence by the bucket load, courtesy of its succulent meats, piping hot stews, and delicious pastries and desserts.
One of Western Europe's most exciting culinary adventures, food markets, festivals, and fine dining should all be on your to-do list when visiting Berlin, Munich, and many other towns and cities across the country.
So let's dive in and find out what makes German cuisine so special. Courtesy of a local writer's unique insight, here are 18 German foods that you simply have to try when you next visit.
Germans Foods To Try
Mains and Sides
1 – Schweinebraten
Schweinebraten (or Schweinsbraten in Bavarian) is a king among traditional Bavarian dishes. This is a beloved staple on any beer garden menu, and if you were to ask locals what to eat when visiting southern Germany, they would most likely recommend this classic.
This dish consists of a pork shoulder, seasoned with garlic, paprika, salt, pepper, and cumin, roasted in the oven at 175˚C for around two and a half hours. It is cooked with a selection of diced parsnips, beets, carrots, and onions.
If preparing yourself, be sure to buy pork with the skin on, and score it in diagonal lines both ways (making diamond shapes) to end up with delicious, crusty, traditional Bavarian crackling.
Served with traditional German dumplings, cooked red cabbage, and a generous drizzle of beer sauce, this is a classic German dish you simply have to sink your teeth into.
2 – Flammkuchen
One of Saarland's finest exports is flammkuchen. Although some people argue flammkuchen originates from Alsace, France as "tarte flambée", this doughy delight is simply too good not to make it onto our German specialties list.
Initially, flammkuchen was not even a recognized dish, but the byproduct of bakers testing the temperature of the bread oven. In time, the appeal of a flatbread with the fillings simply layered on top, rather than baked inside, quickly caught on.
Flammkuchen is made from a simple dough of flour, water, oil, and salt, rolled out into an oval base before baking. Toppings are customizable, just as with pizza, but traditional flammkuchen is topped with sour cream, grated onions, grated cheese, and sliced sausage.
Very much a German take on the Italian pizza, this is a hearty, flavorsome dish you undoubtedly have to try in Germany.
3 – Maultaschen
The famous German "mouth pockets" originate from the region of Swabia in the south. Somewhat of a German take on ravioli, maultasche consist of seasoned minced and smoked meat, onions, spinach, and egg, wrapped inside a pasta dough pocket (hence the name).
Maultaschen are not just delicious, but very simple to prepare. The dough is made from a mixture of flour, salt, water, vinegar, and oil, which once kneaded is left to rest for around twenty minutes.
The filling is a rich mixture of soaked bread rolls with chopped onions, spinach, eggs, parsley, and various meats, which is spread over the open dough pockets before each pocket is sealed.
The traditional way to serve these flavorful pouches is in a meat broth with some freshly chopped chives, but maultaschen are equally delicious fried until golden brown and served with onion rings and fresh salad.
4 – Königsberger Klopse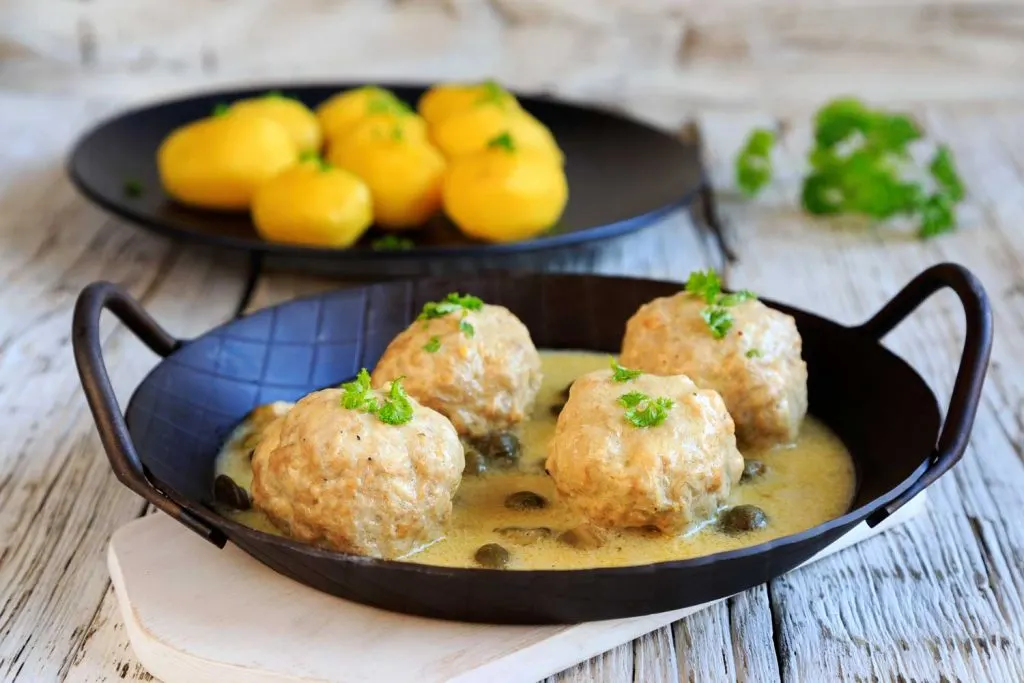 The German equivalent of a British Sunday roast is the königsberger klopse, which traditionally was almost exclusively served on Sundays in the former city of Königsberg (now Kaliningrad in Russia).
Rich and wholesome, the star of the dish is veal meatballs, mixed with breadcrumbs, egg, onions, white pepper, and, traditionally, anchovies. The meatballs, once assembled, are then gently simmered in salted water to produce a broth, to which cream, egg yolk, roux, lemon juice, and a generous amount of capers are added, creating a glossy, white cream sauce.
Capers are essential to the flavor of the dish, adding a saltiness that balances perfectly with the veal. Königsberger klopse is traditionally served with boiled potatoes and beetroot salad, all of which are coated in the creamy sauce.
The aroma, the textures, and the combination of ingredients on the plate make this a mouthwatering German dish to lay eyes on.
5 – Rinderrouladen
Roulades are a traditional dish both in Germany and in the cuisines of a number of other European countries. This simple dish consists of large pieces of thinly sliced beef, seasoned with salt and pepper, rolled with cornichons, onions, mustard, and bacon.
The rolls are then fixed with a chopstick or string to hold them together, and the succulent meat rolls are braised on each side, for around 90 minutes, before being baked in the oven for an additional 90 minutes.
Finally, the key to Rinderrouladen's rich and indulgent flavor is the sauce in which it is served. Made from onion, celery, carrot, shallots, tomato puree, sugar, and beef stock, the Rouladen sauce is the component that brings the entire dish together.
Commonly served with Knödel or Spätzle, for a true German dining experience, you simply cannot go wrong with this beloved classic, found in restaurants across the country.
6 – Bratwurst
Renowned globally for its rich, juicy flavor, German Bratwurst is arguably the go-to German sausage, originating from Nuremberg in the 1300s.
Traditionally a pork sausage, although beef and veal versions can be found, albeit less common, Bratwurst has been filling the bellies of hard-working Germans for many centuries.
A wide range of variations exist, but even today the most common way to bite into the juicy pork meat and crispy skin of a Bratwurst is smothered in mustard and sandwiched between a crunchy white bread roll.
Today, Bratwurst is a beloved fast food, and a popular choice at street food markets and soccer matches.
7 – Currywurst
So many parts of Germany want to claim this favorite as their own. Whether you're in Hamburg, Berlin, or the Ruhr area, this street food sausage to this day remains a classic. Usually served in a cardboard container, picture German Bratwurst chopped into bite-sized sliced and smothered in curry-ketchup sauce, with fries on the side. Street food does not get much better than this!
Food markets should be on your must-visit list for any trip to Germany, as currywurst, along with a wide range of beloved street foods, can be found in abundance.
If you want to recreate this classic dish at home, you can create a similar curry-ketchup sauce to smother the sausage in from tomato puree, shallots, tomato sauce, brown sugar, orange juice, chili pepper, cinnamon, paprika powder, and curry powder.
8 – Pfannkuchensuppe
Pancake soup is probably one of the more outlandish dishes on this list, but you can trust it made its way on here for good reason!
Pfannkuchensuppe are savory pancakes, served in a clear broth with plenty of parsley and chives, enough to make Swabian's mouth water!
Both a beef or vegetable broth can be used for this dish, depending on preference. The savory pancakes are made from a simple batter of flour, milk, eggs, salt, and butter, and fried in a pan to make what Germans call "Flädle".
Various vegetables are added to the broth to soften, including carrots and celery, and once the pancakes have rolled, they are cut into little slices and added to the broth to serve. Wholesome and diverse, this is a truly unique German dish and one you should definitely try.
9 – Spätzle
These 'little sparrows' from Swabia are a simple German food, yet deliver both taste and versatility. A very common side dish, Spätzle are part of every southern German child's childhood. Spätzle can be paired with many different foods, from meat and gravy, roast fish, tomato sauce, or covered in cheese for the famous "Käsespätzle" variation.
Spätzle are made from a simple, wholesome dough of flour, eggs, salt, and water. Once mixed into a smooth dough, the dough is sliced or grated into little strips, that are finally boiled in water.
Once ready, the little sparrows will float atop the water. They are removed and kept in warm water, until ready to add to a wide range of dishes.
10 – Knödel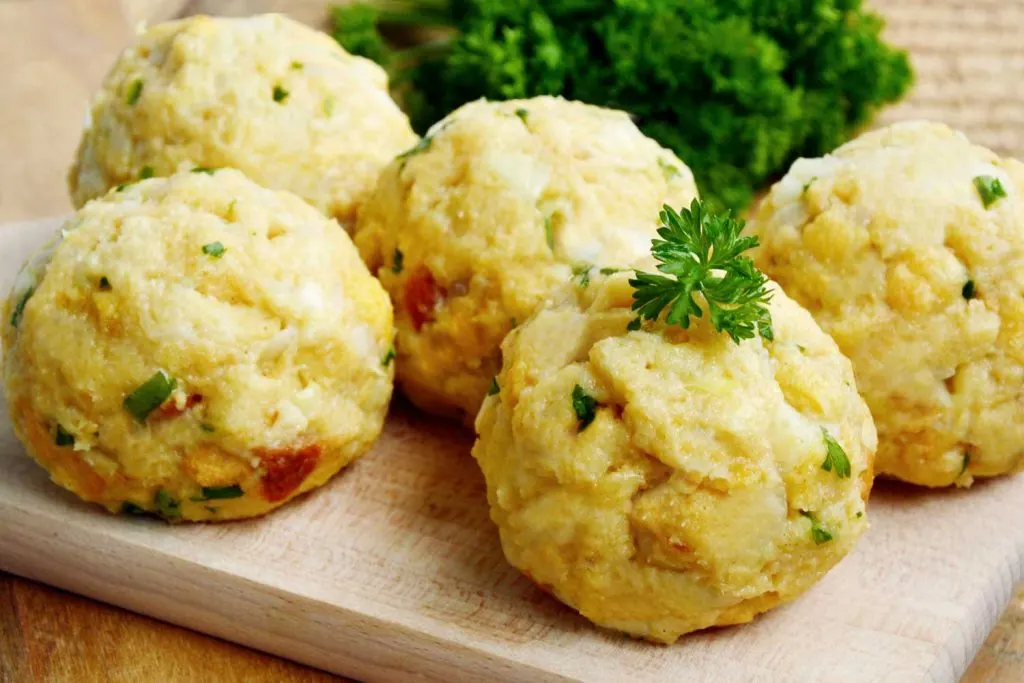 German dumplings anybody? There are two variants – potato or bread – each best paired with different dishes, but equally as delicious. There are, in fact, even sweet variations for desserts, such as the Plum dumpling, but the frontrunners are definitely the Kartoffelknödel and the Semmelknödel.
Any traditional south German restaurant will have these on their menu, usually paired with meat and gravy or in a clear meat broth.
Semmelknödel, or bread dumplings, are made from a simple mixture of stale white bread, eggs, and milk. Once heated and softened, the dumplings can be flavored with onion, parsley, butter, and various ingredients, before being rolled into fist-sized balls to boil.
Kartoffelknödel are made in a similar yet slightly different way, rolled into balls from a mixture of boiled potatoes, flour, cornstarch, and eggs, then cooked for around 10 minutes and left to rest for a few more minutes.
11 – Brezeln
No trip to a German bakery can be complete without chomping into the delicious crunchy exterior of a brezeln, or pretzel as it's known worldwide.
Defined by their beautiful symmetrical shape, brezeln commonly adorn the window fronts of bakeries that line the streets of German towns and cities.
Enjoyed with a simple seasoning of salt, you can find these German baked goods in both sweet and savory forms, with toppings from cheese to chocolate, and powdered sugar to seeds.
12 – Kartoffelsalat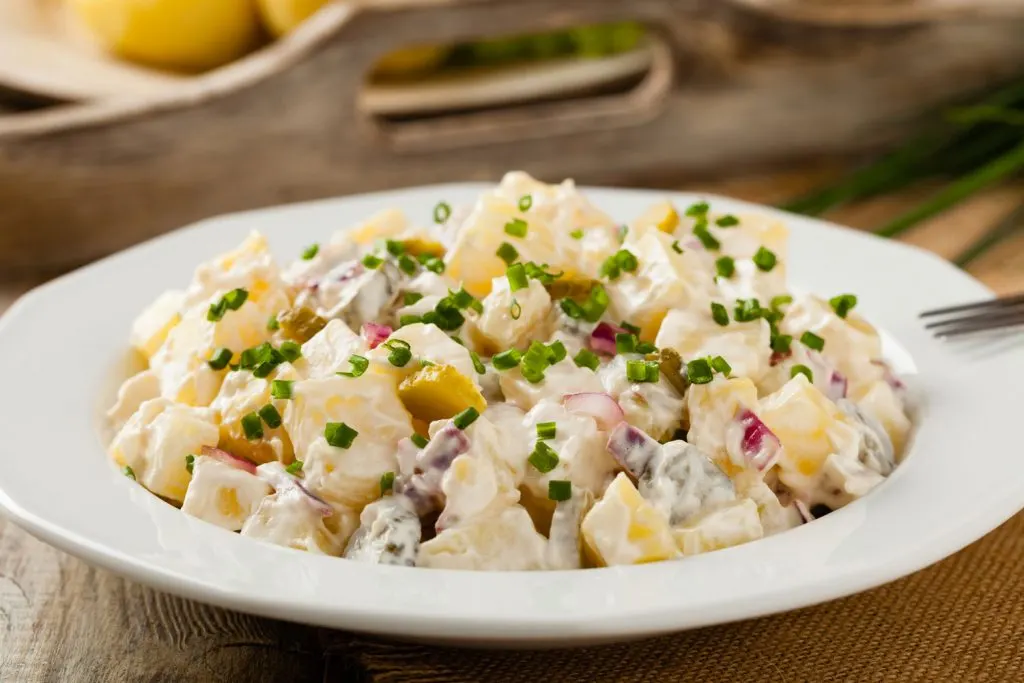 Probably the most celebrated side in Germany is the potato salad. This family favorite will find its way onto every Christmas table, family celebration and barbeque, because it is just that tasty and satisfying.
Kartoffelsalat, or German potato salad, naturally can vary from region to region. However, the classic northern recipe sees thinly sliced red onions, cornichons, chives, sliced boiled eggs, and salad cream (or mayonnaise), all thrown in with boiled potatoes soaked in beef stock, and tossed together well.
Kartoffelsalat is a go-to dish for simple, delicious homemade cooking throughout north Germany. Ideal to take on the go, in a matter of minutes, you can enjoy a perfect and filling salad that reminds so many young Germans of oma (grandma's) homecooking.
13 – Sauerkraut
Nowadays, everybody knows what sauerkraut is, but the real authentic German heritage and flavor have in time sadly been lost in a quest for the ultimate superfood.
Traditionally, sauerkraut is very finely chopped cabbage that has a wonderfully long shelf life, due to being fermented, which also makes it incredibly good for you. You will generally find it as a side dish served with traditional dishes, like Schweinebraten, or with a Bratwurst or German sausage.
Today, the sauerkraut recipe has evolved to include a wide range of flavors. A classic modern take includes adding sauerkraut to a mixture of diced onions, apple, goose fat, maple syrup, quince juice, cumin, salt, pepper, bay leaves, and chicken broth for a rich, flavorsome stew.
No matter where your quest for German food takes you, however, you are sure to find sauerkraut served in a wide range of styles and with an array of dishes.
Desserts
14 – Apfelstrudel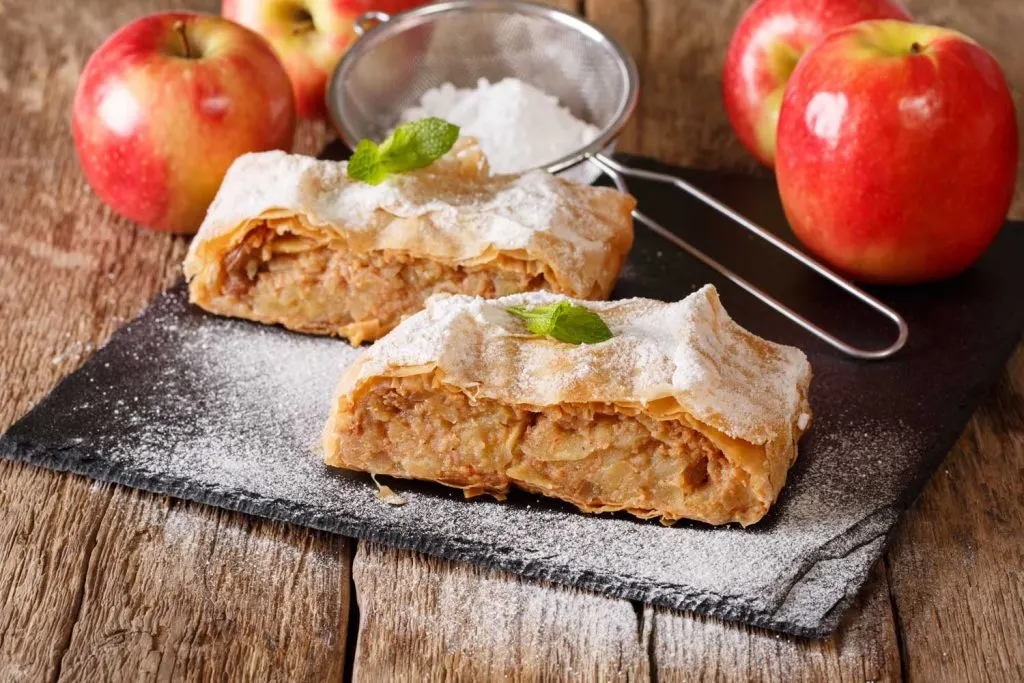 Although the strudel is said to come from Austria, legend has it that it actually originates in the middle east. Whatever the case, the apple strudel is a staple on any traditional Bavarian menu and has become a famous favorite across the entire world.
Essentially a rich, sweet apple tart, the base is made by kneading flour, egg, oil, salt, and some lukewarm water into a smooth dough, letting it rest for 30 minutes, and then rolling it out into a thin sheet.
The filling is made from a mixture of thinly-sliced sour apples, lemon juice, sugar, and cinnamon, that is poured over the top of the sheet of dough before the dough is folded and finally baked in the oven.
A sauce made of milk, cream, and butter can be poured over the strudel before it has finished baking, and once ready, you have a traditional German Apfelstrudel in all its glory. Served with vanilla custard, this beloved dessert is a must-try from any highly-rated German bakery.
Related: Austrian Desserts You Need to Try (with Recipes)
15 – Rote Grütze
This North-German classic is a well-loved dessert amongst children and adults all across East Frisia, Bremen, Hamburg, and beyond. Beautiful in the summer as a refreshingly fruity dessert and in the winter as a warm, homely treat with hot vanilla custard, this is an all-year favorite that is extremely easy to make.
Traditionally, it contains sour cherries, raspberries, and currants, but any berries will do just fine. The rote grütze is made by heating a berry mixture over a stove with sugar and cornstarch for about 10 minutes, or until thickened.
Served with a side of creamy vanilla custard, rote grütze is authentic German homecooking at its simplest, yet most effective. The dish is tart, rich, and utterly indulgent!
16 – Schwarzwälder Kirsch Torte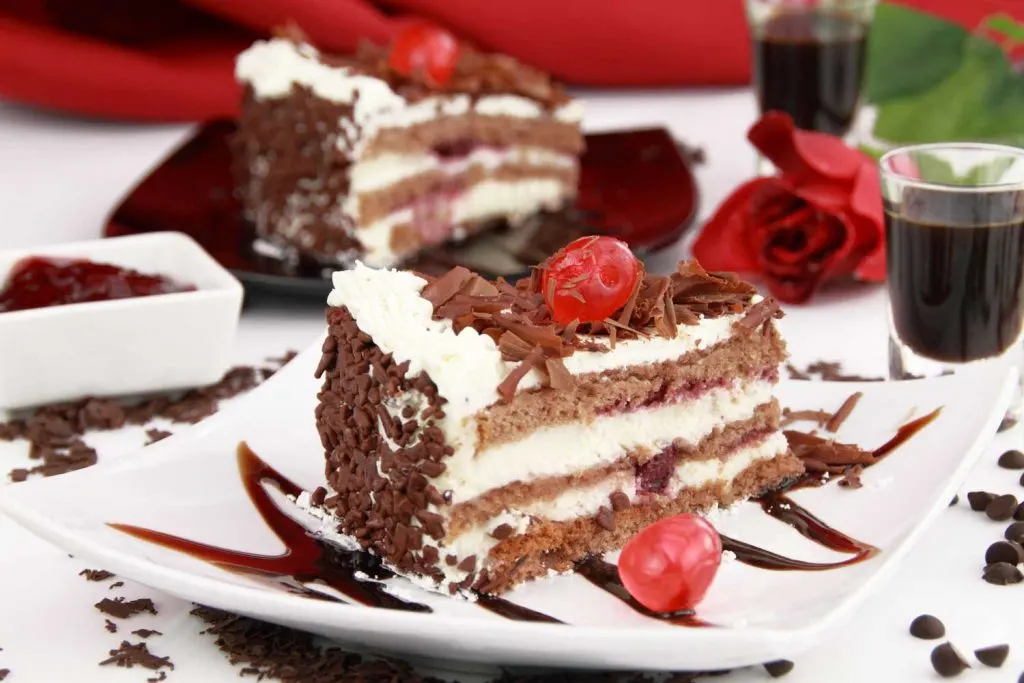 An absolute German classic and global favorite is the Black Forest cake. This torte screams decadence, with its layers of chocolate sponge, whipped cream, cherry liqueur, chocolate shavings, and deep-red cherries.
Originally named after the "Schwarzwälder Kirsch Wasser," the clear sour cherry liqueur that the sponge is soaked in, the dessert law states that without the cherry water, one is not allowed to even call this cake by its name!
The base of the cake is made of eggs, sugar, water, cocoa powder, flour, and baking powder, and baked for 20 minutes. Once baked, the base is covered in sour cherries, then stacked with layers of whipped cream and sponge, before being topped with a final layer of whipped cream and dark chocolate shavings, finished with a crown of sour cherries.
17 – Gebackener Käsekuchen
There simply has got to be a reason that this dessert has been around since the 14th century. Baked cheesecake is, without a doubt, one of the most decadent and delicious sweets on earth, which is why it couldn't be missing on this list.
Now, whether your cheesecake has a crust or not is up to you, but according to German tradition, the crucial rule is that every 100g of dough requires 150g of cream cheese mass, in order to achieve the perfect flavor ratio. The dough is made of flour, sugar, vanilla extract, salt, and warm butter and pressed into the cake tin (either just the base or up the edges for more crust) and baked for around 12-15 minutes.
The filling consists of milk, vanilla, cream cheese, eggs, sugar, and a dash of lemon zest, which are poured into the cake tin and baked for around 70 minutes.
As much as you want to eat it the second it comes out of the oven, a vital part of the process is to let it cool in peace so the center doesn't collapse, and then dust on the powder sugar for a show-stopping look!
18 – Bavarian Cream
Bavarian cream is one of the classic German desserts, dating back to early 19th century Bavaria, hence its name.
A simple but indulgent creamy dessert, Bavarian cream is a simple mixture of milk, eggs, and gelatin, thickened into a cream-like texture, into which whipped cream is added.
Set in a mold, Bavarian cream is served chilled and topped with various fruit purees or jams, and a side of fruit. Its iconic glazed-effect exterior and melt-in-mouth texture make it one of the must-try desserts in Germany.
German Food Summary
Our whirlwind tour of German cuisine is only the tip of the iceberg, but already it's clear to see why the foods of this country are so rich, delicious, and beloved by millions.
A sumptuous blend of Central and Western European influences and classic regional dishes, Germany brings so much to the table when it comes to food with heart, comfort, and soul.
Be sure to spend plenty of time at food festivals, street food markets, and with vendors throughout the cities, alongside restaurants and fine dining. Good, hearty food can be found in all corners of Germany.
Before your trip to Germany, be sure to keep this list of traditional dishes on hand, so that you can seek them out during your visit.
You Might Also Like to Read:
Save and Pin for Later
Keep these classic German foods for safekeeping, ready for an upcoming trip, by saving this article to one of your Pinterest boards.
Contributor: Alice Magliano is a London-based, native German content writer and translator, with extensive experience writing for travel and lifestyle publications and a passion for vegan cooking.
Images licensed via Shutterstock