This post may contain affiliate links, meaning if you book or buy something through one of these links, we may earn an affiliate commission at no additional cost to you. Learn more
Immerse into a world of salty-fresh seafood, tropical flavors, and plenty of citrus and spice with these glorious Bahamian foods, and discover one of the Caribbean's most underrated culinary gems.
The Bahamas' geography gives it prime access to the delights of both Caribbean and Atlantic waters, while various American and European influences have through time evolved the cuisine to be as diverse as it is mouthwatering.
Gear up for a cuisine raw, beautiful, and truly divine, as we discover the Bahamas through 22 of its must-try dishes recommended by a local.
Foods to Try in the Bahamas
Appetizers and Mains
1 – Conch Fritters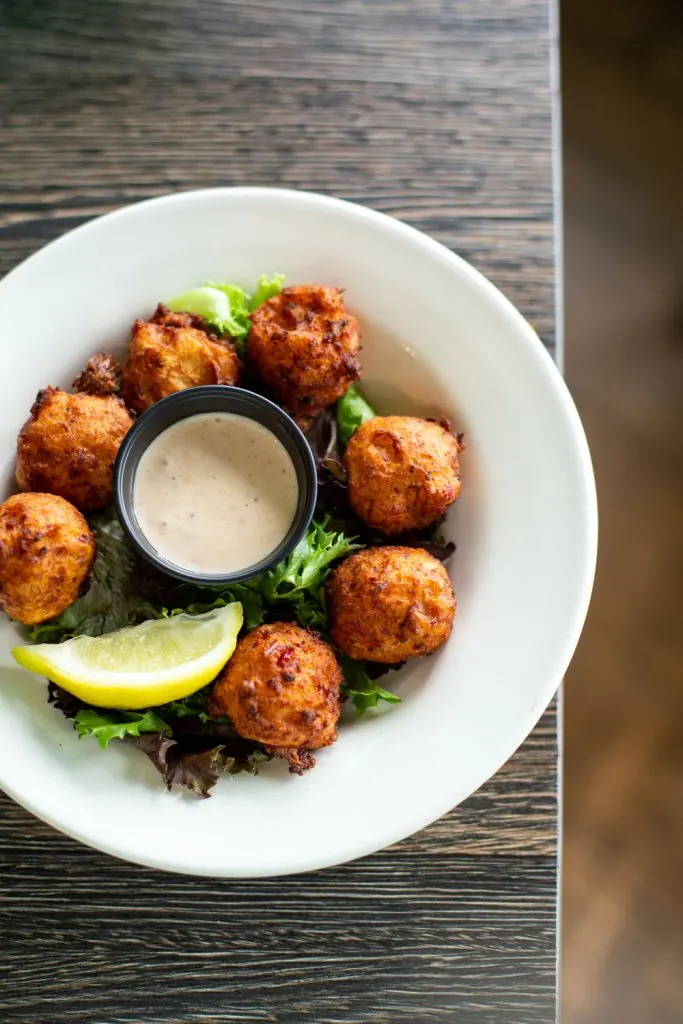 Conch is one of the national foods of the Bahamas. It is a sea snail or marine mollusk, encased in a spiral shell with a splayed lip.
The fritters are made with fresh conch, which are first broken down into small pieces, then combined with all-purpose flour, tomato paste, herbs, and water. Once prepared, the conch fritters are deep-fried in hot oil until golden and crispy.
Conch fritters are usually served alongside a beautiful pink sauce called calypso sauce. Calypso sauce is simply a mixture of ketchup and mayonnaise.
Though Bahamians do not eat conch fritters every day, they are an integral part of Bahamian culture. From cookouts to fundraisers and festivals, conch fritters are sure to be on the menu.
2 – Grouper Fingers
Grouper fingers are a traditional dish, most often made with the Bahamas' very own Nassau grouper.
To make the fingers, grouper fillets are first cut into finger-like strips, then seasoned with salt, pepper, and lime or lemon juice. Once prepared, the grouper fingers are lightly dredged in flour and, finally, fried to perfection.
As filling as they are nourishing, grouper fingers can be served either by themselves as an appetizer, or you can add a side of fries or peas and rice to make a hearty main meal. Like most fried fish dishes, grouper fingers are served with tartar sauce and limes or lemons.
3 – Conch Salad
This Bahamian staple is for adventurous folks. Though it may sound strange to eat raw sea snails, don't knock it until you try it!
If you love calamari, you will love conch salad. Prepared using a ceviche-style method, conch salad is a popular favorite among the locals.
It is made by first dicing the conch, then tossing it with diced onions, bell peppers, tomatoes, hot peppers, lime, and sour orange. The acidic combination "cooks" the conch, making it safe to consume.
4 – Conch Chowder
Conch is indigenous to the Bahamas, hence it is used in several traditional Bahamian dishes. It is believed the ancestors of the Bahamas, the Lucayans, regularly consumed conch.
Conch chowder is a rich, creamy, and thick tomato-based chowder with chunks of conch running through it. Various herbs, onions, peppers, potatoes, and tomato paste are all used in the chowder, to which the diced conch is added last, and cooked until the meat is tender.
Conch chowder is not your everyday food and, to this day, remains largely prepared for special occasions by Bahamians, such as weddings.
5 – Peas and Rice
There is simply no Bahamian main course without a side of peas and rice. It is as much a part of the Bahamas as the beautiful ocean surrounding the islands.
In particular, if you eat fish, chicken, or any other meat in the Bahamas, you'll likely have it with a side of peas and rice. Young and old Bahamians alike consume peas and rice for lunch and dinner, no matter what day of the week it is.
Peas and rice as a dish is said to have originated on the Family Islands, or Out Islands, as pigeon peas along with corn were cultivated in these areas. The dish is made with brown pigeon peas, white long-grain rice, fresh thyme, onions, tomatoes, and tomato paste.
Salt pork or bacon can also be used. However, today it is a less popular ingredient, as many people do not consume pork.
6 – Johnnycake
Previously known as "journey cake", this dish is believed to have arrived in the Bahamas with the indigenous people of North America. It was a dish coined out of necessity, as it was simple to prepare and would not crumble during the perilous journeys by boat.
Journey cake is made from flour, butter, milk, and sugar, formed into a dough, and baked until golden brown. It is usually served with sheep tongue, chicken souse, pig feet souse, stew fish, and stew conch.
7 – Macaroni and Cheese
Bahamian macaroni and cheese is believed to have originated with English colonists during the 1700s. It is a wholesome dish of baked macaroni and cheese, cut into lasagna-like squares that retain their shape.
Like peas and rice, macaroni and cheese is a staple of Bahamian Sunday meals. It is also found on restaurant lunch and dinner menus, and a popular dish to prepare for holidays such as Christmas and Easter.
8 – Crab and Rice
As the summertime rolls around, so do droves of red and black crabs to the Bahamian shores. When this happens, every Bahamian knows its crab and rice time!
Crab and rice closely resemble a Gullah meal known as crab fried rice. However, rather than using salt pork or bacon, this dish utilizes crab fat, which helps give the rice a richer, more delicious flavor. Crab and rice uses both the shell and meat of the crab.
9 – Chicken Souse
Chicken souse is a beloved and flavorful Bahamian dish. It is a hearty soup, consisting of diced chicken wings or chicken breast, onions, potatoes, celery, and carrots, among other vegetables.
Chicken souse is cooked down with water and lime juice, and many Bahamians like to add hot pepper to their souse, although this is optional.
Chicken souse is usually eaten on weekends, and it is traditionally served after a wake in the Bahamas.
10 – Stew Fish
Stew fish is a traditional Bahamian breakfast dish, and it helps Bahamians across the island load up with nutrients and energy for the day ahead.
Originally turbot, also known as queen triggerfish, was the preferred fish for stew fish. However, as a child I often watched my mother make stew fish with multiple types of fish, including snapper, jack, and angelfish.
Turbot is a type of white fish that's perfect for stew fish because it remains moist and flaky throughout the entire cooking process. Stew fish is made by first frying the fish, then cooking it in a rich sauce of tomato and other vegetables, depending on preference.
11 – Sheep Tongue
Born out of necessity during the colonial era, while sheep tongue may initially sound unpleasant, texturally the meat is very rich and tender.
Sheep tongue, along with many other parts of the animal, can also be used in souse, the clear broth with vegetables mentioned above.
12 – Stew Conch
A stew packed with flavor, the key to making a delicious stew conch is in "browning the flour", which simply means to make a brown roux. This is made from a mixture of fat and flour, that are cooked together until the mixture turns from blond to a rich brown color.
The brown roux adds richness and enhances the flavor of the stew conch. In addition to the delicious and meaty conch, the stew also consists of onion, fresh thyme, oil, potatoes, tomato paste, and lime juice. Once the stew is ready, it is commonly served with grits, Johnnycake, or white rice, for a wholesome and satisfying dish.
13 – Boil' Fish
Common eaten during the early hours of the morning, or after a festive late-night celebration, Boil' fish or boil, as most locals call it, is a wholesome dish that never fails to warm you up.
It is bursting with flavor. Nassau grouper is the preferred fish for boil as it has a delightfully subtle yet delicious flavor, high fat ratio, and it will not break into pieces during the cooking process.
Boil' fish is made with white fish, potatoes, lime, and seasonings. The dish is considered comfort food and is loved by Bahamians of all ages.
14 – Pig Feet Souse
As with sheep tongue, pig foot is another of the less desirable parts of the animal that was traditionally used in making souse.
Along with pig foot, the clear broth is also flavored with thyme, hot pepper, lime or lemon, salt, and a bay leaf. It is boiled for an extended amount of time until the pig's feet are delicious and tender. The dish is usually served with Johnnycake.
15 – Crab and Dough
Crab and dough is a traditional Bahamian dish, most closely associated with the Family Islands of the Bahamas.
It is prepared by first cleaning whole black or white crabs with a hard nail brush under running water to remove debris. Once cleaned, the crabs are and layered at the bottom of a large cooking pot. The pot is filled with just enough water, so the crabs are partially submerged.
A dough consisting of flour, fat, salt, and water is then layered over the crabs, and cooked for roughly thirty minutes until it is firm to the touch.
16 – Cracked Conch
As we have already discussed, conch is loved by all Bahamians far and wide, no matter how it is cooked. However, there is just something about the cracked conch that just pulls you in. Cracked conch is crunchy, filling, and the perfect on-the-go snack.
Queen conch, the variety of conch used in this dish, is very tough and chewy, hence it must first be tenderized. The conch is "cracked" by bruising or pounding it with a meat mallet until the meat is thin and tender. Once prepared, the conch meat is battered, and fried until golden brown for a truly delicious on-the-go food.
17 – Steamed Chicken
Rather than chicken steamed in a basket over a pot of water, the Bahamian dish "steamed chicken" refers to chicken cooked in a tomato-based broth. Personally, my grandmother loved cooking foods in this manner, and we ate steamed chicken at least once a week.
In this dish, the chicken is first browned until golden, then the onions and peppers are sauteed until softened. Tomatoes and tomato paste, along with water, are added to the pot, and the chicken is cooked until it is tender and delicious. Steamed chicken is best served with either peas and rice, or crab and rice, depending on preference.
Desserts
18 – Pineapple Tart
Pineapple tart was a staple dessert in my house, as with many other Bahamians of my generation. In fact, my grandmother was even known for her pineapple tart in her village.
This Bahamian specialty tart is loaded with flavor. The pineapples used in the tart are cooked with sugar until the pineapple juices evaporate, giving the pieces of pineapple an alluring golden color.
Once the pineapples are prepared, a slightly sweet dough is pressed into a pan, then slathered with the sweet pineapple filling. Finally, the pineapple filling is covered with a beautiful lattice crust, and baked until golden brown.
19 – Guava Duff
Guava is native to the Bahamas, so it should come as no surprise it's the star ingredient in one of the Bahamas' must-try sweet dishes.
"Duff" is a colloquial term for pudding, and although guava duff does not resemble a conventional pudding, it is an equally sinful treat that's often served on special occasions and is adored across the island.
It is a dessert of chopped or mashed guavas, added onto a sweet dough, and rolled into a log. The guava duff is boiled, then served with a sweet rum sauce.
20 – Benny Cake
Benny cakes are a Bahamian novelty treat, commonly reserved for special occasions. In fact, many of us Bahamians believed that benny cakes are unlike anything you have ever tasted!
Essentially Benny cake is a sweet seed candy. These delicious treats are made by first toasting sesame seeds, then adding sugar and water to the seeds to make a sweet, rich batter.
The batter is poured over cookie sheets and left to harden into a beautiful semi-solid sweet delicious candy. You can enjoy benny cakes with ice cream, but these candies are so delicious most people will happily eat them on their own.
21 – Coconut Tart
Bahamian ancestors used coconut in a variety of ways. Coconut milk would be added to rice, stews, and breads, while the flesh was added to baked goods, baked foods, and drinks.
Eventually, coconut tart arrived, and Bahamians, young and old, are thankful that it was created.
Rather than using a flaky pie crust, coconut tart has a crust that closely resembles a cross between bread and cake. The dough is made from flour, fat, eggs, milk, sugar, and baking powder. The dough is slathered with a sweet coconut filling, made from fresh coconuts, then baked until golden.
Bahamian Food Summary
Amid the searing heat and tropical beauty, few countries in the Caribbean and the Americas can showcase a cuisine of such mouthwatering proportions as the Bahamas.
The seafood alone, freshly fished from the blue waters surrounding the island is a salivating prospect, prepared in a whole manner of ways across many glorious dishes.
Beyond the seafood, this cuisine offers so much diversity and flavor, from the tartness and sweetness of the native tropical fruits to the fusion dishes that have come about from various American and European influences.
The Bahamas has so much culinary wonder to offer, you could spend a lifetime on the island and not sample it all. When you next visit, seek out as many shacks and festivals as you can, and really experience Bahamian food at its rawest and most magnificent. You simply will not regret it!
You Might Also Like to Read
Save and Pin for Later
Planning a trip to the Bahamas soon? Keep these delicious dishes for safekeeping, by saving this article to one of your travel Pinterest boards.
Author: Sarah Leadon is a professional recipe writer, hailing from Nassau, Bahamas. With a wealth of experience in the food industry, she is deeply passionate about Bahamian cuisine and creative cooking.
Images licensed by Shutterstock