This post may contain affiliate links, meaning if you book or buy something through one of these links, we may earn an affiliate commission at no additional cost to you. Learn more
Rife with wholesome dishes, organic vegetables, and breathtakingly fresh seafood, Latvian food is one of the Baltic's best-kept secrets.
And it comes as no surprise, when you consider Latvia's vast rye fields and coasts lapped by the Baltic Sea, that so many fresh, delicious ingredients make their way into Latvian cuisine.
So gear up for a culinary journey of color, passion, and heart, as a native Latvian tells us all about 14 traditional dishes you have to try in Latvia.
14 Popular & Traditional Foods to Try When in Latvia
Latvian Starters
1 – Aukstā Zupa – Cold Soup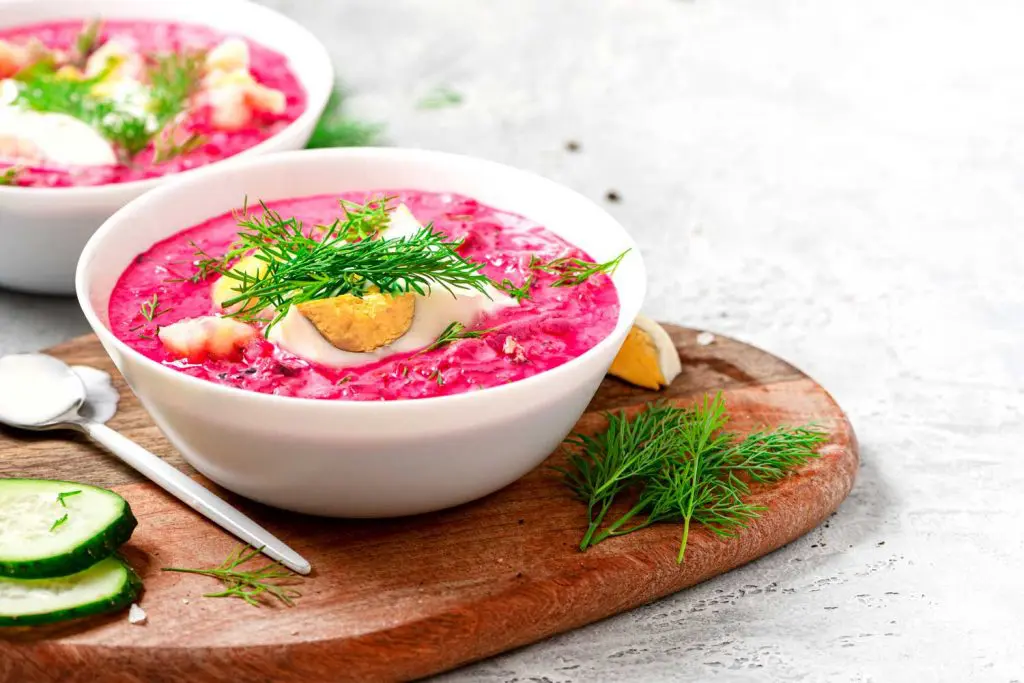 How and when did the cold soup come about? Unfortunately, food historians can't give us a specific or convincing answer.
The first 'cold soup' was likely invented by farmers, who were looking for a way to satisfy their hunger in hot weather and to use products they had on hand.
The soup itself is light, refreshing, and on occasion, can be mildly spicy. It consists of kefir or sour milk, boiled beets, chopped radishes, fresh cucumbers, and boiled eggs.
Aukstā Zupa is topped with various greens before serving. The secret to its rich yet refreshing taste is in the perfectly balanced sour, sweet, and salty flavors.
Before serving, Latvian cold soup should be kept in the refrigerator for at least two hours, which helps enhance its flavor.
The peculiarity of the classic Latvian cold soup is that it must be so thick that a spoon stands in the soup.
2 – Siļķe Kažokā – Herring in a Coat
Siļķe Kažokā is one of Latvia's favorite cold salads.
Since herring is a populous fish in the Baltic and Scandinavian countries, it is no wonder that siļķe kažokā has become wildly popular all across Eastern Europe. This dish is also popular in Russian cuisine.
Herring in a coat is a dish of tender, flaky herring, stacked between layers of boiled vegetables, eggs, and plenty of sour cream or mayonnaise.
It sounds simple, but together, the ingredients create a Latvian dish that is rich, creamy, and truly filling.
Pro tip: leave it in the fridge overnight for a richer flavor, and try it with a shot of ice-cold Latvian vodka.
Read more: Herring Under a Fur Coat Recipe
3 – Aukstā Gaļa – Cold Meat in Jelly / Aspic
Aukstā Gaļa is a snack that is usually served for breakfast. On occasion, it can be offered for lunch as a main dish.
This simple, savory gelatinous dish is traditionally made from pork ears and head.
Nowadays, it is common to cook it from high-quality beef and chicken, with the addition of various spices. This gives the dish plenty of depth, with a little kick in every bite.
For many years aukstā gaļa has been one of the most popular foods to serve as a main meal during Christmas in Latvia.
Today there are many different recipes. With all variations of this dish, however, one thing stays unchanged: aukstā gaļa must be served with grated horseradish or mustard.
4 – Rasols – Mixed Vegetable and Meat Salad / Potato Salad
In Latvia, Rasols is the king of all salads! In restaurants, it is also known as Gaļas Salāti or Galvaspilsētas Salāti.
Before Soviet times, the traditional rasols recipe consisted of potatoes, carrots, beets, eggs, herring, cucumbers, green peas, and cream.
Shortly after the second world war, the dish was influenced by the Russian 'Olivier' salad (named in honor of the French chef Lucien Olivier, who was the author of the recipe from the St. Petersburg restaurant 'Hermitage').
Chefs no longer added beets and herring to the salad. Instead, they mixed in cooked meat or sausage and added mayonnaise to give the salad depth.
You will find many versions of this salad served on every occasion in Latvia. The ingredients vary based on the chef's taste and seasonality.
Latvian Mains
5 – Biešu Zupa – Beetroot Soup
Red beet has practically become a national vegetable in Latvia. It is always, throughout all seasons, sold in stores.
Beetroot is grown by farmers as well as home garden owners. In the Latvian dish Biešu Zupa, it is the star of the show.
This heartwarming soup delights not only with its bright and punchy color but also with its rich aroma and vibrant taste.
This Latvian soup is especially tasty when served with a dollop of sour cream, chopped onions, fresh greens, and a slice of rye bread.
Biešu zupa is a great Latvian dish for vegetarians or vegans and can be found throughout the country.
As a rule, all ingredients for the soup are only cut with a knife. No graters are allowed, under any circumstances!
6 – Kartupeļu Pankūkas – Grated Potato Pancakes
Another popular Latvian comfort food is Kartupeļu Pankūkas, a wholesome potato-based dish Latvians from all walks of life love.
The first potato was brought to Latvia by the Duke of Courland Jēkabs in 1673.
Ever since, potatoes have been grown throughout Latvia, from gardens to farms.
Kartupeļu pankūkas is living proof that everything ingenious is simple, and everything simple is ingenious!
All you need to prepare this delicious Latvian farmer dish is salt, pepper, oil, and potatoes.
Once prepared, the Latvian potato pancakes should be golden, crunchy, and satisfyingly filling.
Kartupeļu pankūkas, despite their humble ingredients, are even served with expensive, luxurious sides, including caviar.
Latvians would argue that grated potato pancakes are one of the tastiest potato dishes in the whole wide world.
7 – Kotletes – Minced Meat Patties
Kotletes is one of the classic dishes in Latvian cuisine. Almost every family has its own recipe, passed through generations, for this dish.
Minced meat patties can be made from pork, chicken, beef, or even fish, mixed with chopped onions, garlic, and other seasonings.
Some Latvians also add egg and breadcrumbs to the mixture. Once ready, the mixture is kneaded until elastic.
Finally, the mixture is shaped into individual patties. Each patty is fried until crispy on the outside, but still juicy on the inside.
Although frying minced meat patties sounds easy, in reality, this is quite a whimsical dish. Latvians believe cooking exceptional kotletes is a true test of your culinary skills.
Kotletes is commonly served with boiled potatoes and mushroom sauce. It is a simple Latvian dish, but incredibly delicious.
Read more: Meat patties / Kotleti Recipe
8 – Skābeņu Zupa – Sorrel Soup
Skābeņu Zupa is a meat and vegetable soup that is traditionally served in the spring. It is loaded with vitamins, minerals, and vibrance.
It is believed that by eating fresh sorrel you may take in more vitamin C, but by putting sorrel in a soup and boiling it, you will get more iron and magnesium.
In Latvia, there are many popular skābeņu zupa recipes. However, a few ingredients never change.
As a rule of thumb, you will always find sorrel and boiled eggs in this Latvian soup.
Generally, skābeņu zupa is a soup of sorrel, pearl barley, smoked pork ribs, carrot, onion, garlic, bay leaf, boiled eggs, and as with many other Latvian dishes, sour cream.
9 – Pelēkie Zirņi ar Speķi – Grey Peas with Lard
Another delicious classic dish in the Latvian national cuisine's cookbook is grey peas with lard or bacon and fried onions.
This nutritious, filling bowl is traditionally served at Christmas, although you'll find it in Latvia throughout the winter months.
For the ancient Latvians, the winter solstice was a big celebration, which was associated with the end of the harvesting and return of light.
Grey peas, along with barley and beans, were several of the main foods of vital importance until the beginning of the potato era.
Latvians have eaten peas for centuries, and grey peas with bacon are still offered as a traditional Latvian dish.
Pelēkie zirņi ar speķi is to this day one of the most delicious Latvian dishes. It is healthy, nutritious, and high in fiber and protein.
It consists of boiled grey peas, fried onions, and cubes of dried meat. The dish is often served with a large glass of kefir (soured milk).
Fun fact: Latvian Big Grey Peas (a variety of 'retrija'), are a food protected by their destination of origin, similarly to Champagne, Parma ham, and Roquefort cheese.
10 – Kartupeļi ar Gaileņu Mērci – Potatoes with Chanterelle Sauce
The summer and autumn seasons in Latvia would be unimaginable without this colorful Chanterelle sauce, which very much characterizes Latvia and its natural resources.
Of course, chanterelles are not found only in Latvia; they are widespread in forests of temperate climates.
However, in Central European countries, due to urbanization, this fungus has become a rarity. In some regions, it has even disappeared.
The aroma and taste of wild Chanterelle mushrooms are both unique and unparalleled. Fried in butter, with smoked bacon and cream, these mushrooms help create a rich, smokey, and delicious sauce.
Boiled young potatoes with dill, pickled cucumbers, and creamy chanterelle sauce are one of the must-try Latvian summer dishes.
11 – Biezpiens ar Kartupeļiem, Siļķi un Zaļumiem – Cottage cheese with Potatoes, Herring, and Greens
This Latvian dish of marinated herring served with new boiled or fire-fried potatoes, cottage cheese with sour cream, and chopped spring onions, is very simple yet so delicious.
It is common in Latvia to eat herring with potatoes and cottage cheese. However, if you are lucky enough to find a Latvian cafe or restaurant where herring is served on a loaf of real wholemeal rye bread, I wholeheartedly advise you to try it.
Fun fact: Herring is considered a record holder in the amount of vitamin D. 100 g of herring provides you with three times your recommended amount of daily vitamin D.
12 – Putraimdesas – Latvian Black Pudding Sausage
Blood sausage, or Putraimdesas in Latvian, is seen as such a substantial meal in Latvia, it is often served as a main course with minimal or no sides.
Traditionally, barley groats or pearl barley is used when preparing Putraimdesa. Once boiled to a semi-soft state, lard is added to the mixture, then fried in a pan.
The key component of blood sausage, pigs' blood, is added at the very end. Once cooked, the mixture is stuffed into a casing, to be pan-fried or grilled and served with lingonberry jam or cream.
Putraimdesa was once made in every farmhouse. It was a favorite dish for Latvians. Recipes for putraimdesa can be found in cookbooks published as early as the 19th century.
Latvian Desserts
13 – Rupjmaizes Kārtojums – Rye Bread Arrangement
Rupjmaizes Kārtojums is a classic dessert in Latvian cuisine, putting one of Latvia's most important foods at the forefront: rye bread.
Rye bread arrangement is a layered dessert of crushed rye bread, whipped cream, and other sweet delights.
Assembled within a glass or jar, each rye bread layer consists of rye bread crumbs mixed with cinnamon.
Rye bread layers are sandwiched between layers of jam and whipped cream, and the process is repeated until the glass or jar is full.
Finally, this sweet, filling dessert is garnished with fresh berries and grated dark chocolate. It is chilled for an hour or two before serving.
With rye being such an important crop to Latvia, it is fitting this food, with such cultural and spiritual significance in the country, is used in both sweet and savory dishes.
14 – Rupjmaizes Zupa – Rye Bread Soup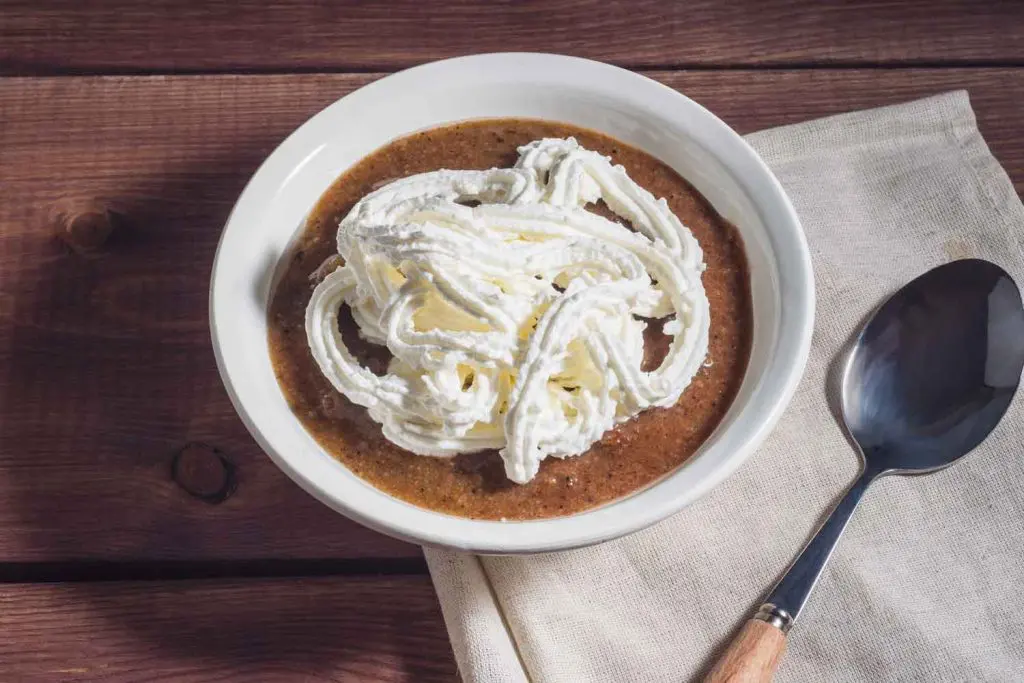 Black bread soup, our last stop on our Latvian tour, is a native dish you should definitely try when in Latvia.
Unique to Latvian cuisine, this wholesome dessert, as with Rupjmaizes Kārtojums, makes rye bread the star of the dessert.
Rupjmaizes Zupa is made by first roasting chunks of rye bread, then boiling and simmering the chunks in water.
Once the soup is ready, it can be garnished with various dried fruits and berries, such as apples, raisins, and plums.
Topped with whipped cream, you have a simple and hearty Latvian dessert loved by millions across the country.
This dish is a brilliant choice to introduce yourself to the unique tastes of Latvian food.
Latvian Food Summary
While being relatively unknown on the international scene, there's no doubt that Latvian cuisine has plenty of heart, flavor, and soul to offer.
As with other Baltic cuisines, there is an exciting blend of humble, resourceful cooking, with a healthy dose of European influence.
Latvia's geography opens up its cuisine to some truly fresh and flavorsome ingredients, including both meats and vegetables.
And while the winters can be harsh, that hasn't stopped Latvians from finding ways to cook simple but delicious dishes that can be stored through the winter months.
When visiting Latvia, be sure to embrace its cuisine with open arms. Seek out family-run restaurants and small cafes to experience true authentic Latvian food.
So, before we leave the Baltics, one last time, here's the full list of all Latvian foods covered in this article for reference.
Be sure to have this list of Latvian food handy when you visit so that you can try one or more of these popular and traditional foods.
Aukstā Zupa – Cold Soup
Siļķe Kažokā – Herring in a Coat
Aukstā Gaļa – Cold Meat in Jelly
Rasols – Mixed Vegetable and Meat Salad
Biešu Zupa – Beetroot Soup
Kartupeļu Pankūkas – Grated Potato Pancakes
Kotletes – Minced Meat Patties
Skābeņu Zupa – Sorrel Soup
Pelēkie Zirņi ar Speķi – Grey Peas with Lard
Kartupeļi ar Gaileņu Mērci – Potatoes with Chanterelle Sauce
Biezpiens ar Kartupeļiem, Siļķi un Zaļumiem – Cottage cheese with Potatoes, Herring and Micro Greens
Putraimdesas – Latvian Black Pudding Sausage
Rupjmaizes Kārtojums – Rye Bread Arrangement
Rupjmaizes Zupa – Rye Bread Soup
You Might Also Like to Read
Save and Pin for Later
Want to keep all these delicious Latvian food picks in a safe place? Save this article and pin it to one of your Pinterest food boards. That way, you'll always be able to find these delicious foods.
Contributor: Lauris Rozentals is a UK-based Latvian translator and content creator, with a deep passion for his native cuisine and culture.
Images licensed via Shutterstock