This post may contain affiliate links, meaning if you book or buy something through one of these links, we may earn an affiliate commission at no additional cost to you. Learn more
Bring a generous helping of Nordic sweetness and comfort into your life, and give all of these Norwegian desserts a try when visiting the cozy towns and breathtaking fjords of Norway.
Whether you love your desserts rich and indulgent or light and fruity, there's plenty in Norwegian cuisine to satisfy your post-main, sweet-tooth cravings. All of these dishes have fascinating histories, unique flavors, and come recommended by a local writer.
Popular Norwegian Desserts
1 – Tilslørte Bondepiker (Layered Dessert with Apples and Cream)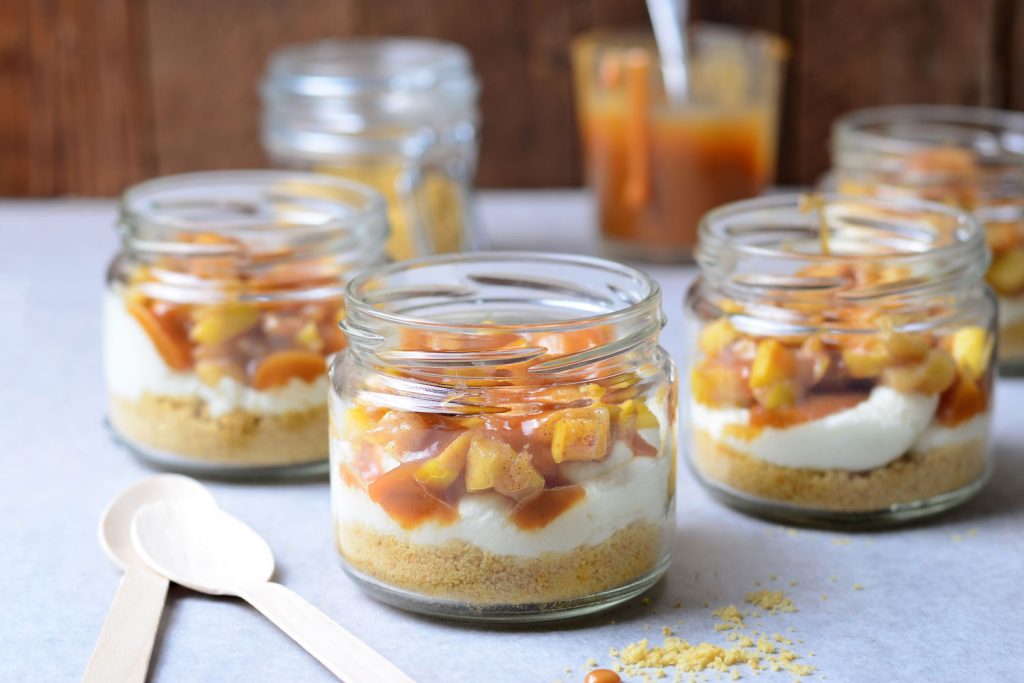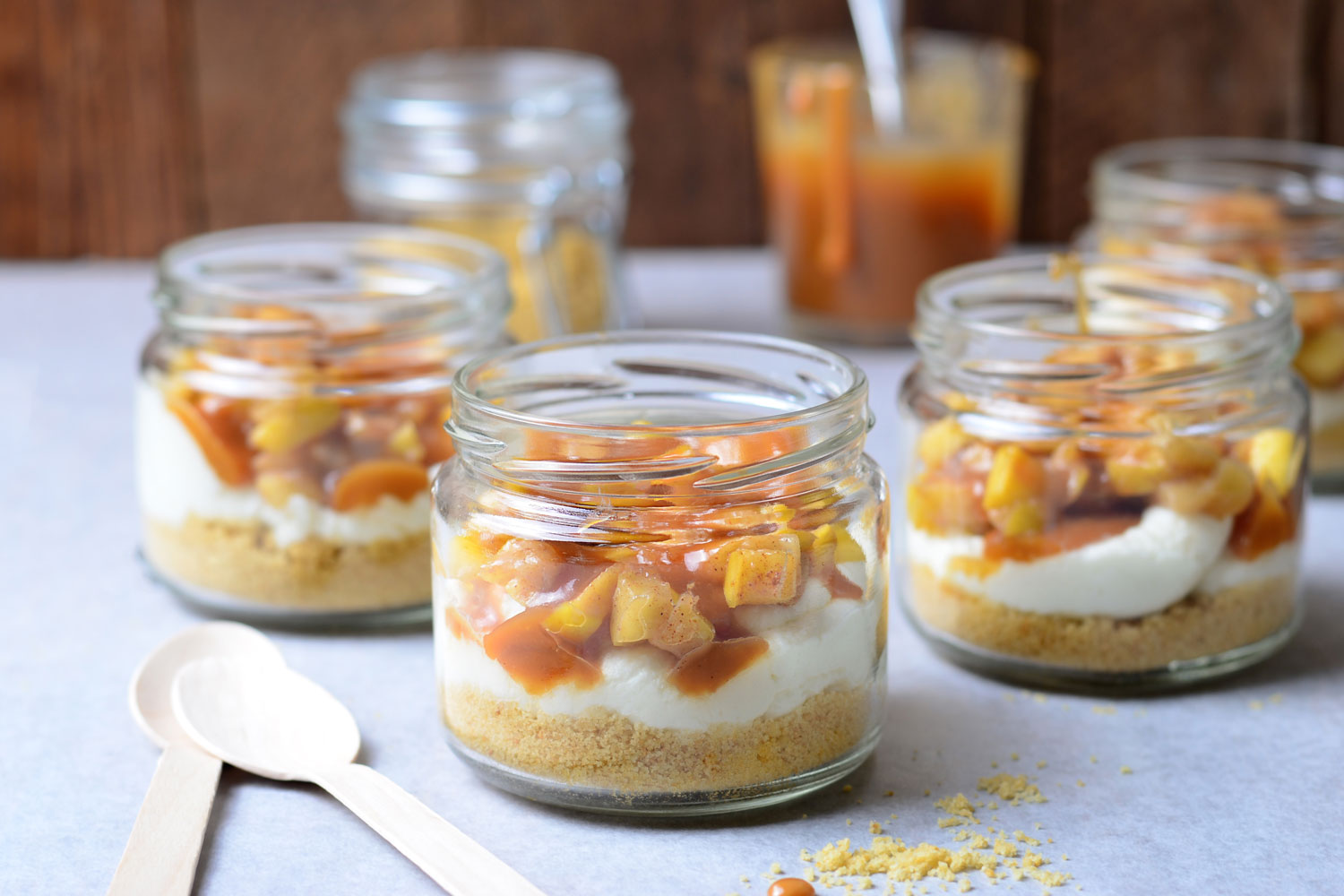 The name behind this dessert comes from a story dating back to the 1800s. The Norwegian poet Ivar Aasen was traveling through the country, studying dialects, when he met a girl at a restaurant, and he fell in love with her.
The girl, uninterested in Aasen, served him a dessert that he found delicious, and decided to name the unknown dessert in spite of the waitress.
Because of this, 'tilslørte bondepiker' loosely translates to 'obscure peasant girls'. And while the name may be vulgar, the taste and texture of the dish is very much the opposite.
This Norwegian dessert is easy to make but looks very impressive. It is a delightful composition of roasted sugary breadcrumbs, whipped cream, and apple sauce, layered in a glass bowl or glass. You can make your own variations of this dessert by adding finely chopped apples, cinnamon, or other types of fruit or berry jam.
This is a tasty, fresh and delicious dessert, perfect for serving your guests at dinner parties. And hopefully, you will have more luck with love than Mr. Aasen did!
2 – Trollkrem (Lingonberry Cream)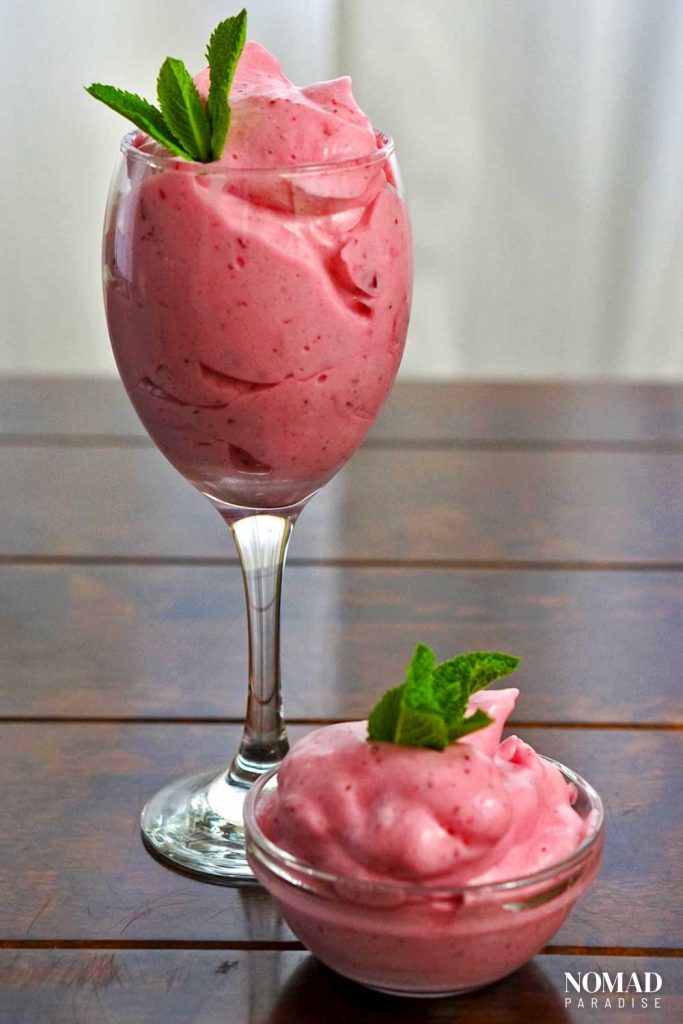 The name of this dessert is translated directly to 'troll cream'. Though the origin of the name is unknown, some believe it is called so because legend has it trolls lived in the forests where lingonberries grow.
Lingonberries grow in the Norwegian forests during the fall, so be especially sure to try trollkrem if visiting from September to November to get the freshest, hand-picked berries in lingonberry cream.
Lingonberry cream is made by whipping sugar, vanilla sugar, and egg whites into an airy cream, along with the lingonberries.
Once prepared, the cream is traditionally poured into a tall glass and topped with extra lingonberries, for a fun and delicious dessert. Its iconic pink color adds vibrance and beauty.
Read more: Trollkrem Recipe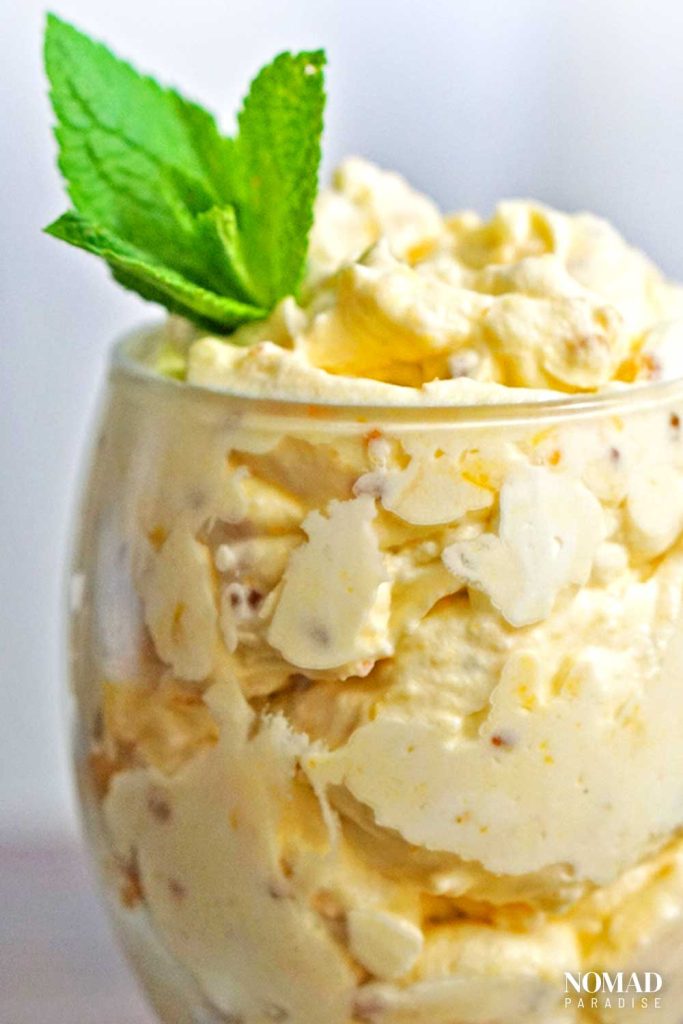 If you thought lingonberry cream was a simple enough dessert to whip up, cloudberry cream requires even less effort! Consisting of just cloudberries, sugar, and cream, this is a simple, creamy, and tart dessert you can serve both casually and over holidays or celebrations.
It is made by whipping the sugar and cream together before adding cloudberries on top to serve. Cloudberry cream can be enjoyed as is, but it is commonly eaten with sweet crackers.
Cloudberries can be picked in Norwegian forests from late July until September. The berries are most common in the northern countries, as they only grow in colder climates.
Up until 1970, there was even a law in Norway that forbade picking cloudberries before they were ripe. To this day it remains a popular tradition. If families know a good spot for picking cloudberries, they generally keep it secret!
Read more: Multekrem Recipe
4 – Semulepudding (Semolina pudding)
Semolina pudding is a traditional Norwegian dessert consisting of a simple mixture of semolina, sugar, and whole milk. As with so many Norwegian desserts, it is very simple to make.
Eggs can be added for texture and almond essence to enhance the flavor. Served with homemade or store-bought raspberry sauce, this is a delicious everyday dessert.
In Norway, you may see this dessert listed as 'princess pudding' on restaurant menus. Despite its simplicity, its richness and comfort make it the perfect dessert even for royalty, many Norwegians will agree.
5 – Sagopudding (Sago Pudding)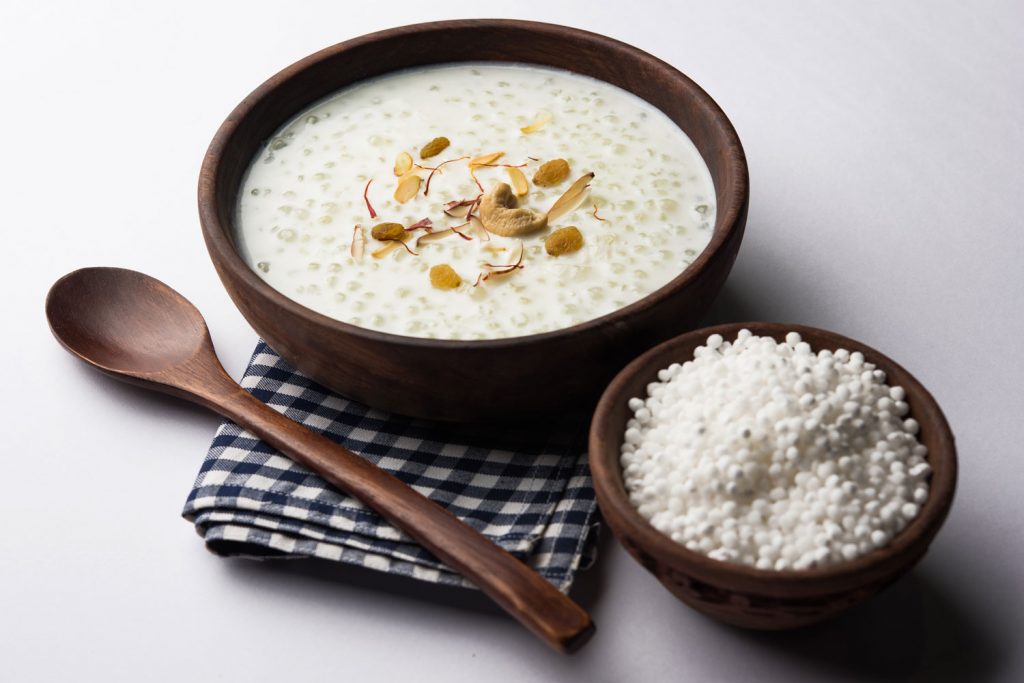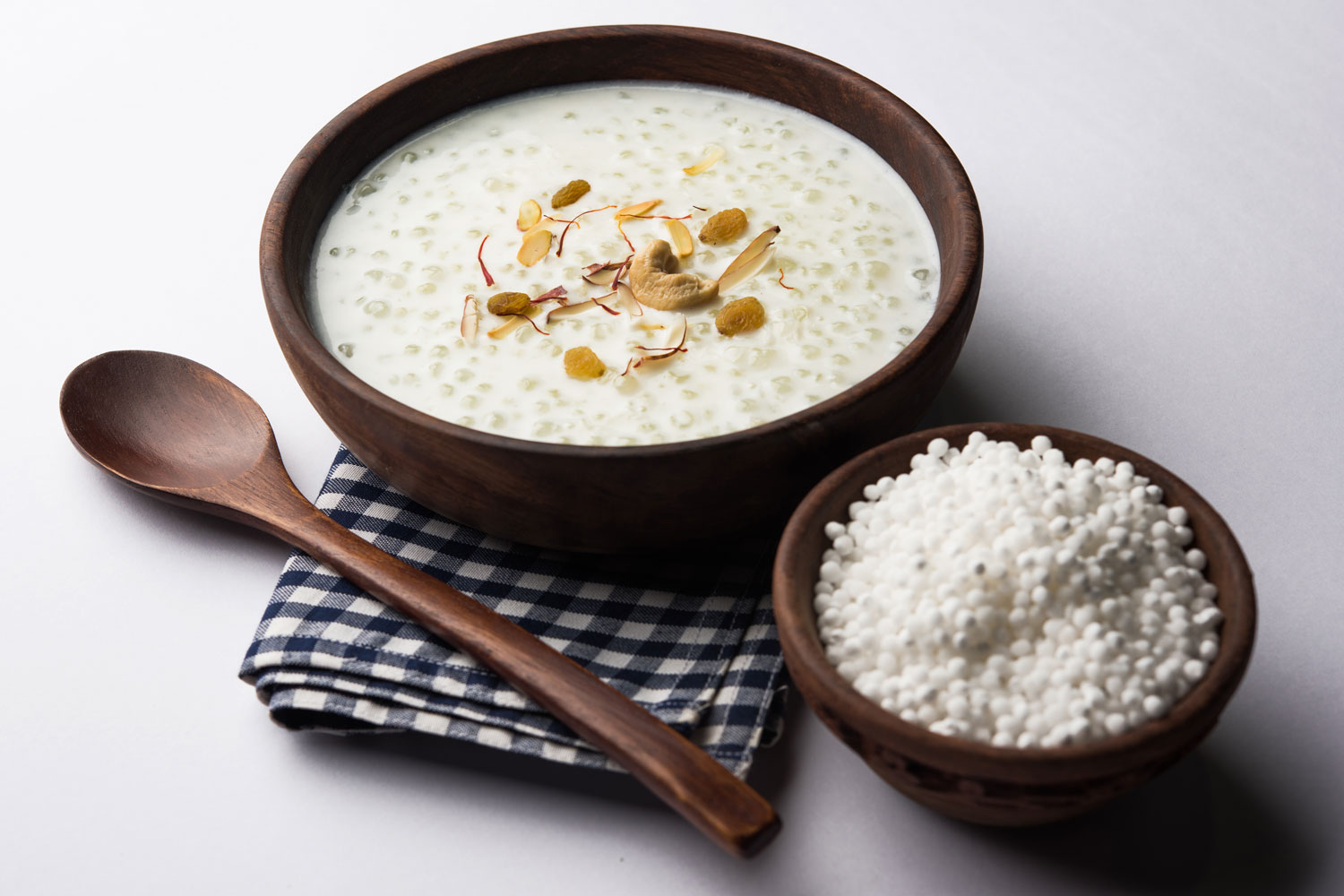 Sago pudding is pretty much a twin sibling of semolina pudding, but uses sago instead of semolina. Many Norwegians will also add a few drops of rum essence to enhance the flavor.
Served with a strawberry or raspberry sauce, this is a dessert often referred to as 'grandma's favorite', as it is far more commonly enjoyed among the older generation of Norwegians.
One of the reasons for this decline in popularity is due to how rare sago has become to find in Norway. So much so, a Norwegian distributor has even stepped in and created a product, with a tapioca starch base, that mirrors the texture of sago.
Sago, traditionally, is also used in pancakes, cream, and soups for those who are gluten intolerant, as it is naturally gluten-free. But no matter which type of sago you use, sago pudding is a delicious, traditional dessert, if you can find it.
6 – Karamellpudding (Caramel Pudding)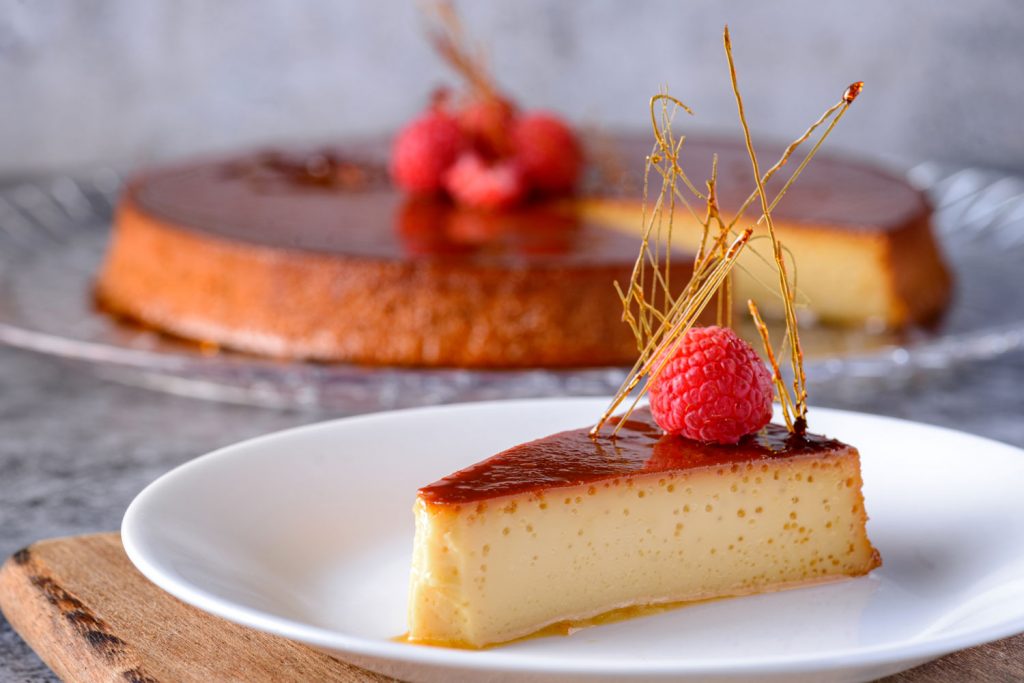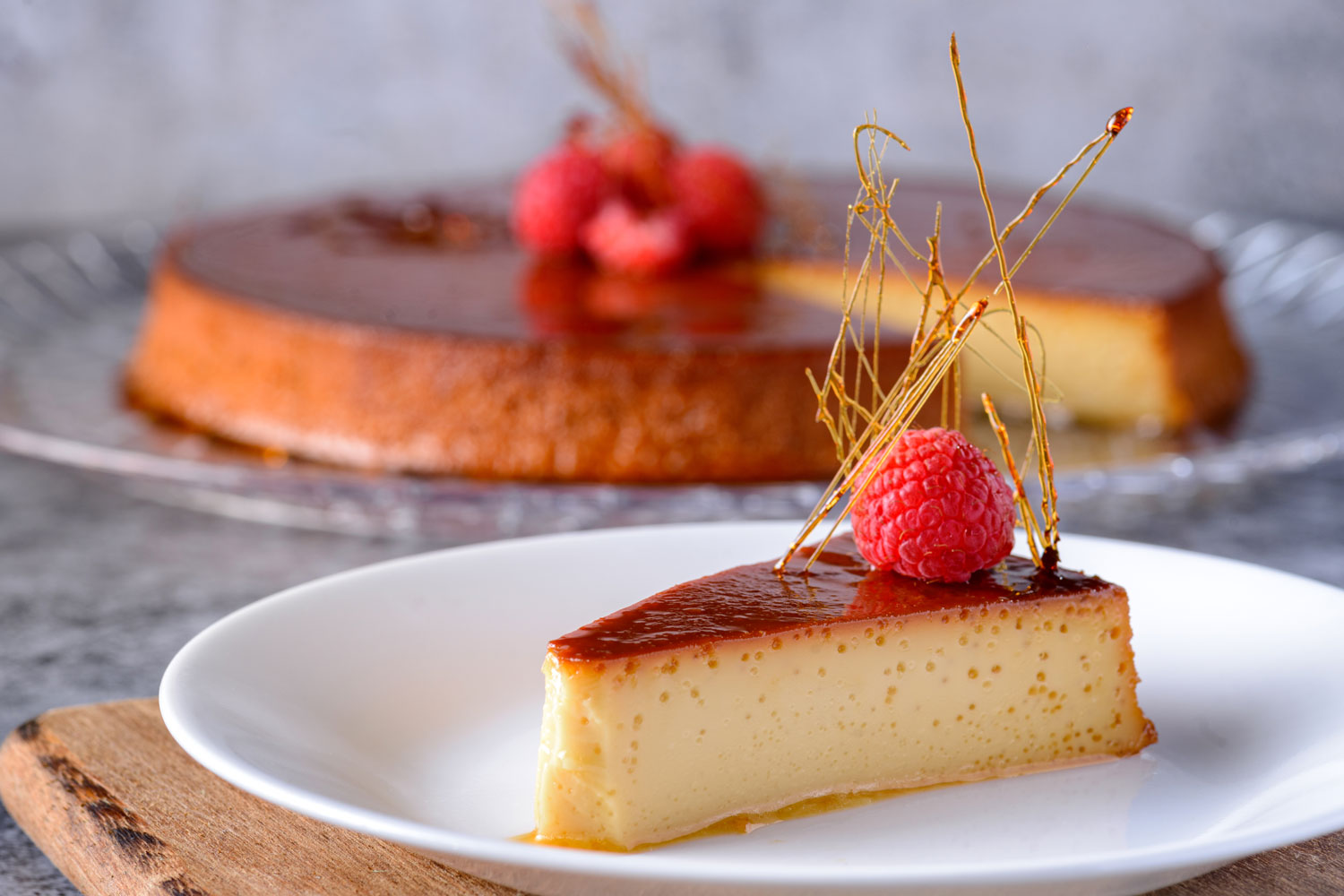 While karamellpudding, or caramel pudding, may look simple, the technique and timing that go into making this rich and indulgent Norwegian dessert is something of an art form.
Many even argue that this is the most popular dessert in Norway, and it is very popular during holidays and celebrations, such as Christmas. But it should come as no surprise, as karamellpudding's velvety texture and sweet flavor keeps you coming back for more.
Made with whole milk, cream, sugar, eggs, and vanilla, topped with caramel sauce and baked in the oven, this is a truly wholesome dessert. The pudding can be served with whipped cream or topped with berries, but it is just as enjoyable served as it is. Be sure to save a little room in your stomach when caramel pudding is on the menu!
7 – Bløtkake (Cream Cake)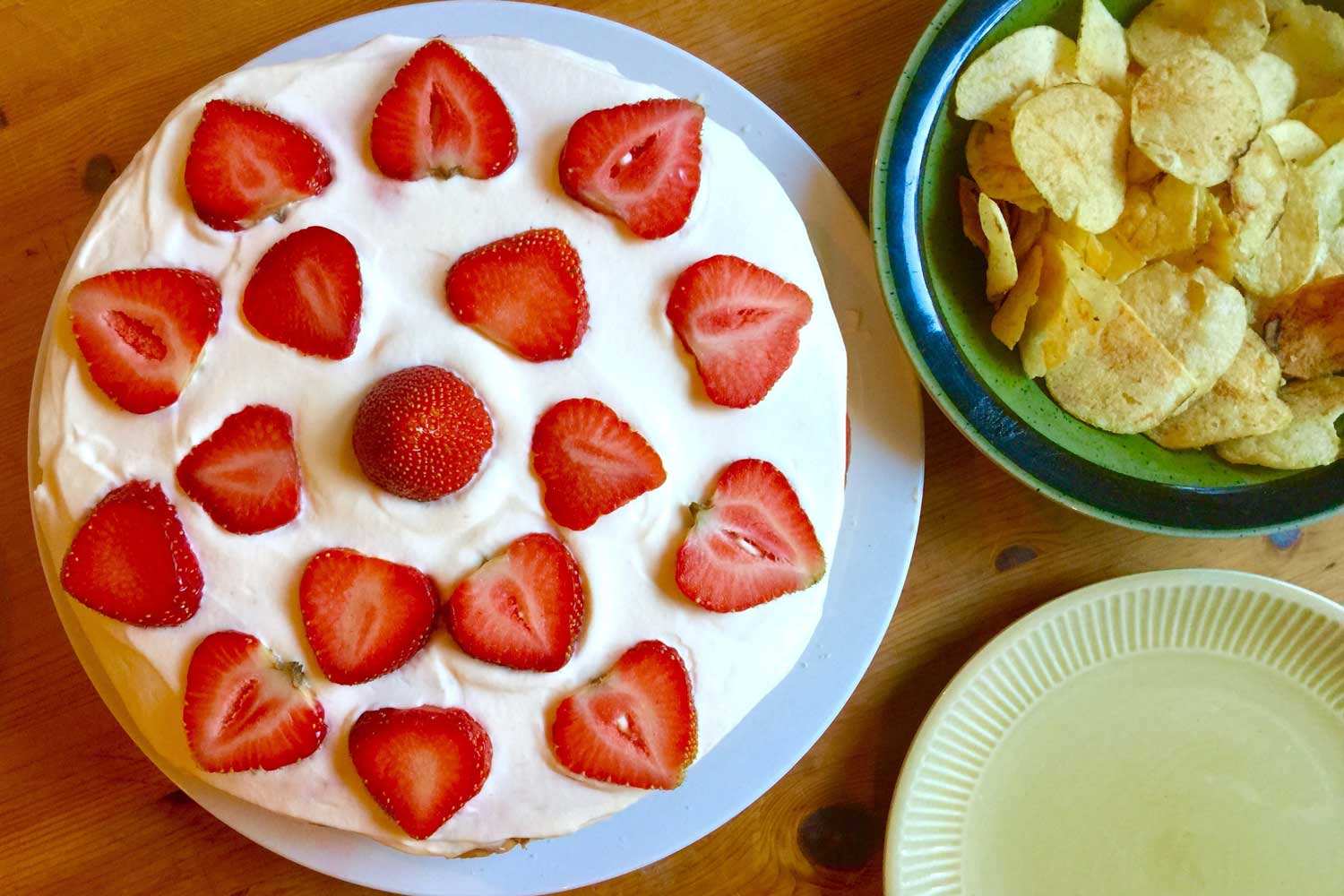 A simple but sumptuous dessert of layered sponge cake, topped with whipped cream and various toppings, this cake can be personalized in numerous ways. In my family, we use strawberry jam, fresh strawberries, and whipped cream as a filling, but common fillings also include raspberry, banana, nuts, and shredded chocolate.
This cake is a popular centerpiece for many Norwegian celebrations, including birthdays, weddings, and Constitution Day.
Making a showstopping sponge cake is an art in itself, and impressing people with your homemade light and airy sponge is the goal with this cake. However, you can also get your sponge base at the bakery or grocery store.
A cake so many Norwegians love, and that will feed many, the aptly named 'success tart' is a Norwegian dessert you simply have to try.
In some districts, the dessert is referred to as 'yellow cake' due to its bright, rich sunflower yellow-colored top. This cake will make both your eyes and your stomach happy!
The base is made of egg whites, powdered sugar, and almonds, which is first cooked, then cooled. The egg-based cream on top consists of egg yolks, cream and sugar, heated up to thicken, before cooled and mixed with butter. This cake is naturally gluten free, and can even be made dairy free if needed.
9 – Kransekake (Almond Cake)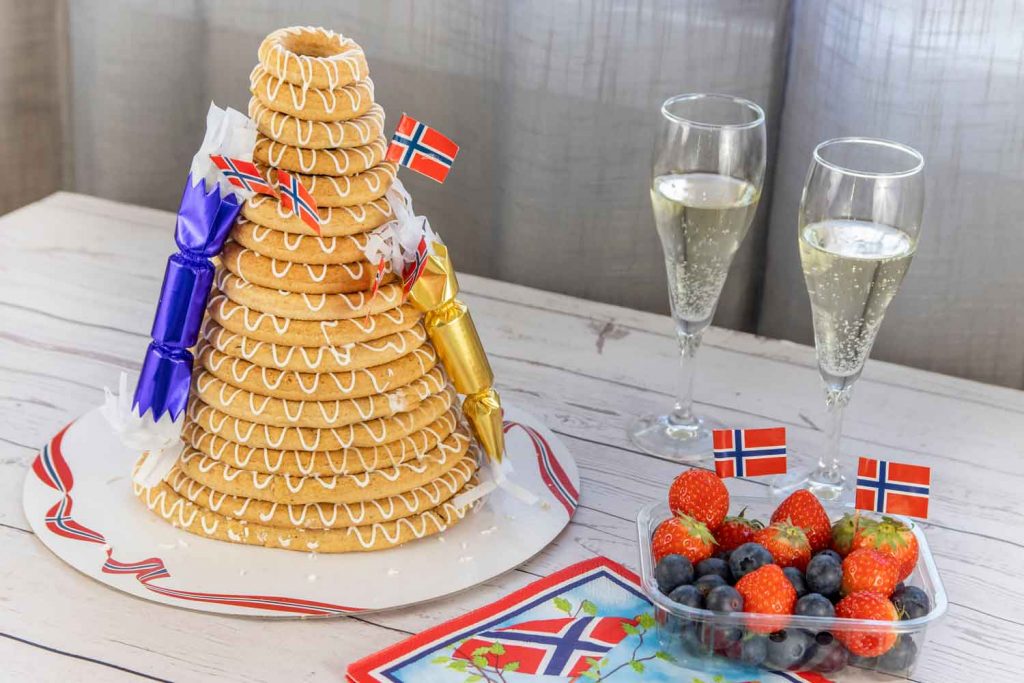 Kransekake is a traditional cake in both Norway and Denmark, often made for celebrations including Christmas and weddings. It can also be refered to as 'tower cake', due to its stacked composition.
At weddings, it is traditional for the bride and groom to lift the top layer of the cake to find out how many children they will have in the future. The more cake rings that stick to the top layer when lifted, the more children you will have!
Bakers and chefs who create this cake take great pride in their work, hence its gloss and decadence. The rings are shaped from a dough of almonds, powdered sugar, and egg whites. Once the rings are shaped, all are cooked, then left to cool.
Once cooled, each ring elaborately decorated with powdered sugar, and then finally the tower is carefully assembled. Often, the cake is decorated with Norwegian flags.
9 – Kvæfjordkake (Meringue and Vanilla Layered Cake)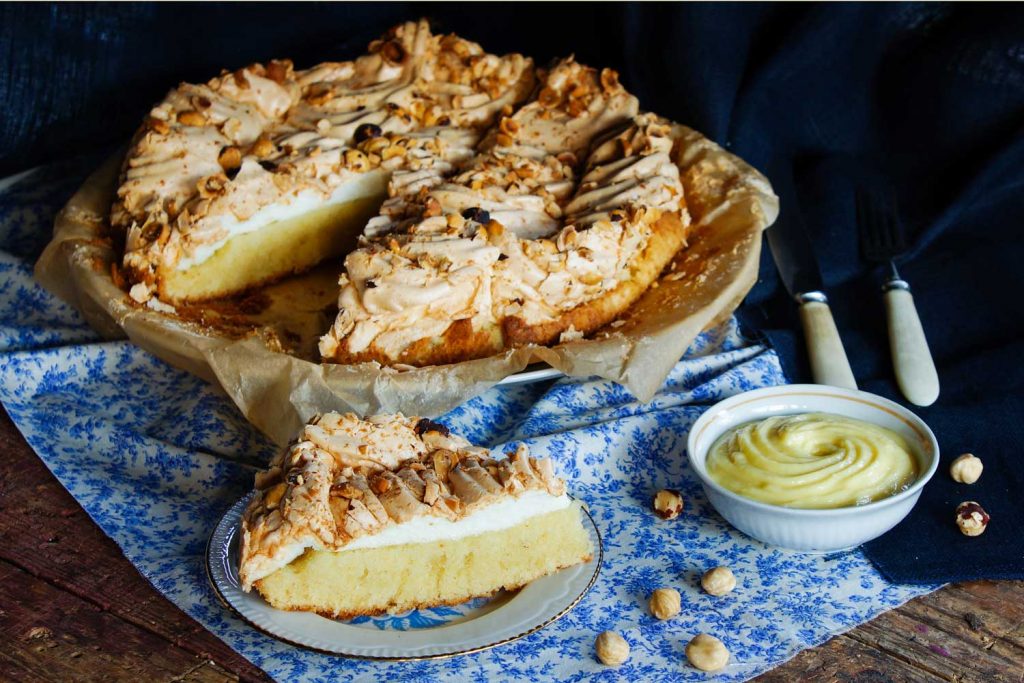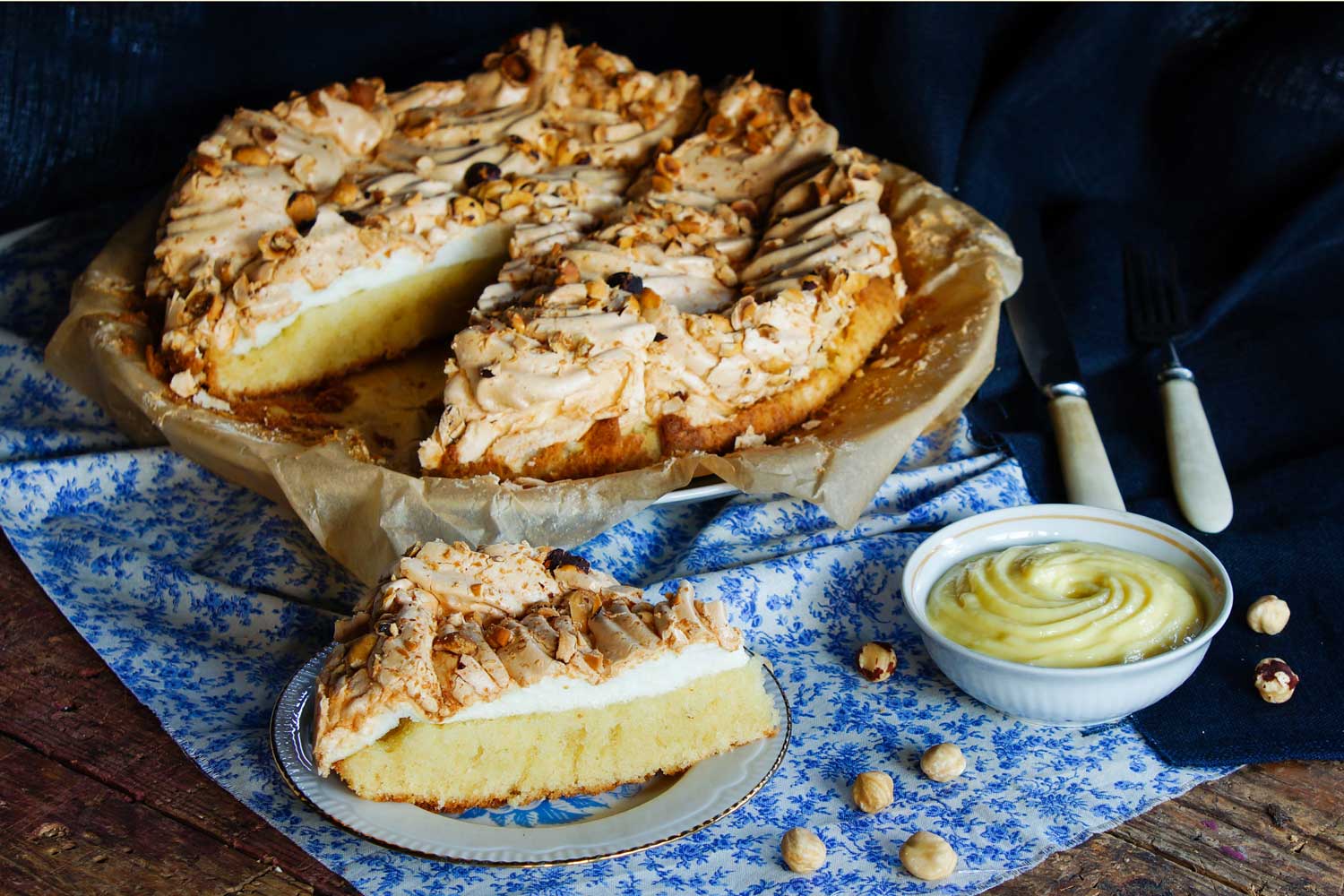 In 2002, this wondrous cake, kvæfjordkake, was voted the national cake of Norway. So much so, the dessert is even referred to as the 'world's best', and it is often made important celebrations, such as weddings, christenings or confirmations. Porsgrunds Porselænsfabrikk, a historical porcelain company, even sells a cake dish just for this cake.
The cake consists of layers of crusty meringue and fluffy sponge, filled with a mixture of custard and whipped cream. Topped with sliced almonds, it is simply a joy to eat.
The story behind the dessert takes us back to the 1930's, when an upscale café owner decided to invest in two cake recipes from a danish pastry chef. One of the cakes, the king cake, was made with lots of almonds, which was an expensive item at the time. The café owner therefore changed the recipe to contain less almonds, and thus led to the creation of kvæfjordkake.
10 – Eplekake (Apple Cake)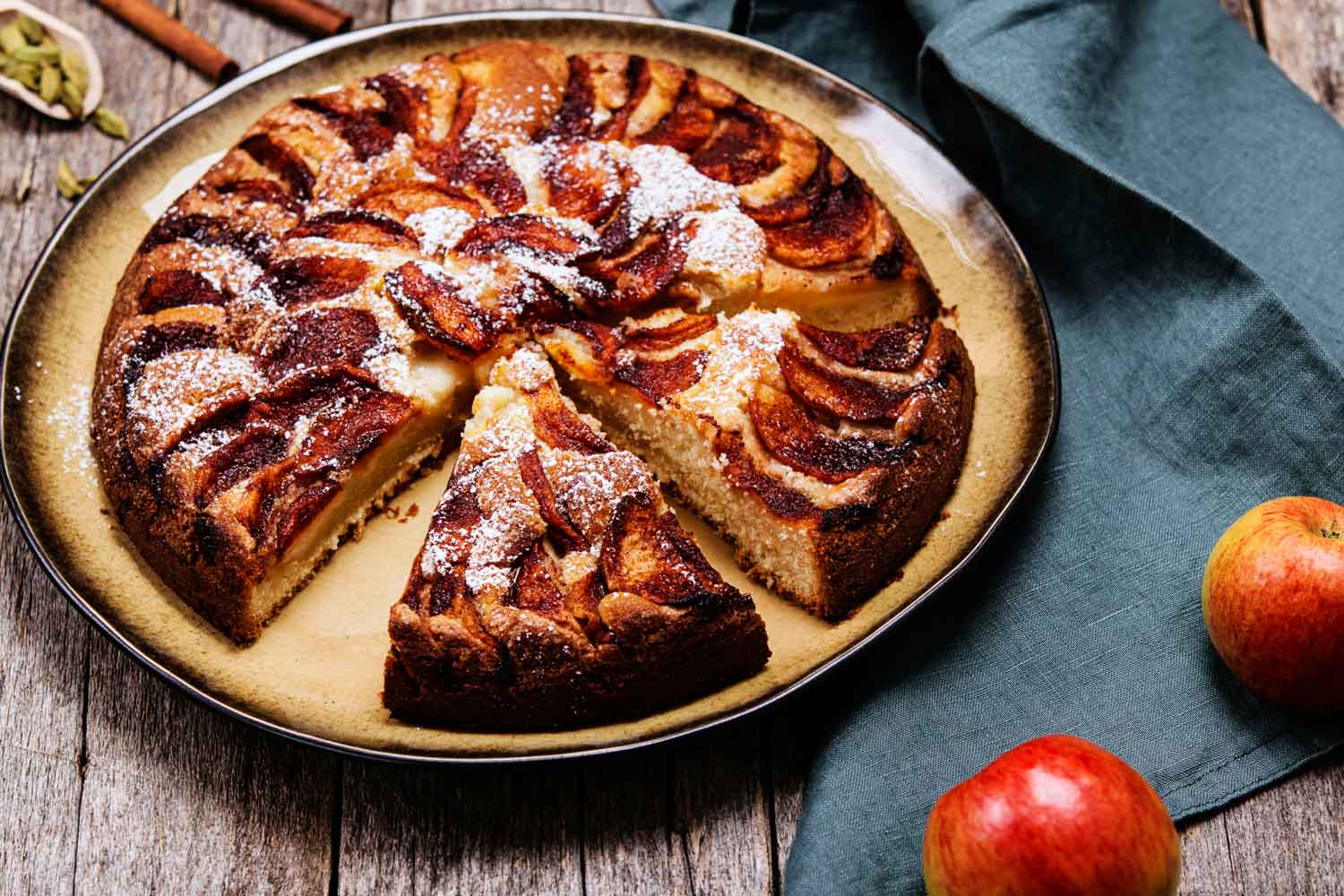 If you have a garden in Norway, chances are you'll have an apple tree too. Baking an apple cake in the fall when the apples are at their juiciest is something most Norwegians have done their whole life.
Apple cakes can be ordered in nearly all cafés across the country. Served with ice cream, custard, or whipped cream, it is one of the most filling and wholesome desserts Norway has to offer.
The classic apple cake is made with apples, sugar, cinnamon, butter, sugar, eggs, flour, baking powder and pearl sugar. The apples are coated with sugar and cinnamon, and layered on top of the cake batter.
The cake takes around an hour to bake in the oven, and the aroma that fills the kitchen makes it worth the wait. Any type of apple can be used in an apple cake, and you can also use any leftover custard you have from other desserts.
This dessert first found its way onto Norwegian dinner tables in 1906. The king and queen visited Haugesund, a city in western Norway, during their coronation travels. To mark their arrival, a brand new dessert was created just for them, and it was even named the Queen Maud mousse.
The dessert consists of ingredients that were expensive in 1906, including cream, port wine, and chocolate. The dish is made by mixing port wine and gelatin with eggs, sugar, and whipped cream to create a mousse. The mousse and grated chocolate are layered in a glass bowl or tall glass, and the dessert is finished with a thick layer of chocolate on top.
You can also use homemade strawberry jam or fresh raspberries in-between the layers to add a little tartness to the taste. This is a rich, flavorful dessert, and if its good enough for royalty, it's definitely good enough for us!
12 – Riskrem (Rice Pudding)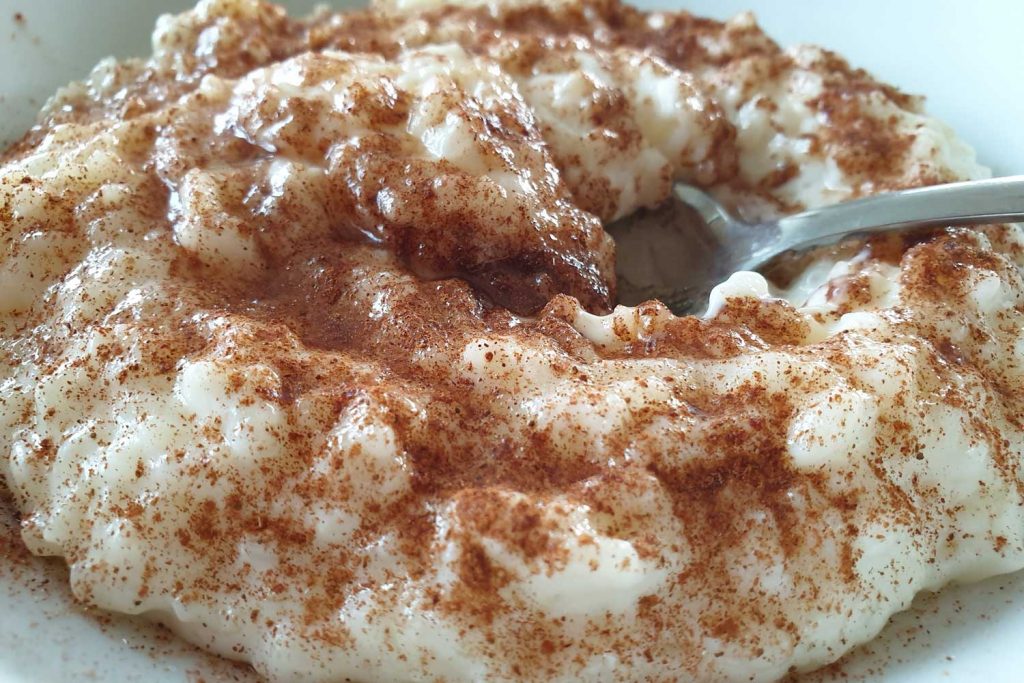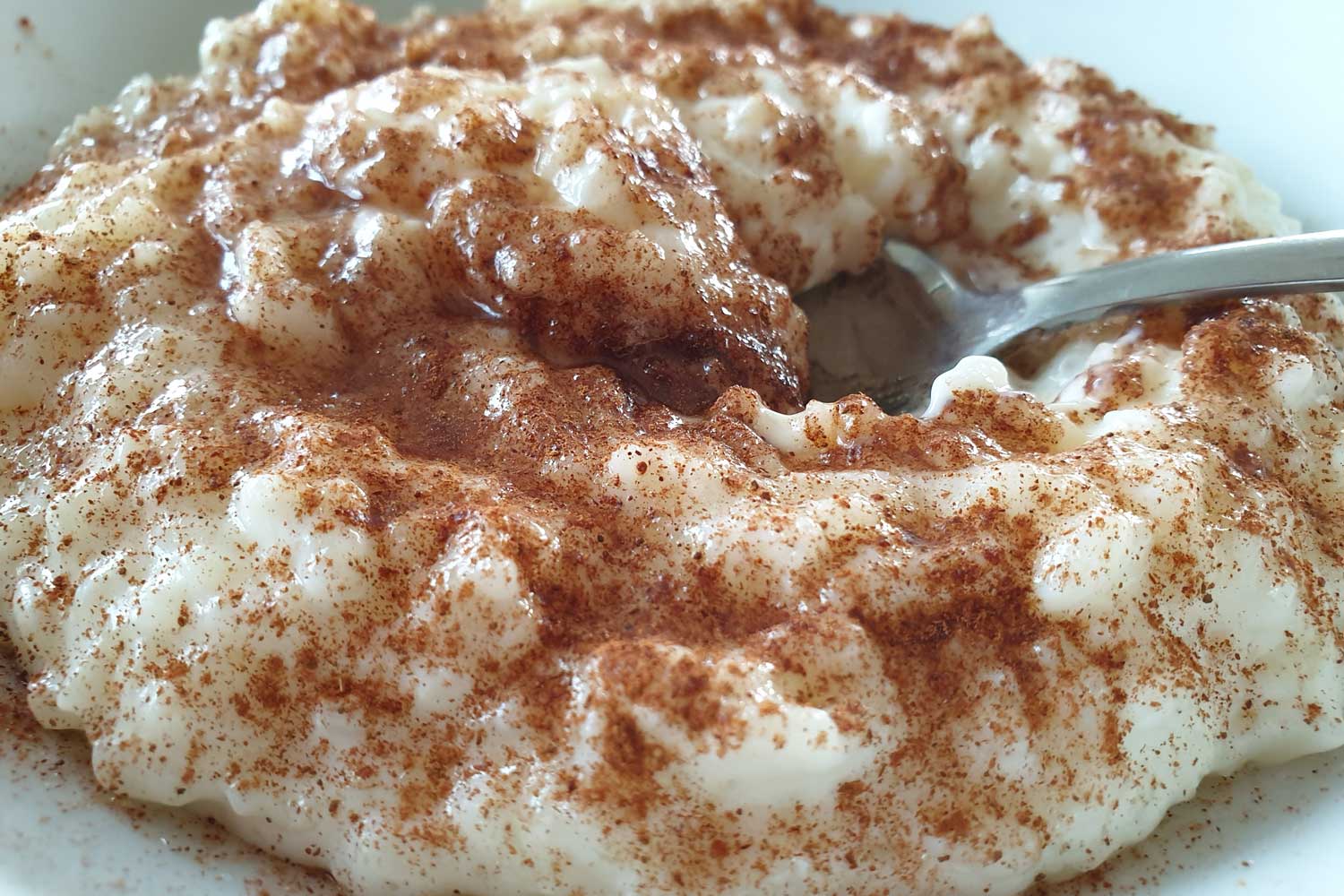 Common in many cuisines, rice pudding is wildly popular across Norway, and it is particularly enjoyed during the Christmas period. Served with a 'red sauce', often made with raspberries, rice pudding is as wholesome as it is comforting.
It is made by simply mixing rice porridge with whipped cream and vanilla sugar. The resultant sweet and filling dessert is common across Scandinavia, with each country having their own little twist on the dish.
On Christmas Eve in Norway, rice pudding is traditionally served after dinner, and an almond hidden in the bowl. The guest who finds the almond in their pudding receives a gift, often in the form of a chocolate bar or a marzipan figurine.
Naturally, everyone wants the almond so they can call themselves the winner! However, you need to be careful to not actually eat the almond, as then no one will win the prize!
13 – Kompott (Compote)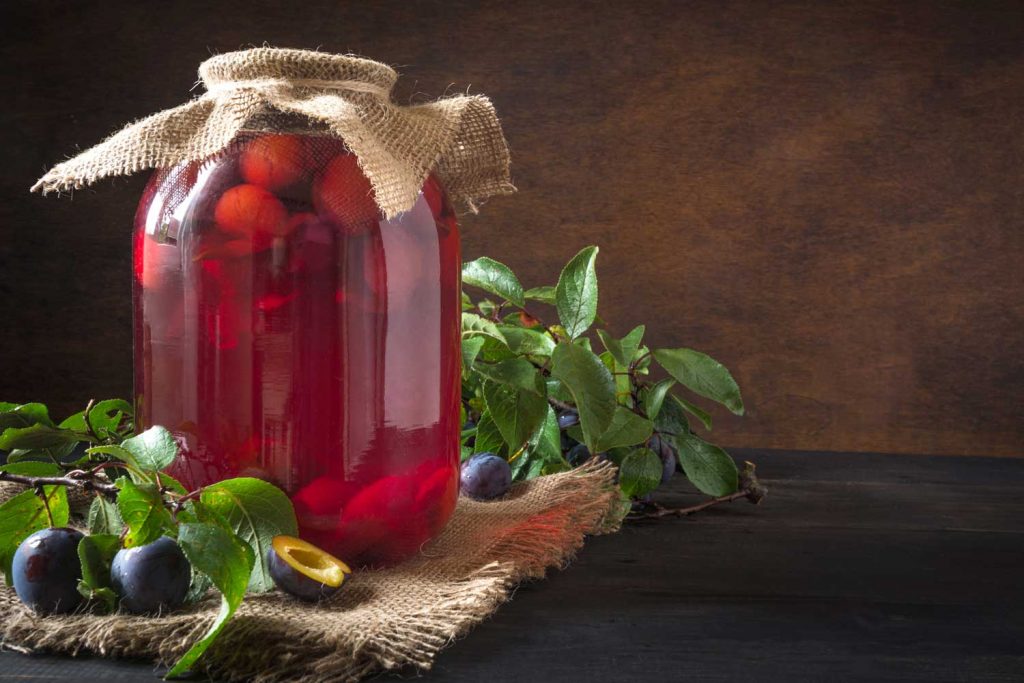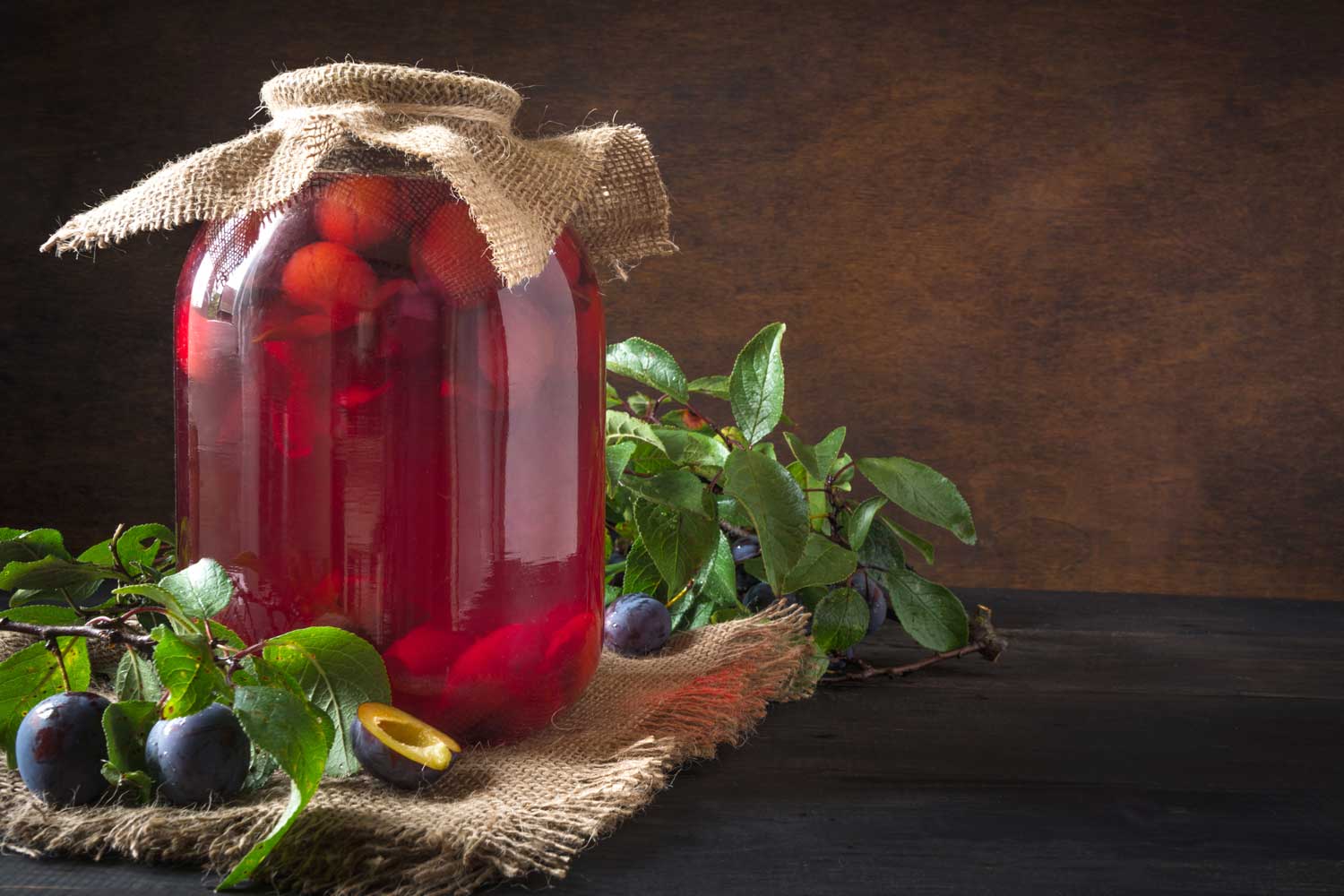 Different types of compotes have been served for dessert in Norway for generations. Common in many cuisines, compote is a common name for berries or fruit that are boiled with sugar. In a compote, the fruit or the berries are kept mostly whole before the boiling process begins.
The most common compotes served in Norway are prune compote, berry compote, and apricot compote. The compotes can be boiled at home, or bought at the grocery store.
A very traditional compote dessert is the constitutional dessert, or 'grunnlovsdessert'. It consists of a prune and rhubarb compote, topped with custard, whipped cream, and chopped almonds and prunes.
14 – Sveler (Pikelets)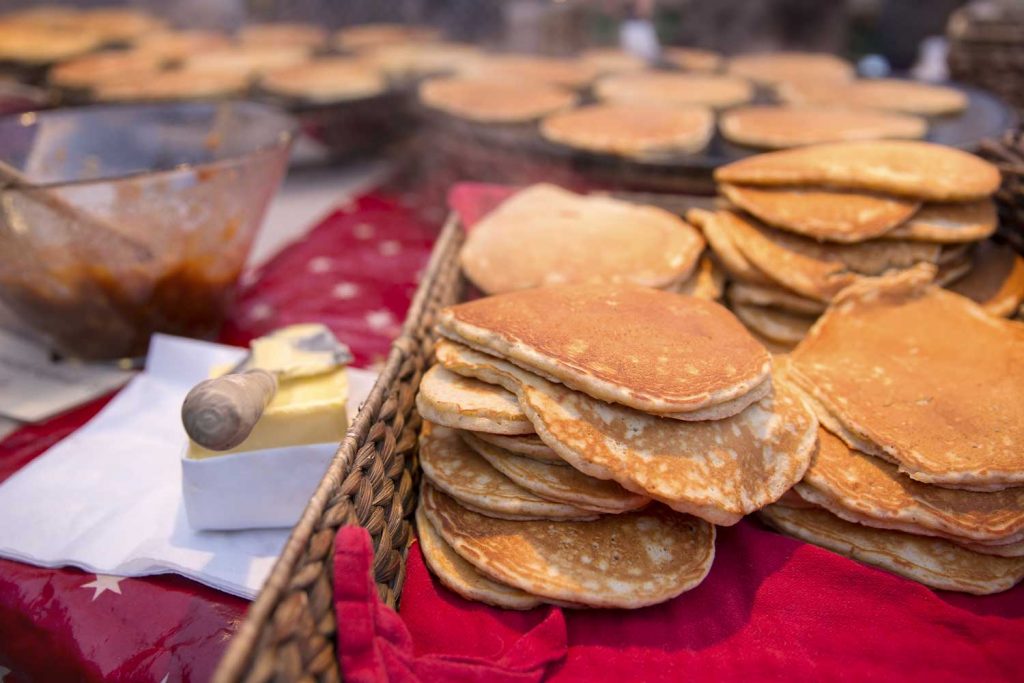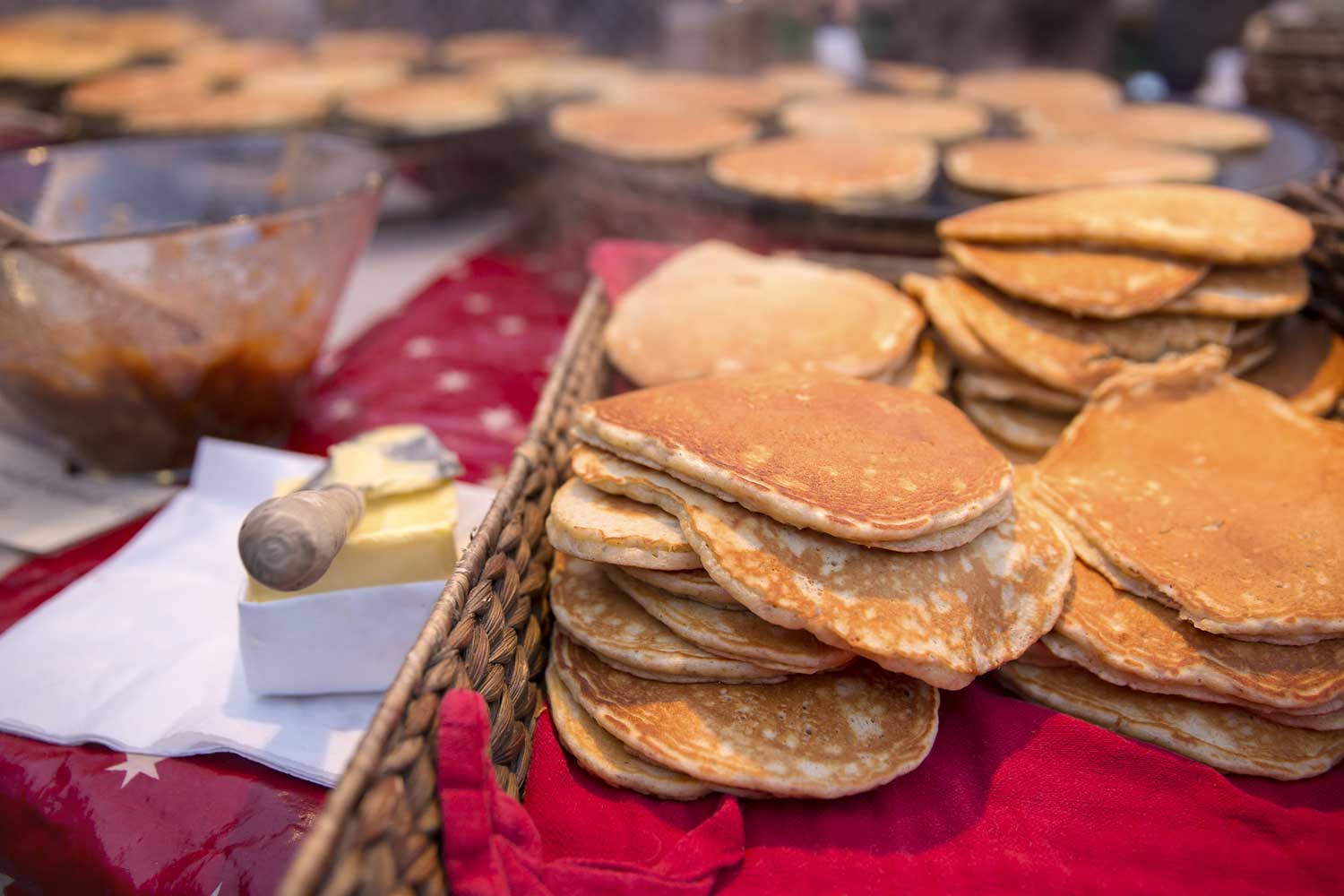 When visiting Norway, especially the western side of the country, you'll most likely have to travel by ferry. Sveler, or pikelets, are traditionally served on many ferries across Norway. The company Fjord1, which operates over 80 ferries, sells over 1 million pikelets a year!
Sveler are quite similar to American-style pancakes (but don't mention that to Norwegians) and are made with eggs, sugar, butter, flour, bicarbonate soda, ammonium bicarbonate, and buttermilk. They are light and fluffy, and ideal as a sweet dessert or as a snack to stave off hunger while riding the waves.
Sveler can be topped with just about anything, but the most common toppings are brunost, jam, sour cream, or buttercream. Diverse and filling, you simply have to try them.
Norwegian Desserts Summary
Norwegian desserts bring to the foray the fresh, delicious produce grown throughout the country, and the warmth, cosiness, and comfort of its hospitality and people.
If you love your desserts rich, wholesome, and hearty, Norway is a place you'll want to revisit over and over again.
These 14 traditional desserts capture the essence of Norwegian cuisine and culture. Be sure to keep a list of them handy on a future trip, so that you can seek out and try as many of them as possible.
You Might Also Like to Read
Save and Pin for Later
Keep these delicious Norwegian desserts for safekeeping, by saving this article to one of your foodie travel or recipe idea Pinterest boards.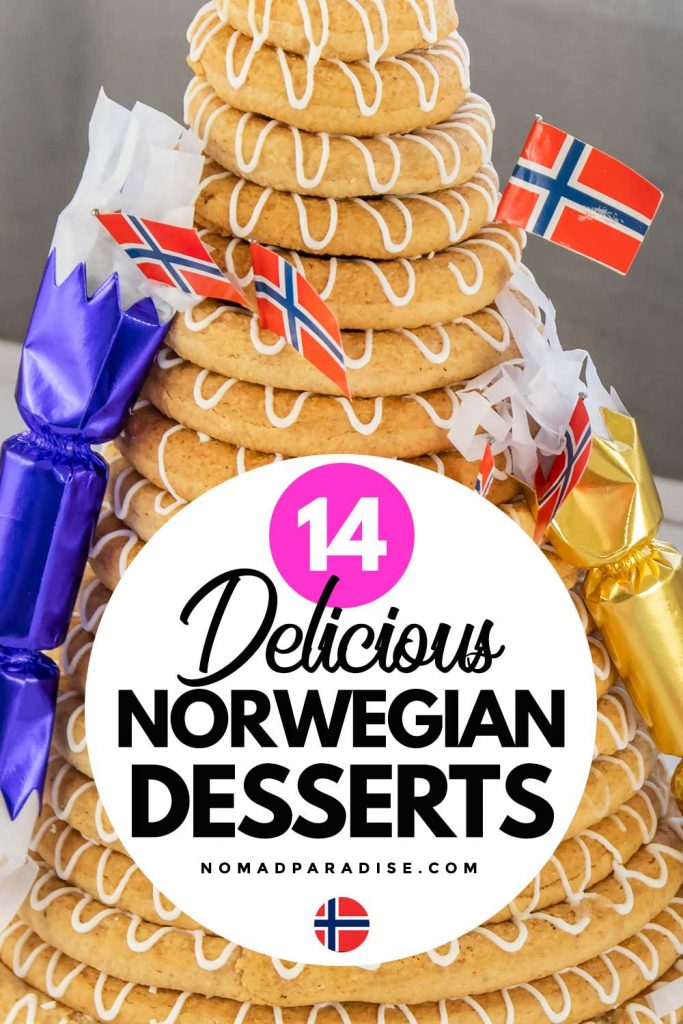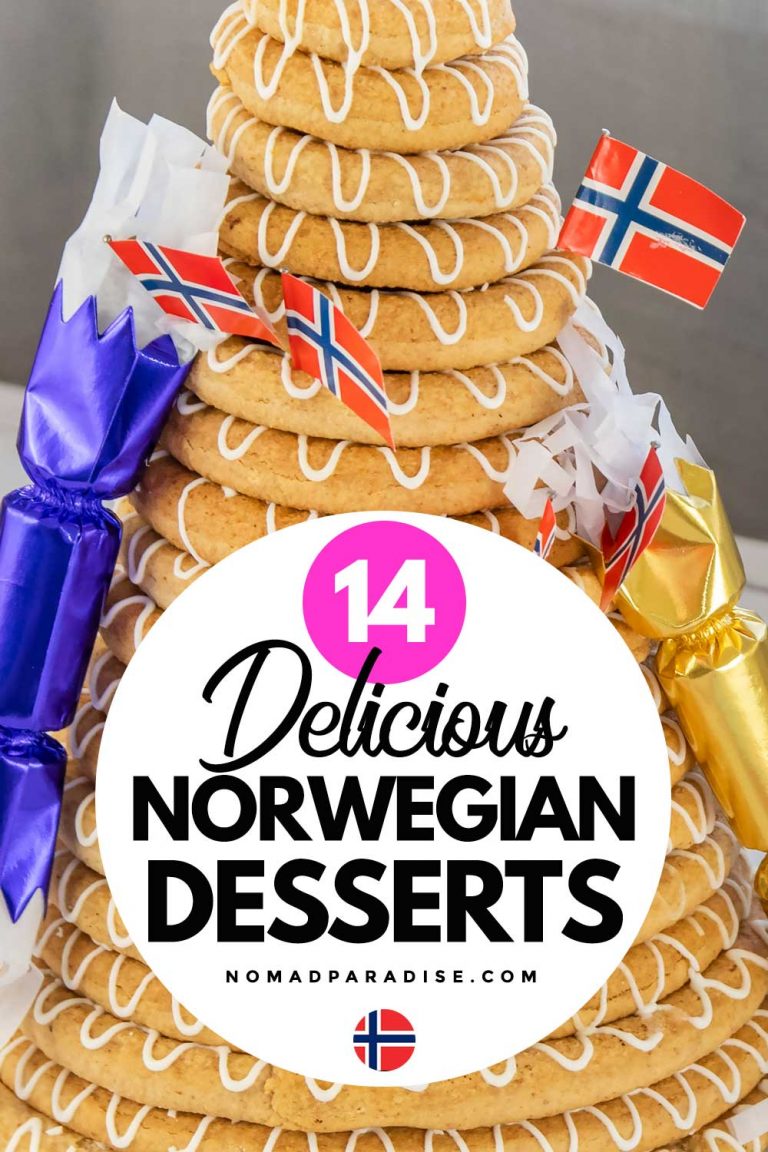 Contributor: Marte Hansen is a bilingual Norwegian writer and translator from Honefoss. She is deeply passionate about Norwegian culture and cuisine and is eager to share more about Norway through her writing.
Non-pin Images licensed via Shutterstock