This post may contain affiliate links, meaning if you book or buy something through one of these links, we may earn an affiliate commission at no additional cost to you. Learn more
Prepare to gorge on a cuisine alive with color, heat, and unbridled passion with these delicious Cuban foods, and open your eyes, stomach, and soul to some of the most flavor-packed dishes in the Caribbean.
Salty fresh seafood from the shimmering Caribbean waters, fresh and juicy produce from the tropical climate, and culinary influence from many different continents all play a part in making Cuban cuisine some of the most creative, enticing, and utterly indulgent food you'll ever try.
I am so excited you're here to join me on a journey of epic proportions through my homeland, taking a closer look at 20 foods that will always have a special place in my heart – and hopefully yours too!
Cuban Foods
Cuban Appetizers
1 – Pastelitos de Carne
Pastelitos de carne, or beef pastries, is an appetizer that no traditional Cuban party can go on without. Found in every Cuban bakery across the nation, pastelitos de carne are crunchy and sweet on the outside with a flaky, golden crust, yet have soft and juicy ground beef on the inside.
To make these, the ground beef will first need to be browned and seasoned with many different ingredients, including onions, peppers, and tomato paste, to list a few.
A sweet syrup will then be made with sugar and water, and a puff pastry roll will be used to create the shell in which the beef will be put in. Once everything is cooked and baked, that sweet syrup will be brushed onto the outer shell to give it the final, sugary touch.
2 – Pastelitos de Guayaba y Queso
There is no such thing as too many sweet and salty foods in a Cuban household or bakery. Pastelitos de guayaba y queso, or guava and cheese puff pastries, are a hit at every party, Sunday church gathering, random get-together… any event possible!
Even if it's just enjoying a regular breakfast, these can be found right beside the plate. Just like the previous beef pastries, they are made in a similar way and be a little difficult to construct.
It'll require that same sweet syrup to coat the outside of the shell, but the inside will be packed with guava paste and cream cheese. After all is said and done, these small but mighty appetizers always leave guests wanting more.
3 – Bocaditos de Jamón y Queso
Also known as Cuban sliders, bocaditos de jamón y queso are one Cuban treat that is easy to put together at home, with just a few ingredients. Since they're not messy, they make for excellent finger foods at parties, but the tray will go empty – fast!
Although there are many variations, the traditional one includes one slice of ham and cheese, mayonnaise, and a couple of pickle slices between two addicting, sweet Hawaiian rolls, normally held together with a toothpick. I assure you, guests can never get enough of these appetizers.
4 – Papas Rellenas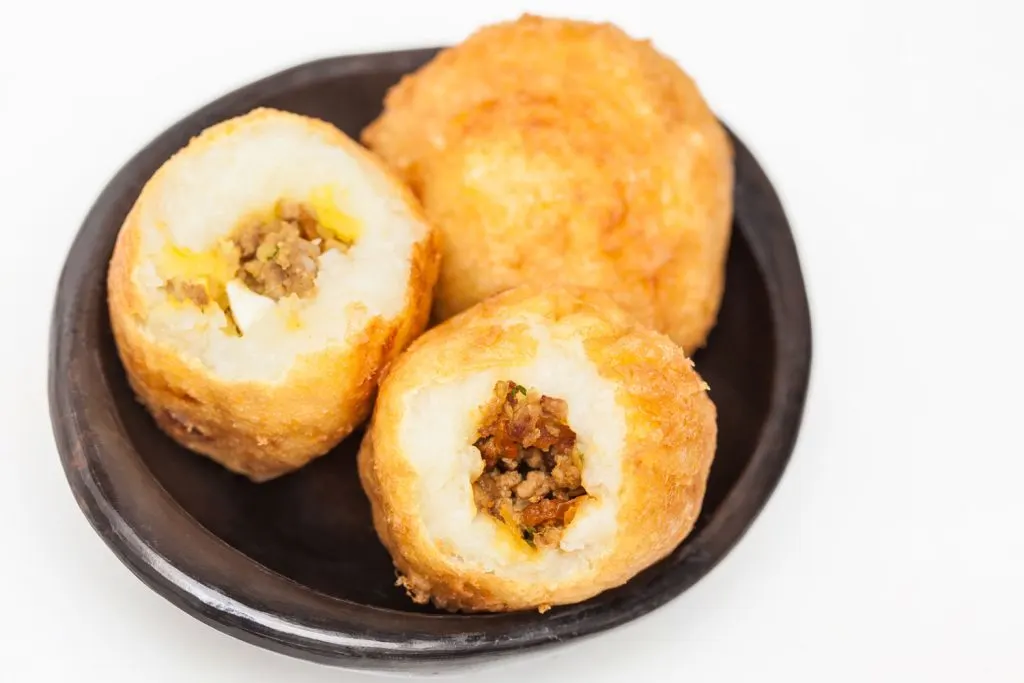 Papas rellenas can be considered the Cuban version of Italian meatballs. These mashed potato "balls" are stuffed with delectable ground beef and are then fried to golden perfection.
These melt-in-your-mouth appetizers also have a healthier alternative: they can be baked. Even if not fried (being potatoes, they do absorb a good amount of oil), these small beauties will still pass the Cuban taste test.
They go very well with many types of dipping sauces, too. Papas rellenas are fun to make at home, but they can also be found in any Cuban restaurant or bakery nearby.
You can also find Papas rellenas in other Caribbean cuisines and many Latin American cuisines, such as Peruvian cuisine and Colombian cuisine.
5 – Mariquitas
At times, while waiting for the food to arrive at the table of a Cuban restaurant, the waiter will bring out a tray of these golden, crunchy, round crisps known as mariquitas, or plantain chips.
These are sometimes paired with a mojo sauce – a minced garlic, lemon juice, and sour orange juice concoction that mariquitas can't live without. Plantain chips are sliced very thinly, are then fried or baked, and finally are sprinkled with salt or lime juice (why not both?).
Mariquitas were a very popular street food back in Cuba because they were so easy to make and paired well with any meal, or they were eaten just as a crispy snack. They were introduced to the United States by a Cuban family who brought them over 40 years ago.
Cuban Sides
6 – Yuca con Mojo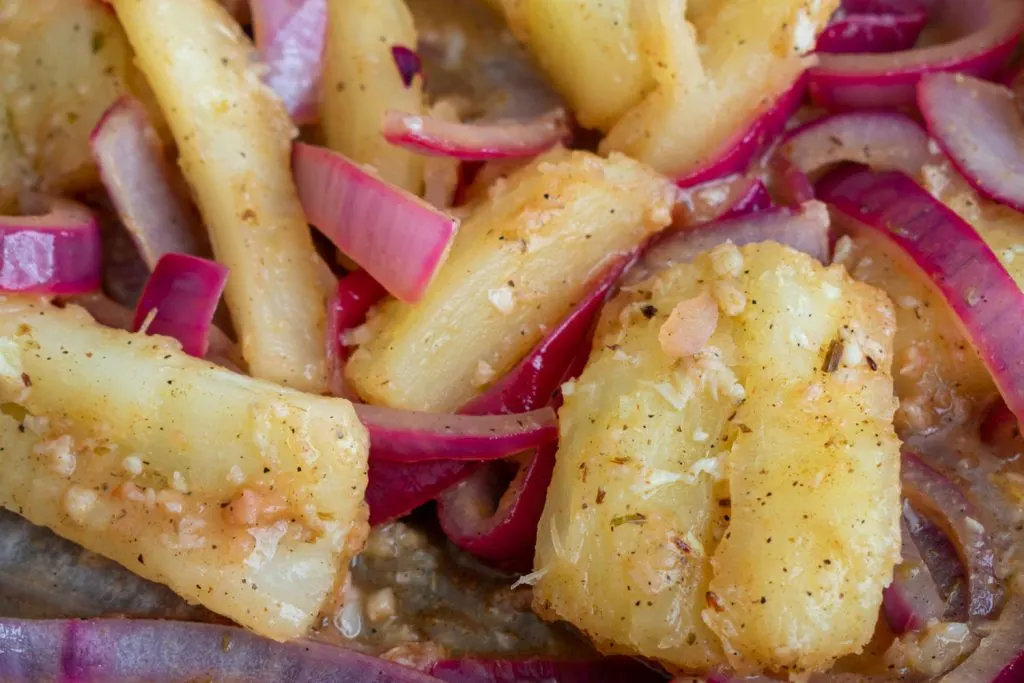 At any Cuban restaurant, when asked what the side order will be, yuca con mojo is one of the most mentioned ones. It can be eaten by itself, but yuca con mojo certainly completes any Cuban meal.
It consists of the root known as cassava, which will be chopped, peeled, and boiled to a perfectly soft consistency. Meanwhile, the Cuban mojo sauce is created by heating oil in a saucepan with minced garlic, white onions, and sour orange juice.
Once the yuca is tender and the sauce has been sautéed for a good amount of time, they will be combined to form arguably one of the best Cuban side dishes anyone can order.
7 – Tostones
Although its origin is a confusing one, and many Latin American countries fight for it, there is no debate over the fact that tostones make for an addicting side dish that are rather fun to prepare.
It is important to know, though, that the plantains must be unripe and green; otherwise, it just won't be the same. These crispy, golden treats are made by first frying them and then smashing (yes, you read correct) them until they're flat.
The process doesn't end there: they are then fried again! The result may be oily, but they are packed with flavor, even though they're lightly salted.
Alternatively, they can also be baked. It just takes up a little more time, and the flavor won't be the same. No matter which way, tostones are a yummy side order found in any Cuban home.
Related: Caribbean Foods You Need to Try
8 – Arroz Congrís
This one has a few nicknames, but there is no doubt of origin here. Arroz congrís, also known as arroz moros y cristianos or arroz congrí, is a flavorful Cuban rice and black bean side dish that is so delicious it can be eaten by itself.
At any traditional Cuban get-together, it will almost always be found paired with yuca con mojo and lechon, or Cuban roast pork. This might sound contradicting, but this is not to be confused with the classic Cuban arroz con frijoles, which is Cuban rice and beans that are cooked separately, unlike congrís. Many times, you'll find that congrís is also cooked with bacon, but some restaurants and households leave that part out.
This isn't just rice and beans cooked together, either; it takes many other ingredients to construct the perfect arroz moros y cristianos. If being made with bacon, the bacon is cooked first in a Dutch oven. The bacon fat from the Dutch oven, green peppers, chopped onions, and garlic are sautéed before rice and canned beans are added to it.
Along with cumin, bay leaves (very important), oregano, and other ingredients, it is then covered and reduced to a simmer, where it will be cooked for almost an hour.
9 – Plátanos Maduros Fritos
Cuban cuisine is full of a variation of plantain treats. One of the most popular side dishes for a Cuban household or party are the plátanos maduros fritos, or fried sweet plantains.
Cuban children were practically born eating these (just kidding), but many people tend to be introduced to these sweet and fluffy plantains at a young age because they're just so delicious. So much so that some people flat out refuse to eat their meals if it does not have plátanos maduros fritos as a side order!
These are typically made with very ripe plantains because they are much sweeter at this point. The blacker the outside of a plantain, the sweeter it is on the inside.
Whether it's eaten for breakfast, lunch, or dinner, or whether it's fried, baked, or boiled, plátanos maduros fritos are easy to make and are a staple in every Cuban household and restaurant.
10 – Puré de Malanga
This creamy side dish is sometimes also ordered as an appetizer because it is just so smooth and nostalgic for many Cubans. Puré de malanga, or Cuban cream of malanga soup, is essentially a dish of mashed malanga, which is a root vegetable that looks very similar to how yuca (cassava) looks in its natural, pure form, so don't get confused at the grocery store!
This creamy "soup" is similar to mashed potatoes, but it has a little bit more of an earthy flavor. Using malanga, milk, salt, and butter, it is made in the same way as mashed potatoes.
Cuban Entrees
11 – Ropa Vieja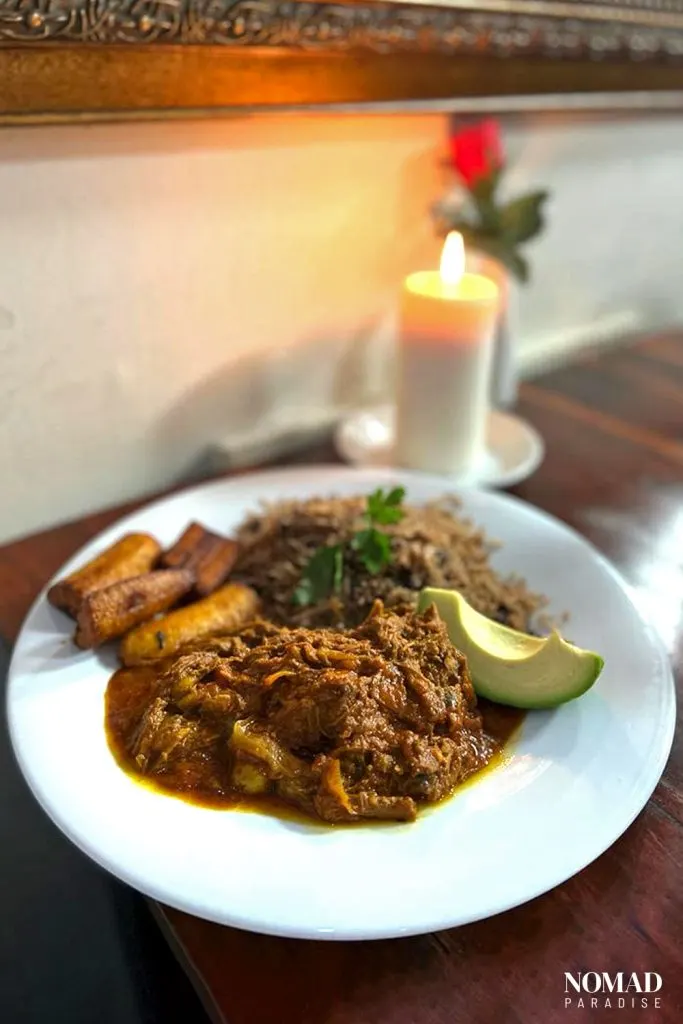 This famous dish's name can certainly strike people as odd. Cuban ropa vieja literally translates to "old clothes," but it certainly doesn't taste like, well, whatever old clothes taste like!
Ropa vieja is actually the national dish of Cuba, and there's a rather sad legend tied to it. The legend goes that an old man was once so poor he did not have any money to feed his family. He had no choice but to take his old clothes, shred them apart, and cook them.
While the clothes were cooking, the old man said a prayer, and a miracle occurred: the clothes turned into a stew! With this new meat stew, the old man could now feed his family. This is just a legend, of course, but it does explain the odd name.
Nevertheless, it's no wonder this slow-cooked shredded beef is the island country's national dish. Cooked with beef broth, tomato sauce and paste, peppers, onions, and many more flavorful ingredients, ropa vieja is an entrée worth waiting for.
12 – Boliche
Another classic Cuban beef entrée is boliche or Cuban pot roast. It is made from the eye of round roast beef, and it's a traditional delicacy stuffed with Spanish chorizo and olives that pairs so well with other Cuban side orders, such as arroz con frijoles (rice and beans).
The meat is left to marinate overnight in a mixture of savory citrus juices, which will leave it more tender. The next day, the chorizo and green olives are added inside, and then it is slow-cooked.
Although it can be time-consuming, it is a very easy dish to make with little mess. If using efficient time management (good things take time), the boliche can be marinated and cooked fully, and it will be added to the recipe book as one of the softest yet most flavorful meats of all.
13 – Sandwich Cubano
It doesn't matter if the Cuban restaurant in question is full-service or fancy; the sandwich Cubano, or also known as just Cubano, will be there, at the top of the sandwiches' list.
This is a classic combination of roasted pork, ham, Swiss cheese, mustard, and dill pickles in a mouth-watering crunchy, buttery bread. It's basically a variation of the typical ham and cheese sandwich, but it's certainly not one to miss out on.
It is said that the Cubano was invented as a snack for immigrant cigar workers in Ybor City in Tampa, Florida. The Cubano has had such an impact on the city that the Tampa city council established it as the city's signature sandwich back in 2012!
So, whether it's at a get-together, at home, at a party, or at a bakery or restaurant, one bite of the Cubano will leave one feeling like they're in a tropical, Latin paradise.
14 – Vaca Frita
This entrée may sometimes be confused with ropa vieja, and although the ingredients are similar, the texture and flavor are different, yet still so delicious.
It does share an odd name, though, just like the ropa vieja. Vaca frita literally translates to "fried cow," and it's a Cuban dish of pan-fried, shredded skirt steak, most often served with white rice and black beans.
As opposed to ropa vieja, vaca frita is of tougher consistency since it is "fried" in a pan, but it nevertheless has a great crunch and is packed with different seasonings and great flavor.
The meat is first parboiled and shredded apart once it becomes tender. Then, along with a variety of ingredients like lime juice, spices, garlic, onions, and more, it is "re-fried" in the pan. It might have a similar origin to that of ropa vieja, but vaca frita certainly carries its own reputation of being one of the most preferred dishes among Cubans.
15 – Arroz Imperial
No traditional Cuban event goes without arroz Imperial, or Imperial rice. It's typically eaten as either a side dish or an entire entrée; but no matter which is preferred, there's no doubt that this is one delightful, chock-full of ingredients, gorgeous Cuban meal.
There are too many ingredients to even list here, but a typical arroz Imperial will often contain onions, green peppers, tomato sauce, peas, mayonnaise, cheese, chicken, and more, aside from the obvious rice.
The ingredients are layered on top of one another, similar to how a casserole is made, and then finished off with baked cheese on top. This is a great option to serve at events where buffet food is available. What a creative culinary invention!
Cuban Desserts
16 – Arroz con Leche
There's regular old rice pudding, and then there's the Cuban-styled arroz con leche! A sweeter and richer version of the original rice pudding, this dessert feels like home for so many Cubans like myself.
It's incredibly easy to prepare at home but is also available in many Cuban bakeries and restaurants all around the island. It consists of rice, water, a cinnamon stick, both evaporated and condensed milk, vanilla extract, salt, crushed anise seeds, and a lime peel.
The water, rice, and lime peel are boiled first and then reduced to a simmer, while the cinnamon stick and anise are boiling with water in another pan. The mixture is then strained for that awesome, flavored water.
After removing the lime peel from the first pot, the evaporated and condensed milks are gradually stirred into the rice, and then the flavored water is added along with the vanilla and salt. After stirring for several minutes and the correct consistency is reached, the famous Cuban arroz con leche dessert will be ready to enjoy.
Read more: Arroz con Leche Recipe
17 – Cuban Flan
There might be different varieties of flan desserts from different countries, but the Cuban flan is definitely one of the most flavorsome. Also known as flan Cubano or flan de leche (milk flan), it is the perfect mix of sweet and fluffy without being drowned in syrup like some other flans tend to be.
The difference is in the use of evaporated and condensed milk, which leads to a creamier custard. Because of these ingredients, it's also faster to make. Not many ingredients are involved, making it an easy dessert to make at home: it needs eggs, cinnamon, salt, vanilla extract, and condensed, evaporated, and whole milk.
The caramel syrup that's layered over the flan once it's done is made by mixing sugar and water together in a pan until the mixture achieves that iconic sticky consistency. Flan Cubano goes quickly at Cuban parties because guests just can't get enough of it after a hearty meal!
18 – Dulce de Leche Cortada
This one might be a little bit of a soiled surprise, but it's so worth it. Dulce de Leche Cortada, or Sweet Curdled Milk Dessert, is a dish of milk that has gone bad boiled in a saucepan, followed by a splash of white vinegar – yes, weird combination, but it gets better!
After taking the pan off the stove and letting it sit for around 2 hours, the extra whey will be removed in order to get a shorter cooking time in the next step. In a separate pot, white sugar, brown sugar, and the excess whey will be boiled, and then the cinnamon sticks and curdled milk can be added. Once ready, the dish is best enjoyed cool.
This may be a funny-sounding dessert, but it is a staple in many Cuban households despite the preparation time because it is just so delicious and reminds them of their home country. The texture has a great mix of softness with a little bit of crunch and is wonderfully sweet and creamy.
19 – Turrón Cubano
This is another fun treat that you'll find in many grocery stores, and not just Cuban ones. This is actually a European dessert, but many Latin countries, including Cuba, have adopted a different version of it for their own.
A turrón can be thought of as a peanut butter nougat or nutty sweet bar that is normally made of honey, sugar, egg whites, almonds, and cinnamon. There are many variations of turrón, such as yema (with egg yolks instead of just egg whites), jijona (a soft variation), alicante (a hard variation), and more.
Essentially, these are all the same types of nougats, but they can all contain slightly different ingredients enough to change the overall flavor and texture of each individual one. It's an especially popular treat around the holidays.
20 – Cuban Coffee
So why is this in the section for desserts? Because EVERY meal ends with Cuban coffee! It is literally saving the best for last, just like in this article.
Cuban coffee is the ultimate staple in every Cuban household, bakery, restaurant, and grocery store. Cuban Coffee is normally taken as an espresso shot made with very strong, dark roast ground coffee. Of course, in this form, it's much too bitter and strong (yet some Cubans like it like that!).
So, when the first few drops of coffee come out of the machine, it is taken with sugar and stirred around many times to form a sugary foam known as espumita. I assure you, the espumita alone is heaven!
Traditionally, people drink Cuban coffee in one of three ways after a meal. A colada is just the coffee with the sugary foam taken as a shot, usually poured into tiny plastic cups for sharing.
A cortadito is this same coffee shot but with steamed milk. The serving size is not much bigger than 5-6 ounces, and it's normally an even balance of coffee with milk, so it tends to be on the darker side.
Finally, there is the café con leche which is a smaller amount of coffee served with hot steamed milk. Whichever way it is served, it makes for an excellent end to an excellent meal.
Cuban Foods Summary
A cuisine bursting with vibrancy, sweetness, spice, and fusion, Cuban foods are some of the Caribbean's and North America's most wonderous culinary discoveries.
There is so much to get excited about when it comes to the foods of Cuba. Plus, with the country's unique geography, surrounded by blue waters and basking in tropical heat, there's an abundance of ocean-fresh seafood and ripe, juicy produce in all of the country's most beloved dishes. You really are in for a treat!
You Might Also Like to Read
Save and Pin for Later
Keep these Cuban foods for safekeeping by saving this article to one of your foodie travel Pinterest boards.
Author: Jennifer Martinez is an avid creative writer, passionate about various topics, especially culture-specific foods and traditions. As a food lover herself, she enjoys creating unique dishes in her free time.