This post may contain affiliate links, meaning if you book or buy something through one of these links, we may earn an affiliate commission at no additional cost to you. Learn more
Fusing refreshing fruity flavors with rich, hearty staples, these Latvian desserts are proof that even the most simple and humble of cuisines can bring scrumptiously sweet dishes to the table, no matter what time of year it is.
Prepare to see Latvia in a new light as we explore this beautiful country through 20 of its most popular and traditional sweet dishes, which will have you reaching for the dessert spoon in no time!
Latvian Desserts
1 – Ābolu Plātsmaize – Apple Flatbread
Ābolu Plātsmaize is a classic Latvian flatbread that can be made with a range of ingredients, including berries, bananas, and even cottage cheese. However, for many Latvians, apple flatbread is the go-to for a much-desired rich and sweet treat.
The flatbread is made from a dough of kefir, sugar, and eggs. It only takes around fifteen minutes to bake, and once ready, it is topped with sour cream, cinnamon, and sliced apples, or a wide range of other fruits depending on preference.
Easy to make, and so delicious, do not miss this beloved dish when traveling through Latvia.
Get a Latvian apple flatbread recipe here
2 – Sklandrausis – Sweet & Savory Pie
Sklandrausis is considered one of the national dishes of Latvia. So much so, the dish even dates back to the 16th century.
It is a sweet and savory pie, known to be made in every home on every possible occasion. The pie is renowned for its pleasant, sweet taste of rye bread and carrots.
To bake Sklandrausis, you first roll out unleavened rye flour dough, then mix in potato, followed by carrot. Once fully baked, Skandrausis is served with sour cream, sugar, cumin, and cinnamon. The pie is best eaten cold with milk.
Get a Sklandrausis recipe here
Fun fact: Sklandrausis has been granted 'Traditional Speciality Guaranteed' status by the European Commission.
3 – Rupjmaizes Kārtojums – Rye Bread Arrangement
Rye bread is one of Latvia's most important foods, and Rupjmaizes Kartojums puts this staple at the forefront of Latvian cuisine. The dish combines whipped cream, rye bread, and other sweet treats to create a multilayered sweet dessert.
Assembled in a glass or jar, a rye bread layer is sandwiched between jam and whipped cream, and the process is repeated until the jar or glass is full.
A berry garnish and grated dark chocolate enhance this sweet, filling dessert. It is chilled for an hour or two before serving.
4 – Rupjmaizes Zupa – Rye Bread Soup
Rye bread soup is undoubtedly the top dish to try on our Latvian Deserts tour. It is a native Latvian dish, and we say it without any doubt: you should definitely try it.
Traditionally, Rupjmaizes Zupa is made by roasting chunks of rye bread (or 'Black Bread' as it's known in Latvia), then boiling and simmering the chunks in water.
Once prepared, the soup is left to cool, before being garnished with various dried fruit and berries, such as apples, raisins, and plums.
This whipped cream-topped dessert is a favorite among millions of Latvians. The dish is a perfect introduction to the distinctive flavors of Latvian cuisine.
5 – Pankūkas – Pancakes
The region of Zemgale, with its fertile plains, is renowned for its various crop productions, including wheat and rye. This makes it the ideal place to try Latvian pancakes.
Zemgale is home to an array of different types of pancakes, baked from various flours, including rye, wheat, barley, oats, buckwheat, and even peas.
In Latvia, pancakes are usually served with homemade jam, honey, and fresh warm milk straight from the farm. So if you visit this region of the country, you simply must try the pancakes. Keep your eyes peeled for buckwheat pancakes in particular.
6 – Gogelmogelis – 'Hugger-Mugger'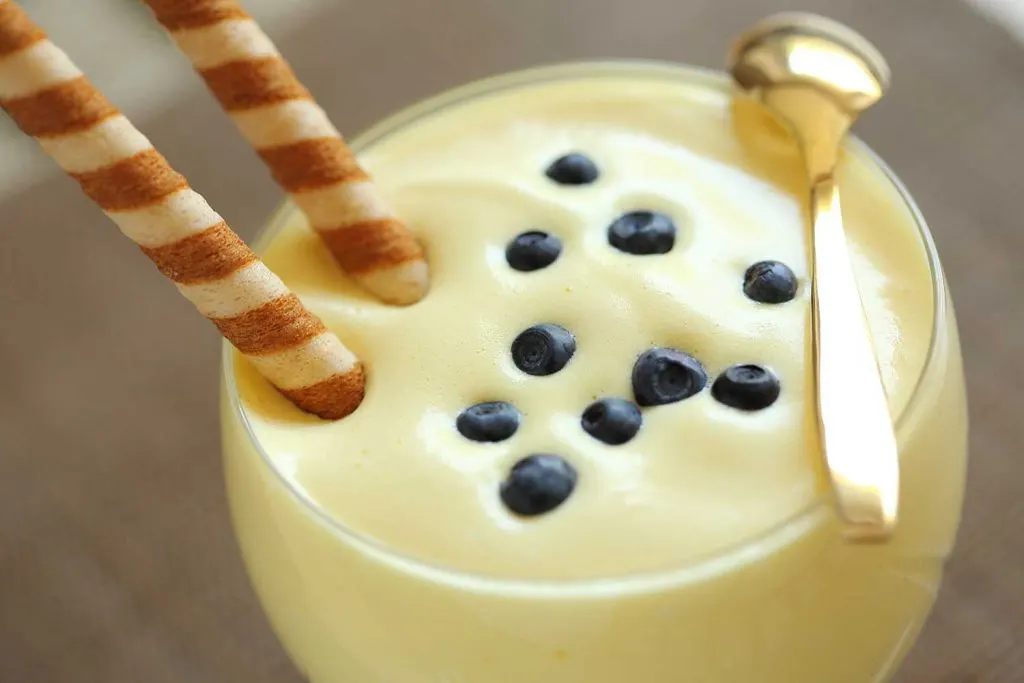 This delicious, thick egg drink known as Gogelmogelis is made of egg yolks beaten with sweet wine and sugar. If you like, you can also add a little milk and a pinch of nutmeg or cocoa.
The origin of this beloved drink is widely debated, but some believe the dish was the brainchild of a singer from the Mogieļeva Synagogue choir. His surname was Gogels and it's believed he lost his voice, and to speed up recovering it whipped egg yolk with salt and salt, then drank it.
While the origins of Gogelmogelis are widely debated, there's one thing Latvians can agree on: it's sweet, rich, and delicious.
7 – Dzērveņu Debessmannā ar Pienu – Cranberry Mousse with Milk
Debessmannā in Latvian means 'Heavenly Manna', and it is said the first-ever Debesmmanā was created by whipping together clouds from the Latvian sky, due to the dessert's majestic airiness and heavenly taste.
Adding fresh, vibrant cranberries gives it a tart kick, and when mixed with cold milk, it provides needed refreshment on hot summer days.
8 – Skābeņu Saldējums – Sorrel Ice Cream
If lemon is your friend, then sorrel ice cream will be your ally, too! Traditionally, sorrel was used for therapeutic purposes, such as against zing and other avitaminosis.
From the same family as rhubarb and buckwheat, this delicious green plant fuses the flavor of rhubarb with the tartness of lemon. It's so popular, it is even a flavor of ice cream!
To make this delicious dish, the sorrel is first washed, the stalks cut, and then mixed with natural yogurt. The mixture is then passed through a sieve.
While the mixture sits, a sugar syrup is made by boiling sugar with glucose, then adding vodka. Once prepared, the syrup and the sorrel yogurt mixture and blended, let to sit, and finally frozen, to create a truly unique and satisfying ice cream. Served with fresh sliced strawberries, this is a Latvian dessert that cannot be missed.
Blueberry and strawberry soup with dumplings is a classic summer dessert, and I have vivid recollections of my grandmother preparing this for me during the hot summers.
Essentially, this dish shares similarities to a fruit smoothie. It is made by first blending berries, then adding sugar, and boiling the resultant mixture.
The dumplings are made from a simple mixture of cornflower, butter, and milk, and paired together this unlikely combination is rife with nostalgia for so many Latvians.
10 – Šokolādes Desa/'Salda Brunete' – Chocolatte Salami/'Sweet Brunette'
Chocolate salami or 'Sweet Brunette' is a hearty snack that is very easy to prepare. Where I'm from in Latvia, you can guarantee this will disappear fast at any buffet or gathering!
Each bite of the salami is packed with surprises. Whether you're treated to the sweetness of the marmalade sugar, the sour notes of cranberry, or the nuttiness of kernel, this is a delicious chocolate treat that's adored by so many Latvians.
It can be prepared as a large cake for a special occasion, or simply enjoyed as a post-meal treat with hot coffee.
Try our similar Lithuanian chocolate salami recipe here
11 – Medus Kūka – Honey Cake
While honey cake is a popular dish in Russia and Eastern Europe, Latvian honey cake is made special by the use of Latvian honey, which is renowned for its special healing properties and health benefits.
Medus Kūka, or honey cake, is one of the most popular cakes in Latvia, often found in confectioneries, cafes, and restaurants.
It is made by assembling honey biscuit bases between layers of sour cream and sugar. Once assembled, the cake is garnished with bread crumbs and nuts, and is a dish of both breathtaking decadence, and sumptuous flavor.
This is my absolute favorite Latvian dessert – I can eat it at any place, any time! When you visit Latvia, you simply have to try it.
Try our Russian Medovik/Honey Cake recipe here
Everything ingenious in this world is very simple, exactly like this delicious Latvian summer dessert. Wild strawberries are picked during a short window of mid-June to late-July in Latvia and are an excellent source of potassium and fiber.
As long as you have fresh strawberries, single cream, and a little sugar on hand, you can prepare a dessert in literally five minutes.
Once the strawberries are rinsed and the calyxes removed, they are simply blended together, and topped with sweet whipped cream. Some Latvians like to add sugar, but for me, the dessert is already sweet enough.
Of course, instead of wild strawberries, you can also use raspberries, blueberries, or any other forest gifts that taste fresh, sweet, and delicious.
13 – Auzu Pārslu Biezputra – Oatmeal
In Latvia, oatmeal porridge is served for lunch as a sweet dish. It is well-known oatmeal is packed with goodness, such as vitamin E, which is a natural antioxidant, vitamin B, and useful minerals (magnesium, potassium, zinc, phosphorus), and all of this goodness is retained during heat treatment.
We in Latvia eat our Auzu Pārslu Biezputra with fresh fruits, homemade jams, or honey.
A little tip: to avoid damaging the nutritional value of oatmeal porridge, do not add sugar. Choose fresh or dried fruit instead. Note that the fruit, unlike flakes, contain vitamins, which disappear during the heat treatment, so it is better to add the fruit when the porridge is ready.
14 – Šokolādes Aveņu Pudiņa Kūka – Chocolate Raspberry Pudding Cake
This cake is a true testament to the widely shared belief that chocolate and raspberries are a marriage made in heaven. This beloved cake is a real firecracker of a dessert, which each mouthful tart, rich, juicy, moist, light, and intense, all at the same time.
Yes, you heard me right, all these flavors in one bite! When served with a scoop of ice cream and fresh wild raspberries, it truly is a recipe for a perfect day and perfect dessert.
15 – Auzu Pārslu Cepumi – Homemade Oatmeal Cookies
Auzu Pārslu Cepumi are filling and nutritious oatmeal cookies, and are a much-loved homemade snack for so many Latvians, particularly when you need a little extra energy during the workday.
Extra Tip: These cookies can be stored chilled in a closed container or even frozen, tightly sealed in a zip-top bag. You can take them to work or eat them before a workout.
16 – Ķirbju Plācenīši – Pumpkin Scones
If you look through old Latvian cookbooks, you will notice that the recipes contain a lot of root vegetables, salads, and legumes.
Despite being a dessert, pumpkin scones are no exception, shining a light on a popular vegetable in a dish that is aromatic, sweet, and airy – exactly how oven-baked pumpkin scones should be made.
Usually baked with apples and cottage cheese, these heavenly scones will fill the house with such a mouthwatering aroma you won't be able to resist!
17 – Ūdens Kliņģeri – Water Pretzels
Traditionally, water pretzels were an everyday food in Latvia, available in all bakeries. My grandma's favorite way to eat them was with butter, hemp, cottage cheese, and honey.
Nowadays, you can find Ūdens Kliņģeri in bakeries around the city of Cēsis (Vidzemē), which is around a two-hour drive from Riga.
18 – Peldošās Salas – Floating Islands
This is a delicious dessert for lovers of gourmet food. Floating islands, tradtionally, are enjoyed with vanilla sauce. In the summer, the dessert is often decorated with fresh seasonal berries.
French by origin and popular in Latvia, floating islands consist of milk, eggs, and sugar. But while its ingredients sound simple, its preparation is most certainly not, and the dish takes practice and patience to perfectly craft.
In Latvia, the best way to enjoy floating islands is to order them at one of the Old Town restaurants.
Latvian Desserts Summary
There's so much joy and flavor to be had when it comes to the sweeter side of Latvian cuisine. Despite being a cuisine built on simple ingredients, the textures, tastes, and diversity in the dessert dishes are truly breathtaking.
When you visit Latvia, scour the local eateries and bakeries to try these sumptuous sweet dishes. You won't regret it.
If you're lucky enough to befriend locals, ask them to point you in the direction of the best places to get these desserts. They're bound to know some gems for you to scoff until your heart's content!
You Might Also Like to Read
Save and Pin for Later
Want to keep all these delicious Latvian dessert picks in a safe place? Save this article and pin it to one of your Pinterest food boards. That way, you'll always be able to find these delicious foods.
Contributor: Lauris Rozentals is a UK-based Latvian translator and content creator, with a deep passion for his native cuisine and culture.