This post may contain affiliate links, meaning if you book or buy something through one of these links, we may earn an affiliate commission at no additional cost to you. Learn more
Looking for a fun, fascinating, and memorable place to visit in the UK? These photos of Gloucester show this historic and exciting city in all its raw beauty.
Enjoy a drink on the banks of the canal. Delve into the absorbing history of this once-Roman-occupied settlement. And make plenty of memories in a city that has so much to offer, as these captivating photos show.
Photos of Gloucester
Gloucester Docks, with its iconic red-brick warehouses, has been renovated over the last few years to become a place for dining, shopping, and plenty of museums that show Gloucester through the ages.
However, as these ruins nestled amid the grass show, there's still plenty of areas in the quays and along the river that time has passed on by.
Graffiti beneath one of the bridges that arches over the canal.
Boats of all kinds, including the colorful, often creatively named canal boats, are a common sight when walking the banks of the canals.
A derelict red-brick warehouse, a unique snapshot in time back to Gloucester's time as a thriving port, is fenced off for renovation.
The National Waterways Museum, standing proud in the docks, is a fine example of how some of the warehouses have been renovated to promote the city's history, heritage, and culture.
Newly renovated apartments, a stone's throw from Mariners Church in front of various warehouses, are just one of many examples where old and new collide in the city.
The Candle, a sculpture by Wolfgang Buttress in Victoria Dock, reaches into the bright sky. The sculpture is a testament to Gloucester's history in shipping and industry, resembling the shape of a mast, crane, and chimney.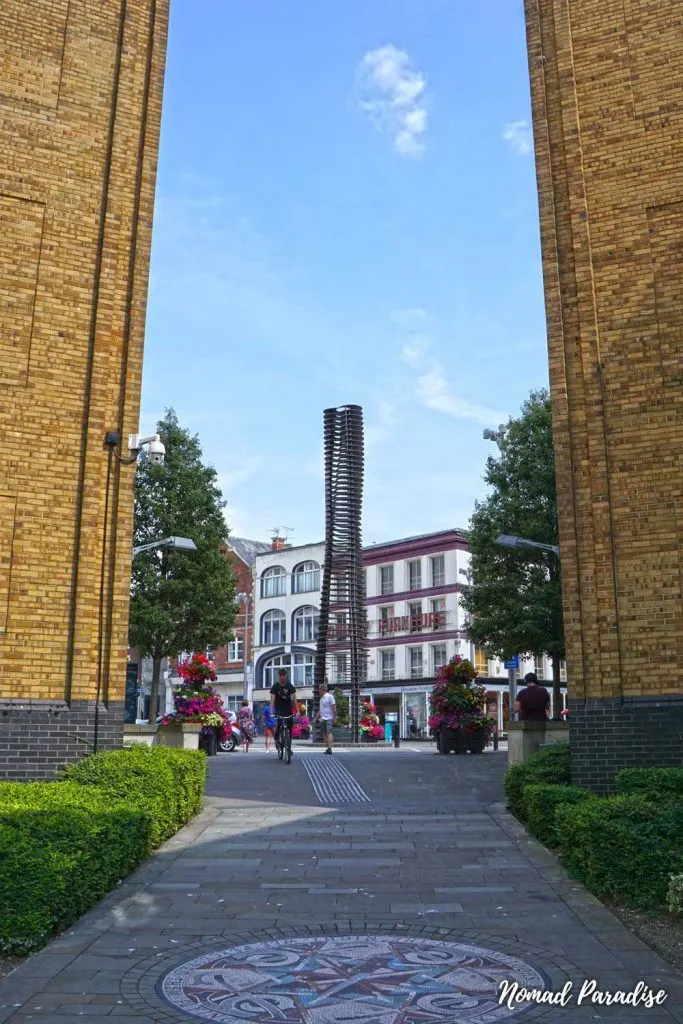 Turn around, and Kyneburgh Tower, a beautiful steel sculpture designed by Tom Price, marks the point where Gloucester Quays and the city center officially meet.
A beautiful roman numerals clockface glistens against the sunlight on Southgate Street, one of the streets that runs through the heart of Gloucester's city center.
Gloucester Library and its magnificent exterior is a great place for education, arts, and live music, next to the Museum of Gloucester, pictured below.
The remains of Greyfriars, an English Heritage site and a beautiful relic of Gloucester's Tudor-era past.
A grand red-brick house, shrouded by greenery, on Hampden Way.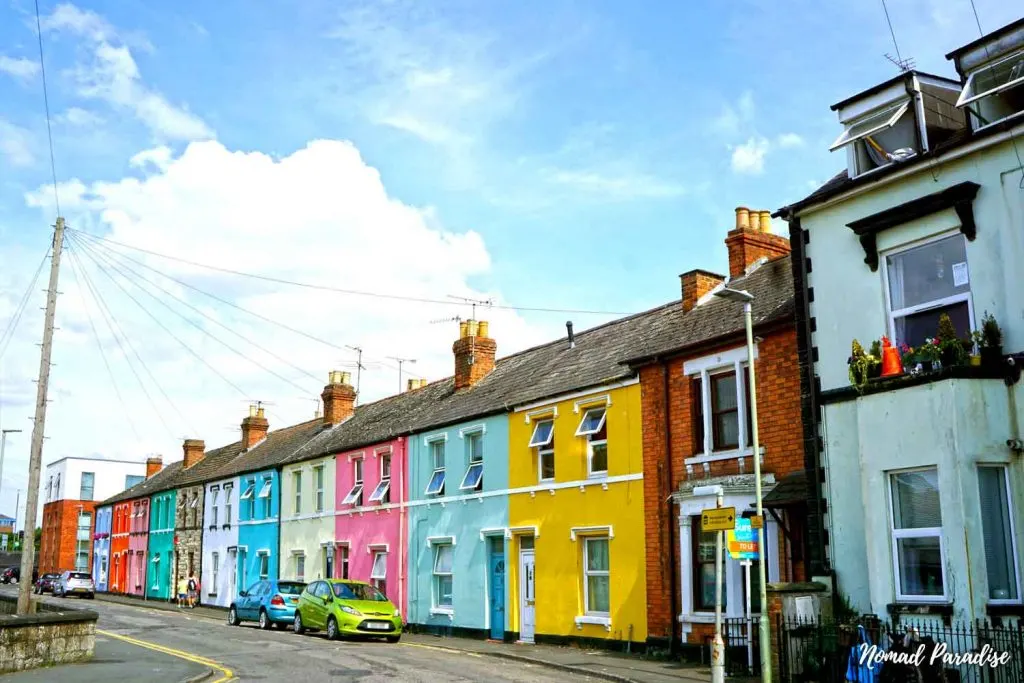 Just off the main drag of the city center, the colorful houses of Nettleton Road provide the perfect opportunity for plenty of Instagrammable shots.
Some gorgeous vintage typography signage for a tattoo parlor in the city center. Plenty of independent shops and services can be found in the alleys and streets of the city.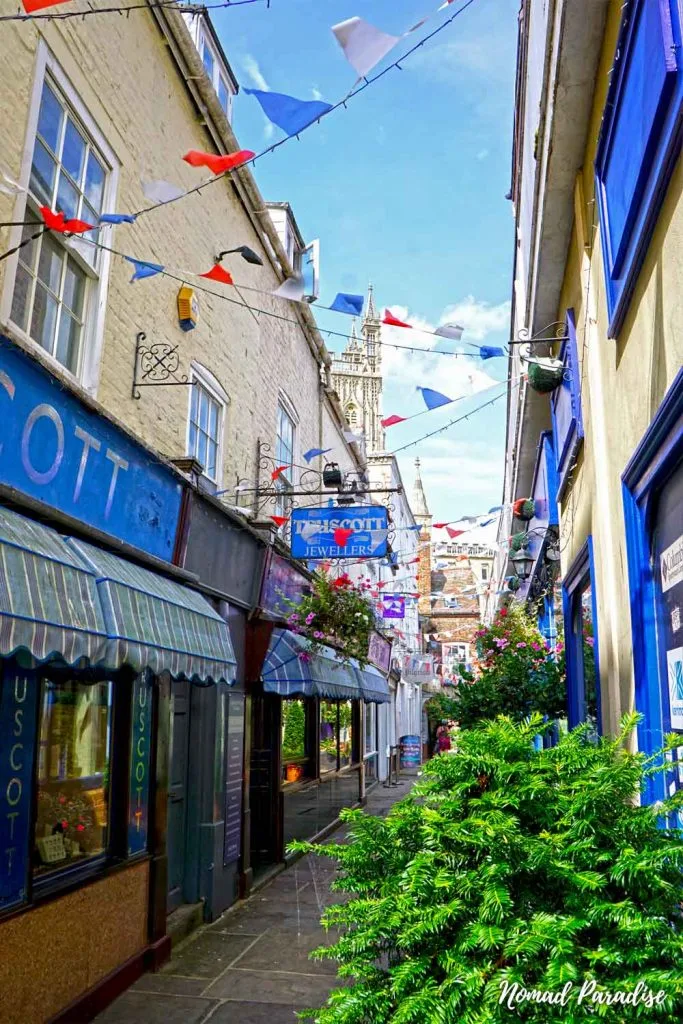 Stroll down the cobbles of College Court, and you'll find the quaint little museum The House of the Tailor of Gloucester, where you can learn all about beloved children's author Beatrix Potter and one of her most popular novels.
Undoubtedly, Gloucester Cathedral is the landmark that steals the limelight, with its grand architecture and surrounding scenery. Its stature will leave you breathless.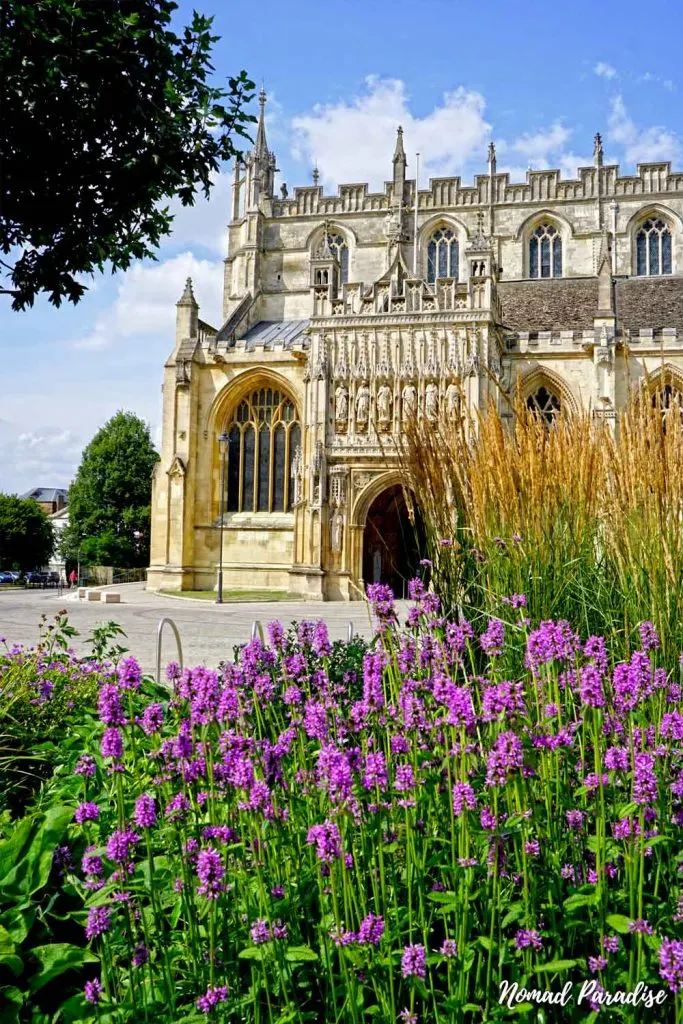 A view of the cathedral through the nearby flowers on a gorgeous summer's day.
Grand, historic architecture is prominent throughout Gloucester. From the warehouses of the docks to Gloucestershire Shire Hall, nearly every building in the city has its own story to tell.
Speaking of stories, The Folk of Gloucester, with its gorgeous Tudor-era architecture, is a museum filled with intriguing stories and insight into life in Gloucester through the ages.
And when you're done exploring, an evening sat at the waterfront watching the canal boats sail on by is a great way to finish your time in Gloucester.
Photos of Gloucester Summary
Wherever you look, beauty, history, and heritage are all around you in Gloucester. This is a truly unique place and one that has so much to see and do.
These photos show Gloucester in its many different forms. From its ancient Roman fortress ruins to its Tudor-era terraced buildings and through to its modern-day waterfront restaurants, this is a city that anyone can find something to fall in love with.
You Might Also Like to Read
Save and Pin for Later
Get inspired to plan a future trip to Gloucester and the United Kingdom, by saving this article to one of your travel inspiration Pinterest boards.
Author: Dale Johnson is a British content writer, graphic designer, and photographer, who loves exploring the UK by train and car and documenting the wonders and beauty he sees on his travels.