This post may contain affiliate links, meaning if you book or buy something through one of these links, we may earn an affiliate commission at no additional cost to you. Learn more
A city steeped in charm and history, these are some of the best things to do in Gloucester, England to make your trip to this historic inland port a truly memorable one.
From waterfront drinks to Tudor-era relics, fascinating trips through history to contemporary arts in cozy theatres, Gloucester has a little something for everyone. Plan your trip there with confidence, and use our guide to make sure no stone is left unturned.
Things To Do Gloucester
Gloucester City
1. Dine and Shop in Gloucester Quays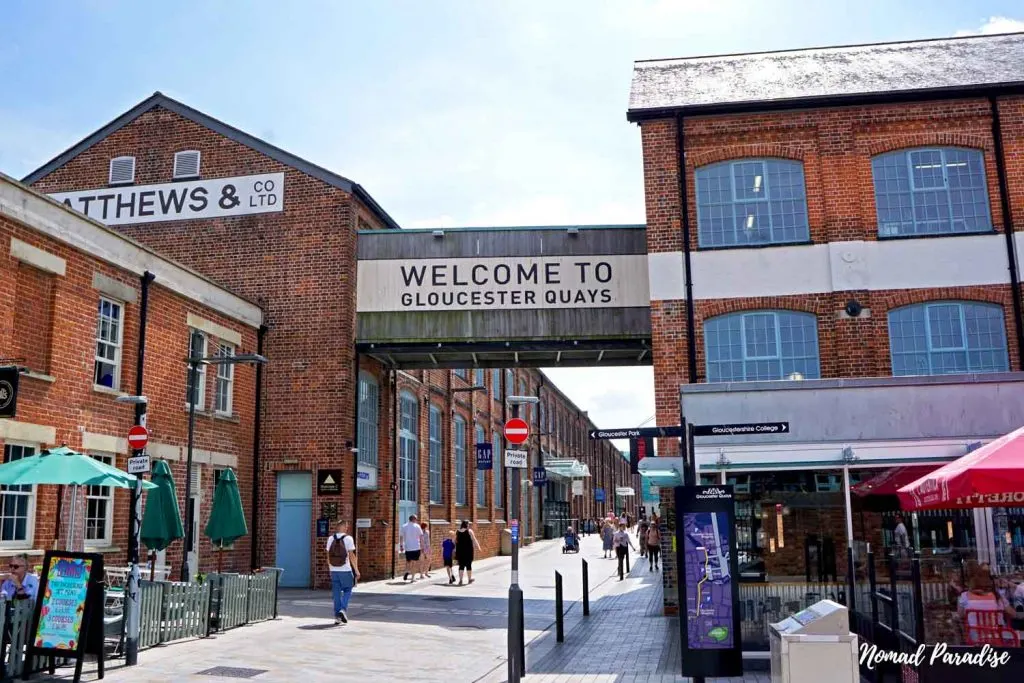 For all your shopping and fine-dining needs, along with plenty of opportunities to enjoy the beauty of Gloucester and its canal, Gloucester Quays has so much to offer.
An area that was once at the heart of Gloucester's manufacture and shipping industry, today the Quays is the hottest place in the city for dining, evening drinks overlooking the waterfront, and plenty of designer shopping in the newly built mall.
There's also an ice rink, food markets, and plenty of seasonal activities to enjoy throughout the year.
2. National Waterways Museum
Intrigued to learn more about the history of the UK's most inland port? If so, a trip to the National Waterways Museum is simply a must-add to your itinerary.
The fascinating museum, housed within the walls of an iconic Grade II listed grain warehouse in the docks, showcases over 200 years of history.
Packed with facts, interactive experiences, and literature, this is a unique and relaxed way to spend an afternoon on your own, with a partner, or with the family.
3. Explore Gloucester Docks
Defined by the iconic red-brick architecture of the once-bustling warehouses, Gloucester Docks is a fascinating place of old and new colliding.
The National Waterways Museum and Soldiers of Gloucestershire Museum are just two of the places where you can take a trip in time and learn all about the history of this fascinating place.
But simply walking through this area will delight you with many beautiful sights, from ducks on the water, to the peak of The Candle reaching into the sky.
Enjoy a hot drink in one of the quaint coffee shops. Take a seat on the banks and watch the canal boats on the water. And soak up the colors, energy, and beauty of this intriguing piece of the city's history.
4. Soldiers of Gloucestershire Museum
A museum that provides a heartwarming insight into the lives of soldiers and servicemen from Gloucestershire over the last 300 years, you can spend hours in the Soldiers of Gloucestershire Museum and not realise how quickly time has passed by.
From snapshots into the lives of soldiers in the First World War trenches to survival techniques used by soldiers fighting in the desert, there is so much to see, do, and learn in the museum.
Complete with interactive exhibitions and fun games for kids, this museum is time well spent in Gloucester.
5. Greyfriars
Pass the Kyneburgh Tower and you're into the city center, where many of Gloucester's historic gems await to be discovered.
Greyfriars is practically a step back in time to Tudor-era Gloucester, and these remains of a Tudor friary church you can simply walk past and through for free as you amble along Greyfriars Walk.
An English Heritage site, the remains are awe-inspiring to behold. Take a close, close your eyes, and imagine how grand the church would have looked, hundreds of years ago.
6. Museum of Gloucester
Take a trip back in time to the origins of Gloucester, from its time as a Roman settlement through to the Medieval era within the walls of the Museum of Gloucester.
There are lots of artifacts, exhibitions, and art to see, while you can also explore the Eastgate Chamber and Kings Bastion, which reveal remains from those time periods, from several hundred to nearly two thousand years ago.
7. The Kings Theatre
An entirely volunteer-run theatre that puts on an array of amateur bespoke musical and theatrical shows, The Kings Theatre is very much a beating heart of the arts and culture Gloucester has to offer.
Shows run throughout the year, and an evening spent at this charming little 144-seater theatre is one well spent.
Whatever you enjoy, be it dance, live music, musical theatre, or contemporary arts, there's something for everyone to experience at The Kings Theatre.
8. The Colourful Houses of Nettleton Road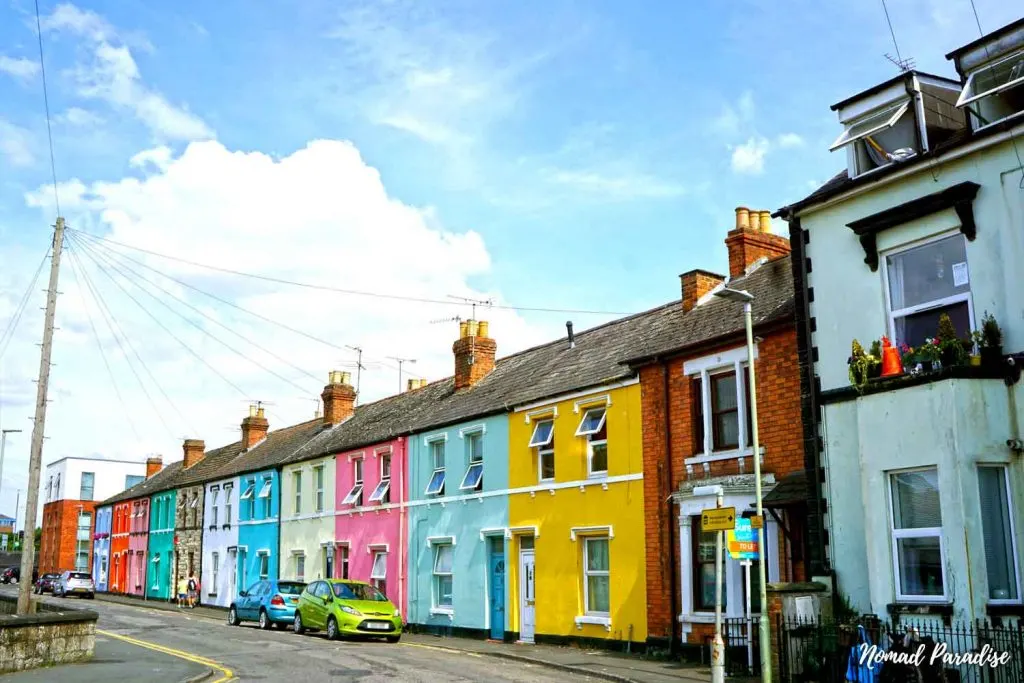 The brainchild of local artist Tash Frootko, the striking colors of the terraced houses on Nettleton Road are guaranteed to catch your eye if you stroll just off of Eastgate Street.
An ideal opportunity for photography and plenty of selfies, this is very much one of Gloucester's most Instagrammable spots.
9. Eastgate Viewing Chamber
Providing a snapshot in time to almost two thousand years ago, the Eastgate viewing chamber is fascinating to behold.
Through the glass, you can see some of the remains of the Roman fortress on which modern-day Gloucester is built upon.
A great place to learn a little about the origins of the site, it's also truly amazing to close your eyes and think that, two thousand years ago, Romans were occupying the area in which you stand.
10. The House of the Tailor of Gloucester
Beatrix Potter is of the UK's most loved and cherished children's authors, and this gorgeous little shop pays tribute to the author, her work, and the place that inspired her to write one of her most well-known novels, The Tailor of Gloucester.
11. Gloucester Cathedral
Gloucester Cathedral is arguably the jewel in the crown of Gloucester's most awe-inspiring landmarks. This magnificent structure was first built in 678/79, and was formerly the Church of St. Peter.
With its towering stained-glass windows, the cathedral is a sight to behold, both outside and inside. Whether you want to listen to the choir signing on weekends, or enjoy the beauty of the surrounding grounds, you simply have to visit this iconic landmark.
12. Folk of Gloucester
The Folk of Gloucester museum, previously known as the 'Gloucester Life Museum' is a charming hub of Tudor-era history, that plays host to a wide range of events, including theatre and food festivals.
The building's beautiful Tudor-era exterior is a joy to behold, and hours of fun and exploration can be had inside the museum.
13. Gloucester and Sharpness Canal
Want to enjoy a little nature and go for a stroll? The Gloucester and Sharpness Canal provides miles of scenic tranquility to immerse yourself in if you want to get away from the hustle and bustle of everyday life.
Watch the colorful canal boats sail by. Marvel at the old warehouses and bridges that span the canal. And soak up some afternoon sun on your own, with friends, or loved ones.
14. Kingsholm Stadium
The home of Gloucester rugby, if you find yourself in the city on a Friday evening or Saturday afternoon, it's definitely worth taking a stroll by Kingsholm to see if the Cherry and Whites are playing.
The people of Gloucester are passionate about rugby union and their beloved team, and while a small stadium, few come close to the passion and atmosphere that bubbles between the stands on matchday.
Surrounding Gloucester
15. Jet Age Museum
Ready to get aviation crazy? The Jet Age Museum is located around a 15-minute drive from Gloucester city center, next to Gloucester airport, and is home to some amazing exhibits.
Early jet engines are just some of the fascinating and impressive aircraft and aircraft parts on show. Whether you love aviation or just want to spend an afternoon experiencing something totally different, this awesome museum is well worth a visit.
16. Highnam Court Gardens
Around a 9-minute drive from Gloucester Quays lay the beautiful grounds of Highnam Court, a 17th-century manor house.
Restored to their former glory in the 1990s, Highnam Court gardens is a glorious place to spend a sunny afternoon. Marvel the many flower arrangements, sit on the benches and soak in the beauty, and enjoy the various sculptures, fountains, and installations throughout the gardens.
17. Alney Island Nature Reserve
Between Gloucester Quays and Highnam Court Gardens lie around 80 hectares of wetlands and meadows, home to an array of wildlife, known as Alney Island Nature Reserve.
You can walk for miles through the beauty, spotting everything from wading birds to dragonflies. There are magnificent views of the Severn Bore to behold, and ample time to spend with Mother Nature at her most raw and wonderous.
18. Barnwood Park and Arboretum
Around a mile and half east from the city center lie the rich, green grounds of Barnwood Park and Barnwood Arboretum, which are perfect for spending quality time in a truly beautiful nature reserve.
Have a picnic on the glorious green grass. Watch the ducks swimming on the pond. And see what other wildlife you can spot living in the trees and bushes that thrive in this luscious and much-loved area of natural beauty.
19. Robinswood Hill Country Park
Robinswood Hill Country Park is around a fifteen-minute drive from Gloucester Quays and encompasses a vast two-hundred and fifty acres of green and glorious Gloucestershire countryside.
See what wildlife you can spot on one of the many nature trails. Amble through the beauty and soak in the awe of the reserve. And marvel at the jaw-dropping view overlooking the park from the top of the viewpoint.
For a day truly immersed in the raw beauty of nature, you'd be hard-pressed to find a more rewarding nature reserve.
Bonus: Where to go Shopping in Gloucester
Gloucester provides plenty of opportunities for both independent and designer shopping. In the city center, both Eastgate shopping center and King's Walk are full of retail brands and designer outlets, along with plenty of options for food.
In addition, the newly built shopping center at Gloucester Quays, with several levels of designer shopping, and plenty of options for food and drink, is a great way to spend a whole day out.
You can shop until your heart is content, then enjoy delicious food and a cold drink with beautiful views of the waterfront.
If you're driving, you can also head to Westgate Retail Park and St. Oswalds Retail Park, both north of the city center, for out-of-town shopping options.
Things To Do in Gloucester, England Summary
One of the UK's most intriguing and historic cities, Gloucester has so much to see and do. Just walking along its shimmering canal and through its meandering streets will spring up plenty of surprises.
But as with every city, there are plenty of experiences that are simply not to be missed. Be sure to add these memorable things to do to your itinerary when you visit Gloucester, and you're in for an afternoon, day, or weekend of fun, splendor, and moments that will stay with you for years to come.
You Might Also Like to Read
Save and Pin for Later
Ensure your visit to Gloucester is full of fun and memorable experiences, by keeping this list of things to do for safekeeping. Save it to one of your Pinterest boards, ready for a future trip to Gloucester.
Author & Photographer: Dale Johnson is a British content writer, graphic designer, and photographer, who loves exploring the UK by train and car, and documenting the wonders and beauty he sees on his travels.