This post may contain affiliate links, meaning if you book or buy something through one of these links, we may earn an affiliate commission at no additional cost to you. Learn more
When many people think about visiting the UK, they instantly look at London. But there are so many other beautiful cities to visit in the UK, stretching far and wide.
From cozy seaside ports to grand, medieval settlements, British cities have charm, beauty, and awe by the bucket load. There really is something for everything.
Buckle up for an enlightening adventure across these glorious isles, as we stop by fifteen of the UK's most beautiful cities, in no particular order. London is just the tip of the iceberg!
Beautiful Cities to Visit in the UK
1. Cambridge
We start our tour north of London, in the idyllic city of Cambridge. World-famous for its prestigious university, Cambridge is a city with a rich history, dating back millennia.
Marvel at the grand architecture. Visit the campus of the world-famous university, whose alumni include Oliver Cromwell and Prince Charles. Discover so much about wartime Britain at the Imperial War Museum.
Or have a picnic in one of the city's many green gardens, and watch students and curious folk jog, cycle, and amble by in this historic university town.
Tours & Activities
Cambridge is such a lovely city to explore just by walking around, so a guided tour like this one is ideal for soaking up the atmosphere and seeing some of the iconic spots.
However, if you want to go a step further and really get a sense of what it is like to study at the world-famous university, this guided walking tour also gives you the chance to explore the historic King's College Chapel with a university student. That way, you experience the awe yourself and ask someone who studies there what it's like.
For a truly authentic experience, do as the students do and take a guided punting tour along the River Cam. Not only is this a great way to see the city, but you also get to try one of the city's oldest activities.
Places to Stay
To really immerse yourself in the aura and surround yourself with historic architecture, the University Arms has amazing views of some of the city's best spots, such as Parker's Piece. Or take a look at this gorgeous townhouse, which has a box office view of Jesus Green, right in the heart of the city.
2. Oxford
Northwest of London lies a charming, cozy city, home to the oldest university in the English-speaking world.
Oxford is an eclectic, cosmopolitan mix of tweed jackets, curious travelers, and students from all over the world, casting intrigued eyes over the various cultural attractions and modern art Oxford has to offer.
Go punting along one of Oxford's many tranquil canals. Explore thatched-roof pubs, grand museums, and diverse art galleries. And visit its many medieval buildings, including the university and the Church of St. Mary.
Tours & Activities
You should definitely look to explore both the city and the university, and this walking tour is a great way to do so with a student who can give you access to parts of the university. You'll even get to see one of the Harry Potter film locations.
If you want to discover some of the city's hidden gems and lesser-known spots, this photo walk with a local is a great way to do it. You'll even get some tips on how to pose for photos!
And is there anything more British than seeing the city by boat with afternoon tea? Nope, there isn't! This river cruise hits plenty of Oxford's classic landmarks, and you can sit back, relax with tea and scones, and take as many photos as you like.
Places to Stay
Converting a Victorian-era prison into a boutique hotel is a very Oxford thing to do, so if that sounds right up your street, definitely take a look at Malmaison here.
For a luxurious trip back in time to stay like society's upper classes used to, consider Old Bank Hotel, with its marble bathrooms and countless paintings.
And, for pure convenience, this gorgeous apartment is right in the city center, giving you amazing access to all the bars, restaurants, and historic landmarks.
3. Manchester
A former industrial city, Manchester has evolved through the years into one of the UK's most vibrant, exciting cities.
The city has a rich, deep history when it comes to music. That has continued through to today, with a wide range of galleries and music venues hosting acts and musicians from all over the world.
Marvel within the fascinating museums. Stroll through tranquility alongside the canals. And enjoy plenty of arts, in the likes of the Manchester Art Gallery, and history across the UK's third-largest major city, ideal for both a city break and a longer stay.
Tours & Activities
Manchester is a city steeped in so much history, and this Travel Through Time tour is such a great way to learn about its industrial roots, its deep connection to music, movements like the Suffragettes, and so much more.
And if you're a football fan, there's no way you can be in Manchester and not take either a museum and stadium tour of Old Trafford or of the Manchester City Stadium. If you don't support one or the other and love your football, why not do both?
Places to Stay
After all that walking and exploring, you're going to want a little calm and relaxation. The Edwardian is in a great central location and has a spa, restaurant, and bar, so you can enjoy a well-earned massage and drink after spending a day in the city.
4. York
In the north of England proudly stands the grandiose cathedral city of York. Cobbled streets, scenic gardens, and glorious architecture define this beautiful place.
Awe at the Gothic Medieval buildings, and explore the likes of York Dungeon and York Minster. Have a drink in cozy, charming pubs.
Or soak up the energy and bustle of the unique shops and the wonderful people. York is a UK city steeped in history and soaked in charm.
Tours & Activities
If you have a little more time to spare, really immerse yourself in the gruesome history of York Dungeon with this pass and learn about some of the city's darkest stories. Then you can hit the streets with a private walking tour like this one, and a tour guide can tell you more about the fascinating history of York at a leisurely pace.
Want to take some great photographs of the city? A photowalk like this one with a local is a great way to spend the afternoon, and you can finish the day relaxing on the water with a one-hour long river cruise along the Ouse, allowing you to see even more of this beautiful city.
5. Edinburgh
Scotland's beloved capital city is a breathtaking mix of Gothic buildings with a modernist twist. There's so much art, beauty, and scenery to take in.
Uncover dainty stores and bustling markets as you wander through winding streets. Marvel and enjoy jaw-dropping landmarks, like Edinburgh Castle and the Palace of Holyroodhouse.
And if possible, visit in the British summer, when Edinburgh hosts the largest arts festival in the world: Edinburgh Fringe Festival.
Tours & Activities
Edinburgh has so much to see and do, so definitely spend your first day or two seeing the city sights. Edinburgh Castle is a must, and a skip-the-line guided tour like this one is a great way to do it and be informed. Also, consider a 24 or 48-hour hop-on-hop-off bus pass so that you can easily get around Edinburgh and see all of the top sights with a beautiful top deck view.
A whisky tour like this one is perfect for seeing the city through the eyes of a local whilst getting to try some of the best whiskies in the region. At the end of your trip, keep a day free for a day tour like this to see a lot more of Scotland, like the Highlands and the famous Loch Ness.
6. Inverness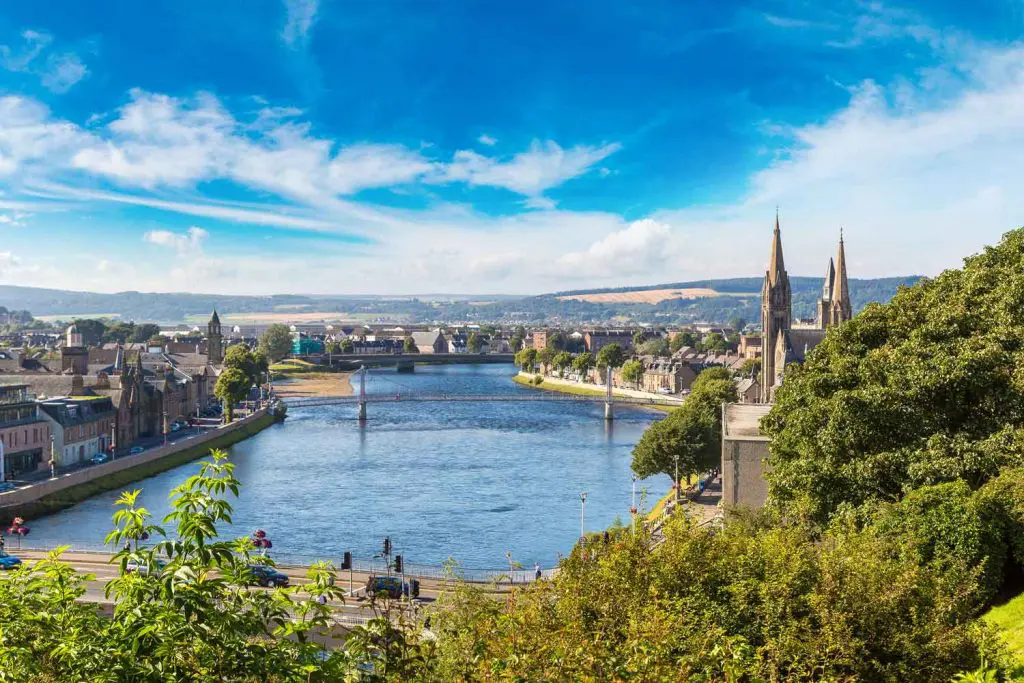 Deep into the Scottish Highlands, you'll find the idyllic cathedral city of Inverness. This delightful, green place is one of Scotland's gems.
Take a boat out on the river, and sail through scenic spots like the Ness Islands. Awe at grand buildings like Inverness Castle and St Andrew's Cathedral.
If you're really feeling adventurous, take a guided tour out onto Loch Ness, and see if you can spot the fabled Loch Ness Monster lurking beneath the surface!
Tours & Activities
Beautiful Inverness is just so scenic that a bike tour like this one is an amazing way to see the city and learn a thing or two from a local guide. Finish off a day of exploring with some whiskey tasting and traditional music with this highly-rated experience, and you've got an amazing day in Inverness lined up.
Because Inverness is so far north into Scotland, you simply have to spend some time in the surrounding areas. Definitely take a day tour to see Loch Ness because it's so close to Inverness, and keep at least another day or two free to take a tour to the Isle of Skye. I would also recommend renting a car and having a day or two driving through the magic of the Highlands to see what gems you can unearth.
7. Belfast
Across the Irish Sea lies Northern Ireland's vibrant, energetic, and beautiful capital city of Northern Ireland, Belfast.
Standing proudly on the River Lagon's sweeping banks, Belfast has green parks, plenty of bars and restaurants, and a glorious mix of Georgian architecture and modernist buildings, with the likes of Belfast City Hall being one of the must-see landmarks.
Splendor at the beauty of Belfast Castle. Learn about Irish history to the Titanic in one of the city's many museums. Or see the sights from a boat on the shimmering waters of the Lagon.
Tours & Activities
The political taxi tour is such a great and respectful way to learn about the troubled history of Belfast from a taxi driver and visit the likes of the Peace Wall. From there, you can keep things history-themed by visiting the site where the Titanic was constructed and learning all about the infamous ship and her ultimately fateful voyage across the Atlantic.
Outside of Belfast, the UNESCO site Giant's Causeway is a must-see, and this Game of Thrones full-day tour that will show you some of the filming spots along with Giant's Causeway is a great way to do it.
Finally, to cap off a memorable trip, there aren't too many things more Irish than this Irish bread-making class in an 18th-century Irish farmhouse!
8. St. Davids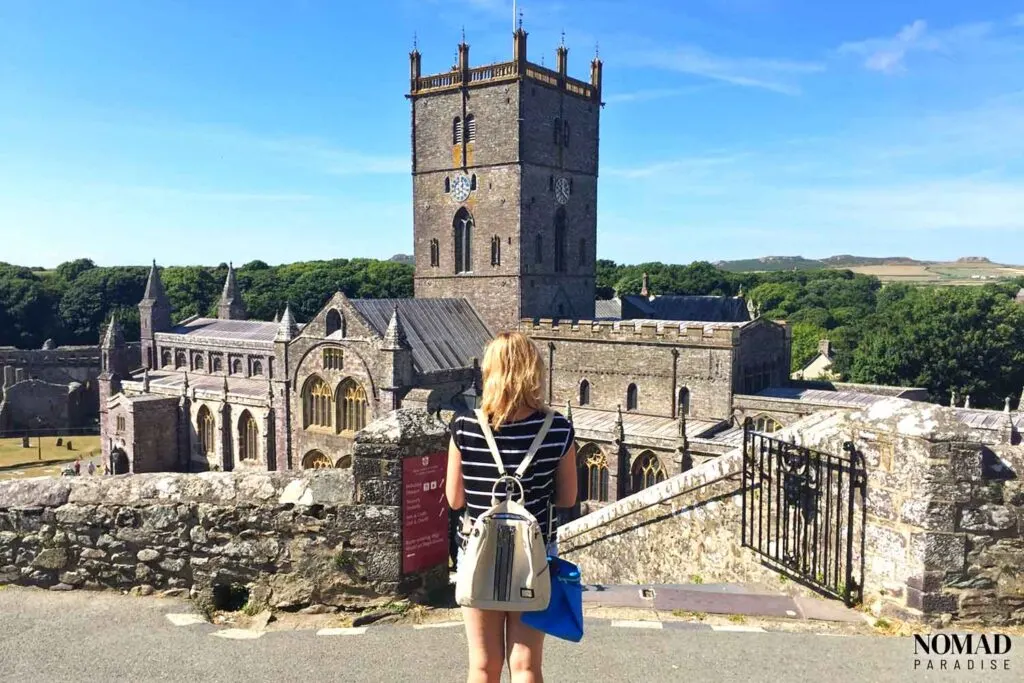 Amid the rolling hills of West Wales is the UK's smallest city, only granted such a title due to the presence of its grand cathedral: St David's.
This tiny little place of charm and beauty is defined by its stone walls and buildings, lively markets, and decadent greenery.
Awe at the magnificent cathedral. Enjoy afternoon tea in the green gardens of the pubs. And look out over the mesmeric landscape of Wales from atop the hills.
Tours & Activities
While St David's is a charming little place in its own right, it's so small you can visit it in an afternoon. So why not sign up for this epic 5-day tour of Wales and the South West and see St David's along with so many other amazing places, including Snowdonia and the Cotswolds?
9. Cardiff
Cardiff is the capital city of Wales. Once a humble port, delivering coal to fuel the Industrial Revolution all over the world, it's now a wonderful city with energy and vibrance.
There are plenty of things to do in Cardiff. Enjoy delights and boutiques in Victorian-era arcades. Visit the grand Cardiff Castle, located in the middle of the city.
And for plenty of live music, shows, and arts, take a trip to Cardiff Bay. This dockland of years gone by is now a hub of sleek, modernist architecture, and beautiful views of the water.
Tours & Activities
I'd definitely recommend the 24-hour hop-on-hop-off bus tour, which takes you all around the city to see the top sights, and can get you from Cardiff Castle in the north to Cardiff Bay in the south in no time at all.
While the city center has the history, Cardiff Bay definitely has the energy and allure of a more recently renovated area. A walking tour is a great way to experience the nature and beautiful buildings of the Bay and learn a thing or two about its history.
As with St Davids (above), Wales itself has so much to offer when it comes to history, nature, and experiences. That's why it's a great idea to clear one day in your itinerary and book a tour like this, that will leave from Cardiff and visit some of the surrounding areas, taking you to places like the Wye Valley and Chepstow Castle, all of which are more than worth a visit.
Read more: Best Things to do in Cardiff
10. Bristol
Bristol is a beautiful British city that has transformed into one of the country's most eccentric and exciting places and is very much the connecting hub of South West England.
Formerly a busy port, Bristol is draped in charm and wonder. Awe at the views over the Avon Gorge from the Clifton Suspension Bridge. Take a canal boat out onto the river.
And enjoy plenty of charming pubs, quirky music venues, and fun festivals in a city where arts, music, and innovation continue to thrive.
Tours & Activities
One of the best ways to see Bristol is by walking around because there's just so much street art, interesting buildings, and history. Sign up for a walking tour like this one, especially if they visit the Banksy artwork, and let a local tell you all about Bristol and how unique the place is.
The city also has a very special relationship with hot air balloons, so if time and budget allow for it, a hot air balloon ride, complete with champagne, can make for a truly memorable morning or evening. Oh, and on the subject of all things airborne, make sure you visit the Aerospace museum to see some awesome aircraft and tech, including the last ever Concorde to fly.
Read more: Best Things to do in Bristol & Beautiful Photos of Bristol
11. Bath
A stone's throw from Bristol, Bath is a stunningly beautiful city with rich, Georgian architecture, sweeping green gardens, and a unique connection to the Roman Empire.
Bath's iconic white color comes from a law that states all new buildings must be built with Bath stone, a local limestone.
Visit the famous Roman baths, where Roman soldiers would relax and unwind. Explore cobbled alleys and dainty shops. And gaze out at the Weir, and its mesmeric waters.
Tours & Activities
The 24-hour hop-on-hop-off bus is a great way to get your bearings on your first day and will give you a glorious bird's eye view of the likes of Pulteney weir. Plus, you can use the bus to get around.
You can't visit Bath without seeing the Roman Baths the city is famous for, so book a city walking tour and let a local show you where they are and tell you all about the history. And if you love your history a little more fictional, this Bridgerton-themed walking tour takes you around many of the filming locations of Shonda Rimes' popular Netflix series.
Finish your trip with a Prosecco boat trip along the River Avon, and you really will have spent your time in Bath living like a Roman Emperor!
12. Wells
Amid the vast, green landscape of Somerset sits Wells, another of the UK's smallest cities. This dainty place has stunning Gothic architecture and plenty of natural beauty.
Explore the grand cathedral and its centuries-old clock. Enjoy the sights in the idyllic Bishop's Palace Gardens.
And find plenty of quirky shops and boutiques amongst the winding alleys and streets. Wells has been the setting for several blockbuster films, including Hot Fuzz.
Tours & Activities
Wells is full of green spaces, grand architecture, and quirky shops, but taking a look inside its iconic cathedral truly is a must when you visit. Be sure you give yourself a good 30-60 minutes to explore inside because the interior architecture truly takes your breath away.
13. Brighton
No trip to the UK is complete without visiting the beach. Brighton is a lively, fun, and vibrant city, built amid the vast, rugged coastline of South East England.
Enjoy the sun, sea, and sand of Brighton's historic, lively seafront. Eat fish and drinks on the iconic Brighton Pier.
And take a trip along the coast to see some of Britain's jaw-dropping coves, headlands, and bays. Brighton is a UK city that has so much to offer.
Tours & Activities
There are two pretty amazing ways to see Brighton from above. The first is the British Airways i360, which gives you gorgeous panoramic views of the city. The second, if you're a thrill-seeker, is from the longest zip line on the English south coast – definitely not for the faint-hearted!
The hop-on-hop-off city sightseeing bus is also a good idea, as you can also use it to get around the city and get off at anywhere that looks interesting.
14. Canterbury
Southeast of London, you'll find the UNESCO World Heritage Site of the cathedral city Canterbury and remnants of its incredible history.
Between Canterbury's walls, enjoy scenic walks along the banks of the River Great Stour. Marvel at grand structures, like Canterbury Cathedral and St. Augustine's Abbey.
And when it's time to take a break, lie out on the green grass of the river banks, and watch the ducks, people, and the world go by.
Tours & Activities
Honestly, the architecture alone in Canterbury is enough to entrance you for an entire day, or even longer. So book yourself on a guided walking tour, and let a passionate local show you all the sights and tell you plenty of stories and secrets about the city.
15. London
Our fifteenth and final stop takes us to the world-famous British metropolis of fashion, culture, music, and business: London.
Wander the snaking banks of the River Thames, encountering some of London's iconic landmarks. Tower Bridge, the London Eye, and Big Ben are just three of many that await.
Awe at the towering modern buildings. Soak up the bustle and energy of the markets. And stand outside the decadent gates of Buckingham Palace to watch the changing of the guard.
There are so many things to do in London that a lifetime there simply is not enough! And as beautiful cities go, London is right up there.
Tours & Activities
Let's be honest, it can be hard to know where to even start with London because there is just so much to do! This is why we recommend getting a London Pass from GoCity, as you can select 2-7 attractions (depending on the ticket you purchase) from most top tourist activities, such as the Tower of London, Westminster Abbey, St Paul's Cathedral, The Shard, London Zoo, a 1-day hop-on hop-off bus tour, and even a 24-hour cruise ticket.
That way, whether you're visiting for 24 hours or a full week, or even longer, you can build your time in London around its classic tourist attractions and then venture off in-between or after to find the hidden gems and other things to do a little further out from the city centre.
When you're in the heart of the city in Westminster, a river cruise like this one, which takes you east along the river to Greenwich, can be a lovely way to escape the bustle of the city and do something a little more relaxed.
Finally, before you leave London, if you're a Harry Potter fan, you simply have to do the Warner Bros Studio Tour. It's in Watford and, with the travel, is very much a full-day experience, so schedule a free day in your itinerary and get this booked because so many people rave about how amazing the studio tour is.
Read more: Fun Things to do in London
Beautiful Cities to Visit in the UK Summary
As I mentioned at the beginning, the UK is far more than the awe and innovation of London.
Britain's cities have incredible histories, several dating back millennia. The decadent, striking architecture of various ages is diverse and gorgeous, while heavy investment is breathing life into areas in desperate need of renovation.
From the rugged landscape of the Scottish Highlands to the white-cliff coastline of southern England, there are so many beautiful places to see.
Via plane, bus, train, and car, you can see so much of what the UK has to offer. From thrill-seekers to history buffs, families to couples, UK cities have something for everyone.
Make your next trip to Great Britain magical, and add some of these wonderful cities to your itinerary.
So, one last time, here's a reminder of the 15 most beautiful cities in the UK you should definitely try to visit:
Cambridge
Oxford
Manchester
York
Edinburgh
Inverness
Belfast
St Davids
Cardiff
Bristol
Bath
Wells
Brighton and Hove
Canterbury
London
You Might Also Like to Read
Save and Pin for Later
Keep these beautiful UK cities in a safe place by pinning them to one of your Pinterest boards. That way, when you're ready to plan your trip to the UK, you'll be able to easily find these cities.
Author: Dale Johnson is a content creator and digital nomad from the United Kingdom. He enjoys traveling the country by train and has visited a host of UK cities through work, intrigue, and his love of triathlon and running.
Images licensed via Shutterstock