This post may contain affiliate links, meaning if you book or buy something through one of these links, we may earn an affiliate commission at no additional cost to you. Learn more
If you're looking for a UK city to unleash your inner wild and wacky, these beautiful photos of Bristol are sure to inspire a future trip to this utterly unique city.
Bristol is renowned for capturing the hearts of travelers, photographers, creatives, musicians, artists, and those who just want to let their weird side loose, as these pictures show. From jesters on tricycles to birthday raves on canal boats, chances are you'll see it in Bristol!
When you do visit, these top things to do in Bristol are a must-add to your itinerary, for a truly memorable time. For now, enjoy the wild, wacky, and wonderful.
Photos of Bristol
Trapeze artists casually performing amid the beauty of Castle Park is just one of the many 'that's so Bristol' sights you'll see on any given afternoon, evening, or weekend in Bristol.
Bristol is welcoming to people from all walks of life, with a strong LGBTQ+ community. You'll find plenty of touches, such as this rainbow-colored crossing, that help plenty of people from different communities and backgrounds feel at home.
While today's Bristol is a liberal, modern city, the historic foundations on which it has been built cannot be ignored. The Old Drill Hall, with its magnificent architecture, is just one of such landmarks in the city. The hall has a fascinating past, even housing US troops during the war.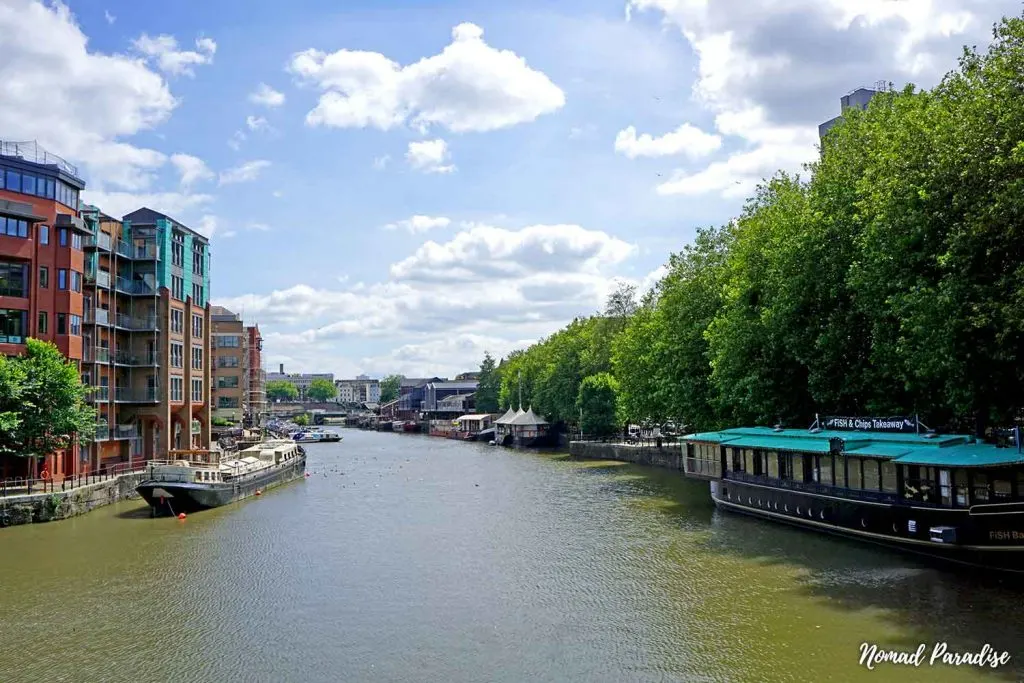 But when it comes to foundations, the River Avon is undoubtedly the lifeblood of Bristol, meandering its way through the heart of the city. Boats and barges transporting goods and offering all kinds of services, including fish and chips, glide along its waters.
Many of the old buildings that line the banks of the river give you a glimpse of life during the Industrial Revolution and the ship-building era, while the high-rise flats on the horizon show how Bristol is evolving.
The Old Fish Market stands proud, its red bricks bathed in sunlight, complete with a classic British red postbox out front.
This park bench glistens in the sunlight by the Bristol Merchant Navy Memorial, paying tribute to the seamen who sailed to and from Bristol and District.
And while architectural beauty is plentiful in Bristol, so too is its natural beauty. Queen's Park is a popular place for students, entrepreneurs, and evening strollers to lie out on the grass, read, catch some sun, and catch up with each other.
The buff terracotta and red brick exterior of the historic Grade II listed Queen Square House makes for quite the picture beneath the greenery of the trees that line the square.
Bristol harborside is an eclectic fusion of old and new. Here, a young girl wanders the abandoned track that runs alongside the river, to a backdrop of apartments, boats, and the colorful houses of Clifton in the distance.
Preserved freight cars and wagons create a unique snapshot in time, while rows of newly developed apartments tower over the once-lively railway tracks during the industrial era.
The sleek, art deco-like architecture of the city's new housing developments is in stark contrast to the grand, decadent architecture of the 1800s and 1900s.
Paddleboarders paddle along the Avon, while Cabot Tower, its view of the city a must-see, stands tall on the horizon.
Bristol's innovation and creativity can be found in many aspects of its culture, including cuisine. Very much a foodie city, Old Market and the Cargo at Whapping Wharf are just two of many different areas of the city where delicious food is waiting to be devoured.
Wherever you wander through the city, reminders of its colorful and fascinating past are always present. St Peter's Church was sadly bombed during World War II, but the city was thankfully able to preserve the building as a memorial.
Bristol Cathedral is a glorious sight, looking over the Millennium Square and new developments at the waterside.
Art and culture are rife throughout Bristol, and the city is dotted with galleries and centers displaying art, craft, and multimedia from all over the world. Arnolfini Arts, with everything from contemporary dance performances to poetry recitals, is a must-visit gallery in the city.
And great art is not just found in the galleries. Street art is one of Bristol's biggest attractions, with the work of Banksy being the city's most recognized and celebrated. But as this stairwell in Old Market proves, you're never too far from great street art in Bristol.
Wander through Bristol, and who knows what you'll find? Maybe a mural of a bright orange octopus on the side of a building.
Or maybe a giant banana in St. Nicholas Church.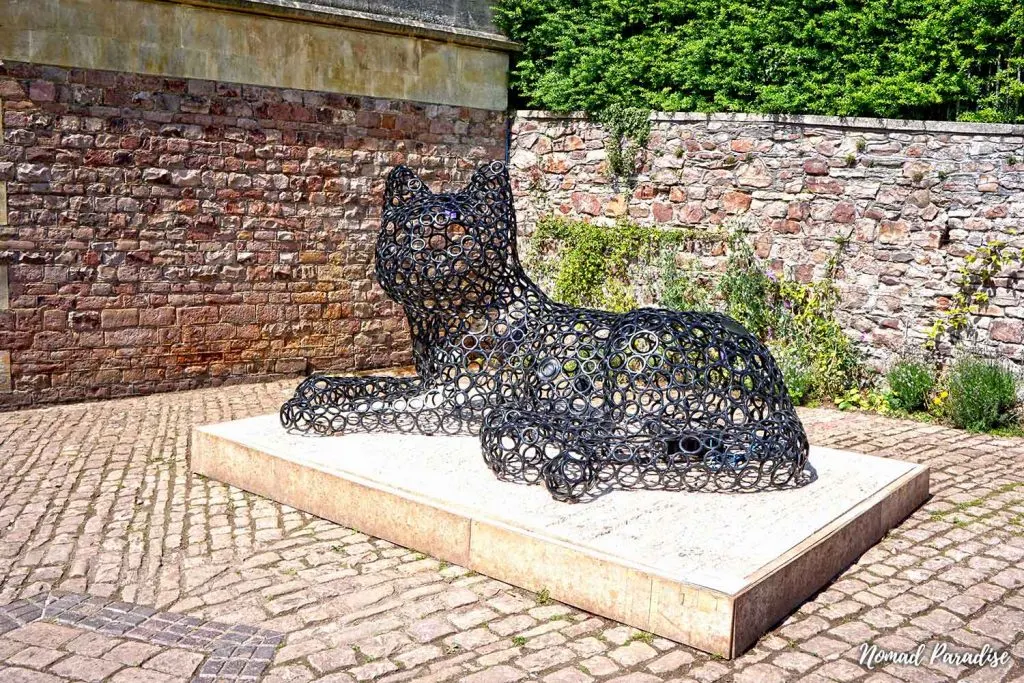 Or even a cat made of hoops at Ashton Gate.
And what about a giant stag beetle in front of a Prezzo? There really is no end to Bristol's wackiness!
Bristol's music scene is one of the UK's most diverse and beloved, with music venues of all shapes and sizes found throughout the city. Thekla, a converted boat, has played host to a range of famous acts and music nights since 1984.
While Broadmead, Cabot Circus, and the Galleries offer plenty of shopping and food, the Arcade, with its historic interior and quirky stores, is a must-visit for both shopaholics and curious minds alike.
It isn't Bristol if you don't hear someone complaining about traffic. So much so, electric scooters, bikes of all kinds, and the orange double-decker buses are all common sights when ambling through the city or walking along the roads.
Take the public transport out of the city center, and a world of wonder and awe awaits you. Clifton is one of Bristol's most affluent areas, packed with things to see and do, such as Bristol Zoo, Clifton Village, and Christ Church.
Ashton Court Estate is on the southwest turn of the Avon. The magnificent Ashton Court Mansion is a popular place for students and walkers to stop by for picnics, with acres of greenery to enjoy on the estate.
And finally, it may be cliche, but that iconic view of Clifton Suspension Bridge from the hill or the conservatory never gets old. If you can, walk or drive over the bridge, for some wonderful views of the river and valley.
Photos of Bristol Summary
Bristol is unlike any other city. It not only embraces its weird, it proudly wears it on its sleeve. A fascinating fusion of history, arts, and nature, Bristol really does have something for everyone to enjoy.
With an airport close by, and only an hour and fifteen by train from London, a trip to Bristol should definitely be on any travel itinerary to the UK. It's also a great place to call home for anyone moving to the UK long-term.
You Might Also Like to Read
Save and Pin for Later
Get inspired to plan a future trip to experience Bristol, by saving this article to one of your travel inspiration Pinterest boards.
Author and Photographer: Dale Johnson is a content writer, strategist, designer, and photographer, who has enjoyed many a trip to Bristol for art shows, live music, and festivals throughout the 2010s.