This post may contain affiliate links, meaning if you book or buy something through one of these links, we may earn an affiliate commission at no additional cost to you. Learn more
A UK city like no other, our rundown of the best things to do in Bristol will help ensure your visit to this creative, whacky, and gorgeous city is one that will stay with you for a lifetime.
Situated on the banks of the River Avon, Bristol is a city that fans of expressive art, toe-tapping live music, and quirky landmarks, will instantly fall in love with.
Proud of its maritime history, much of the urban development of the inner city makes important use of the old warehouses and industrial structures on which a thriving port once prospered. Meanwhile, the hive of the city's tourist activity takes place at the harbor, where a great deal of reinvention has happened.
Best Things to Do in Bristol
How to Get to Bristol
Many European cities fly directly to Bristol airport. From there, you're a well-signposted twenty-minute bus ride to Bristol Temple Meads, the city's main train station, in the heart of the center.
Alternatively, you could fly to any London airport, and from there take a bus from the airport, Victoria coach station, or a direct train from London Paddington station.
Book Online: Train Tickets
Book Online: Accommodations
Travel Medical Insurance
1. Explore Bristol's Maritime History Aboard Brunel's SS Great Britain
The SS Great Britain is a landmark in maritime engineering. The brainchild of Isambard Kingdom Brunel, one of the most important figures of the Industrial Revolution, she was the first iron steamer to cross the Atlantic Ocean, in 1845, and the longest passenger ship in the world, from 1845 to 1854.
Now, this incredible feat of engineering sits proudly in Bristol dock. Inside, the hull and ship have been transformed into a museum, filled with interactive experiences, and fascinating, historical insight. Plus, you get to feel what it would have been like to be on such a ship, nearly two centuries ago.
2. See Views of Avon Gorge from Clifton Suspension Bridge
Designed by a young Isambard Kingdom Brunel, considered one of the ingenious engineers of all time, this mighty suspension bridge gracefully spans the Avon George. It connects Clifton and Leigh Woods and is a stop on many of the city's walk and bus tours.
The views from atop the bridge are spectacular, particularly as the sun is rising or setting.
3. Hot Air Balloon Ride
It's one thing to see Bristol and the magnificent Avon Gorge atop the suspension bridge, but it's another to see it from way up high in the sky!
Several companies operate tours, and more often than not you'll set out early, or late afternoon, in time to watch the sunrise, or sunset, over the Bristol skyline. An experience not to be missed!
4. Views of the City from Cabot Tower
Standing tall amid the beauty of Brandon Hill Park, be sure to climb the steps of Cabot Tower. The lovely views from the top, stretching across the city and over the Avon Gorge, are quite spectacular.
Once you've taken a snap for Instagram, make sure you spend a little time in the park. From dragonflies on the pond to the enchantment of the park grounds, it's a tranquil place to pass the time and enjoy nature.
5. Watch Live Magic at Smoke and Mirrors
One of the city's most iconic theatre pubs, the House Magician's Comedy Magic Show is an evening not to be missed. Split in two, you can spend time before and after the show in the pub area. The cocktails are sublime, the food hearty, and the atmosphere warm.
When it's showtime, you'll be invited into the theatre section of the pub, at the back. The magicians are high energy, very funny, and put on an incredible show. Often, they'll also have a live music act following the magic show.
6. Learn about Bristol at M Shed Museum
The M Shed, free of charge, puts on an immersive, interesting display for both casual and enthused city strollers to come and learn more about the past, present, and future of Bristol.
From a WWI bomb shelter to an original Banksy, the visually-led exhibitions are supported with plenty of facts and insight into the city. The tours, run by highly knowledgeable locals, are also worth signing up for. And be sure to check out the Aardman exhibition: the famous animation studio responsible for Wallace and Gromit.
7. Science Exhibitions at We The Curious
Are you a lover of all that bubbles, shifts, and pops? We The Curious takes hands-on science to another level, with a wide range of experiments, exhibits, and animation to keep even the most wandering of minds fixated.
They also have an impressive planetarium, with regular shows, animation shorts, and videos from Bristol's darling animation studio: Aardman.
You can spend hours wandering around this lively, colorful museum. Perfect, in particular, if the weather is a little patchy.
8. Craft Beer or Cider Tour
Somerset is world-famous for its cider. Thatchers, the global brand, is just the tip of the iceberg when it comes to the sweet-tasting, stomach-satisfying brew that's everyone's favorite summer drink.
Throw into the mix the explosion of artisanal, craft breweries across the U.K. since the late 00s, and you have an entire world of ales, beers, and ciders to enjoy, all vying to touch your lips and spill their flavor.
Many tours, often run by self-proclaimed enthusiasts, operate around Bristol. Some will take you to known craft pubs, and others will take you directly to the breweries. All offer fascinating insight, a smidge of quirk and humor, and plenty of tasting!
Book Online: Self-Guided Craft Beer Tour
9. Hop-on Hop-off Sightseeing Cruise
The river Avon runs through the heart of Bristol, and lining its banks is a hive of activity, fun, and adventure. A boat tour is a perfect way to see the sights, get informed by a local guide, and enjoy a drink as you cruise through the water.
Several operate in the area, but our personal picks are the hop-on, hop-off cruises. The ticket is usually valid for 24 hours, and that way, if anything takes your fancy, you can alight and come back to the jetty when you're ready to move on.
Book Online: Hop-On Hop-Off Sightseeing Cruise
10. City Sightseeing Hop-on Hop-off Bus
Bristol, as I'm sure you're aware, is far more than what goes on at the river. Regarded as one of the U.K.'s core cities, it is the hub that connects the south of England to London and the north. Rich in architectural heritage, its emergence as a city of creativity, education, and culture, has firmly put it on the map of the U.K.'s tourism sector.
The City Sightseeing hop-on hop-off bus tour is a great way to get a general overview of all of Bristol's hallmark features, as well as some hidden gems. Plus, with the 24-hour pass, you can jump on and off as you like.
Book Online: Hop-On Hop-Off Sightseeing Bus
11. Food and Culture at Old Market
A Conservation Area of the city, Old Market and West Street have gone through incredible transformations over the last two decades.
The area contains some of the city's most beloved and ancient buildings, with no fewer than sixty listed, hence protected, buildings in the area. After suffering years of neglect, its declaration as a Conservation Area in 1979 has helped it make huge strides toward the hub of entertainment and culture it is today.
Very much the heart of Bristol's gay scene, many of the buildings are now home to an array of shops, bars, and restaurants. Holy Trinity Church was converted to a music venue, and acts from across the globe come to play there.
12. Go Aviation-Crazy at Aerospace Bristol
One of Bristol's most exciting museums, Aerospace Bristol's signature piece is the last ever Concorde to fly, which you can step aboard and explore.
There's a wide range of incredible vehicles and devices to see, including helicopters, missiles, and space gadgets. The interactive displays and games are great fun, and the incredible light show is very much the cherry on top of a hearty cake.
13. See Animals at Bristol Zoo Gardens (Now Closed)
Unfortunately Bristol Zoo is now closed.
14. Get Lost at Oakham Treasures
Situated outside of Bristol, so transport will be required, Oakham Treasures is a jaw-dropping homage to one man's obsession with collecting things.
Stoking nostalgia in large quantities, you can spend hours wandering through the collections of items, from sweet packets to automobiles, that baby boomers, in particular, will enjoy.
If you're a millennial or a Gen-Zr, the nostalgia may be lost on you. But if you have a keen eye and boundless appreciation for art and design, you too will love the exhibitions and their uniqueness.
15. Take a Ride on Bristol Ferry
A not-for-profit organization, Bristol Ferry is run by a group of passionate Bristolians, keen to keep the iconic blue and yellow ferry boats sailing. Their guides are informative, fun, and in love with all things Bristol.
People have hired boats for a range of different experiences, from boat parties to weddings. On a normal day, you can expect interactive tours, wildlife spotting, or just some good old-fashioned history and stories.
16. Street Art Walking Tour
Home to the elusive Banksy, whose works have sold for $100,000s at auction, Bristol has been a hotbed for music, art, and creativity, since the 1980s. Walk around for just a little while, and you'll soon start to spot the street art.
In the company of a well-versed guide, they'll show plenty of the city's hidden gems, including original Banksy artwork.
17. Walk up the Steepest Street in England
Boasting an incredible 22-degree incline, Vale Street in the Totterdown area is said to be the steepest in the country.
Around a twenty-minute walk from Bristol Meads Train Station, you'll see residents' cars tied to lampposts with rope, due to the incline! Walking to the top is no mean feat, even for the fittest of travelers.
18. Enjoy Panoramic Views from Wills Memorial Building
Situated on the Bristol University campus, outside of the city, the building is home to a rather large bell: the 7th largest in the U.K., to be exact!
Tours operate on Wednesday and Saturday and are worth handing over a small sum of cash (£5 or less) for. In addition to visiting the university's Great Hall, Library, Old Council Chamber, and Reception Room, you'll also be able to climb to the top of the 68m tower.
At the summit, you'll have a spectacular, panoramic view of the city, for you to enjoy at your leisure.
19. Visit Filming Spots from Only Fools and Horses
If you're not familiar with British pop culture, Only Fools and Horses is definitely worth a Google. The show, focussing around the life and mishaps of a dodgy market trader, Del Boy, and his brother, Rodney, was a phenomenal hit on British TV sets in the 1980s.
Although the show was set in Peckham, London, much of the filming was shot in Bristol. If you're a fan of the show, or you're keen to see some hidden gems in the warm company of an enthusiastic local, the tour is more than worth doing.
20. See Bristol from Clifton Observatory
High in the cliffs overlooking the Avon George, you can meander through the aptly named Giant's Cave, seeing geology in its most breathtaking form.
Once you emerge from the tunnels, you'll find yourself inside one of the only remaining camera obscures open to the public in the U.K. today. From a breathtaking height, you get a truly wonderful panoramic view of Clifton Suspension Bridge, Avon Gorge, and Clifton Downs. Open seven days a week; it's more than worth the trek up to the high point.
21. See Ocean Wildlife at Bristol Aquarium
Plenty of fish and animal species are on show at the aquarium. Your ticket also allows you all-day access, so you can come and go as you please.
The keepers are very friendly and insightful, and watching the feedings, in particular, is a worthwhile experience. If you love nature documentaries, and all things ocean-based, you'll enjoy an afternoon strolling between the species on show.
22. Enjoy Scenic Beauty at Ashton Court Estate
Ashton Court, a magnificent manor house dating back to the 11th century, is today a Grade I listed building.
Largely used only for weddings and high-profile events, the sprawling, flower-laden grounds of the estate are open to the public. It's a wonderful place to wander through and imagine life as one of society's highest order many centuries ago.
The gardens are perfect for laying out in the sun, having a picnic, and there are also trails and cycle paths that circle through the estate. If you're feeling hungry or thirsty, there's also a cafe on site.
23. See a Show at Bristol Hippodrome
A gorgeous, 2000-capacity provincial theatre, the Hippodrome, built in 1912, now stages major West End and Broadway productions.
In addition, you can also find a wide range of musicals, ballet, opera, comedy, and entertainment shows, on their roster. If you're keen to stimulate the senses with lights, theatrics, and music, there should definitely be something to your taste in their listings. Be sure to book in advance, however, as it's common for shows to sell out.
24. Live Music at Bristol's Quirky Venues
Music has been pumping through the beating heart of Bristol for several decades. The likes of Simian Mobile Disco, The Eagles, and Portishead, to name but a few, all hail from the city and surrounding areas.
Very much at the forefront of the scene include the trip-hop and drum and bass movements of the 1990s. All around the city, you'll find quirky, gritty music venues, that constantly host club nights and artists.
Two of my favorites are the Holy Trinity Church, as mentioned before, and Thekla, a stationary boat in the Harbourside. Bands and artists from all over the world have played inside its compact, intimate hub.
Whatever your jam, you'll be able to find it behind the doors of a fun, lively establishment, somewhere in the city.
25. Succumb to the Enchantment of Blaise Hamlet
A truly unique little enclave, there are nine gorgeous little cottages surrounded by vibrant green gardens and stone walls behind the wrought iron entrance gate. The Hamlet looks like something from a Lord of the Rings film set and is perfect to check out if you're walking by.
26. Art and History exhibitions at Bristol Museum and Art Gallery
Behind the beautifully designed pillars of the Bristol Museum, lay three floors of fascinating exhibitions. Wander between nineteen galleries, showing art, sculptures, and artificers from time periods dating back to ancient Egypt.
The geology galleries, in particular, are a fascinating read. From fossils to dinosaur skeletons, the museum will take you on a journey through the last billion years of the planet's history. And to accompany the galleries, there's a wide range of interactive displays and insight to digest.
27. Watch a Football or Rugby Match at Ashton Gate Stadium
Bristolians are no slouches when it comes to sport. Both Bristol Bears and Bristol City, on alternating weekends, host professional rugby and football matches.
Ashton Gate is known for creating a passionate, lively atmosphere, and you'll struggle to hold back from joining in amid the 27,000-capacity crowd. Plus, being located not too far from the city center, means getting there via foot or bus won't be a problem. Well worth attending a match if you're keen to sample sport in the U.K.
28. Photograph the Colourful Houses of Clifton
Scattered throughout the city, you'll notice rows of Victorian terraced houses, painted in bright colors. Nobody can say for sure how the trend started. A former Mayor believes he was the first to buck the trend of grey-on-red-brick, but whatever the case, the craze very much caught on!
Areas, where such delightful little houses can be found, include The Lion, Argyle Place Park, Community Garden, and Cliftonwood. If you're keen to cover the city on foot, looking for the colored houses is a great way to do it.
29. See What's Going on at Millennium Square
Situated behind the V sheds, the Millennium Square plays host to an array of seasonal activities, festivals, and plenty of interesting art and sculpture.
From a large mirror ball to an LED light-bearing tree, the area is a hive of activity. You can spend plenty of time here wandering around, having a drink, and checking out the quirky installations. There's even a Ferris wheel if you're keen to get a birds-eye view of the city.
If you're feeling hungry, there are also plenty of restaurants and eateries to grab a bite at.
30. Food and Drink at Cargo Centre, Wapping Wharf
Wapping Wharf is a lively, energetic area of the harbourside, and the Cargo Centre, made entirely from recycled shipping containers, has surprises in store by the boat-load, excuse the pun.
From craft brewers to Japanese eateries, there's plenty of great food and drink to enjoy in this quirky and charming part of the wharf.
31. Contemporary Art Exhibitions at Arnolfini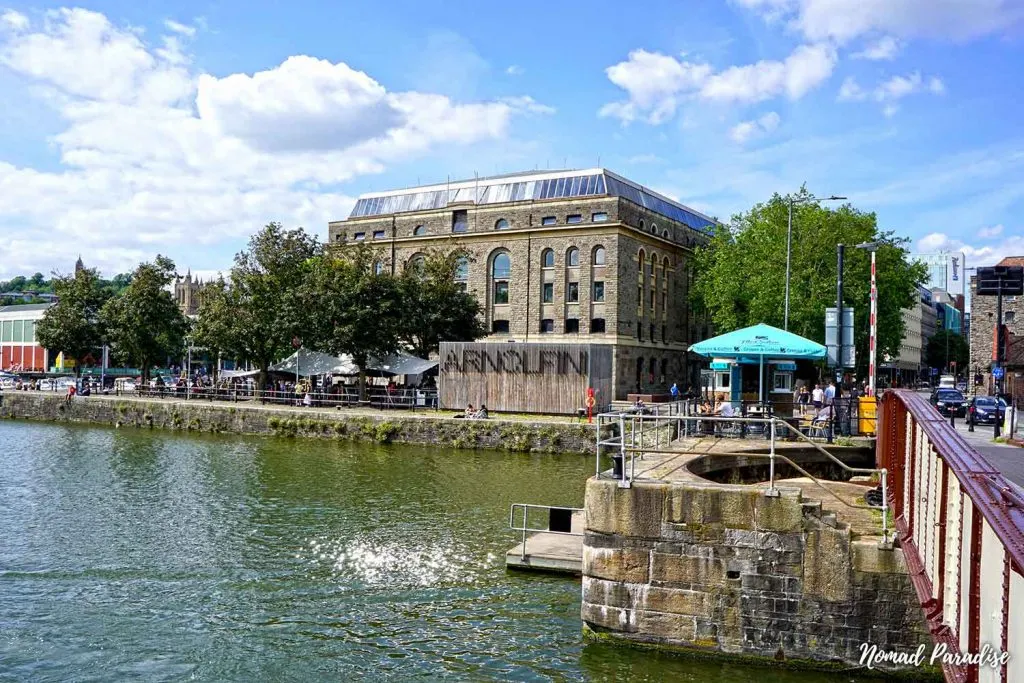 Lovers of contemporary art in all varieties simply have to spend at least an afternoon in the magnificent Arnolfini. One of Europe's leading museums for contemporary arts, exhibitions from all over the world can be enjoyed and experienced within the Arnolfini walls.
From dance to poetry, sculpture to film, Arnolfini has it all. Running alongside its renowned works, exhibitions from all over come and go on a regular basis, so there's always something new to experience, no matter what time of the year you visit.
32. River Cruise on The Matthew of Bristol
A beautiful replica of the boat Italian explorer John Cabot in 1497 sailed across the Atlantic from Bristol to America in, a river cruise on this wonderfully crafted boat is a must for both history buffs and city strollers alike.
Completed in 2017 to mark the 500th anniversary of Cabot's North American voyage, riding on the boat gives you a unique snapshot of what life would have been like for Cabot, over half a millennium ago.
33. Ride the Heritage Railway of Avon Valley Railway
A heritage railway spanning three miles, anyone with a passion for history and culture will instantly fall for the charm and rustic atmosphere of Avon Valley Railway.
You can learn about the railway, its history, and its importance, and enjoy some delicious food at the station buffet. Festivals and events are commonly held at the railway all year round, so there's always something to see and enjoy there.
34. Spend an Afternoon in Clifton Village
While Clifton Suspension Bridge and its natural wonders are undoubtedly must-see landmarks, a trip to the elegant Clifton Village should not be overlooked.
A beautiful area of Clifton, Clifton Village is lined with gorgeous coffee shops, boutiques, restaurants, and pubs, all perfect for an afternoon of shopping, dining, or just relaxing with a good book.
35. Wander through Redcliffe Caves
Beneath the Redcliffe area of Bristol rest a series of man-made tunnels burrowed through the red sandstone. Originally mined in the Middle ages for sand, the tunnels were used for evacuation during the 17th century, through to the early 19th century. Some suggest even French prisoners during the Napoleonic Wars were held captive here.
The caves are a sight to behold, and courtesy of a guided tour, you'll get more than your fair share of insight, factoids, and Bristolian charm. Worth checking out if you're around the area.
36. Food and Drink at Bars and Pubs on Gloucester Road
A key road that runs from central Bristol north, Gloucester Road is lined with lively pubs, quirky coffee shops, and plenty of outdoor dining. It's perfect for an afternoon stroll, and to grab a bite to eat after a long day of exploring the city.
Bonus: Where to go Shopping in Bristol
Bristol Shopping Quarter, comprising of four shopping quarters Broadmead, Cabot Circus, The Arcade, and The Galleries, is very much Bristol's central shopping hub, lined with a range of high-street stores and labels, both independent and recognized restaurants and eateries, and many local, quirky, and independent retailers.
Bristol Shopping Quarter is great if you want to shop with established retailers, with a few local surprises, and have plenty of choices when it comes to parking.
If you want to get out of the city center, The Mall and Cribbs Causeway, just off the M5, and both Filton Retail Park and Abbey Wood Shopping Park, near Stoke Guilford, are ideal for out-of-town shopping. You can take buses there, or ideally drive.
In Clifton, Clifton Down Shopping Centre and The Clifton Arcade are your go-to places for shopping, while those who want to shop crafts from independents should try The Bristol Artisan.
Things to Do in Bristol Summary
Bristol is a city of so much wonder, fun, and innovation. Whether you're looking for a great night out, eager to learn more about the history and heritage or to try something new, Bristol has it all in abundance.
This quirky, weird, and super fun city will feel like home from the moment you set foot in its green parks or on its harbourside cobbles. Enjoy your time there, and soak up all that this utterly beautiful, unique, and pretty epic this UK city has to offer.
You Might Also Like to Read
Save and Pin for Later
Are you planning a trip to Bristol? Get inspired to make the most of every minute in this beautiful city by keeping this article of things to do for safekeeping, and saving it to one of your travel inspiration Pinterest boards.
Author and Photographer: Dale Johnson is a content writer, strategist, designer, and photographer, who has enjoyed many a trip to Bristol for art shows, live music, and festivals throughout the 2010s.