This post may contain affiliate links, meaning if you book or buy something through one of these links, we may earn an affiliate commission at no additional cost to you. Learn more
Treat yourself to a sumptuously soft and sweeter side to one of Europe's most renowned cuisines with these Mediterranean desserts and let the delightful flavors and textures take you on a culinary journey like no other.
From the rustic Tuscan hills to the sun-baked North African shores, these 23 dishes encompass everything that is simply so divine about Mediterranean food. If you love your desserts lavish and indulgent, you've definitely come to the right place!
Mediterranean Desserts
1 – Crema Catalana
A dessert popular all over the world, crema catalana is a must-eat when in Spain, especially if you're visiting Catalonia, its region of origin. Similar to the French crème brûlée, crema catalana is a custard cream flavored with cinnamon, lemon, and orange zest and topped with a layer of caramelized sugar.
As opposed to the French dessert, crema catalana is made with milk and cooked on the stove rather than in an oven or a water bath.
This spoon dessert is usually served accompanied by coffee or sweet wine, and it's the perfect ending to a delicious Spanish dinner or enjoyed as a great afternoon treat.
Discover more Spanish desserts.
2 – Macarons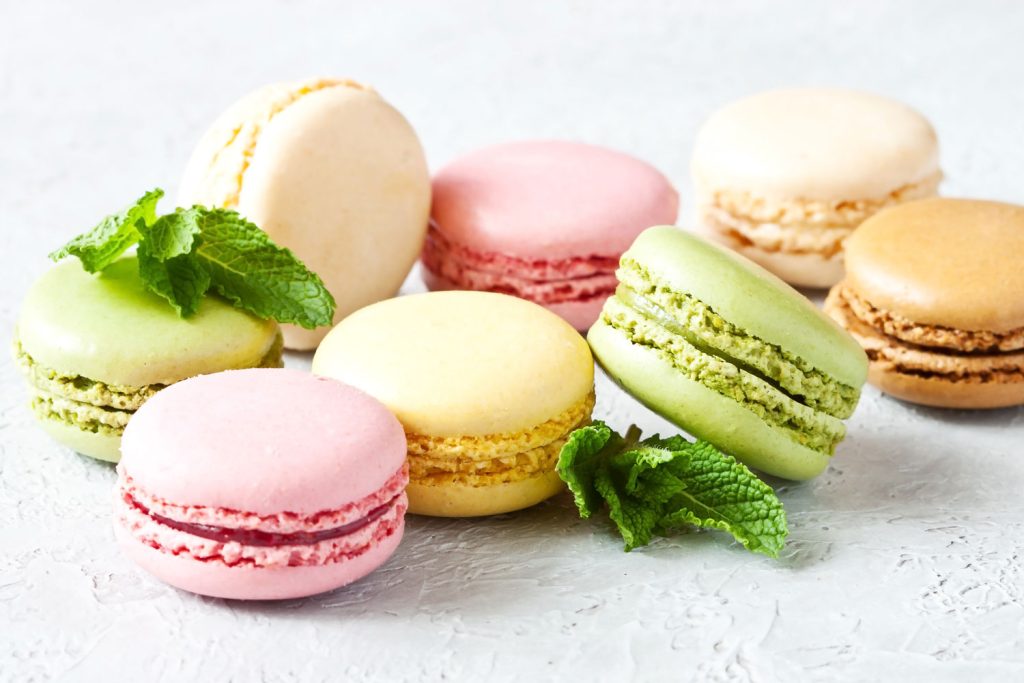 Nothing says "French dessert" like the colorful and tasty macarons. A treat for the eyes and the mouth, macarons are sandwich cookies made with light and crispy shells and a creamy filling, usually ganache or buttercream.
Although macarons are associated with France, they appear to have originated in Italy and made their way to France through Catherine de' Medici when she married King Henry II in 1547.
Macarons later became popular in France, especially thanks to the Macaron Sisters, two nuns who started baking them in Nancy during the French Revolution. Nancy is still popular for its macarons, but you'll undoubtedly find them all over France in countless variations of flavors and colors.
3 – Fougasse Monegasque
Monegasque cuisine is very similar to the French, but there are a few distinct dishes. When it comes to dessert, if you enter almost any bakery in Monaco, you're likely to find the traditional fougasse Monegasque.
The dessert consists of a flat, sweet bread flavored with oranges and topped with raisins, nuts, and sugar-coated anise seeds.
The anise seeds are colored white and red to reflect the colors of Monaco's flag, and the dessert usually comes in small round shapes, although you'll find it in different sizes. If you're looking to try a dessert that is truly Monegasque, this is it.
When in Italy, it's almost impossible not to try the tiramisu. The name of the dessert literally translates to "lift me up," and it really will lift your mood or at least give you a boost of energy given its caffeine content.
The dessert consists of layers of coffee-soaked ladyfingers and a mascarpone and egg cream drizzled with cocoa. There's no baking involved, and the dessert is served cold after the ladyfingers have properly soaked, becoming fluffy and easy to eat with a spoon.
It is unclear in which region of Italy tiramisu was invented, probably Veneto or Friuli Venezia Giulia. No matter what region of Italy you are visiting, tiramisu is a staple, and you'll find it in most restaurants as well as pastry shops.
You may try different variations of the recipe, but the classic recipe with only a handful of ingredients remains the most popular.
Discover more Italian desserts.
5 – Pastéis de Nata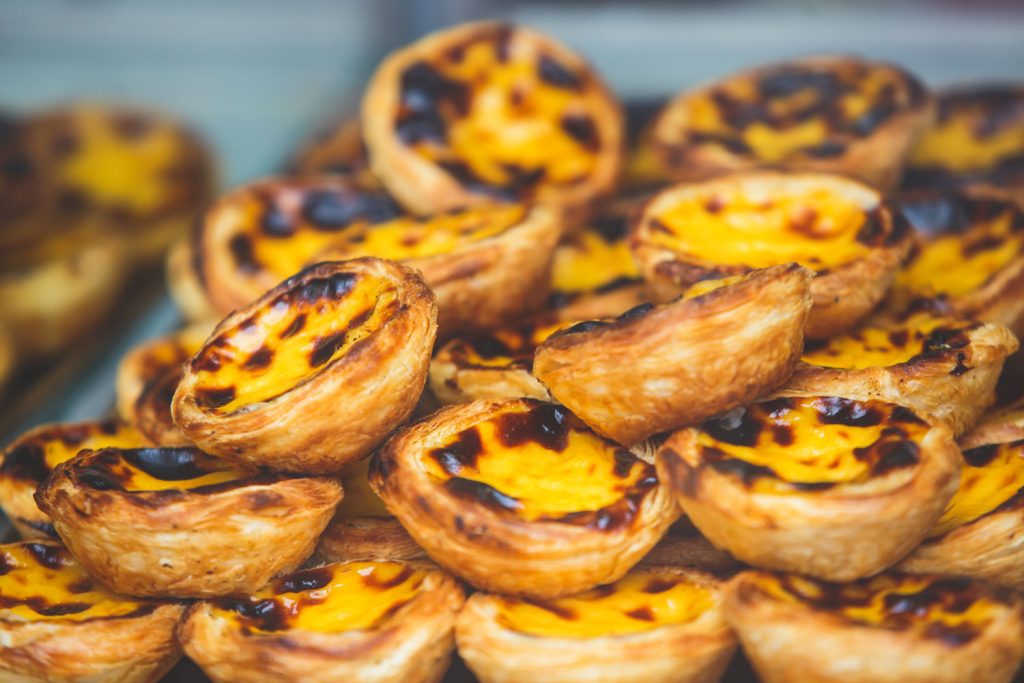 If there is one dessert nobody should miss when in Portugal it is definitely pastel de nata. The small custard tart is simple yet delicious. A crunchy puff pastry filled with an egg-based cream and sprinkled with cinnamon (optional), pastel de nata is best served hot and can be eaten at breakfast, as a dessert, or any time of the day, in fact.
The most renowned version are pastéis de Belém, that you can buy in the original Fàbrica de Pastéis de Belém, owned by the same family since 1837. Some argue that these are the best pastéis while others (like me) prefer the ones from the Manteigaria, in the center of Lisbon. The best way to know is to try them both. After all, there's no such thing as too many pastéis de nata!
6 – Imqaret
A popular dessert in Malta, imqaret (plural of maqrut) have Arab origins, likely dating back to the Arab occupation of the island. The dessert consists of diamond-shaped fried pastry filled with a paste made with dates, citrus, and spices.
A baked version of the dessert can also be found, but for many people, the fried always tastes better! The name of the dessert derives from the Arabic word for diamond, referring to the characteristic shape of the sweets. Imqaret are often sold as street food at food kiosks, but you'll find them in other shops and bakeries as well. They are the ultimate pick me up after a long day of exploring, especially if you have a sweet tooth.
7 – Kremna Rezina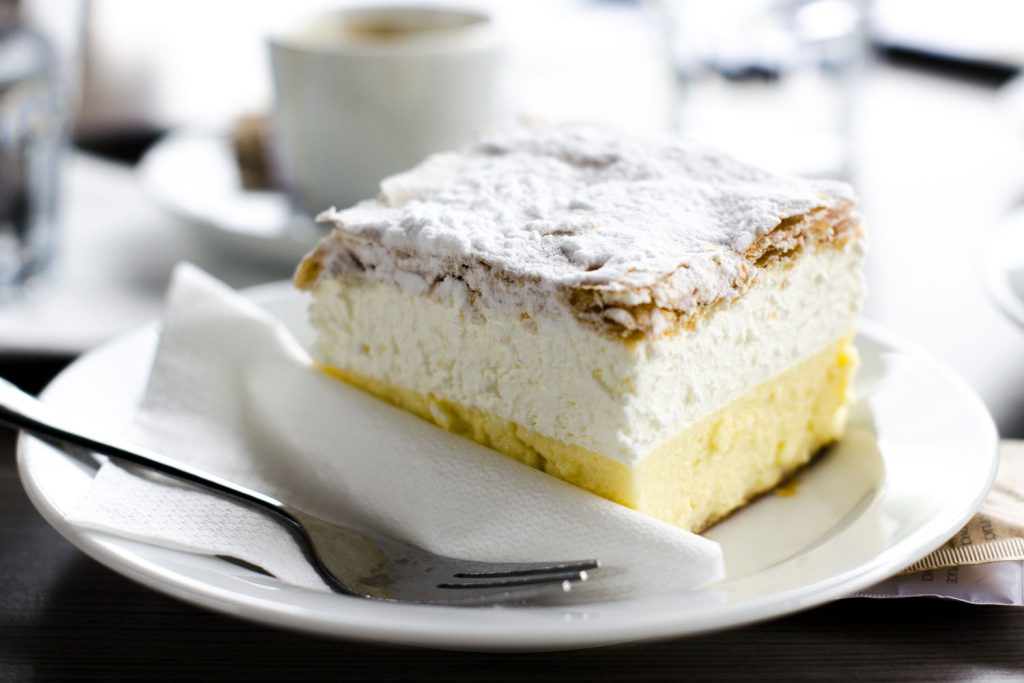 A must-try in Slovenia and especially in Bled, Kremna rezina is the Slovenian version of Cremeschnitte, a dessert popular all over Central and Eastern Europe.
Kremna rezina means "cream cake", and the main ingredients of this cake are custard cream and whipped cream, in between two thin layers of puff pastry.
A fluffy and seemingly light, yet fulfilling cake, Kremna rezina was made popular at Hotel Park, where it was first served in 1953. Nowadays, you'll find it at virtually any café and pastry shop in Bled, and of course, all over Slovenia.
8 – Mađarica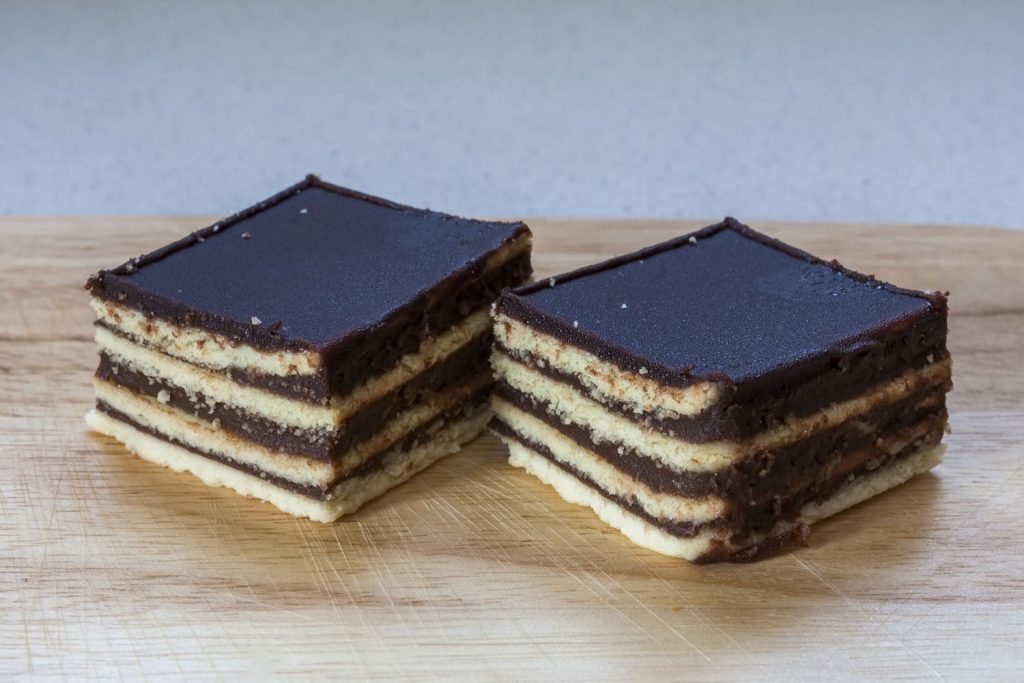 A layered chocolate cake, despite Mađarica literally translating to "Hungarian girl," it is in fact a traditional Croatian dessert. Made with several layers of cake crust and chocolate filling, once prepared the cake is topped with chocolate glaze and served in small squares.
Mađarica is a popular dessert at any type of event in Croatia, from birthday parties to weddings. You'll find this dessert anywhere, from pastry shops and cafés to supermarkets, so it's hard to miss it.
9 – Tufahija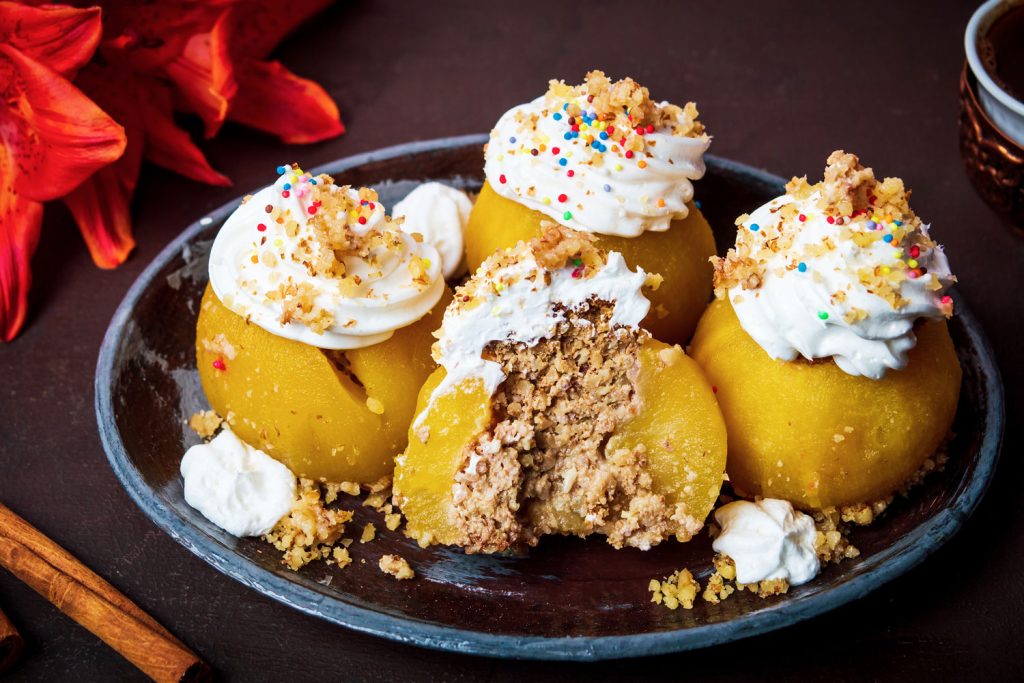 This traditional Bosnian dessert consists of a peeled apple stuffed with walnuts and cooked in sugar syrup. The dessert is also popular in other Balkan countries but is mostly famous in Bosnia and Herzegovina. The stewed apple is served cold in a bowl with plenty of syrup and is topped with whipped cream.
Tufahija is a dessert of Ottoman origins, believed to date back to the Ottoman conquest of the region, which significantly influenced Bosnian cuisine and architecture.
You'll have the chance to eat tufahija in many Bosnian restaurants, often accompanied by Bosnian coffee.
10 – Šampita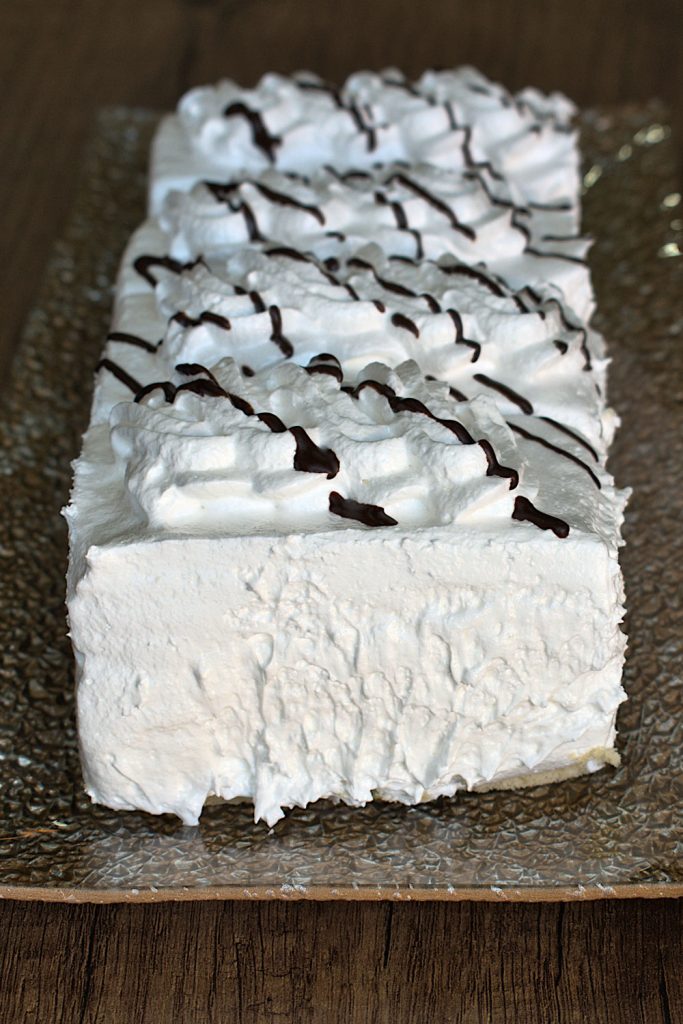 The Montenegrin meringue cake looks quite similar to the Slovenian Kremna rezina, but is in fact very different. The dessert is popular all over the Balkans and, depending on the area, you'll find different variations.
Šampita usually consists of a square of whipped meringue on a thin layer of either biscuit or puff pastry, commonly sprinkled with some cocoa. When in Montenegro, have a Šampita with your coffee for a sweet afternoon break.
11 – Shëndetlie
The Albanian honey and nut cake Shëndetlie is one of the most popular desserts in the country. The name of the dessert comes from the Albanian word for health, shëndet, and although it's a high-calorie, sugar-rich cake, it is considered healthier than other options as it contains a few simple and natural ingredients, like walnuts, honey, and eggs.
The baked cake is left to sit until it cools, then is soaked in hot sugar syrup. The sweet delicacy is served cold and, although once popular mainly during the Christmas season, you'll now find it available year-round.
12 – Galaktoboureko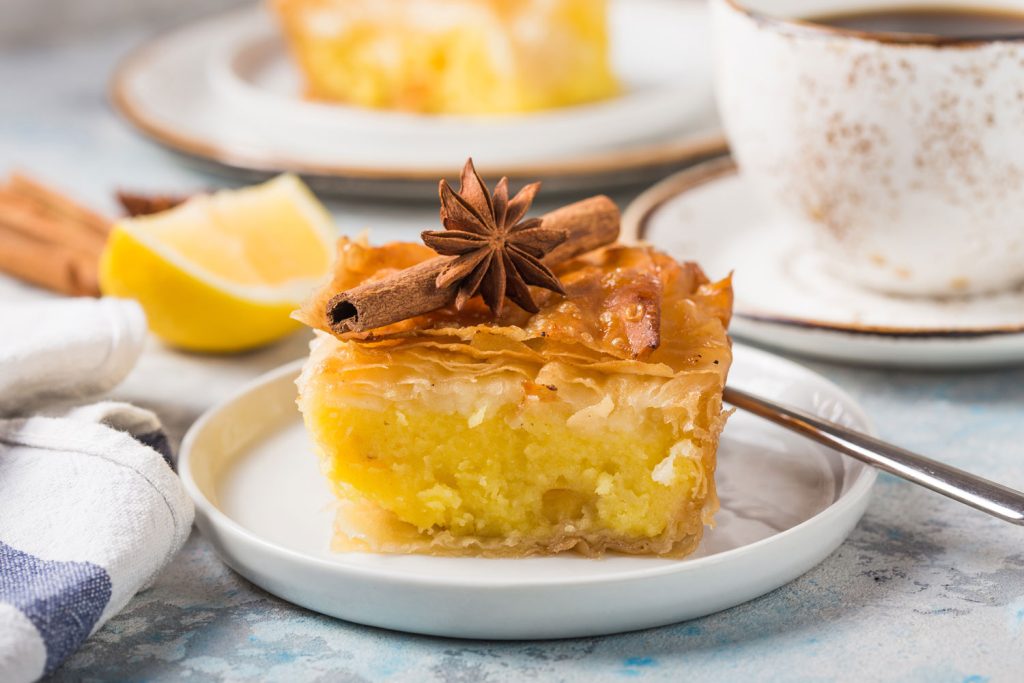 Galaktoboureko is a traditional Greek dessert, although it is also common, with small variations, in Turkey and Syria.
The dessert consists of filo pastry, filled with semolina custard, and coated with a sugar syrup flavored with cinnamon and lemon peel. The result is a heartwarming dessert with a crispy pastry and a creamy filling.
You can find galaktoboureko in many restaurants and pastry shops all over Greece. This simple yet delicious dessert is a must when visiting both the mainland of Greece and its beautiful islands.
13 – Baklava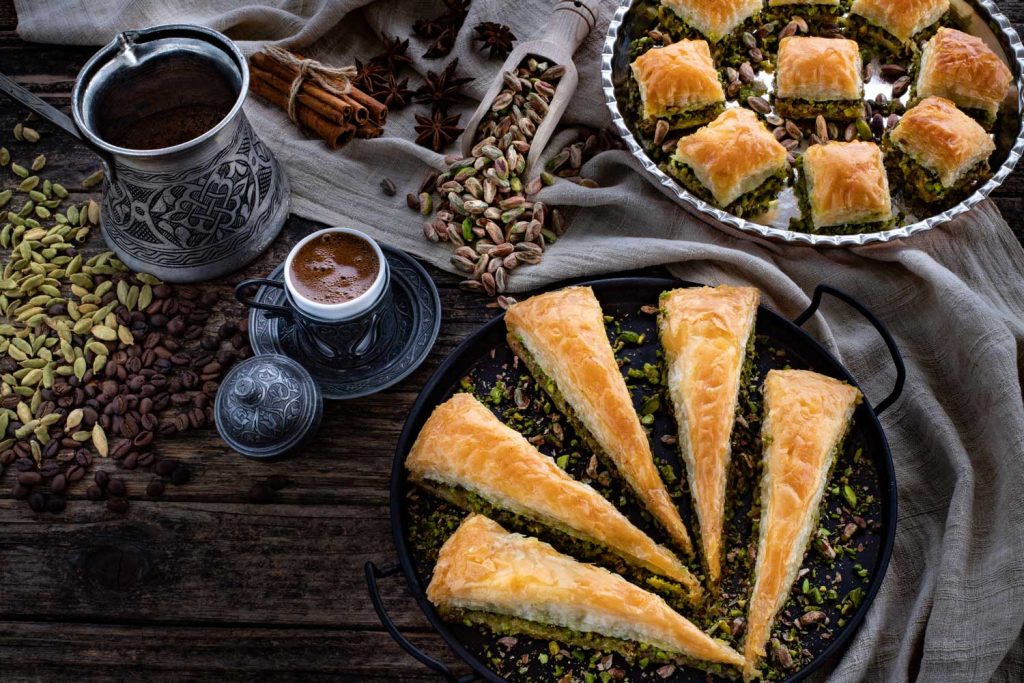 A dessert popular all over the Balkan area and in many Caucasian and Central Asian countries, baklava is a time-old recipe that dates back to the reign of the Ottoman Empire.
Baklava was likely invented in Constantinople, today known as the capital city Istanbul, and it is one of the most renowned Turkish desserts. Baklava consists of several layers of filo dough (covered in melted butter and vegetable oil) and chopped nuts: either walnuts, pistachios, or almonds, depending on regional variations.
In the Black Sea region of Turkey, you'll likely find baklava filled with hazelnuts, while pistachios are more common in the city of Gaziantep, and almonds are popular in the Aegean region.
The dessert is usually prepared in large rectangular pans and cut into small rectangles, triangles, or diamonds, before baking. The baked baklava is then soaked in a sugar syrup, sometimes made with honey and the addition of lemon juice. This sweet dessert is impossible to miss when visiting any part of Turkey.
Discover more Turkish desserts.
14 – Soutzoukos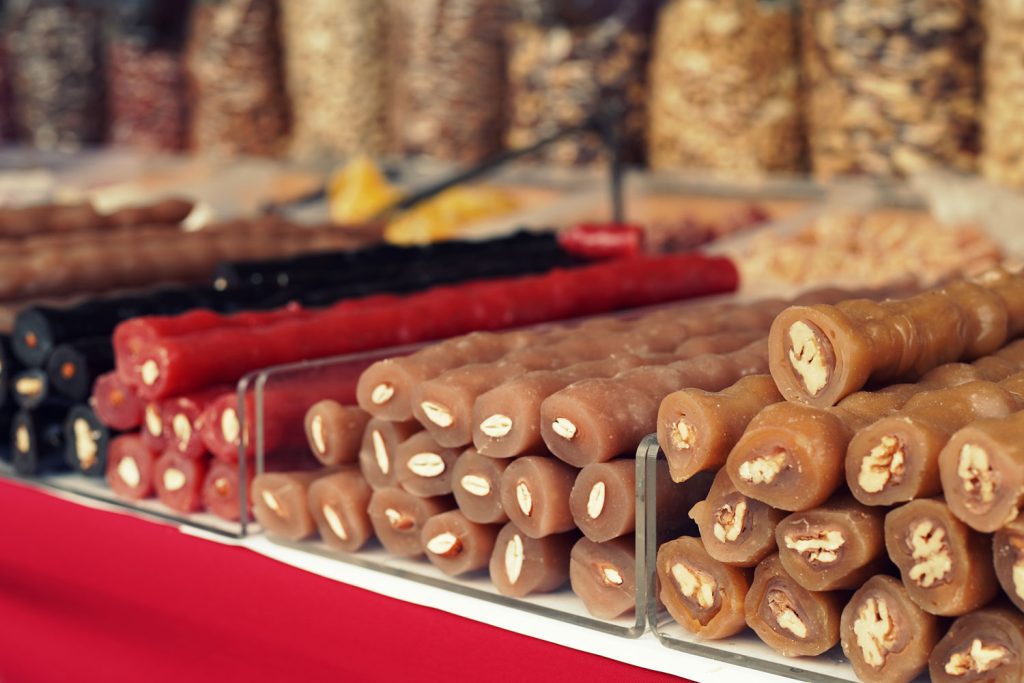 Soutzoukos is probably one of the most iconic desserts in Cyprus, originating from an old tradition of using grape juice as a natural sweetener. The traditional soutzoukos recipe can be complex and lengthy, and it can vary depending on the region, but it is always worth the wait.
Different varieties of grapes can be used to make this sweet delicacy that looks like a thin, long sausage, hence the name soutzoukos, which derives from the Turkish word for sausage, "sujuk".
Soutzoukos are made with long strings of almonds or walnuts dipped several times into a jelly-like mixture made with grape must, and then left to dry.
Nowadays you can easily buy soutzoukos in supermarkets, but to truly appreciate this unique Cypriot dish you should definitely try it and watch it being made on a specialist tour.
15 – Kanafeh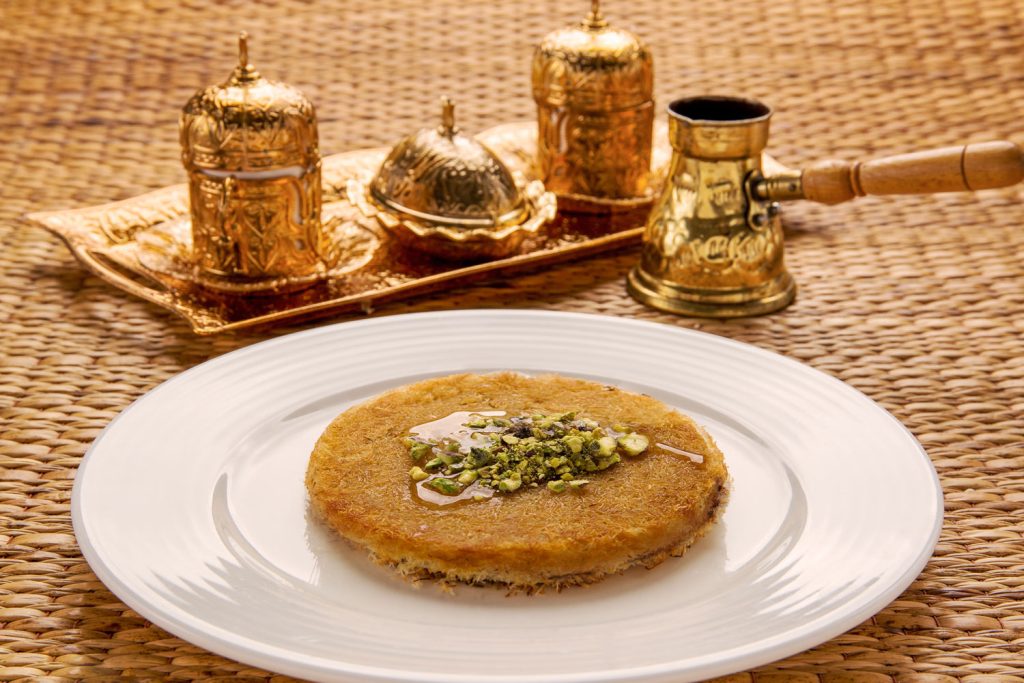 A traditional Middle Eastern dessert very popular in Syria, kanafeh is made with two layers of kadaïf, a type of thin noodle also known as angel hair, filled with Akkawi cheese.
The dessert is baked and sprinkled with rose water syrup and crushed walnuts or pistachios. The kadaïf is mixed with clarified butter, and often an orange dye is added to give the dessert a bright color. Kanafeh is best served piping hot, fresh from the oven.
16 – Namoura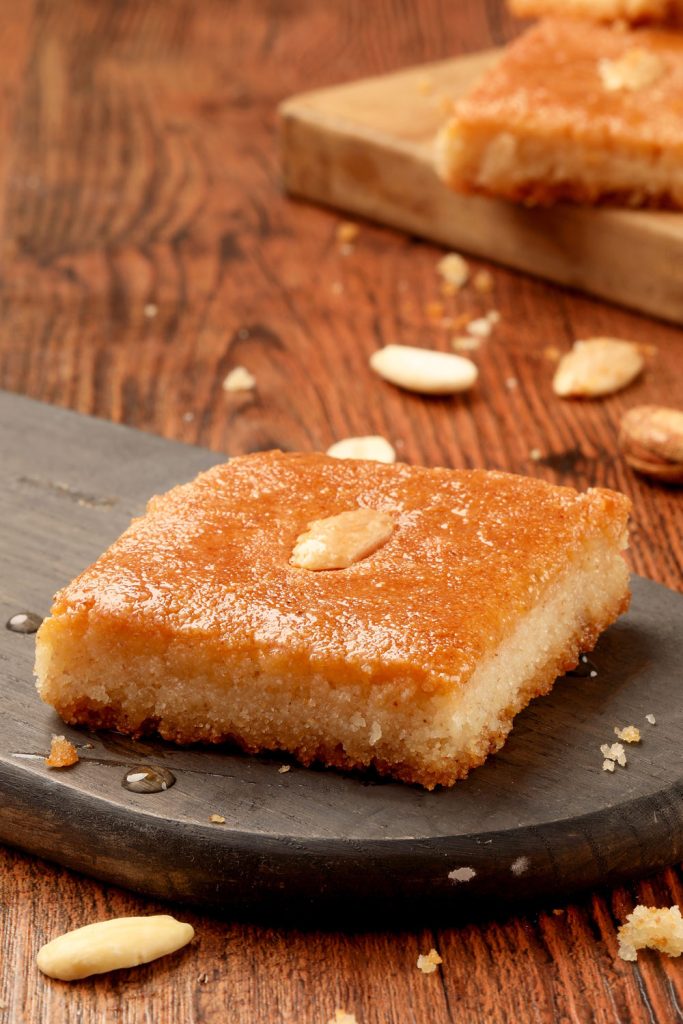 Namoura is a Lebanese cake made with semolina, butter, and yogurt, and drizzled with orange blossoms or rose water syrup. The dessert is popular in many Middle Eastern countries in different variations and with different names, like Basbousa in Egypt or Harissa in Palestine.
Lebanese namoura is cut into small rectangles or diamonds and topped with peeled almonds before baking. Once out of the oven, the cake is sprinkled with syrup and served at room temperature.
Discover more Lebanese desserts.
17 – Halvah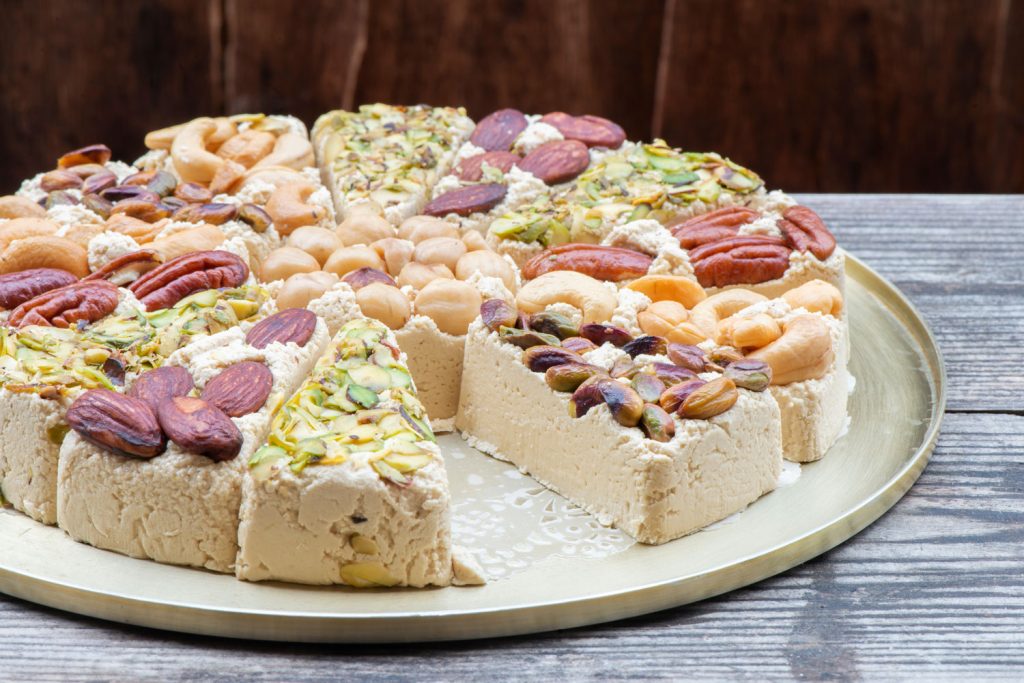 When visiting Israel, head to the market or to a grocery store to try the traditional halvah. Although it is eaten in many countries, from Eastern Europe to the Middle East and Central Asia, halvah is really popular in Israel, and it comes in countless flavors and varieties.
Israelian halvah is made with sesame tahini and flavored with different nuts, seeds, or dried fruit. Halvah contains no dairy, so it is a kosher dessert and a go-to sweet delicacy for Jewish people.
Halvah is traditionally made in large cylinders and is sold by weight, so you can buy as much as you want. When in Israel, be sure to try a few different flavors.
18 – Tamriyeh
This Palestinian dessert typical of the region of Nablus is made with just a few simple ingredients, yet it is a delicious, sweet treat. Tamriyeh consists of squares of filo dough filled with a semolina-based pudding flavored with orange blossom water or rose water.
Tamriyeh is fried in vegetable oil until crispy and sprinkled with powdered sugar and sometimes ground pistachios. Ideally, you should enjoy tamriyeh freshly made while it's still hot and crunchy.
19 – Om Ali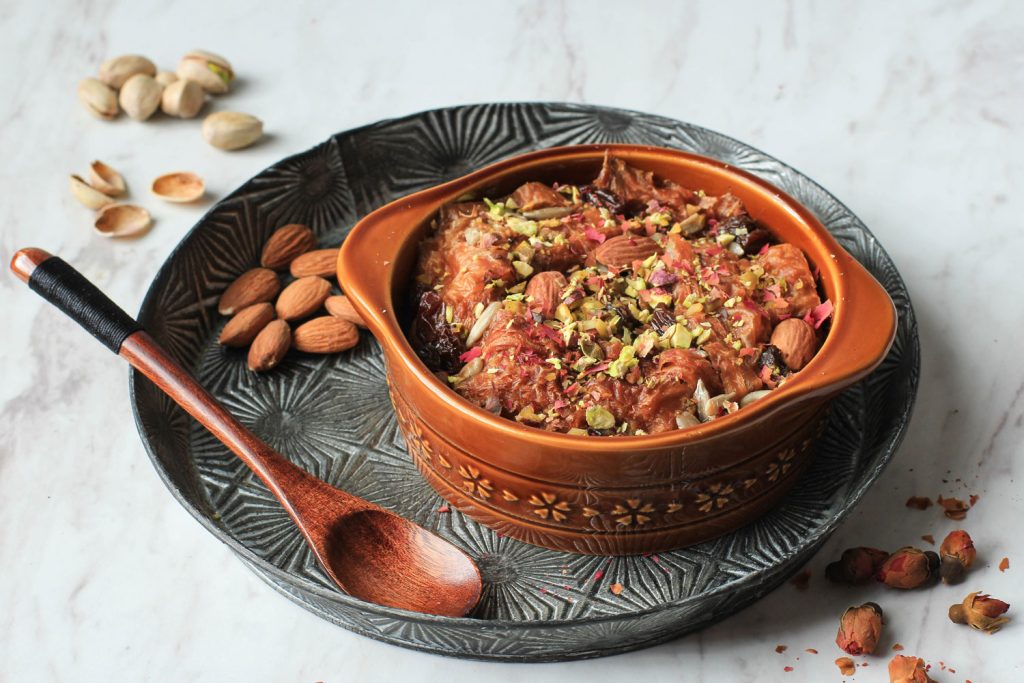 Om Ali is the national dish of Egypt and a must-try when visiting the country. The dessert has a fascinating yet somewhat dark origin story, dating back to the beginning of the Mamluk rule in the 13th century.
There are a couple of versions of the story, but they both involve Om Ali (literally "mother of Ali"). Om Ali was the first wife of Sultan Izz al-Din Aybak, who also married Shajar al-Durr when she became the Sultana of Egypt after her first husband and the last Sultan of the Ayyubid rule died.
Shajar al-Durr married Aybak so she could abdicate the throne but still control her husband and maintain power. When Aybak became power-hungry and decided to get married for the third time, Shajar al-Durr had him killed by her servants.
In one version of the story, Om Ali orders the preparation of a special dessert to celebrate the death of her husband and the coronation of her son, Ali, as Sultan. According to another version, the dessert was prepared later, in celebration of the consequent murder of Shajar al-Durr.
Whatever its origins, centuries later, Om Ali is still served in virtually any Egyptian restaurant in the country. The dessert is has a pudding-like appearance and consistency, made with puff pastry, milk, raisins, and a mix of nuts.
Discover more Egyptian desserts.
20 – Magroodh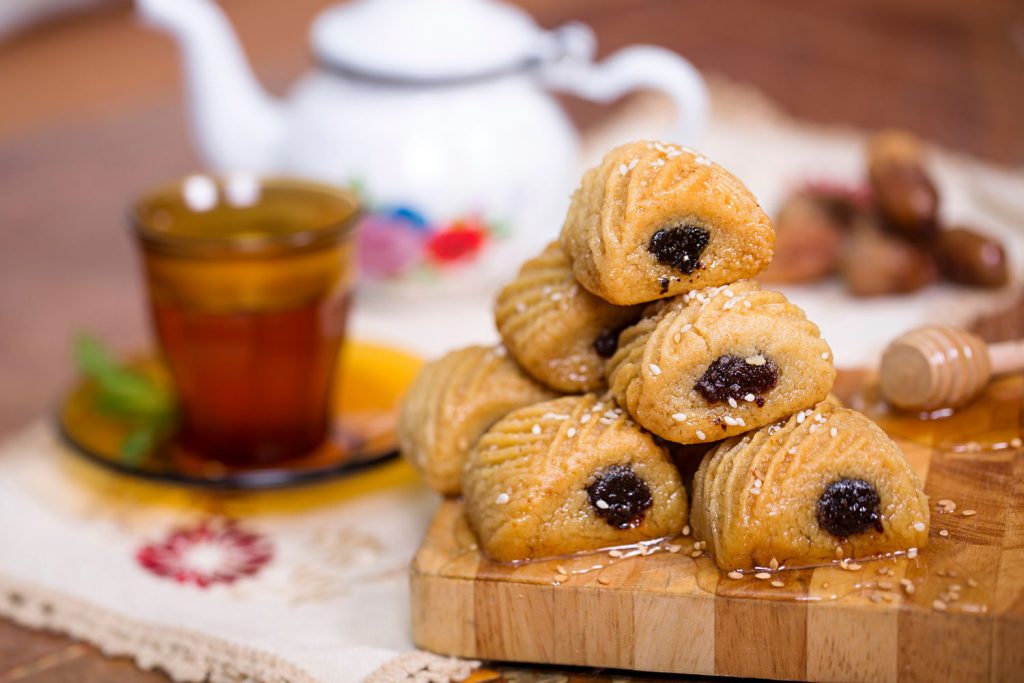 The traditional Libyan cookie utilizes some of the classic North African cuisine ingredients, including semolina, dates, and sesame seeds.
The cookie dough is made with a mix of flour and semolina, while the filling is made with date paste, cinnamon, and nutmeg. Once baked, the cookies are coated with orange blossom syrup and sprinkled with sesame seeds.
While similar cookies can be found in many North African countries, they are often fried, while Libyan magroodh (or magrood) are instead baked. The best way to eat magroodh is with Arabic coffee or a hot cup of tea – utterly divine!
21 – Bjawia
The main ingredients in Tunisian bjawia are nuts, in almost any variety. This bite-size pastry is made with roasted pistachios, walnuts, hazelnuts, almonds, and pine nuts, all roughly crushed and mixed together with a syrup made with sugar and lemon juice.
The mixture is then left to harden, sprinkled with finely crushed pistachios, and cut into diamond shapes. Bjawia (or bjaouia) traditionally was eaten for special celebrations and was considered a luxury pastry since it's made entirely with nuts. Nowadays, you'll find bjawia in most pastry shops all over Tunisia, making it a must-try sweet treat when in Tunisia.
22 – Griwech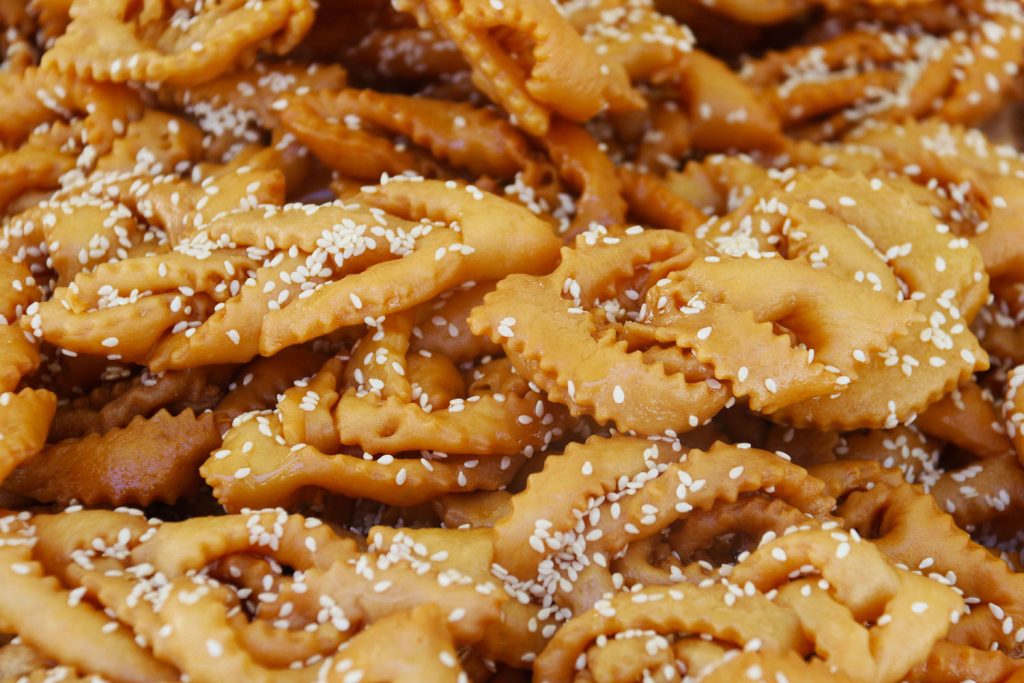 A pastry popular during the month of Ramadan, griwech (or griouech) is a simple yet delicious dessert. The dough is made simply from flour, eggs, butter, and the traditional orange blossom water used in many North African desserts.
The dough can be cut and modeled to form different shapes, although the most popular version of this dish is shaped in a similar vein to a long braid.
The pastry is deep-fried, then coated with icing made with honey and orange blossom water, and topped with sesame seeds. The result is a crunchy pastry (griwech means crunchy in Algerian Arabic), perfect to enjoy with coffee or tea.
23 – M'hancha
M'hancha is a Moroccan pastry, also known as snake pastry due to its resemblance to a coiled snake. M'hancha is made with filo pastry filled with an almond paste flavored with cinnamon and orange flower water.
The pastry is baked, then garnished with honey syrup and chopped almonds. M'hancha is served at room temperature, often dusted with powdered sugar or cinnamon.
The dessert usually comes in a large portion, often served at social gatherings where every person can tear small portions starting from the end of the coil. However, you may also find smaller individual pastries.
Discover more Moroccan desserts.
Mediterranean Desserts Summary
The Mediterranean is world-famous for its colorful, fresh, and flavorsome cuisine, so it should come as no surprise those characteristics have extended to the sweeter side of the region's foods and dishes.
From rich, buttery pastries of French bakeries, to syrup-coated candies of North African food markets, spellbinding are rife and plentiful throughout the Mediterranean.
These dishes are only the tip of a very glazed, sweet, and mouthwatering iceberg, but they are a great place to start when visiting their respective countries to get a taste of what is on offer when it comes to afternoon treats or post-meal desserts. I do hope you enjoy!
You Might Also Like to Read
Save and Pin for Later
Keep these Mediterranean desserts for safekeeping by saving this article to one of your foodie travel Pinterest boards.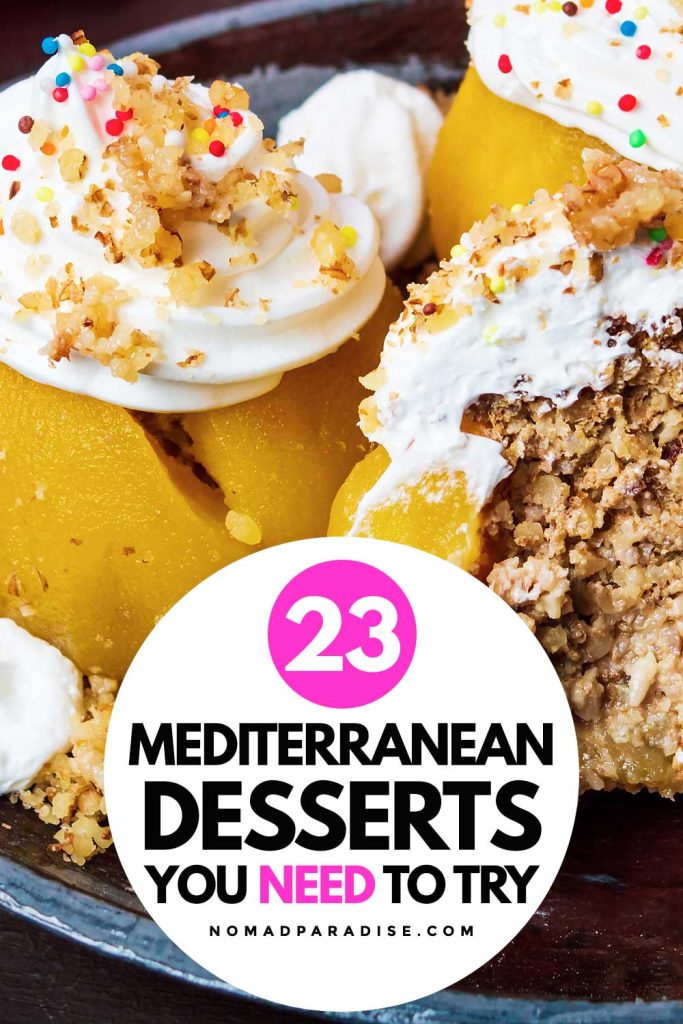 Author: Roxana Fanaru is a lifestyle and travel writer, based in Rome, who travels extensively through Europe and the Mediterranean region, with a deep passion for international travel, food, and culture.
Images licensed via Shutterstock