This post may contain affiliate links, meaning if you book or buy something through one of these links, we may earn an affiliate commission at no additional cost to you. Learn more
Albanian food is a sumptuous blend of Mediterranean and Balkans cuisine. The produce is rich and colorful, while the meat is tender.
With foods characterized by the rural areas, mountainous regions, and coastline, there are so many exciting flavors to try in Albania.
Get ready for divine tastes and textures as we explore 17 traditional Albanian foods and what makes them so delicious.
17 Most Popular and Traditional Albanian Foods as Recommended by a Local
1. Ferges (Summer Stew)
Ferges is, without a doubt, one of the most traditional foods in Albania. The dish consists mainly of tomato sauce, cottage cheese, green peppers, and garlic.
The main reason why this dish is called a summer stew is that many Albanians like to eat it after it has gone cold.
The best way to eat this dish is to wait for it to cool down for about 2-3 hours. This gives it a thicker consistency and makes the ingredients stand out more.
Ferges is usually eaten only with bread. I usually dip toasted bread in the dish and eat it.
The dish is not really a typical menu option in Albanian restaurants, but you can try it in countryside restaurants that serve traditional food.
This appetizer is a great dish that Albanians usually eat before a meat-based entrée.
It is usually served during the summer due to it being rather cold when served. The dish is made with Greek yogurt, cold water, shredded cucumber, and salt.
The appetizer has the consistency of a soup, so it is normal for this dish to be served in a bowl.
It tastes very similar to the traditional Albanian drink dhalle. This is the reason why many foreigners find it surprising when they see tarator served in a bowl.
This appetizer is beloved mostly by the older generation as youngsters prefer dhalle because it is more practical to consume.
Read more: Tarator Recipe
3. Byrek (Albanian Pie)
Albanian pies remain one of the most preferred traditional foods. People love them because they can take the pies on the go for a quick meal or snack.
There are many different types of fillings that can go into a byrek. These include meat, spinach & feta cheese, onions & tomatoes, or cottage cheese, which is the most popular of them all.
Not only does this dish have different types of fillings, but it can also come in different shapes. This all depends on the region where you try it.
Byrek is usually served with greek yogurt or dhalle.
The older generation usually eats byrek after the main course. Others eat it most frequently as a quick snack or as a closing plate.
It is still common for Albanians to make byrek at home, although you can also find them in local restaurants and shops that specifically sell these pies.
4. Ashure (Dessert Porridge of Grains, Fruit, and Nuts)
Ashure is a traditional Albanian dessert that originated from Turkey.
It has a gelatin consistency that melts in your mouth, giving you the chance to taste the nuts or dry fruit that it is made with.
Ashure can best be described as a sweet porridge that is served cold.
It is a popular Albanian dessert that is traditionally eaten during the first month of the Islamic calendar. However, you can easily find this tasty dessert in any pastry in Albania all year round.
It is a great healthy choice for whenever you have a sweet tooth.
5. Tavë Kosi (Baked Lamb or Chicken in Yoghurt)
In Albania, chicken baked in yogurt is a beloved traditional dish, commonly served at lunchtime.
It is widely known throughout the Balkan as Elbasan tava. It has been named from the Albanian city from where the dish originated.
Tave Kosi is usually made with lamb meat but some Albanians also use chicken as an option.
The yogurt is mixed with rice and eggs and baked together with the meat.
This dish has a very unique taste. The baked yogurt has a soft texture and tastes a bit sour, while the meat balances it well, giving the dish its juicy meaty flavor.
6. Trilece (Milk Cake)
Trilece or also known as milk cake is originally from Latin America, but this version is the Turkish cuisine's take on it and it's very popular in Albania.
It is made out of three different kinds of milk that include evaporated milk, heavy cream, and condensed milk. In Turkey and Albania, unlike in Central and South America, the cake is then topped with caramel that gives it a strong sweet taste.
Depending on the region, this Albanian cake can be light and consisting of air bubbles or concentrated and thick.
The consistency of the cake itself all depends on how much butter is used in the recipe.
Trilece has a very unique taste that can be described as lightly crispy and sweet at the top, soft and light in the middle, and juicy on the bottom.
However, this dessert is not for everyone. Most people that haven't gotten used to the taste might find the soft and moist texture of the Trilece too overpowering to eat.
If you love a soft, moist, and sweet dessert then you can find this cake in any Albanian pastry shop.
7. Kackavall ne Furre me Domate (Baked Cheese with Tomatoes)
Kackavall is a traditional Albanian cheese that comes from the cow or sheep. The consistency of Kackavall cheese changes depending on the kind of animal it comes from.
Albanians love to eat this cheese with different types of traditional dishes.
Usually, they bake Kackavall along with chopped tomatoes and additional herbs.
Baked cheese with tomatoes acts as a side dish as the melted cheese adds flavor when eaten with different kinds of meat. It is really common to find it in Albanian grill house restaurants.
8. Speca te Mbushur me Oriz (Bell Peppers Stuffed with Rice)
Stuffed bell peppers are a very popular local dish. They are widely served throughout all regions of Albania and can be found in countryside restaurants that serve traditional food.
The dish consists of green bell peppers that are stuffed with rice. The exact recipe changes depending on the way it was passed on.
Some Albanians add chopped lamb meat or tomatoes rather than just rice. The stuffed peppers then are baked and served hot.
This dish is served with Greek yogurt, feta cheese, or dhalle. Adding chili peppers or black pepper to this dish is also common amongst Albanians as the spicy kick complements the dish's mild taste.
9. Petulla (Fried Dough)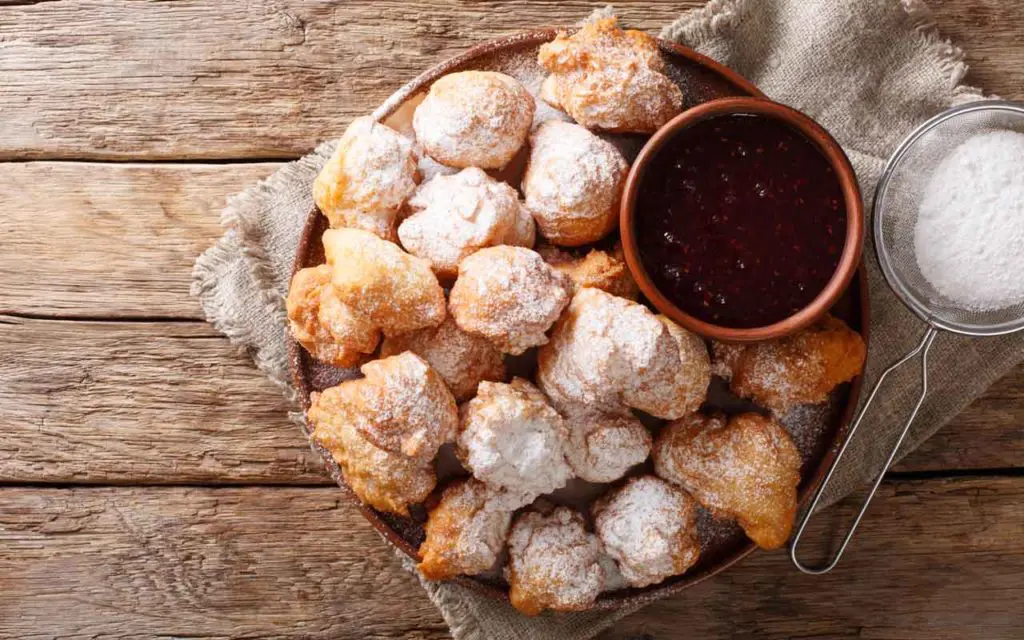 Fried dough is a popular dish eaten all throughout the Balkan.
In Albania, fried dough is traditionally served in many different ways. Petulla is commonly eaten as a snack or during dinner.
You can find food stands that serve fried dough combined with a topping of your choice throughout Tirana and Durres.
Toppings include chocolate, strawberry jam, shredded Kackavall cheese, or ketchup.
Fried dough is quick and easy to cook in most Albanian households. The most common way to eat them is with feta cheese or honey.
Another less popular but delicious toping it is eaten with (mainly in the northern region) is Greek yogurt and garlic.
Albanian fried dough is heavier in consistency than doughnuts but has the same crispy outside and soft inside.
10. Peshk dhe Perime ne Tave (Fish and Vegetables)
Since most of Albania is near the Mediterranean Sea, you can probably guess it will have at least one traditional dish consisting of fish.
Almost every restaurant in Albania has a dish that is worth trying at least once, and that is the baked fish and vegetable dish.
Usually, the fish is only cleaned from the outside and just put in the stove along with chopped vegetables, all topped with olive oil and salt.
This dish is commonly associated with wine or sometimes even raki. It is a signature dish that is loved by most foreigners who try it.
11. Flija (Baked Crepes)
This dish is common in the northern region of Albania and Kosovo.
It is a simple recipe that is usually made in Albanian homes or served in local traditional restaurants.
Flija is an easy crepe-like dish that has a crispy texture at the top and softer texture at the bottom.
The added butter gives Flija its delicious taste. The dish is usually served with fresh dairy such as cheese or yogurt.
12. Jani me Fasule (White Bean Soup)
White bean soup has remained a top-rated dish in the Albanian cuisine.
This was one of the most commonly prepared dishes during the Albanian famine era as it was the cheapest to cook and also the most filling. Even though the famine passed, white bean soup didn't lose its popularity.
The soup is made with tomato sauce, onions, and white beans and it is often served with pickled vegetables or Greek yogurt.
Most Albanians eat this soup with kulac, which is homemade baked bread.
13. Qofte (Lamb Meatballs)
When visiting Albania, you may find a lot of grill houses serving plain meatballs.
In fact, traditional Albanian meatballs are different than what you might think when ordering spaghetti and meatballs in western cuisines.
Qofte is made only from lamb meat that is diced and mixed with herbs.
The meatballs are usually served with a variety of vegetables and sour cream.
Meatballs made in Albanian homes are a little different than what you may find in a typical Albanian restaurant.
Homemade meatballs are mixed with bread crumbs and shaped in a flat round form. In most cases, Albanians eat these meatballs with tomato soup.
Many countryside restaurants in Albania make meatballs the homemade way as well.
14. Tave Mishi (Mixed Meat Platter)
One of the most traditional dishes in Albania is a mixed meat platter. This platter is usually served at big family gatherings or for special events.
The mixed meat platter is worth trying as it gives you different flavors of juicy grilled meat all in one plate.
It's recommended to add fresh lemon juice to the dish for added flavor.
If the platter sounds like too much food, then paidhaqe is a good alternative.
Paidhaqe is lamb meat that is grilled and served with lemon. It is commonly served with raki or dhalle.
15. Speca te Mbushur me Salce Kosi (Peppers Stuffed with Sour Cream)
A very popular traditional side dish that is a part of the Albanian cuisine is pickled green peppers that are stuffed with sour cream.
It is a great side dish when eating heavy foods like potatoes, meat, and rice.
Stuffed peppers are a popular menu option that is found in grill house restaurants and also traditional restaurants in the countryside.
You can also find peppers stuffed with sour cream in markets that sell dairy products.
They have an interesting taste to them as the spicy pickled flavor of the pepper does not let the sour cream become too overpowering.
16. Sarme (Cabbage Rolls Filled with Meat and Rice)
Sarme is featured in many Eastern European and Balkan countries as a traditional dish. However, each country has its own unique way of preparing this dish.
In Albania, sarme is made mostly in the northern region. It is simply cabbage rolls filled with rice and shredded meat.
These cabbage rolls are either boiled alone or made into a stew. In most cases, sarme is served with yogurt or dhalle.
It is mostly cooked by the older generation, and it is a traditional dish that is slowly fading away.
However, you can still find this dish in some northern traditional restaurants in Albania.
17. Raki (Traditional Alcoholic Beverage)
Raki is a very popular local alcoholic beverage. Although raki was imported from Turkish cuisine, it remains a widely preferred beverage amongst Albanians.
This is because, unfortunately, Albania is not very well-known for its other alcoholic beverages such as wine or cognac.
Raki contains an average of 40% alcohol and can be served with various dishes.
It's most commonly served with meat-based dishes.
Another way to drink raki is with coffee. Many people drink their morning coffee with a small glass of raki as it is believed to have many health benefits.
Albanian Food Summary
Combining the warmth of Balkans food and the delights of Mediterranean ingredients was always going to produce a delicious cuisine.
Albanian food is rife with citrus fruits, Mediterranean staples like olive oil and wheat, and tender fish and meats.
From there, the Balkan influence has brought a range of wonderful pies, pastries, and desserts, to Albanian cooking.
Across the country, the terrain has a huge influence on the types of food served. You can find so many new dishes if you travel to different places.
Similarly to Latin American countries, the fresh fish of the coast and the succulent meats of the mountains give you a varied range of flavors.
In Albanian culture, too, food plays a huge role. Families regularly eat together, and a wide range of foods are prepared.
You'll never be too far away from delicious food in Albania. It's a country proud of its relationship with food.
Plus, being located in the Mediterranean region, means the produce and seafood are some of the freshest and flavorful on the continent.
Before we go, one final time here's the full list of all foods covered in the article.
Be sure to have this list of Albanian food handy when you visit so that you can try one or more of these popular and traditional foods.
Ferges – Summer Stew
Tarator – Cold Yoghurt Appetizer
Byrek – Albanian Pie
Ashure – Dessert Porridge of Grains, Fruit, and Nuts
Tavë Kosi – Baked Chicken in Yoghurt
Trilece – Milk Cake
Kackavall ne Furre me Domate – Baked Cheese with Tomatoes
Speca te mbushur me oriz – Bell Peppers Stuffed with Rice
Petulla – Fried Dough
Peshk dhe perime ne tave – Fish and Vegetables
Flija – Baked Crepes
Jani me fasule – White Bean Soup
Qofte – Lamb Meatballs
Tave Mishi – Mixed Meat Platter
Speca te Mbushur me Salce Kosi – Peppers Stuffed with Sour Cream
Sarme – Cabbage Rolls Filled with Meat and Rice
Raki – Traditional Alcoholic Beverage
You Might Also Like to Read
Save and Pin for Later
Want to keep all these delicious Albanian food picks in a safe place? Save this article and pin it to one of your Pinterest boards for later.
---
Author: Sindy Hoxha hails from Durres, Albania. She is both a bilingual translator and technical writer. Sindy writes about many topics in the travel sector, including her native Albanian cuisine and culture.