This post may contain affiliate links, meaning if you book or buy something through one of these links, we may earn an affiliate commission at no additional cost to you. Learn more
Venezuelan Food is vibrant and diverse, full of fresh, hearty produce and some fascinating fusions.
The foods of this beautiful country have the passion of Latin America, with plenty of European and West African influence.
There's so much to get excited about when it comes to Venezuelan cooking. So let's dive in and explore 16 traditional Venezuelan dishes, beloved across the country, as recommended by a local from Venezuela.
Venezuelan Foods
Venezuelan Appetizers and Mains
1. Arepa (Round Corn Bread)
Arepa is arguably the most iconic dish in Venezuela. It's the most famous food by far.
Despite a few Latin American countries also having a similar dish, arepas are synonymous with Venezuela and its culture.
Why are they so popular? First, they are delicious and filling. They are easy to make. And, you can eat them no matter when.
From the most humble houses in Venezuela to the richest ones, Venezuelans have arepas in common.
If you want to make arepas, start with masarepa (fine cornmeal), add some water and salt, and knead to make a consistent dough.
Shape it as a flat circle, and bake. You can literally fill it with ANYTHING you want.
The most common fillers are black beans, cheese, butter, eggs, avocado, or shredded beef. They are the queens of Venezuelan gastronomy.
2. Pabellón Criollo (Rice, Plantain, Beans, and Beef)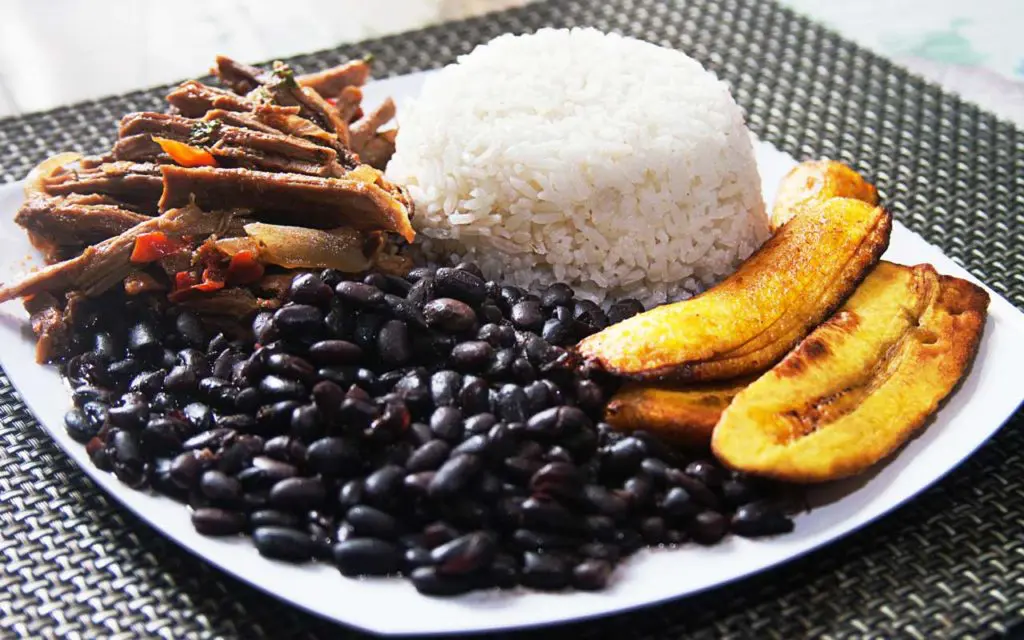 Pabellón criollo is one of the most representative and traditional dishes of Venezuelan cuisine.
It's officially considered the national dish of this country, and it represents the union of the diverse ethnic groups.
However, the origin of it is uncertain. According to historians, Pabellón has been very popular since the end of the 19th century.
Pabellón is full of colors and different flavors, and even though it has slight variations along the territory and regions of Venezuela, people have kept the essence of it.
Pabellón is made of white rice, shredded beef, black beans, and fried ripe plantain. Some people might also include fried eggs.
It's a very typical dish inside Venezuelan kitchens and traditional restaurants.
3. Tequeños (Cheese Rolls)
Tequeños are the canapés and appetizers par excellence in Venezuela. People eat hundreds of thousands every day.
Tequeños are also becoming more and more famous in other countries.
Everyone agrees that at a party, a gathering, any social event, or even weddings, the host must serve tequeños. Otherwise, the event would be considered boring.
Tequeños can be a breakfast, a snack, a canapé, or an appetizer, and people eat them regardless of their status.
What is this mouthwatering and delectable snack made of? Fried wheat flour with feta or white cheese inside. That's it!
They can have different sizes, but on average, they're 10 cm (4 inches) long. You can eat them with some dip, such as ketchup or tartar sauce, among others.
4. Hallacas (Meat Tamales)
It's possible that Hallacas are the most complex dish in Venezuelan cuisine.
However, people only make them in December, especially for Christmas dinner. They are indispensable on that day because it's a very rooted tradition.
In December, Venezuelan families reunite, and they all work together to make as many Hallacas as possible to eat during the whole month.
It's also very typical to exchange Hallacas with relatives, friends, and neighbors.
The preparation of this indigenous food varies by region, but the most important ingredients are pork or beef stew, olives, and pickled capers.
All this goes inside corn dough colored with annatto, and then it's wrapped with plantain leaves. Finally, people tie them with white strings, boil them, and then serve them.
5. Fried Empanadas
Prolific throughout Latin American cuisines, what makes Venezuelan empanadas so special is that their dough is made from ground corn, which, with the addition of annatto, give these fried pastries with various fillings a gorgeous golden-yellow color once they come out of the pan.
Fried in oil and commonly rolled into half-moon shapes, the fillings for empanadas are vast and varied. Typical fillings to try, however, include shredded beef, shredded chicken, various cheeses, black beans, and other meats like ham or seafood such as cazón (dogfish).
Crispy on the outside, with a juicy, searing hot filling, Venezuelan empanadas can be enjoyed at any time of day, either for a main meal or a grab-and-go snack if you're on a hectic schedule.
6. Pan de Jamón (Ham Bread)
Like Hallacas, Venezuelan ham bread is a very typical recipe, but it's only prepared in December for Christmas dinner.
The mix of different cultures in the Venezuelan capital gave the origin to this bread. Soon, it became an emblematic food for Christmas times.
Once again, there are small variations regarding its preparation, but all Venezuelans agree ham bread is irreplaceable on these holidays.
Pan de jamón is a pretty soft bread. It includes some sugar, which gives a sweet taste to the dough.
To make it, you need to spread the dough on a flat surface and then add ham slices, olives, and raisins.
After that, it's rolled and baked. Once cooked, the smell and taste are incredible. Everyone loves it!
7. Bollo Pelón (Corn Dough Filled with Beef Stew)
No one can resist eating Bollos pelones. It's an authentic burst of flavors to your palate.
They're very common throughout the entire year for several reasons: they're a complete meal for lunch; two or three bollos pelones are enough to satisfy yourself. Also, it's a simple recipe people can make in less than one hour. But the most important is that children and adults alike love this food, and it makes them happy.
Bollo pelón consists of an apple-sized corn dough ball normally filled with beef stew, but sometimes you can have chicken stew as well.
Then, bollos pelones are boiled and served with a delicious tomato sauce and grated cheese.
Unfortunately, they aren't commonly served at restaurants.
8. Pisca Andina (Egg and Milk Soup)
Pisca Andina is the most customary dish from the Venezuelan Andes, as well as one of the most ancient foods.
Since the Andes is a very cold region, it's typical to have this soup for breakfast so that people warm up in the morning.
Also, Pisca Andina is an excellent meal to treat a hangover!
This soup has a simple preparation, which is based on coriander and green onion, giving it such a characteristic and spectacular aroma.
Still, it has a soft and exquisite flavor thanks to the potatoes, eggs, and milk. It's normally eaten with Andino bread and white cheese.
Some variations include chili, which is ideal for spicy food lovers. Pisca Andina has become part of the Venezuelan patrimony.
9. Patacón Zuliano (Plantain Filled with Beef)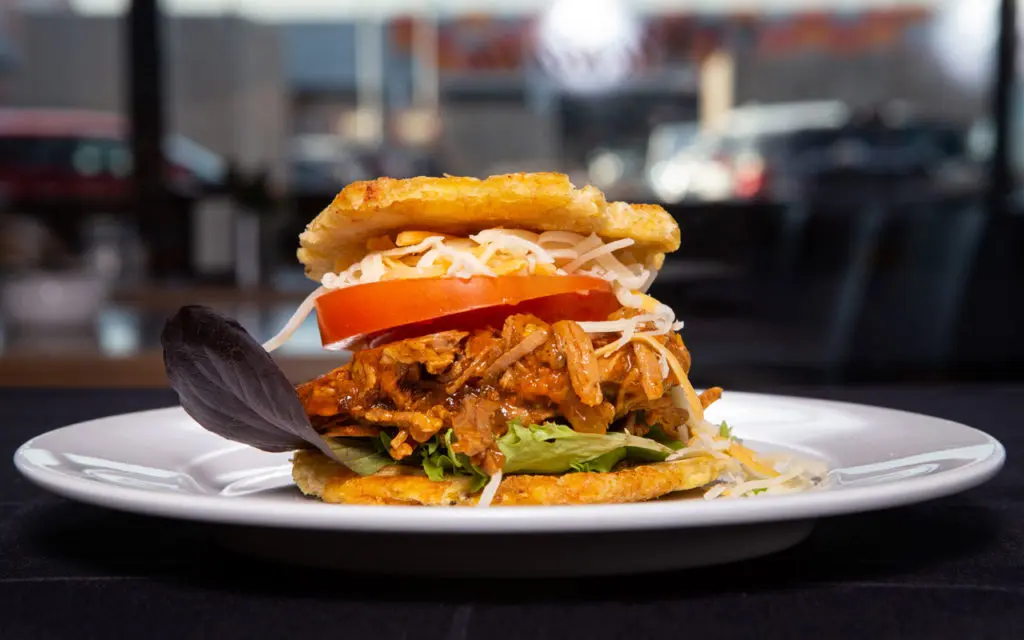 Junk food in Venezuela is as greasy and fattening as it is diverse and creative! This is the case of Patacón Zuliano.
Patacón is a very common side dish in various Latin-American, South American, and Caribbean cuisines.
However, in Venezuela, specifically in the region of Zulia, people invented a variation of Patacón as a fast (and delicious) food.
You can easily find it at almost every food stall and in most small restaurants.
It's made of two slices of fried green plantain. In the middle, people add shredded beef or chicken, salad, grated cheese, boiled eggs, sometimes some vegetables, and a significant amount of mayonnaise and ketchup.
It looks like a hamburger but with plantain instead of bread.
10. Mandocas (Flavored Fried Corn Dough)
Another yummy fried snack is Mandocas. This type of "donut" comes from the west of Venezuela; again, the Zulia region. They are popular in the whole country, though.
Kids love them, and mothers usually cook Mandocas for children as a snack or breakfast to eat at school.
The corn dough has several sweet and, especially, native ingredients, such as very ripe mashed plantains, anise seeds, grated cheese, and raw cane sugar.
The latter is magic because it turns the dough sweet and dark brown when fried.
All these ingredients are mixed in a bowl, kneaded, shaped like a horseshoe, and then fried with plenty of oil. Despite them not being so healthy, they're certainly tasty!
11. Fosforera (Seafood Soup)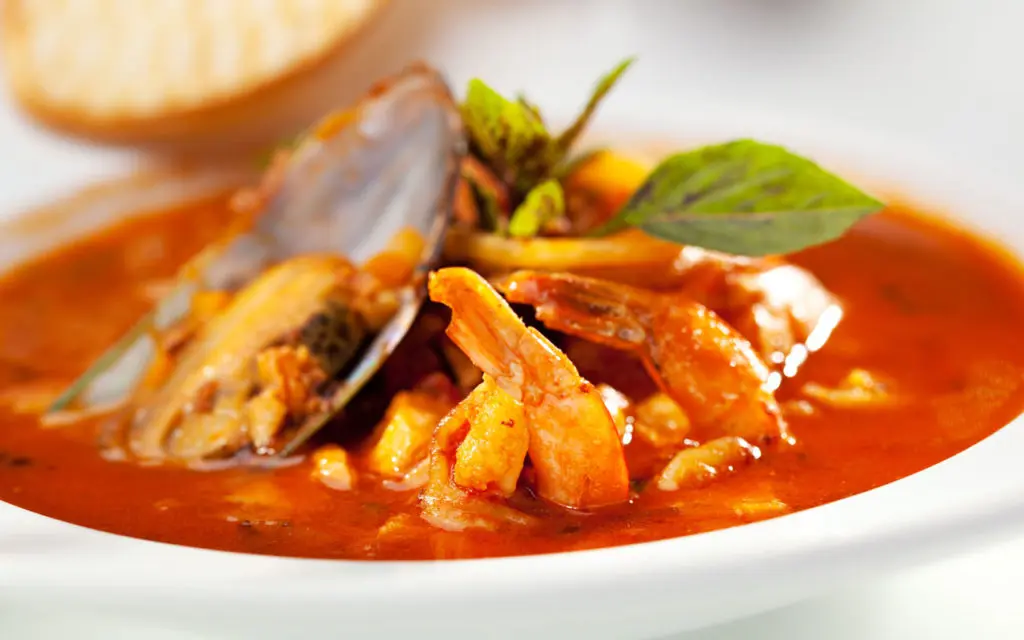 Fosforera is a typical dish in the coastal region of Venezuela. People attribute aphrodisiac properties to fosforera because of the wide variety of seafood in this soup.
Fosforera is also so nutritious that people normally refer to it as the levanta muertos, which means that it raises people from the dead.
Cooking this soup requires a lot of work, but it's not a complicated recipe and the final result is incredible.
It's believed that the name of this soup, fosforera, comes from phosphorus since it's particularly rich in this nutrient.
Some of the ingredients you will find in a fosforera soup are fish heads, shrimps, clams, squids, and crabs, among others.
Besides seafood, it also includes various types of vegetables, for example, onions, tomatoes, sweet chili, and coriander.
12. Buñuelos (Yucca Balls with Cheese)
Crunchy on the outside, soft on the inside, and generally sweet! Oh my God, perhaps Buñuelos are the most delicious snack made of yucca.
They're not as common as they used to be, though. Grandmas are the ones who usually cook this for the family, but you can still see them around Easter and Christmas.
The combination of flavors in your mouth is unique when the sweet honey sticks to your palate, but then the salty cheese gives incredible contrast to the sweetness.
The recipe is simple, taking you around 40 minutes to prepare them. You need yucca, of course, cheese to fill the ball with it, raw cane sugar to color the dough, and some honey to decorate on top of the Buñueños once fried.
13. Chicha (Creamy Milky Drink)
Irresistible, it's the most accurate adjective to describe what Chicha is. This drink is extremely popular in all Venezuelan states.
People sell it in the streets, stalls, and malls, and there are even big franchises! Recently, there has been significant growth in its popularity.
This drink is creamy and sweet because it's made of milk and white rice. Another variation of it is Chicha made of pasta instead of rice.
Chicha is served with a lot of ice cubes and cinnamon powder on top of it.
Nowadays, people can also include mashed cookies, chocolate syrup, and condensed milk on top.
You can drink it at any time, any day, anywhere. The best part is that you can easily make it at home as a nutritious snack.
14. Dulce de Lechosa (Papaya Dessert)
This is a very traditional dessert commonly prepared in December, especially for Christmas dinner and New Year's Eve.
Dulce de lechosa can't be replaced during these days, and, like Hallacas, people enjoy sharing it when they visit family and friends.
In contrast to Hallacas, Venezuelans occasionally make Dulce de lechosa in other months, too.
This native dessert is one of the favorites despite many people not liking the fruit itself.
It's important to highlight that the papaya needs to be still green to prepare this dessert.
Dulce de lechosa is part of the traditional smells of Christmas. The aroma it spreads is delightful when the papaya is boiling, thanks to cloves and cinnamon added in the preparation.
Dulce de lechosa can be accompanied by another dessert known as manjar.
15. Paledonias / Cucas / Catalinas (Brown Sponge Cake)
Depending on the region of Venezuela, this cake or cookie is known by a different name, but the recipe is basically the same.
You differentiate Paledonias from a regular cake because they are brown.
The reason? Instead of using common sugar, people add raw cane sugar, which gives them that particular color.
Their texture is really soft, and they taste great. People highly appreciate Paledonias, and they generally buy them from street vendors.
They are more common in the Andes and the west of Venezuela. They can be a delicious breakfast or snack, but this isn't complete if you don't eat them with coffee with milk.
It's a delight to eat this brown sponge cake.
16. Ponche Crema (Creamy Milky Alcoholic Drink)
It might look like Chicha, but be careful because Ponche crema is totally different, especially because it's an alcoholic drink.
However, it's not a drink you will find in discos or parties but in family and friends gatherings. It's typically served in December, during the holidays.
Recipes vary a lot from family to family and from region to region. In general, there are a few basic common ingredients. It's made of milk, eggs, sugar, vanilla, and rum.
It's commonly served in cups with some ice. The colder and creamier, the better. Some of them are soft, but it all depends on how much rum you add.
17. Tizana (Fruit Punch)
Tizana is the healthiest food on this list. This amazing drink is perfect when the temperature is hot.
It's a tropical drink that tastes like a cocktail but without alcohol. This drink is commonly served at parties and social gatherings. It's also sold by fruit stand vendors.
What can you find in a Tizana? Well, many types of chopped fruits floating in red-orange juice, colored due to grenadine syrup.
Tizana perfectly reflects where Venezuela is geographically located, and that's why it includes so many fruits, such as cantaloupe, watermelon, grape, pineapple, apple, banana, tangerine, and strawberry.
Everyone enjoys a Tizana because you drink the juice, but you also need a spoon to take the fruits and eat them. It's so refreshing!
Read more: 13 Most Popular Venezuelan Desserts
Venezuelan Food Summary
The bright colors, the wholesome staples, the tender meats: there's so much flavor and fizzle going on in Venezuelan cuisine.
From the breathtaking mountainous regions to the coast that looks out over the Caribbean, there are dishes for all tastes.
Due to the climate, a range of fleshy, exotic fruits grow in Venezuela. It's wonderful to see so many of them make it into popular dishes.
For balance, these sharp flavors are offset by the warmth and comfort of rice, beans, and potatoes, among other staples.
Then there's the meat. Latin America is renowned for its tender beef and pork, and Venezuela is no different.
And with the north of the country kissed by the Caribbean Sea, the freshness and quality of the seafood are delightful.
Latin American flair, Spanish technique, Italian love, and African fire all find their way into this diverse cuisine. It's a remarkable mix of flavors.
Venezuelan food may be lesser known than other South American cuisines, but for freshness and quality, it's right up there.
Before we go, one final time, here's the full list of all foods covered in the article.
Be sure to have this list of Venezuelan food handy when you visit so that you can try one or more of these popular and traditional foods.
Pabellón criollo – Rice, plantain, beans, and beef
Hallacas – Meat tamales
Pan de jamón – Ham Bread
Bollo pelón – Corn dough filled with beef stew
Pisca Andina – Egg and milk soup
Patacón zuliano – Plantain filled with beef
Tequeños – Cheese rolls
Mandocas – Flavored fried corn dough
Fosforera – Seafood soup
Buñuelos – Yucca balls with cheese
Chicha – Creamy milky drink
Dulce de lechosa – Papaya dessert
Paledonias / Cucas / Catalinas – Brown sponge cake
Ponche crema – Creamy milky alcoholic drink
Tizana – Fruit punch
Arepa – Corn round bread
You Might Also Like to Read
Save and Pin for Later
Keen to try some of these Venezuelan foods? Save this article to one of your Pinterest boards, and come back to explore these foods again when the time is right.
Local Contributor: Betty Gregoria Teran is a creative copywriter and language teacher from Ciudad Ojeda, Venezuela. When she's not teaching Spanish and English classes, she writes across a range of topics, including Venezuelan cuisine and history.