This post may contain affiliate links, meaning if you book or buy something through one of these links, we may earn an affiliate commission at no additional cost to you. Learn more
The foods of Venezuela are fresh, colorful, and flavorsome. Venezuelan desserts, prepared with plenty of Latin love and passion, very much fall into this bracket.
There's richness, fruitiness, and plenty of stomach-filling delights for both the casual and expert foodie to enjoy.
Venezuelan cuisine is a unique blend of Latin American, European, and African influences. Many iconic flavors come through in the country's array of eye-widening desserts.
So let's prepare for plenty of dessert envy and take a trip to the heat and color of South America's northernmost country, as a native writer takes us on a journey to uncover 16 of Venezuela's most popular desserts.
Venezuelan Desserts
1 – Torta Negra Navideña – Christmas Black Cake
Black cake is a dessert that might have an European origin, but Venezuela has its own version of it.
It has some typical ingredients from the Old Continent, such as nuts, hazelnuts, and candied fruits.
The special touch of it is that, instead of using white sugar, we use raw-cane sugar. Also, rum is replaced by brandy, a traditional alcoholic drink from the Caribbean.
However, the cherry on the cake is the Venezuelan chocolate, well-known for being delightful, with a special aroma, and refined taste. It's the perfect dessert to surprise your guests.
2 – Torta de Piña – Pineapple Cake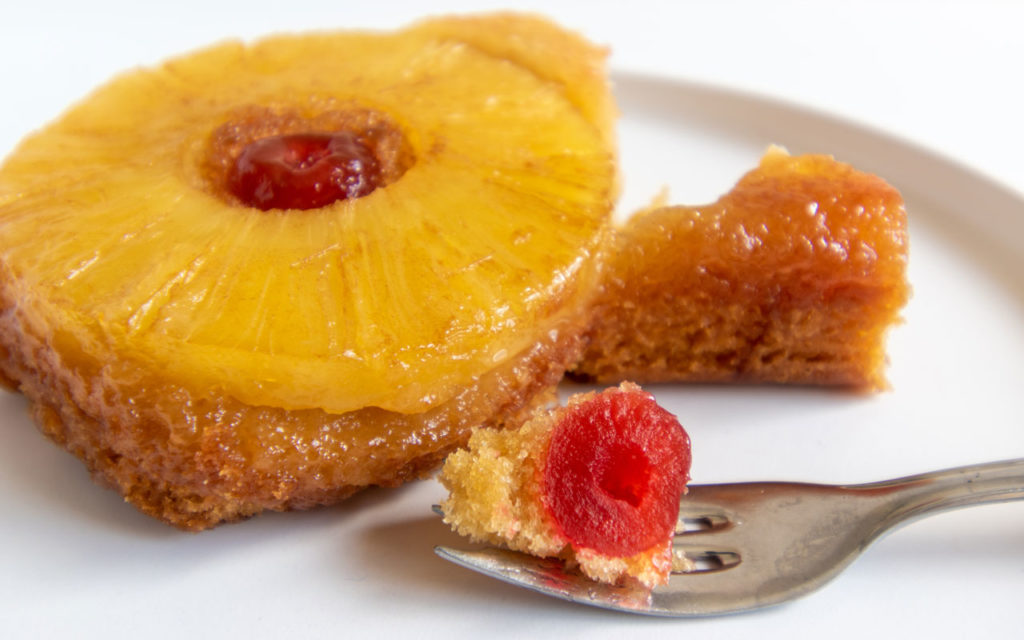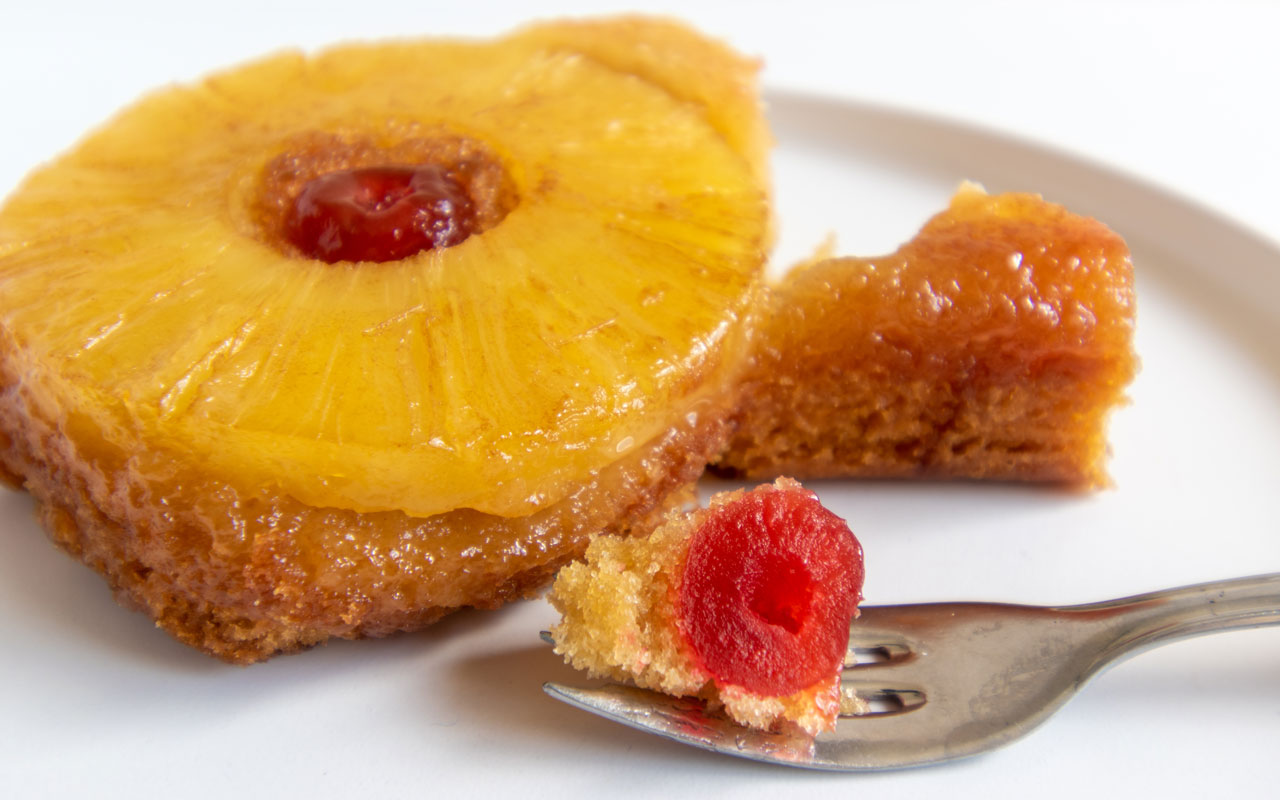 This easy-to-cook cake is traditionally from Venezuela, but you could find it in the rest of Latin America as well.
What makes this cake really interesting are the pineapple slices on top of it. Additionally, it's covered in syrup and exhibits a great presence and can be a perfect dessert for any meal.
The contrast of the sweetness of the cake and the taste of slightly acid pineapples is the charm of this dessert.
While this cake is preferred in December, people eat it year-round.
3 – Catalinas / Paledonias – Brown Sponge Cookies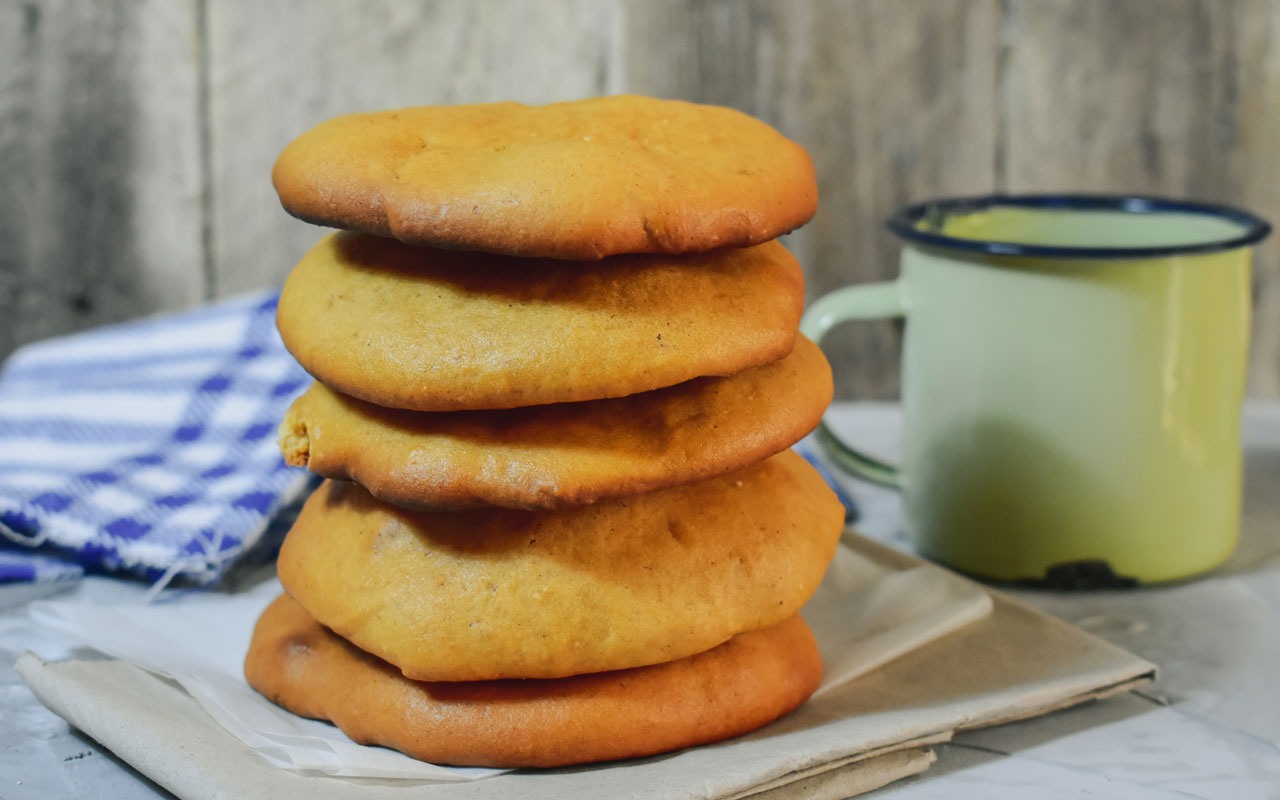 In essence, Catalinas are cookies, but very soft. The secret of what makes them unique is in the ingredients: cloves and raw-cane sugar.
The raw-cane sugar is responsible for the particular brown color and sweetness.
They're normally round, about 1 cm thick, and, on average, the radius of a tennis ball.
You can find Catalinas everywhere in Venezuela, and it's a good idea to eat them as Venezuelans do – with milk or coffee, as a snack in the afternoon.
4 – Jalea de Mango – Mango Jam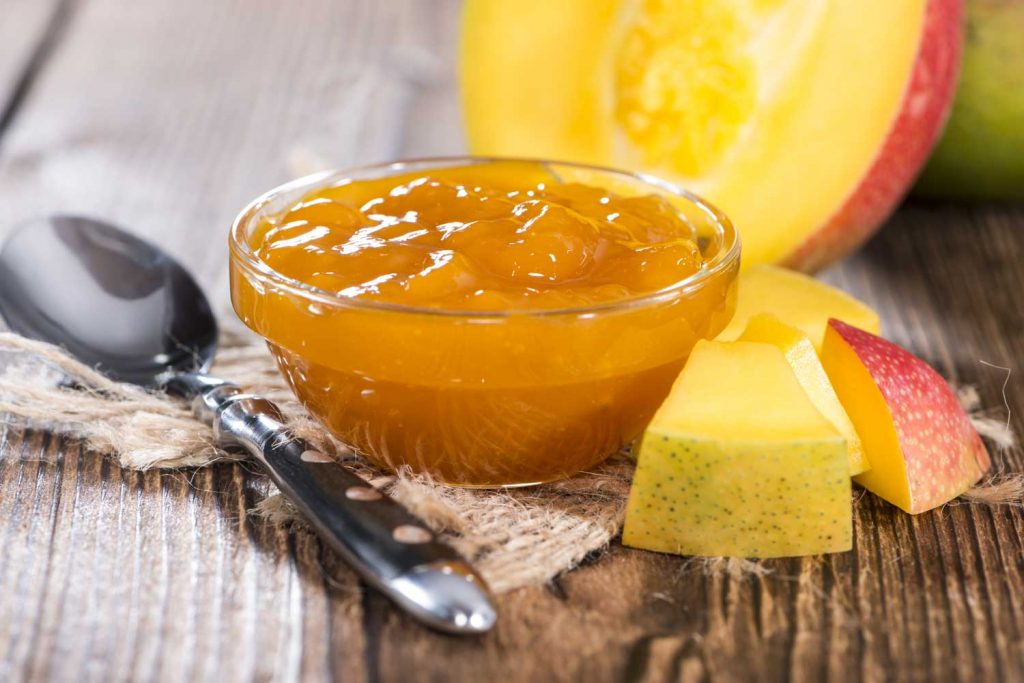 Even though mangoes grow in almost all the territory and are inexpensive, there aren't generally many traditional mango dishes. Generally, they're used only for juice.
But this tropical and sweet fruit can become an exquisite jam. The preparation is super easy and you will only need to peel the mangoes, boil them until they're soft, remove the seed, add some sugar and cook the resulting mass one more time until it gets a jam appearance.
You can serve this jam with crackers, bread, and pancakes, among many other options. This dessert is delicious, and you will also benefit from all its vitamins.
5 – Golfeados – Cheese and Raw Cane Sugar Bread Rolls
In recent years, the popularity of these bread rolls has grown so much.
They come from the capital of Venezuela but have quickly become popular in the whole country.
Inside this delicious bread roll, you will find grated raw-cane sugar, cheese, and sweet aniseeds.
Venezuelans love Golfeados so much that you can buy them from virtually any bakery in the country or street vendor.
They're delicious, super soft, spongy, and sweet. You could easily distinguish Golfeados from any other bread because of their shape; they look like a spiral and they're not too big.
6 – Chicha – Creamy Milky Drink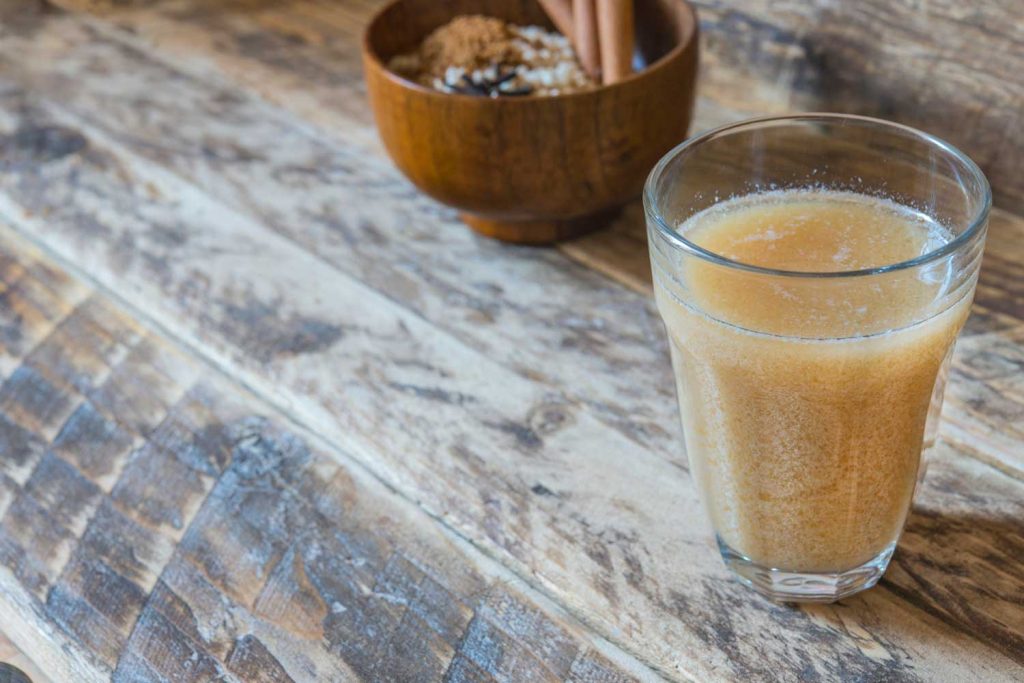 Chicha is a non-alcoholic drink usually made of milk and rice, but it also has a variation in which rice is replaced by pasta and takes a yellow color.
Chicha is so popular in Venezuela that there are Chicha chains in the entire country and even beyond the Venezuelan borders.
A good Chicha must be very cold and with a lot of tiny ice cubes. On top of it, add condensed milk and other toppings, such as cinnamon, small cookies, or chocolate.
7 – Arequipe – Dulce de Leche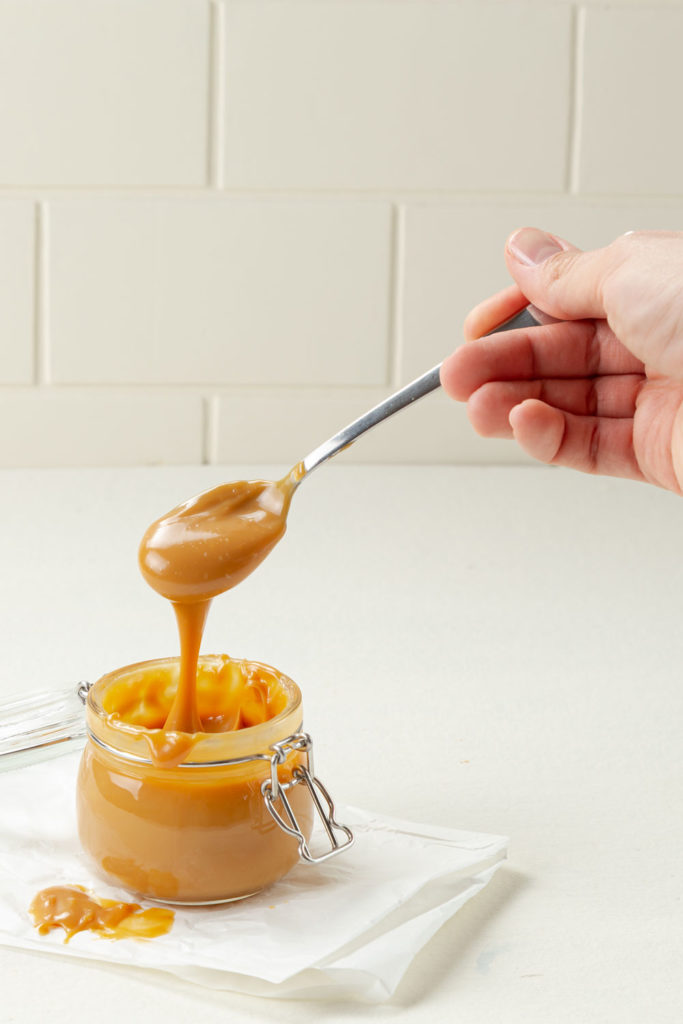 The most popular name for this "dessert" is Arequipe. However, it's also known as Dulce de Leche.
In fact, Arequipe is not a dessert itself, but it's widely used in multiple desserts, for instance, to fill and/or cover cakes, as a syrup for ice cream, in wafers, pancakes, and so on.
It gets a brown color and a creamy texture after 80 minutes of cooking. You only need to boil some milk, add some sugar, vanilla, and water. As you can see, it's very simple but delicious. You can also buy Dulce de Leche ready-made.
8 – Quesillo – Caramel Flan Pudding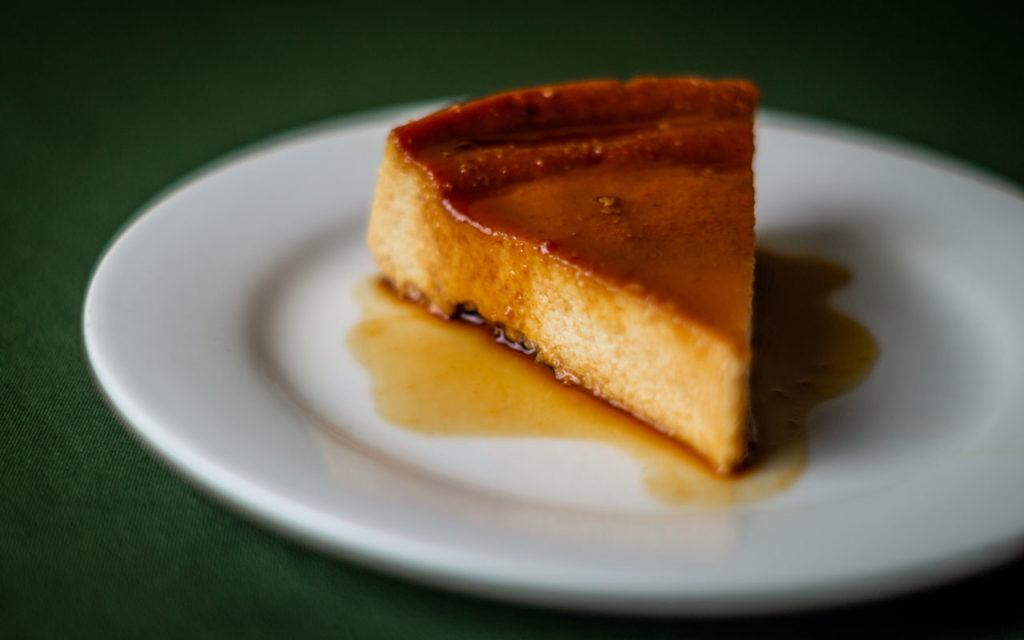 The dessert par excellence of the Venezuelan cuisine isn't any other but Quesillo.
It's almost always served on birthdays or any other gatherings or celebrations.
The word Quesillo comes from 'cheese' because of the particular little holes that resemble Swiss cheese.
Although Quesillo is a kind of flan pudding, there are important differences. For example, for its preparation, you will need both the yolks and the egg whites. Furthermore, Quesillo ingredients also include condensed milk, vanilla, milk, and rum or another liquor.
9 – Galleta de Huevo – Egg Cookie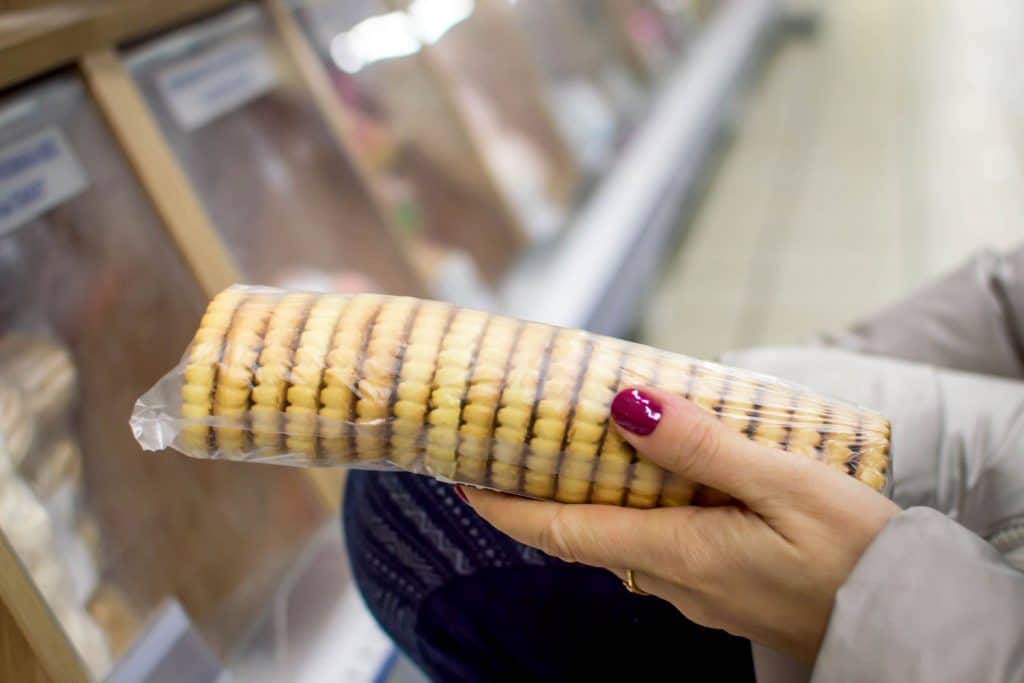 You might have frowned because of the name of this cookie, but actually, eggs are not particularly important in this recipe. It's called an 'egg cookie' due to the color of the cookie itself.
Galletas de Huevo have a really soft texture and delicious taste. They're also a cheap and easy-to-find snack.
Anyone can prepare them at home and enjoy them with their favorite soda or with coffee.
Unlike Catalinas, Galletas de Huevo are thicker, bigger, and yellow thanks to artificial colorant.
10 – Arepitas Dulces – Sweet Corn Round Bread
Arepitas Dulces are just a different version of traditional Venezuelan arepas. In this case, besides the cornflour, we add raw-cane sugar and aniseeds.
They're normally a snack in the afternoon, and often, people eat them with white cheese.
You need very few ingredients to prepare and enjoy this yummy dessert. And it will be ready in just 20 minutes.
Add all the ingredients in a bowl, knead, shape the dough as thin circles, and fry in abundant vegetal oil until the Arepitas inflate, get brown and crispy.
11 – Huevos Chimbos – Egg Yolks and Syrup
Huevos Chimbos is the most unusual dessert on this list. Even its name is weird, which literally means "low-quality eggs".
Its invention dates back to the colonial period. The preparation is simple and the result is a spongy and porous dough made with yolks.
The yolks are very well-whisked and then steam cooked or cooked in a bain-marie. After that, they're boiled in water with sugar, which will become a syrup after a few minutes.
It has a beautiful presentation and you can impress anyone with this unique dessert.
12 – Polvorosas – Venezuelan Shortbread Cookies
The word Polvorosas refers to the extremely soft texture of these small cookies.
When you eat them, they dissolve in your mouth as though they are candyfloss. That's due to their ingredients. They're made of wheat flour and butter or lard.
Polvorosas are small, and you buy them in bakeries and pay for them according to their weight, but they're cheap.
Like Huevos Chimbos, Polvorosas also date back to the colonial period, when people ate them as snacks with coffee with milk while having a good conversation with friends and family.
13 – Dulce de Lechosa – Candied Papaya
Dulce de Lechosa is everyone's favorite dessert in December. While some people don't generally like the taste of papaya, few can resist this candied papaya.
It's important to highlight that you need a green papaya to prepare this dessert. In this case, raw-cane sugar and cloves play a fundamental role to achieve good results and the original taste. The raw-cane sugar gives it the traditional brown color and cloves give it a magical aroma.
Venezuelan Desserts Summary
Vibrant colors, rich flavors, and hearty textures define the delicious desserts found across Venezuela.
The country's diverse climate allows it to grow a wide selection of exotic and colorful fruits, many of which find their way into the country's sweeter dishes.
From there, Latin passion, European technique, and African spark all help influence these beautiful, hearty, and sumptuous dishes.
Venezuelan cuisine may be one of the lesser-known in South America, but that means the country packs plenty of surprises when it comes to food.
Whether you're traveling in South America, or keen to bring Venezuelan food to your home kitchen, you have to try some of these desserts. They are delicious.
So, one final time, here's the list of traditional Venezuelan desserts and Venezuelan sweets covered in this article for reference.
Be sure to have this list of Venezuelan desserts handy when you visit so that you can try one or more of these popular and traditional foods.
Torta Negra Navideña – Christmas Black Cake
Torta de Piña – Pineapple Cake
Catalinas / Paledonias – Brown Sponge Cookies
Jalea de Mango – Mango Jam
Golfeados – Cheese and Raw Cane Sugar Bread Rolls
Chicha – Creamy Milky Drink
Arequipe – Dulce de Leche
Quesillo – Caramel Flan Pudding
Galleta de Huevo – Egg Cookie
Arepitas Dulces – Sweet Corn Round Bread
Huevos Chimbos – Egg Yolks and Syrup
Polvorosas – Venezuelan Shortbread Cookies
Dulce de Lechosa – Candied Papaya
You Might Also Like to Read
Save and Pin for Later
Want to keep all these delicious Venezuelan desserts in a safe place? Save this article and pin it to one of your Pinterest boards for later
---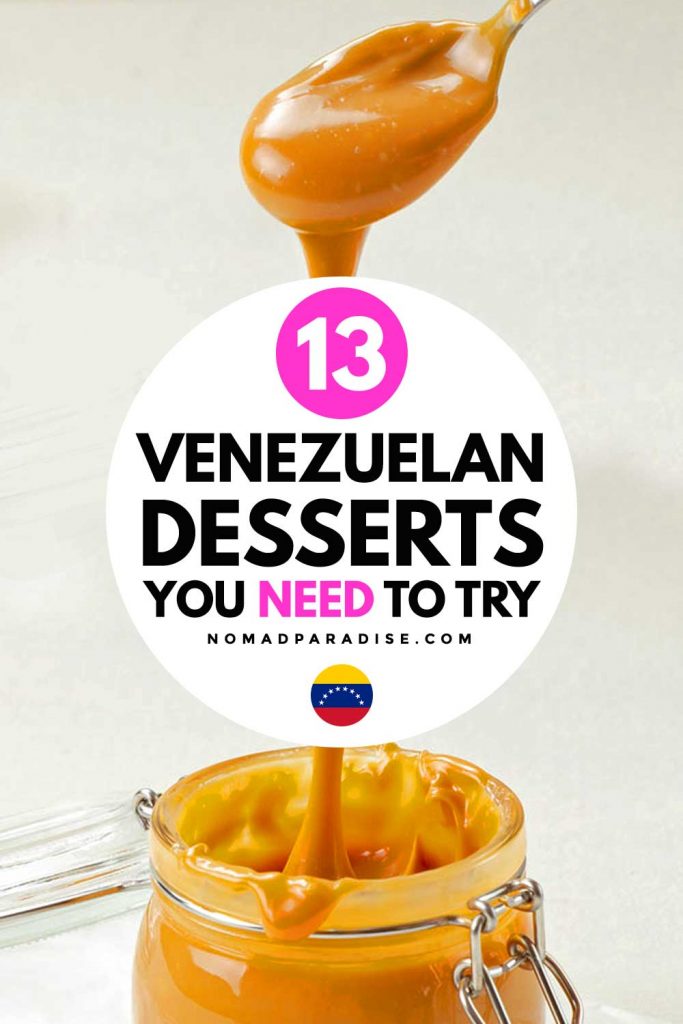 ---
Contributor: Betty Gregoria Teran is a creative writer and language teacher from Ciudad Ojeda. She is passionate about Venezuelan travel, culture, and cuisine, and writes on a number of topics.
Images licensed via Shutterstock