Some posts on this site contain affiliate links, meaning if you book or buy something through one of these links, we may earn an affiliate commission at no additional cost to you. Learn more
Slovakia is a beautiful, intriguing country with a cuisine that has very much gone under the radar on an international scale. If you're set to visit the country and want to learn more about hearty, unique Slovakian food, you've definitely come to the right place.
Flavourful, filling, and positively influenced by a number of European countries, Slovakian food has delights in store for both the hardcore and casual foodie. Our article takes a closer look at 22 traditional Slovakian food picks. All of them are unique in their own little way, and definitely worth trying when you visit Slovakia.
Introduction to Slovakian Food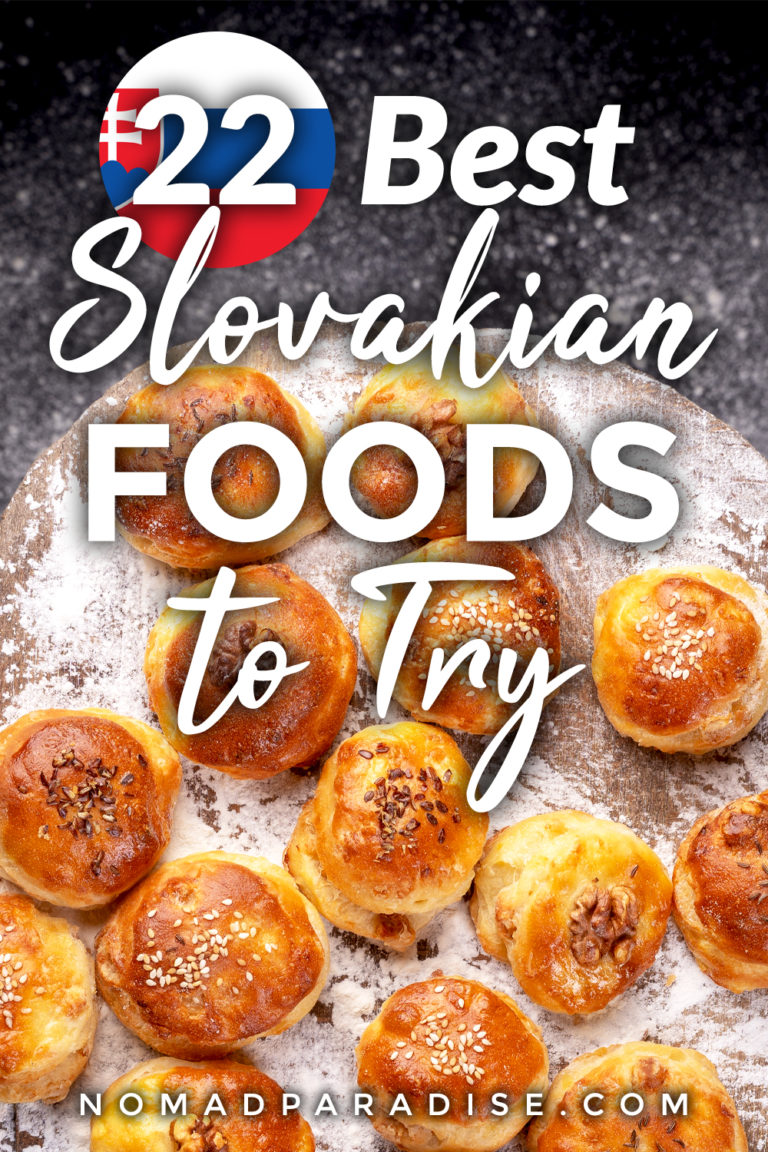 The country of Slovakia is located in Central Europe, surrounded by Austria, Hungary, Ukraine, Poland, and the Czech Republic. Due to its location and complex history, Slovak cuisine is heavily influenced by the dishes of these neighboring countries, especially Austria and Hungary.
Traditional Slovak dishes are largely simple, comforting, filling, and homey. They use foods such as pork, wheat, poultry, wheat, cabbage, potatoes, sheep and cow cheese, garlic, and onions, among many others. These gorgeous flavors combine to create traditional Slovak cuisine. Slovakian food has largely gone under the radar internationally, which is a shame, as Slovakian cuisine is some of the most wholesome and hearty food in all of Europe.
Local Slovakians enjoy three main meals a day with two snacks squeezed in between – desiata, a 10 o'clock elevenses, and the afternoon snack known as olovrant. When it comes to food, Slovakians run like a Japanese train timetable!
So, without further ado, let's take a closer look at 22 of the most delicious, traditional Slovakian foods that you have to try when you visit this beautiful country.
22 Slovakian Foods You Simply Must Try
1 – Bryndzové Halušky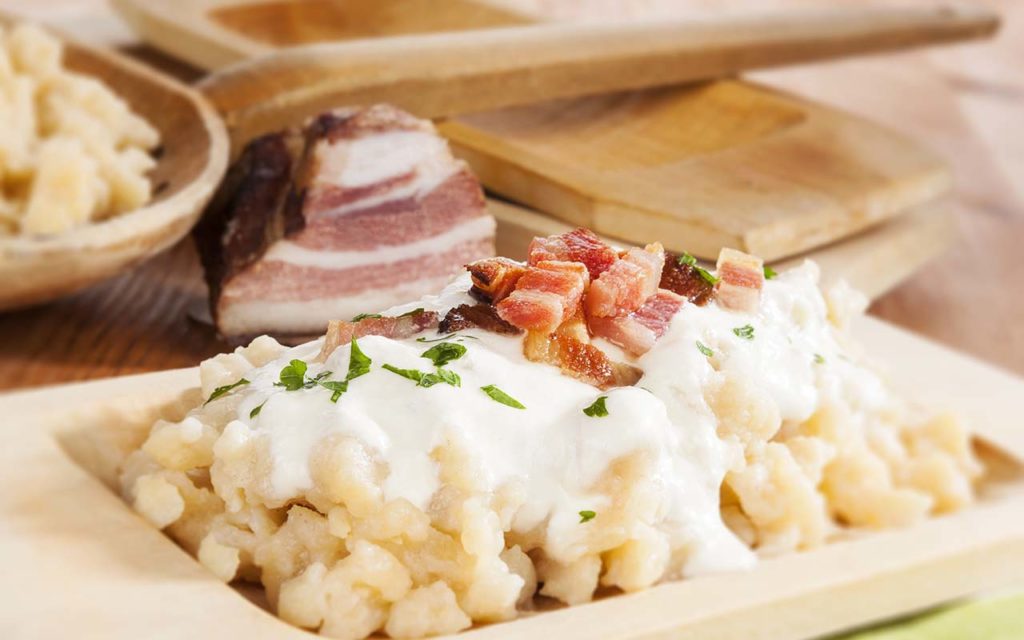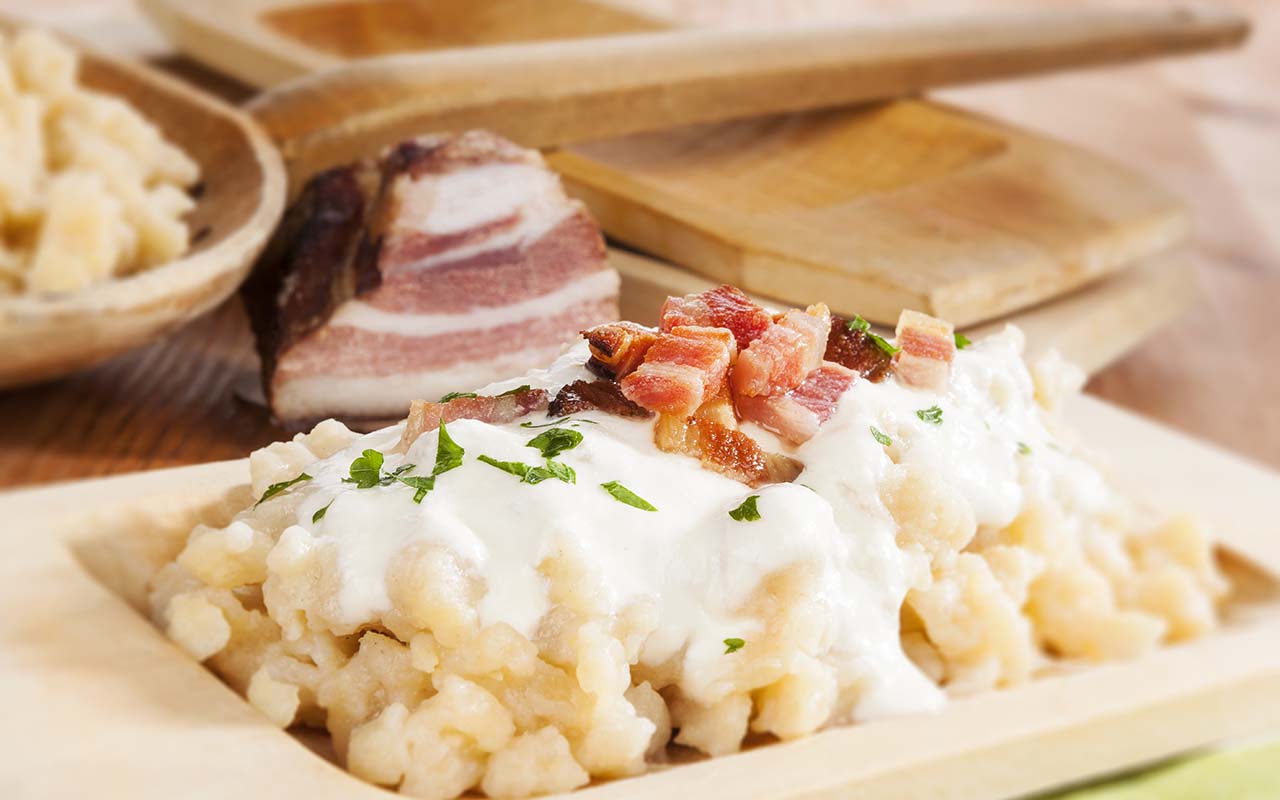 This hearty meal is the national dish of Slovakia, and right up there as one of the most important traditional Slovakian foods. It consists of potato dumplings with roasted bacon and sheep's cheese. Slovaks use the high-quality, soft, creamy, and locally produced sheep's cheese Bryndza that's unique to their country, and of which they are especially proud.
They fill the dumplings with cheese and top everything with sour cream, fried onion, spring onion, and crispy bacon pieces. It is a Slovakian dish with a sharp and delicious flavor.
The doughy version of this dish is Bryndzové Pirohy. It consists of pierogi-style dumplings made of dough filled with the traditional Slovak sheep's cheese. The latter version pairs delightfully well with a glass of sour sheep's milk called žinčica, which has a tangy, fermented taste. Strapačky is another version that uses stewed sauerkraut instead of sheep's cheese.
2 – Kapustnica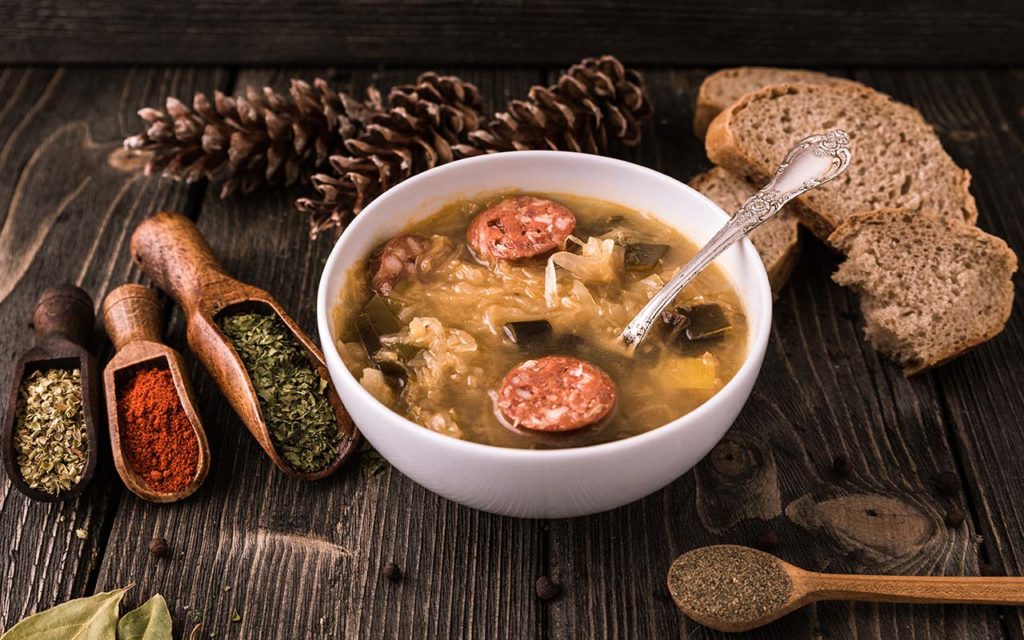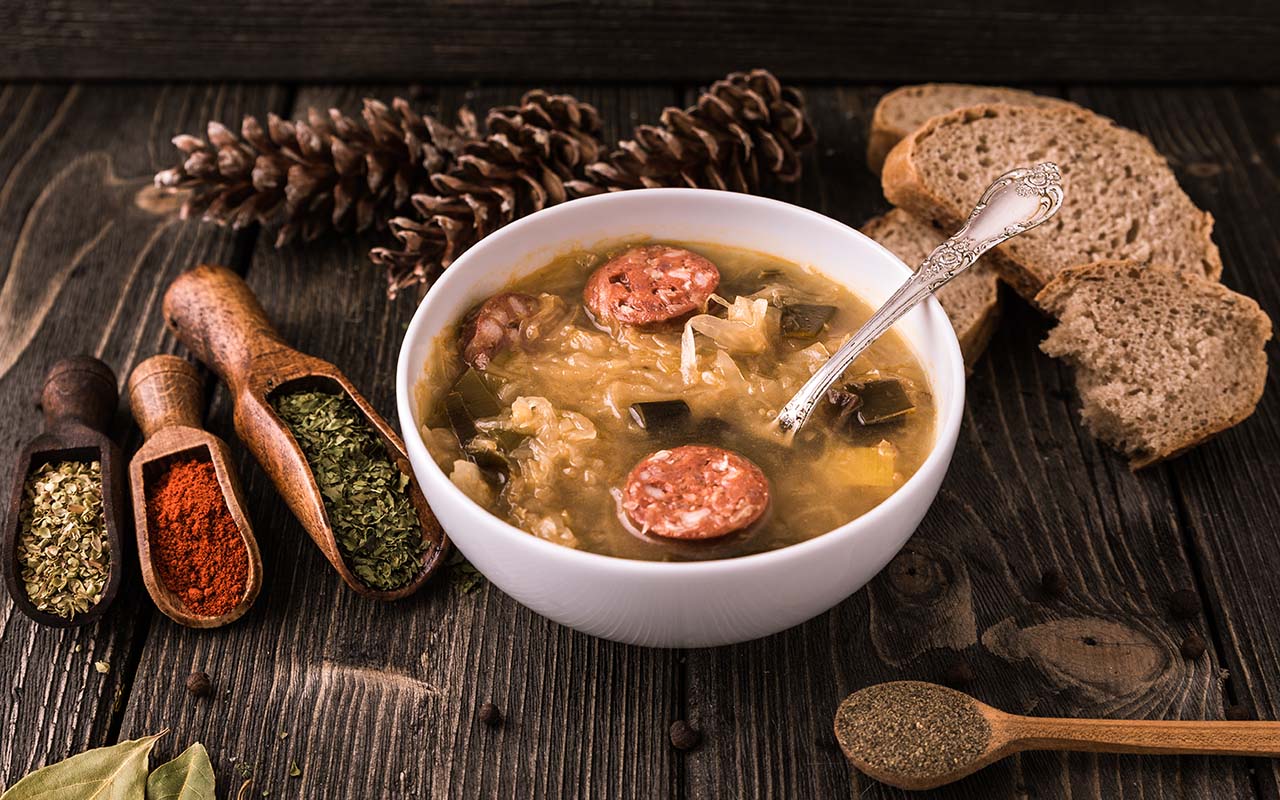 Kapustnica is a delicious cabbage or sauerkraut soup that's one of the most warming and soothing Slovakian foods. The soup is brewed to juicy perfection and mixed with sauerkraut, dried mushrooms, slices of sausage, and onions. Sour cream is then added on top.
The perfect combination of nutmeg, smoked sausage, allspice, paprika, garlic, and baked bread is sure to get your taste buds tingling. You can often find the soup served in a bowl made of bread, and that makes it even more unique. The inside of the bread bowl absorbs the juicy flavor, while the outside remains crunchy. As a Slovakian food, it's one of the most recognizable, and truly unique to Slovakia.
Kapustnica is eaten as an appetizer in Slovakia, but it's also a part of the traditional Christmas dinner.
3 – Fazuľová Polievka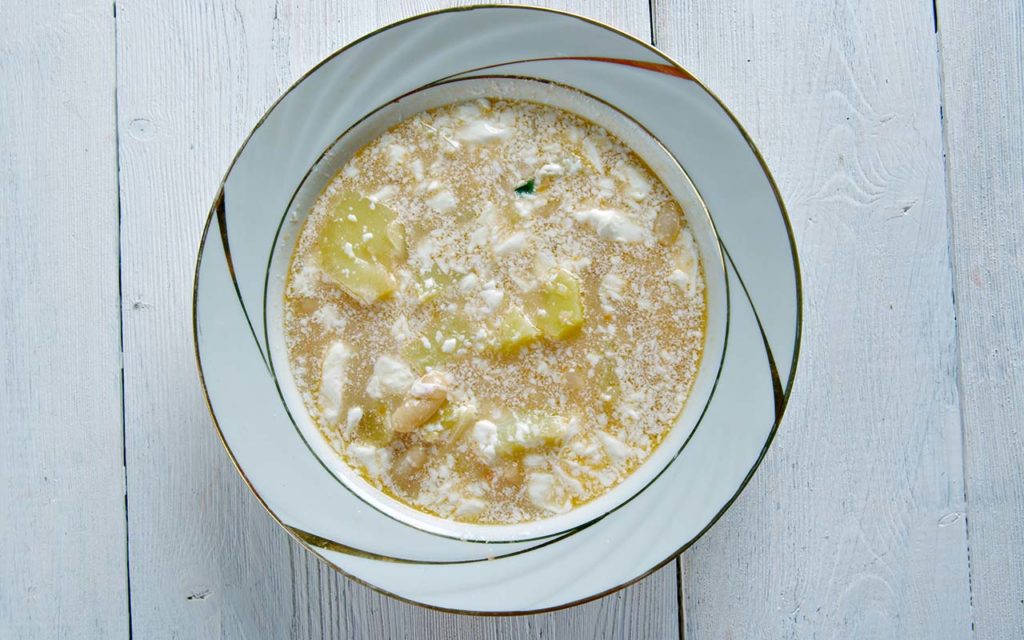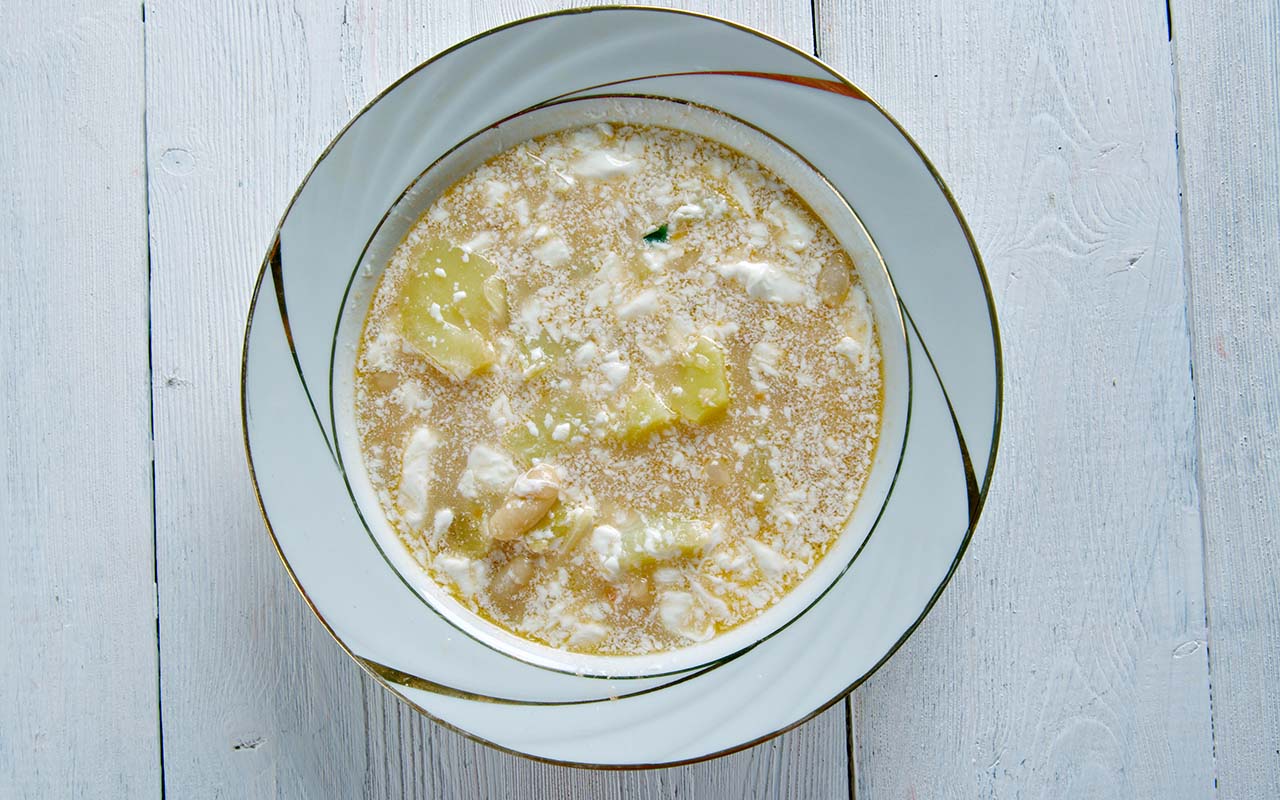 Fazuľová Polievka is another soup from the traditional Slovakian food list, this time beans forming the base. It's a creamy soup filled with brown beans that are so soft that they melt in your mouth right away. The soup has a strong smoky, and salty flavor that comes from the smoked meat that's cooked together with the beans.
Fazuľová Polievka is usually served with butter and crusty bread, and it's a standalone meal in a bowl, though Slovaks tend to eat it as a starter. It's true comfort in a bowl.
4 – Prívarok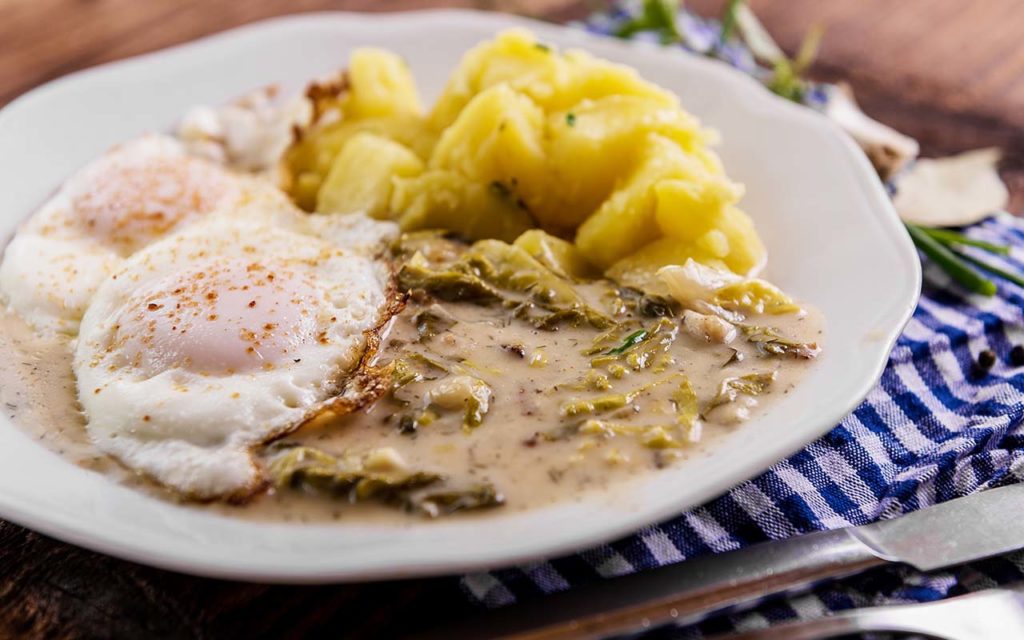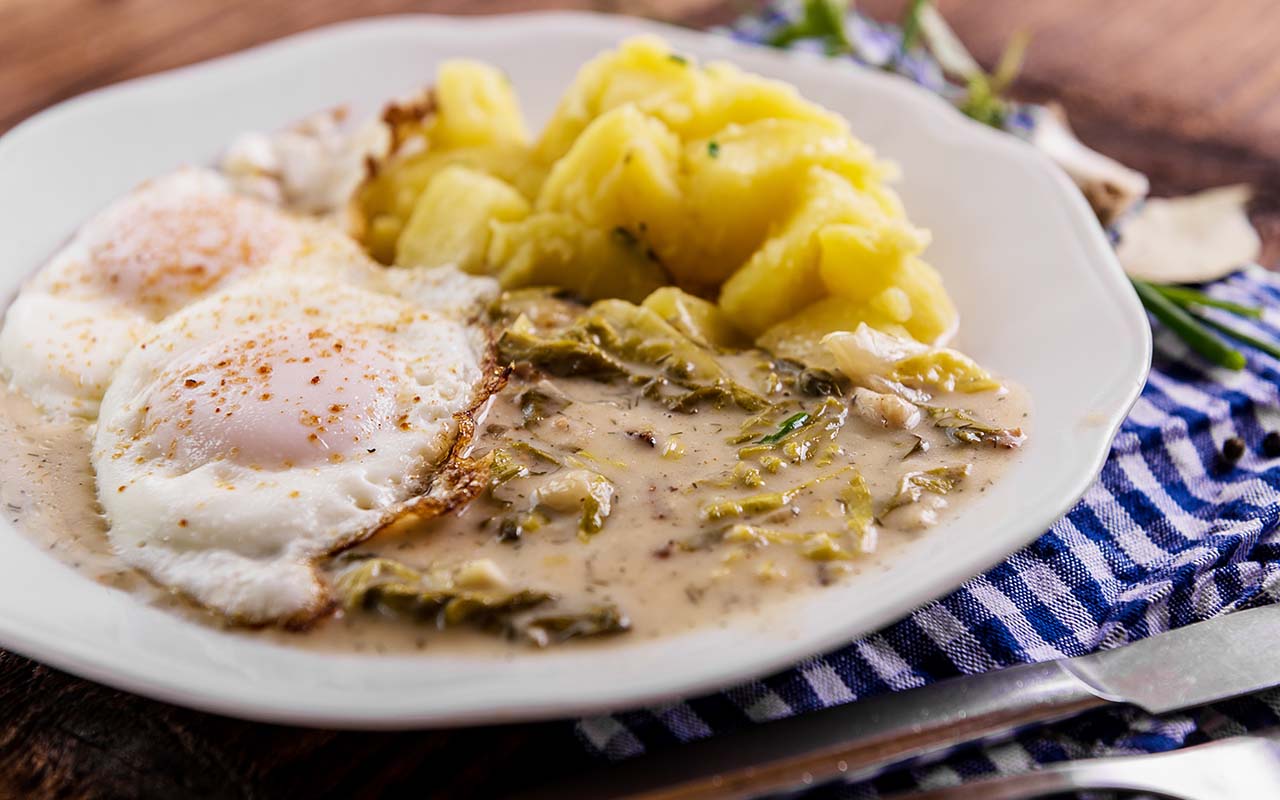 This hearty traditional Slovakian dish is a legume or soupy vegetable stew. It can have different tastes, depending on the ingredients used, which most often are cabbage, beans, lentils, cauliflower, spinach, potatoes, peas, or winter squash. It's thickened with flour and whipping cream.
Seasonings included in the stew are salt, pepper, and dill. It's usually served with a fried egg and diced potatoes, or bread, but you can also combine it with smoked meat and sausage for extra protein. As a Slovakian food, it has a diverse palette of flavors, depending on which ingredients you opt for.
5 – Segedin Goulash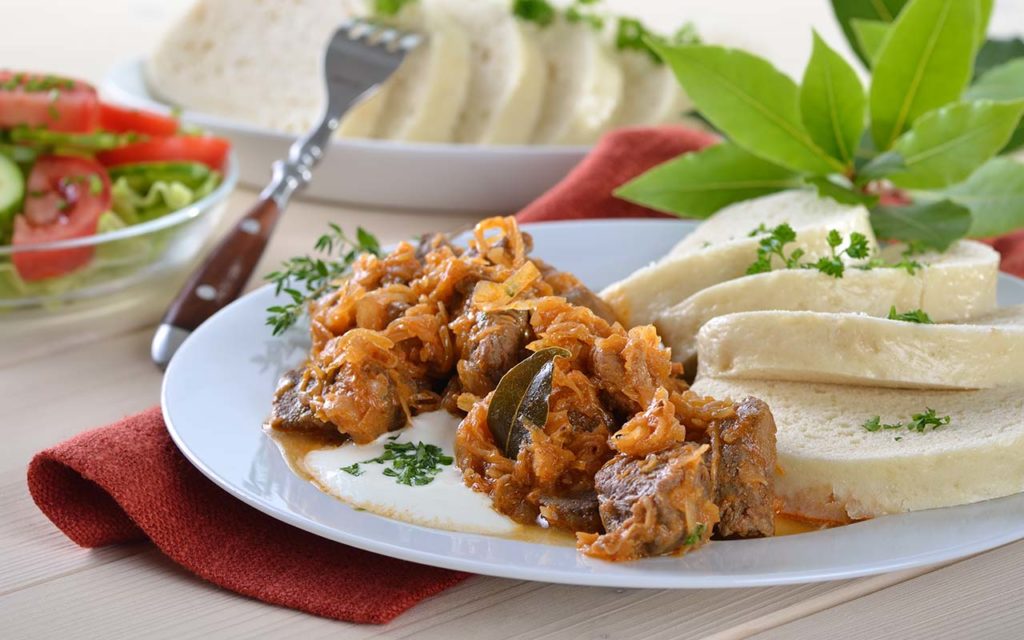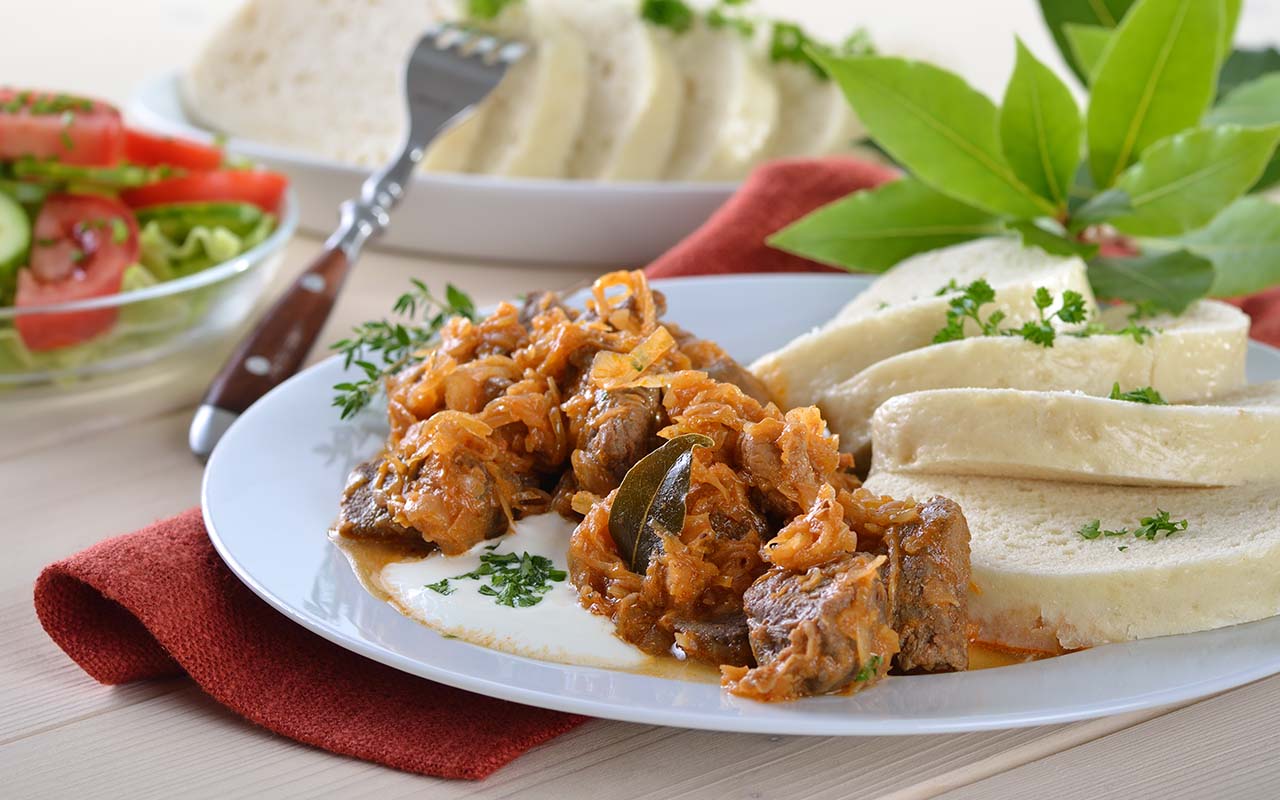 Segedin Goulash is the Slovak version of the Hungarian goulash. It's the perfect combination of sour and savory, falling into the comfort food category.
It consists of pork shoulder chunks stewed with sauerkraut and thickened with heavy cream, which makes it really creamy and mild. Sometimes sour cream is used for a tangier taste. The sauerkraut used in the goulash is heavily seasoned with paprika. The dish is traditionally served with dumplings, but you can also find it served with rice.
This is a truly delicious Slovakian food that, once again, proves influences from other countries can always enhance a country's traditional cuisine.
6 – Mäsové Guľky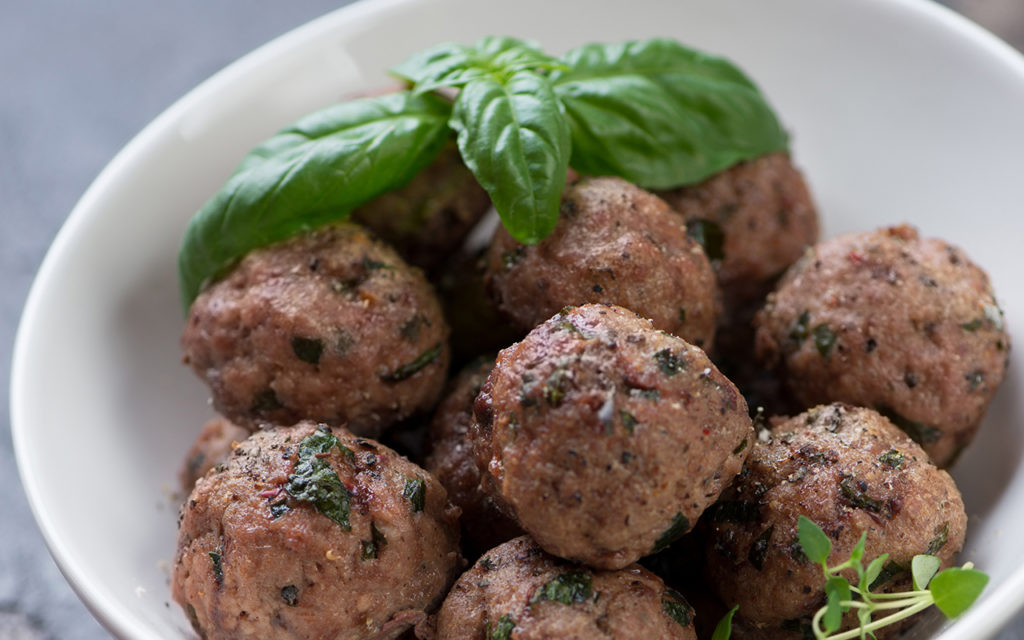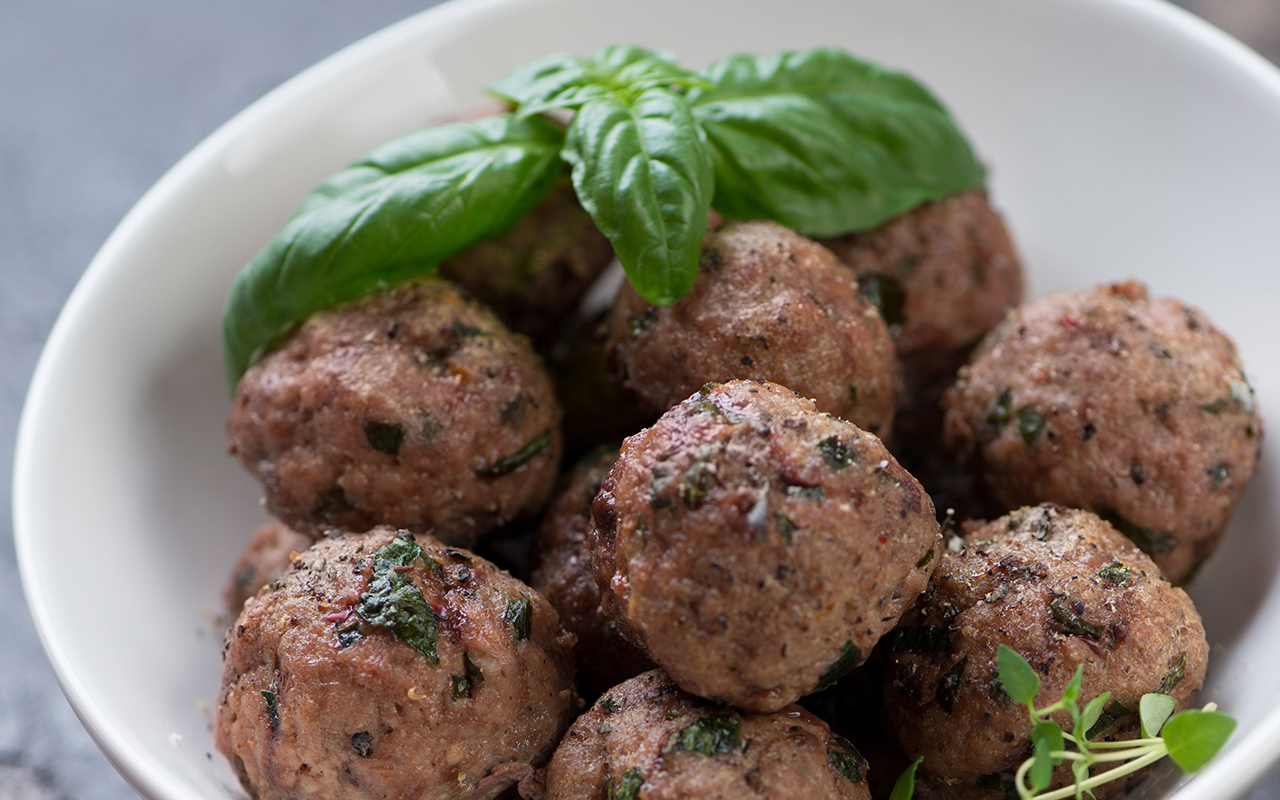 This hearty Slovak entrée is a dish of meatballs made with minced meat and potatoes. The meat is enclosed in a dough made of potatoes, served over steamed cabbage. This Slovak specialty is topped with spring onion and roasted onion. It's a filling and satisfying Slovakian food.
7 – Plnená Paprika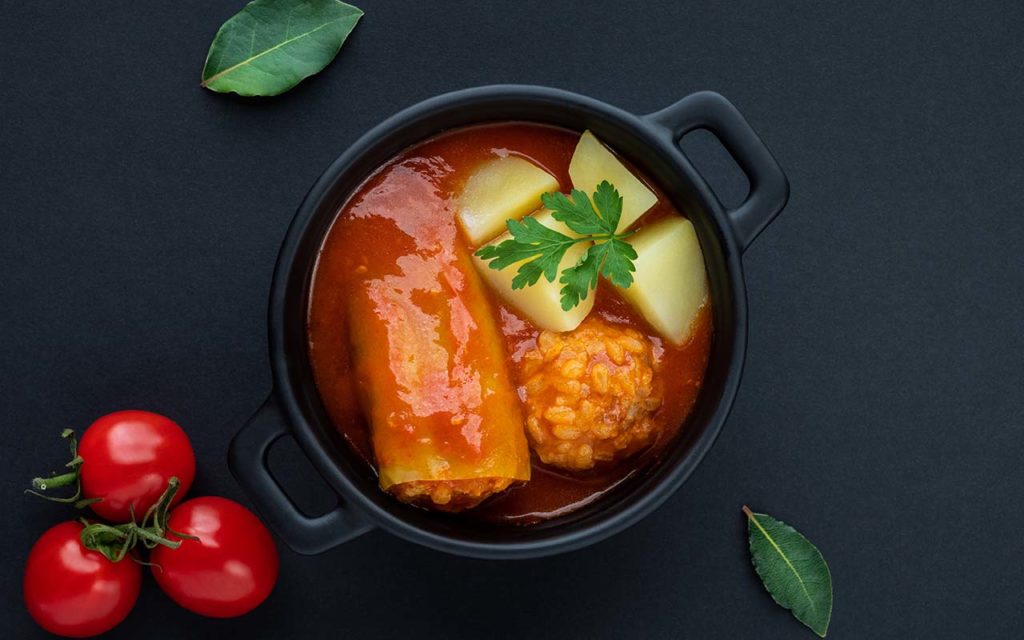 This traditional Slovakian food, which at its core is stuffed peppers, again is borrowed from Hungary. It's a popular dish in Slovakia eaten on a regular basis. Preparation of the filling includes cooking of rice and ground beef in tomato sauce. The peppers are then filled with this mixture and baked.
Locals like to make meatballs with any leftover filling and combine it together with the stuffed peppers. Stuffed peppers are usually served with potatoes, dumplings, or rice.
8 – Zemiakové Placky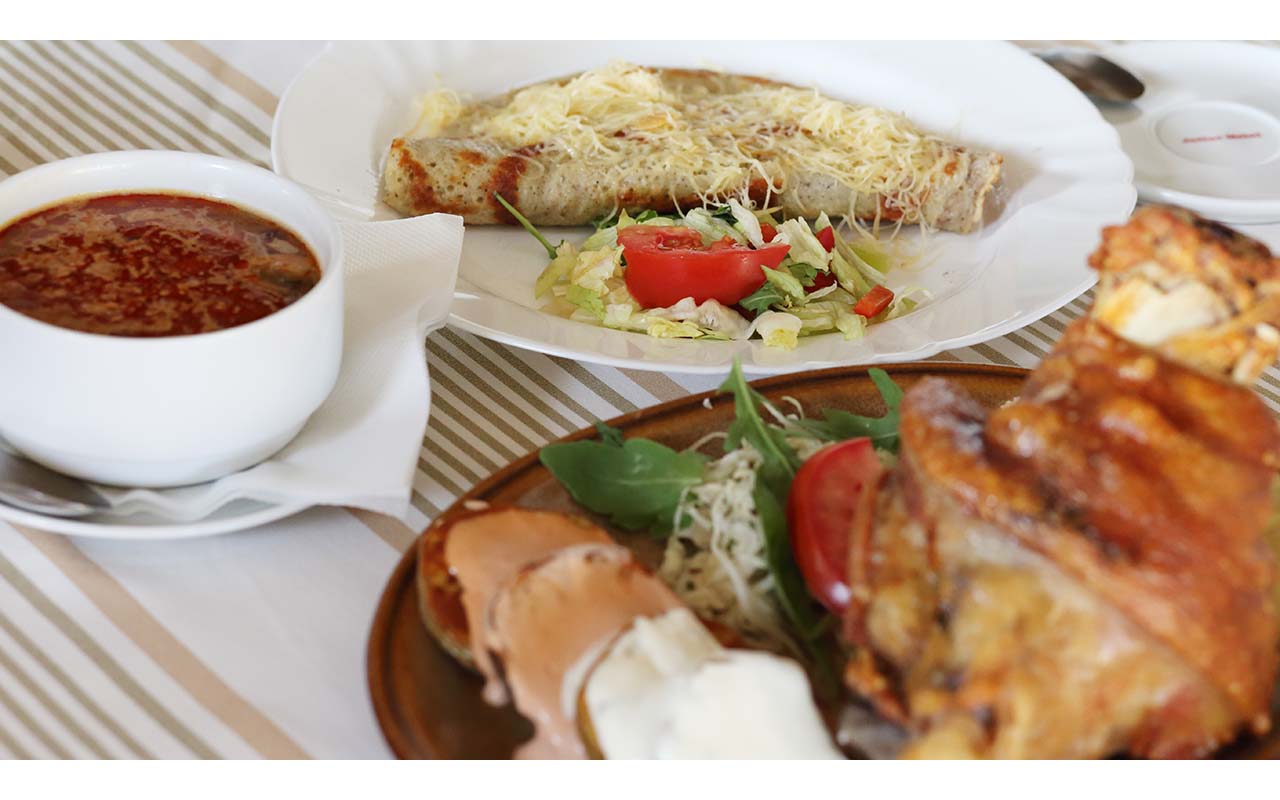 Zemiakové placky are pancakes made of potatoes, typically served as an afternoon snack to school children in Slovakia. They are excellent for dipping in soup or as a side dish to main meals such as stew of pork meat.
Potato pancakes are a pretty big deal in the country. They are made with grated potato, flour, and egg, fried in high-quality oil and garlic. The pancakes are gooey on the inside but crunchy on the outside. They have different spices, so they are a great addition to many Slovakian meals.
Potato pancakes are usually served warm with kefir, sour cream, or soured milk. They make for an excellent Slovakian food, served in kitchens and restaurants across the country.
9 – Langoš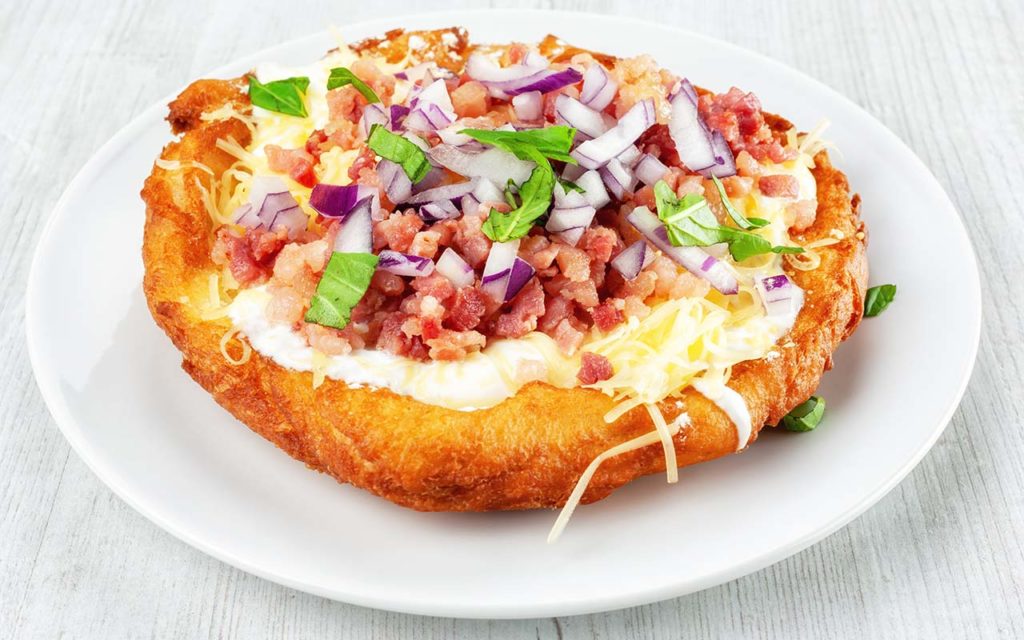 Langoš is the Slovak version of pizza, although it originates from Hungary. It is popular street food in Slovakia and other countries such as the Czech Republic, Austria, Croatia, Serbia, and Romania.
It's a flatbread that's lightly fried, chewy, and crispy that can be folded and eaten like a taco or pulled apart. The most common choices of condiments in Slovakia are cheese, ketchup, garlic, and tartar sauce. It's a perfect blend of the sweetness of ketchup, the strong scent of garlic, and the creamy tang of tartar sauce.
You can also find them with chocolate and sour cream. Langoš is another excellent example of a traditional Slovakian food you'll have plenty of opportunities to try from street vendors and small kitchens.
10 – Pagáče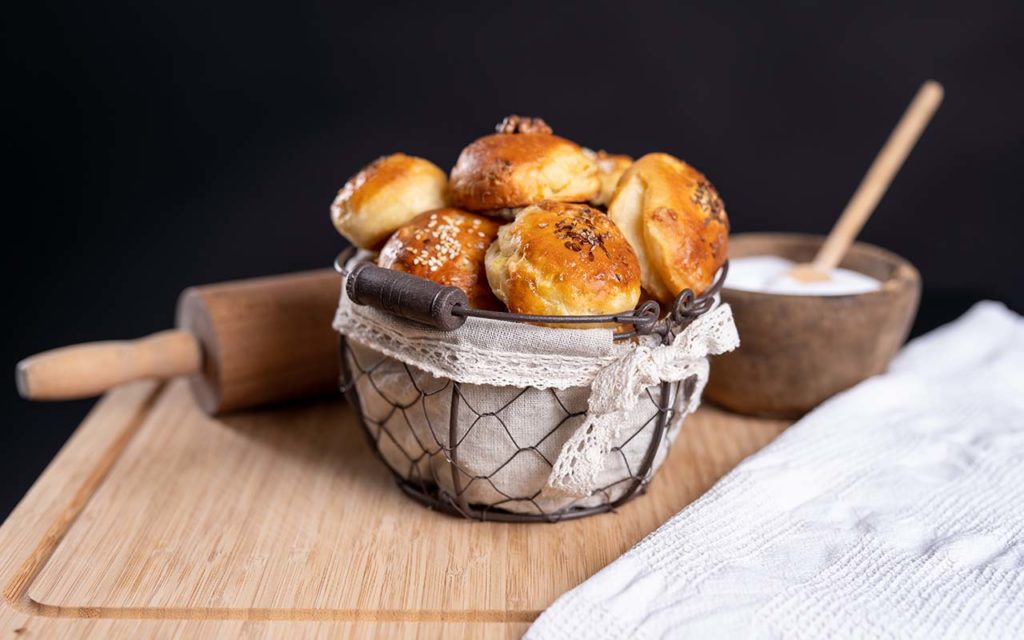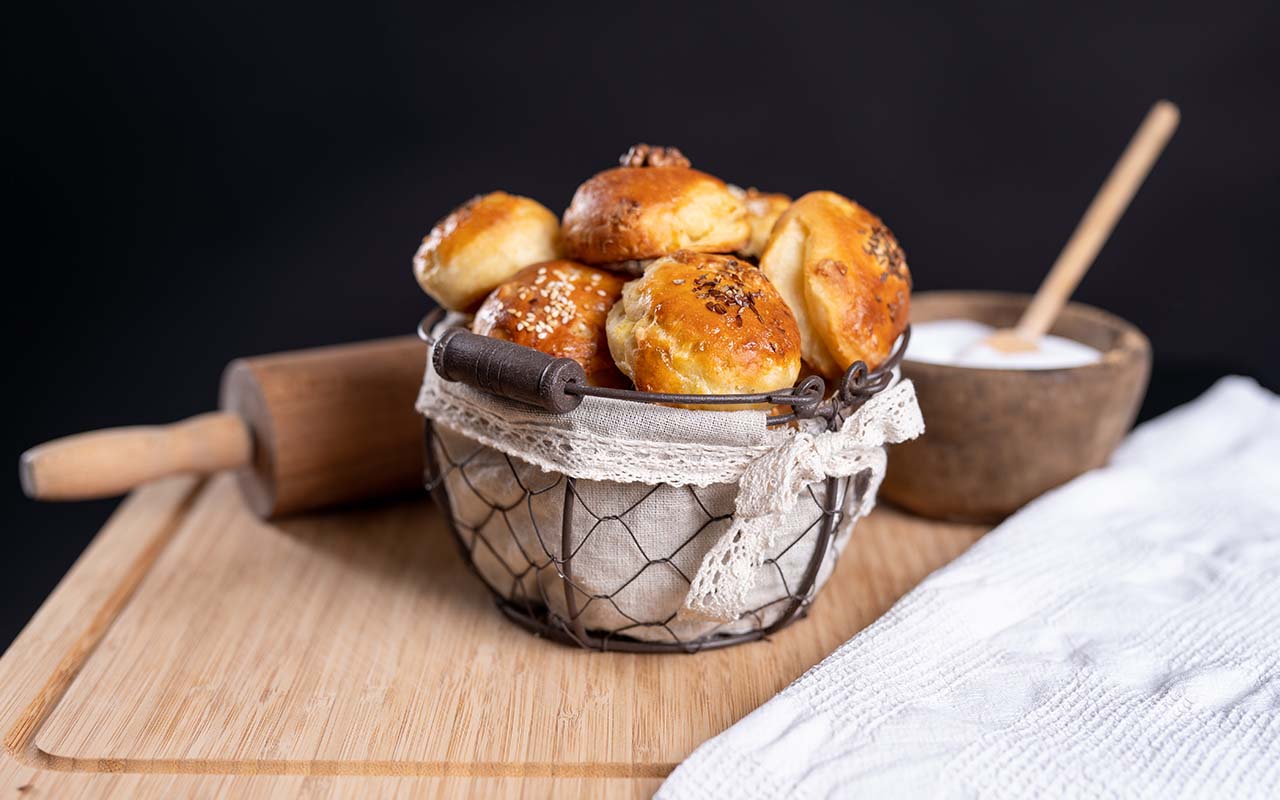 These rich Slovak biscuits are different than the popular type of bread in Central Europe called pogača. They are made from leavened dough with ground cracklings, but you can also find them with cheese, potatoes, or cabbage. They pair well with sour milk, and make for a quick, delicious Slovakian food that are great to eat on the go, or relaxing at home.
11 – Granadír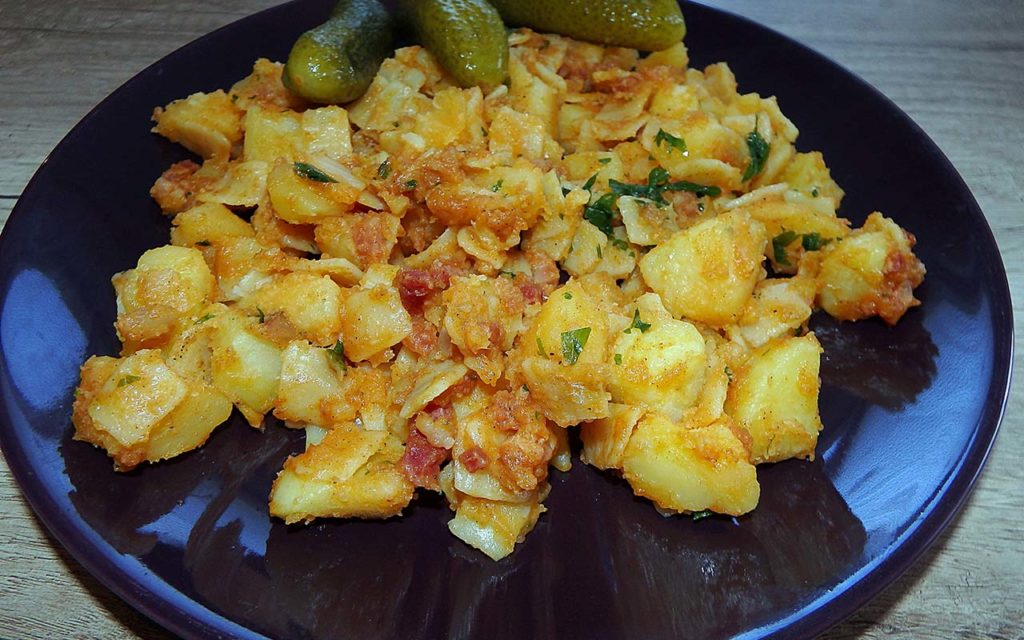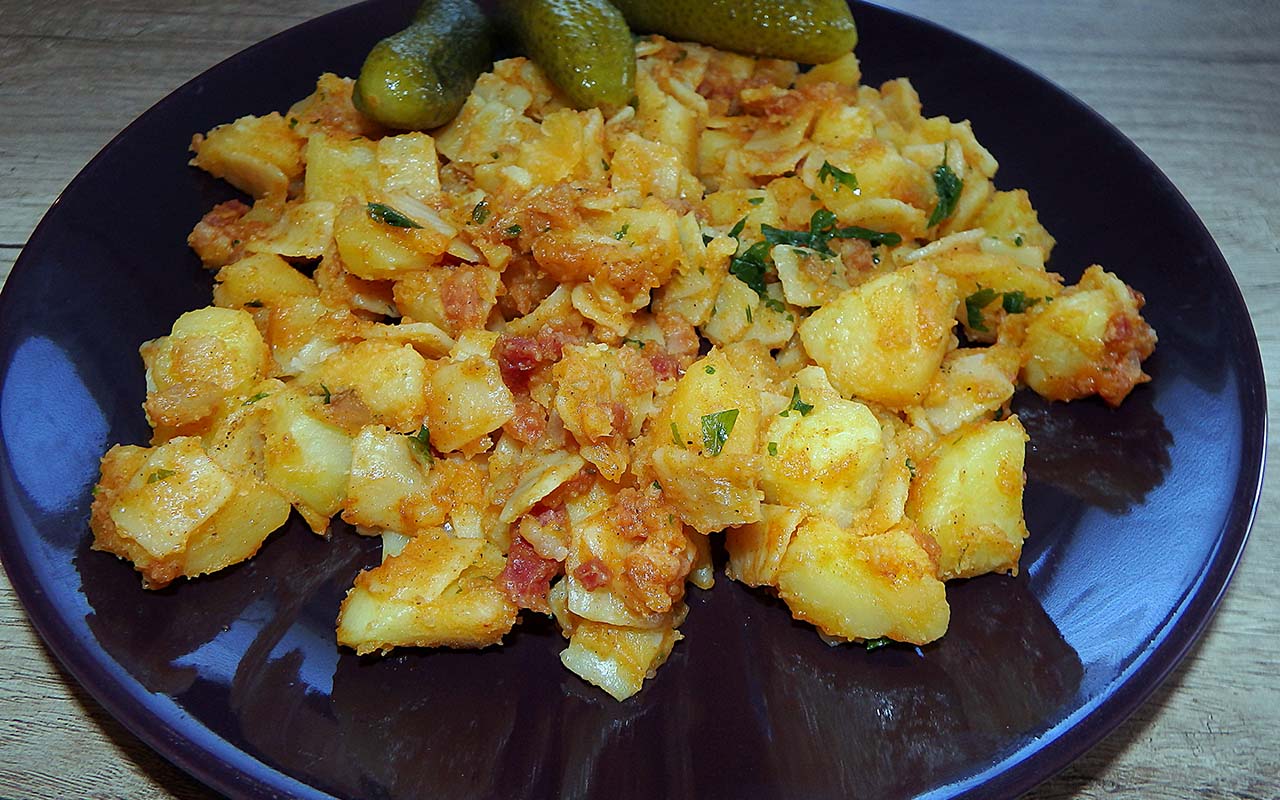 This common dish in Slovakia and other countries in Central Europe may be simple and cheap, but it's incredibly filling and delicious. It's a great way to use leftover potatoes or pasta, but you can always make it from scratch. It's a side dish or a vegetarian main dish.
Besides some extra pasta or potatoes from another meal, you'll also need paprika, oil, onion, salt, pepper, and parsley or chives for garnish. The onions are chopped and sautéed, and cooked potatoes are added together with some paprika. The cooked pasta is finally added in the sautéed mixture, as well as the spices.
Granadír is often served as a side dish to grilled, baked, or roasted meats like sausages, pork chops, and chicken. However, it can also be a perfect main meal for vegetarians.
12 – Hemendex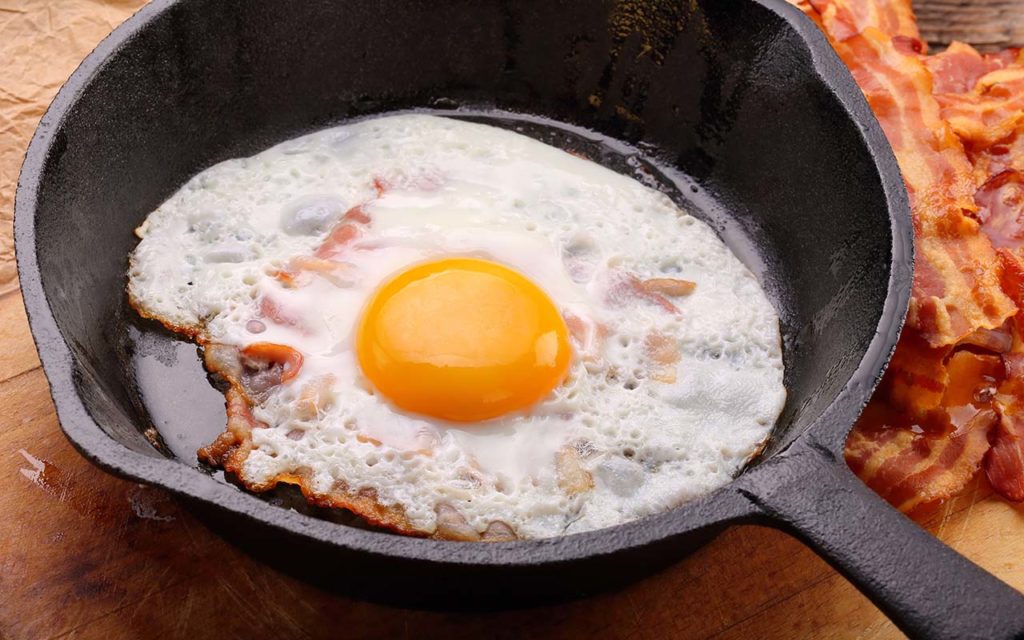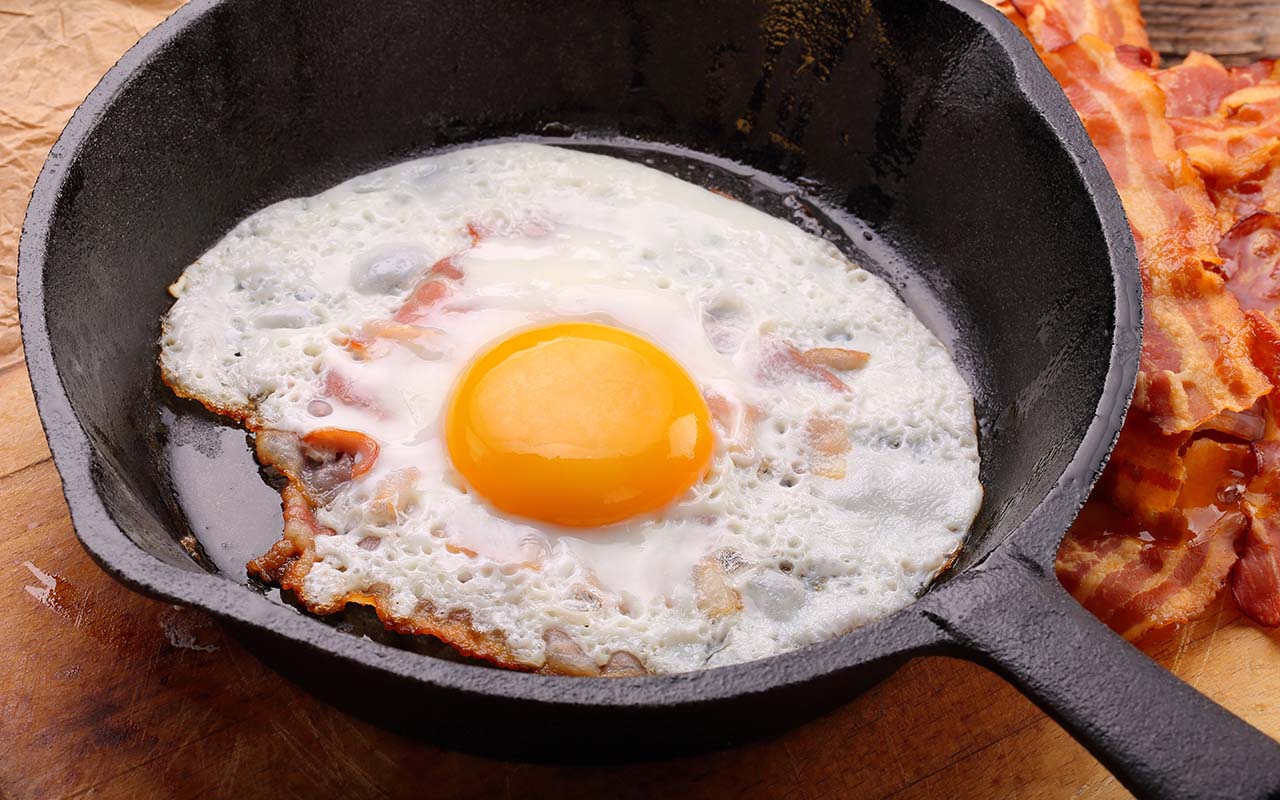 Hemendex is a popular breakfast or a quick dinner in Slovakia. At a basic level, it's a simple Slovakian food that combines ham and eggs. What makes this dish unique is the cooking process, which involves layering the deli ham in the pan so that it overlaps before eggs are broken on top of it. Seasonings included are salt and paprika.
The ham and egg combination is cooked until the whites set, while the egg yolks are left a little runny. It's a simple but delicious breakfast to enjoy in Slovakia.
13 – Cigánska Pečienka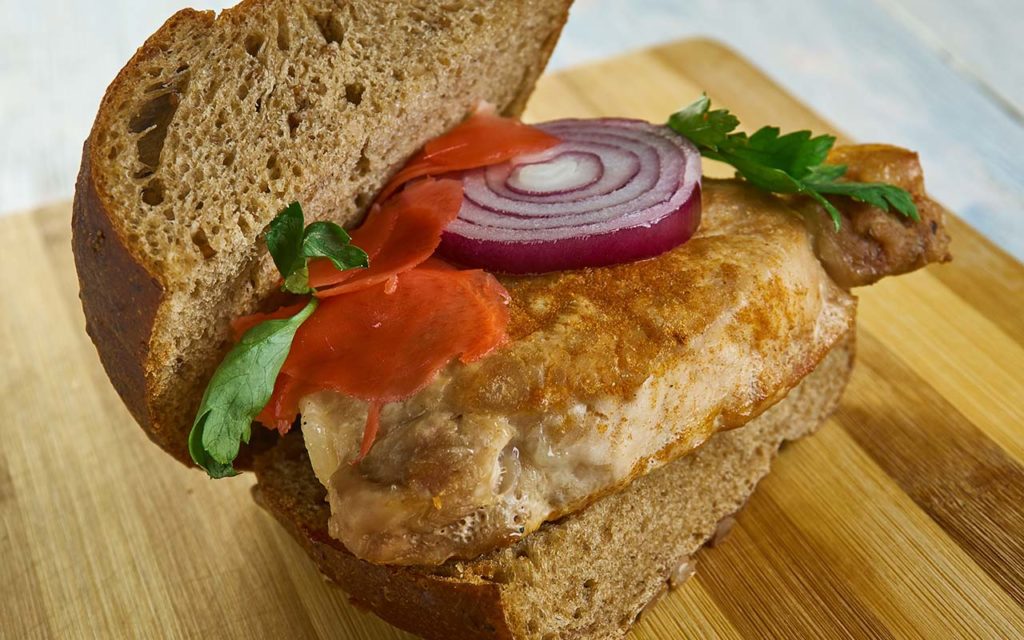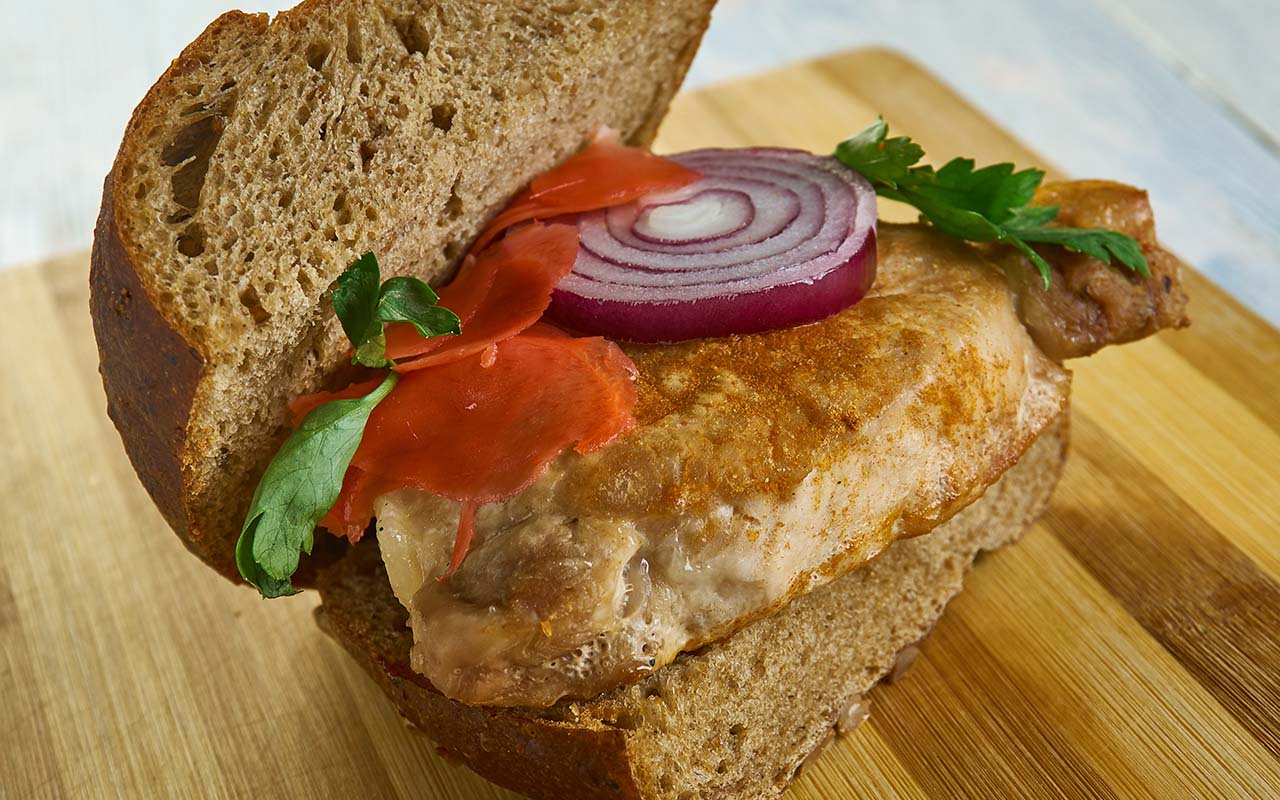 This popular Slovakian food is a sandwich known as the Slovak burger or Gypsy roast. The preparation includes a heavily seasoned chicken breast or pork cutlet marinated and grilled or fried. It's most often fried in a griddle covered in meat and onions with an inch-deep bubbling grease.
The cooked meat is served on a bun with mustard, caramelized onions, and sometimes hot peppers. The Gypsy roast is most common during the Christmas Market in Slovakia and is a very popular street food.
14 – Vyprážaný Sýr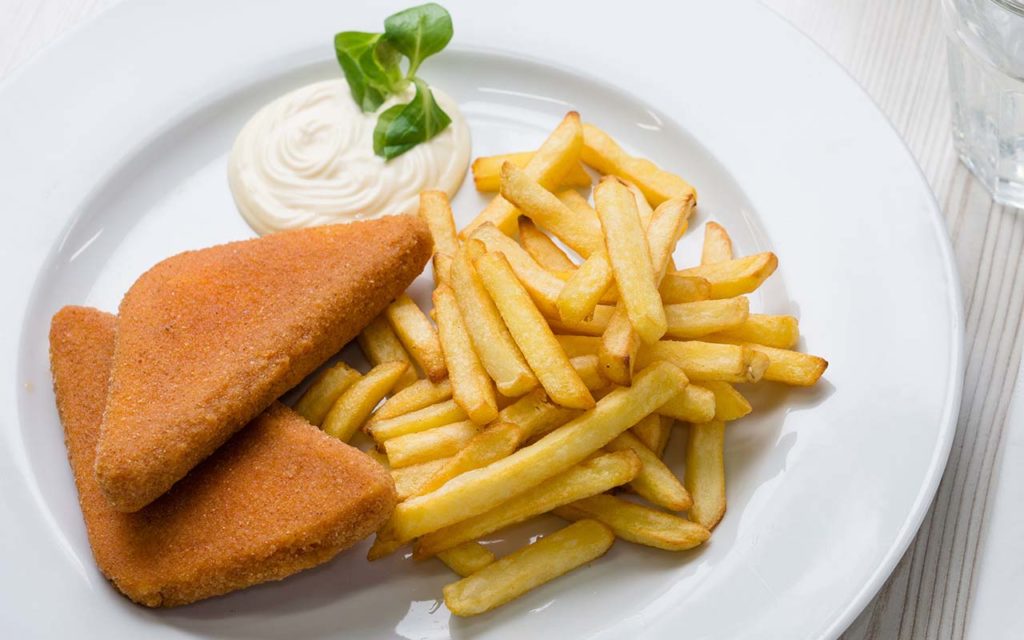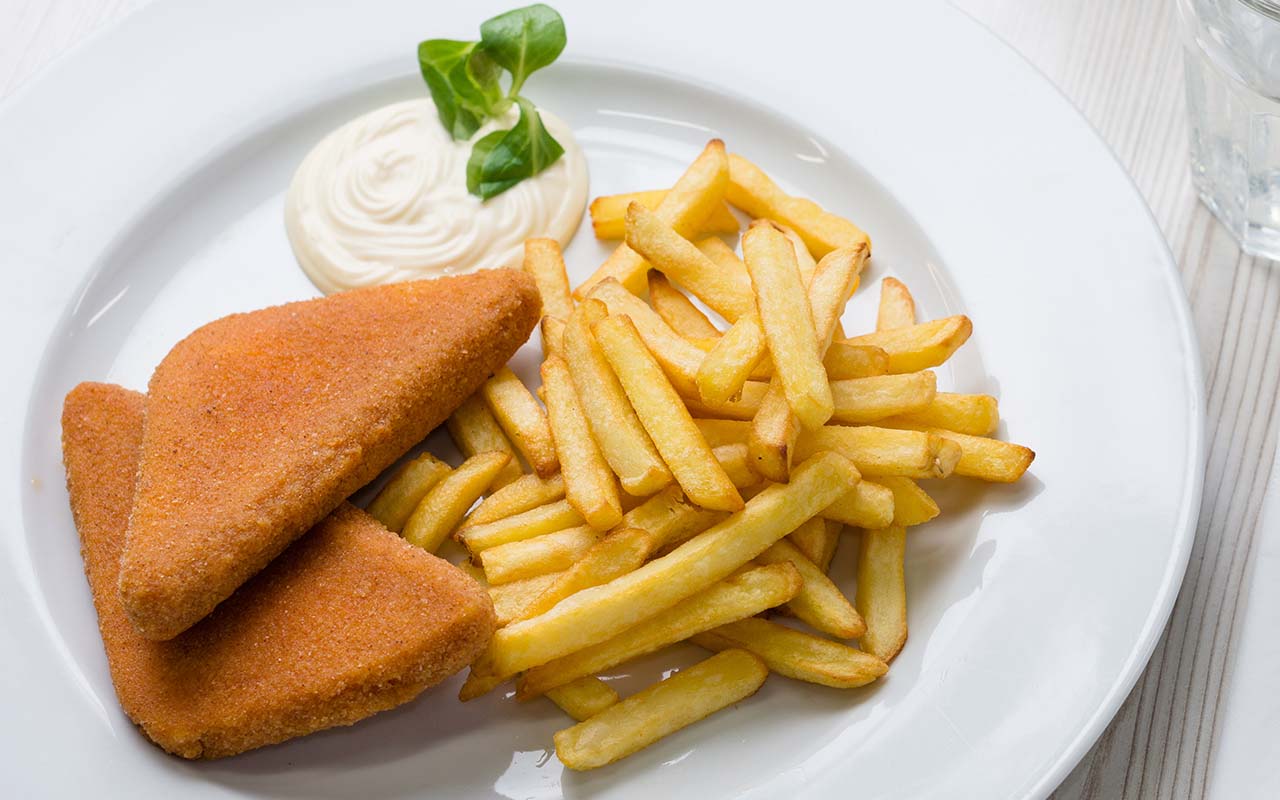 This popular Slovakian food is deep-fried cheese served in restaurants, cafeterias, and canteens around the country, but also sold by street vendors as an addition to hamburgers.
A thick slab of Emmenthal or Edam cheese is breaded with breadcrumbs, flour, and egg, and then deep-fried. It's usually served with French fries, potatoes, sliced vegetables, or a dab of tartar sauce. This is a perfect example of how simple, yet delicious Slovakian food so often is.
15 – Demikát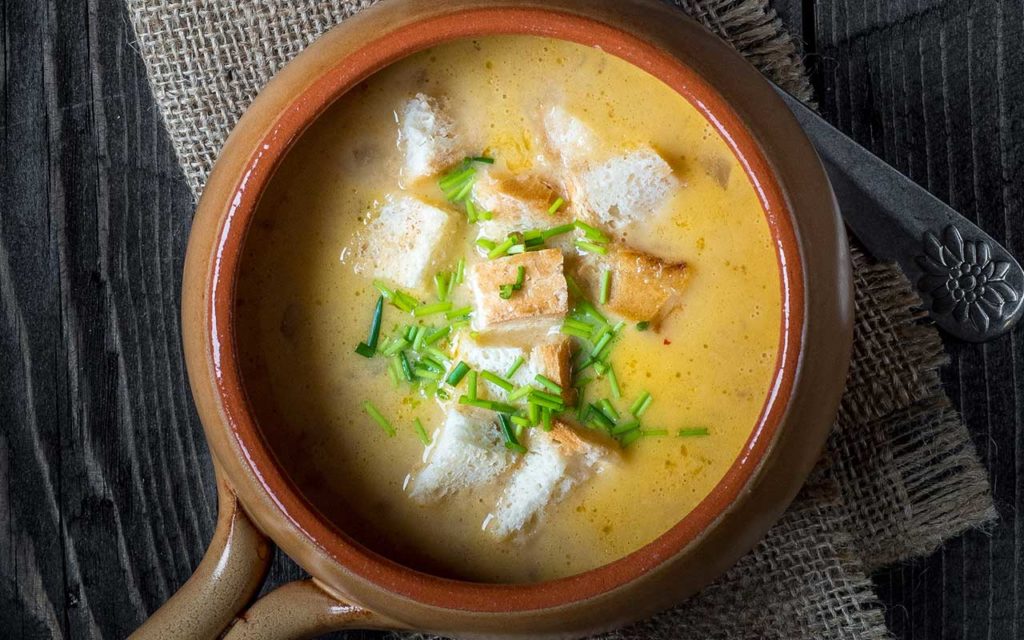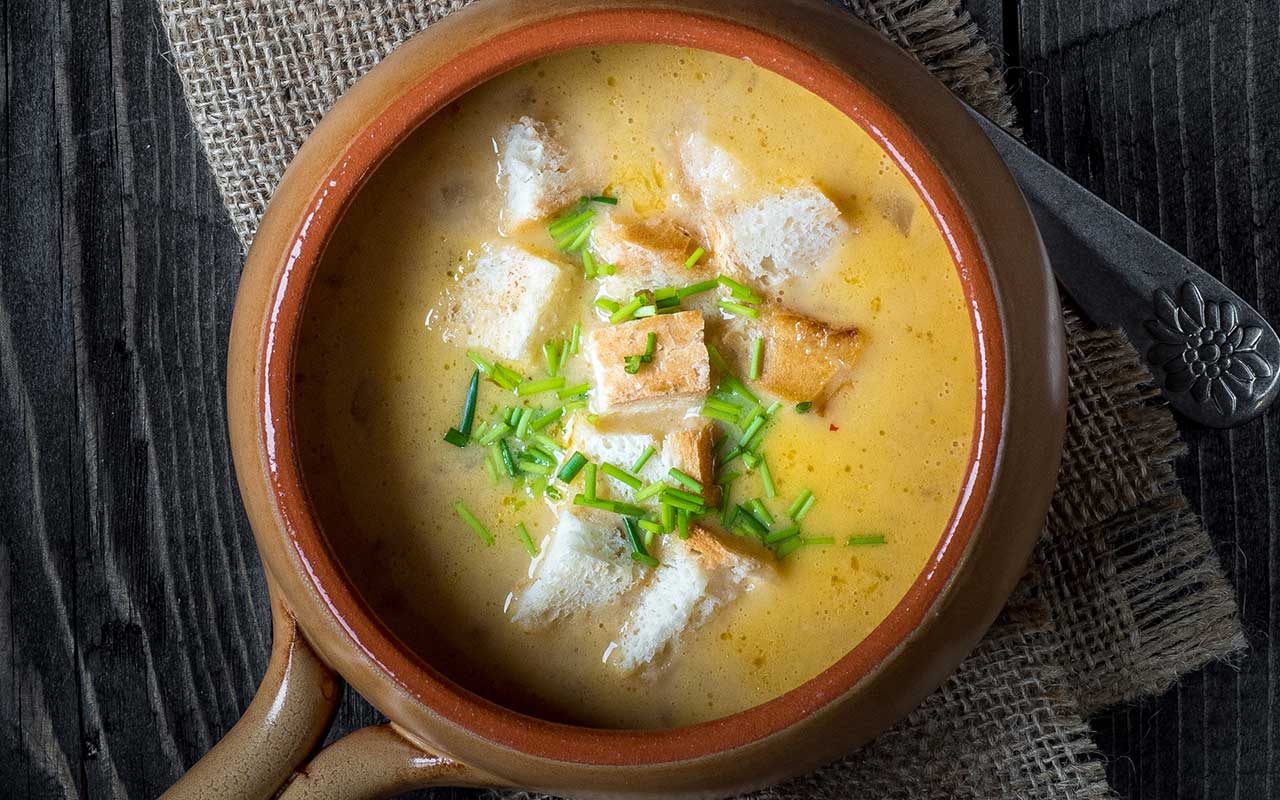 This soup, a traditional Slovakian food, is based on the popular sheep's cheese Bryndza. Other than cheese, it contains garlic, onion, stock, potatoes, and sour cream and seasonings like cumin, black pepper, and ground red pepper.
The characteristic flavor of Bryndza cheese means this is a Slovak soup with a unique flavor that packs quite the punch. Demikát is most often served with dumplings or chunks of baked bread, sprinkled with chives.
16 – Palacinka Hortobágyi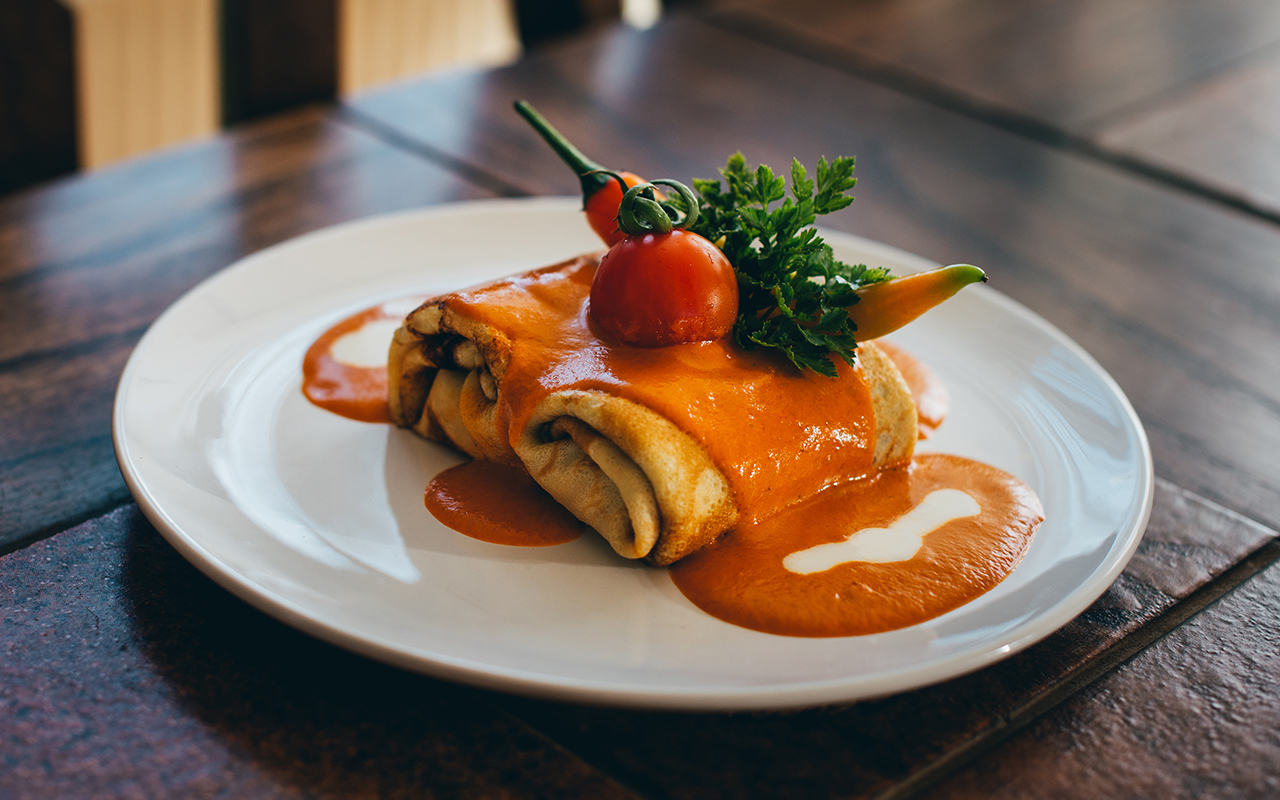 Here's another pancake that's originally from Hungary but forms a very popular Slovakian food. It's a rolled pancake stuffed with shredded chicken and covered with a considerable amount of creamy, dense sauce. This Slovakian food is topped with a little bit of sour cream, which gives an extra zing.
The dish is typically served with bread for dipping in the delicious sauce. It's a hearty meal and commonly eaten as a main course.
17 – Cesnaková Polievka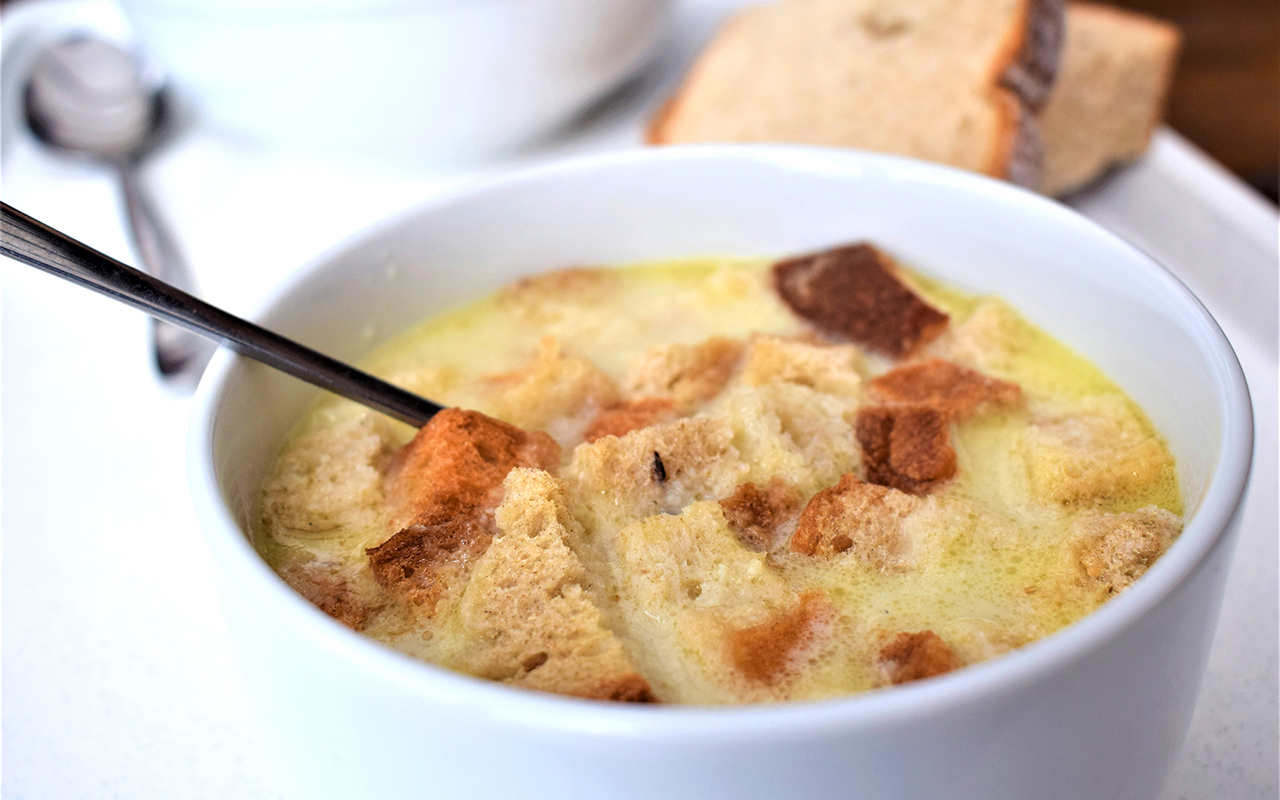 Soups, as we've seen already on this list, have a strong identity in Slovakian cuisine. Cesnaková Polievka is a garlic soup that has two versions. The more common version is the clear garlic soup, but the creamy garlic version is just as delicious.
The preparation of the clear garlic soup includes frying plenty of garlic chops and then boiling them with paprika, caraway, salt, and potato cubes. A slice of bread is toasted and cut into squares that are put into an empty bowl. The soup is then poured over the bread, garnished with parsley and sometimes grated cheese. As Slovakian food goes, it's rich in flavor and its texture soft.
18 – Ryžový Nákyp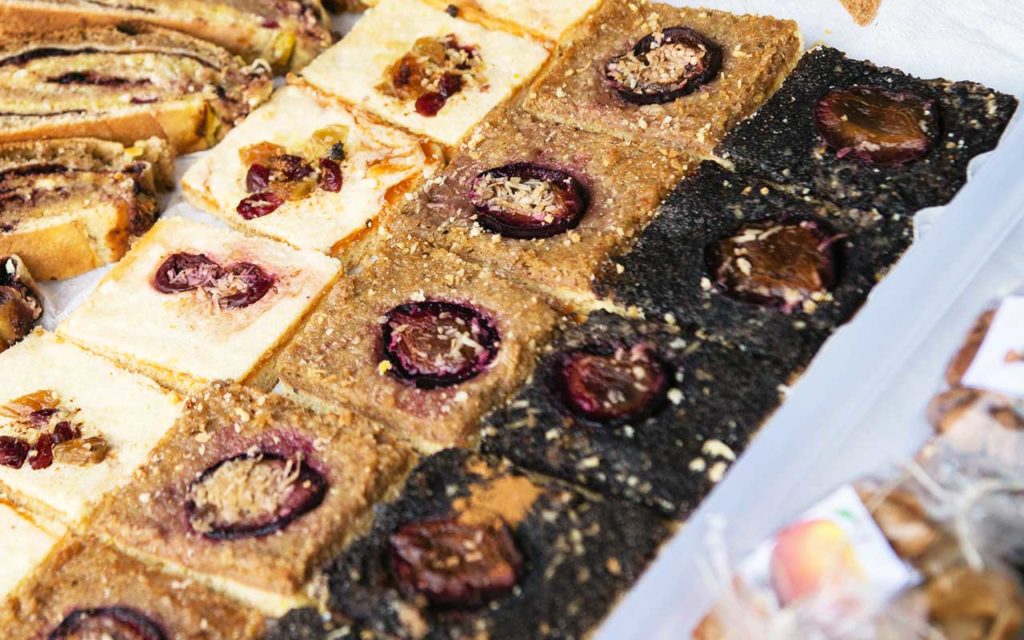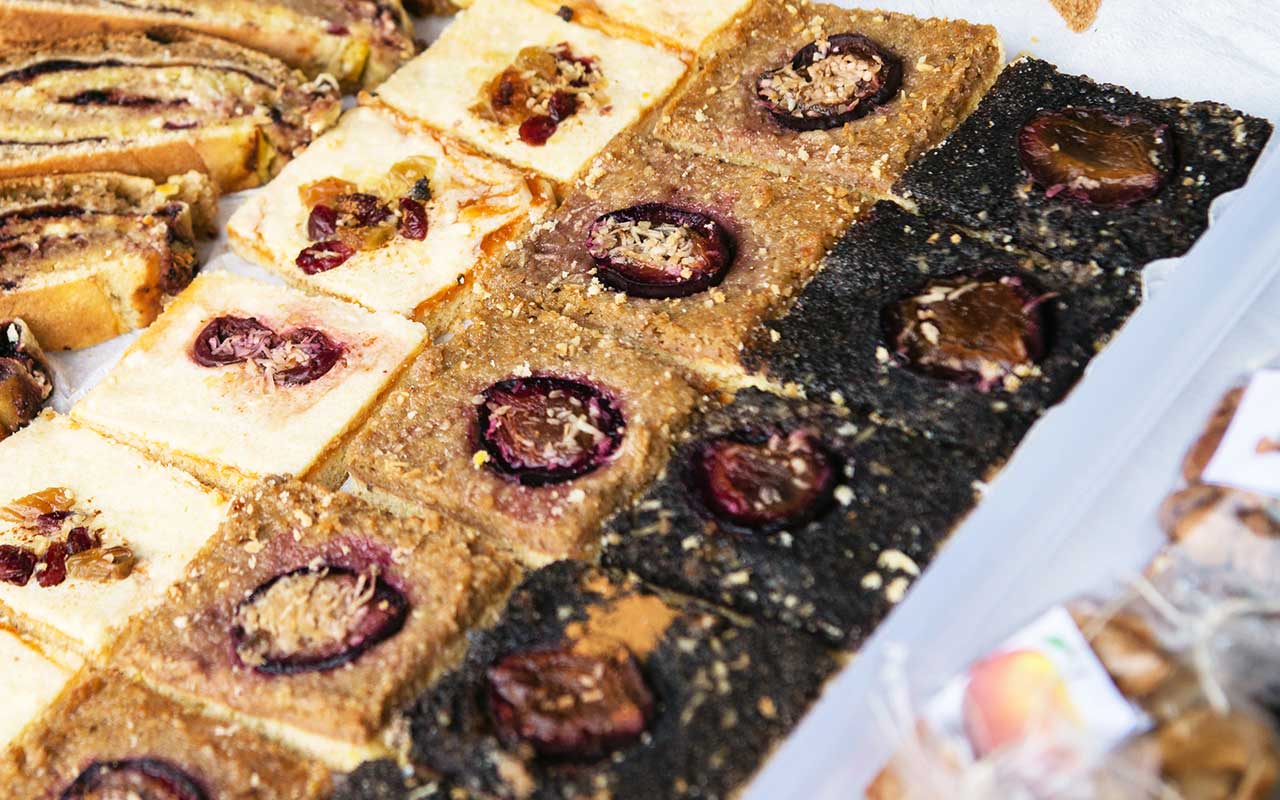 We've spent plenty of time looking at starters and mains, so now let's turn our attention to dessert. Ryžový Nákyp is a sweet rice cake that is one of Slovakia's favorite desserts, valued for its taste, quick preparation, and low cost. Rice is boiled in milk and then baked with egg cream, compote, or canned fruit (cherries, plums, apples) and raisins or another dried fruit.
It's covered with egg-white foam. The cake is cut into square sections and served with some fresh fruit on the side. Ryžový Nákyp is a cornerstone of Slovakian cuisine, and very much a tasty and wholesome Slovakian food.
19 – Skalický Trdelník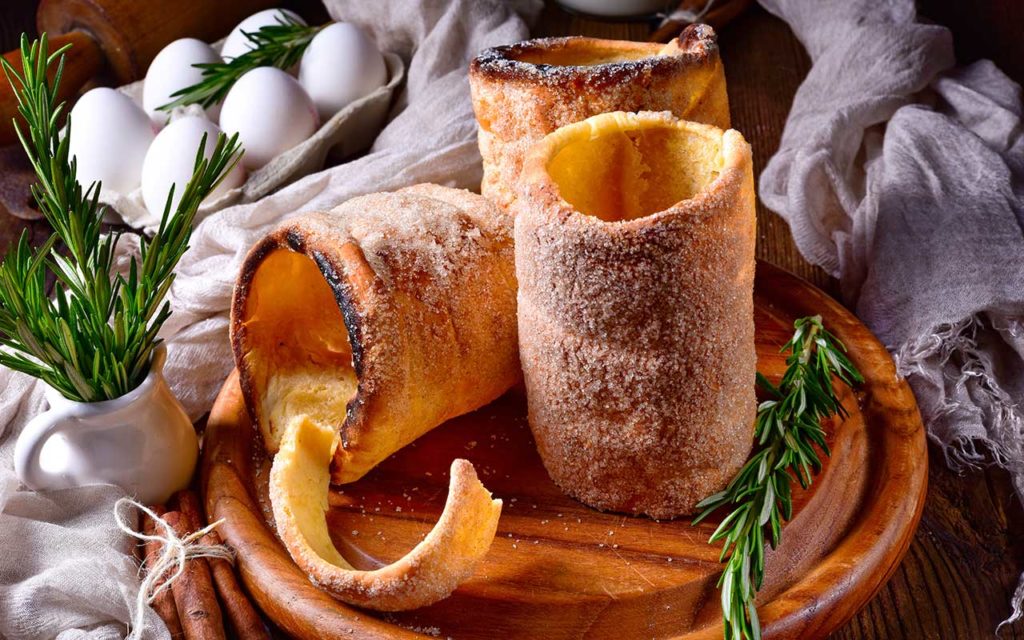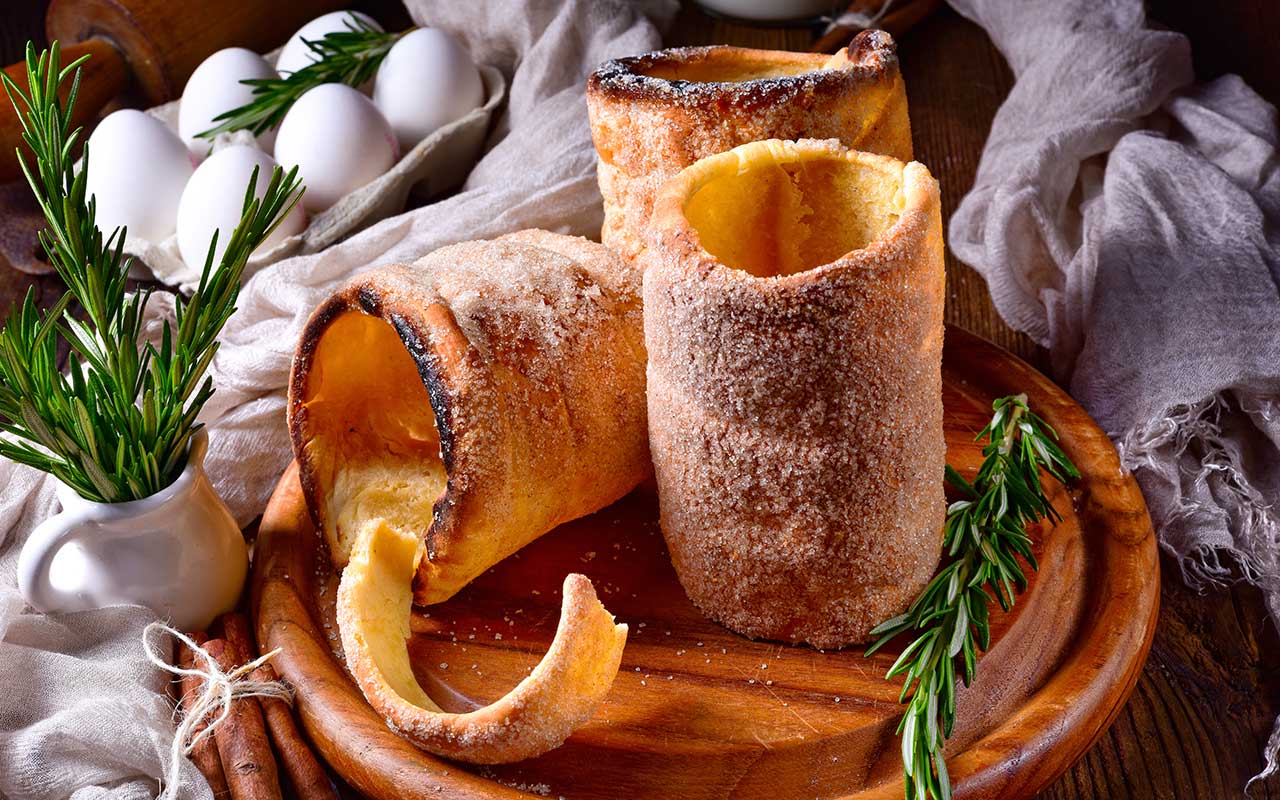 This sweet pastry or spit cake is the only Slovakian food on the list of EU foods with a protected geographical indication. It's a hollow pastry in the form of a cylinder made by wrapping soft dough around a roller. The rolled dough is then grilled or baked and topped with sugar, walnuts, apricots, or almonds.
Traditionally, it's produced in the north-western part of the country. Modern versions of trdelnik are filled with ice cream.
20 – Laskonky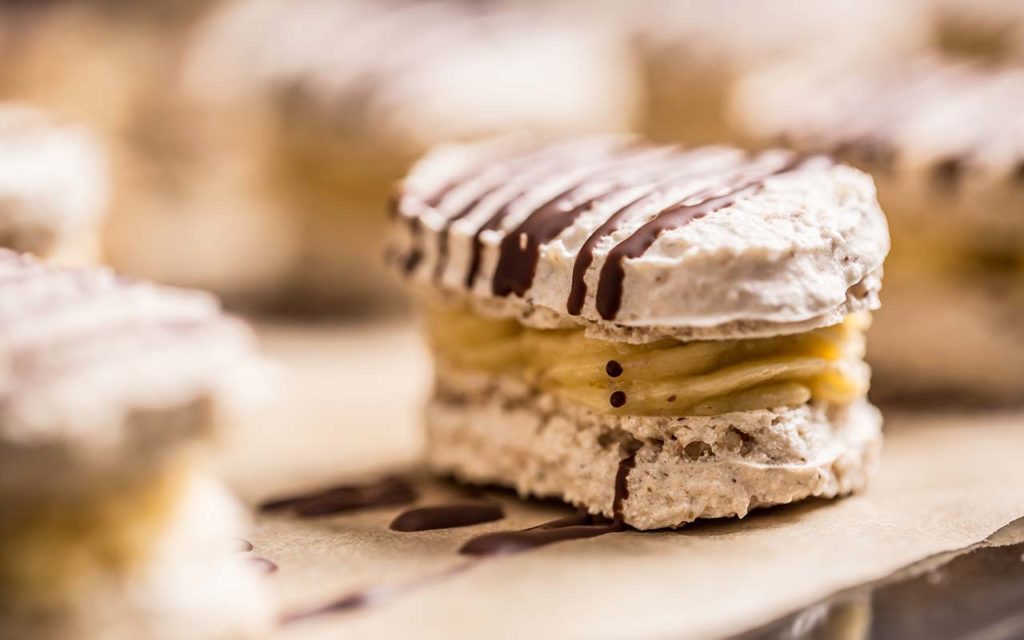 These traditional Slovak cookies consist of two meringues and a buttercream filling in between. Coconut and ground walnuts are often included in the meringues, and everything is baked into thin and oval shapes.
The most traditional filling used for the preparation of these sweet, crispy treats is caramel buttercream, but modern varieties infuse it with chocolate or coffee. They are usually enjoyed over a cup of warm tea or coffee. As Slovakian food goes, this is right up as one of the sweetest and most delicious.
21 – Žemlovka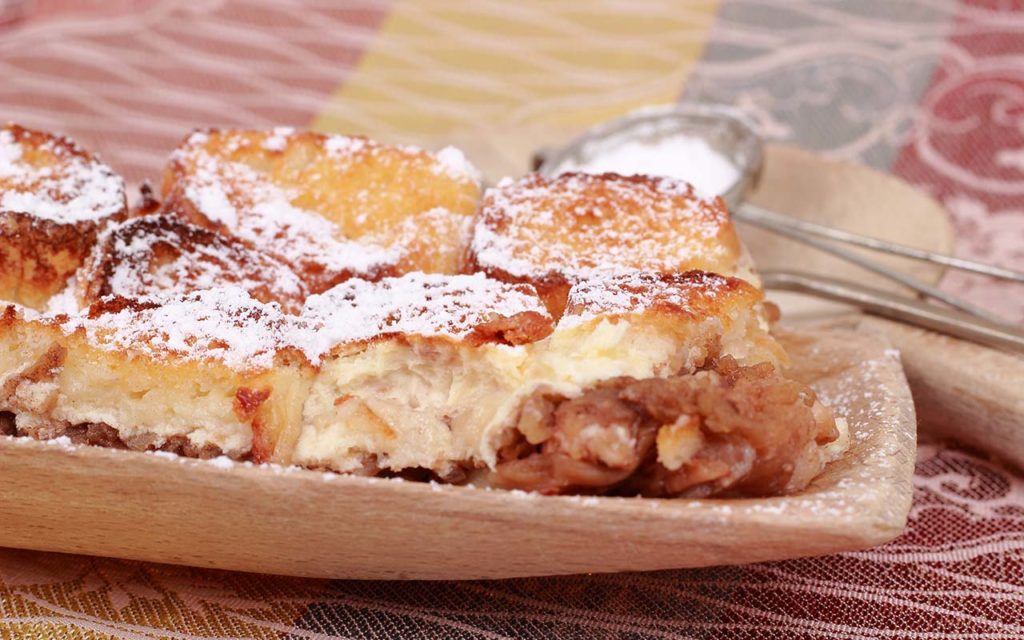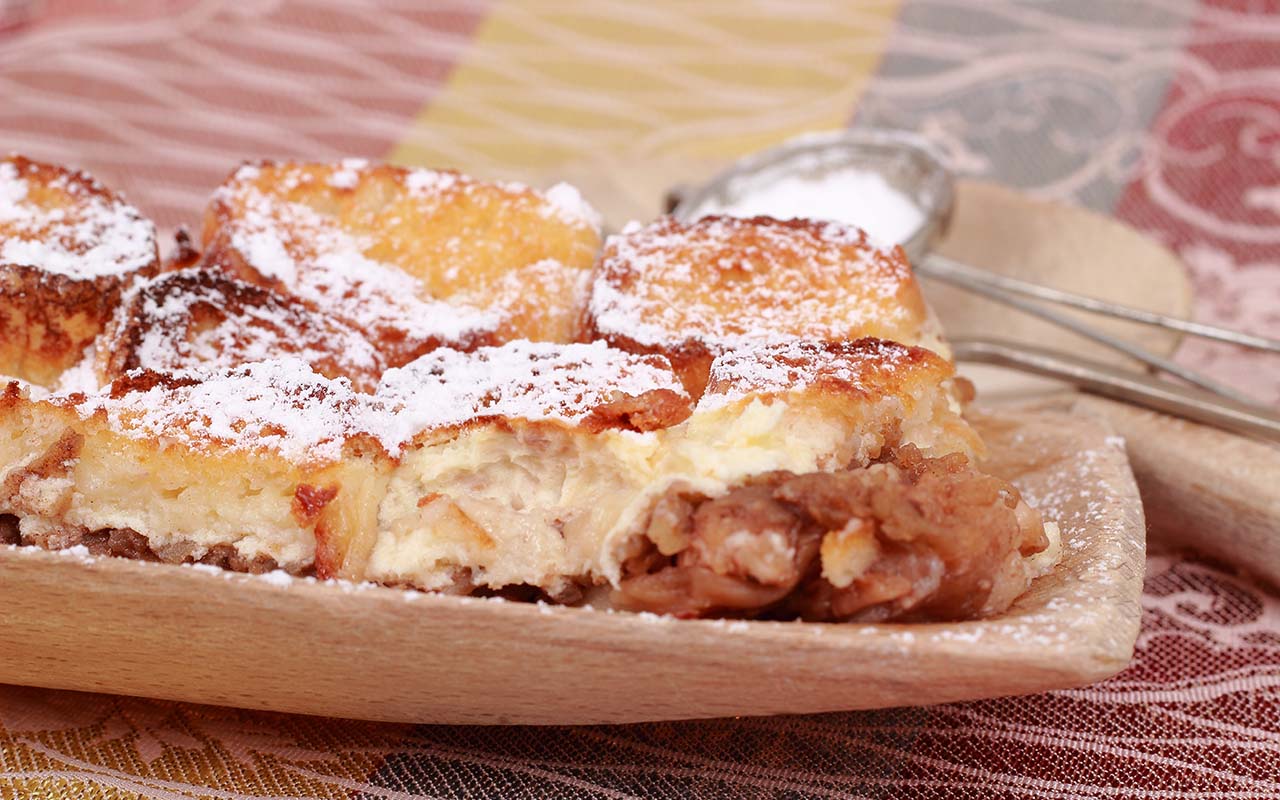 Žemlovka, bread pudding, is a popular dessert in Slovakia and the Czech Republic. It's made by layering bread slices and covering them with different fruits. Soft, white bread rolls like veka or rohlik are most commonly used in the preparation of this baked dessert that's soaked in sweet milk with a vanilla flavor.
Slices of bread are the bottom and top layer, while the center consists of delicious fruit combinations. The most common fruit used for Žemlovka is apples with cinnamon, but pears, peaches, and plums are also used. You can also find it with quark cheese or raisins or topped with a creamy meringue. This popular Slovakian food is best served warm.
22 – Višňová štrúdľa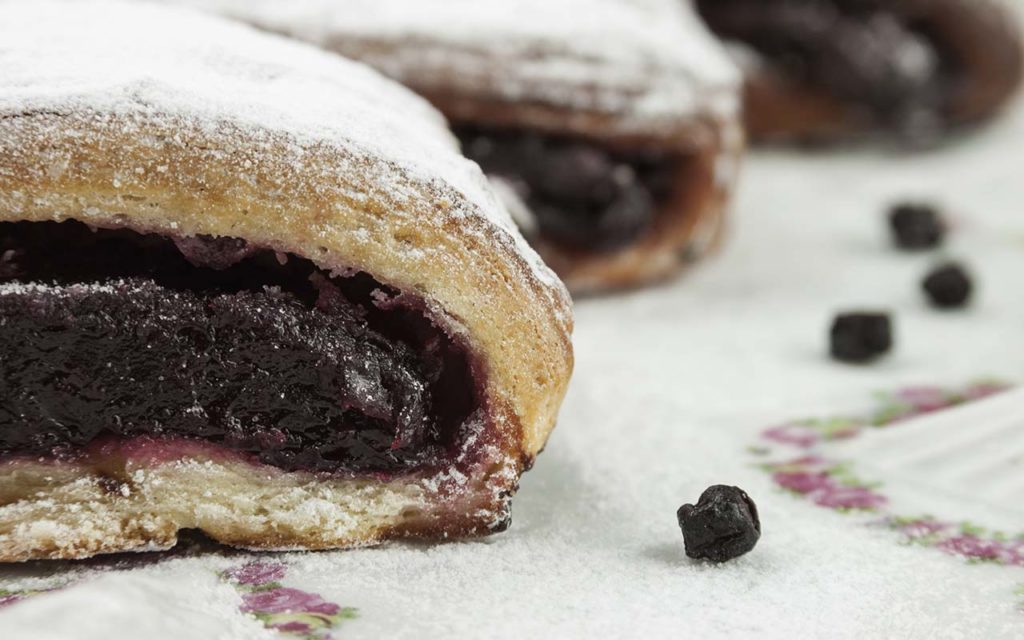 This delicious Slovakian dessert is a sour cherry strudel that includes the three of the most commonly used foods in the Central European cuisine – poppy seeds, sour cherries, and strudel pastry. A mixture of sour cherry compote, poppy seeds, butter, and brown sugar is used as a filling that's spread over a very thin pastry. The pastry is then rolled up in a strudel manner.
The sour cherry strudel is usually served with a topping of whipped cream. It's best enjoyed warm and is a Slovakian food you'd be crazy not to try when you visit Slovakia.
Slovakian Food Summary
We've come to the end of our mouth-watering array of Slovakian foods you simply must try when you visit Slovakia. Whether your palette caters to rich, creamy soups, baked delights, or sweet treats, I hope there was plenty on that list to get you excited for your visit to this truly fascinating country.
One final time, here's the full list of all foods covered in the article. Be sure to have this list of Slovakian food handy when you visit, so that you can try one or more of these delicious foods from a street vendor, at a restaurant, or from a bakery.
1 – Bryndzové Halušky
2 – Kapustnica
3 – Fazuľová Polievka
4 – Prívarok
5 – Segedin Goulash
6 – Mäsové Guľky
7 – Plnená Paprika
8 – Zemiakové Placky
9 – Langoš
10 – Pagáče
11 – Granadír
12 – Hemendex
13 – Cigánska Pečienka
14 – VyprážanýSýr
15 – Demikát
16 – Palacinka Hortobágyi
17 – Cesnaková Polievka
18 – Ryžový Nákyp
19 – Skalický Trdelník
20 – Laskonky
21 – Žemlovka
22 – Višňová štrúdľa
You Might Also Like to Read
Save and Pin for Later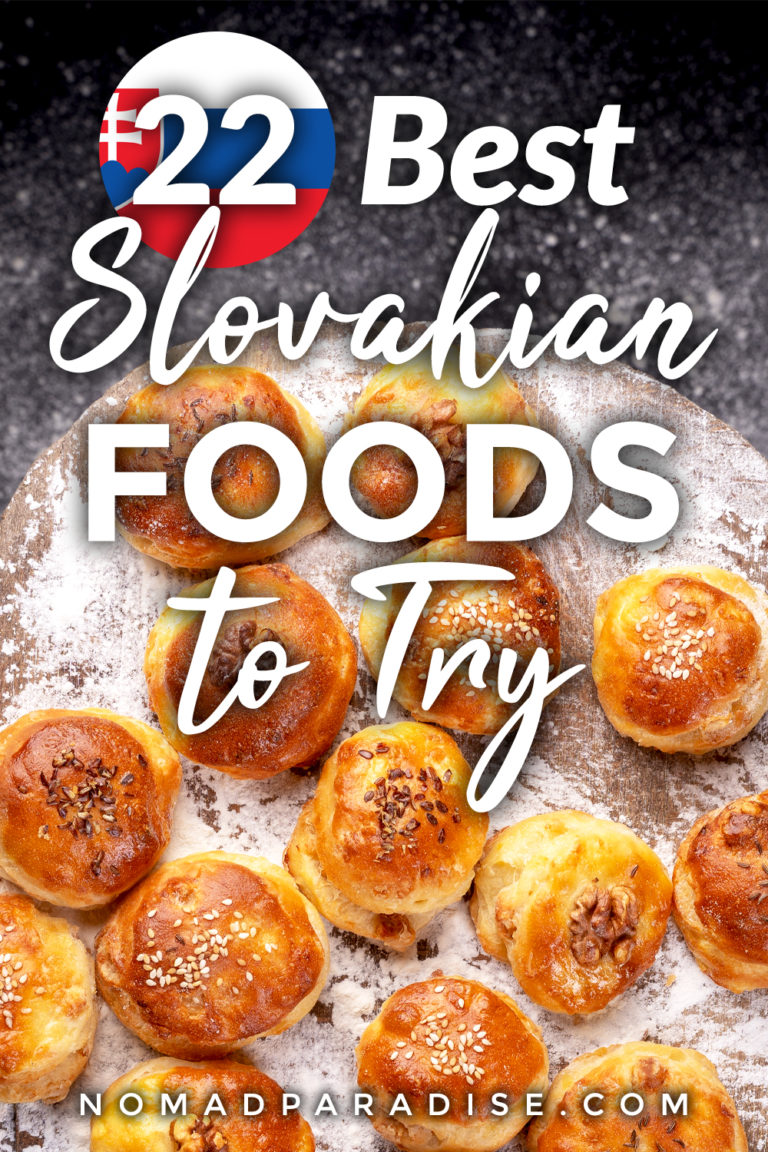 Want to keep all these delicious Slovakian food picks in a safe place? Save this article and pin it to one of your Pinterest boards for later.
---
Images licensed from Shutterstock