This post may contain affiliate links, meaning if you book or buy something through one of these links, we may earn an affiliate commission at no additional cost to you. Learn more
If you're excited to bring richness and indulgence by the spoonful into your home kitchen, these traditional and popular Italian dessert recipes are sure to wow your friends, family, and dinner party guests.
Dazzling food is an integral part of Italian culture, and Italy's desserts are no different. Whether your tastebuds long for rich and creamy, light and fluffy, or crunchy and tangy, there's a dessert on this list for everyone.
Pencils and cookbooks at the ready, as we take a closer look at 18 traditional, popular, and unique Italian desserts and their recipes, to help inspire your next post-dinner sweet treat feast!
Traditional & Popular Italian Desserts
One of the classic Italian desserts, tiramisu is a dish for those who appreciate layered textures and more savory tastes in their desserts.
Tiramisu is defined by its strong coffee flavor. It consists of layers of coffee-soaked savoiardi (sponge fingers), and a light egg, mascarpone cheese, and sugar mixture.
Our featured recipe is an authentic Italian tiramisu recipe.
Read more: Tiramisu Recipe for a Coffee-Infused Slice of Italy in Your Humble Abode
For an iconic taste of Sicily, you can't go wrong with freshly baked cannoli. These pastries decorate the bakeries that line the streets of Palermo, Catania, and other towns on the island.
Consisting of fried, flaked pastry shells, stuffed with a creamy and sweet ricotta filling, cannoli is an Italian dessert that others so many different textures and flavors in each and every bite.
While cannoli are easy to pick up from any bakery, our featured recipe gives you everything you need to bring these decadent pastries to life in your home kitchen.
For those who love their Italian treats with plenty of heart and comfort, a slice of panettone served with a hot cappuccino is a heavenly combination for lazy afternoons, celebrations, or dinner parties.
Made in a similar way to sourdough, panettone is a dessert designed to take center stage. It is baked in a large cylindrical or octagonal shape, up to six inches high.
A thick slice of panettone is fluffy and sweet, with citrus and tart notes coming through from the raisins, orange, or lemon.
Served with a mascarpone cream and a shot of amaretto, panettone is the perfect way to draw the curtain down on a fun dinner party or family celebration.
An Italian dessert of breathtaking simplicity but such indulgence and creaminess, panna cotta is a delightful dessert that Italians have adored for generations.
Our featured double mango panna cotta recipe makes for a perfect dessert to serve on a warm summer evening to friends and family.
This dish is sweet and creamy, while bringing a welcome injection of tart and fruitiness from the mango.
It is the ideal dessert to bring the traditional taste of Piedmont to your next outdoor gathering, barbecue, or summer event.
An Italian dessert roundup simply is not complete without featuring gelato. In Italy, you won't walk far down a sun-kissed cobbled street without spotting a gelato shop serving this creamy sensation in a wide array of flavors.
Trying new flavors is a big part of the experience, and this delightful green lemon basil gelato recipe will transport you to Liguria from the moment you close your eyes and let the ice cream touch your lips.
The combination of basil, laced with lemon, brings a truly unique and fresh taste to the table, and it is a gelato flavor combination unlike any other.
Those who love their desserts with plenty of depth and crunch will instantly love rustic biscotti. These twice-cooked biscuits come from Prato in Tuscany and can be enjoyed in so many ways.
Cut-up almonds added to the mixture before baking give biscotti its beloved spotted appearance. Whether served on a large platter post-meal or on the side of a hot drink, biscotti is a dessert for so many occasions.
You could even package them and give these crunchy cookies as a gift. And for a truly authentic Italian serving suggestion, try biscotti with Vin Santo, a popular Italian dessert wine.
Mesmerizingly delicate and beautiful to behold, sfogliatelle are some of the most unique pastries you will find throughout Italy.
First developed by a Naples-based pastry chef and sold in his bakery in the early 1800s, the pastry is aptly named, as 'sfogliatelle' means 'small, thin leaf' in Italian.
Prepared in a similar way to a Swiss roll, many Italian pastry chefs use pasta makers to flatten the sheet of dough, before rolling it and cutting pieces from the ends to form pockets.
Sfogliatelle can be stuffed with a wide range of jams and fruit-based fillings. The sweet, tart taste of the filling balances the crisp layers of pastry so wonderfully.
Rustic, elegant, and beautiful to lay eyes on, crostata is an Italian dessert you'll nearly always find in bakery windows and behind the counter glass.
Crostata is an Italian fruit tart, defined by its open-top style, where the pastry only partially covers the rich, fruit filling.
Italian bakers and pastry chefs, naturally, get creative with leftover pastry, using it to create lots of gorgeous and intricately designed layers and lattices to cover the top of the pie.
Plums, apricots, peaches, cherries, and many other fruit preserves all make for a delicious slice of crostata.
Naples has introduced the world to a number of sumptuous Italian dishes, and struffoli is very much in that grand category of must-try foods.
Struffoli are rich, indulgent, and sweet fried dough balls that have a crunchy outer shell, and a light, honey-flavored center.
Heavenly to eat and ideal for any celebration of gathering, you can present the balls in a mound, shape them into a wreath, or simply serve them in a large bowl for your guests to gorge on.
Smooth, creamy, and totally indulgent, budino al cioccolato is an Italian-style chocolate pudding that will keep you coming back for more.
Our featured recipe takes chocolatey goodness to a whole new level, topping the gorgeous, creamy chocolate pudding with chocolate shavings.
Budino is served in a whole manner of colorful and decadent ways, and it is the perfect Italian-inspired dessert for children and adults alike.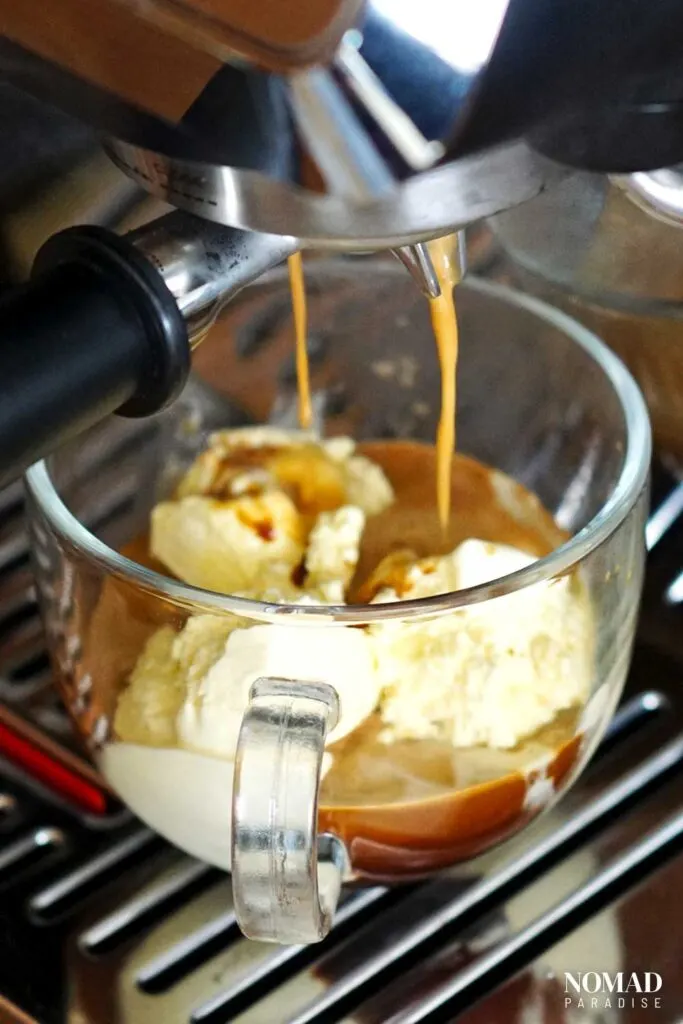 Italians know how to maximize flavor with simple ingredients, and the magnificent Italian dessert affogato is undoubtedly a testament to this mantra.
Wildly popular in restaurants across the country, this recipe allows you to bring this easy-to-prepare dessert into your own home.
Combining the strength and heat of delicious Italian roast coffee with the icy refreshment and creaminess of gelato, this is an Italian dish that's so easy to make but so delicious!
Read more: Affogato Recipe
Renowned for their intricate, symmetrical patterns, pizzelle are a classic Italian cookie, originating from Ortona in southern Italy.
Chewy or crispy depending on preference, this recipe gives you everything you need to bake wafer-thin, crispy pizzelle that look beautiful, smell divine, and taste delicious.
For dinner parties, celebrations, or holiday cookie exchanges, this is the perfect Italian dessert to share with friends and loved ones.
Traditionally a dish served at Italian weddings, baptisms, and holidays, today there are no shortage of reasons to bake up a batch of utterly delicious and creamy Italian butterball cookies.
Layered with textures and packed with a sweet flavor, laced with nutty undertones, these butterball cookies will melt in your mouth within seconds.
This is an Italian dessert dish that can easily be an instant favorite with your dinner or celebration guests, no matter who you are hosting.
For an authentic taste of Tuscany, necci is a creamy, sweet and savory dessert that brings together a range of the region's freshest ingredients in a dessert foodies from all over can enjoy.
Traditionally, necci are prepared on heated flat iron paddles, which allows for an even heat once the batter begins to crisp.
Similar to cannoli, the fried, crisp crepe batter provides the perfect foundation on which the creamy, savory ricotta cheese and the sweetness of the honey can flourish.
Zeppole are delicious fried dough fritters that can be filled with a range of rich and creamy fillings, from custards to fruit jellies.
Similar in texture and consistency to donuts, zeppole have a crispy exterior, and are fluffy and light on the inside. They are finished with a generous dusting of powder sugar.
These delicious treats are a popular choice in bakeries across Italy. They are particularly popular in Rome and Naples, and although traditionally eaten for St Joseph's Day, nowadays are enjoyed all year round.
If you're looking for a simple Italian dish to serve after lunches, with coffee, or just to snack on, pignoli cookies are a wonderful way to bring sweet, simple, and flavorful Italian cooking into your humble abode.
This recipe is easy to follow, and in a few simple steps you can serve up a batch of authentic Italian pine nut cookies for your family, friends, and guests to enjoy all year round.
Pignoli cookies have a slightly crunchy exterior, and a soft and chewy center. They are fun to make, and truly delicious. Your kids, loved ones, and dinner guests will keep coming back for more!
An Italian dessert that is smooth, light, and refreshing, semifreddo is a type of semi-frozen dessert, and the perfect sweet treat to accompany an afternoon coffee or late evening glass of citrusy liquor.
Semifreddo is made of a simple mixture of cream, sugar, and egg yolk. Once mixed, it is frozen, and has a similar texture to that of a chilled mousse.
Served with cream, strawberries, or chocolate, semifreddo makes for a perfect light and refreshing dessert to enjoy out on the patio on a warm, summer's evening.
18. Zabaglione
A dessert of Italy that is just as simple as it is wholesome, zabaglione is a light, airy custard that is generously whipped to create a thick, fluffy body.
Zabaglione is traditionally made of a simple mixture of egg yolk, sugar, and a sweet Italian wine, such as Marsala.
Beloved across Europe and South America, zabaglione is commonly served in a glass with fruits, such as strawberries or blueberries, and it is an Italian dessert with class, style, and elegance.
Popular Italian Desserts Summary
From rich, creamy gelato, to crunchy, nutty biscuits, Italian desserts serve up an incredible array of flavors, textures, and tastes foodies and those with a sweet tooth from all over the world enjoy and adore.
And, as many of these unique and exciting recipes demonstrate, Italian cuisine prides itself on maximizing flavor via simple, straightforward cooking.
Whether you're celebrating over the holidays, cooking for a date or loved one, or treating friends and family to a feast of fine food, these Italian desserts can take center stage at any get together, dinner party, or gathering.
Have plenty of fun bringing these popular Italian desserts to life in your home kitchen, and even more fun eating them with friends, family, and loved ones.
You Might Also Like to Read
Save and Pin for Later
Keep these traditional and popular Italian desserts recipes for safekeeping by saving this article to one of your recipes or foodie travel Pinterest boards.
Author: Dale Johnson is a content designer, writer, and strategist. He is deeply passionate about foodie travel and has visited over 30 countries and counting to date.