This post may contain affiliate links, meaning if you book or buy something through one of these links, we may earn an affiliate commission at no additional cost to you. Learn more
With their beautiful colors, sweet and savory flavors, and melt-in-mouth textures, these Egyptian desserts will open your eyes and palate to a completely different side of the country's cuisine.
Ready to embrace the sweeter side of this fascinating country? Get excited to discover 19 of Egypt's most popular and beloved desserts you simply have to try when you next visit.
Egyptian Desserts
1 – Basbosa (Semolina Cake)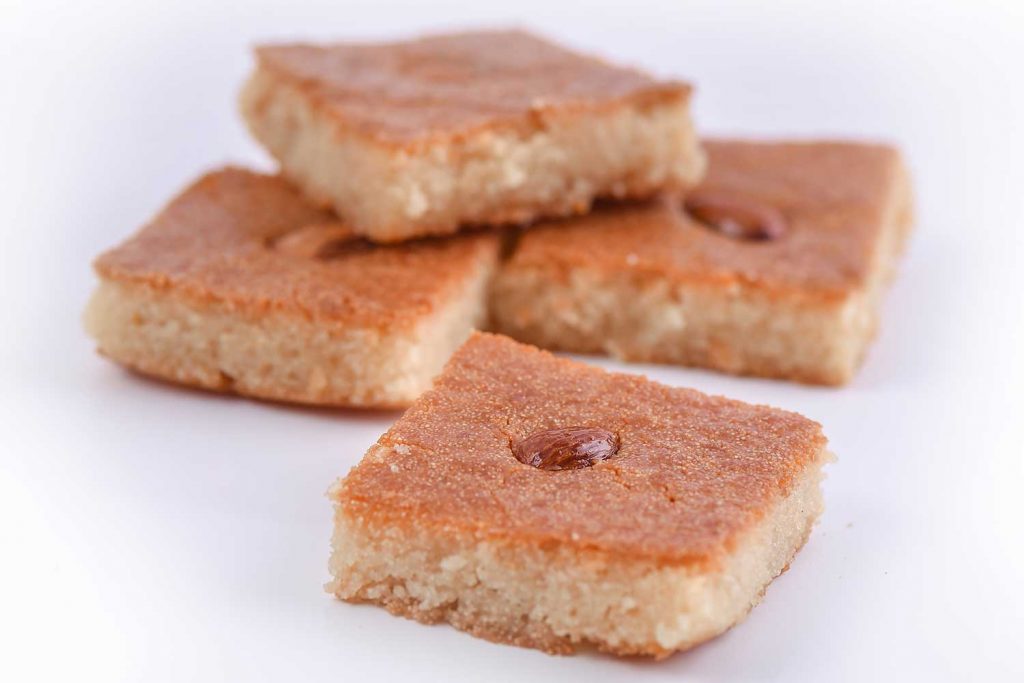 Basbosa is popular across Egypt, and a hotly debated dish, at that. Some Egyptians refer to it as Harrisa, while others believe Basbosa and Harrisa are two different dishes.
Debates aside, there is no denying this is a dish packed with comfort and flavor. It is a cake made from a mixture of semolina flour, yogurt, butter, sugar, and coconut, baked in a tray or pan.
Originating from Egypt, Basbosa is a popular dessert in many other cuisines, including Turkish, Greek, and Middle Eastern countries.
Whether you prefer the crisper, harder slices lining the edge of the baking tray, or the slightly softer, spongier slices from the center, there's no denying this is a flavorsome dish you simply must try.
2 – Om Ali (Translating to 'Mother of Ali')
Om Ali is named after an ancient Egyptian Emperor's wife, who requested her chefs invent a new and delicious dessert that was worthy to bear her name.
Essentially, Om Ali is a dish of fragmented or broken pieces of pastry, drowned in walk milk, sugar, butter, and cream, baked to perfection.
Today Om Ali is a diverse dish, and you can use croissants, mille-feuille, or puff pastry to prepare it, depending on preference. It can be topped with nuts and served with a cold dollop of vanilla ice cream or sour cream.
A national dessert of Egypt, it is served warm and is traditionally a signature dish at Egyptian weddings.
3 – Konafa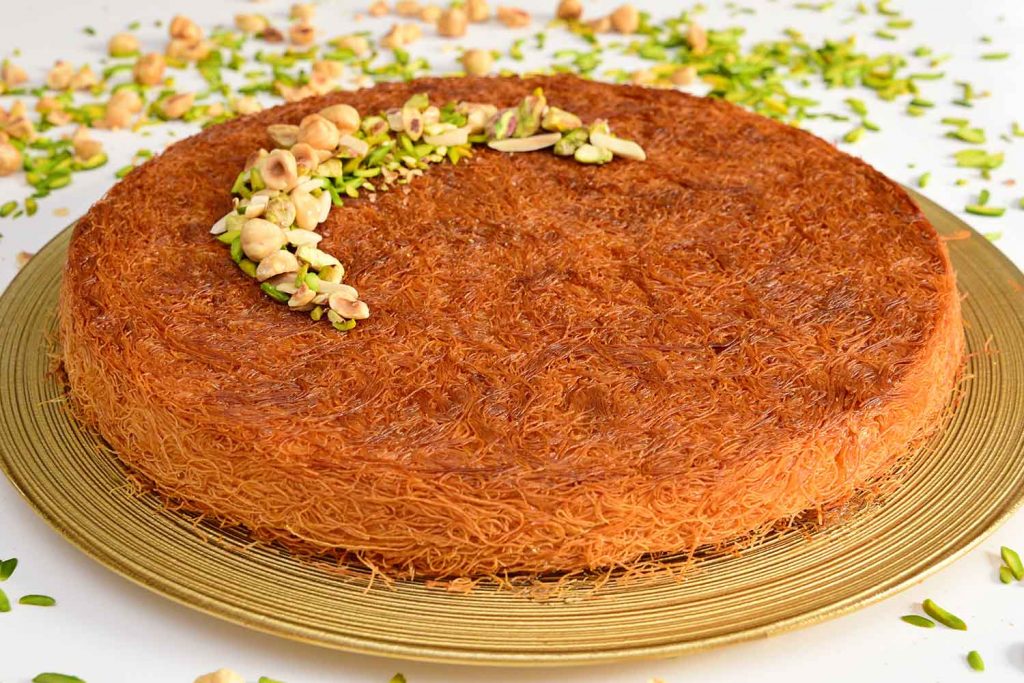 A cosmopolitan dessert, Konafa is believed to have roots in Egypt, Syria, and Turkey. In Egypt, Konafa is a popular dessert to consume during the Holy month of Ramadan.
Konafa is a dish consisting of very fine threads of dough, cut into small pieces and mixed with butter and sugar. Once the dough mixture is prepared, it is then baked.
Traditionally, this Egyptian favorite was either filled with custard or simply served topped with nuts. However, modern variations of Konafa are widely popular, including dishes topped or filled with mangoes, mixed fruits, Nutella spread, and Lotus spread, among others.
In fact, you can even find shrimp Konafa! That may not be the best choice for a dessert, but definitely worth a try from the appetizer menu.
4 – Atayef (Middle Eastern Pancakes)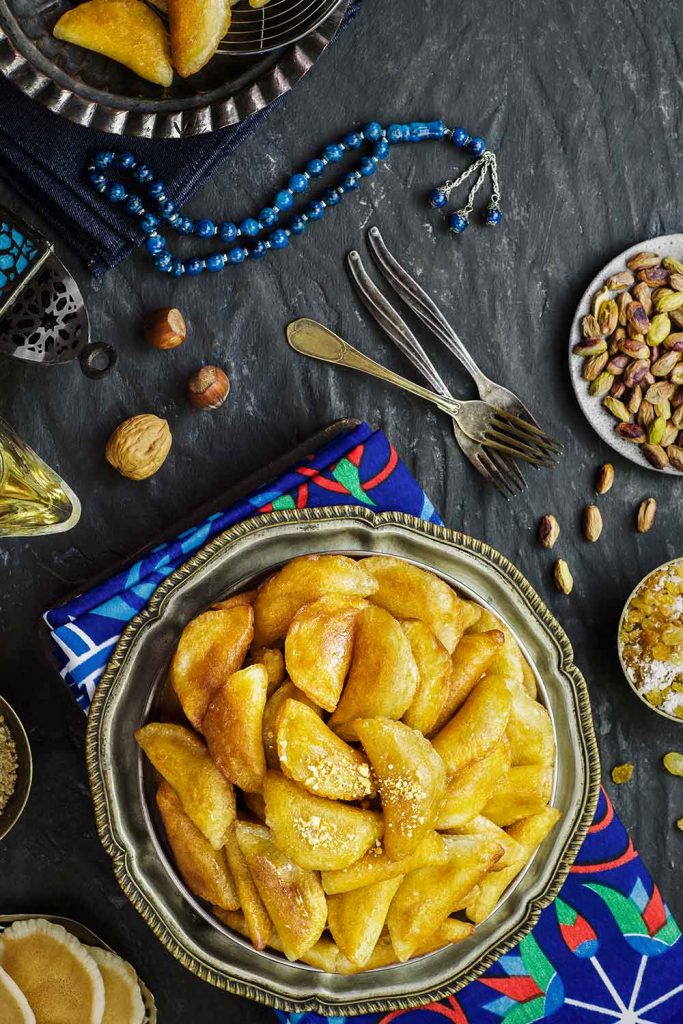 Arguably the second most popular dessert to eat during Ramadan, Atayef may look like mini pancakes, but their flavor profile has plenty of surprises in store.
During the month of Ramadan, you'll find Atayef sold everywhere, from local bakeries to the fanciest pastry shops. This dish is widely popular not only in Egypt but throughout the Levant region.
A sweet syrup made from sugar and water is an essential addition to both Atayef and Konafa and helps define its iconic flavor and moist texture.
Once fried, these wholesome treats can be stuffed with nuts and topped with Nutella spread, Lotus spread, among many other toppings.
5 – Shereya Bel Laban (Sweet Vermicilli with Milk)
Shereya Bel Laban is a beautifully simple and sweet milk pudding, made with vermicelli pasta strands and milk, cooked to a wholesome, custard-like consistency.
The vermicelli is first fried and then soaked in milk and sugar over the stove, to create a dish that is simply perfect to keep you warm through the long Egyptian winter nights.
So much so, Shereya Bel Ladan is seen as not only a dessert but also hearty enough to be a main meal. It is loaded with high amounts of protein, fats, and energy, all packed into a little bowl of comfort and sweetness.
Very much a homemade food, you will struggle to find it in dessert or coffee shops. Befriend a local and get invited for dinner, however, and you may be in luck.
6 – Roz Belaban (Rice Pudding)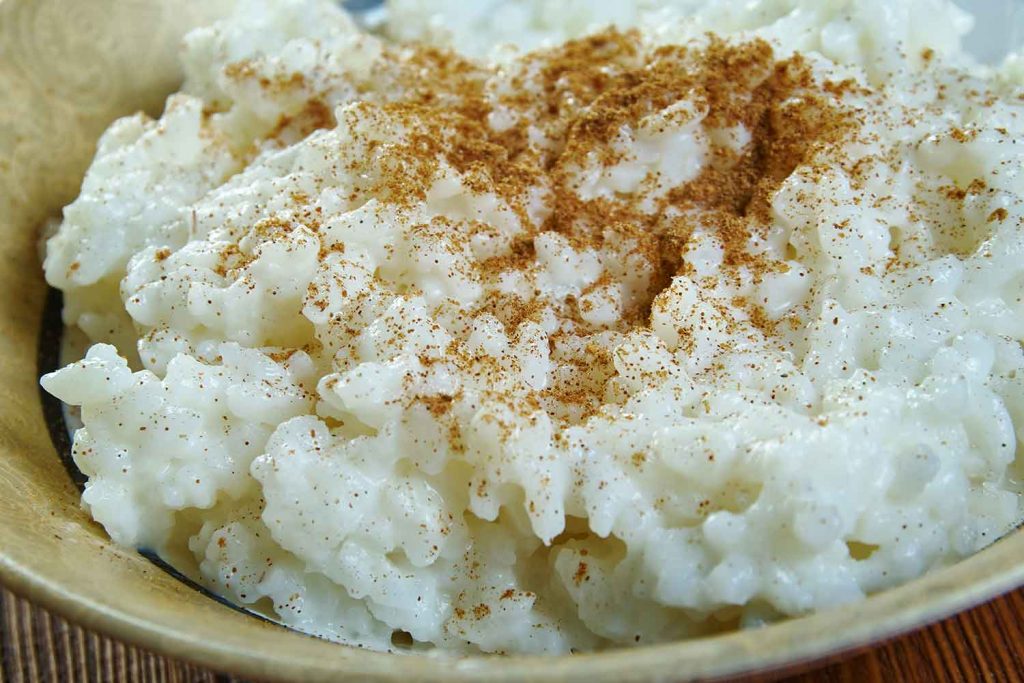 Most countries have their take on the wonderfully simple rice pudding, and Egypt is no different.
Roz Belaban is essentially a wholesome dish of rice boiled in milk and sugar, then refrigerated and served chilled.
Despite its simple ingredients, that hasn't stopped a little Egyptian endeavor at the stove through the generations. Rosewater is often added to the mixture, and many Egyptians enjoy their Roz Belaban served with a sprinkle of nuts or a scoop of ice cream.
Naturally popular throughout Egypt, you'll have particular luck finding many variations of this dish in the restaurants and eateries that line the Alexandrian shores.
7 – Cassata (Colorful Ice Cream Cake)
Cassata is a rich, vibrant, and indulgent ice cream dish, found in the Egyptian city of Portsaid.
Originally from Italy, it's no surprise this dish found its way to Portsaid, as only the waters of the Mediterranean Sea lie between the south of Italy and this vibrant Egyptian port.
Egyptian Cassata is commonly made from sour cream and flavored with mangoes, vanilla, and chocolate, before being frozen into a dessert that is a true melting pot of flavors.
Dried fruits and cake can be served with Cassata, and despite its wide array of ingredients, this beloved dessert is surprisingly inexpensive to buy.
8 – Couscous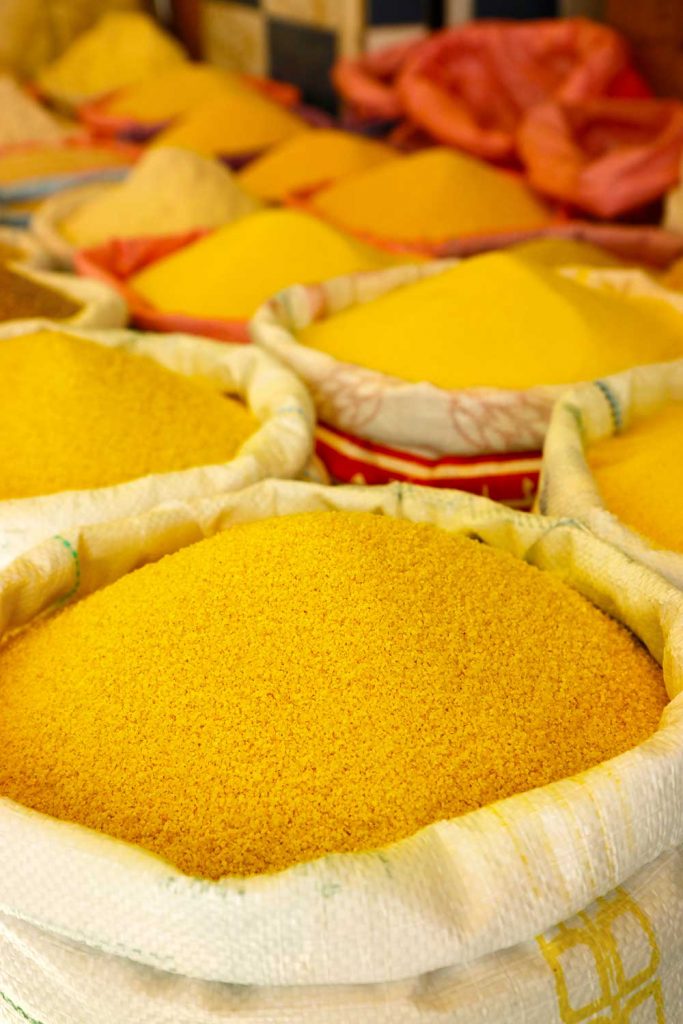 Originating from Morocco, in Egypt couscous is not only served as a savory dish, but also as a dessert.
To do this, Egyptians soak couscous in warm milk and sugar, in a similar vein to Shereya Bel Laban, to help create a rich, sweet flavor.
It is simple to make yourself, but if you're pushed for time this type of couscous is widely available in pretty much any Egyptian supermarket.
9 – Halawet El Mouled (Sugar Candies)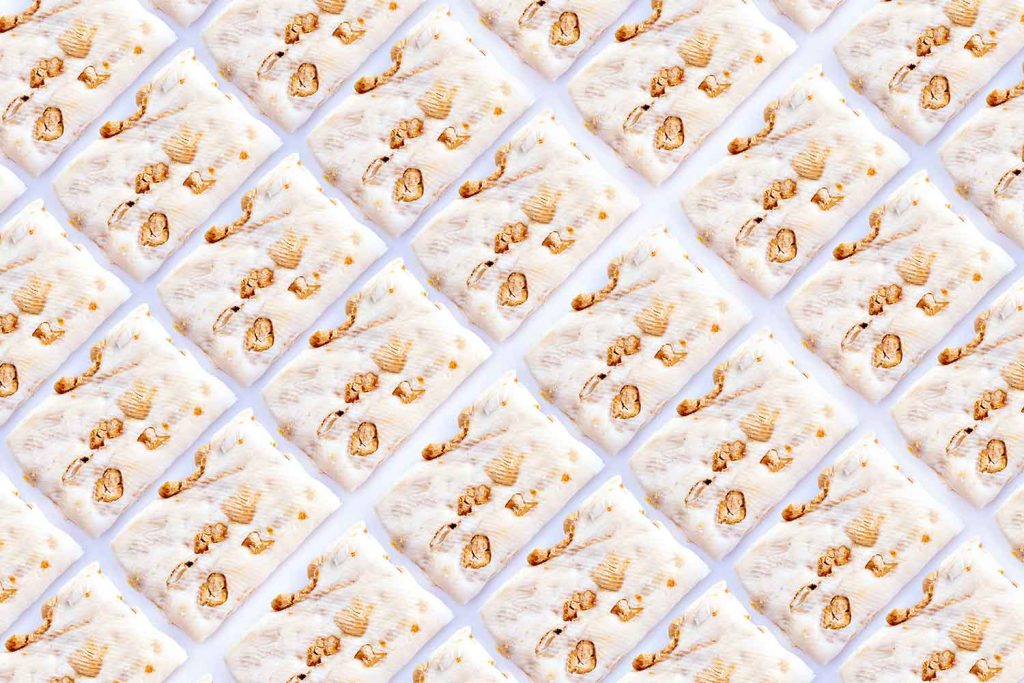 Halawet El Mouled is an important sweet Egyptian dish with historical significance. It traditionally is eaten to celebrate the birthday of the Prophet Mohammed.
The tradition is said to have begun in ancient Egypt, where one of the kings and his wife would celebrate the birthday by handing out candy to everyone on the streets.
Traditionally, Halawet El Mouled was a simple candy, sold in two styles: a horse-shaped candy for men and boys and a doll-shaped candy for women and girls.
Today, this popular candy comes in a wide range of flavors, including pistachio, sesame, peanut, coconut, and many other flavors.
10 – Hegazeya (Nut Cake)
Hegazeya has its roots in the city of Alexandria, and is a firm, nutty cake consisting of two layers of batter, sandwiching a delicious filling of cinnamon, nuts, and semolina flour, among other ingredients.
Once baked, Hegazeya is traditionally cut into diamond-shaped pieces and can be served topped with crushed pistachios.
11 – Meshabek (Egyptian Funnel Cake)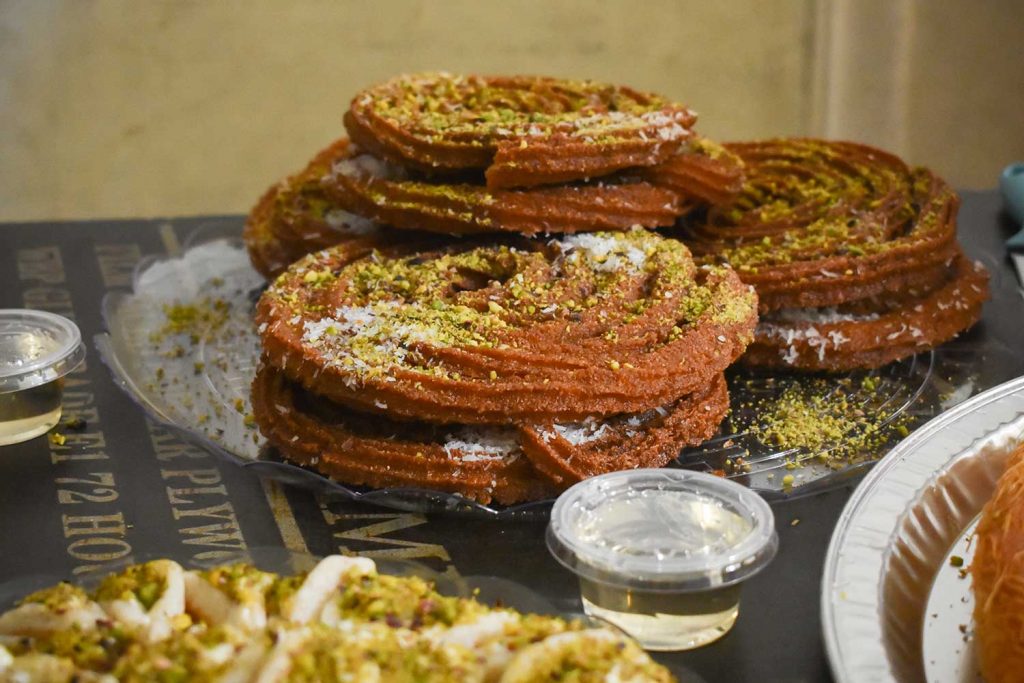 The word 'meshabek' translates to 'buckled up', which beautifully and aptly describes the shape of this delicious and fascinating Egyptian cake.
Meshabek can be traced back to India and a dish known as Zalabia. This style of fried dough dessert is popular throughout Indian, Middle Eastern, and North African cuisines.
The dish is made from a simple batter that is first shaped, then deep-fried, and finally dipped in sugar syrup.
Meshabek originates from Damietta, where many of the country's sweet dishes were primarily invented. The dessert's outer shell is light and crunchy, while it has a softer, chewier center.
The dessert can be ordered in many different sizes, and it's intriguing to watch a street vendor or maker make this dessert from scratch.
12 – Medalaa (Translating to 'The Spoiled Girl')
Medalaa is Tanta's most popular dessert. It consists of one layer of konafa, one layer of basbosa, and a thick creamy layer in between. It is then topped off with chocolate sauce, caramel sauce, and nuts.
While a delicious dessert, the technique in making it requires plenty of patience and expertise. Fortunately, today you can find it not just in Tanta, but throughout Egypt.
Sold by the kilogram, as cut pieces, and even in cake form, this sumptuous dessert is more than worth keeping your eyes peeled for wherever you are in Egypt.
13 – Baseema (Egyptian Coconut Cake)
While Baseema looks very similar to Basbosa, it is very much its own dessert when it comes to taste and texture.
This fragrant, sweet cake is made from a base of semolina flour and coconut, which is poured with cold sugar syrup once baked. Once set, the cake is topped with coconut flakes.
Baseema and Basbosa very much divide opinion in Egypt, and it's common for people to debate which is better. You'll rarely find someone who enjoys both!
14 – Halawa Shaar (Halva Threads)
Tahini is wildly popular throughout Egypt, so it should come as no surprise that this sesame delight has found its way onto the dessert menu.
Halawa Shaar is a sweet confection of ground sesame seeds and honey, shredded into fine strands. The 'shaar' in Halawa Shaar means 'hair', which refers to the appearance and texture of the Halva threads when collected.
These sumptuous threads instantly melt in the mouth, and can top various cakes, be added to cream and used as fillings, or more commonly just eaten straight from the box.
15 – Eshtaleya (Milk Pudding)
Eshtaleya is believed to originate in Lebanon, but it has become widespread in Egypt, largely due to the increasing number of Lebanese restaurants in the country.
It is a fairly economical dessert, made of very simple components common in most Egyptian households.
Eshtaleya consists of a simple mixture of milk, corn starch, and rosewater. You can think of it as an Egyptian take on custard. Once prepared, it is refrigerated and served cold, and it is usually decorated with a sprinkle of pistachios.
16 – Sad El Hanak (Translating to 'Mouth Stuffing')
Literally meaning 'mouth stuffing', Sad El Hanak is a classic dish of generations gone by.
A dish of Turkish and Middle Eastern cuisines also, today sadly you'll be hard-pressed to find it served in any restaurant, as it is a homemade staple prepared by older generations of Egyptians.
Wholesome and inexpensive, this rich, thick paste-like dessert is made from a mixture of butter, milk, flour, and sugar, cooked in a pan over a stove.
Covered in syrup, this is true comfort food that brings back plenty of childhood memories for Egyptians of all ages.
17 – Zalabya/Logmet Al Kady (Egyptian Fritters)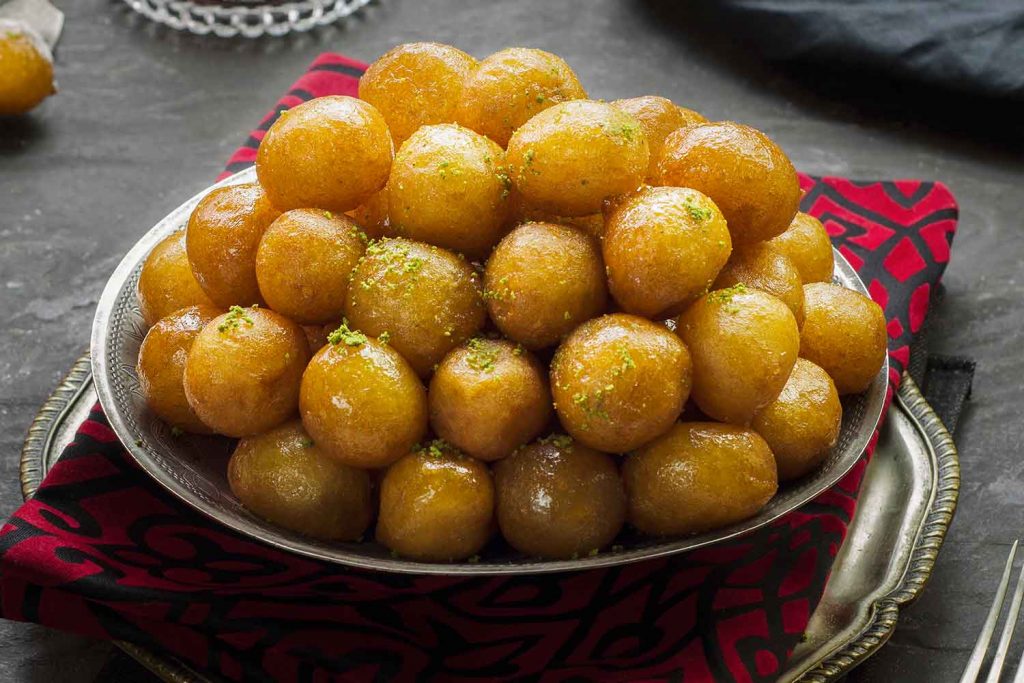 Logmet Al Kady literally translates to 'Bites of the Judge'. This delicious street food is widely popular throughout Egypt.
These little balls of batter sizzling in large pans of hot oil is one of the must-see sights in any Egyptian food market, and their crunchy bite and fluffy center will have you hooked from the first mouthful.
Traditionally Zalabya were coated in powdered sugar or honey syrup, but today your topping choices are plentiful. From cinnamon powder to white chocolate, these rich, sweet, and tasty treats come in so many forms.
Known by other names, the dish is also common in Turkish, Greek, and Middle Eastern cuisines.
18 – Balah Al Sham (Middle Eastern Churros)
Balah Al Sham are delicious fried churros, originating from Syria but popular throughout the Middle East and north Africa.
A wonderous finger food, Balah Al Sham are made from a batter of flour, sugar, lime, and vanilla, that is shaped, deep-fried in oil, and finally coated in sugar syrup.
You won't have to look too far on the streets of Egypt to find a stall or kiosk selling this beloved street food.
19 – Sawabea Zainab (Zainab's Finger)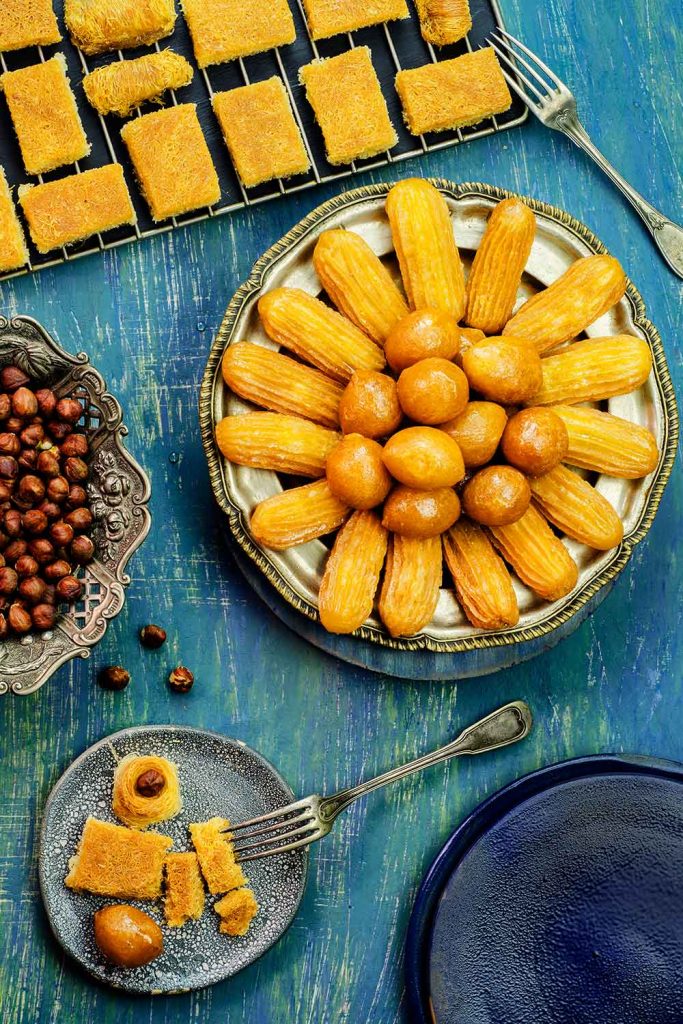 The aptly named Sawabea Zainab is a dish of fingers made from flour, semolina flour, butter, vanilla, and water. An Arabic food by origin, Zainab's finger is a wholesome pasty, traditionally eaten during Ramadan.
In a similar vein to Balah Al Sham, it is shaped and deep-fried before being covered in syrup. However, unlike Balah Al Sham, its lengthy preparation time due to its shape means it's more commonly found in pastry shops and bakeries, rather than sold as a street food.
But no matter where you find it, you simply have to try it. It's a sweet, rich, and truly unique Egyptian food.
Egyptian Desserts Summary
Egypt is a land of staggering beauty and ancient history, but its cuisine really is one of its most surprising and undiscovered gems.
These sweet and savory treats capture Egypt in so many ways. These dishes are cosmopolitan, colorful, flavorsome, and always have a unique and intriguing story.
Any trip to Egypt simply isn't complete without trying at least some of these wonderful desserts. Seek them out in restaurants, bakeries, food markets, and through locals, and take your tastebuds and stomach on a sweet and scrumptious adventure like no other.
You Might Also Like to Read
Save and Pin for Later
Want to keep all these delicious Egyptian dessert picks in a safe place? Save this article and pin it to one of your Pinterest boards for later.
Contributor: Nouran Elsadek is a creative writer and editor based out of Alexandria, Egypt. She has written for a number of publications in both Arabic and English and is eager to share her writing about Egyptian culture and cuisine with broader audiences.
Images licensed via Shutterstock