This post may contain affiliate links, meaning if you book or buy something through one of these links, we may earn an affiliate commission at no additional cost to you. Learn more
Discover a rich, sweet, and utterly divine side of a famously fiery and spicy cuisine with these Moroccan desserts, and take yourself on a culinary journey like no other.
The desserts of Morocco bring wondrous textures and unique flavors to the foray and offer something all foodies and travelers can enjoy. Let's dive in, and find out more about 10 must-try dishes on the sweeter side of Moroccan food.
Moroccan Desserts You Need to Try
1 – Saikouk (Cooked Barley Semolina with Whey Milk)
Saikouk, known as 'Mgheder' in the Oriental region of Morocco, is a magical combination of two ingredients that form the basis of many recipes in this area: cooked barley semolina and whey milk. This healthy dessert is one of the favorite desserts Moroccans like to consume after a hearty evening meal.
A popular ingredient in North African dishes, barley semolina is a substitute for corn semolina. This ingredient is more prevalent in Western cooking and is often used in making couscous.
In fact, the creamy and delicious saikouk is cooked in a couscoussier, the double pot used to steam couscous. Most Moroccan families make saikouk for their Friday meal to use any leftover semolina that was not made into couscous.
Although a simple dish, you can still try out the saikouk for yourself by finding the many street vendors that sell it. This dessert will give you the authentic taste of traditional Morocco like no other sweet food.
2 – Sellou (Toasted Flour with Almonds and Sesame Seeds)
Sellou is another Moroccan sweet featuring the country's traditional, earthy flavors of sesame seeds, almonds, and star anise.
The recipe uses simple everyday ingredients that can be found in any Moroccan household, but the preparation does take a little time and patience.
Sellou, also called sfouf or zmita, is a cake decorated with almonds. Each ingredient is cooked separately to maximize its flavor then is combined into a delightful dessert where the smokiness of the herbs and the earthiness of the sesame seeds and almonds amalgamate into one heavenly bite.
First, the sesame seeds are cleaned from any sand and then slowly roasted in the oven until their flavor becomes nutty and sweet. These are then blended together into a rough type of dough.
The same is done with the almonds, which are roasted to provide a generous amount of crunch. The flour is then spread out thinly on a dish and toasted until browned. Once these ingredients are ready, they are all mixed together with honey or sugar, butter, star anise, and green anise.
This sweet dessert is usually served during Ramadan, accompanied by traditional sweet Moroccan mint tea. It is a very healthy dessert with a high amount of protein and is highly recommended as a superfood for new mothers.
Sellou can be stored for a long time, and many Moroccan families prepare a large batch to last them for many days, even weeks. Trying sellou is a must when visiting Morocco, and this nutty dessert can be found in most bakeries.
3 – Jawhara (Milk Pastilla)
One of the most iconic Moroccan dishes is the pastilla, where sweet and savory flavors are combined into a large pie comprised of ultra-fine sheets of warka pastry.
But did you know there is also a sweet version of this dish? The jawhara, or milk pastilla, is a delicious dessert of layered deep-fried sweet dough and cream, flavored with fragrant cinnamon and orange blossom water.
Jawhara, named after a precious stone or gem, is a Moroccan specialty, usually served during traditional birthdays or weddings. With its subtle citrus flavors and spices, Jawhara is a must-try when visiting Morocco.
The layers of dough are made from warka pastry, which is traditional to Moroccan cuisine. It takes years of practice to master making this dough, which is extremely sticky, and is cooked on a hot plate sizzling with oil, where the dough crisps to become a flavorful delight.
The warka dough is then layered with a milk-based cream mixed with sugar, cinnamon, and orange blossom water. Chopped almonds are then sprinkled on each layer, and the masterpiece is coated with cream and almonds.
Sweet and crunchy, light and fragrant, this milk pastilla is truly sumptuous. Most restaurants have it on their menu, especially in the city of Fez, and if you are lucky enough to get invited to a local Moroccan wedding, you'll definitely be able to try this dish.
4 – Baghrir (Thousand Hole Pancake)
Morocco is heavily influenced by French cuisine, so it should come as no surprise to find crepes as the main protagonist of one of the country's favorite sweet dishes.
Baghrir, also known as the thousand hole pancakes, immediately takes you back to the tales of 1001 nights. These are small, fluffy Moroccan pancakes, dotted and rippled with tiny little craters. The more holes there are, the better the pancake.
Made out of semolina or flour, the baghrir is very popular in Morocco. Its fluffy texture results from mixing yeast and baking powder together, making it extra light and spongy. When cooked properly, baghrir will be covered in tiny open bubbles.
When the pancakes are cooked, the holes hold and absorb any sweet topping, such as honey, Nutella, or jam, like tiny jewels that will burst in your mouth with bubbles of flavor.
You can find this Moroccan delicacy in bakeries and cafes and is perfect when served with a glass of Moroccan mint tea or juice.
5 – Dwaz Atay (Moroccan Cookies with Moroccan Mint Tea)
Mint tea is to Morocco what pasta is to Italy. So, once you are in Morocco, be prepared to drink a lot of sweet mint tea. It is the perfect companion to sweets and desserts – as the cooling mint and sugary flavor complement traditional pastries and biscuit platters so well.
Moroccan mint tea is known as 'atay', while the accompanying plates of pastries are called 'was atay'. It is the perfect way to welcome guests in Moroccan households and brings together everyone around one table.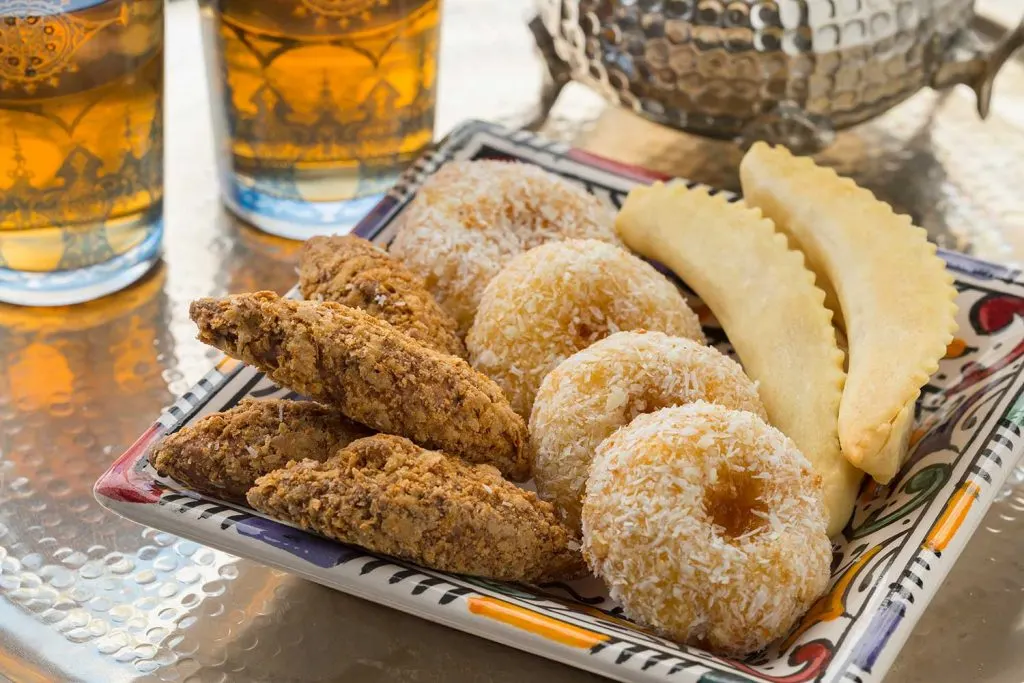 The sweet tea, or atay, is usually served in a traditional, elaborately decorated teapot, with a beautifully curved spout and pastries such as kaab el ghazal (gazelle corns), ghoriba (Moroccan cookies made with coconut and peanuts), almond shortbread, and chocolate cookies.
Dwaz atay is considered a Moroccan dessert as it is usually served after lunch. Loved by young and old, find a tiny coffee shop filled with locals, sit down and order a dwaz atay. Watch the waiter pour the atay from a height of one meter with exact precision into a tiny glass, and enjoy it with the plate of dwaz atay. Welcome to Morocco!
6 – Almond Briouat (Almond Puff Pastry)
One of the most delicious pastries in Morocco has to be almond briouat. These are sweet deep-fried pastries, shaped like a triangle, filled with almond paste, and coated in honey. Almond briouat is usually served at tea-time with sellou and dwaz atay.
Made of out warka pastry, the same dough used to make pastilla, the almond briouat is filled with sweet almond paste. The wafer-thin pastry is wrapped into the shape of a triangle, deep-fried, and then soaked in honey. Sometimes, sesame seeds are added for an additional crunch.
These delightful pastries are usually served during the month of Ramadan. In fact, most Moroccan families prepare large batches of briouat and keep it refrigerated to enjoy these tiny treats with their mint tea.
Almond briouat can be bought from coffee shops or, if you like, in larger quantities from bakeries. These sweet morsels are a great way to bring a little piece of Morocco home with you after your trip, or a tasty gift to give to your loved ones.
7 – Salade d'Oranges à la Cannelle (Orange Slices with Cinnamon)
This has to be one of the most refreshing Moroccan desserts, and one of the easiest to prepare.
Made during the orange harvest season, this "salad of oranges" is created by first peeling oranges, then slicing them whole. These juicy wheels bursting with flavor are then covered with cinnamon, sugar, and mint leaves.
A syrup is then made from freshly squeezed orange juice, orange blossom water, and sugar, which is first boiled for a couple of minutes, then poured over the juicy orange slices.
This light and fresh dessert is ideal for cooling down in the Moroccan heat. Enjoyed throughout the day, this is one of the sweetest and simplest dishes you'll find in the country.
8 – Mhancha (Almond Pastry)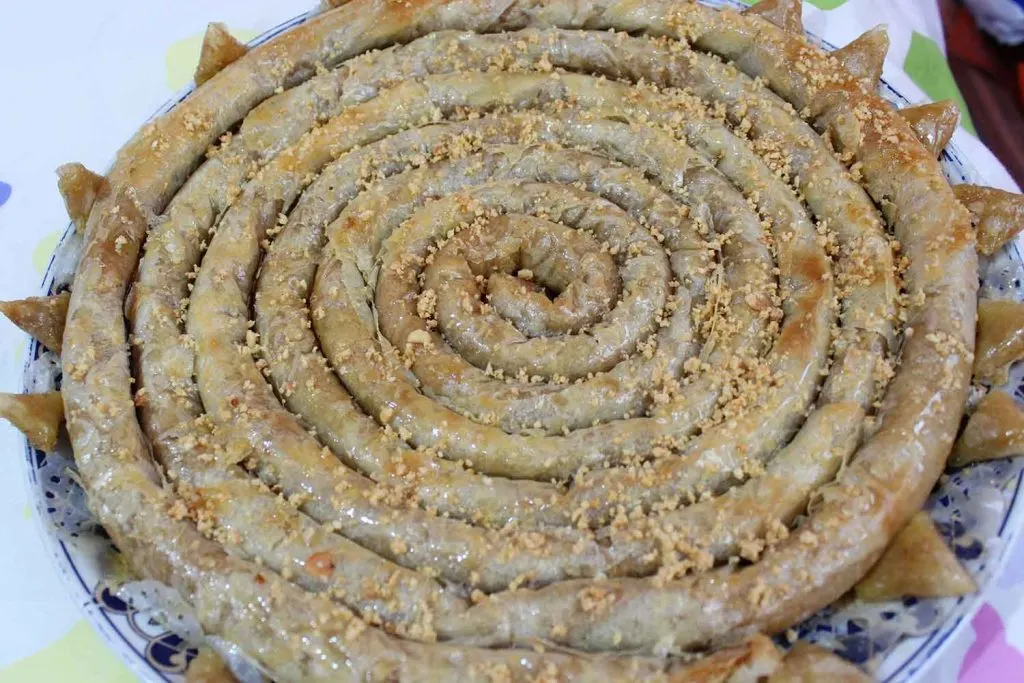 Mhancha is another traditional Moroccan dessert that brings together some of the country's most renowned ingredients, notably almonds, cinnamon, orange blossom, and filo-like warka dough.
The thin layers of warka dough are laid out and spread with a filling of almond paste flavored with cinnamon and orange blossom water. The pastry is then rolled, encasing the rich filling, and baked in the oven. Finally, the mhancha is cut into thick slices, and covered with icing sugar or honey and chopped almonds.
Just like most other Moroccan pastries, mhancha is usually prepared during traditional festivities. It is very popular during Ramadan, and it is also a delicious dessert to finish lunch with, particularly when served with a glass of Moroccan mint tea. Ask a local to guide you to their favorite bakery to best enjoy this sweet treat.
9 – Basboussa (Moroccan Orange Cake)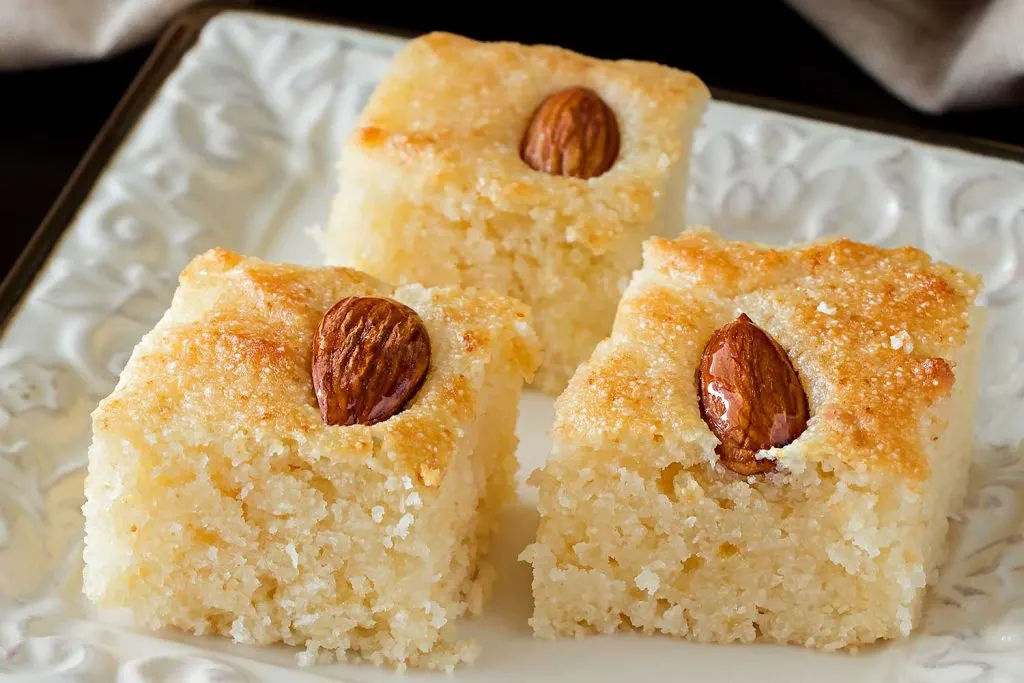 Basboussa is a soft semolina and orange cake that is a Moroccan take on a classic Turkish sweet dish. Soaked in syrup and sweetened with orange blossom water, basboussa is a rich, sumptuous dessert, and a prime example of how the cuisines of North Africa, the Mediterranean, and Levant commonly influence each other.
Basboussa starts with a base of semolina. Then baking powder, vanilla extract, sugar, eggs, and milk are added, and everything is mixed until it becomes a firm dough.
The mixture is then baked until browned. As soon as the cake is taken out of the oven, it is covered with a sweet syrup, which moistens the texture, and then sprinkled with shredded coconut sprinkles spread for an additional touch of sweetness. This is the perfect cake to enjoy for dessert, or for breakfast.
This cake is at its best when just out of the oven, so find it at a bakery or restaurant while it is still hot, to truly enjoy its magnificent flavors and texture.
10 – Rayeb (Fermented milk)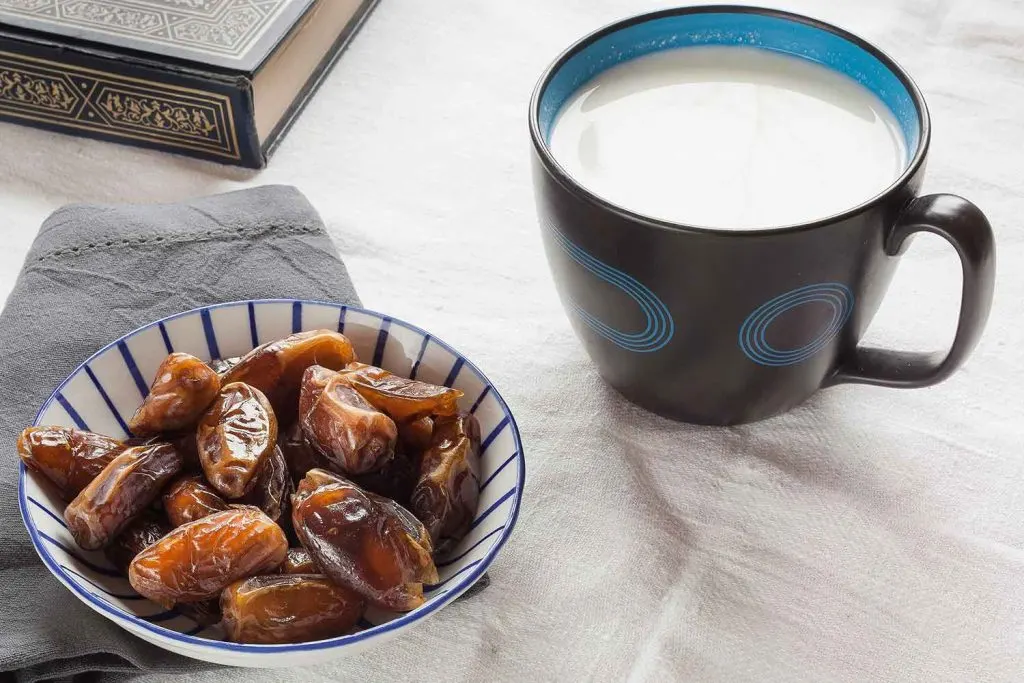 If you feel like something sweet and refreshing but don't feel like eating, then rayeb is the Moroccan dessert from you. This tangy but sweet fermented milk product can be found in any creamery or ice cream shop and is made from vanilla powder, dried milk powder, and pasteurized milk.
Locals enjoy their rayeb in small bowls or a glass, eating it with a spoon and slices of traditional flatbread known as harcha or melloui. Some prefer to have their rayeb natural, while others add toppings, like fruit or sweet syrups.
Similar to yogurt, rayeb is often consumed instead of milk to break their fast during the month of Ramadan.
Creamy, rich, and wholesome, don't pass up the chance to try out this sweet dish when visiting Morocco.
Moroccan Desserts Summary
Moroccan food is wonderfully diverse, and as these sweet dishes show, there's more to this renowned cuisine than heat and spice.
Moroccan deserts are an eclectic fusion of multiple textures and both sweet and savory flavors, drawing you in with their beauty, and making the mouth water with their sumptuous flavor combinations.
These dishes are some of Morocco's undiscovered gems. Seek them out in bakeries
You Might Also Like to Read
Save and Pin for Later
Keep this list of Moroccan desserts for safekeeping, by saving this article to one of your foodie or international travel Pinterest boards.
Author: Ouiam Bouziane is a Moroccan writer and content creator, with a passion for sharing more about Moroccan cuisine, travel, and culture through her writing.
Images licensed via Shutterstock