This post may contain affiliate links, meaning if you book or buy something through one of these links, we may earn an affiliate commission at no additional cost to you. Learn more
If you're looking for a unique, underrated, and off-the-beaten-track European city getaway, these photos of Chisinau show this city in a truly breathtaking way.
Chisinau is one of Europe's undiscovered gems, and it is very much a city on the up-and-coming. But don't take our word for it; let these beautiful photos do all the talking!
Photos of Chisinau Moldova
The 'I Heart Chisinau' sign, surrounded by natural beauty and to a backdrop of the Presidential Palace, is one of the most Instagrammable spots in the city.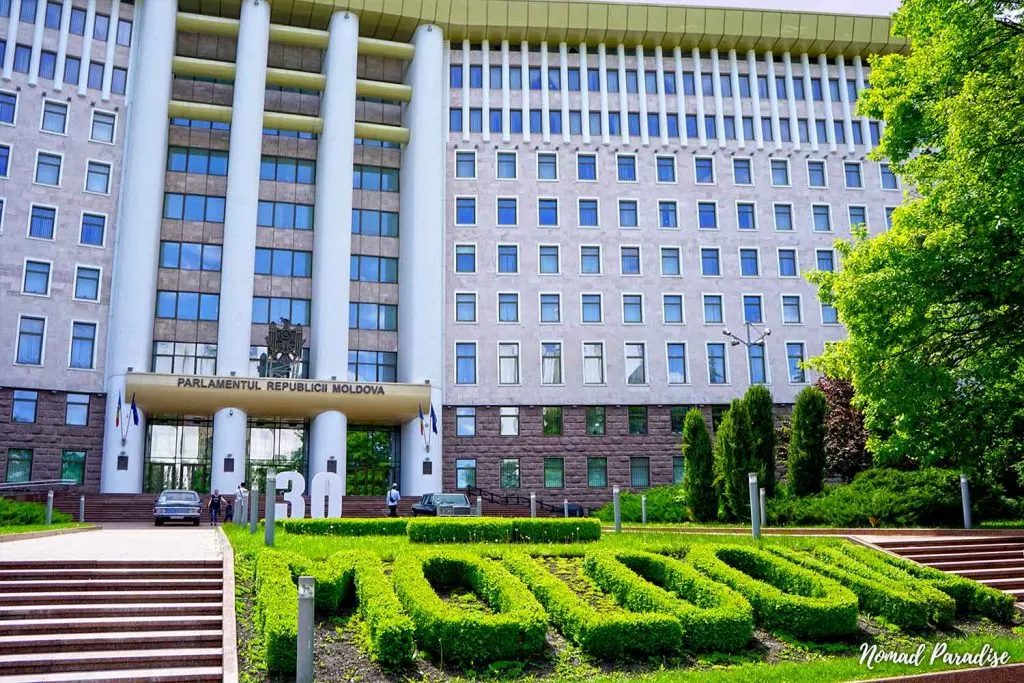 The Parliament building stands tall in the heart of the city. The 30th anniversary of Moldova's Independence Day on 27 August 1991 is marked with a special tribute outside the steps to the building.
Moldovan cabbage, cheese, apple, and pumpkin pies are just some of the many delights that await you in bakeries and pastry shops throughout the city.
A helicopter sits grounded in the green gardens outside the National Museum of History, a place that gives you a fascinating insight into Moldovan life through the ages.
Outside the mayor's office, a signpost points you in the direction of all of Chisinau's sister cities, the date they became sisters, and how far away they are.
As Chisinau expands, the collision of old and new architecture becomes ever more fascinating, as is demonstrated by the front of this Romanian-French School "Gheorghe Asachi."
A monument surrounded by the greenery and beauty of Cathedral Park.
The bases of tree trunks coated in white paint to help stop insect infestation are a common sight during spring and summer in Moldova. Here, painted trees line the length of Strada pietonală / Pedestrian street, a place with lots of nice restaurants and cafes.
Beautifully painted windows and magnificent architecture are another hallmark of Pedestrian street.
Lovelocks hang from an iron heart in Cathedral Park.
The Church of Saint Pantaleon, a Greek-orthodox church, is one of the most awe-inspiring religious landmarks in Chisinau, due to its architectural symmetry and beauty.
A Soviet-era monument stands beneath the shade of nearby trees.
Rigidity, scale, and repeated patterns were three key characteristics of Soviet-era architecture, examples of which can be found throughout the city.
A statue of Vasile Alecsandri, Romanian poet and politician, outside the National Library of Moldova.
A wedding ceremony in front of St. Teodora de la Sihla Church, the walls of which are adorned with the vibrant colors of the Moldovan flag.
Painting of a traditional Moldavan floral rug on the side of an industrial building.
The Alley of Writers in Central Park (Stefan cel Mare Park) is one of the must-see places in Chisinau.
The Central Park (Stefan cel Mare Park) fountain allures and entices with its symmetry and melodies.
The golden domes of an orthodox church in the heart of the city.
A Soviet-era monument splashed with graffiti in Central Park.
Bluebells bloom in front of the Nativity Cathedral as the Moldovan summer sun shines.
Flower beds radiate their colors between the paved paths through Cathedral Park.
An outdoor cafe and an alley where people sell handmade crafts and paintings in Cathedral Park.
The Triumphal Arch in Chisinau stands tall, in front of the Nativity Cathedral.
Photos of Chisinau, Moldova Summary
Chisinau is a city growing in popularity, particularly in the digital nomad community, year on year. The photos are just the tip of the iceberg of what lays in wait for you in Chisinau, but help shed light on the awe, beauty, and history that define the Moldovan capital.
You Might Also Like to Read
Save and Pin for Later
Use these photos of Chisinau to inspire a future trip to the Moldovan capital, by saving this article to one of your Pinterest boards for safekeeping.
Contributor: Doina is a Moldovan-born writer and strategist, eager to share more about her home country and inspire people to visit through her writing and travel content.
Photos: Dale Johnson is a writer, graphic designer, and photographer, who has traveled to and lived in over 30 countries to date.