This post may contain affiliate links, meaning if you book or buy something through one of these links, we may earn an affiliate commission at no additional cost to you. Learn more
A cuisine built from humble beginnings and evolved by various global influences, Danish foods fuse rich, hearty stapes with a wide array of spices, produce, and techniques from other countries.
Originally a land defined by inexpensive dishes from peasant populations, influence from the Vikings, through to the Industrial Revolution, introduced a vast amount of different ingredients and influences to Denmark.
Today, Danish cuisine is one of Nordic-inspired heart, flavor, and decadence. So, guided by a local writer, let's find out more, and discover 20 of the country's most popular dishes you simply have to try.
Danish foods you need to try while in Denmark
Savory/Mains
1 – Flæskesteg og Brun Kartofler (Roast Pork with Sugar-Brown Potatoes)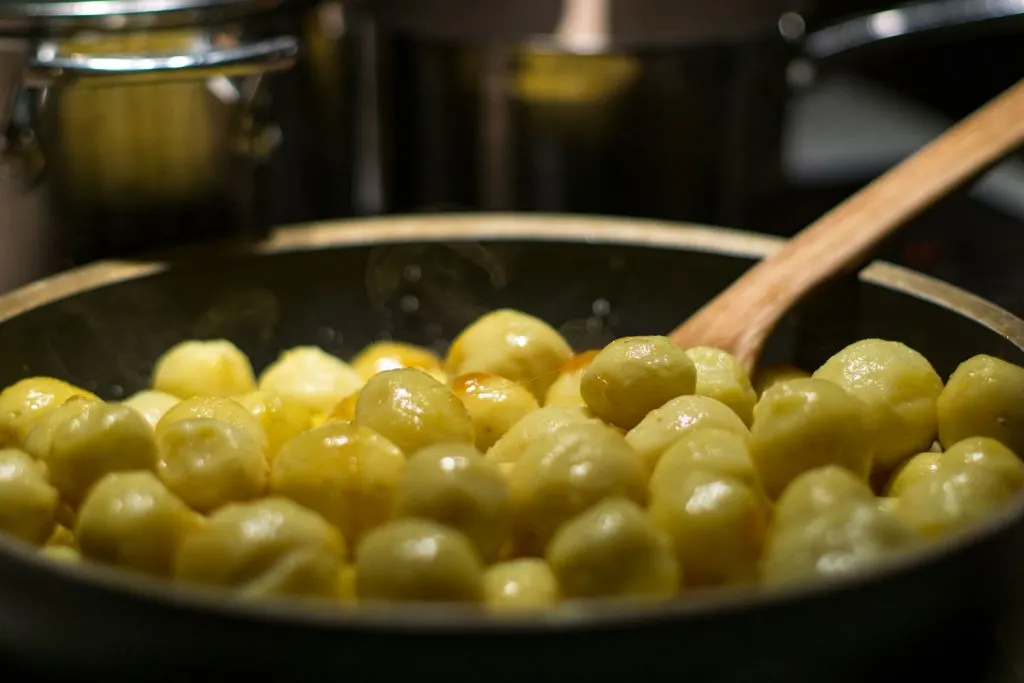 Pork has been a staple of the Danish diet for decades – in fact, there are more pigs in Denmark than there are people, due to a large demand for Danish bacon as an export since the 19th century.
Around the holidays, roast pork is a very popular dish, famously served with sugar-brown potatoes. These small potatoes are first boiled, then pan-fried with copious amounts of butter and sugar.
Traditionally served for Christmas dinner, roast pork is also part of an average Danish diet, sliced cold and served with rye bread and pickled red cabbage.
2 – Tarteletter (Chicken Pies)
Another dish prepared for holidays and special occasions is known as the tarteletter, which utilizes a very specific recipe to create light and airy pastry tarts, filled with a creamy chicken sauce.
Its simple filling consists of chicken, canned white asparagus, and a creamy bouillon sauce, made on the stove and filled into the pastry once it has baked. For a touch of decadence, the tarteletter are usually topped with tomato, a slice of cucumber, and a sprig of parsley.
The tarteletter usually make an appearance at Easter, Christmas, and other special occasions. Some Danish specialty restaurants serve a more luxurious version of the dish, but whenever you visit Denmark, you should keep your eyes peeled for it.
3 – Medister Pølse (Medister Sausage)
Sausage, or pølse, is a staple of the Danish diet. The most traditional sausage, medister pølse, is a spiced pork sausage, which is usually boiled in a coil, then fried in the pan as a whole.
Medister pølse, a sausage with a deep, rich flavor, and plenty of kick can be enjoyed with various vegetables and a number of different spice combinations. Denmark has an abundance of quality, local, organic meat if you look in the right places – so be sure to look out for this beloved dish at food markets.
4 – Frikadeller (Meatballs)
A classic Scandinavian favorite – the meatball. Frikadeller are made from pork, sometimes combined with veal, and usually little else, as the quality of the meat pulls everything together. Traditionally, they are pan-fried and served for dinner with beets and potatoes.
Frikadeller are nearly always made in high quantities, so leftovers can be packed for school or work lunches cold, likely sliced in half on a piece of buttered rye bread.
Everyone in Denmark will claim their mom makes the best Frikadeller! The supermarkets still sell ready-made frikadeller today, so the Danes aren't quite ready to let go of this part of their diet, despite the increase of flexitarians and vegetarians throughout the country.
5 – Pølse (Hotdogs)
It's almost impossible to visit Denmark without coming across a pølsevøgn or hotdog cart. The direct translation of pølse is 'sausage,' and a pølsevøgn will usually have a variety of sausages, from long and thin to thick and greasy.
The traditional Danish hotdog is topped with remoulade, mayonnaise, sweet pickles, pickled red cabbage, and crispy fried onions. It is a perfect melody of flavors that goes wonderfully with a cold pilsner on a Friday afternoon. Ask a local where the best pølsevøgn is in the area – some of them are legendary!
6 – Bearnaise Sauce
This sauce of French origin is a household term across Denmark. The base is Hollandaise, but the real flavor comes from the addition of tarragon extract, fresh tarragon, and usually shallots or chervil. A light, creamy sauce, Bearnaise is traditionally eaten with steak and potatoes, balancing the textures and flavors perfectly.
Most Danes have come to realize the buttery goodness of Bearnaise is a little too rich to eat every day, but it is still easy to find in every supermarket, often with a low-fat option. It sometimes shows up as an extra topping at the local pizzeria, and in contrast, is still a popular option for fine dining if ordering lobster, among other specialty meats.
7 – Kartofler Salat (Potato Salad)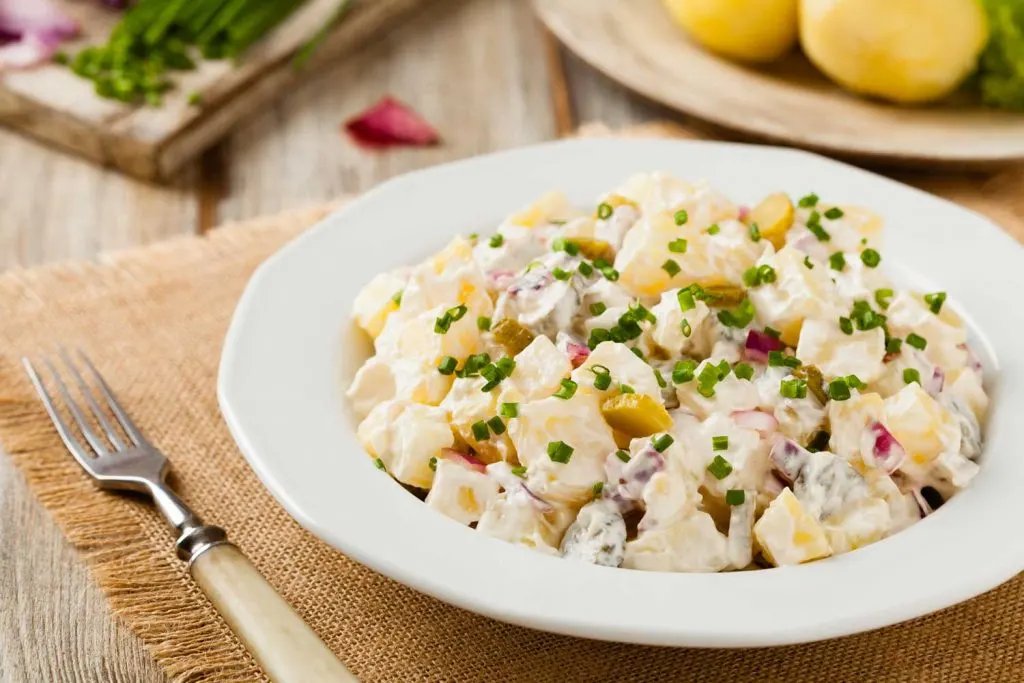 Speaking of steak and sausage, one of Denmark's most traditional sides is the well-known potato salad. The base is made from hearty Danish potatoes, smothered in creme fraiche, and usually mixed with green onion, plenty of dill, and a generous amount of seasoning.
The potato is well integrated into the traditional Danish diet. The average Dane consumes about 73 kg of potato per year, believe it or not! Depending on the time of year, potatoes can be a real delicacy. Look for 'nye kartofler' at the supermarket – these potatoes are fresh, local, and make by far the best potato salad.
8 – Biksemad (Potato Hash)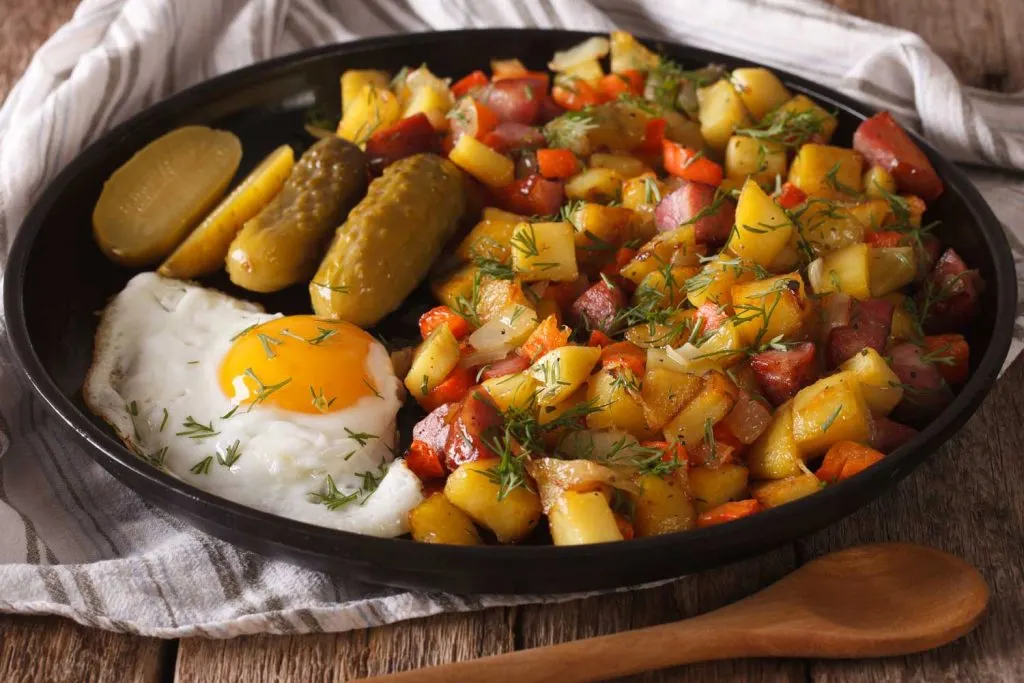 Biksemad is a sensible, kid-friendly way to get rid of leftovers. In fact, the direct translation of this dish is something along the lines of 'thrown-together-dish.'
Traditionally, this was exactly the purpose this dish served – something quick to throw together while emptying the fridge. It generally can consist of a number of ingredients, including potatoes, sausage, bacon, onions, and even a fried egg on top.
The dish, although a little outdated, is still considered a family meal, and can even be bought frozen and ready to fry. Save this dish for when you have 'tømmermænd' – a hangover – the day after drinking too many snaps and pilsners!
9 – Stegt Flæsk med Persillesauce (Fried Pork Belly with Parsley Sauce)
Fried pork belly with parsley sauce is the national dish of Denmark and a classic meal that dates back to 1890. So much so, in 2014, we chose this dish to represent our country and food culture.
Stegt flæsk med persillesauce is a delicious combination of extra salty pork belly, either fried in the pan or baked in the oven potatoes, and a creamy bechamel sauce, loaded with fresh chopped parsley. Try it at a high-end restaurant to truly experience this dish at its richest and most indulgent.
10 – Stjerneskud (Shooting Star)
Stjerneskud, or shooting star, is a dish hard to miss when looking for lunch by the Danish seaside. Danes do seafood well, and this Danish classic is a great use of tasty local produce.
Shooting star starts with a piece of bread – white and fluffy or dense and dark, depending on your mood – which is then topped with one or two breaded fish filets, a helping of creamy, canned white asparagus, and a handful of freshly peeled shrimp from the Fjord.
It is completed with a drizzle of lemon, a spoonful of a sauce based loosely on the thousand islands sauce, and some local fish roe.
There are, of course, many variations of this dish. Some include cold smoked salmon, or fresh white asparagus instead of canned. The important thing is to make sure the ingredients are fresh and local. This one is a must-try!
11 – Smørrebrød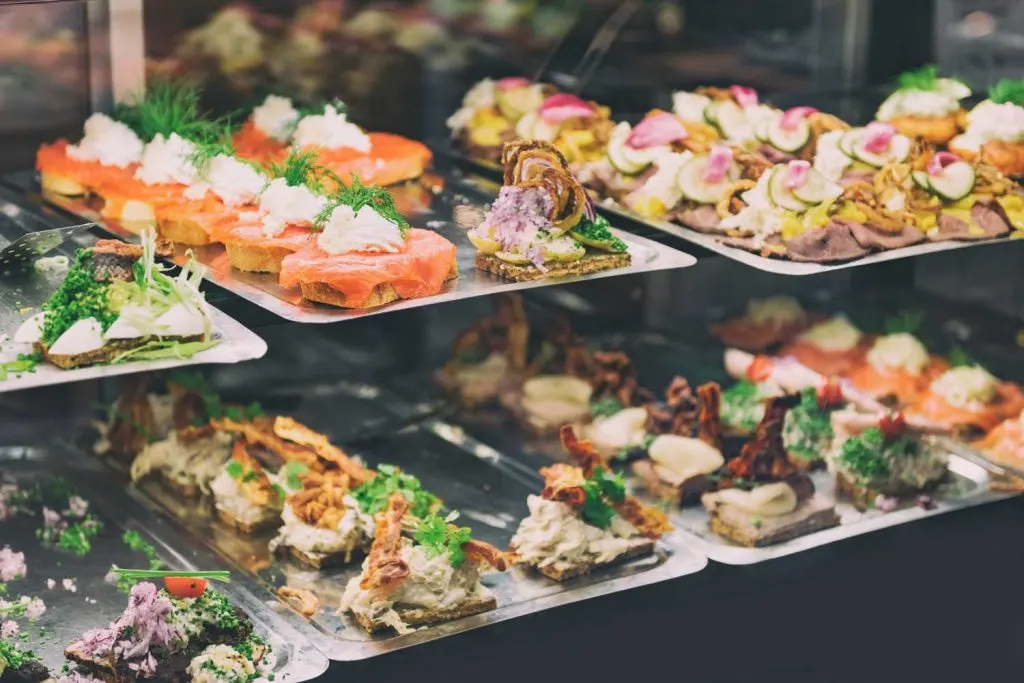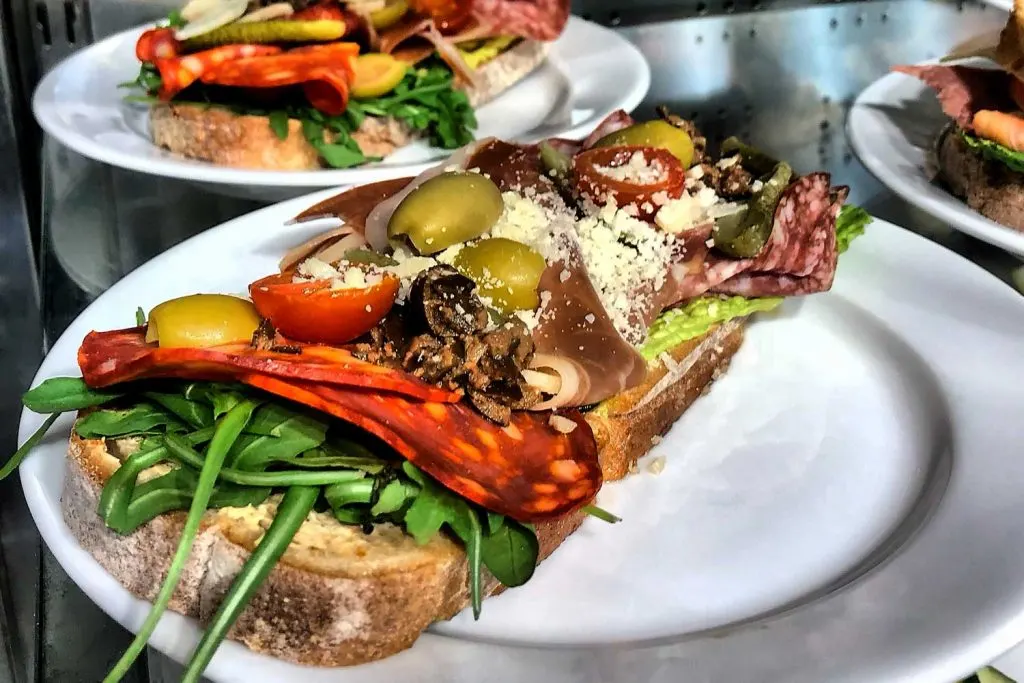 Now that we have introduced one of the open-faced sandwiches, it is time to acknowledge the others, altogether known as 'Smørrebrød'.
Commonly served at events and special occasions, you can still find smørrebrød at the local bakery, or eon the menu of many Danish restaurants. There are probably over 100 variations of smørrebrød, but some of the most popular versions include:
Roastbeef with remoulade and fried onion on rye bread
Eggs and shrimp with mayonnaise and a squeeze of lemon on rye bread
Veterinarian's midnight snack – liver pate with meat aspic and salted beef, garnished with raw onions and herbs
Pickled herring in creamy curry sauce
Liver pate with pickles or red beets
As you can see, it requires a few tries before making an informed opinion on smørrebrød, as each variation is so unique, and caters to many different taste palettes. Don't forget your fork and knife – this isn't a regular sandwich!
Smørrebrød is also popular in Swedish cuisine and Norwegian cuisine.
12 – Rugbrød (Rye Bread)
Rugbrød, a rich bread that forms the base of many types of smørrebrød, is a foundational food in Danish society. Almost all Danes grew up eating rye bread daily, and it is believed to contribute greatly to the health (and height, according to some!) of the Danish population.
Some households still make this hearty staple from scratch, courtesy of a recent resurgence of sourdough starters. But for many, a trip to the bakery or supermarket to pick up a freshly baked loaf of rye bread is an integral part of day-to-day Danish life.
13 – Rødbeder (Pickled Red Beets)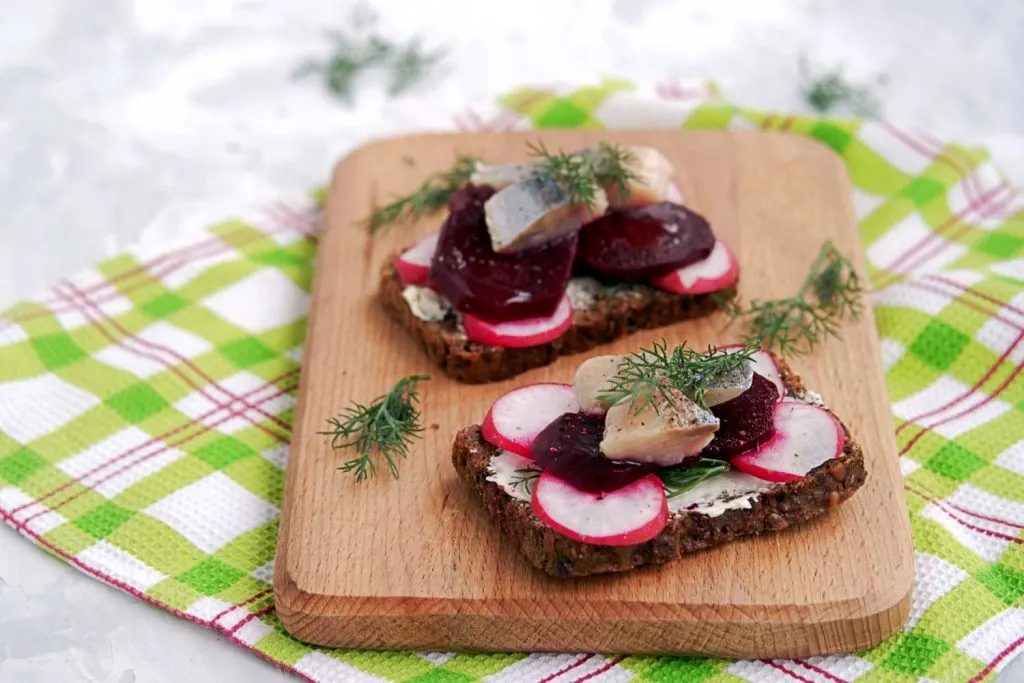 Red beets are a Danish favorite, and historically, a food grown in the country dating back centuries. While during that era beets were simply eaten raw, or cooked in soups and stews, today's Danes prefer their beets sliced, pickled, and jarred.
A diverse food, rødbeder can pretty much be eaten with any other traditional Danish dish.
14 – Rødkål (Pickled Red Cabbage)
Pickled red cabbage is a dish very similar to pickled red beets. Rødkål is commonly shredded instead of sliced, delicious served warm, and slightly spiced when served with a Christmas dinner.
15 – Syltede Agurk (Pickled Cucumber)
Another pickled favourite is syltede agurk: pickles themselves! The Danish prefer them sweet as opposed to sour, and usually without dill.
Pickled cucumber is a great topping with pate for rye bread, or for hotdogs. It is sometimes served as a 'salad' or side dish, and it is one of the country's most beloved foods.
16 – Leverpostej (Liver Paté)
Liver pate is a nostalgic food for many Danes. Leverpostej to this day is the go-to school lunch and a simple way to get the nutrients growing girls and boys need.
For fancier or celebratory occasions, leverpostej is served warm, commonly with bacon and mushrooms. You can buy it cold in any supermarket, or warm and fresh from the local baker.
17 – Morgenstykker (Breakfast Buns)
One of the best things about breakfast in Denmark is that culturally it is totally acceptable to just eat baked goods! These fluffy on the inside, crunchy on the outside buns are baked in a steam oven, giving them their iconic, sumptuous texture. When in Denmark, be sure to pick some up from the local bakery, along with your rugbrød.
The most popular way to eat morgenstykker is one half at a time (yes the Danes are apparently really against the closed sandwich idea), buttered, with a slice of cheese. Many Danes also add lingonberry jam or a single slice of green pepper to complete this popular breakfast.
Sweets/Desserts
18 – Wienerbrød (the 'Danish')
Both a beloved dessert and a hearty breakfast choice, the 'Danish' gets its name from the method of pastry making, which is assumed to have originated in Vienna, Austria (in Danish, known as Wien, hence 'wienerbrød').
There are many versions of this specific pastry. The two most common are jam filling and vanilla cream filling. A lot of butter goes into the dough to produce that iconic flakey texture.
The Danish is usually topped with a plain white icing – yes, this is a treat pretty high in sugar, but so worth it! It is perfect for balancing out a dark, bitter cup of black coffee on a Sunday morning or enjoyed on birthdays and family lunches.
19 – Rød Grød med Fløde (Berry Compote with Cream)
Probably the number one phrase used to test Danish pronunciation, 'rød grød med fløde' is known as a traditional dessert. The grød (translated: porridge) in this dish is only figurative, as the compote of red berries is thick enough to resemble it.
The compote is usually made with whatever berries are seasonal – red currants, raspberries, strawberries, among others – plus sugar and a little potato starch for thickness. The dish is cooled before serving in a bowl with a few splashes of cream. A delicious way to try fresh Danish berries in the summer!
20 – Lagkage (Layer Cake)
For birthdays and special occasions in Denmark, the preferred celebratory dessert is lagkage, a white cake layered with whipped cream. Lagkage is also the namesake of one of Denmark's most popular chain bakeries – Lagkagehuset – a great place to try this classic dessert for the first time.
There are many ways to make a Danish layer cake. Some are layered with fruit or jam, some with chocolate cream, and many are layered with pieces of sugary cake and vanilla cream. Be sure to find an occasion to order a piece of this heavenly dessert while visiting Denmark!
Danish Foods Summary
Nordic countries may not be internationally renowned for their cuisines, but the heart, flavor, and intrigue of Danish foods, as this list shows, is there for all to experience and enjoy.
The geography of Denmark has helped created a cuisine that both lovers of hearty, rich, carbohydrate-heavy foods and breathtakingly fresh ingredients from the land and sea will adore in so many ways.
Very much a late-comer to the international stage, due to the likes of the Industrial Revolution, it is only in recent history that Danish foods have evolved, courtesy of influences from all over the world.
Danish food strikes a beautiful balance of comfort and creativity. There is so much to enjoy, experience, and try, in both the cities and rural areas.
In any trip to Denmark, shelve the mainstream and the status quo for as many of these traditional dishes as you can try. There is a world of flavors, tastes, and textures that lay in wait for you.
You Might Also Like to Read
Save and Pin for Later
Planning a trip to Denmark? Keep this list of traditional foods for safekeeping, by saving this article to one of your foodie travel Pinterest boards.
Contributor: Amber Feitsma is a creative content specialist hailing from Aalborg, Denmark. Deeply passionate about Danish culture and cuisine, she is eager to share more about her home country through her writing in various publications.
Images licensed via Shutterstock