This post may contain affiliate links, meaning if you book or buy something through one of these links, we may earn an affiliate commission at no additional cost to you. Learn more
Treat yourself to wholesome puddings, rich tarts, and buttery pastries with these delicious British desserts, and enjoy the sweet, indulgent side of one of Europe's most iconic cuisines.
Britain's sweet dishes often utilize simple ingredients and deliver richness, sweetness, and pure satisfaction on a grand scale that will put a smile on your face for the rest of the day.
Complete with their intriguing origin stories, there's a world of wonder waiting for you to discover on this unique culinary adventure through 20 of the UK's must-try desserts.
20 Classic British Desserts!
1 – Spotted Dick
Arguably the most classic of Brit desserts (and the one with the most questionable name), Spotted Dick was bound to be on the list somewhere!
For those unfamiliar, Spotted Dick is a steamed fruit sponge made from suet, lemon zest, and dried fruit (usually raisins or currants). It is usually served with thick, hot custard but can work well with ice cream or double cream.
Its name derives from old Northern English slang ('dick' was a common term for 'pudding' or 'dessert'), and the 'Spotted' part is a reference to the currants that are visible on the exterior of the pudding, giving it a dappled look.
2 – Bread & Butter Pudding
Perhaps one of the top five classic British treats, bread and butter pudding is popular because it is cheap to make (usually created using end of loaves, stale/past-its-sell-by-date bread). As the name suggests, it is a super high-carb dessert and one to be enjoyed only on occasion – unless you don't mind the expanding waistline it's famous for providing!
Simple to make, Bread and Butter Pudding requires bread of choice (white/seedless is preferable), sugar, ground cinnamon, sultanas, eggs, milk, and cream. Nutmeg is a nice addition, too.
Its origin is said to date as far back as the 17th century and was made popular later during WW2 when much food was rationed, and wastage was not an option.
3 – Figgy Pudding
"Bring us some figgy pudding, bring us some figgy pudding!" is a line you may have sung over the years at Christmas time! But have you ever wondered what Figgy Pudding actually is?
Figgy Pudding is the ultimate festive (and very old-school) English dessert and was even immortalized in the Christmas tune We Wish You A Merry Christmas!
Dating as far back as Medieval times, Figgy Pudding is effectively a variation of traditional Christmas Pudding and is usually only made or bought around the holiday time.
Its rich taste and chewy texture are comprised of dried fruits (predominantly figs, of course), nuts, and honey, and it's often infused with rum or brandy to enhance the flavor. Ground ginger is often added too.
4 – Jam Roly-Poly
Often referred to by its somewhat less appetizing pseudonym, 'Dead Man's Arm,' the Jam Roly-Poly is effectively an English version of the Swiss roll. Its origin dates back to the early 19th century, and like many traditional English desserts, it is suet-based (raw fat of beef, lamb, or mutton found around the loins and kidneys) and was often steamed and served in the arm of a shirt… hence the name!
Despite all the kooky bells and whistles around its cooking methods and name, it's actually a very simple dessert with very few ingredients. It is suet pudding that is spread out, coated with strawberry jam, and then rolled into a log shape and steamed or baked.
Suet is rarely used in modern dessert cooking, and most contemporary Roly-Poly's are usually made from a simple sponge base and the filling of choice. They are usually light and fluffy in texture and are a popular addition to children's birthday parties.
5 – Eton Mess
The Godfather of summery sweet treats, the Eton Mess is happiness in a glass dish for many a Brit!
So simple to make, an Eton Mess consists of Chantilly cream (whipped cream with icing sugar), meringue, chopped strawberries, and strawberry coulis. It's believed it originated from Eton College as a sweet treat to be enjoyed while students were watching cricket games in the summertime.
The 'Mess' part comes from its appearance, which involves all the ingredients mixed up and dolloped into a bowl or glass dish with little-to-no finesse.
6 – Bakewell Tart
Another (and more contemporary) popular summer treat, the Bakewell Tart is a variation of a Cherry Bakewell. However, this version consists of a traditional shortcrust pastry shell underneath layers of jam and frangipane, topped with flaked almonds. It can be served on its own but is especially enjoyable with Cornish clotted cream.
How does it differ from a Cherry Bakewell, you may ask? There isn't a huge difference, save the inclusion of cherries and sans the flaked almonds. A typical Cherry Bakewell tart recipe includes frangipane, which is covered with a layer of white, sugary fondant, and a single half of a glacé cherry.
The name stems from the English town of Bakewell in Derbyshire.
The pinnacle of winter-warmer treats, Sticky Toffee Pudding is a warm sponge that includes chopped or blended dates in the batter and is served with warm, runny toffee sauce and vanilla ice cream.
The exact origins of this British classic are much disputed, but it is said to either date back to the Second World War or perhaps later, during the 1970s. Despite its undecided origins, it remains to this day a fan favorite among Brits with a sweet tooth.
Read more: Sticky Toffee Pudding Recipe
8 – Victoria Sponge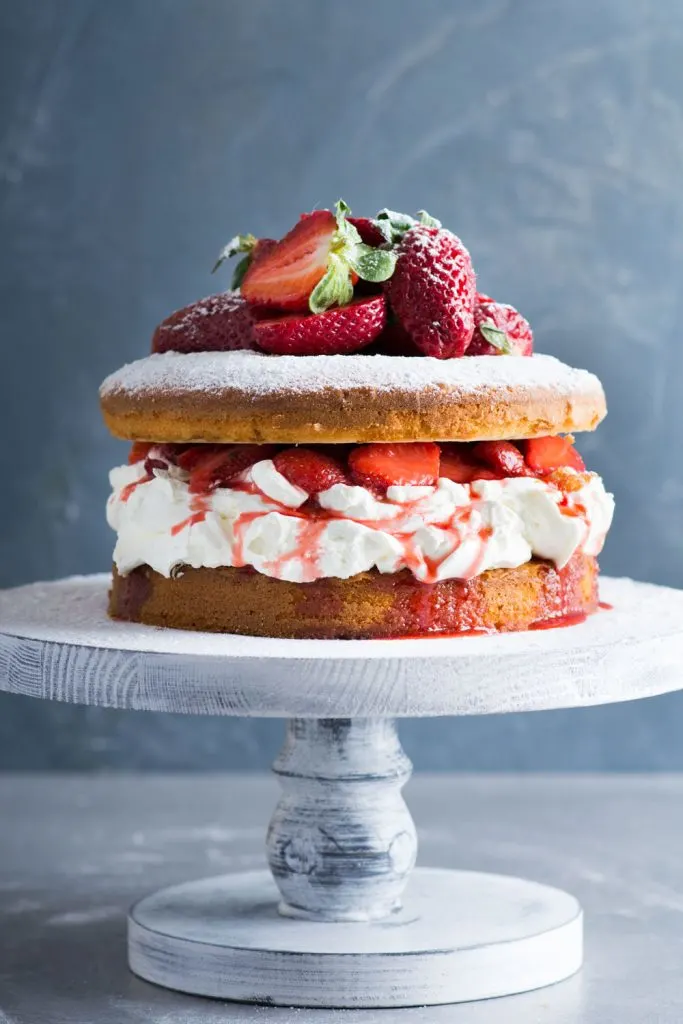 Anyone who's ever been to a traditional English village fête will no doubt be familiar with the Victoria Sponge! Similar to Angel Food cake, madeleines, and ladyfingers, a Victoria Sponge is a light cake, and follows a traditional cake mix method of whisked egg whites and caster sugar, but no yeast.
It results in a delicious, moist two-part cake, which is then filled with strawberry jam and whipped cream. Sometimes, fresh strawberries are chopped up and included.
Despite being a renowned British treat, the Victoria Sponge is actually said to originate from Renaissance-era Spain.
9 – Classic Fruit Trifle
Popular all year round, the Classic Trifle is comprised of mixed summer fruits, raspberry jelly (spiked with sherry of cassis for flavor), custard, whipped cream, Madeira sponge, and flaked biscotti on top.
Dating back more than four hundred years, the Classic Trifle is still as popular as ever and is often a key component of the British Christmas Day spread.
10 – Banoffee Pie
The classic abbreviation of 'banana' and 'toffee,' the Banoffee Pie dates back to the early 1970s and follows the traditional sweet-crusted pie approach (or can sometimes be a buttery biscuit base).
It is topped with whipped cream, chopped bananas, caramel sauce or dulce de leche, and chocolate shavings or sauce for good measure. Some more traditional recipes include coffee flavoring.
This dessert was said to be former prime minister Margaret Thatcher's favorite treat and is also considered the English version of American Pie.
Read more: Banoffee Pie Recipe
11 – Carrot Cake
The dessert that can pretty much divide a nation! Loved by adults and loathed by children, carrot cake is still a key player in the world of British desserts.
The exact story of who came up with the idea of putting grated carrots in the sweet batter is wholly disputed. However, many food writers and historians believe carrot cake originated from 'carrot puddings,' which were eaten in Europe in the Middle Ages.
At a time when sugar and sweeteners were expensive, many considered carrots as a suitable and cheap substitute for sugar. No matter how they feel about carrots, lovers of flavorsome, moist cakes often can't say no to a slice of carrot cake!
Topped with a sweet cream cheese filling and often drizzled with walnuts and flaked coconut, carrot cake batter boasts eastern-style flavors, such as citrus zest, cinnamon, ginger, and mixed spice.
12 – Knickerbocker Glory
'Knickerbocker Glory' is an eccentric name for what is otherwise a fairly standard but utterly indulgent Ice Cream Sundae. Traditionally, it consists of ice cream, whipped cream, fruit, and meringue and is garnished with syrup, nuts, more whipped cream, and often a Maraschino cherry placed on top.
Despite being a popular British dessert, Knickerbocker Glory actually originated in New York back in the 1920s and was named after the Knickerbocker Hotel in Manhattan.
13 – Lardy Cake
Not dissimilar to Spotted Dick, Lardy Cake is traditionally comprised of lard, sugar, raisins/currants/sultanas, and spices of choice. However, instead of a sponge dessert, it is more akin to tea cake texture.
Traditional bakers like to turn the dessert upside down after it has come out of the oven to allow for the lard to soak through the cake, making it moist (which is the reason why it is sometimes referred to as 'Dripping Cake').
Lard is fat from the abdomen of a pig that is rendered and clarified for the purpose of cooking. Lard is rarely used in contemporary English cooking and is now considered a novelty for the purpose of Lardy Cake baking only. Because of the addition of lard or suet, many traditional English desserts cannot be considered vegetarian-friendly.
14 – Mince Pie
At Christmas, you'll be hard-pressed to find a household in the UK that doesn't have at least one box of Mince Pies in their cupboards!
Despite the misleading name, mince pies do not contain meat of any variety. Instead, it is a small pastry pie filled with gooey chopped dried fruit, which is almost syrupy in texture and contains various spices, such as nutmeg, cloves, and cinnamon.
Old-fashioned mince pies were said to contain minced beef or venison, but despite the removal of these ingredients, the name has remained the same.
Known as one of the oldest desserts to date, mince pies are said to hitch back to Roman times and are traditionally only served at Christmas (usually warm and with clotted cream.)
15 – Afternoon Tea
Another dessert with an inconsistent account of its origin, but is said to date all the way back to the 11th century, the Cream Tea is a three-tier dessert of epic proportions.
Traditionally, it comes with scones, clotted cream, jam, slices of varying cakes, and often small triangled sandwiches, and sometimes savory pastries too, as well as accompanying coffee or English Breakfast tea.
More modern Afternoon Teas sometimes come with glasses of Champagne and are known as 'Champagne Cream Teas.'
Afternoon Teas are served on a three-tier cake stand and are so large and filling that they are often eaten as a sharing dessert.
16 – Cream Tea
Said to be the foundation of the Afternoon Tea, Scones with Clotted Cream and Strawberry Jam will never not be associated with classic British cuisine.
Scones are dough-based treats that are very similar to American 'biscuits', which are cut in half (horizontally) and spread generously with Cornish clotted cream and strawberry jam.
The Cream Tea is said to originate in the Devonshire/Cornwall region of England and is a very popular late-afternoon snack – with a cup of tea, of course.
17 – Rice Pudding
Rice Pudding isn't actually a British-derived dessert. On the contrary, it's one of the most universal desserts across the globe, owing to rice being a staple in many countries.
However, it is still considered a quintessentially British dessert by so many Brits, as the dish is a nostalgic throwback to their childhood. It is also particularly popular in the north of England.
A standard English recipe of Rice Pudding often contains condensed milk, cream, sugar, vanilla essence, and nutmeg, topped with strawberry or raspberry jam.
Rice pudding recipes from other countries often include spices such as cardamom, caraway seeds, and even saffron, allowing you to be very creative when making this universal dessert.
18 – Toasted Tea Cake
Traditionally considered a popular mid-afternoon snack (along with the scone), the tea cake today is more of a breakfast item in the UK than a dessert.
You can make or buy a tea cake in bun format, or as a loaf, and is often served warm with butter and – you guessed it – jam!
Its flavoring is often citrusy and infused with flavors such as cinnamon and bergamot and is bedazzled with sultanas. Like many British afternoon treats, it goes famously with a nice cup of hot breakfast tea.
19 – Custard Tart
Another classic British dessert that draws a very divided opinion among the English, the Custard Tart is a small buttery cupped pastry filled with an egg-based creamy custard filling and sprinkled with ground nutmeg.
Despite its connection with British dessert territory, its origin is considered 'Anglo-Norman' (a mix of English and French-Normandy). The crusted pastry is traditional of French descent, with recipes that date back to the Middle Ages, and was supposedly a fan-favorite of Tudor King Henry VIII.
20 – Cherries Jubilee
Cherries Jubilee is simply marinated cherries in a syrupy liqueur, traditionally served over vanilla ice cream. It is widely said to have originated back in 1897 from the royal caterer at Buckingham Palace for Queen Victoria's Diamond Jubilee celebrations.
British Desserts Summary
As these delightful dishes show, you better be ready to cut your slightly sinful side more than a little slack when it comes to dessert time in the UK.
British desserts play a huge role in shaping the country's history and culture. Many of these recipes have stood the test of time, evolving over hundreds of years to continue being beloved dishes to this day, despite their often humble origins.
Biting into a thick, buttery crust, or a soft, fruity piece of cake, soaking in rich cream, is a feeling unparalleled by many other cuisines. There's just something so wholesome and satisfying about enjoying classic British dishes.
Be it in your home kitchen, or on a future trip to the UK, give as many of these iconic dishes a try as you can. You are in for quite the experience, I can assure you!
You Might Also Like to Read
Save and Pin for Later
Keep these delicious British desserts for safekeeping, by saving this article to one of your international foods Pinterest boards.
Author: Clarice Taylor is a British content and copywriter, with a culinary background and a deep passion for British cuisine and travel.
Images licensed via Shutterstock