This post may contain affiliate links, meaning if you book or buy something through one of these links, we may earn an affiliate commission at no additional cost to you. Learn more
Alive with Korean soul, and rife with dazzling flavor, these Korean street foods are the perfect way to immerse yourself in the culinary magic of Korean cooking.
Street food markets are bustling hives of energy, heat, and aroma, and the sheer scope of the sumptuous and mouthwatering foods on display will captivate even the most casual of foodies.
Buckle up for a staggeringly beautiful and sensual adventure through Korean cuisine, as I put the spotlight on 18 dishes you simply have to try from any food market or street vendor in Korea.
Korean Street Food
1 – *김밥/마약김밥 – Mayak Gimbap
Simply put, Gimbap is a seaweed wrap of rolled rice with various ingredients. There have been many variations of it over the years, including Gimbap with cheese, tuna, and other seafood.
There are also variations in the shape, such as the Triangle Gimbap (the Korean version of the Japanese Onigiri) and the delightful, bite-sized mini Gimbaps.
These mini Gimbaps are named Kkoma Gimbap (꼬마김밥, Kkoma is a cute and informal way to refer to a young child), and are around one-fourth the size of a regular Gimbap.
As Kkoma Gimbaps are much smaller, fewer ingredients are used in the filling, so that the Gimbap can be properly rolled. To compensate for this, Koreans prepare a mustard-soy sauce dip to enjoy the Kkoma Gimbap.
Little did Koreans know how popular and addictive this pairing would become. So much so, it was named Mayak Gimbap, because it makes you "lose your senses and eat uncontrollably!' Today, it is a beloved staple of traditional Seoul markets.
2 – *어묵 – Eomuk
When talking about Korean street food, you simply have to include Eomuk. Eomuk is made from a batter of fish meat mixed with some vegetables and flour. Once prepared, the batter is shaped and then fried.
Eomuk is commonly skewered and dunked in a seafood and vegetable broth before serving. Most street vendors allow you to help yourself to the warm soup as well!
Very much a dish for warming you up during the colder months, you know winter in Korea is around the corner when the street food vendors start adding this Korean favorite to their menus.
3 – *호떡 – Hotteok
A street food enjoyed hot by a lot of Koreans is Hotteok, this flat pan-fried cake may sound like breakfast food, but it is widely consumed as a wholesome snack for many Koreans.
Hotteok is usually smaller than an average person's hand and is filled with sugar and various nuts. The batter is pressed flat on an oil-coated griddle, and as the batter cooks, it develops a deliciously crispy exterior, while the sugar inside heats and melts.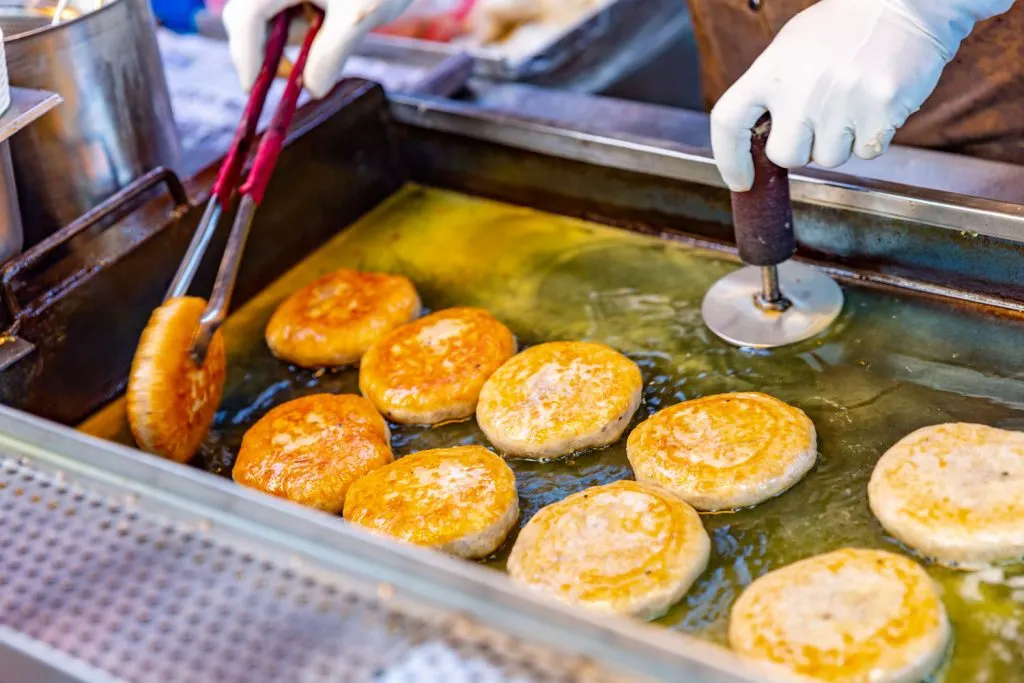 Since it is a hot street snack, its popularity rises during the colder seasons. Hotteok has both a sweet and savory flavor but should be consumed in small mouthfuls, as the batter is piping hot once served.
4 – *떡볶이 – Tteokbokki
Tteokbokki literally means "stir-fried rice cake", and this beloved Korean dish is commonly served with gochujang (red chili paste) sauce.
The combination of the spiciness and sweetness from the gochujang sauce, and the sumptuous, chewy texture of the tteok make for a truly mouthwatering bite.
Shops and vendors usually prepare it in bulk on a large, flat pan, and passers-by can pick up and enjoy this delicious street food while out and about, or on their way to and from work.
Some shops even have a cup-Bokki alternative, where the owners give you a cupful of Tteokbokki. As street foods go, Tteokbokki is very much one of the most loved and popular.
5 – 떡꼬치 Tteok-kkochi
Tteok-kkochi is one of the most popular South Korean street foods out there. Crunchy, salty, sweet, and a tad spicy, Tteok-kkochi is a skewer stacked with deep-fried Korean spicy rice cakes and covered in a sauce made from Korean chili paste (gochujang), honey, soy sauce, brown sugar, minced garlic, and sesame oil.
While Tteok-kkochi is a skewer of rice cakes soaked in spicy sauce, Tteokbokki combines deep-fried rice cakes with a thick sauce full of umami. Korean hot pepper flakes, known as gochugaru, anchovies, scallions, boiled eggs, dried seaweed, and gochujang come together into a flavorful, luscious jus mixed with the fried rice cakes. These two dishes are Korea in just one bite.
6 – 길거리 토스트 Korean Street Toast (Gilgeori Toast)
Koran street toast is unlike any sandwich served in the rest of the world. Thick slabs of soft, buttered bread are toasted on a hot grill and filled with a freshly-made omelet, sweet ketchup, sugar, shredded cabbage, carrots, and scallions.
Koreans love this filling, hearty dish and eat it as breakfast on the go or a filling snack during the day. This dish started as a breakfast for laborers who would buy one to eat on the way to work. However, today it has almost reached cult status in South Korea, with gourmet restaurants solely serving Gilgeori toast.
7 – 계란빵 Korean Egg Cake (Gyeran-ppang)
Gyeran-ppang is a warm, soft, fluffy bread stuffed with a whole egg. The bread dough is similar to a pancake batter, made with sugar, butter, and vanilla essence. One bite of Gyeran-ppang fills your mouth with the sweetness of the bread that contrasts with the salty egg and warm jammy yolk.
This dish is at its best when the loaves come out of the oven. Look out for the stalls with piles of broken eggshells on the side and a multitude of small loaf tins filled with eggy bread.
Gyeran-ppang was first sold near a Korean university in 1984 and has become a firm favorite with Koreans. The genius behind this simple but delicious recipe started making the bread with a sweet red bean paste but found that students preferred the egg version.
You can also find Gyeran-ppang stuffed with bacon and sausage but the egg stuffing remains a firm favorite.
8 – 붕어빵 Bungeoppang
Although Bungeoppang translates to carp fish bread, this snack does not include any fish. Its name reflects the bread's shape, molded into a carp, complete with eyes, scales, and gills.
The base of this snack is a sweet batter made of butter and eggs, with a hidden layer of sweet red bean paste poured into fish-shaped pans that give the Bungeoppang its distinctive shape. The batter bakes into a crisp, crunchy exterior that gives way to a soft bread dough filled with sweet paste, making it the perfect snack for those with a sweet tooth.
Bungeoppang dates back to the 1930s but fully developed into popular Korean street food in the 1950s. Although the red bean paste filling remains the front-runner, variations such as custard, chocolate, and even sweet potato mousse have become very popular.
9 – 찐빵/호빵 Jjinppang/Hoppang
Steamed buns are a staple of Asian cuisine, and Jjinppang is the Korean street food version of these delicious, delicate dumplings.
Jjinppang is a steamed bun filled with red bean paste served warm. This dish was originally a substitute for meat dumplings in the mid-1300s to cater to Koreans who followed a strict vegetarian diet.
Hoppang is the brand name for jjinppang, which plays on the "ho" sound made by people blowing on the hot, steaming buns.
These fluffy dumplings hit the right spot when the temperatures drop and are the ultimate comfort food to warm you up when walking the cold streets. Although red bean paste remains a classic favorite, you can find jjinppang filled with meat, vegetables, and even pizza-style ingredients!
10 – 한국식 도넛/꽈배기 Korean-Style Donuts/Twisted Donuts (Kkwabaegi)
What is better than a hot, sweet yeasty doughnut sprinkled with sugar? Korean local bakeries and food stalls have been selling doughnuts or Kkwabeagi since the 1970s.
Hot milk, butter, sugar, and yeast are the base of the dough, which is then left to rise. A good kneading session yields a soft, smooth pastry. Bakers cut the dough into strips, twisting them before deep frying. A final sprinkle of sugar gives extra sweetness and crunch.
Kkwagaegi also comes in round doughnuts filled with the traditional Korean sweet red bean paste. These are smaller and made with sticky rice powder, giving them a chewy texture. Whichever one you choose, these tiny bites of sweetness are the perfect way to brighten your day.
11 – 순대 Sundae
Although a sundae is a much-loved Western dessert of ice cream topped with syrup or caramel, Korean Sundae is a savory snack.
Sundae is a blood sausage encased in a delicate pig's intestine wrapping, like black pudding. Koreans love Sundaes stuffed with glass noodles, which were introduced as a cheaper substitute after the Korean war when meat became scarce.
Other filling variations include vegetables, minced meat, and rice. However, Koreans view these as delicacies and eat them to celebrate a special occasion.
12 – 튀김 Deep fried food (Twigim)
Twigim is an umbrella term for food items covered in batter and deep-fried. Similar to Japanese tempura, the cooking process of this favorite Korean street food transforms the sticky batter into a light, puffy, crispy snack.
Koreans jokingly refer to twigim as a way for children to eat their vegetables because anything fried becomes something delicious. In fact, Twigim was considered a delicacy until a few years back as oil was scarce in Korea. However, now Twigim includes anything from potatoes, carrots, onions, potatoes, meat, and fish or squid.
A soy sauce dip, or a thick and spicy dip, similar to the one used with Tteokbokki, pair very well with Twigim. Tteokbokki with a side of Twigim is a street food match made in heaven.
13 – 닭강정 Dakgangjeong
This dish is the Korean version of fried chicken. The sweet, crunchy, and salty batter gives way to moist, perfectly cooked chicken. The key to juicy chicken is soaking it in milk for a few hours. This process tenderizes the meat while removing poultry's gamey taste. Next, the chicken is rubbed with salt, ginger, and garlic and tossed in potato starch, which creates a super crunchy but light crust when fried.
As soon as the chicken is taken out of the hot oil, toss with a sweet and spicy sauce and sprinkle with sesame seeds for extra crunch.
Another Korean fried chicken dish is Yangnyeom. The main difference is that Dakgangjeong uses boneless chicken cut into bite-sized pieces. A quick savory snack that pairs well with a cold beer.
14 – 닭꼬치 Dak-kkochi
Dak-kkochi is spicy chicken bites grilled on a skewer, making them the perfect afternoon snack or post-drinks takeout. Although chicken is the star of this dish, some Dak-Kkochi includes sausage, fish cakes, pork, beef, and vegetables.
The meat is seasoned with salt and pepper and grilled over an open flame in food stalls, giving it a deep smokey flavor and crunchy char. Then, there is the option of adding either a soy-sauce marinade or a sweeter sauce of sugar and ginger.
Some places also sell "fire" Dak-kkochi, a very spicy version that may make your mouth burn. So when you see Dak-kkochi, make sure you get a sauce that you can handle with it.
15 – 빈대떡 Bindaetteok
Bindaetteok or mung bean pancakes have the perfect umami flavor. Sweet, savory, spicy, and sour, these fried circles are heaven in a bite.
This dish originated in the Pyongan Province and combined ground mung beans with vegetables, meat, eggs, and sticky sweet rice. The main seasonings are garlic, kimchi, green onions, vinegar, soy sauce, salt, and pepper. Spoonfuls of the batter are dropped in hot oil, creating a crunchy exterior.
In the past, when mung beans were much cheaper, Bindaetteok was considered a more affordable dish, but these days it has a renewed image of a protein-filled, healthy dish that is best from street shops.
Bindaetteok is a great sharing dish when enjoying a drink with friends and is also the ideal on-the-go snack.
16 – 군고구마/군밤/군옥수수 Roasted Sweet Potato, Chestnuts, Corn (Gungoguma/ Gunbam/ Gunoksusu)
Certain Korean street vendors only bring out their stalls when the temperatures drop. These stalls serve piping hot roasted vegetables right out of an oven. The ultimate comfort food, these roasted bites of goodness warm you from the inside out.
Gungoguma is one example. An Asian sweet potato, which is lighter in color than the Western version, is roasted whole in a traditional goguma roaster. This cylindrical oven has six smaller cylinders and sits on an open fire. The heat intensifies the vegetable's sweet taste, roasting the skin that, in turn, protects the soft and creamy filling.
Roasted corn, or gunoksusu, is another Korean favorite. A variation of this dish is gunbam or roasted chestnuts. It is easy to spot a gunbam vendor as they typically wear a Russian-style fur hat with earflaps, or ushanka, which the Koreans refer to as a roasted chestnut vendor hat.
The vendors usually just have a mobile type of oven and don't really have an area for you to sit and eat. So the option is to just find a spot on the side of the road or to bring the warm roasted goods home.
These roasted veggies are such a staple that even convenience stores are selling them during the colder months. In the past, you'd have to be lucky to catch these mobile vendors, but now you can just go to your neighborhood convenience store.
17 – 와플/크로플 Waffles/Croffles
Waffles were introduced in Korea not too far back, but it didn't take long for them to transition from breakfast food to being eaten at all times of the day. Waffle makers are not a common household item, so Koreans turn to the street food stalls for piping hot waffles smothered jam, syrup, or different flavored creams and toppings.
Street waffles usually have a thin layer of jam, topped by a thick dollop of cream. Koreans like to fold the waffle in half and eat it like a sandwich.
Recently, Korean street vendors started making croffles by pressing fresh croissants in a waffle maker. These became so popular that cafes adopted the recipe and put croffles on their menu.
18 – 막걸리 Makgeolli
Makgeolli is a traditional Korean milky rice wine that is slightly sweet but tangy. This drink is a favorite among Koreans who jokingly refer to it as milk for adults.
Rice is the main ingredient used to make Makgeolli, one of the oldest alcoholic drinks in Korea.
Makgeolli has a relatively low alcohol content of between four to six percent and is the perfect accompaniment to traditional Korean leek pancake, Pajeon, and Bindaetteok.
Korean Street Food Summary
Wherever you visit in Korea, immersing in the wondrous world of delicious Korean street food is simply an experience you cannot miss out on.
Korean street food showcases some of the country's most innovative and resourceful culinary creations. This is Korean cooking at its purest and most raw, and the flavors, textures, and fusions are not to be missed.
Before your trip to Korea, be sure to have all of these popular Korean street foods written down, and seek out and try as many of them as possible. Head to the food markets, soak up the atmosphere, and gorge until your heart is content!
You Might Also Like to Read
Save and Pin for Later
Keep this list of street foods for safekeeping, by saving this article to one of your travel planning Pinterest boards.
Author: Eun Hae Oh is an English-Korean translator, writer, and voice actor from Incheon City. Having written for a range of publications, Eun is eager to help others discover more about Korean cuisine, culture, and travel through her writing.
Images licensed via Shutterstock