This post may contain affiliate links, meaning if you book or buy something through one of these links, we may earn an affiliate commission at no additional cost to you. Learn more
Discover a sumptuous, sweeter side to one of the Caribbean's most beloved cuisines and give these Puerto Rican desserts a try during your next visit.
Packed with divine flavors and gorgeous colors, the desserts of Puerto Rico are some of the most delicious you'll try in the Caribbean. Prepare for plenty of food envy, as we delve in and discover 21 must-try dishes.
Puerto Rican Desserts
1 – Tres Leches – Three-Milk Sponge Cake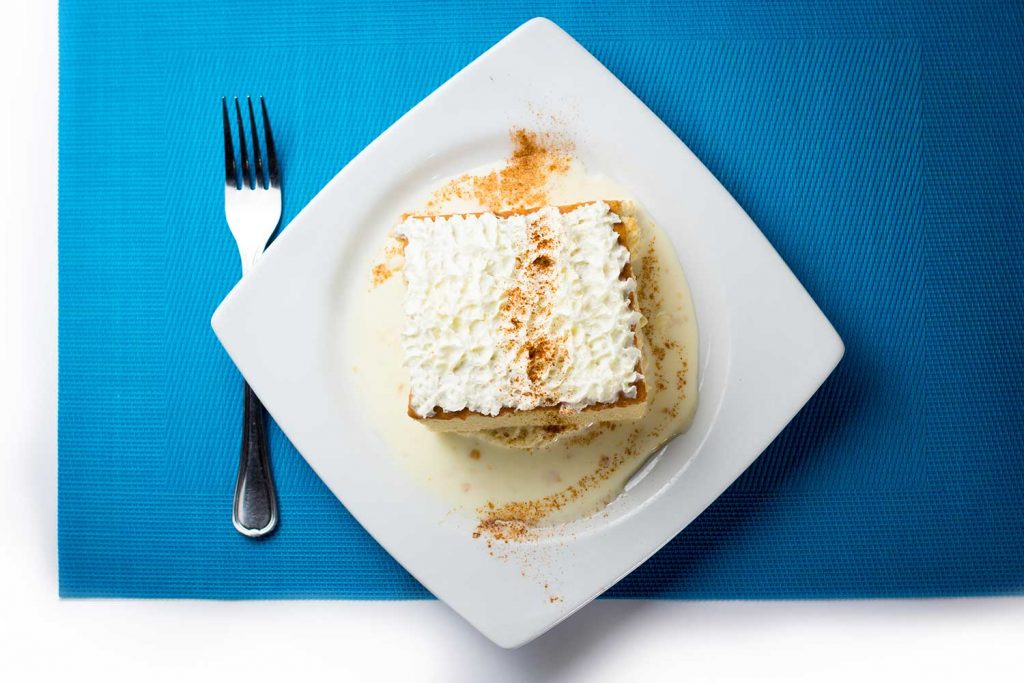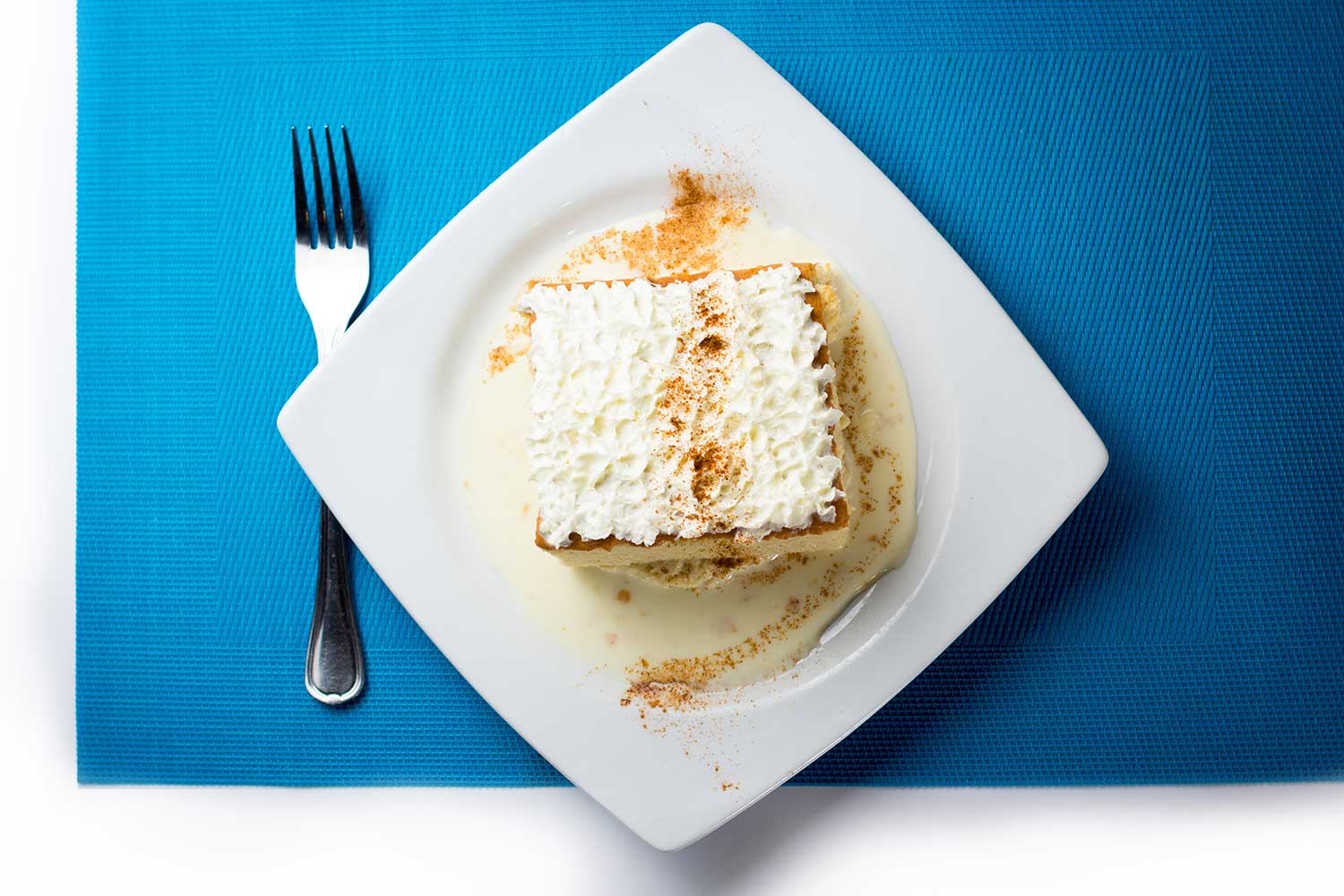 Tres leches is popular in Puerto Rico (and several other world cuisines, including Mexico, Nicaragua, Cuba, Guatemala, and generally most of Latin America).
It is a heavily moist sponge cake made with evaporated milk, full-fat milk, and sweetened condensed milk, hence the name tres leches (three kinds of milk).
It is then topped with heavy whipped cream and sprinkled with powdered cinnamon. This soft, light, and airy cake is one of the most popular desserts to eat on holidays such as Christmas and Thanksgiving, and it is also a favorite at various family celebrations.
Get a Puerto Rican Tres Leches Cake Recipe Here
2 – Tembleque – Coconut Milk Pudding
The name tembleque means to 'jitter' or 'tremble', and it defines the consistency of this jiggly Puerto Rican Christmas pudding perfectly.
Tembleque has a coconut milk base, and it is often covered with a sprinkling of cinnamon. But that does not mean coconut is the only flavor that a tembleque comes in. There are also many variations of this classic Christmas dish, including pumpkin, Nutella, and even piña colada flavored tembleques.
3 – Arroz con Dulce – Rice Pudding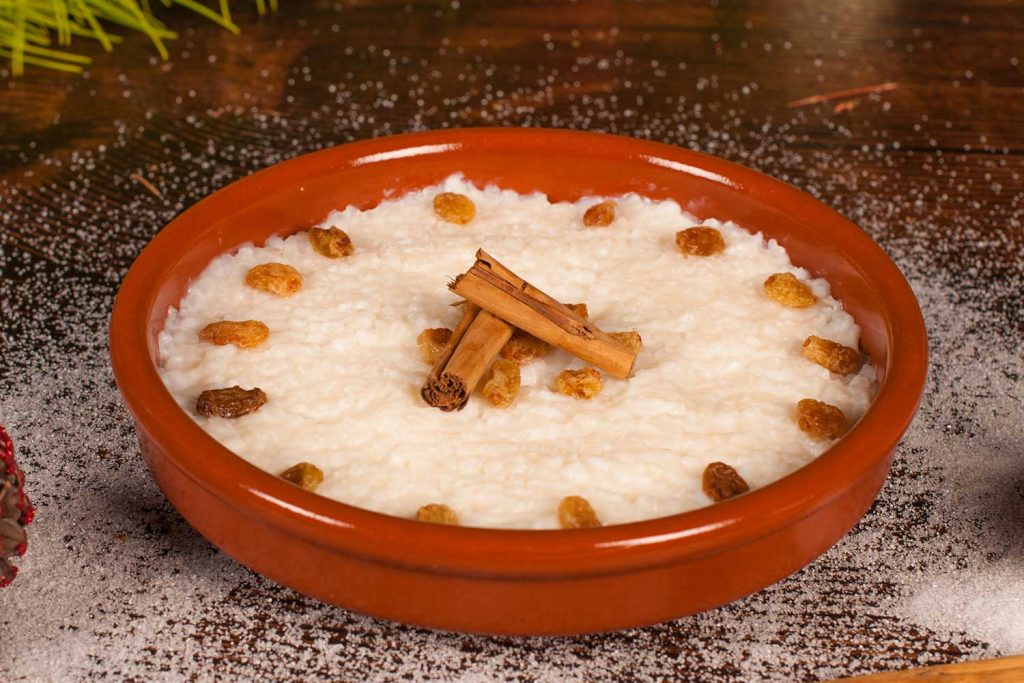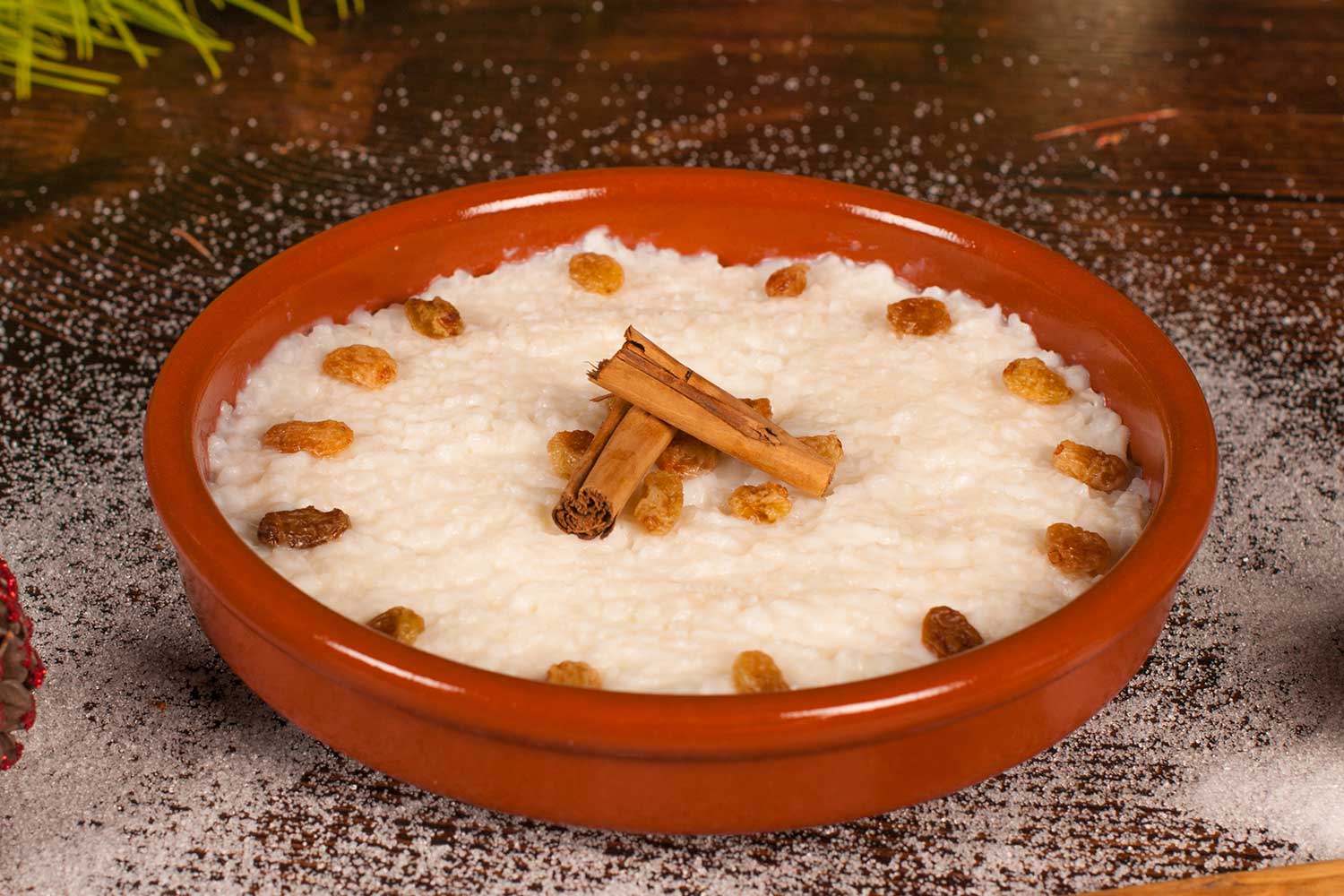 The simple ingredients in the Puerto Rican rice pudding make for a hearty and flavorful dish. Arroz con dulce is made from a combination of coconut milk, evaporated milk, and sweetened condensed milk.
The true kick to the flavor, however, comes from the addition of various aromatic spices, cinnamon, and raisins that added to the mixture
This makes arroz con dulce a true symbol of what Puerto Rican desserts are all about. With its fragrant, sweet, and sticky rice, it's no wonder that it's one of the popular dishes, particularly around the festival period.
4 – Coquito – Rum with Coconut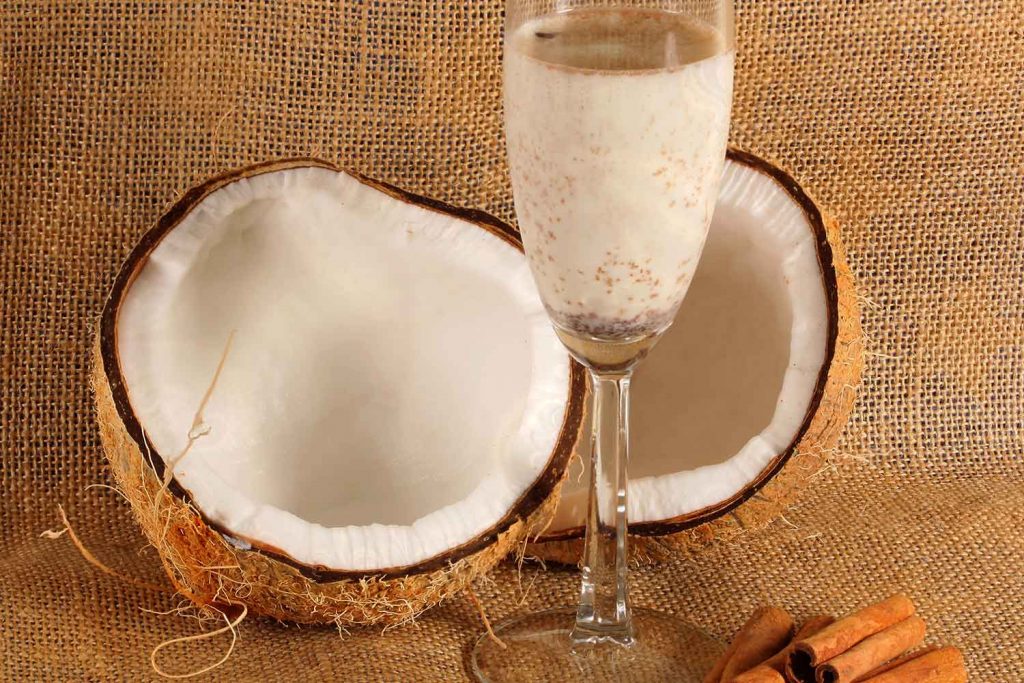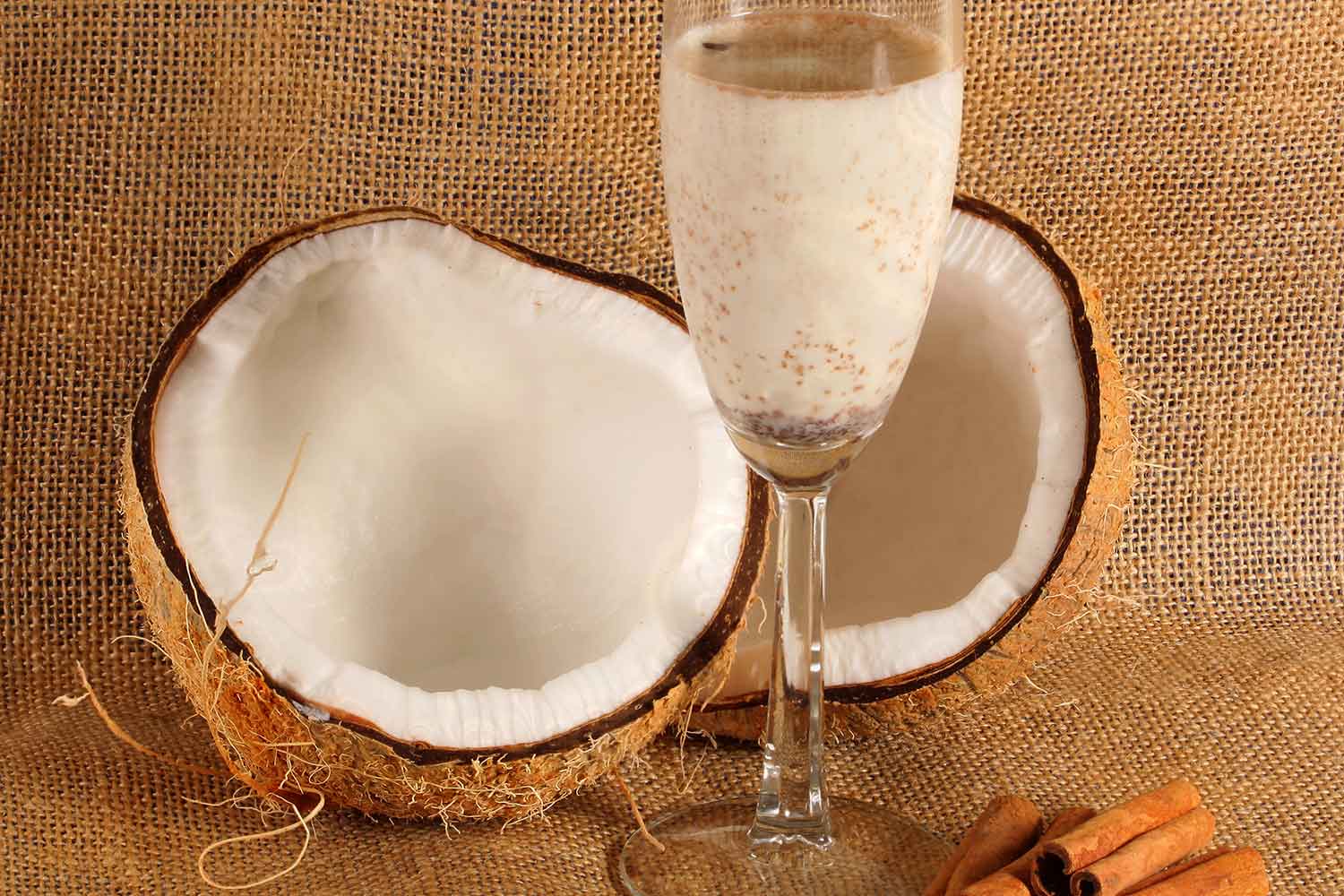 Calling coquito eggnog would be a disservice to the coquito itself! If you have ever had the opportunity to celebrate Christmas in Puerto Rico or with Puerto Ricans, you'll know that the first thing anyone asks is '¿Dónde esta el coquito?' or 'Where is the coquito?'. That is because it is quite simply the staple dish of the festive period.
Coquito is a drink made of coconut milk, coconut cream, sweetened condensed milk, spices, and rum. It is a semi-thick drink best-served chilled.
Many variations of this classic drink have been concocted in recent years, including coquito with flavors such as almond, chocolate, pistachio, and even Nutella.
5 – Majarete – Rice Flour Custard
Majarete is a delicious yellow custard made with a rice flour base. It is very easy to make as it uses very few ingredients.
As is common in Puerto Rican cuisine, coconut milk and condensed milk are two ingredients used to form this delicious pudding. The mixture is heated over medium heat and stirred continuously to achieve a classic rich pudding texture.
Vanilla extract is also added for flavor, alongside a stick of cinnamon when the dish is nearly cooked for aromatization. Once cooled, you can also dust a little cinnamon on top of the majarete for decoration.
6 – Quesito – Flaky Puff Pastry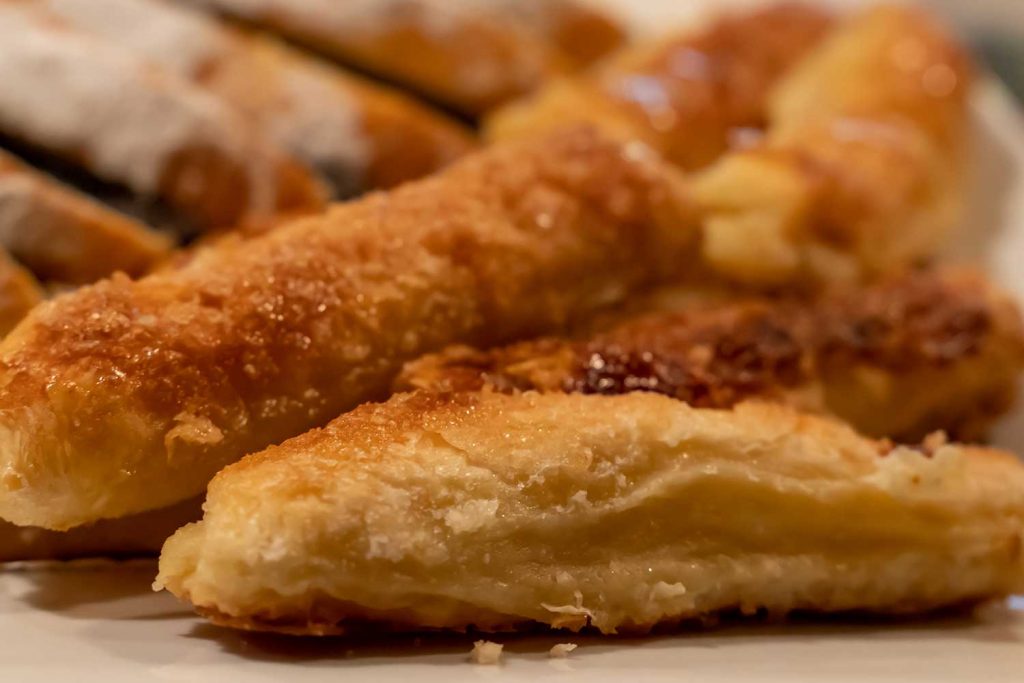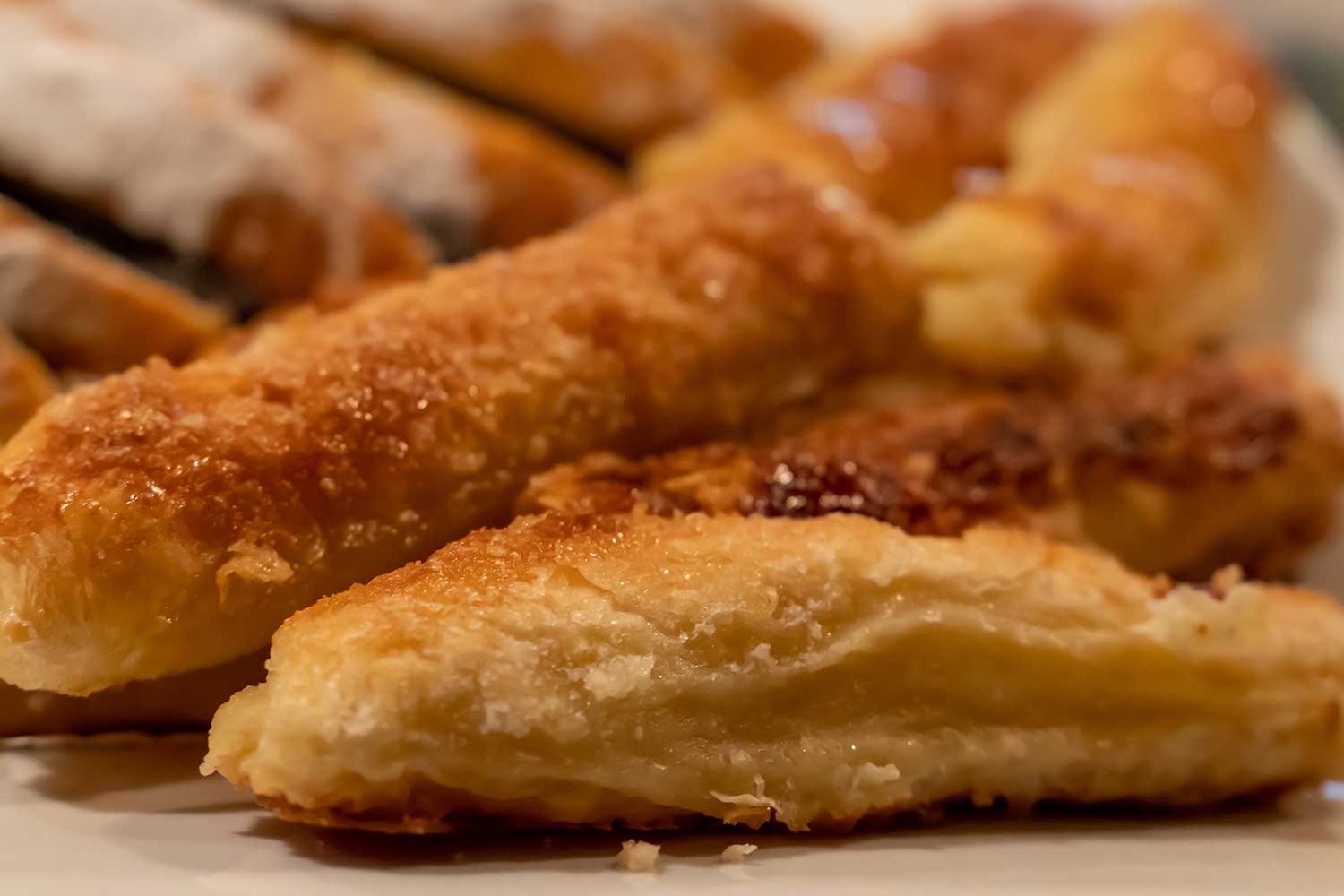 The quesito is a light and flaky dessert, originating from Spain. This dessert has a sticky outer coating made of egg white, honey, and sugar that crystalizes once baked.
For those who like this dish extra gooey, pure honey can be brushed over the quesito to let it caramelize while baking. The quesito itself is filled with cream cheese, hence the use of queso in the name.
7 – Queso Blanco con Pasta de Guayaba – White Cheese with Guava Paste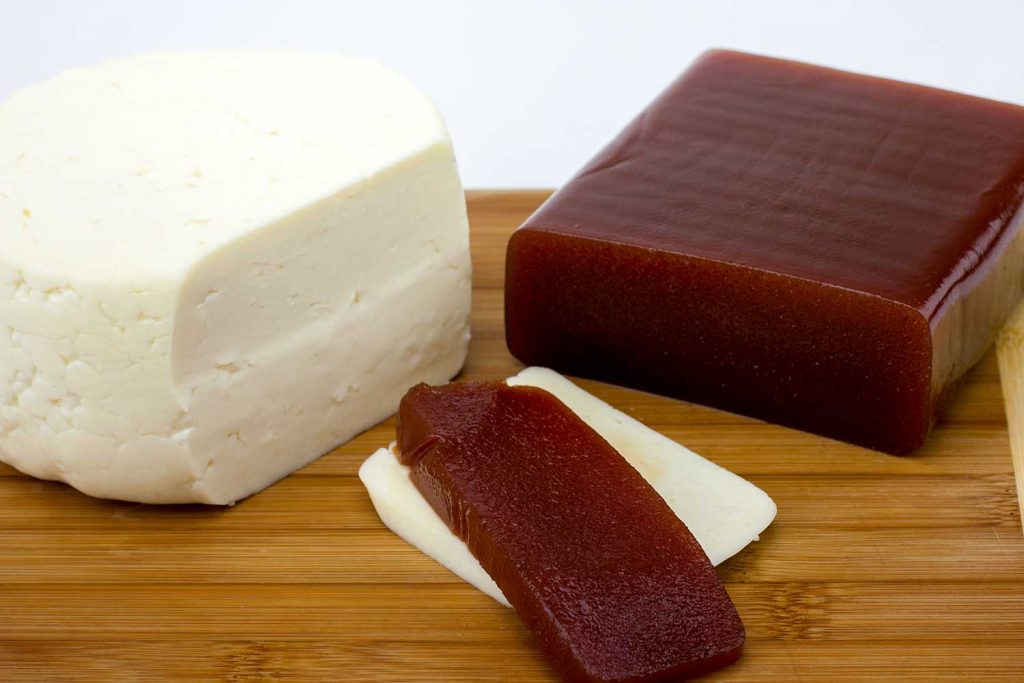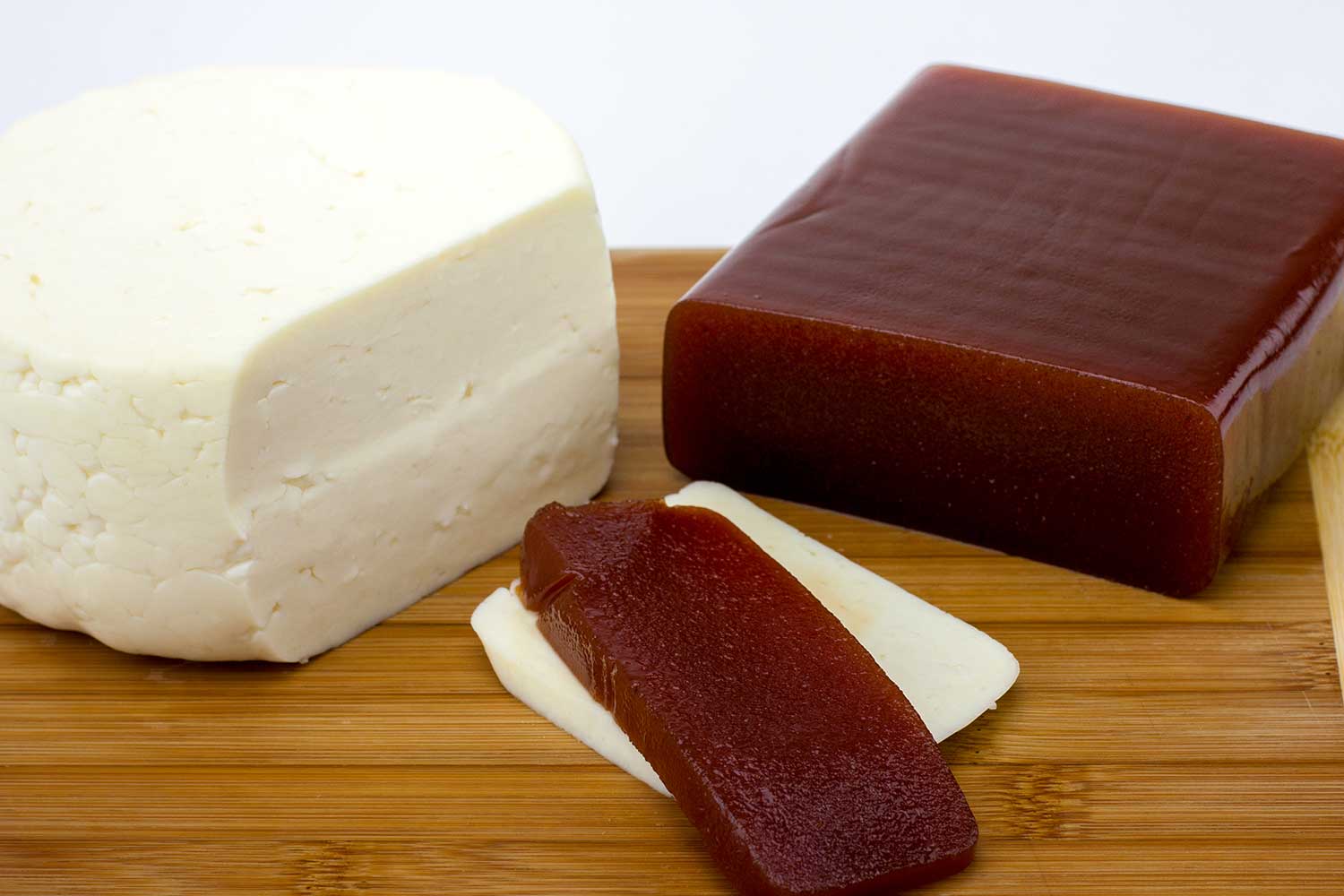 Queso blanco con pasta de guayaba is a dessert as simple as its name. The only ingredients needed to make it are white cheese and guava paste. You can serve them sliced by themselves, or cubed and placed atop of each other.
Want a saltier and crunchier taste? Add a Ritz cracker as a base. This dish is commonly accompanied by hot chocolate and is an amazingly simple but delicious dessert for your dinner guests.
8 – Budín – Bread Pudding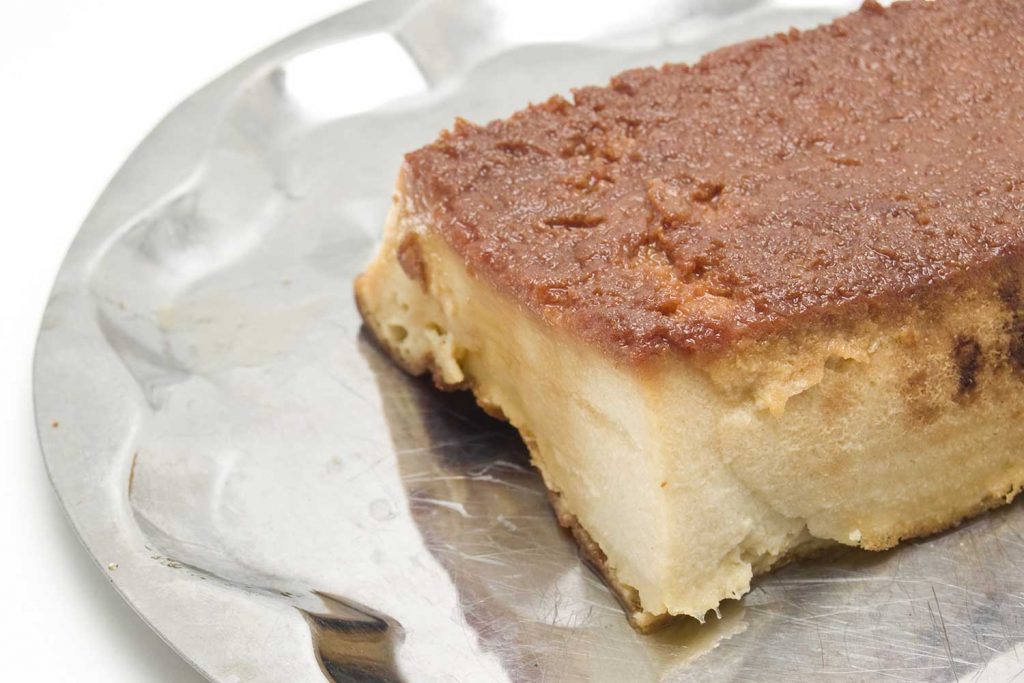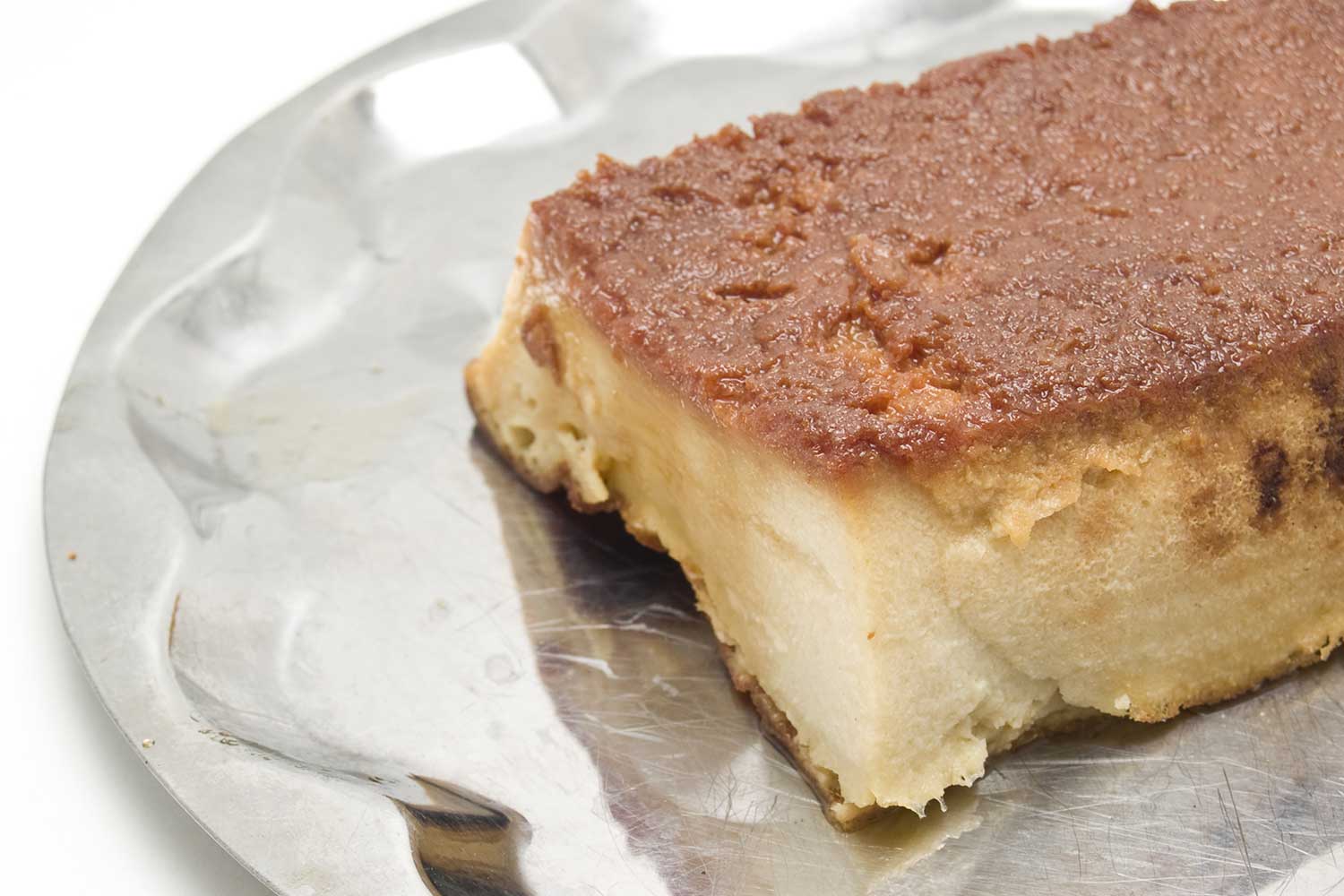 Budín de pan con pasas is a traditional Puerto Rican recipe. This raisin bread pudding is made with leftover bread that has been left to harden for a few days, making the pudding's consistency more like a cake than a flan.
Budín is well known for being a homemade dessert, traditionally made by grandmothers through the generations.
While it is somewhat easy to make, it does take quite some time since the pan de agua (water bread) has to be cut up into small pieces and left in a milk and spice mixture to soften. This Puerto Rican bread pudding can be devoured as a dessert, or as part of a sweet breakfast treat.
9 – Pastelillos de Guayaba – Guava Pastries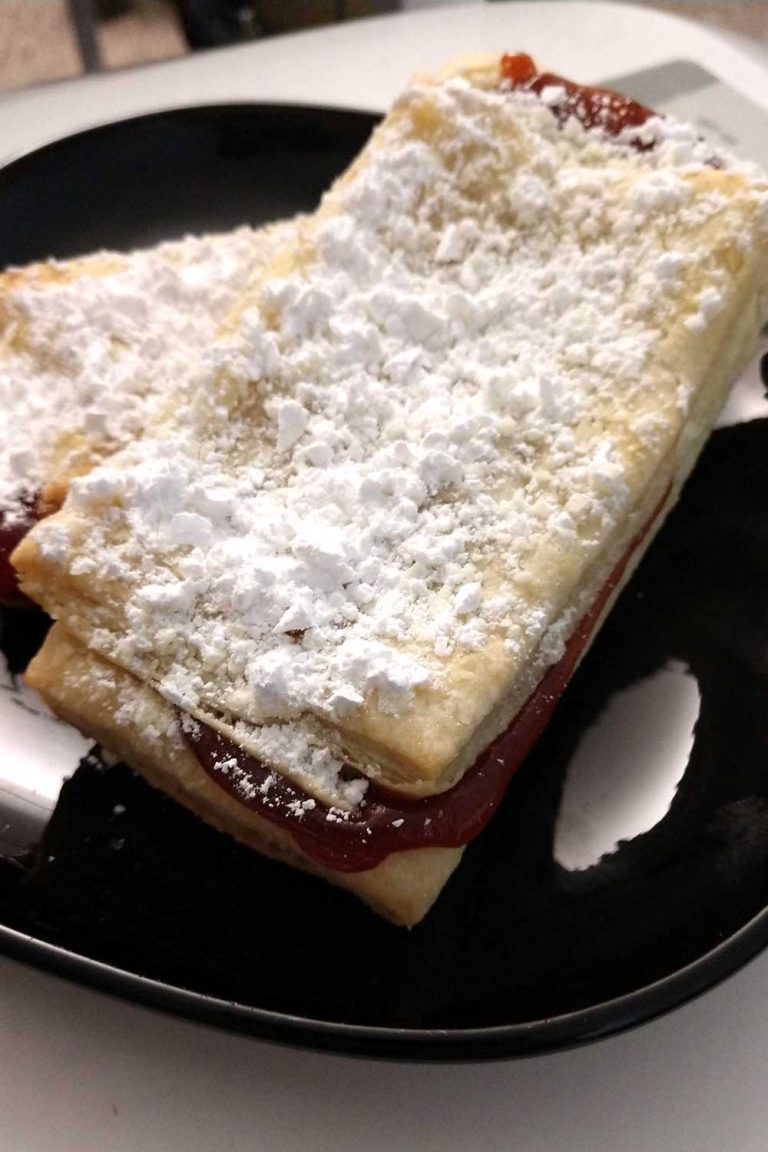 Pastelillos de guayaba are a staple of any celebration or festivity and can be easily found in any Puerto Rican bakery.
This delicious pastry is made with pastry dough and filled with guava paste. The pastry dough is cooked to golden perfection and dusted with powdered sugar before serving. No wonder this delicious and flaky dessert is always a hit at parties!
10 – Besitos de Coco – Coconut Macaroons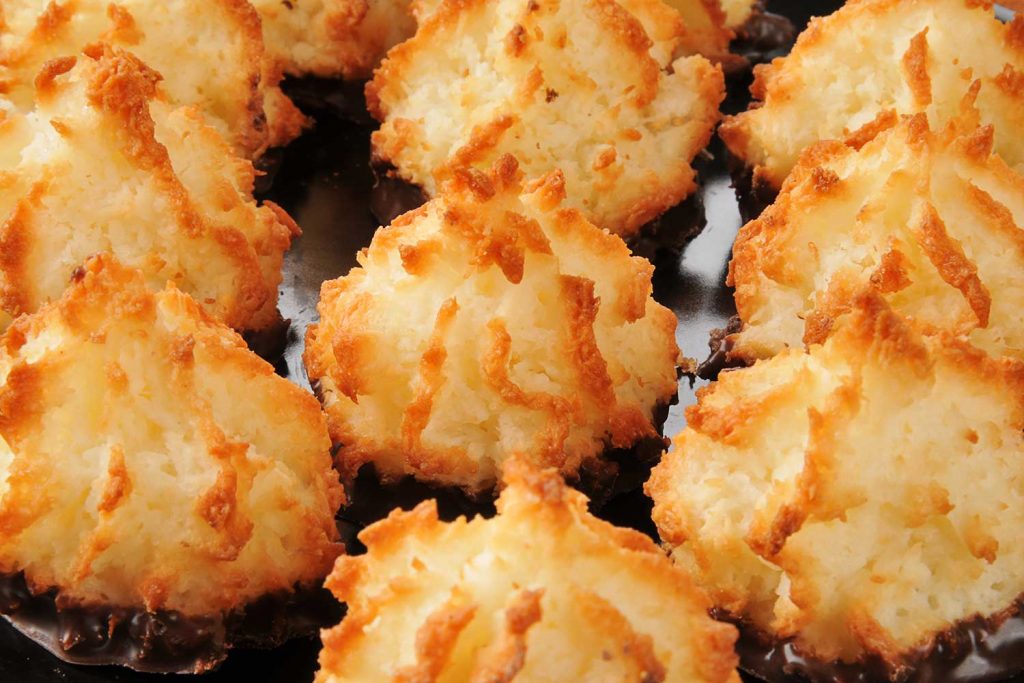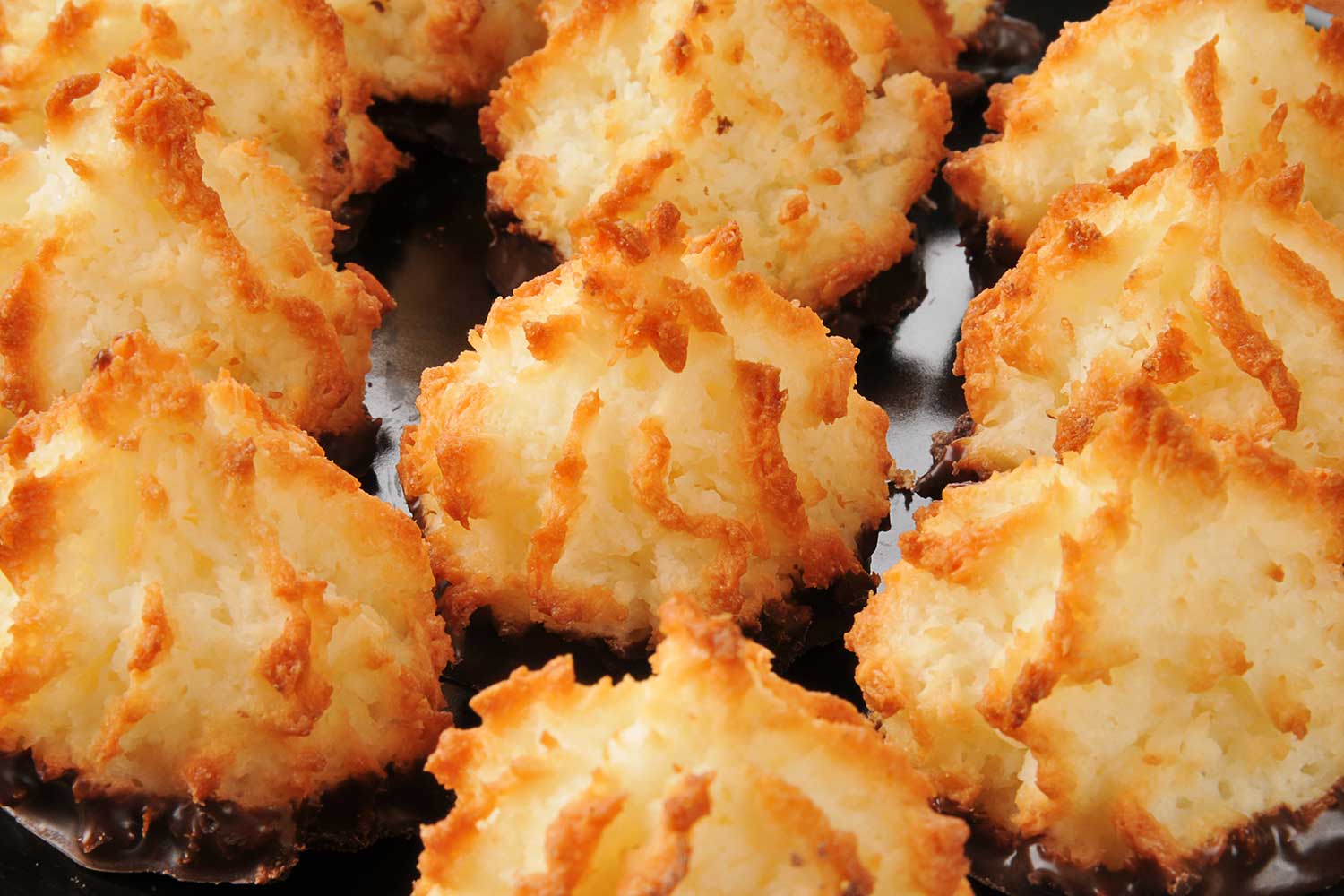 This Caribbean macaroon encompasses the flavor of the island in one small bite. Besitos de coco are small cookies that are crunchy and crispy on the outside, and sumptuously soft on the inside. These macaroons are easy to prepare at home and renowned for their sweet and light coconut flavor.
The crispy texture from the besito comes from the key ingredient: shredded coconut. Once they are in the oven, these coconut macaroons are cooked until they reach a crunchy outer shell.
The name besito de coco means 'small coconut kiss', which is an appropriate name for this delicious Puerto Rican dessert, I'm sure you can agree!
11 – Dulce de Grosellas – Sweet Currant
A popular dessert and nostalgic for so many Puerto Ricans, dulce de grosellas is sure to get your parents and grandparents talking about the yesteryears.
Dulce the grosellas is a Puerto Rican dessert made with red currants, a type of gooseberry that has a bittersweet taste.
Nowadays, the red currant is not a fruit that you can easily find at your local supermarket. So if you are ever lucky enough to find them, then you are in for a special treat.
Dulce de grosellas is simple to prepare, made by boiling red currants in water with sugar, cinnamon sticks, and lime juice.
12 – Flan de Queso – Cheese Flan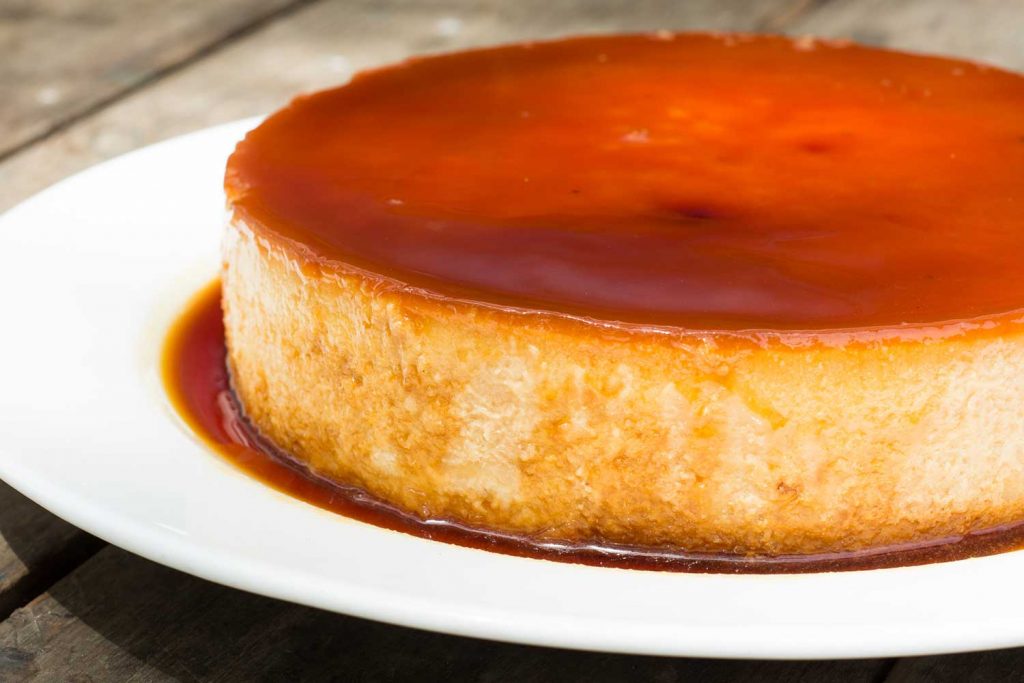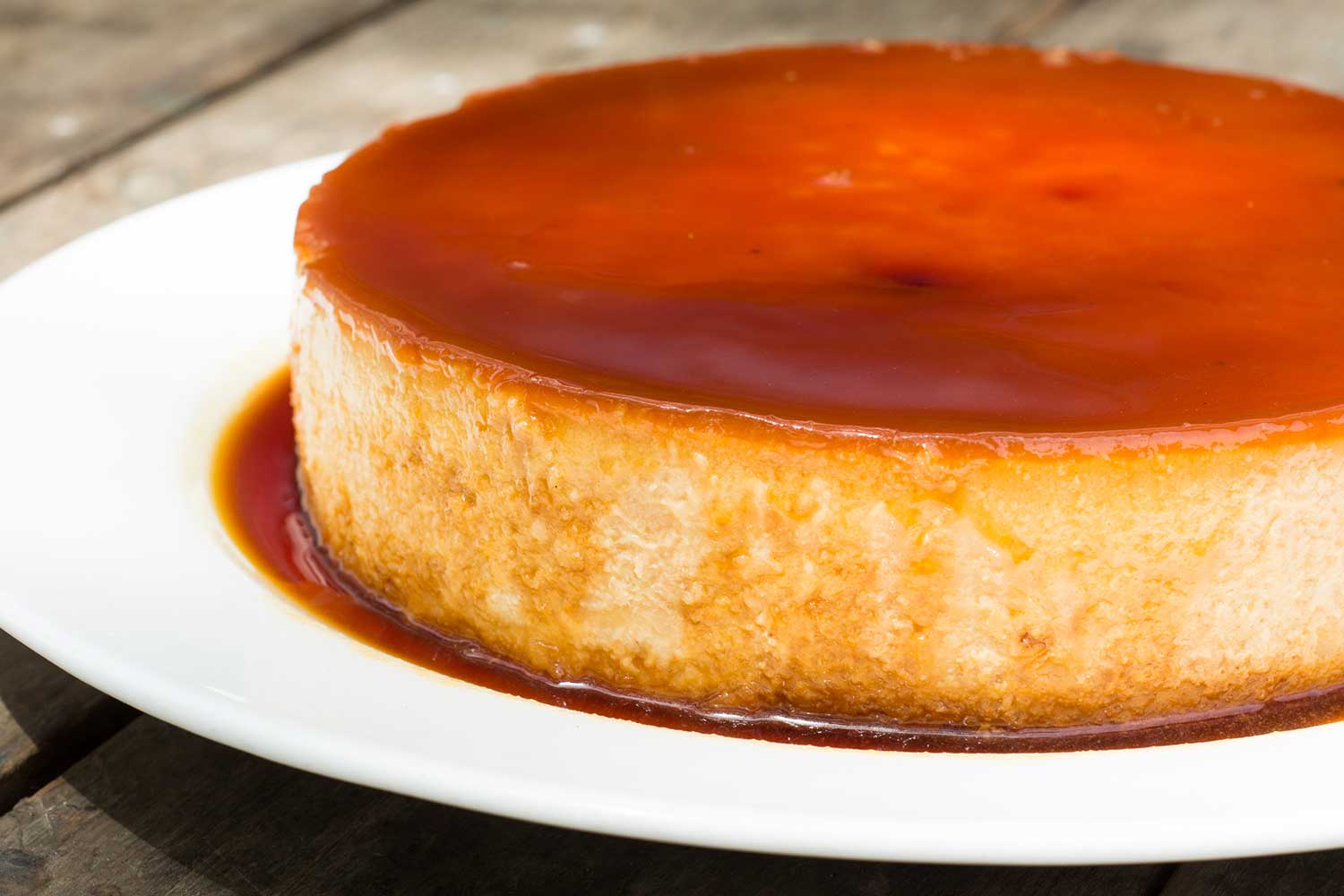 Flan de queso has a rich and creamy texture and a tanginess to the taste, courtesy of the cream cheese that is added during the preparation of the base.
This beloved cheese flan is very easy to make once the caramel preparation is mastered, which is one of the more time-consuming parts of this recipe.
The sugar is first melted down to a caramel consistency, without it burning. Then, the caramel is poured into a mold and left to cool, before the flan mixture is added.
Puerto Ricans are always inventing in the kitchen, and through the years many different flavors of flan have emerged, including tres leches (three kinds of milk), yuca (cassava), panapén (jackfruit), Nutella, pistachio, coffee, queso y guayaba (cheese and guava), and many others.
Get a Flan de Queso Recipe Here
13 – Flancocho – Flan Cake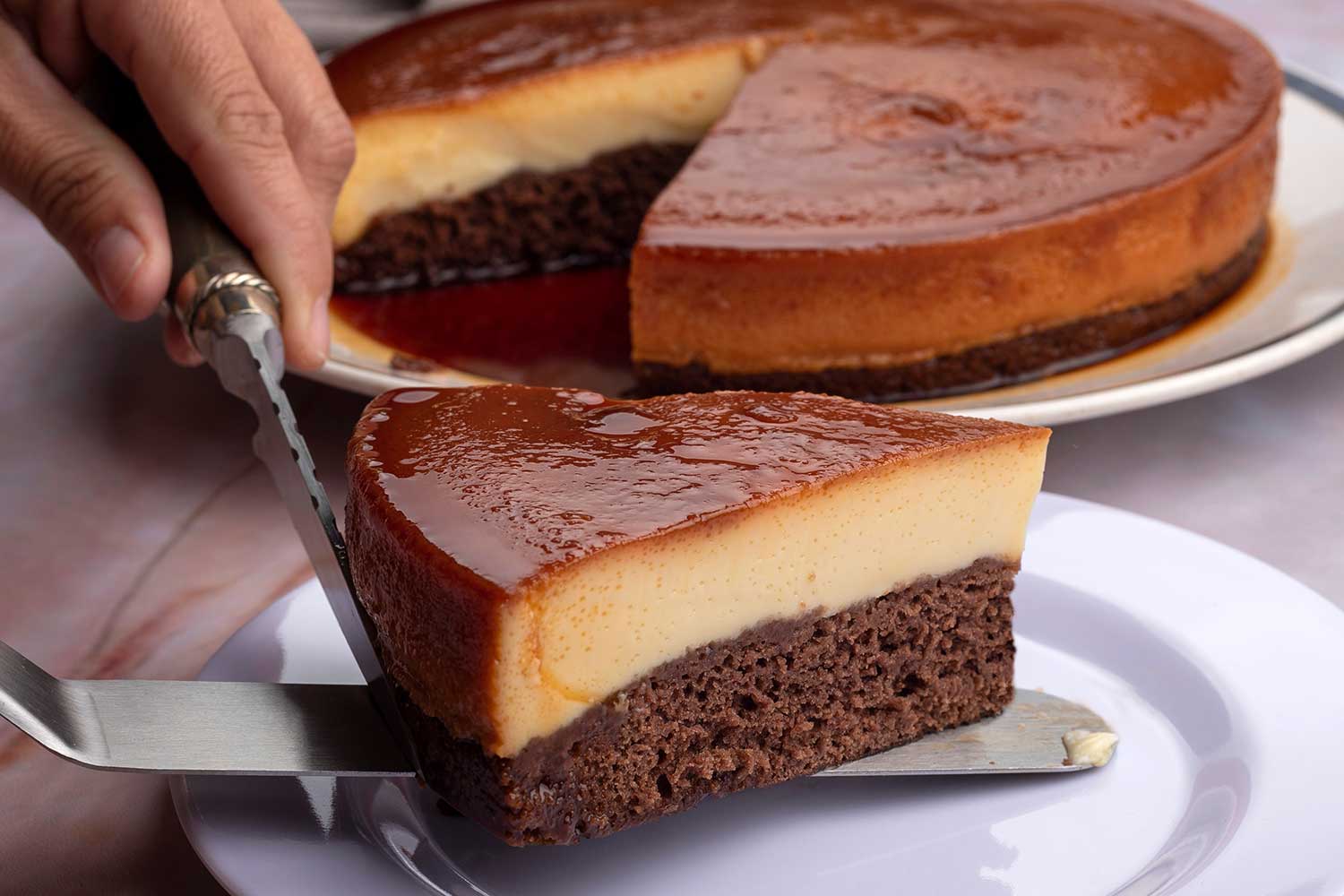 If you love both cake and flan, then you are going to love the Puerto Rican flancocho. It is literally the best of both worlds!
Flancocho is soft, spongy, and creamy. It is made by layering caramel, cake batter, and flan mixture in a bain-marie, baking the layers, and finally cooling the dish and letting it chill in the refrigerator before serving.
Flancocho is a great dessert for sheer indulgence and is one of the island's must-try sweet dishes.
14 – Dulce de Ajonjolí – Sesame Brittle
Dulce de ajonjolí is one of the most popular sweets on the island, and a staple of fairs and food markets. These sesame seed bars are always a go-to for Diasporicans visiting the island. They are a delicious way to take a little piece of Puerto Rico back home.
This dessert is made by toasting sesame seeds, mixing them with melted honey and brown sugar, and letting the resulting mixture set, before being cut into rich and delicious bars of sweet and nutty goodness.
15 – Pilón o Pilones – Puerto Rican Lollipops
Pilón o pilones are the typical lollipops you have growing up as a kid in Puerto Rico. They are a hit among kids and adults alike, and you can easily find them at kiosks during festivals, or small shops throughout the island. This red anise-flavored lollipop is hard to miss and is a wonderful way to cool down in the hot sun.
16 – Polvorones o Mantecaditos – Shortbread Cookies
Polvorones or mantecaditos are bite-sized sugar cookies, with a central dip filled with guava paste or sprinkles. Nutella and pineapple jam can also be used as a cookie filler.
These shortbread cookies are a simple and delicious treat to make with kids, as the cookies are made using very simple ingredients.
A butter and wheat flour mixture help give the cookies their softness, and they pair perfectly with café con leche (coffee and milk) for a wonderful afternoon treat.
Get a Mantecaditos Recipe Here
17 – Dulce de Batata y Coco – Sweet Potato and Coconut
The dulce de batata mameya y coco (sweet potato and coconut) unites two typical ingredients of the island. This dessert can be made into bars, a cream, and even a cheesecake-like consistency when added to queso del país (Puerto Rican cheese).
This dessert is made with dried shredded coconut, sweet potato, and evaporated milk. The evaporated milk is added over medium heat once the shredded coconut softens and the sweet potato has cooked.
Once the ingredients come together, they eventually form a viscous mixture, that can be molded into a bar on a cookie sheet. This sweet and savory treat can be eaten alone or enjoyed with cheese.
Get a Dulce de Batata y Coco Recipe (in Spanish) Here
18 – Dulce de Lechosa – Papaya Dessert
Dulce de lechosa is a true testament to the resourcefulness of Puerto Ricans when it comes to humble food. The dish is made from unripe papaya, which is first cut into small pieces. The papaya is then boiled in water with sugar, cinnamon, and cloves.
The result is an aromatic and sweet dessert, renowned for its translucent golden color and syrupy consistency.
19 – Limber – Popsicle/Ice Cream in a Cup
On a hot summer's day in Puerto Rico, there is nothing better than enjoying a sweet frozen limber to help cool you off.
A limber is a perfect mix of ice cream and a popsicle. It is neither and both at the same time, depending on its ingredients. There are, however, always served in plastic cups.
When made with water, sugar, and fruit juice, a limber resembles a popsicle in a cup. And when it is made with condensed milk and coconut cream, as with the coconut limber, it has a richer and creamier texture, similar to that of ice cream.
Get a Limber de Coco Recipe Here
20 – Mampostial/Marrallo – Shredded Coconut Bar
As you may have guessed by now, many Puerto Rican desserts contain both coconut and sugar, in abundance, in some way or another. Mampostial or marrallo is no exception.
This dessert bar has two ingredients: shredded coconut and cane molasses. The mixture is cooked over medium heat until a delicious mass is formed, and poured over a baking sheet to be first baked, then cooled, and finally cut in sweet and delicious candy bars.
Puerto Rican Desserts Summary
Puerto Rico is a place full of wonders and surprises, and the cuisine of this Caribbean island is no different. There are so many beautiful, intriguing, and utterly delicious dishes to try, you'll most certainly be spoilt for choice.
When it comes to the sweeter side of food, Puerto Rico has something for everyone. Keep your eyes peeled for these beloved dishes, and be sure to try as many of them as you can when you next visit. You, quite simply, will not regret it!
You Might Also Like to Read
Save and Pin for Later
Keep this list of Puerto Rican desserts for safekeeping, by pinning this article to one of your foodie or international travel Pinterest boards.
Contributor: Arantxa Quiñones is a translator and content writer from San Juan, Puerto Rico. She has written in both English and Spanish for various publications.
Images licensed via Shutterstock