This post may contain affiliate links, meaning if you book or buy something through one of these links, we may earn an affiliate commission at no additional cost to you. Learn more
Rich, heartwarming, and utterly delicious, these Romanian desserts are sure to get your tastebuds dancing and your stomach singing on any trip to the beautiful country of Romania.
Many of these dishes have been passed down through generations, and all are beloved choices for Romanians craving something sweet and indulgent as a snack, with hot drinks, or following a hearty meal.
Prepare to delve into the sweeter side of Romanian cuisine, as together we stimulate the senses with 15 of Romania's must-try desserts.
Romanian Desserts
1 – Papanași
Papanași is a popular dessert in Romania, and you'll likely find it in most, if not all, traditional restaurants all over the country. A papanaș is a fried pastry similar to a doughnut, made of three layers, two bigger round-shaped layers, and a small sphere on top.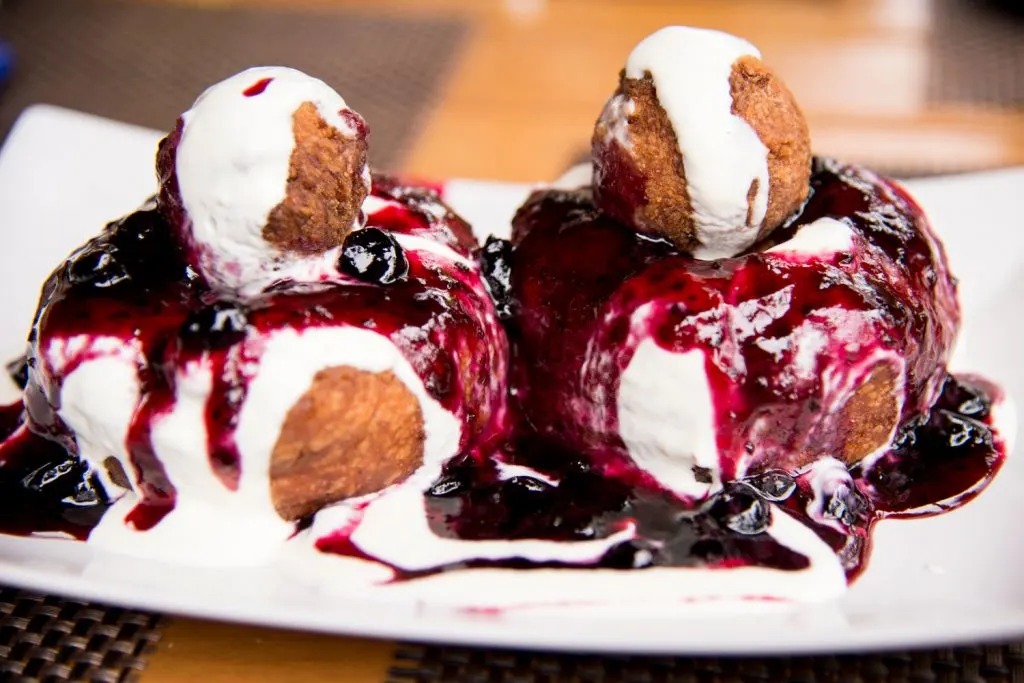 The dough is mixed with cow's cheese (brânza de vaci), which is a typical Romanian soft cheese, making it fluffy on the inside and a little crunchy on the outside. The secret of the recipe is finding the right balance between flour and cheese.
While the most popular version of papanași is fried, there is also a lighter, boiled version. Papanași are served hot and topped with sour cream (smântână) and sour cherry jam. If you want to try the most popular Romanian dessert, this is what you should look for.
2 – Cozonac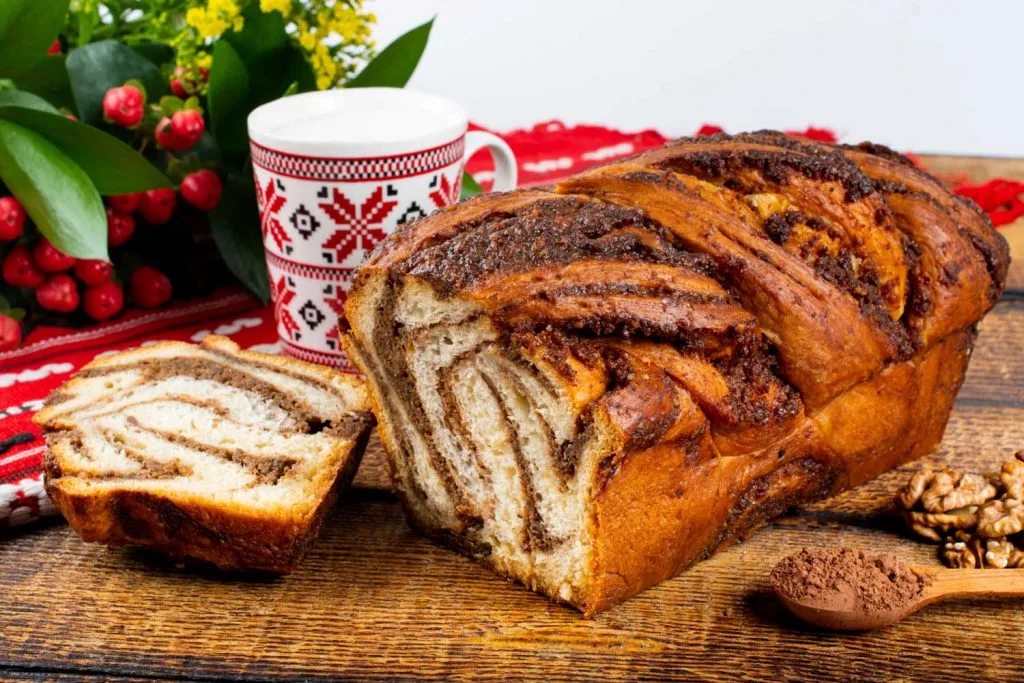 Cozonac is a traditional festive dessert, very popular at Christmas and Easter. It looks like a loaf of bread, defined by its dark brown color.
The inside can be filled with different combinations of cocoa, lokum (Turkish delight), poppy seed, nuts, or raisins. Before being baked as a long loaf, the dough is left to rise for several hours, to help make the texture fluffy.
Apart from Romania, cozonac is a typical food in many Eastern European countries. Its origins, however, appear to date back to Ancient Egypt.
Although it's mainly considered a festive treat, nowadays you can find cozonac everywhere, all year long, even in supermarkets. As is the case with many traditional Romanian desserts, homemade cozonac is always the most delicious, if you can get your hands on it. The recipe, however, is not that simple, and only true experts can bake a well-levitated, fluffy cozonac.
3 – Amandina
If you like sweet, chocolatey desserts, you should definitely try amandina. This indulgent chocolate layered cake will not disappoint you. Amandina is commonly served as a single square-shaped cake, consisting of layers of chocolate sponge cake, fluffy and soaked in syrup, and chocolate or caramel cream.
The dessert is topped with glazed chocolate, and decorated with some more chocolate cream. While the small square portion is more typical, you can also find round versions of this rich cake, in different sizes. This makes for a delicious birthday cake.
Unlike many other desserts that can be found in other neighboring countries, amandina is typically Romanian, so make sure not to miss it, as you'll rarely find it elsewhere. You can order it in various cafés and cake shops, and even in big supermarkets and malls.
4 – Brânzoaice
Brânzoaice, or simply plăcinte cu brânză (cheese pies), are small pies filled with sweet cow's cheese. In the north-eastern region of Moldova, they are also called 'poale'n brâu', which literally translates to 'hem to the waist'.
It is believed the name refers to the traditional process of making the pie, where housewives would knead the dough on their thighs. While this practice is no longer common, the name remains to this day.
Plăcinta cu brânză is a simple yet heartwarming dessert, and a dish you would traditionally eat at your grandma's on a Sunday. The addition of lemon or orange peel to the cheese makes these pies super flavorful and fragrant, and for many Romanians, there truly is nothing quite like the smell of freshly baked cheese pies!
You can find brânzoaice in many bakeries. If you're lucky enough to know some locals, be sure to try homemade ones, which are so often melt-in-mouth and utterly delicious. They are best eaten hot out of the oven.
5 – Chec
You might know this decadent dish as marble cake, but in Romania it's known as chec, and it comes in many different variations.
A particularly popular version is known as 'chec marmorat', or sometimes 'chec zebra', as the use of cocoa creates a swirled pattern that resembles that of a zebra's stripes. But that's just the tip of the iceberg, with versions that use lemon, cacao, and walnuts, among many others, popular choices throughout Romania.
Chec is a type of dessert commonly prepared at home, but you can also buy it in bakeries. You may even find packaged chec in some supermarkets throughout Romania.
6 – Cremșnit
Cremșnit, or Cremeschnitte in German, is a dessert whose origins are attributed to the Austro-Hungarian Monarchy. This dessert is common in many European countries, including Austria, Poland, and the Balkans, each with its small variations.
In Romania, cremșnit consists of a layer of vanilla cream sandwiched between two layers of crunchy dough, similar to filo pastry. It is usually sprinkled with powdered sugar and served cold.
You can find this dessert almost anywhere in Romania, from bakeries and cake shops to supermarkets. This is a great dessert if you're looking for something fulfilling, but not too sweet, maybe to enjoy with a cup of hot coffee.
7 – Negresa
The Romanian version of the classic brownie is called negresa, and like many other desserts, it is a popular homemade dish.
Unlike the American brownie, negresa tends to be softer, more similar to sponge cake. The classic, simple version is usually served in small squares, sprinkled with shredded coconut. However, it can also be topped with glazed chocolate or filled with jam, chocolate, or nuts. Furthermore, it can make for a great base for cakes to be served with chocolate cream or jam.
If you ever go to a house party in Romania, you'll most likely be able to try negresa for dessert. While mainly homemade, you may get lucky at particular bakeries or pastry shops.
8 – Alba ca zăpada
In Romania, Snow White isn't just a fairy tale; it is also a dessert, and a much-loved one at that! Nowadays it's not so common to find, but the dish used to be one of the more popular desserts. If you ask Romanians about Alba ca zăpada, it will likely evoke childhood memories of birthday parties and festive times.
Alba ca zăpada is a layered cake made with soft dough and lemon cream, sprinkled with powdered sugar. The cake is then cut into small square or diamond-shaped pieces and served cold. Not many bakeries sell alba ca zăpada, but if you're lucky you may be able to find it.
9 – Diplomat
Diplomat is wildly popular throughout Romania and is a particularly common choice at birthdays. Vast in its variations, the most common type of diplomat is a large, round cake made from ladyfingers and topped with different types of fruit.
Diplomat doesn't require any baking, as the cake is comprised of layers of ladyfingers soaked in syrup. It is filled with an iconic cream synonymous with diplomat, which is a mix of custard and whipped cream. Often the cream also contains pieces of fruit, usually pineapple.
The whole cake is covered in whipped cream and commonly decorated with fruit or chocolate. This indulgent, creamy dessert is popular all over the country, and you will definitely find it in many bakeries and cake shops.
10 – Savarina
A very popular dessert that can be found in most cake shops, savarina is traditionally of French origin, but has been adopted and personalized by Romanians.
The bun is fluffy and soaked in syrup and rum, very similar to the Italian baba. Unlike the traditional French cake, Romanian savarina comes in small, single portion buns, filled with fresh whipped cream and topped with jam. It's very simple yet truly delicious.
Savarina became very popular in the late 1990s and early 2000s, and though many other international desserts have grown in popularity since, it continues to be a beloved staple of Romanian desserts to this day.
11 – Cornulețe
These 'little croissants' are bite-size pastries, shaped like small croissants and made with a type of shortcrust pastry.
The use of butter or lard in the pastry gives these little delights a truly melt-in-mouth texture. Cornulețe can have a variety of different fillings, including chocolate, jam, poppy seeds, walnuts, raisins, and lokum (Turkish delight), among others. They are served sprinkled with powdered sugar.
Cornulețe are typically made during the holiday season, especially at Christmas. However, you will find them at any time in bakeries and supermarkets. Apart from Romania, they are also traditional food of Moldova.
Read more: Cornulete (Crescent Cookies) Recipe
12 – Prăjitura Carpați
This dessert gets its name from the Carpathian Mountains due to its triangular shape, resembling a mountain peak. Made with layers of dough and cream, the inside of the cake has vertical stripes, while the outside is covered in chocolate and coconut flakes, making it look like a snow-covered mountain peak. The filling can be made with buttercream, chocolate, or caramel.
Another name for this dessert is 'prăjitura cabana', meaning 'cabin cake', again due to its peaked shape, resembling the roof of a woodland cabin.
Naturally, this dessert is very popular during wintertime and especially at Christmas. If you get to spend winter in Romania, you must try this indulgent and delightful-looking treat.
13 – Plăcintă cu mere
Apple pie may not be a typically Romanian dessert, but it is still a much-loved and popular dessert and can be found in many bakeries wherever you go in Romania.
The most popular version of plăcintă cu mere comprises of two layers of soft dough and a filling of grated apples, mixed with sugar and cinnamon. In Moldova, plăcintă cu mere is a rolled pastry, filled with apples. This version is similar to the apple strudel.
Depending on the region and the bakery, you may find both versions of this rich and sumptuous apple pie. Raisins are sometimes added to the filling, and the pies are nearly always sprinkled with powdered sugar, a staple of Romanian desserts
14 – Tort de biscuiți
This popular homemade dessert is very easy to make. It is made with just a few ingredients, and it doesn't need to be bake.
Tort de biscuiți, or 'biscuit cake', traditionally was an affordable solution for homemade desserts. While simple and unpretentious, to this day the dish remains a beloved Romanian dessert.
The biscuit cake consists of layers of biscuits, soaked in milk, bound with a chocolate cream made of butter, eggs, and cocoa. The biscuits commonly used are Petit Beurre, and in Romania they are called 'biscuiți populari' or popular biscuits.
Once assembled, the cake is left to rest in the fridge, before being topped with a layer of cream and served fresh and chilled. It can also be topped with coconut flakes, crumbled biscuits, or ground walnuts.
You can also find a chocolate version of this delicious cake, known as 'salam de biscuiți' or 'biscuit salami'. However you enjoy this cake, this dish is true testament to the resourcefulness of Romanians during difficult times.
15 – Gogoși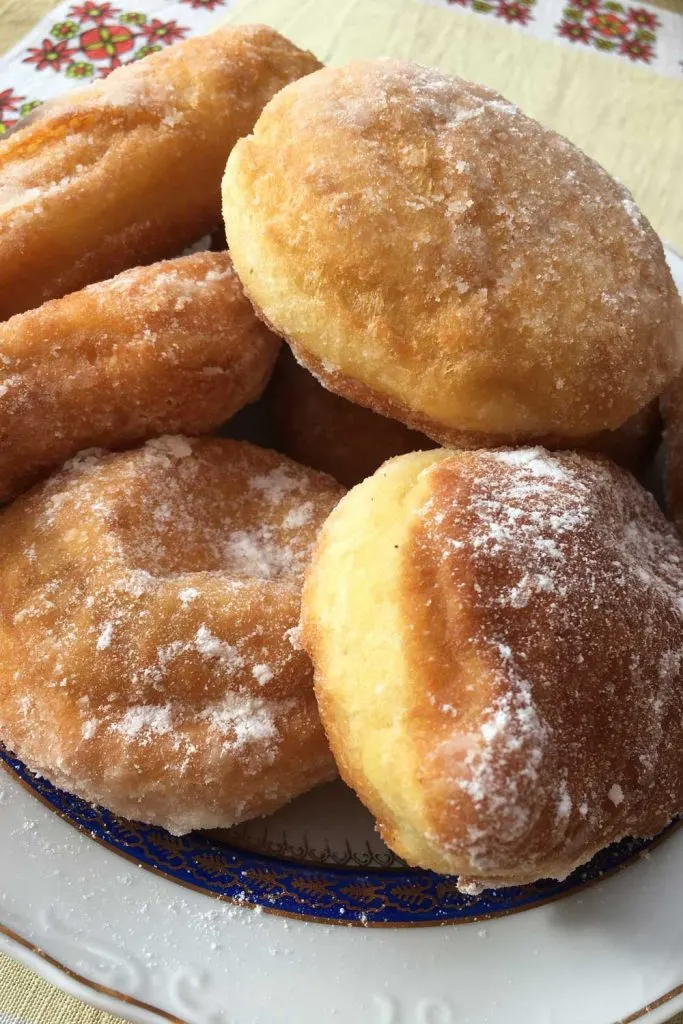 Gogoși are essentially a Romanian version of doughnuts. Unlike American doughnuts, however, these sweet and delicious treats don't have a hole through the middle.
Though one may argue they are not very healthy because they are deep-fried, they are tasty and heartwarming like only fried foods can be!
In different regions of Romania, they may have different names, but the recipe remains the same throughout. In Transylvania and Maramures, they are called pancove, while in Banat they are called crofne.
The classic gogoși are served hot and sprinkled with powdered sugar. They can also be filled with different kinds of jam, chocolate, Chantilly cream, cheese, or whipped cream. If you come across local fairs or festivals, you'll likely come across many stand selling hot gogoși. They are also sold in many bakeries in most Romanian cities.
Romanian Desserts Summary
Bring a generous dose of sweetness, richness, and culinary passion into your Romanian adventure by seeking out and trying as many of these dishes as possible.
These desserts encapsulate the heart, soul, and passion of Romanians when it comes to cooking. There are a wide array of flavors and textures to try, but all of these dishes touch the heart and the soul when prepared by someone with a deep love of cooking.
Enjoy these dishes when traveling through Romania, and try to find as many of them from family-run restaurants or local bakeries. You really are in for a treat!
You Might Also Like to Read
Save and Pin for Later
Keep these delicious Romanian desserts for safekeeping, by saving this article to one of your foodie travel Pinterest boards.
Author: Roxana Fanaru is a Rome-based Romanian-born journalist and content writer. She has written for various publications in the lifestyle and travel space.
Images licensed via Shutterstock