This post may contain affiliate links, meaning if you book or buy something through one of these links, we may earn an affiliate commission at no additional cost to you. Learn more
Here are some of the most beautiful cities in Romania you should visit if you're planning to visit this wonderful country soon.
From painted monasteries to the birthplace of Dracula, snow-capped mountain backdrops to sprawling green parks, Romanian cities have something for everyone.
Most Beautiful Cities in Romania to Visit
1 – Bucharest
Bucharest, Romania's capital as well as the country's largest city (with a population of over 2 million), should definitely be at the top of your list.
Known as the 'Paris of the East' or 'Little Paris', due to its French-influenced Art Nouveau architecture, Bucharest has endured tough times throughout the twentieth century.
But now, it's very much a city on many travelers' radars. One of the major cities in Romania, Bucharest has vibe and charm by the bucket load.
You'll find lots of coffee shops and bars in many revived neighborhoods like the historic Lipscani area.
There's plenty of art, music, and great nightlife to soak up in Romania's commercial and economic hub.
A striking landmark is the Palace of Parliament. Built during the communist era, this impressive structure is now home to the government.
The Old Town is an excellent place to unearth some of the city's hidden gems. It's one of the highlights of this Romanian city.
And when the sun's shining, you must spend some time soaking up the rays in one of the city's many parks. King Michael I Park has lots of woodlands and a beautiful lake.
The biggest city in Romania is full of fun, nature, and memorable experiences. A great place to start your Romanian adventure.
2 – Brasov
Brasov is my favorite city in Romania. It's amazing both in the summer and in the winter.
Located in the Transylvania region, nestled amid the Carpathian Mountains, this historic Romanian city looks like a setting straight out of a fairytale.
Brasov's beautiful Gothic architecture plays host to a range of cafes, bars, and restaurants.
If you enjoy a little history and culture, visit Casa Sfatului, a converted town hall that's now a museum. The St. Nicholas Church is also a sight to behold.
It's location by the mountains make it ideal for outdoor adventures all year round. In the winter, you can ski along the slopes at the nearby alpine resort.
And in the summer, you can hike and trek in the surrounding areas. Brasov is one of the best cities in Romania to visit all year round.
3 – Timisoara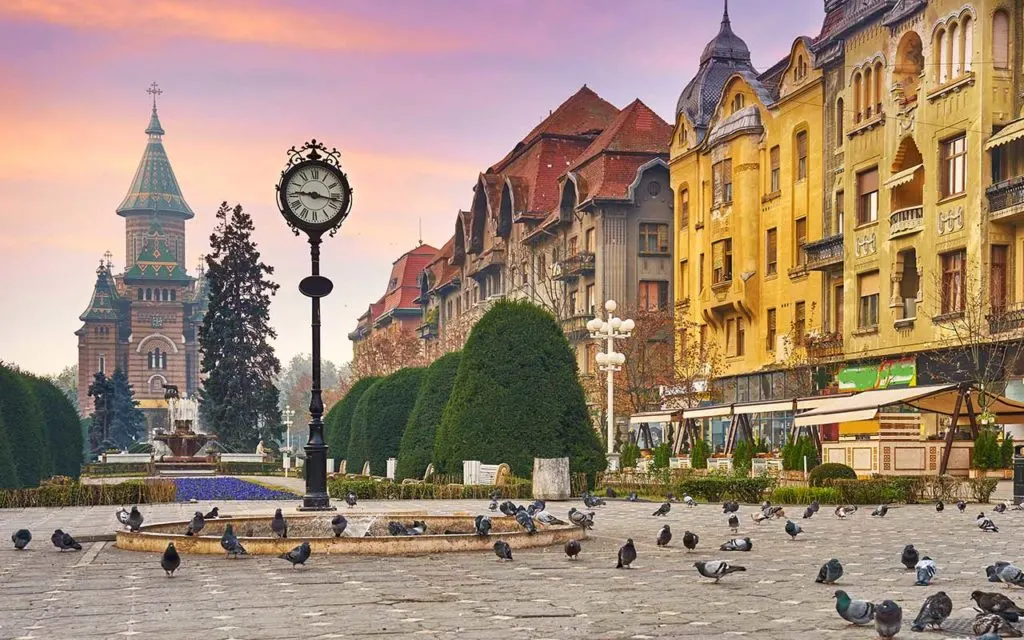 Timisoara is a charming city, in the west of the country. Roman, Tatar, and Turkish culture have all influenced Romania's third-largest city.
Both Victory Square and Union Square play host to lots of quirky cafes and restaurants, and the city's nightlife is vibrant.
If you enjoy the arts, theatre, and music, there are plenty of interesting performances and galleries to choose from.
Its mild climate means you can visit all year round. It's a wonderful city to explore on foot.
Wander through the cobbled streets and you're likely to find plenty of interesting things to do. A must-see city in Romania.
4 – Sibiu
Voted a Cultural European Captial in 2007, Sibiu is a fascinating place to visit.
Located in Transylvania, it was built as a fortified town in the Medieval Ages. Its fortified church towers very much define its beautiful appearance.
You can experience a little history exploring the old towers and forts, and there's plenty of interesting museums and historic churches to visit.
There are also lots of festivals and exhibitions throughout the year. The International Theatre Festival is one of the most well-known.
Its diverse heritage has lent itself well to some unique and delicious food. For foodies, Sibiu is one of the top cities in Romania.
This can be found throughout the city in many restaurants and gastronomies.
5 – Cluj Napoca
Located about a 6-hour drive from Bucharest, Cluj Napoca is known as the capital of Transylvania.
It's a young, energetic Romanian city, with a buzzing nightlife.
Particularly during the summer, it plays host to a wide range of electronic and alternative music festivals.
The city has a large student population, and it has plenty of choices when it comes to tasty craft beers, wine, and cocktails.
The bars are fun and quirky, and the clubs are full of energy and great music.
For clubbers and festival-goers, the music scene makea Cluj Napoca one of the cities to visit in Romania.
Away from the drinks and bustle, Cluj Napoca does have lots of nature if you just want to relax and unwind.
Central Park and The Botanical Garden are just two of many green areas in the city. These are perfect places to spend a warm afternoon in the sun.
6 – Oradea
Another gem in the Transylvania region, Oradea is right next to the Hungarian border.
The Austro-Hungarian Empire's influence is present throughout the city, in its baroque buildings and diverse food.
The Crișul Repede river peacefully runs through the energy and liveliness of the city.
Its also one of the most beautiful cities in Romania. For this reason, many people even call Oradea 'Le Petit Paris', or 'The Little Paris'.
Some of its interesting and beautiful landmarks include the Black Eagle Palace and the Oradea Fortress.
There's also lots of delicious food and fun shows to discover between its fortress walls and cobbled streets.
Oradea is unqiue and steeped in a rich history. It's one of the most underatted cities of Romania.
7 – Constanta
Constanta is Romania's largest port. It's a proud Romanian city, staring out at the vastness of the Black Sea.
A popular city in Romania during the summer season, Romanians and tourists flock to the coast during the summer.
The Roman, Turkish, and Greek influence throughout the city is clear to see. This makes Constanta a cultrally rich city of Romania.
Naturally, spending your time soaking up rays on the beaches is a relaxing way to spend your time here.
But the city offers so much more than your standard beachside town. The Old Town is home to lots of charming restaurants, cafes, and markets.
Many of the nightclubs and festivals can be found right on the coast, overlooking the water.
If you go during the off-season, you can enjoy all the wonders of this gorgeous little coastal city without the crowds.
8 – Suceava
Suceava is a Romanian city that's full of interesting history and culture. It's a prime example of how beautiful Romania is.
Located in the Bucovina region, there's an incredible spectrum of historical buildings in the city.
These include Saint George's Church, itself a UNESCO World Heritage Site and the beautiful structures of the Zamca Monastery and Mirauti Church.
Zamca Monastery is just one of several beautiful painted monasteries you can visit.
This man-made beauty fuses with the vibrance and green of the beech forests to create a truly unique and colorful Romanian city.
You can spend hours simply walking through, enjoying the beauty. Photos of this Romanian city simply don't do it justice.
Many of these historic places play host to lots of workshops, teaching skills passed down from generations.
These include painting eggs, wood carving, and carpet weaving.
9 – Targu Mures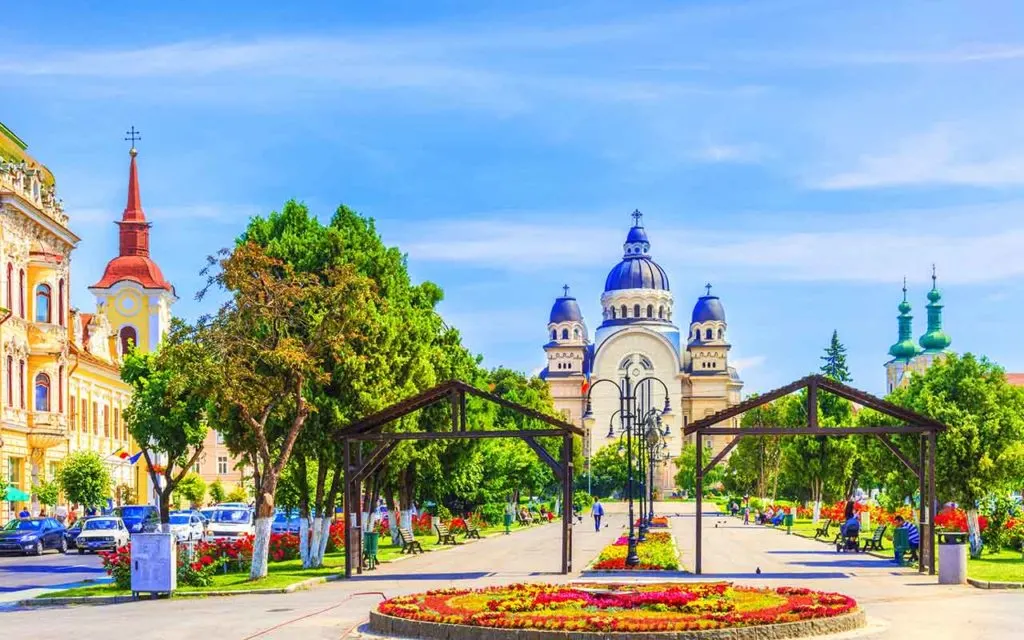 A Romanian city with a rich history and colorful architecture, Targu Mures is another of Transylvania's hidden gems.
Beauty emits from so many of its stunning landmarks, the Palace of Culture being one of many examples.
Delight and charm bubble between the fortified walls. This city's landmarks are some of the most beautiful in Romania.
Head down to the Square of the Roses to see plenty of wonderful landmarks. They define this magical city of Romania.
At the square, you'll also find lots of cafes and restaurants. These serve the city's unique fusion cuisine, which is very delicious.
Culturally, the city is also a great place to start exploring Székely Land; an area of Romania with a deep Hungarian influence.
Targu Mures is one of the must-visit Transylvania cities. It's plays home to a fascinating landscape.
10 – Sighisoara
The pastel-colored houses and winding cobbled roads of Sighisoara capture the hearts and imaginations of so many tourists.
This quaint and beautiful Romanian city should be on the list of cities in Romania for anyone to visit.
Although you may never have heard of Sighisoara, you'll probably be familiar with what it's famous for.
The UNESCO-protected little city is the alleged birthplace of Vlad Tepes.
Known more commonly as Vlad the Impaler, and renowned globally as Dracula.
Plenty of quirky little shops and souvenirs pay homage to the world-famous vampire.
Sighisoara is rich in history and awash with color. You can spend hours, wandering the streets, discovering cool things, and being in awe of the architecture.
11 – Arad
If you're a fan of film and theatre, you'll love the Romanian city of Arad.
Throughout the year this delightful place plays host to a diverse selection of exhibitions, concerts, and theatre.
Some of the most well-known include the documentary film festival FARAD and the Fall Flowers Symphony festival.
Beyond the arts and culture, Arad is a remarkably beautiful Romanian city.
Its Neo-Renaissance architecture protrudes above the luscious greenery of the parks.
Meanwhile, the Mures River meanders its way through the heart of this historic place. It's one of Romania's beautiful places, without question.
From the glorious Red Church to the wonders of the Confectionery Museum, there's so much to see and do.
Arad is a Romanian city for anyone with a love of history and a thirst for knowledge.
12 – Sinaia
Our final stop on our whirlwind tour of Romanian cities takes us to Sinaia.
Nestled snuggly between the valleys of the Bucegi Mountains, Sinaia sparkles with romance and charm to a stunning mountainous backdrop.
Similar to Brasov, its location makes it ideal for adventure and thrill-seekers.
In the summers, you can hike many breathtaking trails through the mountains.
And in the winters, skiers flock to the area to hit the snow-covered slopes. It's one of the best Romanian cities to ski at.
If you're not too outdoorsy, this Romanian city's green parks, cozy cafes, and glorious architecture gives you plenty to embrace and enjoy.
Beautiful Romanian Cities Summary
Not finished exploring these wonderful Romanian cities? Take a magical tour through eight of these Romanian cities below.
Romania has something for everyone. It has luscious valleys, a beautiful coastline, and some incredible cities.
From the major Romanian cities to the landscape Romanian cities, all offer a unique experience.
Bucharest being the capital city, naturally, is a great place to start. It's a cosmopolitan city with plenty to see and do.
If you can, head north into the mountains or east toward the coastline. Up north, the Transylvanian cities are full of beautiful scenery and adventure.
Romanians will argue their city is the best place to live in Romania. Each place is so charming and rich with culture, you'll quickly see why.
The photos of Romania don't do any of these places justice. They simply have to be seen to be fully enjoyed.
Looking to book your trip to Romania*?
Check out the following services for booking your trip to Romania. Whether you're looking to rent a car in Europe or fly into one of the major Romanian cities, these services can help you out:
You Might Also Like to Read
Save "Cities to Visit in Romania" to Your Pinterest Boards
That way, you'll have this article on-hand for your next trip to Romania. The cities of Romania are all special in their own right, and all are worth visitng.
---
---