This post may contain affiliate links, meaning if you book or buy something through one of these links, we may earn an affiliate commission at no additional cost to you. Learn more
Whether you are a beginner on the slopes or an avid winter sports enthusiast, these cool skiing gadgets and gifts for skiers and snowboarders can go a long way to enhancing your next trip to the slopes.
From innovative safety accessories to some downright stylish ski and snowboard gear, there are plenty of products on the market to help you hit the slopes in style and with confidence.
Get ready to take your attire to a whole new level, as we dive in and look at 30 of the coolest gadgets, gear, and gifts for both avid and beginner skiers and snowboarders.
Cool Gadgets, Gear, and Gifts for Skiers and Snowboarders
Cool Ski & Snowboarding Gadgets & Gifts
1 – Air Boot Dryer
Check Price on Amazon
Any skier or snowboarder will know the pain of having to put wet socks or boots back on because hanging them on the radiator didn't give them enough time to dry.
An air boot dryer is an essential gift many skiers and snowboarders won't know how they lived without.
Specifically designed to hold and dry deep boots and cold-weather gear, air dryers are ideal for anyone hitting the slopes for more than a day or two.
2 – Hand Warmer
Check Price on Amazon
Hand warmers are a simple but cool skiing accessory to give to any winter sports enthusiast.
By simply holding the device, hand warmers help skiers and snowboarders dry their hands quicker and faster, ready for them to hit the slopes again.
3 – Multi-Sport GPS Smartwatch
Check Price on Amazon
For skiers who race or ski seriously, a smartwatch could be a great gift to help track their progress and hit their goals.
Smartwatches for winter sports offer a range of features. These include music streaming, navigation, and key measurements like hemoglobin blood levels.
4 – GoPro Hero
Check Price on Amazon
A cool skiing gadget for both beginners and advanced skiers, capturing journeys through the snow is a wonderful pastime to get into.
GoPro is a tried and trusted camera for outdoor activities. Armed with a range of accessories, your friend or loved one can film hours of footage of themselves doing what they love on the slopes.
5 – Earbuds
Check Price on Amazon
Whether it's music to charge you up or soothe you as you ski, earbuds could be a great piece of snowboarding gear for a friend or loved one over the holidays.
These earbuds are designed to fit snuggly in your ears with a ski helmet on. They are easy to use and ideal for skiers and snowboarders who love to listen to music while on the snow.
Essential Gadgets & Gifts
6 – Avalanche Air Bag
Check Price on Amazon
Not only a great cold-weather bag for skiers and snowboarders, but a built-in avalanche airbag could also be a lifesaver for anyone who enjoys hitting the mountain slopes.
This is an essential piece of skiing or snowboarding gear and a simple, great gift for a friend or loved one who is planning to go on a ski trip soon.
7 – Mini Satellite Communicator
Check Price on Amazon
Looking for a great skiing gadget that's ideal for skiers who venture away from busier slopes? A mini satellite communicator has everything they need to stay safe and on course.
Complete with GPS tracking and weather monitoring, mini satellite communicators also allow the user to send messages and SOS calls if they run into trouble.
This is not only a smart skiing accessory, but it could also help keep a friend or loved one safer on the slopes.
8 – Tracker Beacon Transceiver
Check Price on Amazon
For skiing enthusiasts heading out into the backcountry, a tracker beacon transceiver is an essential piece of gear they should carry with them.
Small and compact, avalanche beacon transceivers allow them to be located via radio signal should the weather start to get worse.
Best Ski & Snowboarding Gift for Couples
9 – Walkie Talkies
Check Price on Amazon
Walkie-talkies are a great way for you and your partner to stay in touch while out skiing or snowboarding together.
Simple to carry and easy to use, there's also a real romantic feel to speaking to each other while you're out on the slopes.
Cool Ski & Snowboarding Gear
10 – Goggles
Check Price on Amazon
Treat a ski-loving friend or loved one to a brand new pair of goggles before their next trip, and see their eyes light up.
Ski goggles have come a long way from the cumbersome goggles skiers used to wear only a couple of decades ago.
Frameless goggles are lighter and cause far fewer marks and irritation on the skin. Plus, the built-in UV protection helps keep your face safe from too many rays.
11 – Heated Gloves
Check Price on Amazon
Heated gloves are a dream for any skier or snowboarder who spends lots of time out on the slopes.
Powered by a simple lithium battery, these heated gloves give anyone who wears them the option to heat their cold hands at different temperatures.
These gloves are a great skiing gift for both novice and seasoned skiers and snowboarders.
12 – Ski Jacket
Check Price on Amazon
There's something just magical about receiving a thick, warm, comfy jacket from a loved one as a gift.
Skiing jackets are an essential part of any winter sports enthusiast's attire. They both keep the rain and wind out and plenty of body heat in.
Good brands to look for include Arc'teryx, Patagonia, and Helly Hansen.
13 – Ski Mask
Check Price on Amazon
Skiers and snowboarders often need to cover all parts of their faces from the cold, not just their eyes.
Ski masks fit comfortably under ski helmets. It is a simple yet thoughtful gift for skiers, and it is perfect as a smaller present or stocking filler due to its size.
14 – Ski Socks
Check Price on Amazon
Ski socks need to do far more than keep your feet warm. They need to be comfortable, breathable, and dynamic.
Ski socks are also optimized for speed and performance, and they work in a similar way to compression socks.
A seasoned skier or snowboarder will never have enough socks, so this could be an ideal skiing accessory to give as a gift.
15 – Foot Warmer
Check Price on Amazon
Any skiing accessories that help keep your feet warm are going to be a hit for plenty of skiers and snowboarders.
Foot warmer insoles simply slide into a skier's boots. From there, they can get several hours of added warmth and heat on their feet. Ideal for long stints out on the snow.
16 – Helmet
Check Price on Amazon
Snow helmets come in many shapes and sizes. As with plenty of essential skiing or snowboarding gear, today's market offers many opportunities to improve and upgrade your attire off-season.
Smith snow helmets look sleek and dynamic, and they come in a wide range of bright colors. Ideal for any skier or snowboarder looking to improve their weathered, older gear.
17 – Boot Bag
Check Price on Amazon
Ski boots and shoes can often be a nightmare to pack. Their robust size means the boots take up a lot of room, and there's often lots of snow and moisture.
A boot bag could be the gift a beloved skier has been waiting for. Designed to separate boots from your other gear, boot bags compartmentalize any skier's attire very well.
Functional and stylish, this is one of the best skiing accessories you could get a skiing enthusiast who struggles to pack their boots without mess and difficulty.
18 – Ski Bag
Check Price on Amazon
Stylish, compact, and functional, ski bags are one of any skier's most trusted pieces of gear.
Anyone who skis frequently will be the first to tell you the toll and strain it can take on expensive gear.
Hence, it's worth getting bags and equipment built to deal with plenty of rough and tumble.
19 – Snowboard Bag
Check Price on Amazon
Just as with skiers, snowboarders also need a sturdy and stylish bag to keep their trusted snowboard safe for travel.
Plenty of snowboard bags also come with lots of features and pockets to carry a wide range of gear.
If you know a keen snowboarder who has been using the same weathered, old gear for years, this could be the perfect upgrade for them.
20 – Ski & Snowboarding Tuning Kit
Check Price on Amazon
Ski and snowboard maintenance is essential for anyone who wants to stay safe and improve their performance out on the slopes.
Particularly for beginners, the range of products to use can be overwhelming.
A ski tuning and snowboard tuning kit gives you everything you need to wax and tune your beloved boards and skis.
21 – Water Bottle or Hydration Pack
Check Price on Amazon
Staying hydrated while on the slopes is a top priority for all skiers and snowboarders.
Water bottles and hydration packs are ideal essentials to carry with you. Portable water flasks and hydration packs often fit or attach seamlessly to backpacks and other gear.
Budget Ski Gifts, Gadgets & Accessories
22 – Ski and Snowboard Wax
Check Price on Amazon
Looking for a ski or snowboarding gift that's simple and doesn't cost too much? Your beloved friend or gift recipient could always use some more wax.
Wax is an essential all skiers and snowboarders need to keep their equipment clean, efficient, and safe.
Ski wax could be great as a small gift for a skier that you can put in a stocking or buy as a Secret Santa gift.
23 – Bluetooth Beanie
Check Price on Amazon
Bluetooth beanies are a great skiing and snowboarding gift for people of all ages. Plus, there are so many cool and colorful styles to choose from.
With Bluetooth technology in the beanie, you can grace the mountains listening to your favorite music, or talking to friends and family over a call.
24 – Boot Bananas Deodorizers
Check Price on Amazon
Both a fun and practical gift, a deodorizer can really help get rid of bad odors and moisture after a long day out on the sloops.
These boot banana deodorizers look adorable and are ideal stocking fillers or fun gifts for a frequent skier.
25 – Personalized Ski & Snowboard Art
Want to really wow a friend or loved one who just adores skiing, snowboarding, and winter sports?
This personalized piece of ski art, courtesy of Patricia Carlin, could look beautiful hanging from the wall of anyone who loves winter sports.
Just gazing at the beautiful illustration of the ski lift is enough to bring the memories of your last ski or snowboard trip flooding back.
26 – Portable Charger
Check Price on Amazon
A portable charger is an ideal piece of gear to have with you. Out on the slopes all day, it's very easy for your phone and devices to die before you can reach an outlet.
Fully-charged, portable chargers can give you hours of additional battery life. They fit snuggly in backpacks, and you can simply plug them in and leave the device to it.
Particularly if you don't ski or snowboard with GPS transmitters and rely on a phone, this could be an essential piece of gear.
27 – Ski Slope Glasses
These ski slope glasses are stylish, beautifully designed, and would look good in any skier or snowboarder's home.
Perfect as a novelty gift or to pack and take with you to ski resorts and trips, there's something so majestic about their minimalist, blue and white designs.
28 – Ski Wine Rack
How cool is this? These ski wine racks are made of reclaimed skis and are perfect for storing your favorite bottles of wine in a fun and unique way.
This is a fun, novelty gift for you or a fellow skier or snowboarder to pay homage to all things winter sports.
29 – Ski Bottle Opener
Another fun, novelty accessory that is an awesome conversation starter for friends and gatherings.
These ski bottle openers are made from recycled parts of a ski. Easily attached to a wall, simply kick back and open up a couple of cold ones in good company.
Best Family Ski Gifts
30 – Ski Board Game
Check Price on Amazon
Finally, if you as a family enjoy taking trips to ski resorts or the mountains, you'll need plenty of ways to entertain yourselves in the evenings once the slopes close.
Ski Run is a brilliant and fun ski-themed board game that can entertain people of all ages.
After a long day on the slopes, nothing beats cozying up with the family, having a drink, and laughing the evening away playing a fun board game.
Gifts for Skiers and Snowboarders Summary
When it comes to skiing or snowboarding, there is a real sense of camaraderie and community among those who do it often.
Plus, there's a real incentive to invest in gear and accessories that go above and beyond to make both activities safe, enjoyable, and exhilarating.
From the essentials to the novelty items, there are plenty of ideas here to inspire you to find the perfect ski-themed gift for a fellow winter sports lover.
Wherever your next ski trip takes you, many of these gadgets and accessories could be the perfect addition to your winter sports gear.
Or, brighten up your life or a fellow skier's life with some of the fun and novelty accessories for the home, and get inspired by some of these best gifts for skiers.
You Might Also Like to Read
Save and Pin for Later
Keen to get one of these cool skiing and snowboarding gadgets as a gift for someone in time for the holidays? Keep this list safe by saving it to one of your Pinterest boards.
---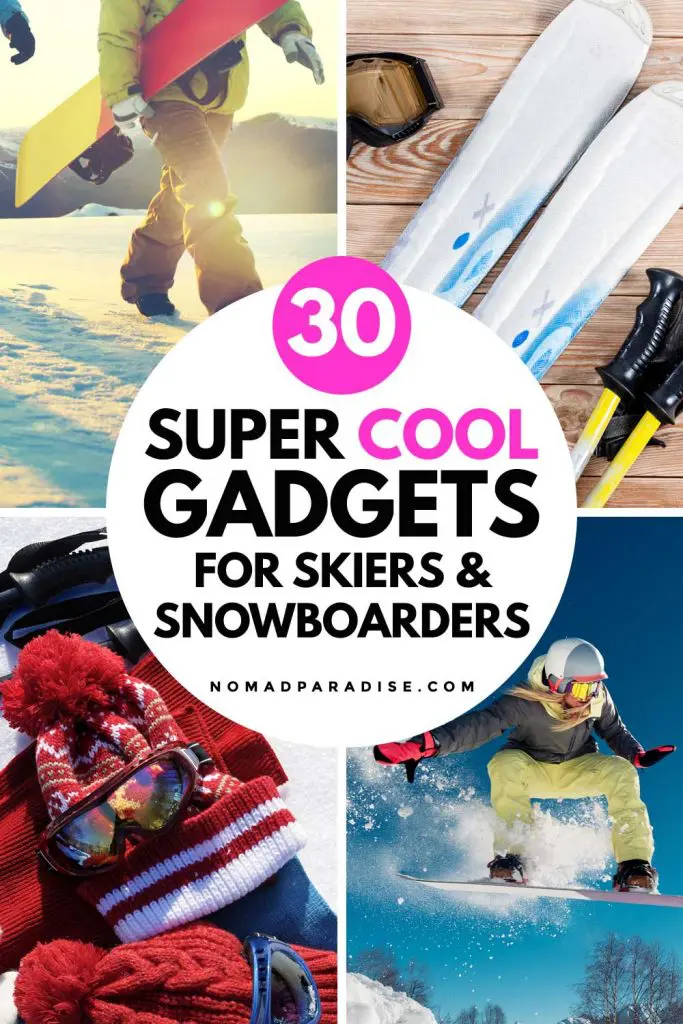 ---
Author: Dale Johnson is a content creator, strategist, and full-time digital nomad as of 2016. He is passionate about outdoor sports and endurance events, and he is always looking to try new and enhanced tech and accessories.
Non-product images licensed via Shutterstock