This post may contain affiliate links, meaning if you book or buy something through one of these links, we may earn an affiliate commission at no additional cost to you. Learn more
A travel binder printable is a simple and effective way to make sure your trip runs smoothly and nothing important is overlooked.
At the end of the day, you don't want to spend your time on your trip stressing or looking for information. You want to spend your time having fun!
Our travel binder printable has over 30 pages of charts, lists, and schedules to help you organize and plan the perfect trip away!
Travel Binder
Introduction
Our organized travel binder covers a broad range of planning, details, and considerations.
Your binder will be delivered as a digital PDF. All you have to do is open the file, and print out as many of the individual pages as you like.
Maybe you're a lover of travel journaling. Or maybe you like to create multiple packings lists.
Whatever your preference, you can use any of the pages in the binder as many times as you like. That way, you can create a travel binder that's perfect for you.
This video shows you all the pages available to print in the binder.
What Pages Are Included
Here's a list of all the pages included in your travel binder printable:
Bucket List
Trip Savings Tracker
Travel Budget x2
Destination Ideas
Pre-Travel Checklist
Wardrobe Planner
Custom Packing List
Packing List for Him
Packing List for Her
Destination Overview
Flight Details
Accommodation Details
Car Rental
Travel Details
Attraction Details
Foods to Try
Language Phrases
Research Notes
Daily Schedule
Week at a Glance
Month at a Glance
Souvenir List
Photo and Video Checklist
Travel Journal x4
Notes
Emergency Contact List
SHOP NOW
Travel Binder Structure
In order to cover all stages of planning a magical trip away, we have designed pages for the following five stages of travel:
Inspiration and Finance
Packing
Trip Essentials
On-Trip
Personal
Here's how you can use the travel binder pages for each phase.
Inspiration and Finance
This is your first phase. Your dreamer's phase. You know you want to go away, but maybe you don't quite know when are where.
Here, the bucket list and destination ideas pages can help you journal and jot down ideas for your perfect getaway.
Once you have destinations and dates in mind, you can then use the trip savings tracker and travel budget pages.
These will help you set financial goals and save the money needed to to pay for your trip. They will also give you an excellent idea of the total cost of everything.
Packing
Once your trip has been booked, a few days, weeks, or months down the line, you can start using our packing pages.
This section contains your pre-travel checklist, wardrobe planner, and three types of packing lists.
These pages you will fill out before you leave for your trip. In this section, you can make sure you pack everything you need.
This includes clothes, accessories, equipment, and all important documents. If you're looking for packing list inspiration, our pre-filled his and hers packing lists will cover the basics. You can then add extras.
Trip Essentials
These pages will help you document the important and relevant information you need to have on-hand before you fly and when you arrive at your desired location.
Your flight, accommodation, car rental, and travel details are all filled in on these pages. That way, you can quickly access this key information, and don't need to search through your luggage or inbox for print outs or emails when at a check-in or reception desk.
The destination overview page you can use to fill in some helpful information about your destination. Even though it's a good idea to download Google maps for offline use on your phone, it is still an excellent idea to have your itinerary and potential destinations recorded and written down
On-Trip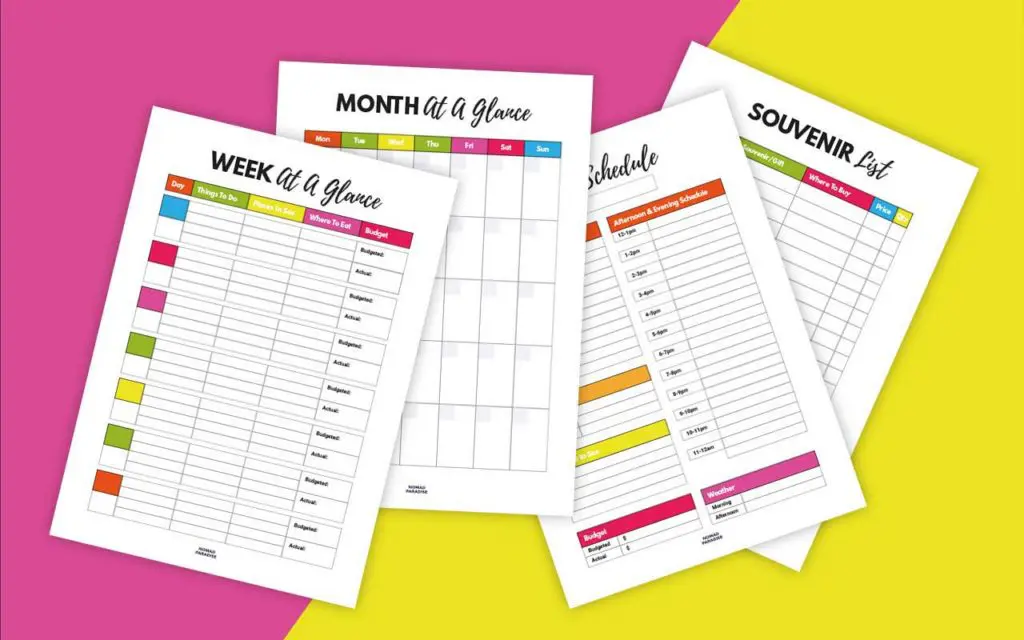 These pages are your most fun pages. They allow you to plan and organize all the amazing activities and sights on your vacation.
You can use the daily, weekly, and monthly schedules to plot all the fun things you plan to do on your trip.
The language phrases page can give you prompts for key phrases if you're going to a non-English speaking country.
The attractions and food pages you can fill with all the fun things you want to do and delicious foods you'd like to try.
Personal
Lastly, the personal section pages are just for you. This section includes your travel journal and notes pages.
You can use these pages like a diary. The travel journal have space for you to write and doodle, depending on what you prefer.
Finally, your emergency contact page will give you peace of mind, just in case you do need medical help on your vacation.
SHOP NOW
Travel Binder Summary
From your first dollar saved to the point where you're flying home, it pays to be organized. A travel binder printable can give you all the support and details you need to plan and organize the perfect trip away.
That way, you'll always be in control. You'll always have important information on hand, and you'll make the most of your time.
Whether you're fresh out of college and going on an epic backpacking trip, or giving the family and kids a much needed vacation after a busy spring period, travel binders are a powerful tool you can use to keep yourself organized, safe, and in control, no matter where your travels take you.
Wherever in the world you go next, we hope you have a wonderful time!
Save and Pin for Later