This post may contain affiliate links, meaning if you book or buy something through one of these links, we may earn an affiliate commission at no additional cost to you. Learn more
A state renowned for its breathtaking geography and passion for adventure in the great outdoors, these Wisconsin foods are the very epitome of all that is magical about this beautiful state.
Come snowy winter afternoons or warm summer evenings, food has been bringing Wisconsinites together for generations, fuelling us for exploring the vast forests and mountains or bringing us together in a state of solidarity before the big game.
When you visit Wisconsin, be sure to seek out and try as many of these 19 foods and drinks as possible for a truly authentic taste of this vast, green, and exciting place.
Foods and Drinks to Try in Wisconsin
Appetizers, Soups, and Sides
1 – Squeaky Cheese Curds
Check Price on Amazon
Squeaky cheese curds are one of the most beloved snacks across the state of Wisconsin. Typically found on the checkout counter of nearly any gas station or neighborhood grocery store, the slightly salty, mildly flavored morsels of cheese are most enjoyed when stored at room temperature to maintain their signature "squeak" when bitten into.
Cheese curds are formed during the cheesemaking process, most often from cheddar, and are typically white or orange in color. Unlike traditional cheeses, the curds are not aged.
Due to the nature of the young cheese, the flavor is much milder than a hard cheese like sharp cheddar. Squeaky cheese curds are best consumed within five days of when they are made.
Related: Best Canadian Foods You Simply Need to Try
2 – Deep Fried Cheese Curds
Slightly crispy, warm, and gooey, the deep-fried cheese curd is well deserving of its popularity in Wisconsin.
Deep-fried cheese curds are made by tossing fresh cheese curds in a beer and flour batter before being deep-fried to a delightful golden brown color and finished with a sprinkle of salt.
Deep-fried cheese curds are commonly offered as an appetizer or side dish at bars and restaurants across the state and served with a generous side of ranch dressing.
Though the traditional white and orange cheddar byproduct is most common for deep-fried cheese curds, some eateries have offered unique flavor options such as hot and spicy, parmesan garlic, and dill.
3 – Beer Cheese Soup
Beer cheese soup is a rich, thick, and creamy dish that beholds some of the most highly adored flavors of Wisconsin foods. Originally served in Medieval Europe, traditional beer soup was simply made by thickening beer with stale bread and egg yolks over heat.
In time, cheese, spices, onions, and other ingredients were added to bring forth what is now known as a classic comfort dish in Wisconsin. Long and cold winters have led to beer cheese soup being served and enjoyed regularly as a hearty appetizer or a filling main course.
The staple soup is made by first sauteing vegetables such as onions and carrots, followed by adding flour and broth to create a thick, toasty roux. The mix is then blended to achieve a smooth consistency, while the cheese of choice is added slowly at low heat to ensure even melting. Once the cheese has been added and melted, a light-tasting beer is mixed in to finish the soup.
4 – Summer Sausage
Check Price on Amazon
This snacking sausage is paired with sliced cheeses, crackers, bread, and anything else that might be found on a cheese board.
Both hunting and agriculture have been largely prevalent in the state of Wisconsin throughout history and remain popular today. When an animal is harvested, many individuals are provided with the more "desirable" cuts of meat, while the remainder is best used in a ground form.
Summer sausage is one way for any ground meat to be made into a delicious snack. Although any family or meat market that makes sausage is likely to have a recipe that has been passed down through generations, summer sausage is largely recognized for its tangy taste. This is due to the fermentation process of the meat, as well as the added spices, most often including mustard seed, garlic, and black pepper.
5 – Morel Mushrooms
Between the rich, buttery flavor, and the difficulty and knowledge needed to find morels in the Northwoods, the morel mushroom is considered to be somewhat of a Wisconsin delicacy.
Morel mushrooms are unlike any mushroom that can be purchased in a store. The flavor can be described as nutty and creamy, and the texture more closely resembles that of meat than the slimy quality that is often bestowed upon other mushroom varieties.
Because the morel mushroom is such a highly sought-after treat, it is common for them to be simply fried in a pan with a spoonful of butter. However, many recipes that use morels have been developed through the years, including soups and roasts.
Mains
6 – Supper Club Dinner
The supper club is a dining experience that withholds memories and nostalgia for all who have ever resided in the state of Wisconsin.
Milwaukee Wisconsin native, Lawrence Frank, is acknowledged to have established the first supper club in the state of California. While supper clubs are scattered sporadically throughout the United States, over 300 are operated in Wisconsin alone and are arguably the most favored establishments for events ranging from company holiday dinners to relaxed family dining.
Supper clubs are adorned with a dimly lit, woodsy-cabin decor style that is widely recognized as a discrepancy from that of a normal restaurant. Though menu options are somewhat limited, rest assured that each dish offered has been perfected through generations of family ownership.
Most supper clubs offer similar menu options: steaks, chicken, fish, and prime rib, all served with a choice of potato. Before entrees are served, an open soup and salad bar is enjoyed by all guests, featuring typical salad, toppings, and dressing options, cheese spreads with crackers, freshly baked bread, and one or more homemade soup options.
Following dinner, boozy ice cream drinks such as the Grasshopper and Brandy Alexander are commonly served.
7 – Friday Night Fish Fry
It would be a rare occurrence to stumble upon any food-serving establishment in Wisconsin that does not offer a weekly fish fry on Friday nights.
The classic meal typically consists of a white fish such as haddock or cod that has been coated in a beer batter and deep-fried to crispy perfection. The breading is light so as not to take away from the delicious, flaky fish within.
A traditional Friday night fish fry will almost always be served with some form of potato, buttered rye bread, coleslaw, and tartar sauce. If desired, the Friday dish is notoriously paired with a brandy Old Fashioned.
8 – Boo-yah Stew
Boo-yah stew is a favorite winter meal, and because the stew is typically cooked in extremely large quantities, many have turned making boo-yah into an event rather than just a simple meal.
At the core, boo-yah is a humble chicken and vegetable soup. It is cooked over an open fire outside in batches so large that many people use custom-made, cast-iron pots large enough to meet the demand.
Whether inspired by the cold temperatures of Wisconsin, the camaraderie of the gathering, or the amount of work that is required to make gallons of boo-yah stew, the end product is always a delicious, flavor-filled, soul-warming bowl of soup that is well worth the wait.
9 – Venison Back Straps
Venison, or the meat from a deer, particularly from the back straps, is a less popular dish these days but is almost a guaranteed way to leave Wisconsin locals satisfied and filled with joy.
In rural, wooded areas of the state, the deer hunting season is celebrated as if it were a holiday. Hundreds of thousands of individuals participate in the annual week-long tradition, donning their warmest winter gear and waiting for a trophy deer to pass by them. When a hunter is successful, venison back straps are commonly cut and cooked fresh on the same day of the harvest.
Venison back straps on their own are very lean and are typically made into small steaks, breaded, or left on their own, and fried in a pan with onions. The flavor of fresh venison back strap is not easily compared to any more commonly prepared meat but could be described as earthy and rich.
Because of the low-fat content in venison, it is less juicy than a beef steak but not dry. Like many Wisconsin dishes, venison is often served with buttered bread and some form of potato.
10 – Beer Brats
From Green Bay Packer game tailgates to fundraisers to summer barbecue parties, the beer brat is a crowd pleaser that is sure to be found at any Wisconsin event.
While bratwurst does not originate in Wisconsin, it is one of the most popularly consumed foods in the state. The preferred flavor and brand of bratwurst is first boiled or marinated overnight in a light-flavored beer and finished on the grill.
The casing of the bratwurst develops a light, crispy char before being served on a bun with preferred toppings such as grilled onions, sauerkraut, ketchup, mustard, and relish.
Related: 18 German Foods You Need to Try
Juicy, tender, and packed with flavor, the iconic Wisconsin butter burger is an absolute must-try food. The butter burger is a staple menu item of Wisconsin's most beloved fast food restaurant, Culver's, but can just as easily be prepared and enjoyed at home.
The method of making a butter burger is just as it sounds, consisting of adding butter on top of a beef hamburger patty toward the end of the cooking process, which ensures that the burger will be rich and juicy, even after the fat from the ground beef is cooked off. Naturally, cheese is melted atop the burger, and any additional desired toppings can be added and devoured.
Read more: Butter burger recipe
12 – Poor Man's Lobster
Poor man's lobster is, in fact, not lobster at all, but rather a delicate, flaky, white fish filet, seasoned and served with melted butter for dipping.
The dish is usually made using baked cod fish, recognized as a lighter version of its deep-fried counterpart that is traditionally served on Friday nights. Originally the meal was created in an attempt to mimic the flavor of lobster, however, is now enjoyed wholly for what it is.
Poor man's lobster is served with a choice of potato and other complimentary sides that are normally offered with a fish fry. The simple meal is filling comfort food with a satisfying buttery, flaky nature.
Desserts
13 – Kringle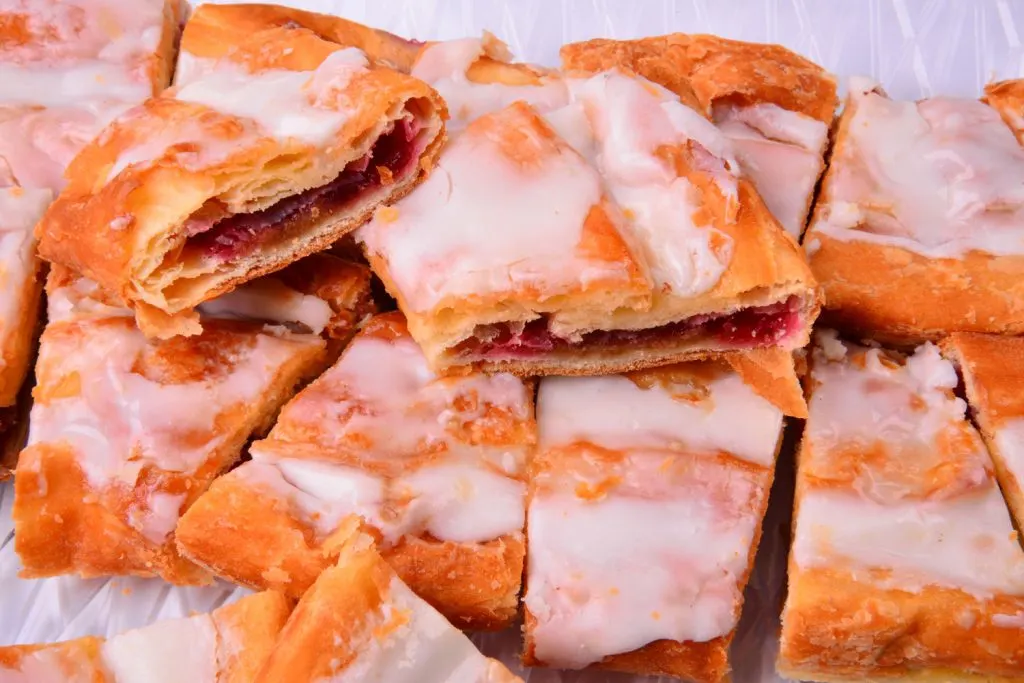 Sweet, flaky, and with so many flavor varieties, Wisconsin-made kringle is enjoyed as a snack, dessert, and even as a breakfast item to compliment a hot cup of coffee.
The kringle is a baked good that originates in Denmark, but over the years, gained many fans in Wisconsin.
Potentially the most well-loved variant found in the state is the Sea Salt Caramel Pecan Kringle, made by the award-winning Uncle Mike's Bake Shoppe in the city of Green Bay. However, kringles can be purchased at many bakeries and grocers in Wisconsin.
The pastry is made from a dough using loads of butter, and many layers are folded before being baked, resulting in a light and crispy baked good that is then topped with icing.
Depending on the chosen flavor, nuts, fruit spreads and jams, chocolates, caramel, sweet cream cheese, and other toppings are often added. There are really no rules for what a kringle can be topped with, so some places even offer kringle topped with maple icing and bacon.
Related: 20 Popular Danish Foods You Need to Try
14 – Cream Puffs
The Wisconsin State Fair is highly regarded for its mass production of handmade cream puffs. The sweet treat consists of two light and airy pastry-style buns, with fresh whipped cream sandwiched between and finished off with a dash of powdered sugar.
While it is relatively unlikely that you will find a fresh cream puff at an average store or bakery in the state, nearly every Wisconsin resident has tasted or, at the very least, heard of this popular confection being served annually at the State Fair.
Light enough to enjoy in the hot summer sun but just sweet enough to satisfy a sugar craving, Wisconsin State Fair Cream Puffs are worth a trip if the opportunity is presented.
15 – Blue Moon Ice Cream
The flavor of blue moon ice cream is one that is difficult to explain but similarly hard to forget. The bright blue color of the ice cream is truly what sets the flavor apart from others that surround it in the ice cream chest and sparks the interest of children, and many adults craving a taste of their youth.
There is no true answer to what the flavor of blue moon ice cream is. Some find it to be a combination of citrus and vanilla, while others say the flavor is like almond extract. Personally, I believe it tastes like fruit loops mixed with vanilla ice cream, but even that is an understatement!
Regardless of where one stands on the flavor debate, blue moon ice cream is an iconic flavor that has been enjoyed through many generations.
16 – Frozen Custard
There is a wall of defense built and ingrained into the souls of those individuals who have tried frozen custard and find themselves needing to defend the frozen dessert's superiority to traditional ice cream.
While the recipe for frozen custard is made similarly to ice cream with milk, cream, and sweetener, egg yolks are the additional ingredient that is added to set custard apart. When the egg yolks are added to the mix, the result is a thick, creamy, rich, frozen dessert.
Like the butter burger, the Wisconsin-born fast food restaurant Culver's is well known around the state for serving up chocolate and vanilla frozen custard by the scoop or adding candies, cookies, fruits, and nuts to create your own custom Concrete Mixer.
17 – Wisconsin Maple Syrup
Check Price on Amazon
While maple syrup is well known in most states and several countries around the world, it could be presumed that inside the refrigerator of every Wisconsin home, one or more bottles of homemade, real maple syrup can be found.
Unlike the viscous, artificial variation that can be found on the shelves of a grocery store, real Wisconsin maple syrup is a runny, golden-brown liquid with perfectly balanced notes of sweetness and smokiness.
Every year, many families throughout the state partake in some part of the maple syrup-making extravaganza. After the watery maple sap is collected, it is boiled slowly over an open flame. As the water evaporates from the sap over time, the liquid thickens, eventually resulting in the desired sweet and sticky syrup.
Related: 16 Popular Canadian Foods You Simply Need to Try
Drinks
18 – Wisconsin Brandy Old Fashioned
A tough lesson is learned and never forgotten for a Wisconsin native who visits another state and orders an Old Fashioned with their favorite, familiar cocktail in mind. While an Old Fashioned in its purest form is a widely recognized beverage in the states, the Wisconsin Brandy Old Fashioned is set apart from the rest.
The cocktail is made by using a muddler to crush oranges and maraschino cherries, adding a few splashes of bitters, followed by a good quality brandy, and topped off with sweet or sour soda, depending on the preference of the drinker. The drink is finally garnished with green olives, pickled mushrooms, or oranges and cherries.
The Wisconsin Old Fashioned is balanced with sweetness from the fruit and soda, and a slightly spiced, warm flavor from the brandy. Unlike a traditional Old Fashioned, the addition of sweet or sour soda cuts out some of the strong, boozy punch from the bitters and brandy.
19 – Bloody Mary
Similarly to the brandy Old Fashioned, ordering a Bloody Mary in Wisconsin is much different compared to that of other states.
Bloody Marys are often served in the morning with breakfast, especially after a night out of drinking, as somewhat of a hangover cure. While it is not hard to come by a good bloody Mary in the state, many establishments tend to stake their claim as the beholder of the "best Bloody Mary in Wisconsin." However, like most food and drink, this title is contingent on personal preference.
Bloody Marys are salty, savory, tangy, and sometimes spicy cocktails made with vodka and tomato juice. Because of the cocktail's popularity, most bars and restaurants serve Bloody Marys using their own house-made tomato juice mix with added ingredients like lemon juice, Worcestershire sauce, Tabasco, celery salt, garlic, black pepper, and other seasonings.
The drink is often garnished with pickled items like mushrooms, olives, and asparagus, as well as sausage sticks and cheese. However, some places offer specialty, over-the-top options garnished with things like burgers, slices of pizza, and even entire fried chickens!
Wisconsin Foods Summary
While Wisconsin itself is vast and wild, the people of Wisconsin are bound by a sense of community and love for their home state, and that is very much reflected in the foods and drinks.
The foods and drinks of Wisconsin bring together influences from all over the world, creating dishes that are hearty and energizing, unapologetically indulgent, and absolutely loaded with flavor.
I hope these beloved dishes have got you excited about visiting the state and give you all the energy, inspiration, and total satisfaction you need to go forth and uncover all the fun events and feats of nature this state has to offer.
You Might Also Like to Read
Save and Pin for Later
Planning a trip to Wisconsin soon? Keep these must-try dishes for safekeeping by saving them to one of your Pinterest boards.
Contributor: Monica Marsh is a journalist and content writer, born and raised in a small town in Wisconsin, and deeply passionate about sharing more about the foods, places to visit, and culture of her beloved home state.