This post may contain affiliate links, meaning if you book or buy something through one of these links, we may earn an affiliate commission at no additional cost to you. See our full disclosure here.
Packing cubes sound like a solution to a problem that never existed in the first place, right? Surely just stuffing your suitcase full of clothes and things is all you need to do when packing. Trust me; I used to feel that way. And then I got myself a set of packing cubes, and suddenly, I saw the light!
Whether you're already sold on packing cubes and looking for the best cubes on the market, or are still unconvinced as to whether they're worth the investment, my guide will help clue you up, dispel any myths, and show you the best packing cubes on the market for a variety of scenarios and needs.
If you're ready to start browsing my best 12 packing cube selections on the market, click here.
If you want to find out all there is to know about packing cubes before looking at the products, click here.
Quick Picks
If you don't have the time to read through this article, then fear not. Here are my choice selections to get you to the packing cubes that suit your needs best with minimal fuss.
My Best 12 Packing Cube Picks for Travel
If you're ready to get into the details, then let's take no further time to dive right in and look at the best choices of packing cubes on the market. Just for reference, I've broken down the selections into three categories:
The Best Packing Cubes for Your Suitcase
We start our list with packing cubes ideal for your standard-sized suitcase and long haul travel. These packing cubes, or packing cube sets, will generally be larger, as they need to pack everything you'd need to travel with a suitcase in addition to a carry-on.
1 – Veken 6 Set Packing Cubes
Check Price on Amazon
If you need a strong, durable, and environmentally friendly set of packing cubes, Veken is an excellent place to start. Their set, available in five rich colors, gives you four packing cubes, a shoe bag for an extra pair of shoes or trainers, and a laundry bag to use while you're away traveling. The sizes are as follows:
XL Cube: 17.5" x 12.15″ x 4″
Large Cube: 13.75" x 12.75″ x 4″
Medium Cube: 13.75" x 9.75″ x 4″
Small Cube: 11" x 6.75″ x 4″
Shoe Bag: 16.96" x 9.06″ x 4.72″
Laundry Bag: 20" x 14"
Made from 290D nylon fabric, you get a packing cube set that is thicker than the standard on the market, while also being waterproof. Great if you accidentally spill something inside your luggage, or hit a spot of unforeseen showers. The fabric is also environmentally friendly and will help reduce the creasing of the clothes due to the lack of movement inside the suitcase or carry-on. The laundry bag is also a great addition.
2 – Bagail 6 Set Packing Cubes
Check Price on Amazon
Known in the space as one of the main players, Bagail brings a stylish, luxurious looking packing cube set to the market with their six-piece combination. You get a choice of fifteen delicious colors with a striking dark color rim, and the set consists of six cubes in all. Here are the sizes:
2x Large Cubes: 17.5" x 13.7″ x 4"
2x Medium Cubes: 13.7″ x 9.8″ x 4"
2x Slim Cubes: 13.7" x 5" x 4"
The cubes are composed of high-quality nylon fabric, with reinforced seams to give them a much longer lifespan. The mesh panels allow you to see what items are in which cube easily, and the zippers are designed to deal with multiple opens, lasting for a long time. If you want a spacious set of packing colors, dashed with fun, colorful designs, Bagail is the perfect choice for your suitcase and luggage.
3 – JJ Power Travel Packing Cubes
Check Price on Amazon
A gorgeous selection of pastel colors blesses the durable packing cube set courtesy of JJ Power. Made from premium quality, thick nylon fabric, this packing cube set is robust and won't break at the first sign of strain. For extra durability, they also come double-stitched and lined with easy-pull two-way zippers. The set gives you five cubes and an additional shoe bag. Here are the dimensions:
2x Large Cubes: 17.8" x 13.8" x 4.7"
Medium Cube: 13.6" x 7.8" x 3"
2x Small Cubes: 8.7" x 6.7" 3.2"
Shoe Bag: 12.4" x 7.5" x 4.7"
All in all, you can fit the set snuggly into a suitcase with a 24" or greater capacity. The shoe bag is also big enough to fit two pairs of shoes, so you could easily pack a pair of sneakers and a pair of flip-flops. With twelve delicious colors and patterns to choose from, JJ Power's travel packing cubes will organize your luggage snuggly in style.
4 – eBags Hyper-Lite 5 Piece Travel Packing Cubes
Check Price on Amazon
eBags is another renowned name in the packing cube space, and for good reason. Not only are their cube sets gloriously vibrant to look at, but they're also ridiculously lightweight.
At 0.96 ounces for the entire set, you're barely adding any additional weight to your luggage. No need to break out into a cold sweat at the luggage check-in. With the hyper-lite set, you get five packing cubes altogether. Here's a breakdown of the sizes:
2x Large Cubes: 13″ x 13″ x 3.5"
2x Small Cubes: 6.5″ x 6.5″ x 3.5"
Slim Cube: 13″ x 6.5″ x 3.5"
Consisting of 30D siliconized nylon, you're getting a strong, easily-packable set of cubes, which also come with self-repairing coil zippers and corded pulls. These little gems should last you for decades to come, no questions asked! The innovative frame also allows itself to hold position once it's filled with clothing and items, and the mesh faces allow you to see what's inside, while still being safe and compact behind the fabric. eBags really do have a product for longevity here, and with five vibrant colors to choose from, they'll look fantastic and well-organized in your suitcase.
The Best Compression Packing Cubes and Packing Cubes for Backpacking
Now that we've looked at some of the best packing cubes on the market let's turn our attention to compression packing cubes.
As stated in the 'find out more' section, compression packing cubes use a compression zip, which acts as a one-way pressure valve, to help draw out air and squash everything in as tightly as possible. If you're really tight for space, and you're not too overly concerned about creasing, compression packing cubes will be a great purchase for you.
For backpacking, in particular, where even an inch or two of extra space is most welcome, compression packing cubes are a worthwhile investment. Let's take a look at some of the best compression packing cubes on the market.
Note: L stands for volume in liters, where necessary. This simply means the maximum volume of the bag or cube at full capacity.
5 – Eagle Creek Travel Gear Pack-It Specter Cube Set
Check Price on Amazon
If you're an avid outdoorsy type, you'll need no introduction to Eagle Creek. Their 30D silnylon ripstop three-piece set is as tough as a Redwood, as it's made from material often used for backpacks and tents. The set comes with three cubes, and the sizes are as follows:
Medium Cube: 14" x 10" x 3" and 10.5L
Small Cube: 10" x 7" x 3" and 5L
XS Cube: 7.5" x 4.5" x 2.5" and 1.2L
The silnylon is also water-resistant, so you're clothes will keep dry no matter what spillages or precipitation happen to come into contact with the cubes. The zippers possess an ox-like toughness, the cubes all come with a top handle to carry easily, and there are five elegant colored sets to pick from. For a seasoned hiker or backpacker, you can't go wrong with a set of Eagle Creek specter cubes.
6 – Tripped Travel Gear Compression Packing Cubes
Check Price on Amazon
Composed of ripstop polyurethane fabric, Tripped Travel Gear's six-piece compression packing cube set promises to hold up against even the most torrid of luggage transportation. Using the two zipper system, you can compress the bags down and squeeze your clothes in tightly, giving you a decent amount of additional room in your backpack or luggage. The six piece set consists of the following:
2x Large Cubes: 14" x 10" x 4" down to 14" x 10" x 1" when compressed
2x Small Cubes: 10" x 7" x 4" down to 10" x 7" x 1" when compressed
Laundry Bag
Tube Cube
For a better idea, the small cubes can hold up to 5 women's medium shirts at full capacity, and the large cubes up to 7 men's large shirts. The laundry bag and tube cube are great additions to the set, and you get four stylish color combinations to pick from, as well as a graphical design set if you're looking to purchase something with a little more jazz. For what you pay, you get an excellent set of durable, stylish packing cubes that will slot perfectly into your backpack or suitcase.
7 – Bagail Compression Expandable Packing Cubes
Check Price on Amazon
With Bagail's compression set, you can save up to a whopping 60% of space in your luggage using the exterior extension zipper's excellent compression technique. Behind the smooth premium nylon fabric, your clothes and luggage get the protection of a resolute bodyguard, while remaining wrinkle-free against the softness of the nylon. In the four-piece set, you get the following sizes:
XL Cube: 17.5" x 12.75" x 4"
Large Cube: 13.75" x 12.75″ x 4"
Medium Cube: 13.75" x 9.75" x 4"
Small Cube: 11" x 6.75″ x 4"
They also do a six-piece set, including a laundry bag and tube pouch. Durable, sleek, and wrinkle-free, Bagail once again have shown why they're seen as one of the leaders in this market space. You get a selection of seven striking colors and patterns to choose from, so you can match something to fit nicely with your backpack or suitcase.
8 – Hynes Eagle Travel Compression Packing Cubes 3 Piece Set
Check Price on Amazon
If you're looking for a packing cube set that blends plenty of functionality with ladles-full of style, Hynes Eagle has got your back with their travel compression packing cube three-piece set. Claimed to save you up to 50% extra space when packed tightly and correctly, you get three cubes as part of the set in the following sizes:
Large Cube: 18.1" x 13" x 3.9" compressed to 18.1" x 13" x 1.4"
Medium Cube: 14.2" x 10.2" 3.3" compressed to 14.2" x 10.2" 1.4"
Small Cube: 11.4" x 7.1" x 3.3" compressed to 11.4" x 7.1" x 1.4"
The double zipper design is durable and allows you to zip and unzip with ease. Atop each cube, you get a cool geometric designed mesh panel, to see which items you packed inside. With four stylish color combinations to choose from, Hynes Eagle brings an excellent compression set to the table for the traveler who wants to travel light.
The Best Small Packing Cubes and Packing Cubes for Carry-On
For this section of the list, we're going to hone in on packing cube sets that work best for travelers who want to travel exclusively with rucksacks and carry-ons. If you don't have a large suitcase to house all of your packing cubes, you're going to need a diverse range of cubes that can be compactly slotted together in smaller spaces. These packing cube sets address this issue, boasting a wider range of dimensions and designs.
9 – Gonex Compression Packing Cubes
Check Price on Amazon
Another renowned name in the market, Gomex's compression packing cube set is a great choice for its diversity of cubes and bags in the set. Combining smooth nylon with breathable mesh cloth, you get a packing cube that not only holds up against wear and tear but also lets your clothes breathe. The set consists of the following sizes:
Large Cube: 15.4" x 15.3" x 3.54"
Medium Cube: 11.8" x 9.1" x 3.54"
Small Cube: 9.8" x 7.5" 3.54"
XS Cube: 7.9" x 5.9" x 3.54"
Laundry Bag: 18.1" x 13"
Complete with webbing handles, the set is very lightweight and great for smaller suitcases and carry-ons. The compression only adds to the space you save, and you could easily distribute all six packing cubes between a rucksack and carry-on, or use them all in one carry-on. Plus, with ten striking color combinations with white, you'll smile from ear-to-ear when opening up your carry-on to see these little beauties neatly arranged, holding your clothing tightly, with plenty of give.
10 – Bagsmart 6 Set 3 Size Travel Packing Cubes
Check Price on Amazon
Next, we go to Bagsmart's six-piece three-size set for a glorious fusion of deliciously striking color and design, with all the durability of a rugged tent cover or rain jacket. The cubes are made from water-repellent nylon. Not only will they protect your clothes and take the rough and tumble in their stride, but they'll also protect your clothes from heavy rain on your carry-on, or spillages within your bag. Here's a rundown of the set and sizes:
Large Cube: 13.8" x 13.8" 3.9"
3x Medium Cube: 13.8" x 6.9" 3.5"
2x Small Cube: 6.9" x 6.9" x 3.5"
All-in-all, you're adding just over 1lb of weight with all six, making them extremely lightweight. The rectangle and square combinations mean you have plenty of ways to make them fit snugly in your carry-on, with the double zipper design is durable and easy to navigate. With three gorgeous color combinations to choose from, if you're looking for a carry-on combination with plenty of options, Bagsmart has got your back.
11 – Yamiu 7 Piece Packing Cube Set
Check Price on Amazon
Okay, now we're really looking to play some carry-on Tetris! With Yamiu's seven-piece packing cube set, you get absolutely everything you need to keep all your carry-on items organized, protected, and accessible from the unzip of a pouch. Their multi-functional set consists of two small packing cubes, a medium cube, a large cube, a shoe bag, a toiletry bag, and a TSA approved toiletries carry-on bag. Here's the size breakdown:
Large Cube: 17.5" x 12.5" x 4"
Medium Cube: 13.5" x 9" x 4"
2x Small Cubes: 11" x 7.5" x 4"
Shoe Bag: 9" x 5" x 17"
Medium Toiletries Bag: 9.5" x 3" x 8"
TSA Approved Toiletries Bag: 7" x 2.5" x 5.5"
For anyone who travels with solely a carry-on, Yamiu's combination is a dream. The toiletry bags allow you to travel with under 100ml liquids without having to put everything into separate clear plastic bags, and you get a range of sizes at your disposal. The packing cubes are made of high-quality nylon, which is breathtakingly lightweight and very durable. The lifetime warranty is a great option to have, and you get six wonderful colors to choose from. For options, you simply cannot go wrong with this packing cube set.
12 – Easyfun Packing Cubes 6 Piece Set
Check Price on Amazon
Our final choice on the list of the best packing cubes comes in the form of Easyfun's elegantly designed packing cube set. Made from high-quality nylon, you get a set of six durable, water-resistant cubes, that will keep your clothes safe from the elements and crease-free after extensive travel. The set of six splits as follows:
2x Small Cubes: 11" x 7.5" x 4"
2x Medium Cubes: 13.5" x 9" x 4"
2x Large Cubes: 17.5" x 12.5" x 4"
All the cubes come with an easy-slide double zipper for simple access, and a top handle to carry individually. The top mesh panel allows the clothing inside to breath easily, while the nylon takes care of the heavy-duty protection. The great thing about this set is, due to the handles, you can mix and match and choose a combination of cubes to fit into any carry-on. Plus, with eight fun-loving color combinations to pick from, the inside of your carry-on will never fail to inject a little jazz into proceedings. A simple but effective choice if you're a traveler on the go that needs lightweight, diverse, and easily carried packing cubes.
Everything You Need to Know About Packing Cubes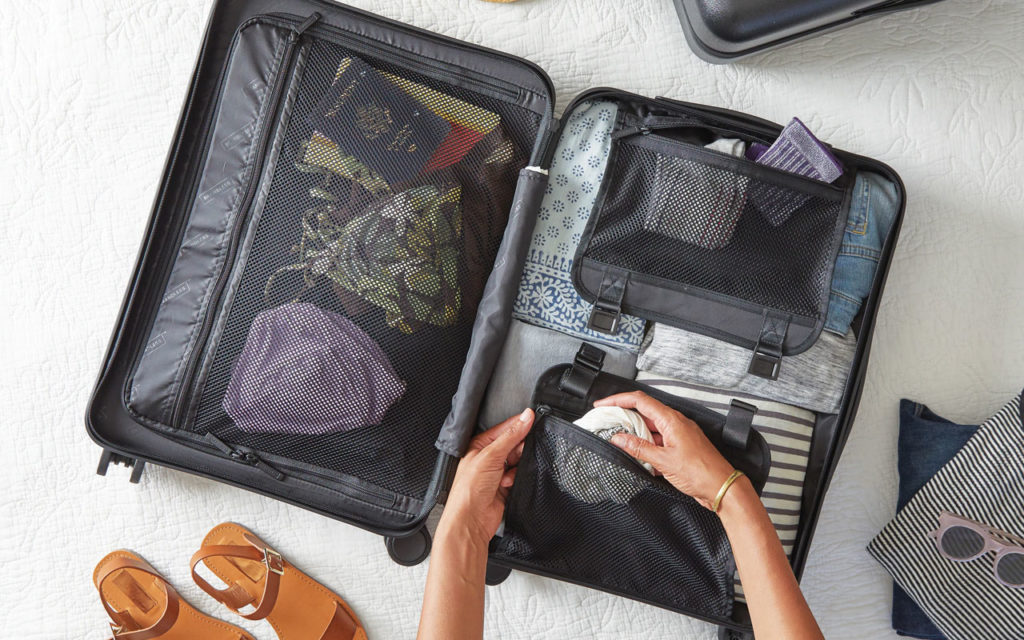 What are Packing Cubes?
Very simply, packing cubes are a set of square or rectangle-shaped bags that are used together to pack your clothing and luggage. The idea behind packing cubes is to compartmentalize your luggage, so that certain items, and clothing, are stored with identical, or similar items. For example, you would use one packing cube for your underwear, one for your tops and shirts, one for your trousers and skirts, and so on.
The cubes are almost always opened and closed with a zippered front and are then packed together into a larger suitcase, backpack, or carry-on. Sets of packing cubes often come in different sizes but are designed to be fitted together when laid out flat.
The Difference Between Packing Cubes and Compression Packing Cubes
If you're shopping for packing cubes, the likelihood is you'll come across the term 'compression' on a frequent basis. The difference between standard packing cubes and compression packing cubes comes down to volume or capacity. Whereas standard packing cubes largely keep their volume, compression packing cubes use valves in the zippers to draw out air from the cube. This means the cube, quite literally, compresses down and squeezes everything inside.
The advantage of this means you can save a lot of space. Some compression cube manufacturers claim up to 60% of space can be saved if the cubes are used correctly. If you are traveling with smaller luggage, or you want to squeeze as much as you can into your suitcase, this can be a great way to do it.
The disadvantage, however, is the likelihood of wrinkles and creases on your clothes. If your clothes are not folded correctly, more often than not, you will see wrinkles and creases once you open the cubes and take out the clothes. For business or high-end travel, in particular, this can be a bit of a nightmare. Some manufacturers claim their compression cubes won't wrinkle or crease your clothes, but I'd highly recommend checking out the reviews first, just in case.
If your intentions are to organize, opt for packing cubes. But if you're keen to save a lot of space in your carry-on, backpack, or luggage, and are not too precious about crisp, crease-free clothes, I'd recommend going for the compression packing cubes.
Are Packing Cubes Worth It?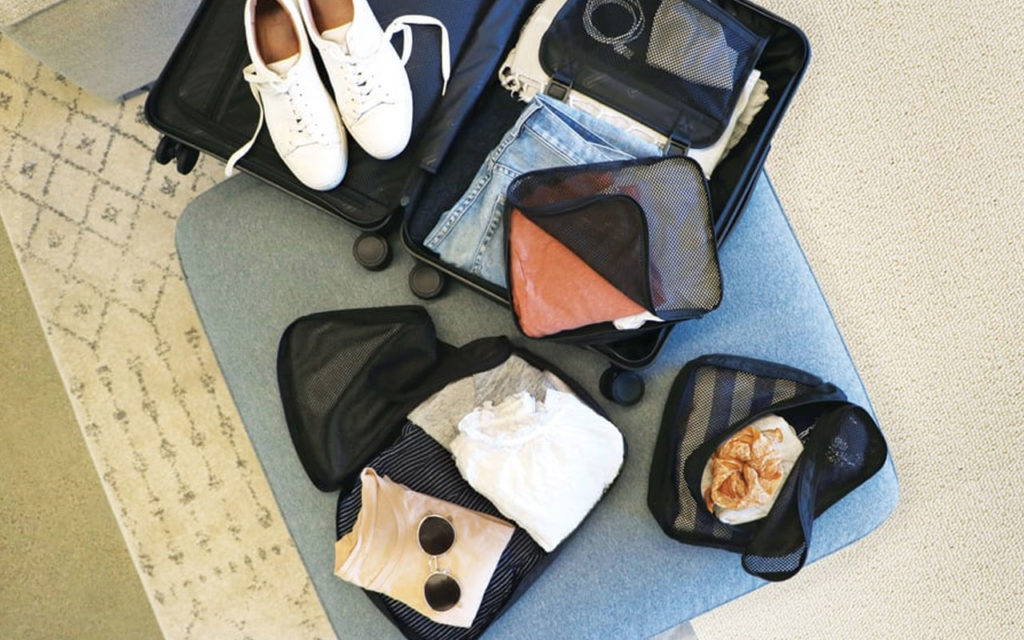 Packing cubes seem to divide opinion online. Some travelers swear by them, and others think they are not worth the money.
From what I've observed, the common misconception is that packing cubes save a lot of space in your luggage. Packing efficiently, such as folding clothes in a certain way, definitely utilizes space much better than just throwing everything in, and packing cubes definitely help you do that. However, the space saved is often a small amount.
The main advantage of packing cubes is from an organizational perspective. Having all your clothes and belongings segmented, and not intertwined with each other, makes packing itself, and getting your items from your luggage, much faster and easier. That, quite simply, cannot be denied. As we've discussed above, the issue of saving space is addressed with compression packing cubes that suck out the air and compress everything down to a smaller volume.
Packing cubes also allow you to divide your luggage between carry-ons, backpacks, and suitcases, very easily. I can pack all my tops and shirts into a cube, and if I want to take it on the plane in my carry-on, all I have to do is shift the cube. They do save time and help you find things much faster.
Personally, I'm a huge advocate of them. And which so much choice on the market now, packing cubes have come a long way in the last decade. They're now far more durable, well-designed, and in some cases, even water-resistant. Particularly if you travel extensively, and often, I think keeping your luggage organized, while also saving a little space, can only be a good thing.
How To Use Packing Cubes and Packing with Packing Cubes
Packing cubes are very straightforward to use. Firstly, you should divide up your luggage and group items together. For example, put all your tops in one pile, your underwear in another, and so on.
Next, you need to look at the size of whatever is going to hold your packing cubes. This could be your suitcase, carry-on, or a backpack or rucksack. From there, you can decide how many cubes you have space for.
Once you've unzipped your packing cubes, it's time to decide which size will accommodate which luggage. Packing cubes are best utilized if you fold your clothes properly. You can still stuff packing cubes, and they'll still be organized. However, you're going to have a lot of creases and wrinkles in your clothes once you take them out.
Once you've packed a cube with items of clothing or luggage, simply zip it up. Once all your cubes are zipped up, you now get to play a fun game of suitcase or carry-on Tetris. Packing cube sets are designed to be placed next to each other, slotting into place with no edges in the way. The size of your suitcase or carry-on will determine how many you can travel with. Simply place, slide, and stack, until everything fits in nicely. Be sure to leave some room for some individual items that won't go into the cubes, such as multiple pairs of shoes.
How Many Packing Cubes Do I Need?
How many you need is going to depend largely on the amount of clothing and luggage you intend to travel with. However, with most sets at in the very least giving you three cubes, I would be tempted to split your clothing into underwear/swimwear, things you wear on your top half, e.g., tops, blouses, shirts, and things you wear on your bottom half, e.g., trousers, dresses, skirts.
At the very least, that gives you three segments to work with. From there, depending on the amount of luggage you have, the size of your suitcase or carry-on, and your intentions, you can add more. If you have a shoe-bag, you can pack up a pair of extra shoes or sneakers, and some flip flops, and so on. Lay out all your luggage first, and that will give you a better idea of how many cubes you need. It's a good idea to buy a set of six, for example, to give yourself more than what you need.
Should I Roll or Fold Clothes for Packing Cubes?
Very simply, it comes down to the type of clothing. Rolling is great for thinner, lighter clothes, such as t-shirts, pants, swimwear, and casual dresses. Heavier, or more delicate clothing, however, such as buttoned shirts, smart dresses, and coats, should be folded. You can use a combination of both. Its easier to prevent creasing when folding properly, too, so bear that in mind if you're traveling with more luxurious clothing or nightwear.
Conclusion
Whether you want to organize your luggage, pack much quicker, or save space through compression, packing cubes are a great addition to your travel attire. We've looked at twelve of the best packing cubes on the market, covering the needs of the long-haul, large-luggage traveler, the carry-on traveler, and the backpacker. Whatever camp you fall into, once you buy packing cubes and use them frequently, you'll never go back to the way you used to pack your suitcase.
Looking for More Inspiration?
If you're still keen to add to your travel gear or to buy some great gear to pack into your packing cubes, be sure to check out some of our other articles:
> The Best Money Belts for Travel
> The Best 15 Waterproof Backpacks and Water-Resistant Backpacks for Travel
> The Top 18 Passport Holders and Wallets for Travelers
> Best Ultraportable Laptops for Travel
> Top 14 Carry-On Products for Comfortable Long Haul Flying
> The 15 Best Microfiber and Quick Dry Travel Towels
Save and Pin for Later
Already planning to purchase a set of packing cubes, but not right now? Pin this article for later.