This post may contain affiliate links, meaning if you book or buy something through one of these links, we may earn an affiliate commission at no additional cost to you. Learn more
If you, like me, have a sweet tooth, you're going to love our ten picks of the best desserts in the world.
These desserts come from countries far and wide. All have their own unique flavors and historical significance in that country. Get ready for licking lips and dreaming of desserts, as we dive into our top ten.
Best Desserts in the World – Our Top 10 Picks
1 – Cannoli (Italy)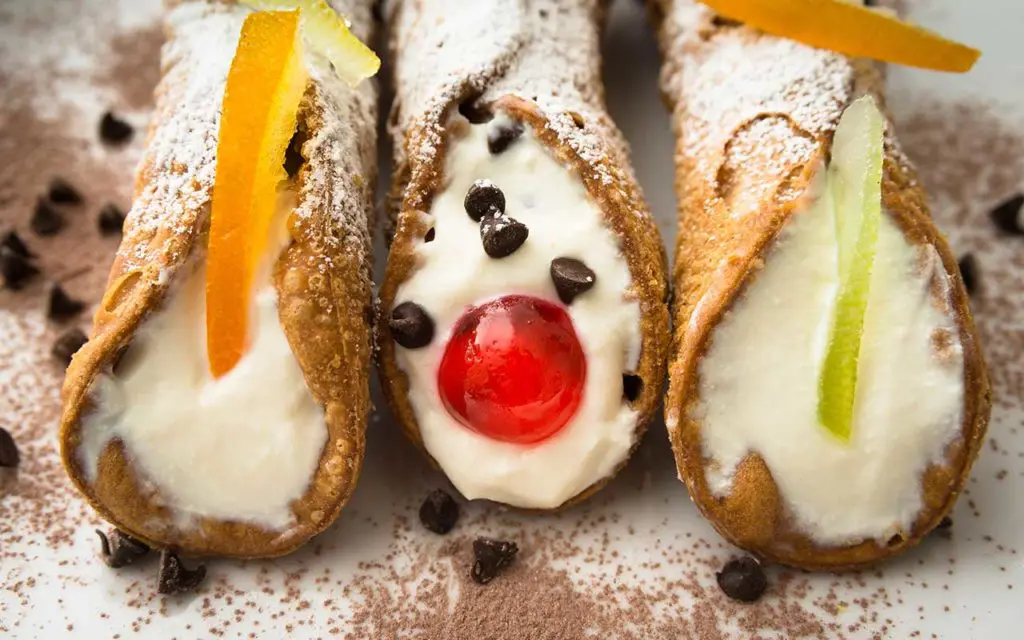 Few desserts boast a texture both creamy and crispy as cannoli do. These delightful pastries come from Sicily and are a beloved staple of the island's cuisine.
Italian pastries are plentiful, but cannoli have a history that runs deep in the famous mafioso region.
It is believed they were served as a treat during the Christian season of Carnival and symbolized fertility. The base of a cannoli consists of a fried pastry dough, which is twisted into a tube.
Once the fried pastry has set, it creates a crispy, sturdy base you can hold in your hand. Inside, cannoli are filled with a creamy ricotta filling, which strikes a unique balance of sweet and savory.
Cannoli are then finished with some toppings, including sprinkles of caster sugar on the dough, and various treats atop of the cream either side. These include fruits, nuts, and sweets.
They are wholesome, moreish, and you can't walk a few feet in Palermo without seeing a shop selling cannoli.
A great way to kick off our list of the world's best desserts.
Read more:
2 – Pastéis de Nata (Portugal)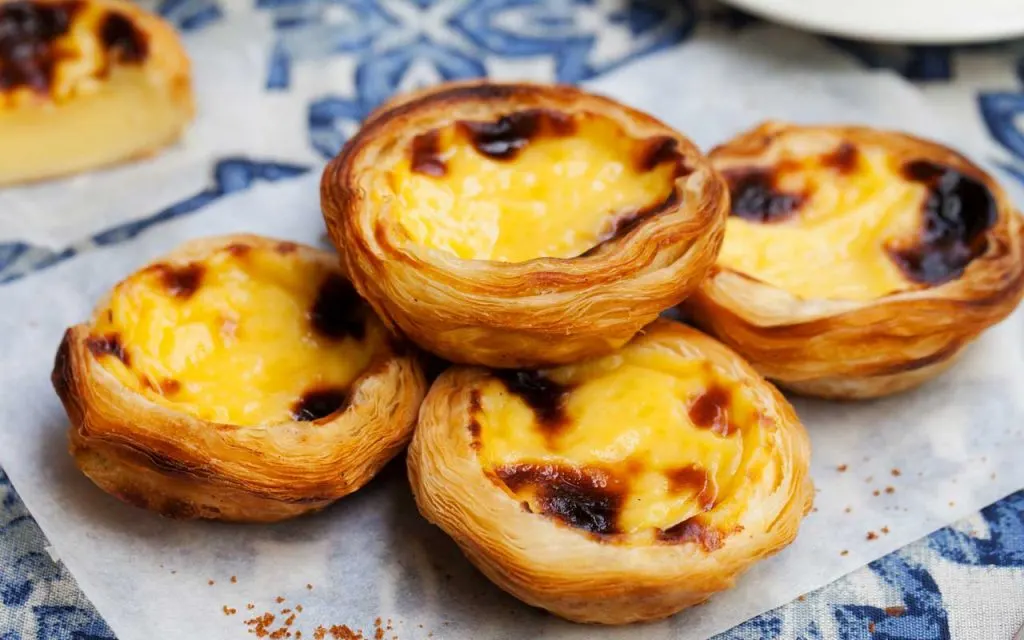 While Portuguese cuisine may not be as well-known as other countries', the pastel de nata is up there as one of the world's best desserts.
First created by Catholic monks at the monasteries in Lisbon in the 17th century, you simply have to try this magnificent treat when in Portugal.
Pastéis de nata are essentially egg tart pastries. The monks in Lisbon used egg whites to starch their clothes. This meant they had a lot of leftover egg yolk.
Experimenting led to the creation of this delightful dessert, and by the 1820s, monasteries were selling these sweet treats to help raise money.
The beauty of pastéis de nata is all in the texture. The combination of the crispy base with the egg-tart filling, coated in cinnamon, is so simple, yet so delicious.
Pastéis de Belém is the famous place in Lisbon to buy natas. But, there are so many bakeries and shops that sell them, you'll never be too far from pastéis de nata in Portugal.
As worldly desserts go, natas we believe are some of the best. Simply delightful.
Read more: Portuguese Desserts You Need to Try
3 – Almond Croissants (France)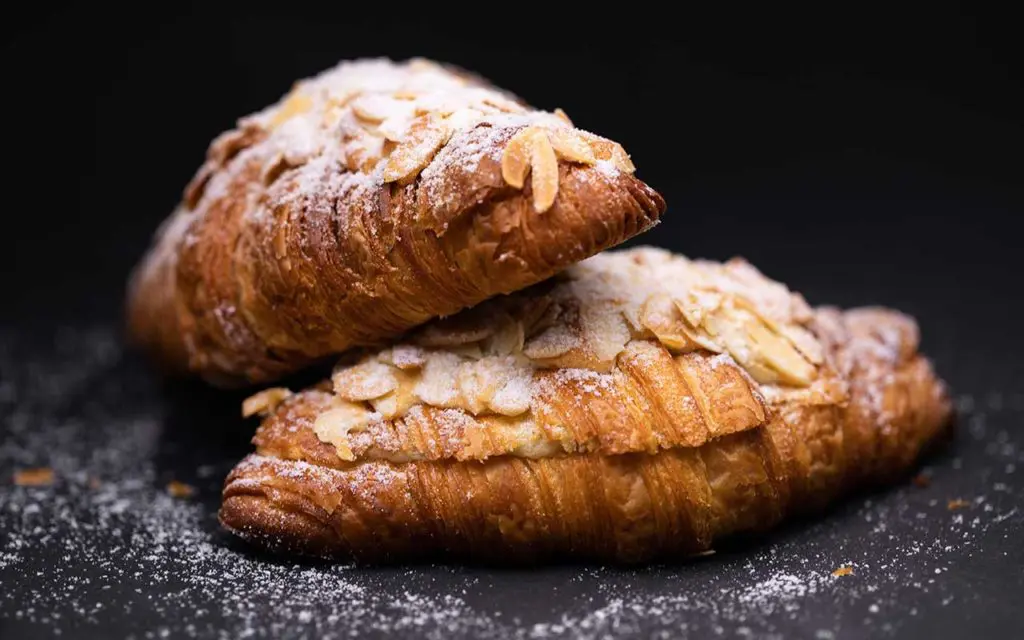 Croissants aux Amandes, as they call them in France, is one of the best desserts in the world in our opinion.
While the origins of the croissant date back to 13th century Austria, it is actually the bakeries of Paris centuries later that shone a spotlight on this now world-famous dessert.
And while the buttered layers and flakey texture of a traditional croissant are wonderful, the creativity of the French takes the texture and taste to a whole new level.
Almond croissants involve glazing the pastry with syrup and sprinkling sugar and chopped almonds over the top. The best almost croissants will keep their soft, flakey texture and not overload on syrup.
French bakeries are usually packed to the rafters with almond croissants. Be sure to try them when you next visit France.
Read more: French Pastries Recommended by a Local
4 – Medovik / Honey Cake (Russia & Eastern Europe)
Medovik is a layer cake like no other. Its origin is a fascinating one. In 19th-century Russia, Empress Alexeievna, wife of Alexander I, had always hated any dish that contained honey.
One day a young chef, who had just started at the Imperial kitchen, wanted to impress her. He baked an elaborate cake made with honey and sour cream.
The chef was completely unaware of the Empress' hatred toward honey and served her the cake. Completely oblivious to the honey inside, she took one bite and instantly loved the cake.
From there, Medovik gained sweeping popularity across Soviet-era Russia and countries under the rule of the former Soviet Union.
I tried this delicious recipe in Moldova, but you can find it in many other Slavic countries.
Medovik is notorious for its preparation time. The sponge layers are assembled, and the cake is left to sit, usually overnight, after coming out of the oven.
In addition to the honey and sour cream or condensed milk layers, cream is used as a filling between each layer.
Honey cake is then completed with sprinkles of nuts and sugar. Rich in taste and tradition, in my eyes, it's one of the best desserts in the world.
Read more: Russian Honey Cake Medovik Recipe
5 – Sour Cherry Strudel (Central & Eastern Europe)
It seems us foodies have Austria to thank when it comes to some of the world's best desserts. Just like the croissant, the layered pastry goodness we know as the strudel originates in Austria and the Habsburg Empire.
Eastern Europe then took this mouthwatering dessert and added a sour cherry filling.
Sour cherry strudel combines incredible texture with a stimulatingly sharp and intense taste, and variations in Croatia and Hungary are particularly popular.
No strudel slice is complete without a sizeable dollop of whipped cream, or vanilla ice cream. The fusion of intense flavors and textures is truly unique.
When you next visit Central or Eastern Europe, you'll be able to enjoy sour cherry strudel in most cafes and bakeries.
6 – Alfajores (Argentina, Chile, Uruguay, Paraguay, Colombia, Peru, Bolivia, Ecuador, Andorra, Spain, Venezuela, Southern France and Southern Brazil)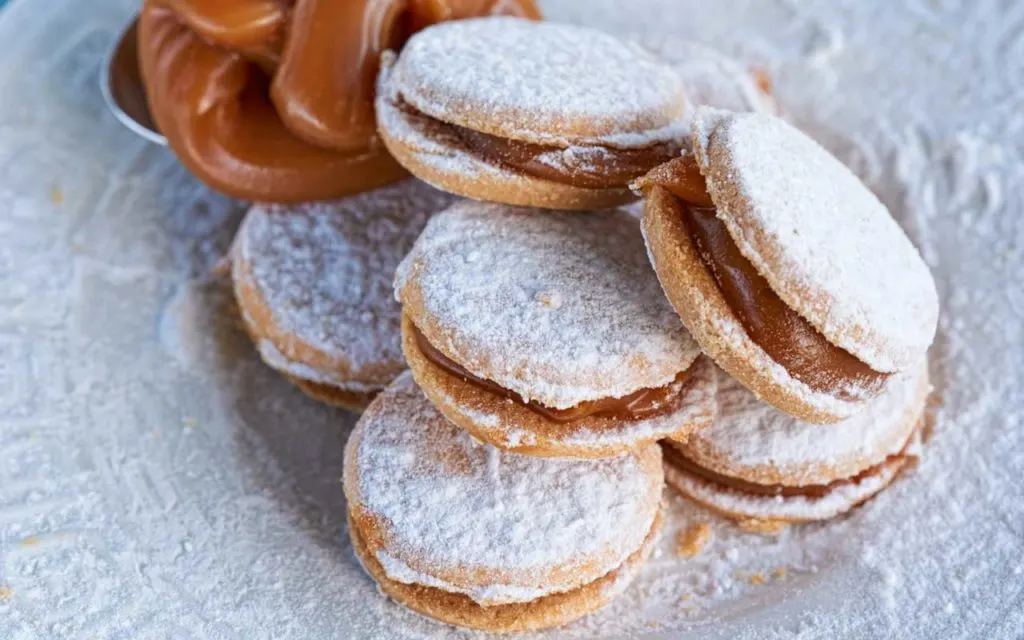 Often the world's best desserts are not complicated and very simple. That's very much the case with Alfajores, which are incredibly popular across South America and Spanish-speaking Europe.
I first tried Alfajores in Argentina, and each little cookie melted in my mouth. They're assembled like a biscuit with filling.
South Americans use lemon zest, egg, and vanilla in their dough, which gives the biscuits a sweet and shortbread-like texture.
The real injection of flavor in each bite comes from the dulce de leche filling.
Dulce de leche is a caramel made from heating sweetened milk, and its flavor is as rich as it is moreish.
Alfajores are completed with a dusting of coconut flakes. In just one singular biscuit you'll enjoy a range of textures and flavors.
There is a wide range of differing recipes across South America, making Alfajores one of the most simple but delicious desserts across the world.
Read more:
7 – Sticky Rice with Mango (Thailand)
There's a reason Thai food is regarded by many as some of the best in the world. With rich flavors and daring combinations, there's so much mouthwatering and mind-blowing cuisine to enjoy.
Known in Thailand as khao niaow ma muang, mango sticky rice is a truly unique and delicious dessert. Amazingly, it's incredibly simple to make.
The sticky rice boasts a heavenly texture. It's made by boiling and simmering thai sweet rice and coconut milk.
Once the rice is coated in a sweet sheath, you simply serve it with a large diced or sliced mango, and that's all there is to it.
Its colors vibrant and flavor memorable, mango sticky rice is up there with some of the best desserts in the world.
8 – Mochi Ice Cream (Japan)
Mochi ice cream is seriously mind-blowing. From the magnificent minds in Japan, you can find it all across Southeast Asia. I first tried it in Vietnam.
If you're unfamiliar with Asian cuisine, you'll find the texture out of this world. Mochi dough is made from mochi, where sticky rice is pounded into a paste.
Mochi has a wonderful softness and melts on the tongue. Once you're passed the dough, the sweet, ice-cold seep of the ice cream filling takes the experience to a whole new level.
What makes mochi ice cream so alluring is the incredible range of flavors. Green tea, red bean, and kona coffee are just three of hundreds of flavors you'll be fascinated to try.
Most things in Japan dazzle and awe when you're first introduced to them, and mochi ice cream is no different!
Read more:
9 – Bingsu (South Korea)
Bingsu is one of the best desserts in the world purely on its looks, let alone its taste.
Wildly popular throughout South Korea, bingsu is a decadent dessert that can take on many forms. At its core, it's made from flavored ice shavings.
The ice shavings create a mound or hill-like shape of dessert. Depending on the flavor of the ice, you can get a range of colorful and vibrant bingsu dishes.
The ice shavings are topped and sprinkle with many ingredients. These include red beans, fruit, ice cream, cereal, and many more weird and wonderful flavors.
Bingsu is one of the most Instagrammable desserts you'll ever lay eyes on. It's refreshing and hugely customizable to your favorite tastes.
10 – New York-Style Cheesecake (United States)
Cheesecakes come in all shapes and sizes. They're popular and beloved all over the world.
And while I've fallen in love with hundreds of cheesecakes, there's something a little special about New York-style cheesecake.
Maybe it's the simplicity. The New York-style cheesecake is built on a base of cream cheese and heavy cream. While the taste is out of this world, it's in the texture that the magic happens.
Despite such simple ingredients, this cheesecake is rich in flavor. It's dense, yet so smooth in the mouth.
Top it off with some raspberries and sauce for a little zing and a helping of whipped cream, and you have a dessert so straightforward, yet so satisfying.
Best Desserts in the World Summary
One of the best things about travel is the number of new foods and flavors you can try, both savory and sweet.
Desserts, just as much as appetizers and mains, tell you so much about a place's culture and history.
The desserts on this list all have a fascinating backstory and have been carried through generations of cooks and food lovers, each putting their own unique spin to the dishes.
I've only chosen ten for this list of desserts, but honestly, there could have been hundreds. Honorable mentions include:
…and many more!
You Might Also Like to Read
Save and Pin for Later
Want to try some of these delicious desserts next time you travel? Save this article to one of your Pinterest boards. That way, you have it in a safe place to revisit when you're next ready to go globetrotting.