This post may contain affiliate links, meaning if you book or buy something through one of these links, we may earn an affiliate commission at no additional cost to you. Learn more
A culinary adventure of gorgeous color, mesmeric composition, and mind-blowing flavor, it should come as no surprise that Thai food has become one of the world's most beloved and sought-after cuisines.
And while delicious Thai food has traveled to countries far and wide, nothing quite beats the wondrous aromas and mouthwatering flavors of these dishes when tried in the restaurants, food markets, and street stalls that Thailand has become so renowned for.
Prepare yourself for a truly euphoric elation of the senses, as we uncover the beauty and wonder of Thai cuisine, through 20 of its must-try dishes.
Thai Food
Thai Appetizers
1 – Poh Pia Tod (Fried Spring Rolls)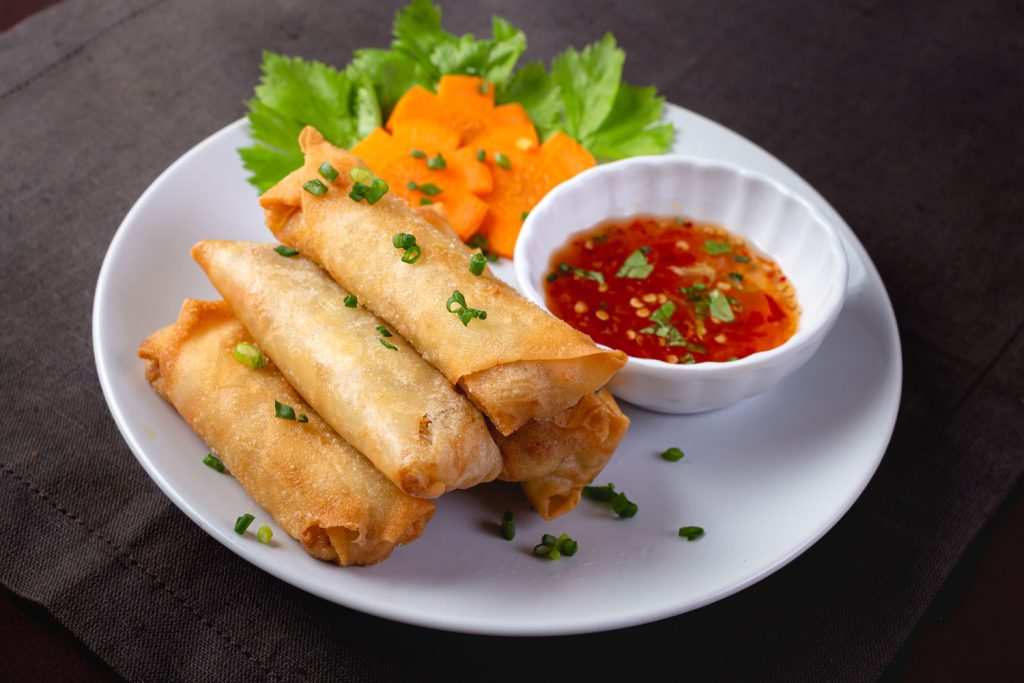 Poh Pia Tod, or Thai spring rolls, are the go-to snack for Thai people. Crunchy, paper-thin pastry fried to crispy golden perfection and filled with fragrant, fresh vegetables, Poh Pia Tod is the perfect appetizer, starter, nibble or bite to enjoy at any time of the day.
Common fillings include vegetables mixed with deep-fried pork or garlic-infused chicken, and cabbage, onions, carrots, mushrooms, or vermicelli noodles, made from mung bean flour.
The delicate pastry is made from rice flour, and Poh Pia Tod is usually served with sweet chili or plum sauce, and sometimes sprinkled with crushed roasted peanuts – just for that extra crunch.
2 – Yum Makeua Yao (Grilled Thai Eggplant Salad)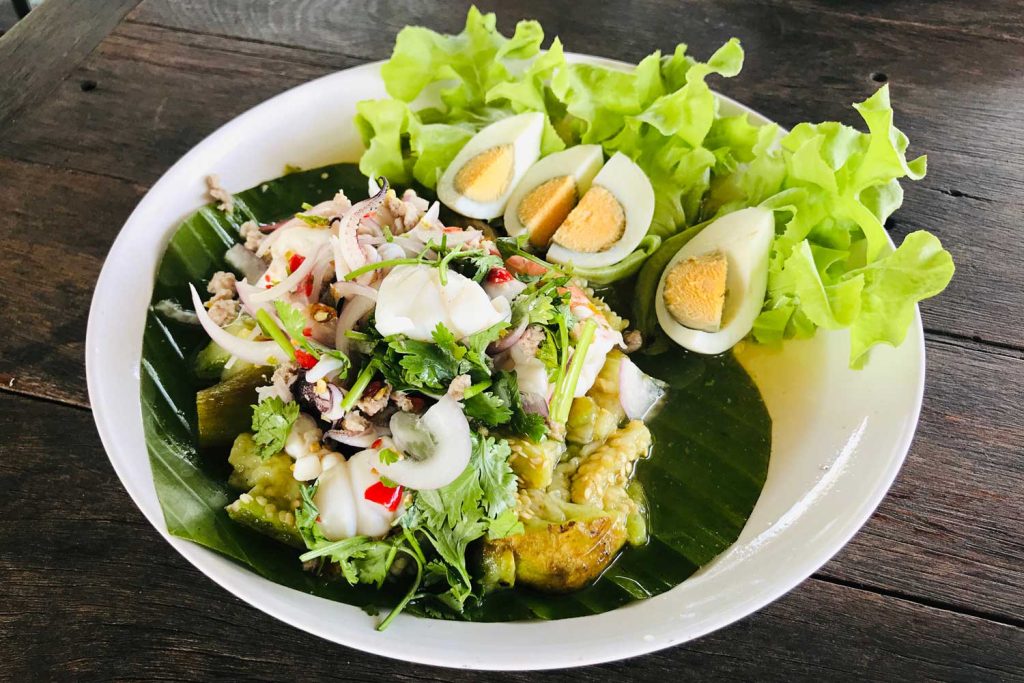 This salad is a traditional Thai dish that is far more commonly cooked at home and rarely makes it onto a restaurant menu. However, if you're lucky enough to be invited to dine with locals and Yum Makeua Yao is served, get ready to truly taste the very essence of Thailand's most iconic flavors.
This grilled Thai eggplant salad is salty, sour, spicy, and sweet, all at the same time. The star of this dish is the long green Thai eggplant, which has a very bitter taste when eaten raw. In this recipe, the eggplants are grilled or baked whole, and then cooked over an open fire.
Once charred, the soft flesh takes on a smoky flavor, which enhances when mixed with fresh shallots, tomatoes, and torn mint leaves. The salad is then dressed with a mixture of soy sauce, lime juice, and coconut sugar, and finished with a hardboiled egg and a sprinkle of fresh Thai chilies.
3 – Moo Satay (Thai Grilled Pork Satay)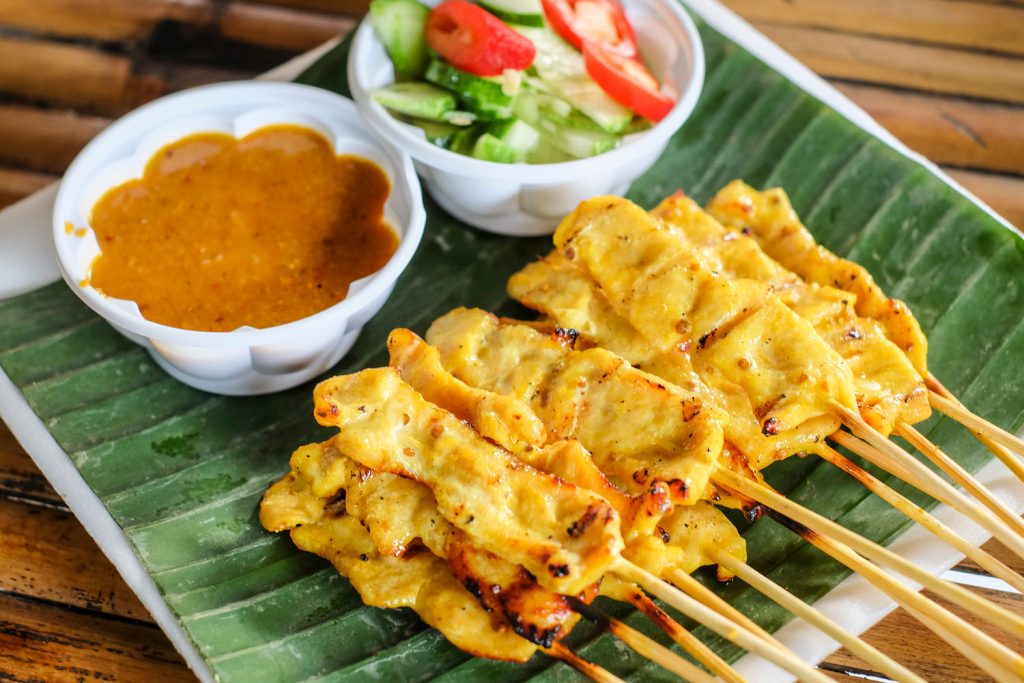 What better way to cook tender, fresh meat than to skewer it and grill it over an open fire? Moo satay is one of Thailand's most famous street foods and is usually served with a thick, creamy peanut sauce, or a tangy Arjad dipping sauce with cucumber, shallots, and red pepper marinated in vinegar.
The cuts of delicious pork are mixed with the Asian flavors of galangal, lemongrass, turmeric powder, coriander, and cumin, and cooked over an open flame – the perfect food to eat while on the go, or take home for dinner. This is Thai street food at its very best.
4 – Som Tam (Green Papaya Salad)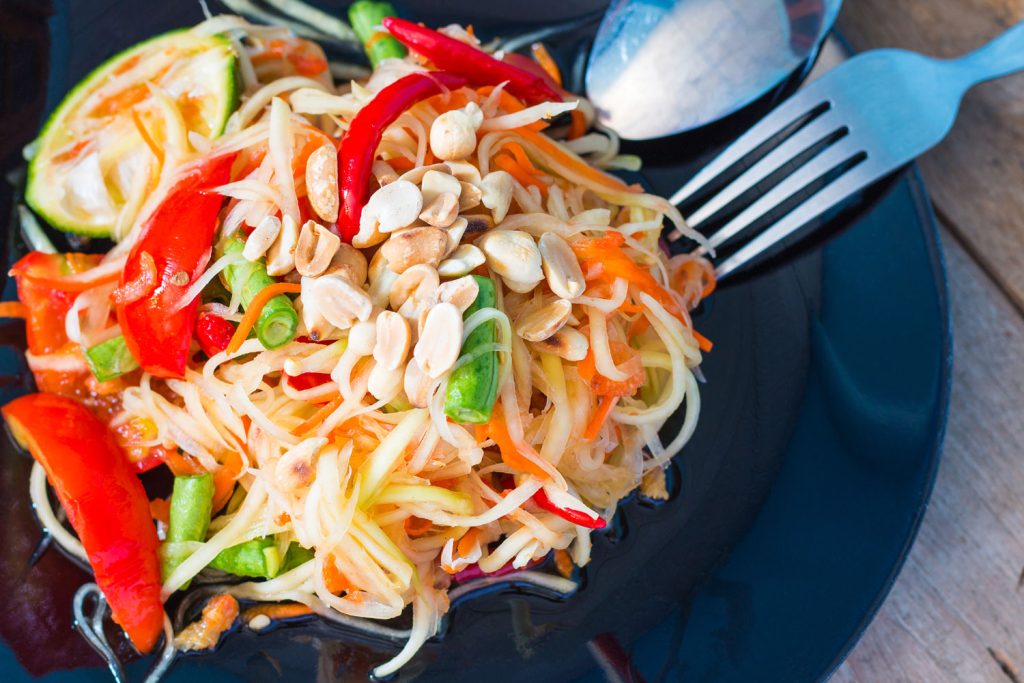 If you want to find Som Tam in Thailand, all you need to do is listen for the sound of pounding wooden pestles rhythmically hitting bowls filled with fragrant ingredients as you walk past the street vendors.
This green papaya salad has become one of Thailand's signature dishes globally and is an integral dish of the Lao cuisine in the north-eastern region. Tangy, crunchy, sweet, and a little spicy, the Som Tam combines strips of green papaya with fresh red chili, cloves garlic, tomato, limes, dried shrimp, peanuts, and tomatoes.
The ingredients are gently pounded together – but not crushed – with a wooden pestle, bringing out the individual flavors and amalgamating them into one glorious dish. Served with sticky rice and sprinkled with peanuts, Som Tam is a magical Thai food that transports you to the deep forests of Lao with its aromas and flavors.
5 – Laab Tod (Spicy Fried Minced Pork Ball)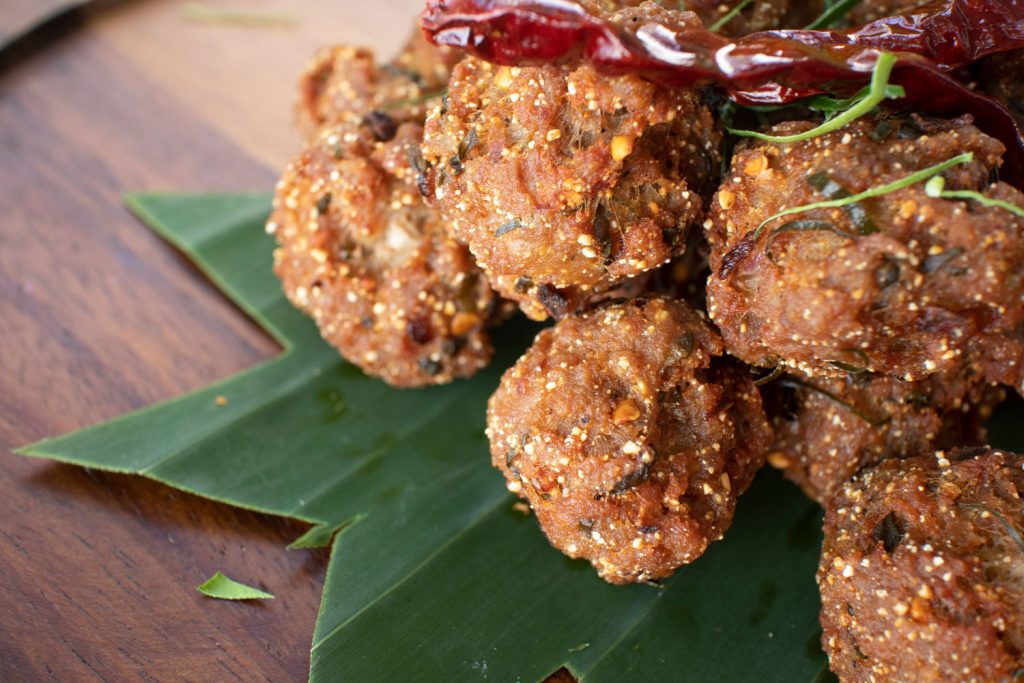 These crispy pork meatballs are a famous dish from the northern-east region of Isan, in which minced pork is mixed with chili powder, mint, kaffir lime leaves, and chopped onion, then rolled into balls and deep-fried for a truly sumptuous spicy Thai dish.
The secret ingredient that sets these meatballs apart is the ground roasted sticky rice, which gives each meatball an elevated texture and plenty of extra crunch. The fragrant mixture is then seasoned with sugar, fish sauce, and lime.
Thai Mains
6 – Massaman Curry (Thai Yellow Curry)
Massaman curry was the favorite dish of the ancient Thai King Rama II, who mentioned it in one of his poems dedicated to a woman he was in love with. "Any man who has tasted your Massaman pines for you," King Rama II wrote.
This rich and flavorful dish combines Malaysian and Thai flavors in a thick sauce, with a mild, slightly sweet flavor. Massaman curries can include pork, beef, or chicken, which are added to pineapple, potatoes, and peanuts.
The distinct flavor comes from cumin, cinnamon, cardamom, and nutmeg, which are left whole, instead of being crushed, in the dish. Salty, sweet, and a little bit sour, Massaman curry is traditionally served with jasmine rice and slices of toast.
7 – Khao Soi (Northern Thai Style Egg Noodle)
Khao Soi is the most famous dish in Chiang Mai, the land of beautiful temples and misty mountains. Even though my family is from Bangkok and rarely made Khao Soi, I have fantastic childhood memories of the dish. I moved to Chiang Mai seven years ago and tried this dish in many Khao Soi restaurants, and even had a chance to cook it.
This dish is a combination of soft egg noodles in a fragrant yellow curry coconut broth. Khao Soi is made with chicken or beef, topped with crispy egg noodles. Served with a slide of lime, shallot, fermented cabbage, Khao Soi is the favorite dish for brunch or lunch.
8 – Panang Curry (Red Creamy Curry)
Panang curry is one of Thailand's staple dishes. Rich and creamy, salty and sweet, Panang curry is made with dried chili peppers, galangal, ginger, lemongrass, kaffir lime leaves, coriander roots, coriander seeds, and cumin seeds. These exotic spices are mixed with chicken, pork or beef, and amalgamated with coconut and peanuts.
This creamy red curry has a mild spice level, so everyone can enjoy it. The thick curry is usually served with white or brown rice and topped with fresh basil leaves.
9 – Gaeng Keow Wan (Green Curry)
Many Thai people will agree that this dish takes the official title of Thailand's most popular comfort food. Gang Keow Wan is a slightly sweet green coconut curry from Central Thailand.
It is typically served with thinly sliced chicken breast or fish, and its distinctive green color comes from freshly ground green chilies pounded in a mortar and pestle.
However, adding the tiny green and white Thai eggplants, slightly bitter pea eggplant, and kaffir lime leaves gives the dish a truly unique, fragrant, and authentic flavor profile. It is served with steamed rice or fermented rice noodles.
10 – Pad Kra Pao Gai Kai Dao (Chicken and Holy Basil Stir Fry)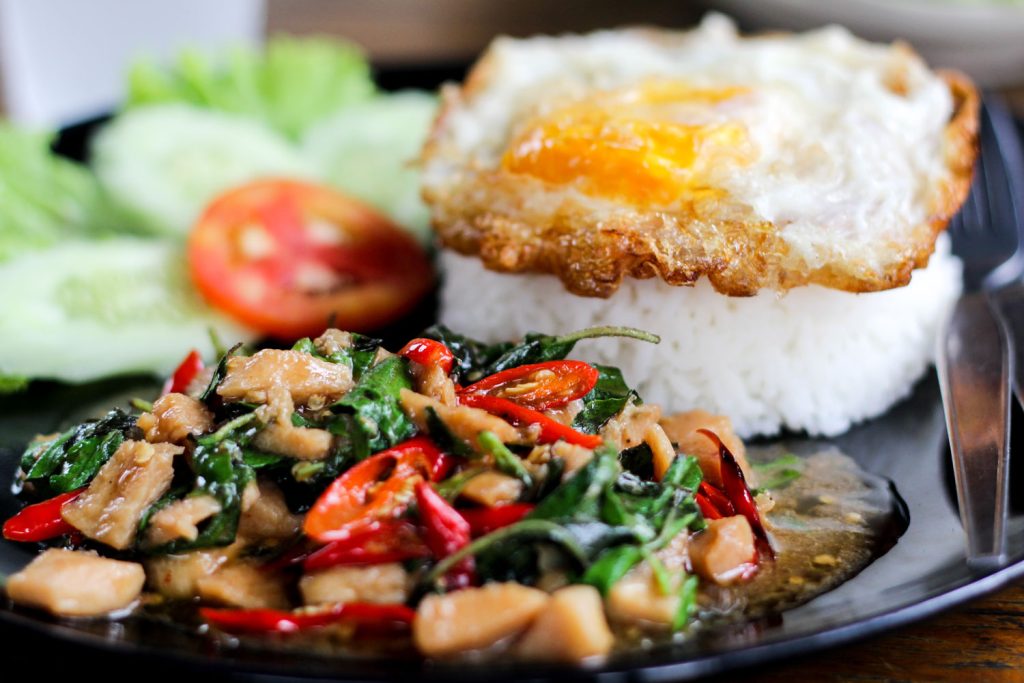 One of Thailand's most famous street foods, Pad Kra Pao Gai Kai Dao is the go-to dish to whip up when hungry, hungover, or in need of a quick bite.
This dish is made by first pounding chilies and garlic together with a mortar and pestle until the oils and flavors come together in a fragrant paste. This mixture is then added to a wok with hot oil to sizzle.
Chicken and holy basil leaves are then added, and all the ingredients are fried until crispy. The stir fry is served over rice and topped with a medium-fried egg. Thailand's version of fast food is now served!
11 – Tom Yum Goong (Hot and Sour Soup with Prawn)
Tom Yum Goong is a fragrant and aromatic seafood soup that is hot, sour, sweet, and tangy. Bursting with flavor and complexity, Ton Yum Goong is one of Thailand's most beloved soups.
It is a dish of lemongrass, garlic, galangal, kaffir lime leaves, lime juice, and fish sauce, mixed with tender, juicy shrimps and fleshy mushrooms.
Tom Yum Goong can be enjoyed at almost all Thai restaurants and street vendors, who often add a splash of evaporated milk to make the broth extra creamy.
12 – Tom Kha Gai (Chicken Soup with Galangal)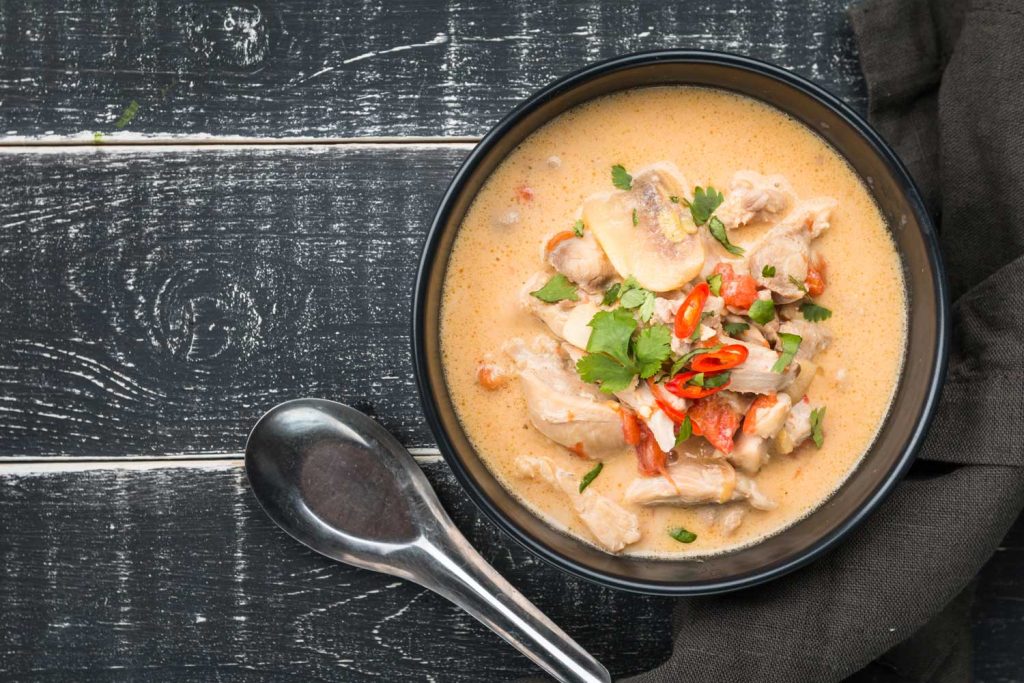 This dish is Thailand's take on traditional chicken soup. Creamy, tart, salty and tangy, this chicken soup will sing to your soul and warm your heart in so many ways.
The broth is made of galangal, lemongrass, kefir lime leaves, tomatoes, cilantro, and red curry paste. These delicate and fragrant flavors help elevate the taste of the chicken broth, thickened with creamy coconut milk.
Mushroom and chicken are commonly added, and the soup can either be served alone or with jasmine rice. It is a truly magical Thai dish, and one of the country's must-try foods.
13 – Gai Pad Med Mamuang (Stir-Fried Chicken with Cashew Nuts)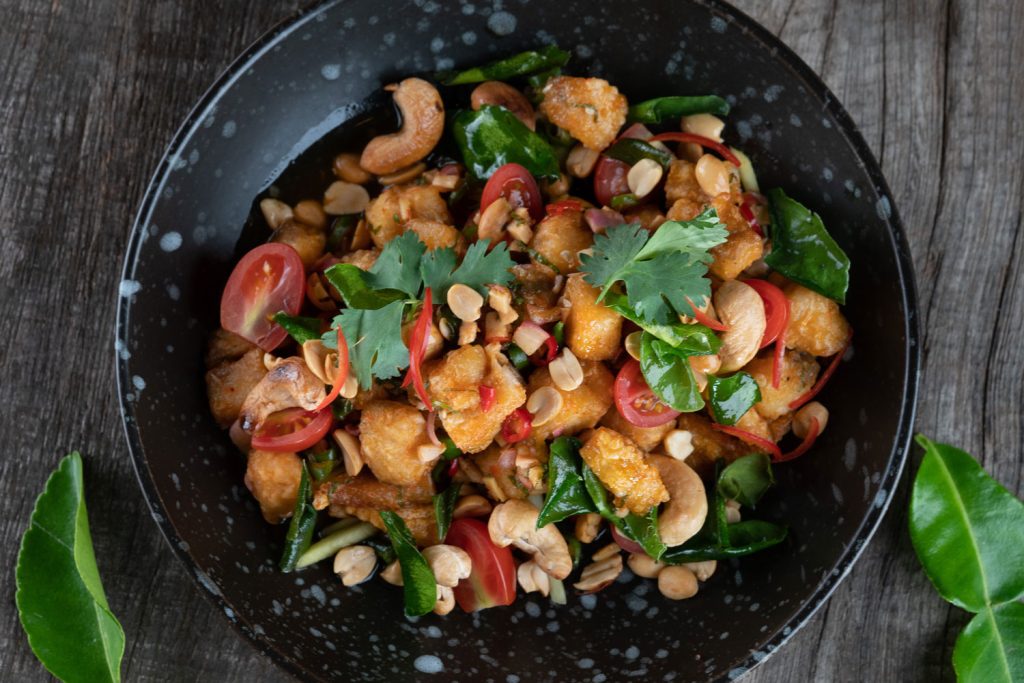 Gad Pad Med Mamuang is a dish of stir-fried chicken with crunchy roasted cashew nuts. Simple and easy to make, Gad Pad Med Mamuang has its roots in Chinese cuisine and is the ultimate comfort food to throw together in Thailand.
It is a dish of chicken breast, roasted cashew nuts, onions, chives, sweet bell peppers, dried chili, oyster sauce, soy sauce, fish sauce, and brown sugar, tossed together in a hot frying pan until all the ingredients are crispy and crunchy. This mouth-watering dish pairs wonderfully with a bowl of fragrant rice.
14 – Pad Thai (Stir-Fried Rice Noodle)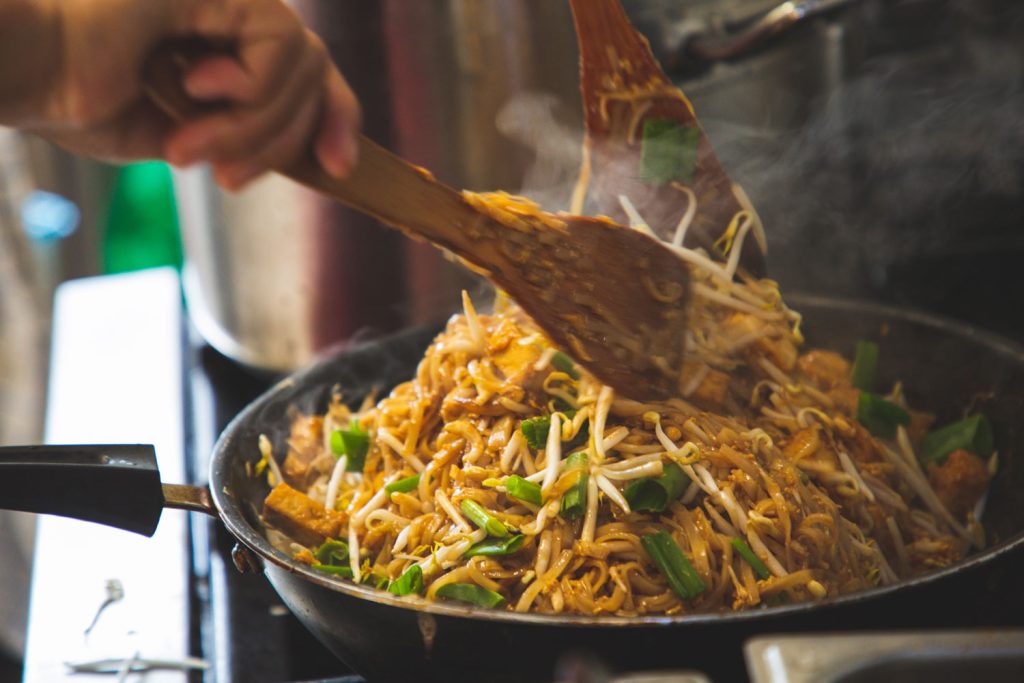 Pad Thai is the dish that is probably most synonymous with Thailand. It's made with thin, flat rice noodles, stir-fried with bean sprouts, spring onion, scrambled egg, tofu, and shrimp or vegetables. Locals and tourists love Thai street food because of its colors, rich flavors, and simple ingredients.
Each street vendor and restaurant has their own individual recipe for Pad Thai. However, the secret to making an authentic Pad Thai is adding tamarind sauce to the dish, to build a sweet-sour flavor into the noodles.
The best places in Bangkok to get a plate of delicious Pad Thai are either Yaowarat or Khaosan Road, where street vendors will serve this Thai classic with a sprinkling of nuts and a squeeze of lemon juice from a lemon wedge.
15 – Kai Look Keuy (Fried Boiled Eggs with Sweet and Sour Tamarind Sauce)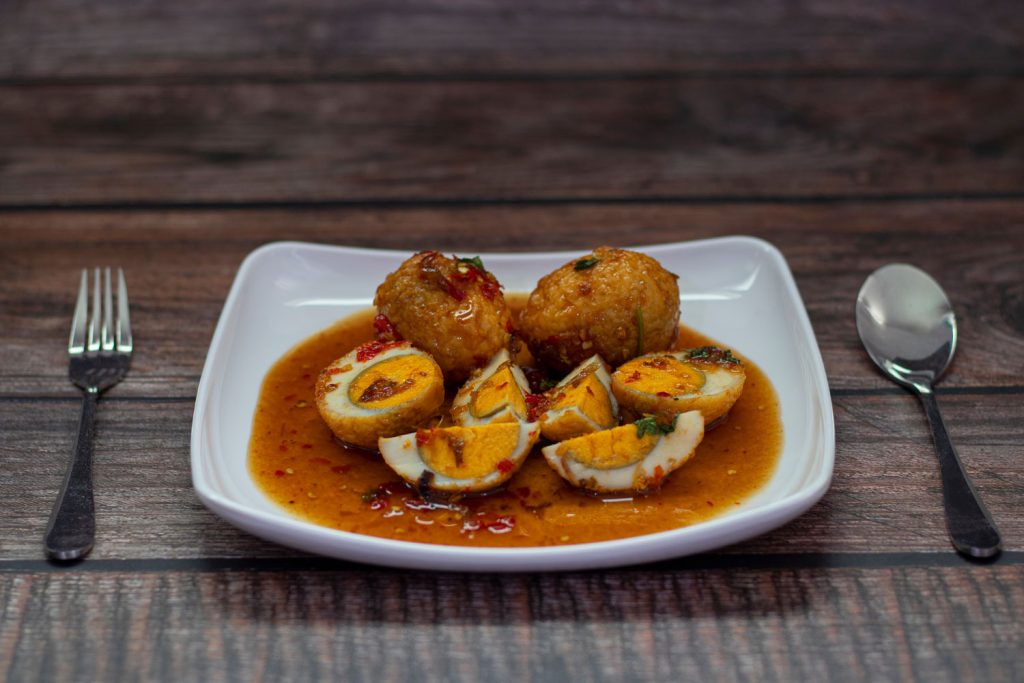 Also known as "son-in-law eggs", this Thai recipe is a staple in every household and a popular family favorite.
Kai Look Keuy is a dish of hardboiled eggs, fried until golden and crispy, and then cut in half and put on a plate. In the same pan, tamarind juice, brown sugar, fish sauce, and water are then reduced to a thick sauce and poured over the halved eggs.
The dish is topped with fried shallots, chilies, and garlic chips, and this sumptuous snack brings a unique combination of crispy, sour, sweet, and spicy flavors and textures to the forefront.
Thai Desserts
16 – Kanom Krok (Thai Coconut Pancakes)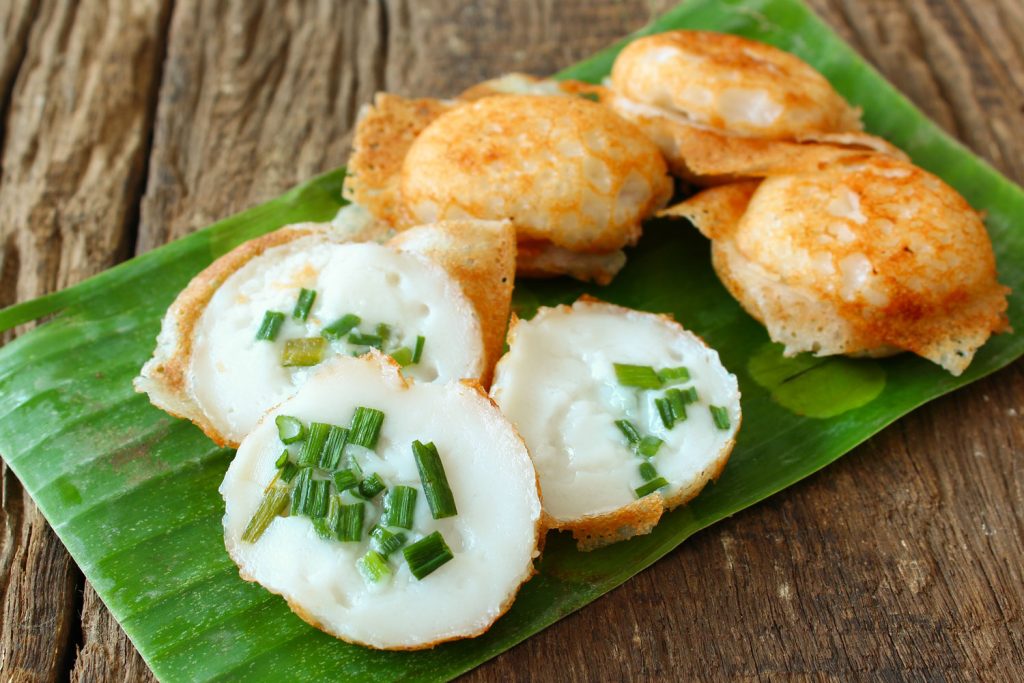 These amazing pancakes combine two very different textures with each and every bite. Shaped like small domes, the outside crispy shell gives way to warm, soft coconut cream. Thai Coconut Pancakes are baked in a uniquely crafted cast-iron dish with hollowed-out semi-circles, known as the Kanom Krok pan.
These delightful pancakes are made from a mixture of rice flour, cooked jasmine rice, coconut milk, salt, and sugar. The ingredients are first blended, then slowly poured into the Kanom Krok pan. The pancakes are often filled with chopped green onion, cooked corn kernels, or baked taro.
Loved by young and old alike, these warm custardy pancakes are often enjoyed with Thai coffee or green tea and can be eaten at breakfast or as a snack.
17 – Kanom Buang (Crispy Thai Pancakes)
Khanom Bueang, also known as Thai Crispy Pancakes, is an ancient and widely popular Thai snack. Shaped like the famous Mexican tacos, Khamon Bueang is a popular street food found in every part of Thailand.
The tasty shells are made from a mixture of mung bean flour, rice flour, egg, sugar, and cocoa powder, and filled with white cream once deep-fried to a crispy consistency. Thais usually choose between two toppings – sweet golden egg yolk threads or salty orange shredded coconut.
18 – Khao Niaow Ma Muang (Mango with Sticky Rice)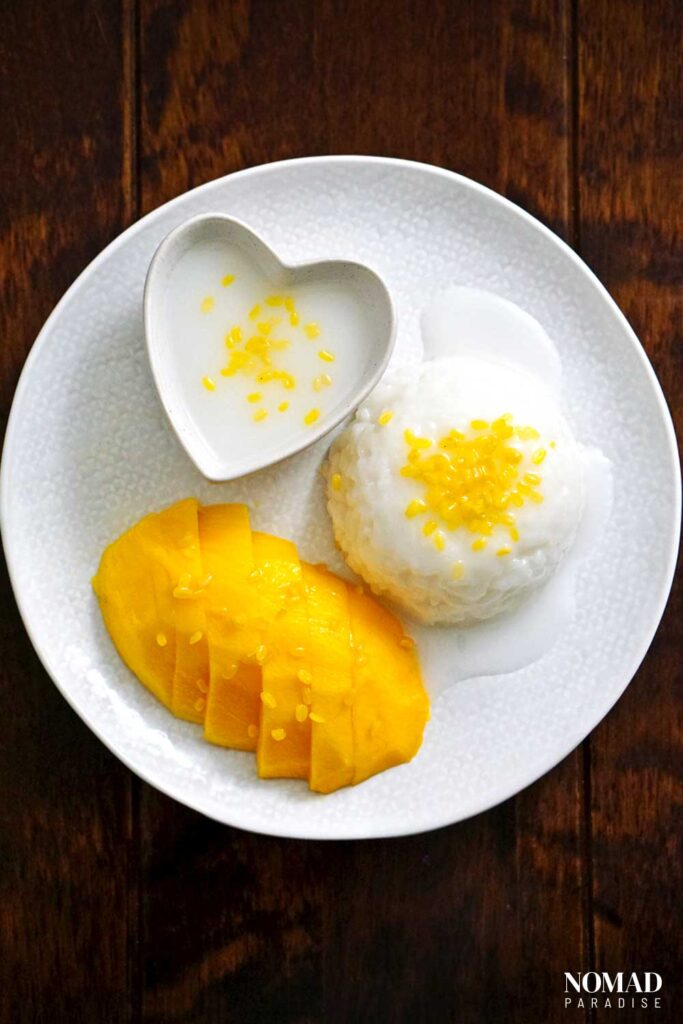 Mango sticky rice is one of Thailand's most iconic desserts. Soft and creamy, tangy and sweet, Khao Niaow Ma Muang is the perfect refreshing dish to enjoy amid Thailand's hot and humid weather.
Simple but delicious, sticky mango rice is easy to make at home. It is a dish of fresh sticky rice, coconut milk, salt, sugar, and ripe mango. Roasted yellow mung beans and coconut cream are also added as a garnish.
19 – Fak Thong Sangkaya (Thai Pumpkin Custard)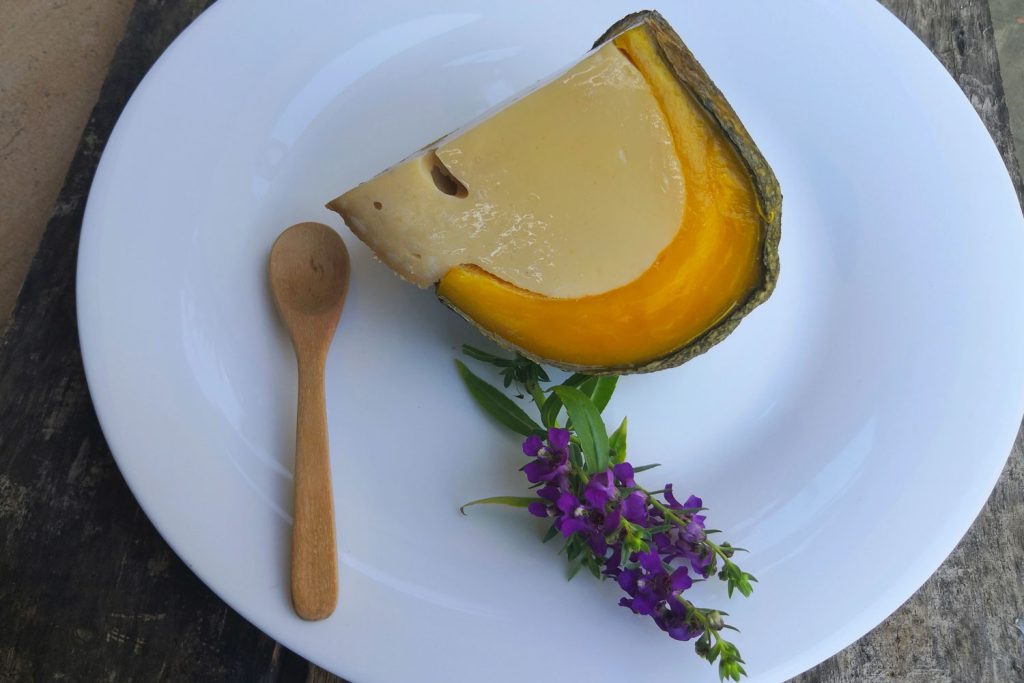 This fun dessert puts a whole pumpkin through a mouthwatering transformation, turning it into a rich, delicious pie filled with creamy coconut custard.
To make this dish, the top of the pumpkin is first removed and then its insides hollowed out, transforming it into a pie shell. A rich, sweet Thai custard made of egg yolk, palm sugar, coconut milk, and salt is poured into the pumpkin, and the dish is steamed for around 45 minutes.
This old-school Thai dessert can be bought at local farmer markets or from street vendors and is perfect for afternoon tea.
20 – Bua Loy (Glutinous Rice Balls in Coconut Milk)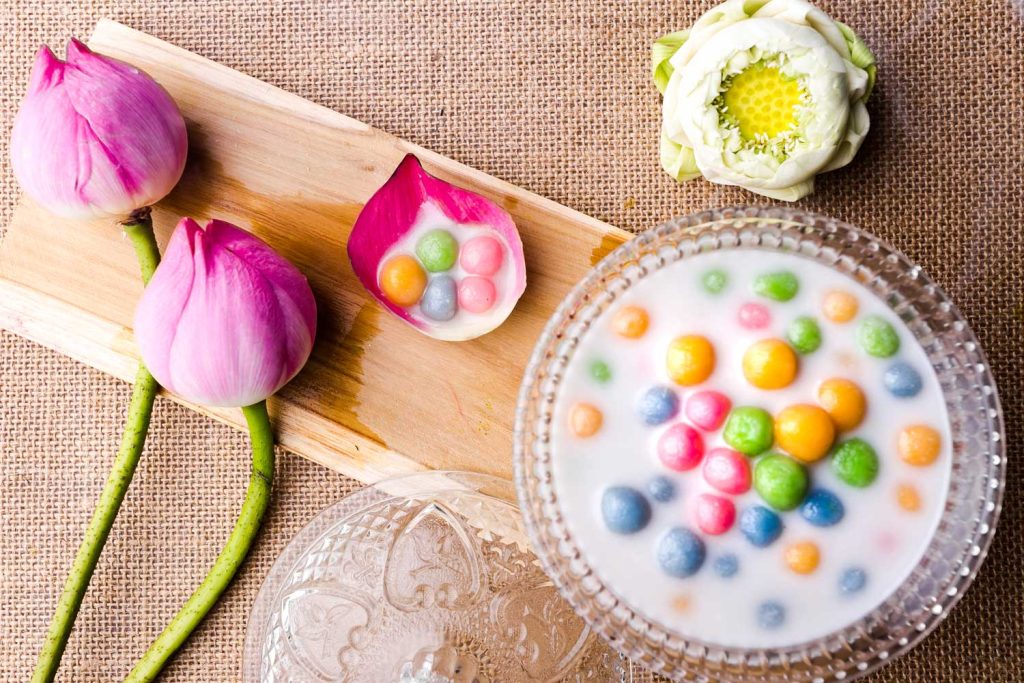 This decadent dessert has a vibrant history, as colorful Thai rice dumplings in coconut milk have been served at so many different festivities and celebrations through the ages in Thailand.
And there's a reason this dish was made from the most elaborate of celebrations. Although the rice balls are only made with four ingredients: rice flour, glutinous rice flour, palm sugar, and coconut milk, making this dish is very time-consuming.
Traditionally, the rice balls were colored by extracting the pigments from plants – pink from roselle, blue from butterfly pea, and green from pandan leaf. Once colored, the dough is rolled into small balls, then boiled coconut milk before serving.
Thai Food Summary
The vibrance, energy, aromas, and intensity of Thai food make this one of the world's most incredible all-encompassing cuisines. Thai food is not just about tasting: it's about feeling.
All these dishes play an integral role in making traditional Thai cuisine a truly magical spectrum of food. And with so many food markets, street vendors, and local restaurants to discover throughout Thailand, there are abundant opportunities to try these dishes in their purest, most authentic forms.
Yet these delicious Thai delicious would not be possible without the fresh and flavorful ingredients that are used to make authentic Thai food. From hearty wide rice noodles to sweet chili sauce, mouthwateringly fresh mango slices to deep and intense fish sauce, the incredible array of flavors that meld together within so many Thai dishes is truly astounding.
Seek out as many of these Thai dishes as you can when you next visit. Soak up the sounds, the smells, and the energy of the markets. And let the sumptuous, intense flavors take your love of food to places you never thought possible.
You Might Also Like to Read
Save and Pin for Later
Visiting Thailand soon? Keep this article of must-try dishes for safekeeping, by saving this article to one of your foodie travel Pinterest boards.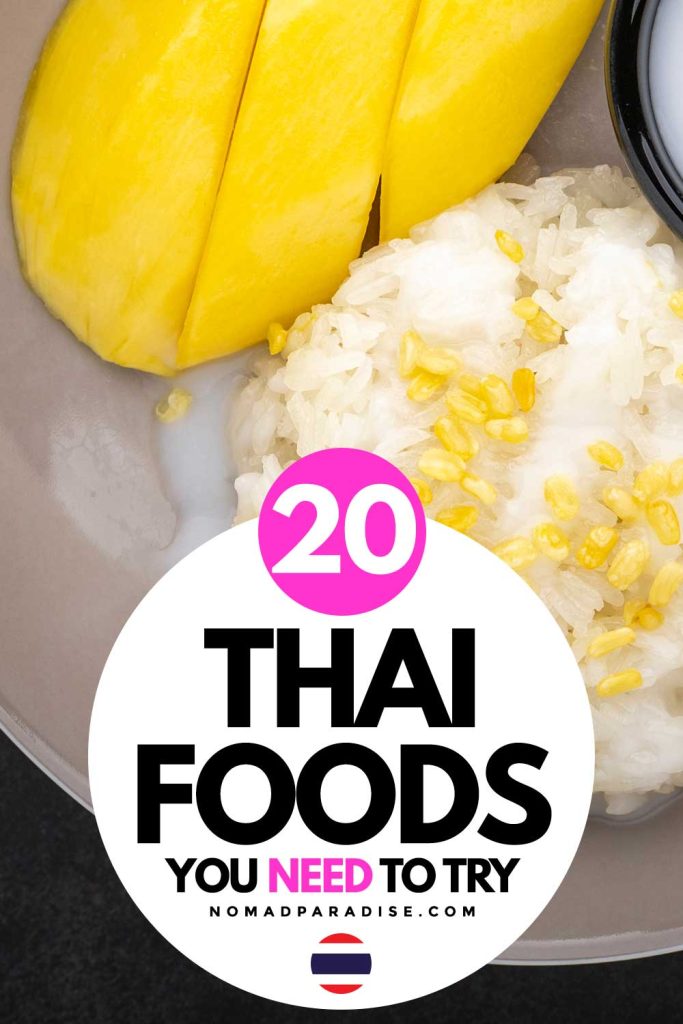 Author: Raised in a family that loves cooking, Khemphirat Sriglan has fond childhood memories of Thai food and loves helping in the kitchen. She has a profound interest in cultural foods and is passionate about how particular ingredients combine and complement each other, especially in Thai dishes.
Images licensed via Shutterstock