This post may contain affiliate links, meaning if you book or buy something through one of these links, we may earn an affiliate commission at no additional cost to you. Learn more
If, like me, watching penguins on TV or YouTube is a level of cuteness you simply cannot handle, you've probably at some point wondered where the best places to see penguins in the world are.
Yes, there are hundreds of aquariums and parks where you can see penguins. But seeing them in their natural habitat is a magical experience that just doesn't compare.
On my travels, I've been lucky to see penguins in Argentina and South Africa. But the number of places you can see them is mind-blowing.
Prepare yourself for so much cuteness your cheeks will ache for days, as we take a whirlwind tour across the world to 18 of the best places to see penguins doing their thing in the wild.
Best Places to See Penguins
Penguins exclusively inhabit the southern hemisphere, if you discount relocations to national parks, zoos, and the like.
If you look at a world map, it's clear to see there are roughly five landmasses/regions where penguins naturally live. These are South America, Antarctica, South Africa, Australia, and New Zealand.
We'll take a good look at all five and explore some of the best penguin spots you can visit. First stop: South America!
Best Places to See Penguins in South America
1 – Galápagos Islands, Ecuador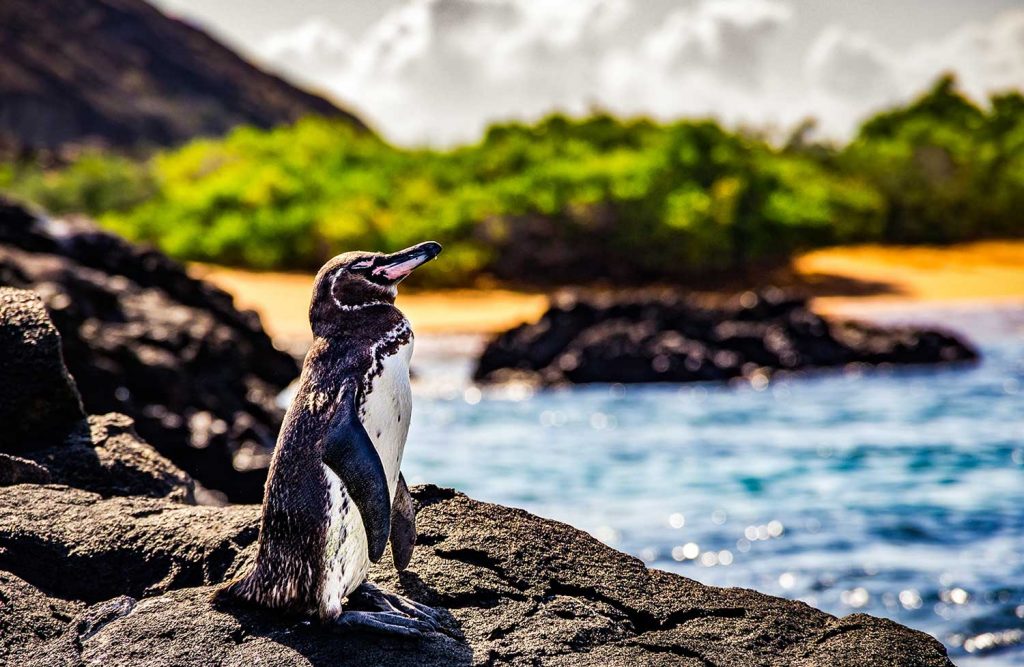 We start in the northwest of South America, 600 miles off the coast of Ecuador. The Galápagos Islands are a popular tourist attraction, consisting of a collection of gorgeous volcanic islands, thriving with wildlife.
Charles Darwin famously studied many plant and animal species here. Many are endemic, meaning they only exist on the Galápagos Islands, and nowhere else!
Species: Galápagos penguins are named after the islands they inhabit. They are the most northern species and are hilariously known as one of the 'jack-ass' species, due to their loud, bellowing squawk.
How to get there: You need to visit the islands via boat, guided tour, or cruise. José Joaquín De Olmedo airport is the best place to fly to, before heading east to the coast.
2 – Ballestas Islands, Peru
The Ballestas Islands, just off the southern Peruvian coast, are an incredible collection of islands.
The islands boast unique rock formations and are home to birds, penguins, seals, and other wildlife.
Species: Humboldt penguins are adorable medium-sized birds. They have thick necks and chins, and a dark head with a white border.
How to get there: The Ballestas Islands are off the central-southern coast of Peru, right by Pisco. Lima to Pisco is a 3-hour drive or a short flight. You'll need to book a boat or guided tour to get there.
3 – Humboldt Penguin National Reserve, Chile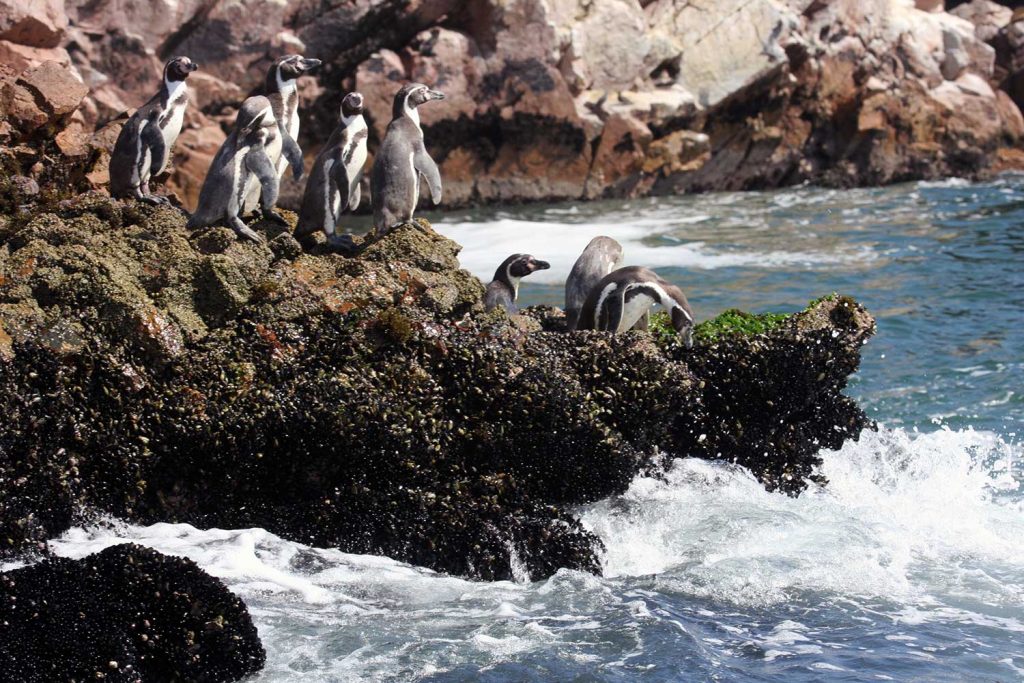 Continue along the western South America coast, and you'll reach the delightful and beautiful bird islands of Humboldt.
These islands are a bird and penguin nature reserve, and absolutely breathtaking to visit.
Species: Named after the islands, humboldt penguins are native to the area. They can also be found in Peru, as we've just seen.
How to get there: You need to get to Punta de Choros, around a 6-hour drive from Santiago. From there, there are plenty of boats and excursions you can book. Many will also do pick-up.
4 – Tierra del Fuego, Argentina
It's time to venture to the awe and beauty of the island of Tierra del Fuego, right at the bottom of Argentina.
Ushuaia, its capital city, claims to be the southernmost city in the whole world. This is a common place to take cruises to Antarctica from.
Species: A trip to Tierra del Fuego gives you a chance to see three different species. You'll definitely spot the common magellanic penguin, and if you're lucky, you may spot the rare gentoo penguin and yellow-chested king penguin.
How to get there: Ushuaia has an airport, so you can fly there from larger cities, such as Buenos Aires.
5 – Punta Tombo, Argentina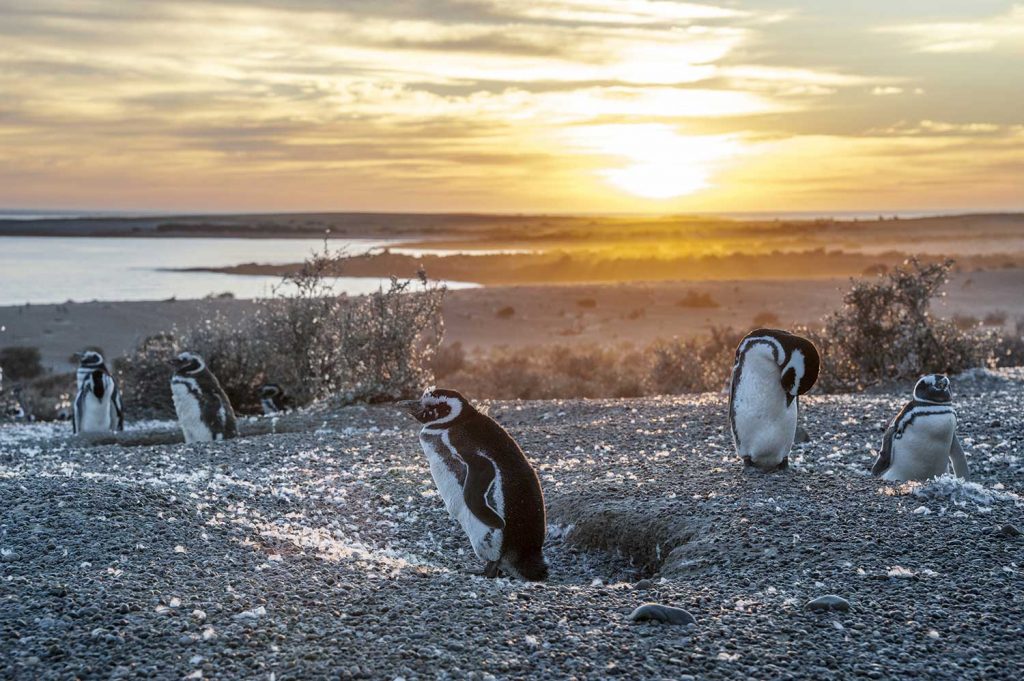 On the central-eastern coast of Argentina lies the gorgeous, sprawling coastline of Punta Tombo, deep into the Patagonian region of Argentina.
The nature reserve is home to an array of wildlife, including the largest colony of Magellanic penguins in Argentina. It's also much warmer here than the south!
Species: Magellanic penguins have a beautiful black and white ringed pattern, and spend their days chilling on the beaches and under the boardwalks of the reserve.
How to get there: You can fly to Trelew and Puerto Madryn from major airports like Buenos Aires. From there, it's around a 2-4 hour drive. Tours also do pickups.
6 – Falkland Islands
With its rugged coastline, towering cliffs, and sprawling plains, the Falkland Islands are a haven for various wildlife and birds.
A small population of 3000 people live on the island, situated several hundred miles off the southern coast of Argentina.
Species: In total, there are 5 species of penguins on the Falklands. These are Argentina's common magellanic penguins, yellow-chested king penguins, the bouncing rockhopper penguins, gentoo penguins with their big chests, and the rockstar macaroni penguins with their awesome golden crests.
How to get there: Several major South American cities run flights to the Falklands, and you can also fly there from the UK. There are plenty of cruises and ferries that run routes too.
Best Places to See Penguins in Antarctica
7 – South Georgia & South Sandwich Islands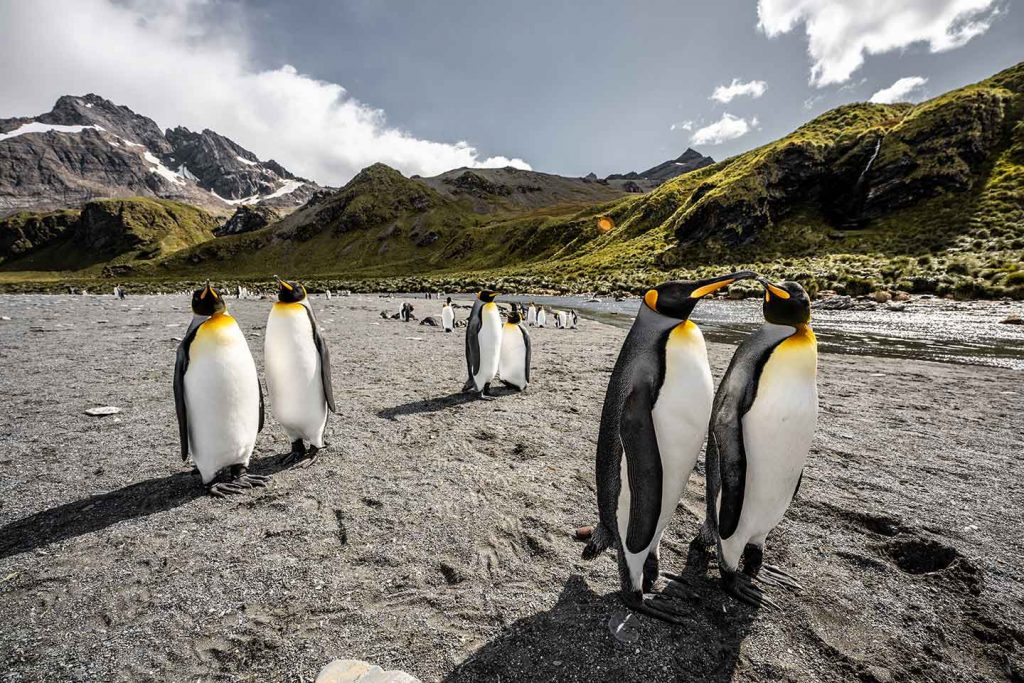 It's time to head into the frozen beauty of Antarctica. Our first penguin-spotting spot takes us to South Georgia, one of the South Sandwich Islands.
These rugged, isolated islands lie around 1200 miles off the tip of Argentina. With no human population, South Georgia is home to thousands of beautiful penguin colonies.
Species: Majestic king penguins and punk-haired macaroni penguins have large colonies on the island. If you're lucky, you may also see gentoo penguins, and their aptly named cousins chinstrap penguins.
How to get there: South Georgia is so isolated, the only way there is via organized tour or boat, from south Argentina or the Falkland Islands.
8 – Snow Hill Island, Antarctica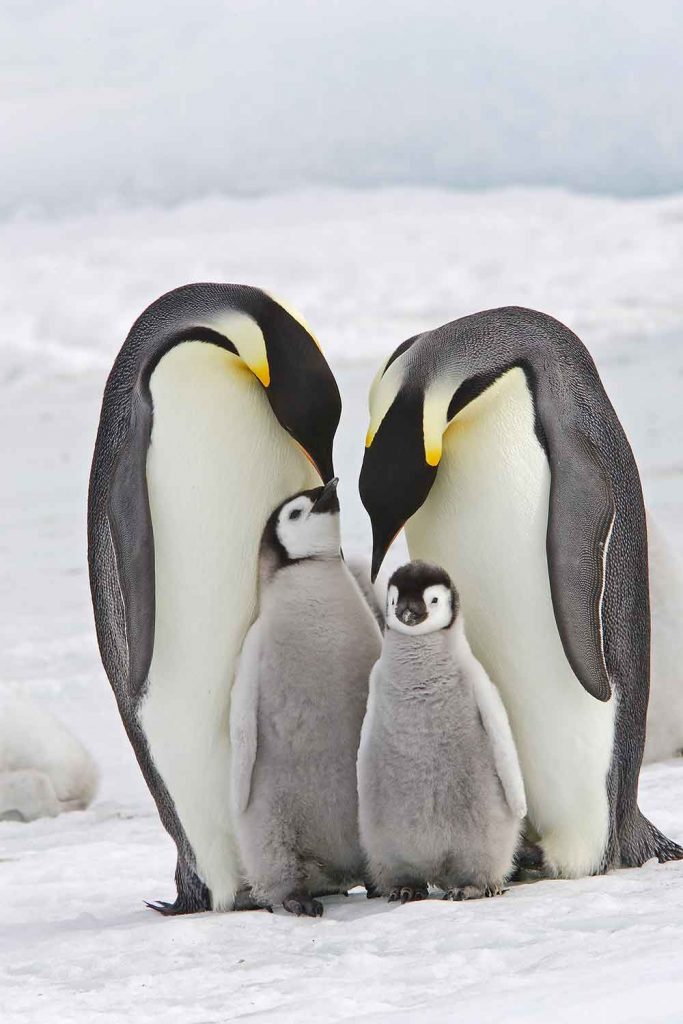 Located on the western tip of Antarctica, Snow Hill Island is a tiny islet, consisting of several miles of snow-covered, frozen beauty.
Species: Snow Hill Island is home to a rare colony of arguably the most beloved and majestic of penguins: the emperor penguin. Seeing these rare birds in their natural habitat is a bucket list experience like no other.
How to get there: You'll have to go almost exclusively via a guided expedition. Ushuaia is a common place to catch a boat or ferry south.
Once you're at the island, you may need to fly, helicopter, sail, and finally hike your way to the penguin colonies.
9 – Ross Sea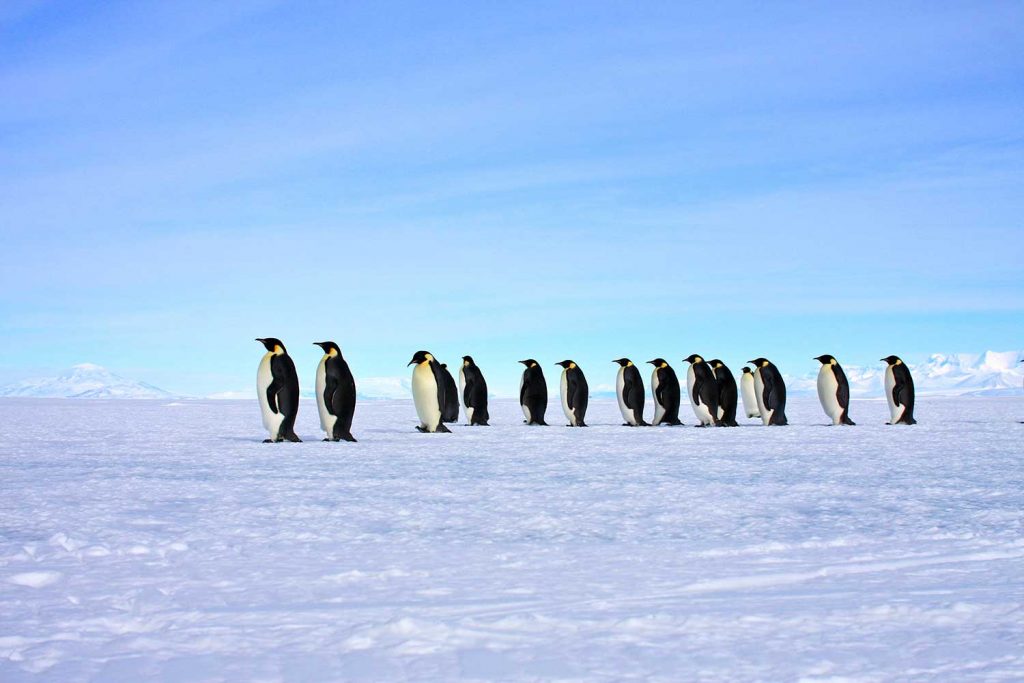 Head thousands and thousands of miles southwest from Argentina, and you'll pass through the vast Ross Sea, in the Southern Ocean.
Located between New Zealand and Argentina, this vast, super cold stretch of sea is home to some incredible ice structures and lots of wildlife.
Species: Adélie penguins, the southernmost species along with emperor penguins, are exclusively found in the Antarctic region. They have a pearly white chest, jet black head, and deep red bill.
How to get there: You can only access such isolated areas via Antarctic cruises and expeditions.
10 – Macquarie Island, Australia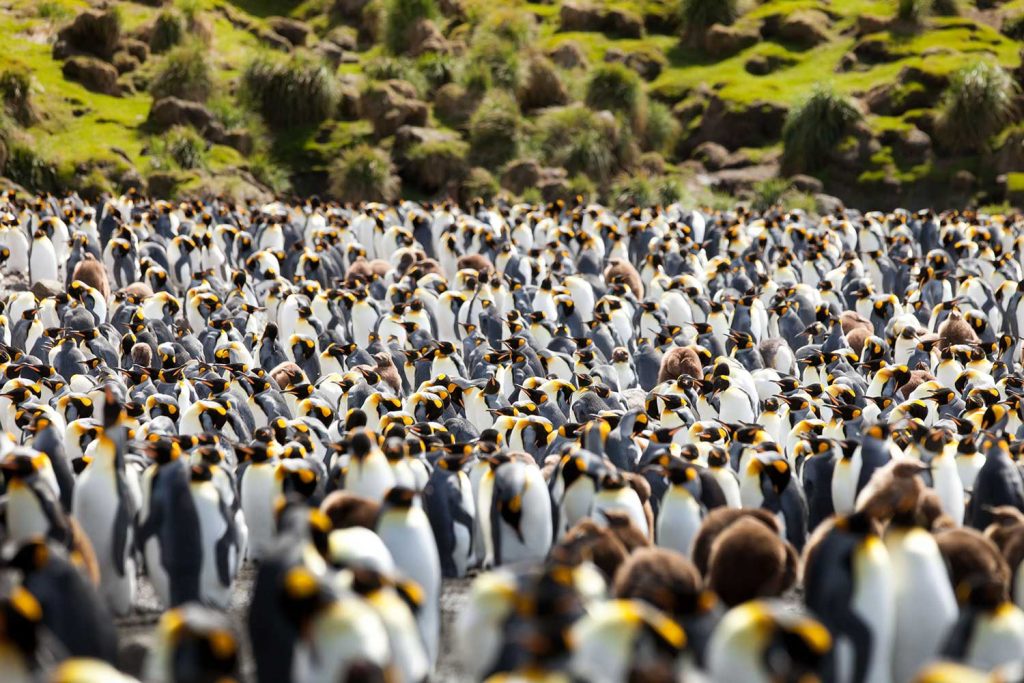 Officially an Australian island, Macquarie Island is actually thousands of miles off the southeast coast of Australia, amid the vastness of the point where the Indian Ocean and the Southern Ocean meet.
A UNESCO World Heritage Site, this isolated by utterly beautiful island is very much a penguin paradise.
Species: King penguins, gentoo penguins, and rockhopper penguins are three of four species on the island. The other, royal penguins, with their gorgeous colored crests, are only found on the island.
How to get there: You can only get to Macquarie Island via expedition cruises, which can take up to 3-4 days from New Zealand.
Best Places to See Penguins in Australia
11 – Phillip Island, Victoria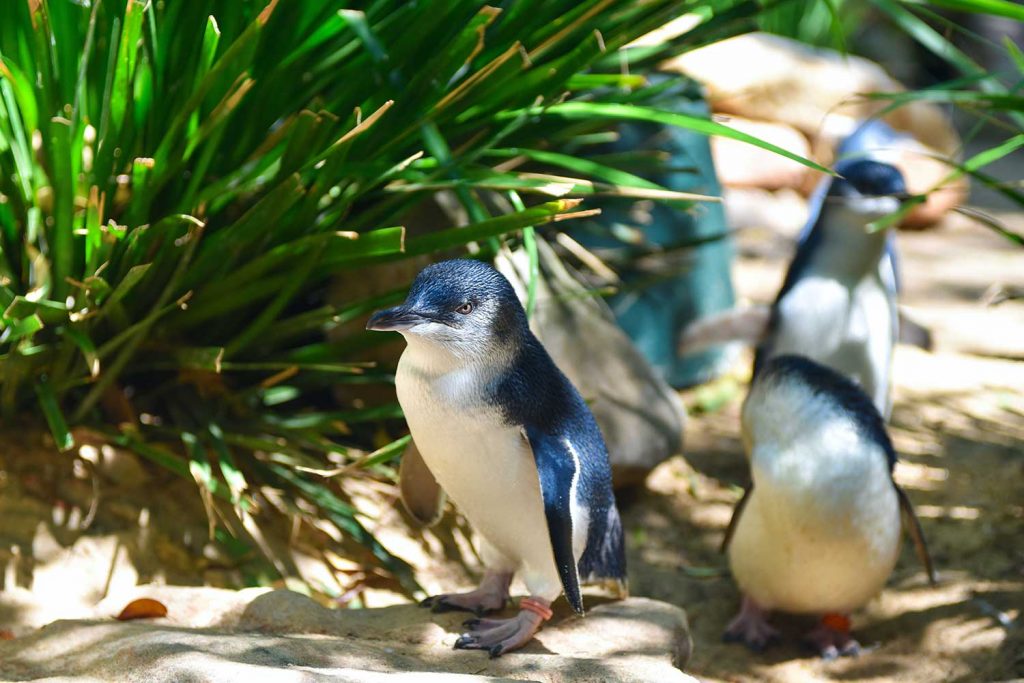 With only thousands of miles of ocean between Australia and Antarctica, it's no surprise penguins found their way onto Australia's mainland.
The beautiful Phillip Island is renowned for its glorious sunsets. As the sun fades, you can watch penguins waddle along the beach in droves.
Species: Little penguins, aptly named because they are the smallest species in the world, parade along the beaches in droves. They have blueish-colored fur, rather than black.
How to get there: Phillip Island is around a 2-hour drive from Melbourne, and very straightforward to get to.
12 – Penguin Island, Western Australia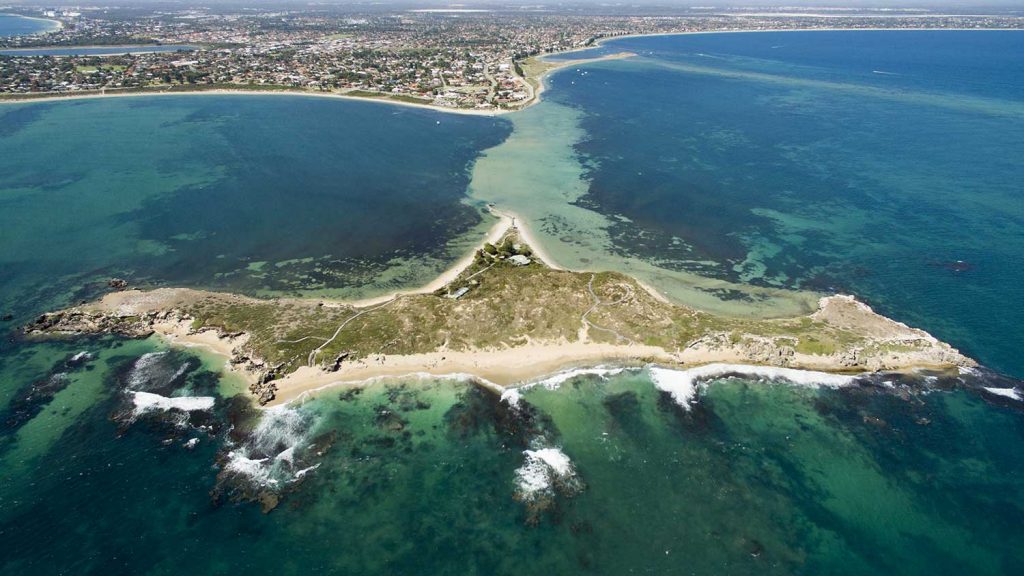 Sometimes, it's best to just get to the point. That was probably going through the heads of the people who first named Penguin Island!
Located in Rivoli Bay on the southwestern side of Australia sits Penguin Island. This rugged, glorious island is a conservation park for penguins and other wildlife.
Species: Little penguins, native to Australia and New Zealand, can also be found here.
How to get there: Penguin Island is a boat ride off the coast at Shoalwater. This little town is around a 40-minute drive from Perth.
Best Places to See Penguins in New Zealand
13 – Banks Peninsula, Canterbury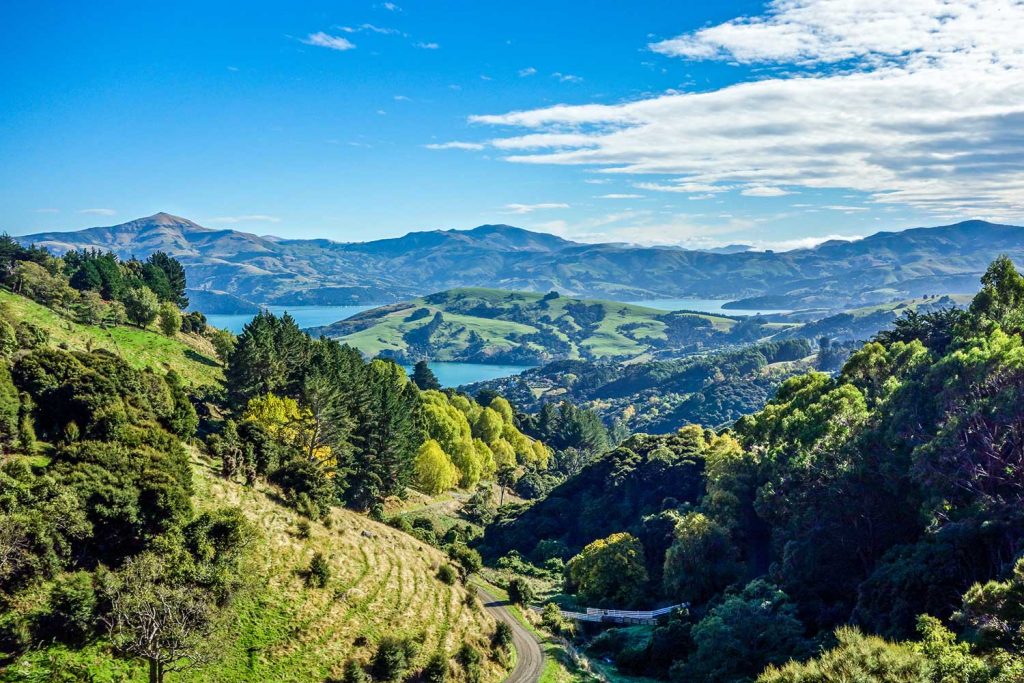 Banks Peninsula is a jaw-dropping area of rugged terrain and volcanic geology, with a prominent Māori population.
Home to large stretches of coastline, it's a place nature lovers can enjoy thousands of miles of mountains, valleys, and beaches.
Species: Little penguins live in the Banks Peninsula, including a special species of little penguin with white flippers, only found here.
How to get there: Banks Peninsula covers a large area, so it depends on where you're heading. However, Christchurch is only around an hour and thirty minutes away by car.
14 – Oamaru, South Island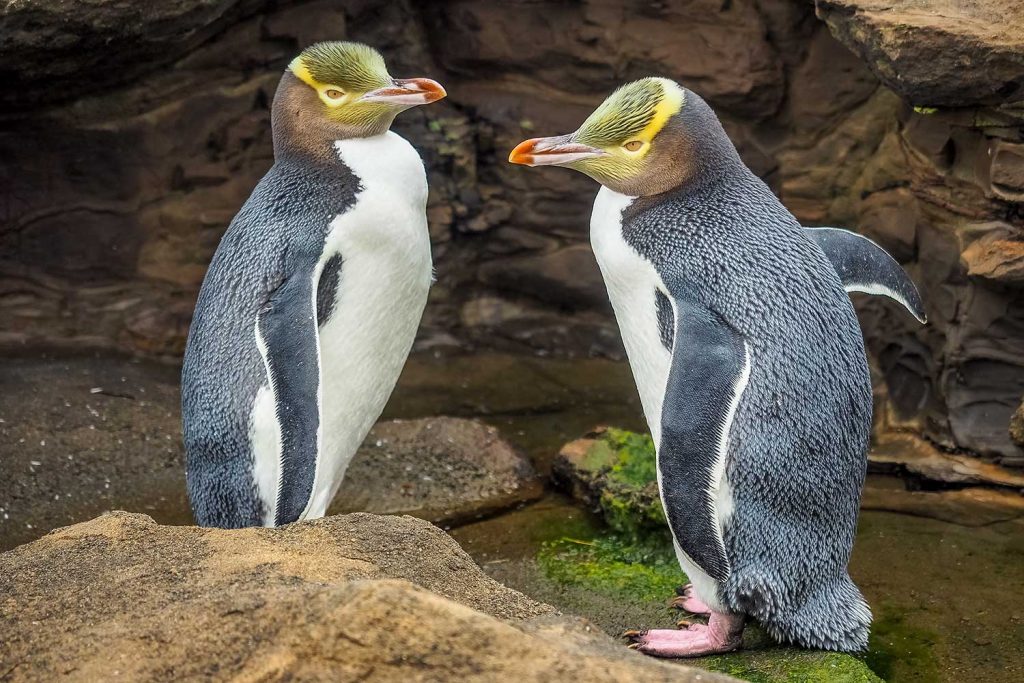 Oamaru is a cozy little coastal time. It's situated on the south island, between Timaru and Dundedin.
Oamaru is home to a penguin colony, so it's the perfect place to observe penguins in the wild from a safe distance.
Species: Little penguin colonies march along the shore, along with yellow-eyed penguins. Yellow-eyed penguins, as their name suggests, have yellow rings around their eyes.
How to get there: Oamaru has an airport, so you could fly domestically there. Otherwise, Dunedin, the closest city, is around 70 miles away.
15 – Stewart Island, Southland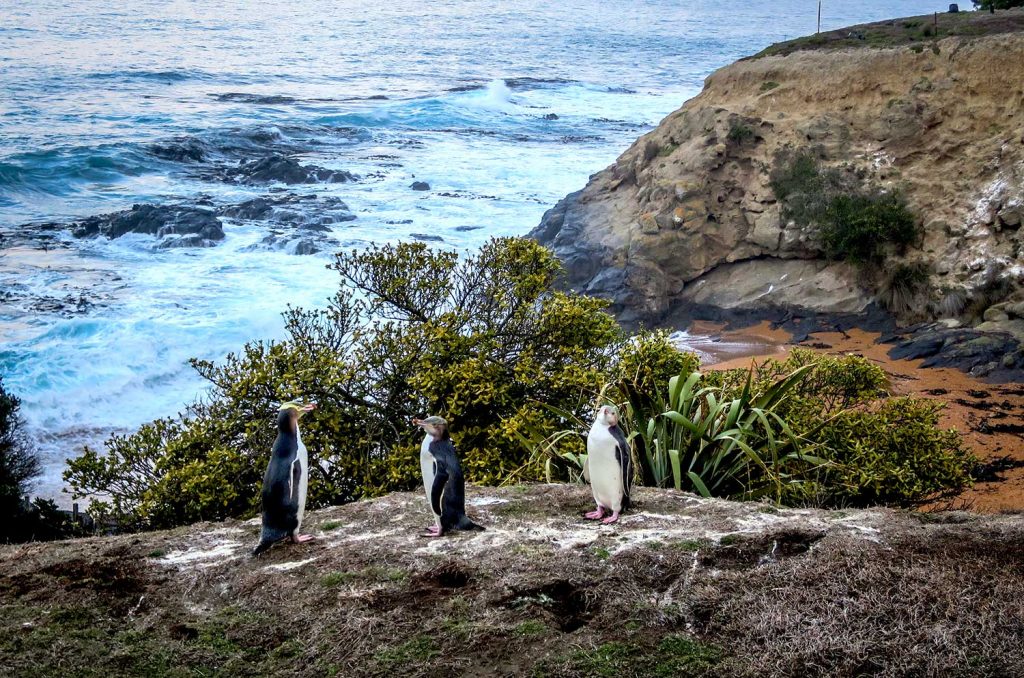 Off the southernmost coast of the south island lies Steward Island. This luscious, sweeping island is gorgeous to grace and awesome to set eyes on.
Consisting mostly of Rakiura National Park, there is so much incredible wildlife to see here.
Species: Little penguins and yellow-eyed penguins both live on the island. You may also spot the rare Fiordland penguin there (see Lake Moeraki, below).
How to get there: You have two choices. Either take a 20-minute ferry from Bluff, or fly in a tiny aircraft from Invercargill Airport, which you can get to via Wellington or Christchurch.
16 – Lake Moeraki, West Coast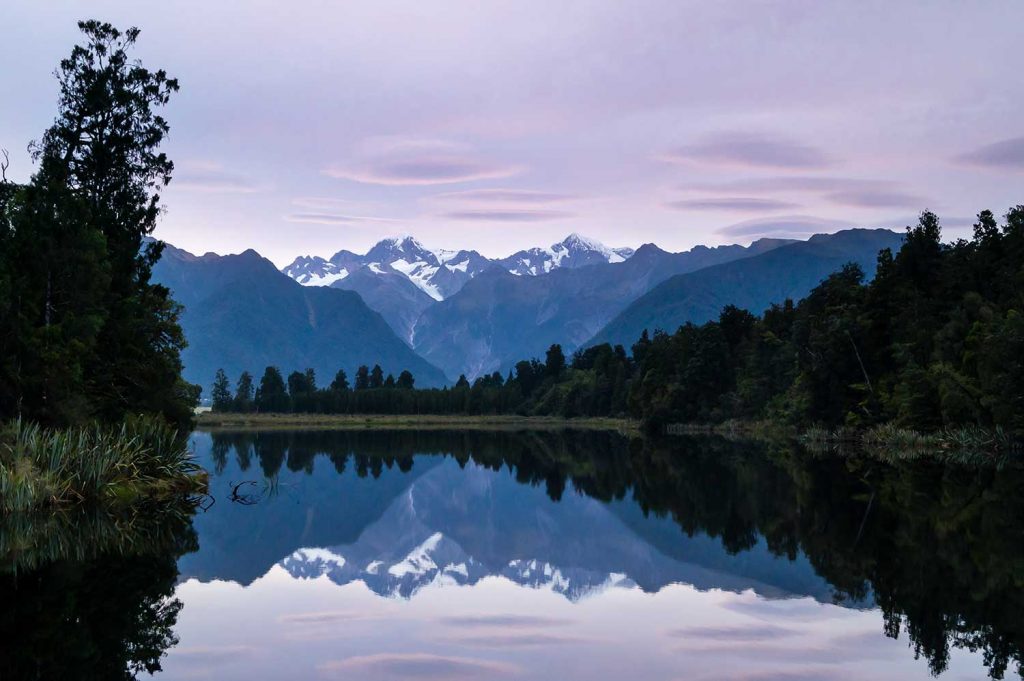 Blessed with luscious terrain and miles of shimmering waters, this UNESCO World Heritage Site is a must-visit place on any trip to New Zealand.
If you head specifically to Monro Beach, you may get a chance to witness one of the rarest species of penguins in their natural habitat.
Species: Fiordland-crested penguins are a rare species of penguin, with two sweeping golden crests along their brow. They are only found along the southwest coast of New Zealand, and Stewart Island.
How to get there: From Queenstown, Lake Moeraki is a 3-hour drive or a 5-hour bus ride away.
Best Places to See Penguins in South Africa
17 – Boulders Beach, Cape Peninsula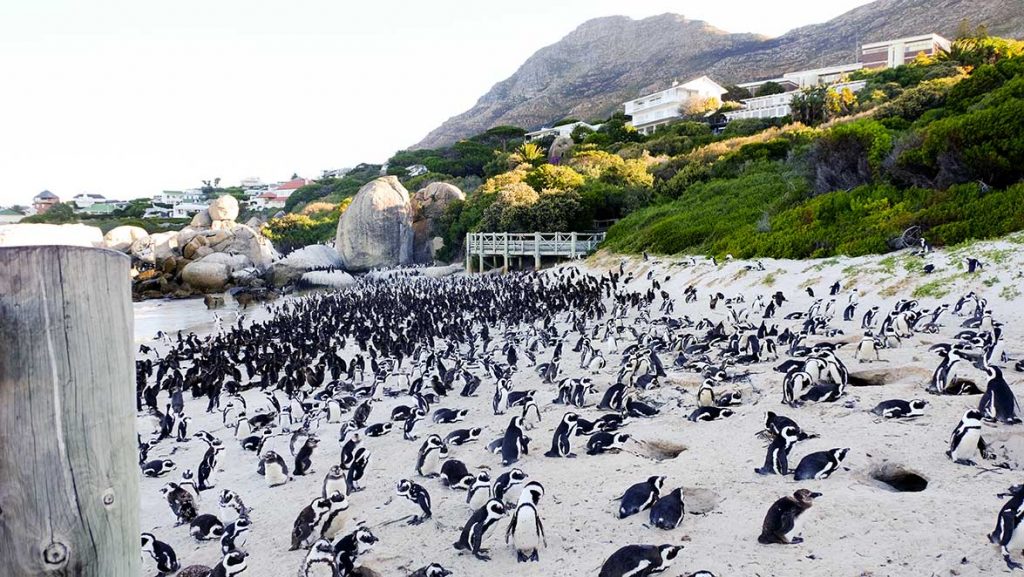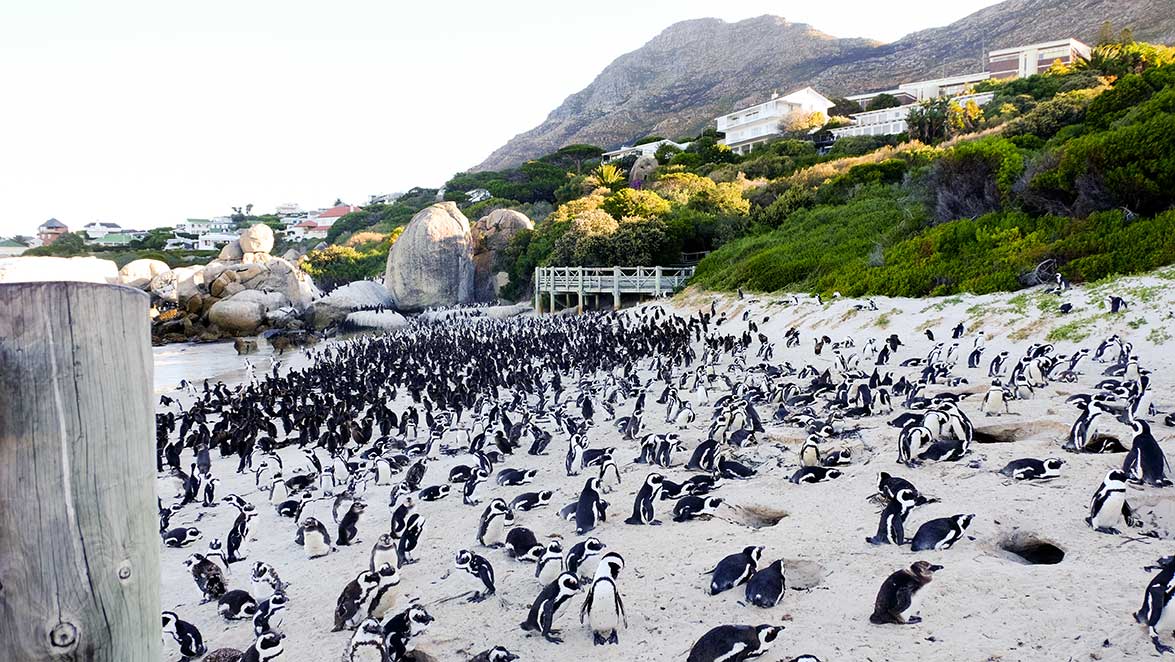 Our final stop on the world penguin tour takes us to South Africa, at the very tip of the giant continent of Africa.
South of Cape Town lies the beautiful Boulders Beach, where you can watch thousands of penguins waddle and play on the golden sands.
Species: African penguins populate this area, and they are some of the cutest penguins you'll ever see. Amazing at diving, these penguins are sadly an endangered species.
How to get there: Boulders Beach is around a 45-minute drive or bus ride from Cape Town.
18 – Dassen Island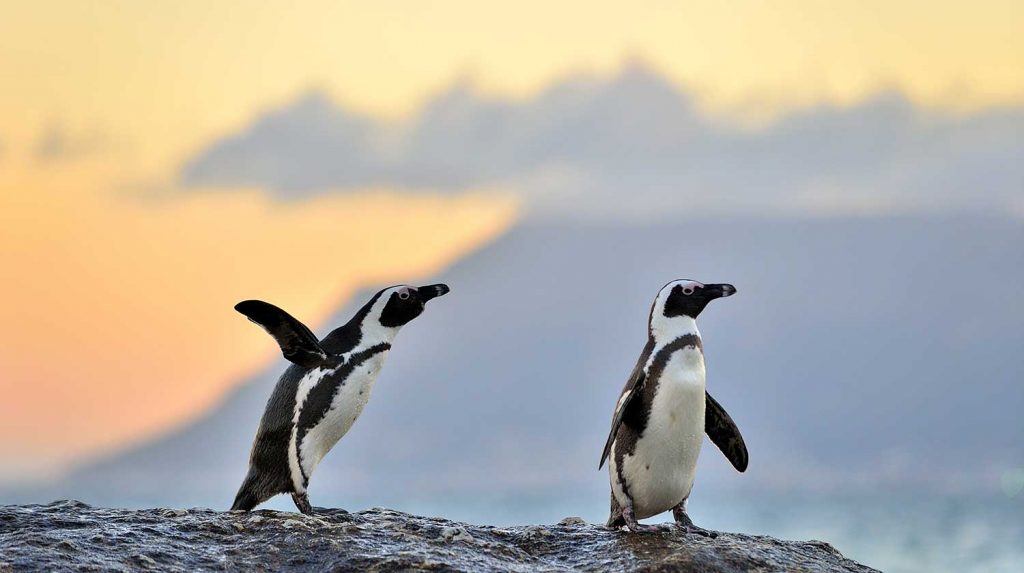 Head north instead of south from Cape Town, along the west coast, and you'll reach the shores of Yzerfontein, a stone's throw from Dassen Island.
This low-lying, isolated island is home to one of South Africa's largest penguin colonies, along with many other species of wildlife.
Species: African penguin colonies live on the island.
How to get there: As mentioned, Yzerfontein is where you need to go to get a boat or ferry across to the island. Yzerfontein is around an hour's drive from Cape Town.
Best Places to See Penguins in the World Summary
Penguins are an absolute joy to experience in the wild. From the luscious, rolling hills of the Galápagos, to the frozen landscapes of Antarctica, it's amazing how many places you can see them.
Penguins come in all shapes and sizes, and so many expeditions and tours will spot for sightings or take you to see them.
Whether you're keen to book something soon, or dreaming of one day seeing them, one thing will never change: they will always be so goddamn cute!
One final time, here's the full list of all 18 locations we explored together. All these places are home to wild populations of penguins:
Galápagos Islands, Ecuador
Ballestas Islands, Peru
Humboldt Penguin National Reserve, Chile
Tierra del Fuego, Argentina
Punta Tombo, Argentina
Falkland Islands
South Georgia & South Sandwich Islands
Snow Hill Island, Antarctica
Ross Sea
Macquarie Island, Australia
Phillip Island, Victoria
Penguin Island, Western Australia
Banks Peninsula, Canterbury
Oamaru, South Island
Stewart Island, Southland
Lake Moeraki, West Coast
Boulders Beach, Cape Peninsula
Dassen Island
You Might Also Like to Read
Save and Pin for Later
Dreaming of one day planning an epic trip to see these beautiful birds in real life? Keep this article safe and easy to find by pinning it to one of your Pinterest boards.
---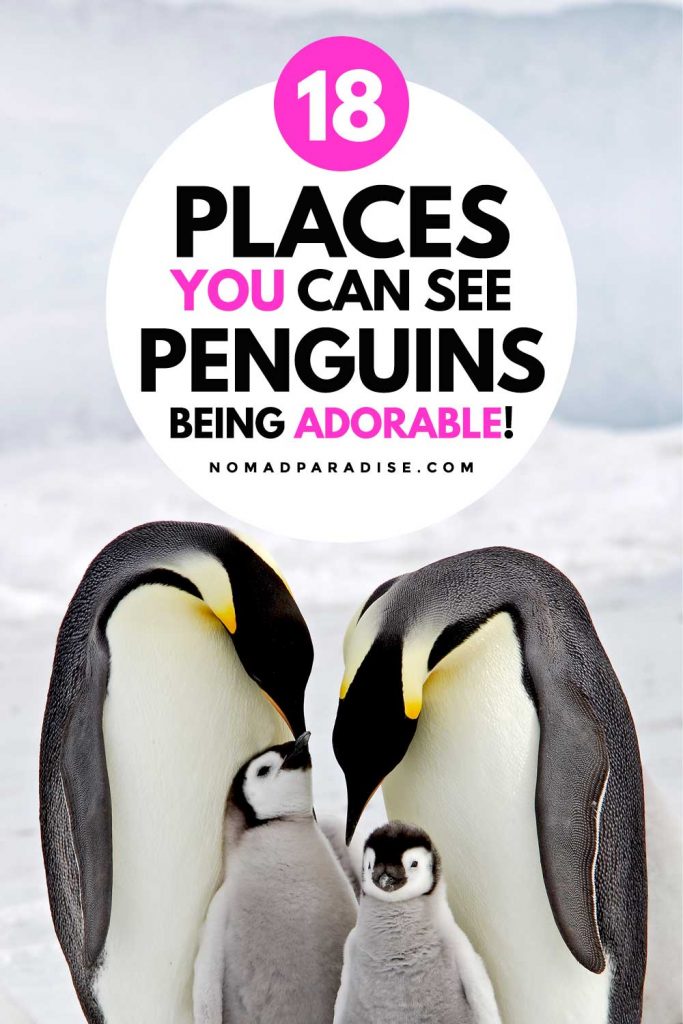 ---
Author: Dale Johnson is a content designer, writer, strategist, and full-time digital nomad as of 2016. He has seen penguins in a number of places, including Punta Tombo and Boulders Beach.
Images licensed via Shutterstock