This post may contain affiliate links, meaning if you book or buy something through one of these links, we may earn an affiliate commission at no additional cost to you. Learn more
Shopska salad is one of Bulgaria, North Macedonia, and Eastern Europe's simplest and most flavorsome salads. It's ideal as a quick and light lunch, side dish, or snack.
Served cold, this salad uses just a few simple and fresh ingredients. My recipe stays largely true to the authentic Shopska salad, with just a couple of additions to enhance the flavor.
It is easy to make and great for summer afternoons, light lunches, or when you need a quick and healthy meal at home, or to go.
Shopska Salad Recipe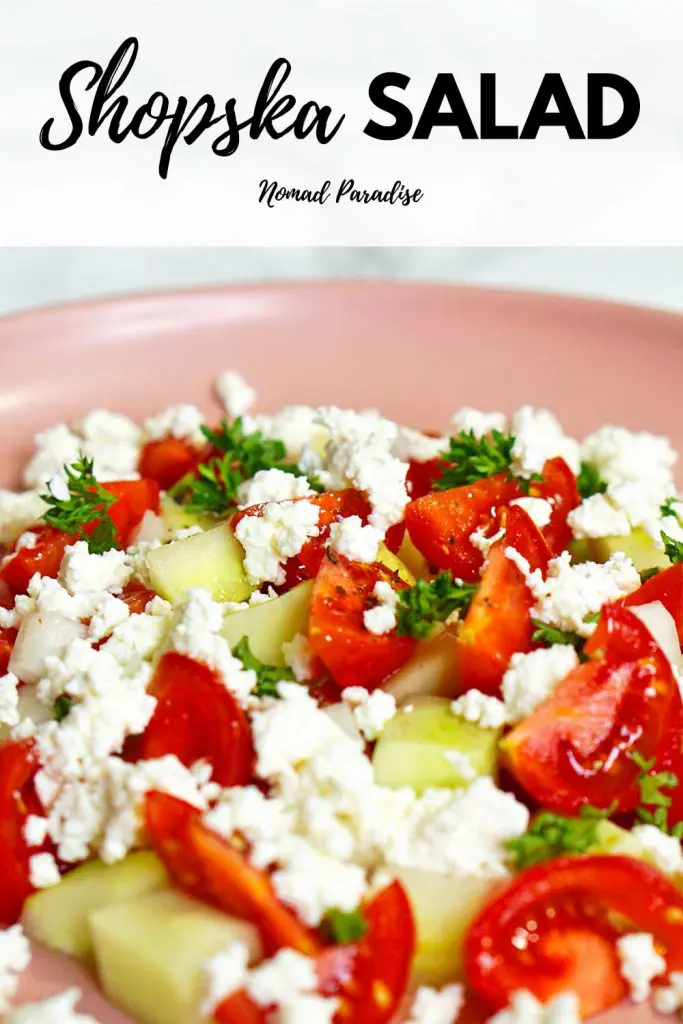 What is Shopska Salad?
Shopska salad is arguably Bulgarian cuisine's most famous dish. So much so in fact, one of the reasons the ingredients were chosen is to represent the colors of the Bulgarian flag.
The red comes from the tomatoes, the green from the cucumber, and the white from the cheese.
First prepared by a chef at a hotel in Varna in the 1950s, by the 1970s Shopska salad had been a culinary symbol of Bulgaria and a big part of the country's tourism push.
Tomatoes, cucumber, farmer's cheese, onions, parsley, and sunflower oil are all you need to make a traditional Shopska salad.
This delicious cold salad is also a staple in Bosnian cuisine, North Macedonian cuisine, Serbian cuisine, and many other Balkan countries.
My Shopska salad recipe uses tomatoes, cucumber, white cheese, onion, and parsley, as per the authentic recipe.
I have made some small alterations, to enhance the flavor and add a little zest. I have added lime juice, to inject a little zest into the taste. You can optionally also add chili and garlic for a kick, but that is not traditional.
Recipe Ingredients
To make my Shopska salad recipe, first, get your ingredients together:
2-3 large vine tomatoes
1 English cucumber
½ cup crumbled white cheese
½ white onion
1 tablespoon freshly chopped parsley
1 tablespoon olive oil
1/2 lime
Salt and pepper to taste
Step-By-Step Instructions
Step 1 – Chop the tomatoes and cucumbers, and place them in a bowl.
Step 2 – Create your salad dressing by combining 1 tablespoon of olive oil, 1/2 lime juice, salt, and pepper (to taste).
(Optional) While traditionally Shopska salad doesn't have garlic or chili, for those who like the added kick, that's a nice optional addition.
Step 3 – Add the 1/2 diced white onion, 1 tablespoon of chopped parsley, and salad dressing to the salad bowl. Mix it lightly.
Step 4 – Add the 1/2 cup of farmer's cheese. If you're wondering what farmer's cheese is, it's a mild white cheese that has a crumbly texture. It's often called curd cheese as well, and it's very popular in Eastern Europe.
You can find it abroad as well, often in the international foods aisle of the supermarket or in Polish, Russian, or Eastern European food grocery stores.
If you can't find farmer's cheese, you can replace it with goat cheese or Mexican queso blanco. Or you can use our easy homemade farmer's cheese recipe to make it at home.
Step 5 – And now serve it up on a dinner or salad plate.
Serving Suggestions
You can have it as a side salad or as a lunch or dinner meal with some freshly-baked bread!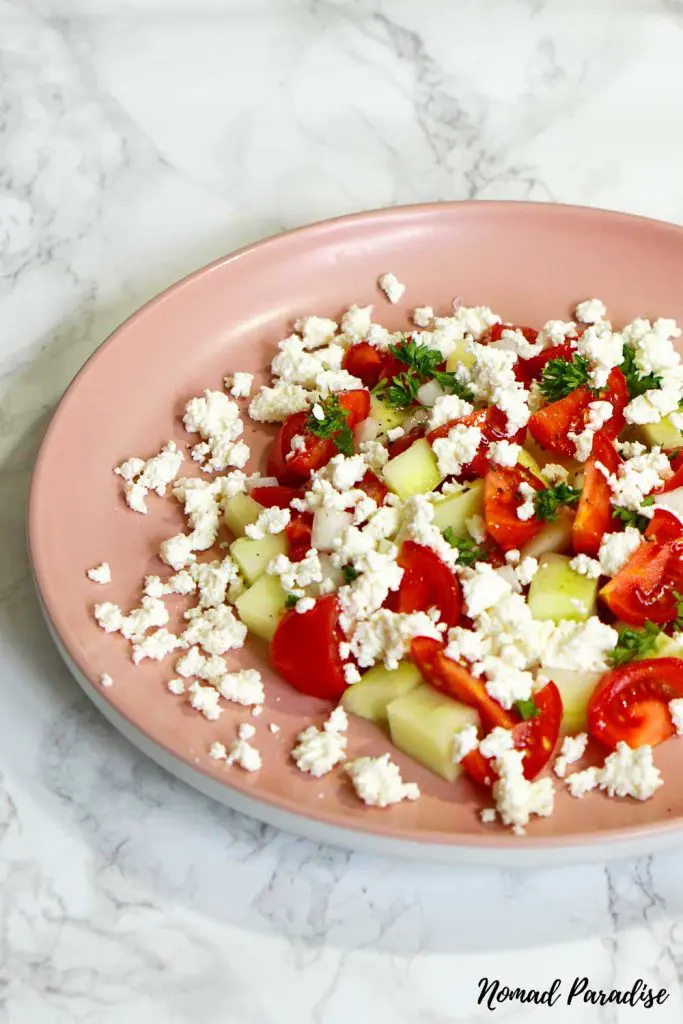 The beauty of Shopska salad is that you can make as much or as little as you like. You could prepare a large bowl, and keep the salad refrigerated for several delicious meals. To preserve it better, don't add the salad dressing until you're ready to serve it.
The colors of the Shopska salad are beautiful, I'm sure you can agree. The juicy red tomatoes, earthy green cucumber slices, and crumbly white cheese look majestic together on the plate.
I love Shopska salad and have eaten it throughout my life. Whenever I eat it, it always reminds me of summer.
On a warm summer's evening, few foods taste as crisp and refreshing as a bite of this wonderful dish.
Shopska Salad Recipe Card
Ingredients
2-3 large vine tomatoes
1 English cucumber
½ cup crumbled white cheese
½ white onion
1 tablespoon freshly chopped parsley
1 tablespoon sunflower oil or olive oil
1/2 lime
Salt and pepper to taste
Instructions
Peel and dice the cucumber, chop the tomatoes, and add them to a salad bowl.
Add the chopped parsley and diced onion.
Combine the olive oil, lime juice, salt, and pepper, and add the resulting salad dressing to the salad.
Toss the salad and top with the crumbled white cheese.
Notes
Shopska salad is best enjoyed cold during the hot summer days. You can chill it in the fridge for about 20 minutes before serving, or use cold tomatoes and cucumber for the recipe.
You Might Also Like to Read
Save and Pin for Later
Keep my Shopska salad recipe for safekeeping by saving this recipe to one of your international foods boards.
Author: Doina Johnson is a content writer and creator, who has traveled to over 30 countries. She is passionate about trying new foods and loves to make foods she has tried on her travels in her home kitchen.
Contributor: Milena Lazova is a content writer and creator from North Macedonia. She is passionate about both North Macedonian and Balkans cuisine and culture, sharing her insight and knowledge through her writing.